Not all email marketing platforms are created equal.
Each has its advantages and disadvantages, depending on the needs of your business. If you're looking to keep in contact with your customers, or to move prospects along the sales funnel, then ActiveCampaign could be for you.
ActiveCampaign is one of the big players in the marketing automation space. It comes with many features and integrations, as well as friendly customer support.
The automation tools include triggered campaigns, sales follow-ups, automated segmentation, dynamic email content, text messaging, and lots more.Additionally, ActiveCampaign offers a built-in CRM system for managing your sales and understanding where your prospects are in the sales cycle.
But is ActiveCampaign the right marketing automation platform for you?
Let's find out.
In this ActiveCampaign review, we'll look at some of the best features, the pros and cons, and who this tool is best suited to help.
TABLE OF CONTENTS
What is ActiveCampaign?
ActiveCampaign was founded in 2003 as a consulting firm helping small and midsize businesses automate marketing tasks and manage contacts. In 2013, they transitioned to a SaaS business focused on marketing and sales automation. The company has more than 180,000 active clients as of 2022.
ActiveCampaign is an email marketing automation tool, but it's much more than that. The company calls itself a "customer experience automation" tool.
The software comes with an integrated CRM to manage your contacts, and some plans even include live chat and SMS marketing features.
There's a tool available for each stage of the customer journey, from reaching your audience for the first time all the way to growing and scaling your marketing funnels.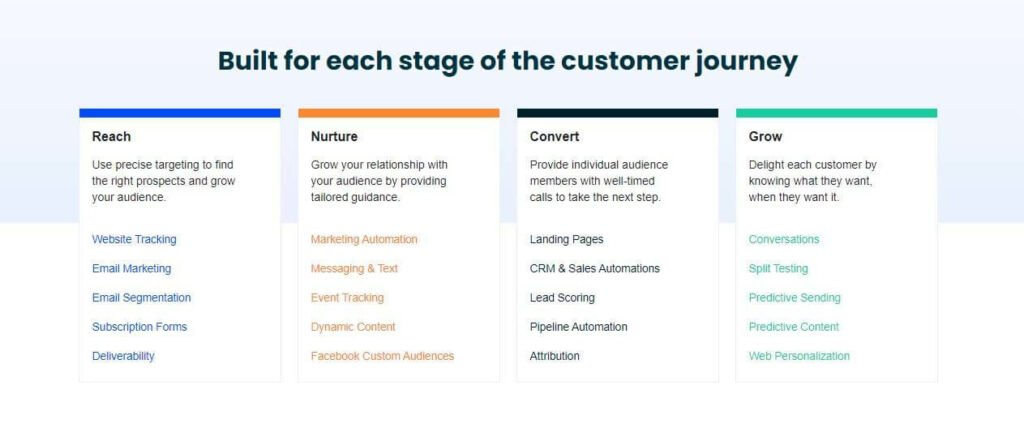 ActiveCampaign is tailored toward small-to-mid-sized businesses, although it has everything that large companies and enterprises need to manage their customer journeys. However, its smaller plans make it easy and affordable for entrepreneurs and startups to get started.
ActiveCampaign pros and cons
Here's an overview of what ActiveCampaign does extremely well (and what it doesn't pull off quite as effectively):
Pros:
Email campaigns
CRM integration
Marketing automation
Landing page integration
Useful reporting tools
Third-party integrations
Cons:
High learning curve
Limited support options
Lower price plans exclude some features
Now, let's cover all of these pros and cons in detail.
ActiveCampaign pros
ActiveCampaign offers starter options for businesses at $9 per month and is an excellent option for bloggers, service providers, and small ecommerce brands. For a low price, you can set up email marketing campaigns, and for an increased cost, you get CRM capabilities for handling the sales cycle.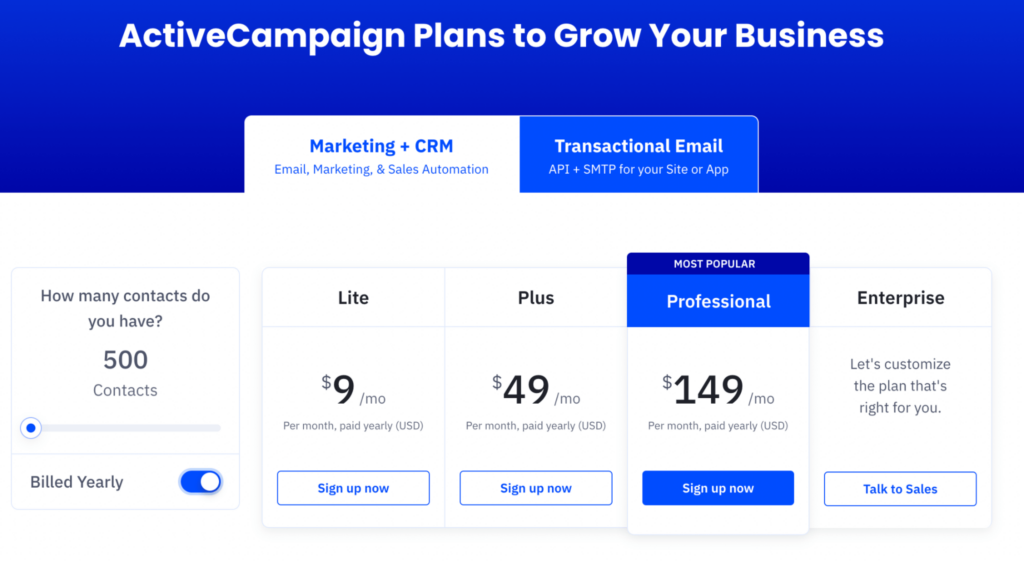 However, the cheapest plan at $9 per month is billed yearly. The same plan will set you back $15 per month if you pay monthly.
You also only get up to 500 contacts at this price. However, the Lite plan is still an affordable plan if you're only dipping your toes into email marketing.
You'll still get advanced features, such as event tracking and automation recipes, with the cheaper plans. That's why we love these plans so much — you only pay more as your business (and audience) grows.
Email campaigns for every type of business
ActiveCampaign offers all the tools you need to communicate with your customers and move your leads along the sales funnel. Features include newsletters, SMS, email autoresponders, A/B testing, RSS triggered, birthday emails, and more.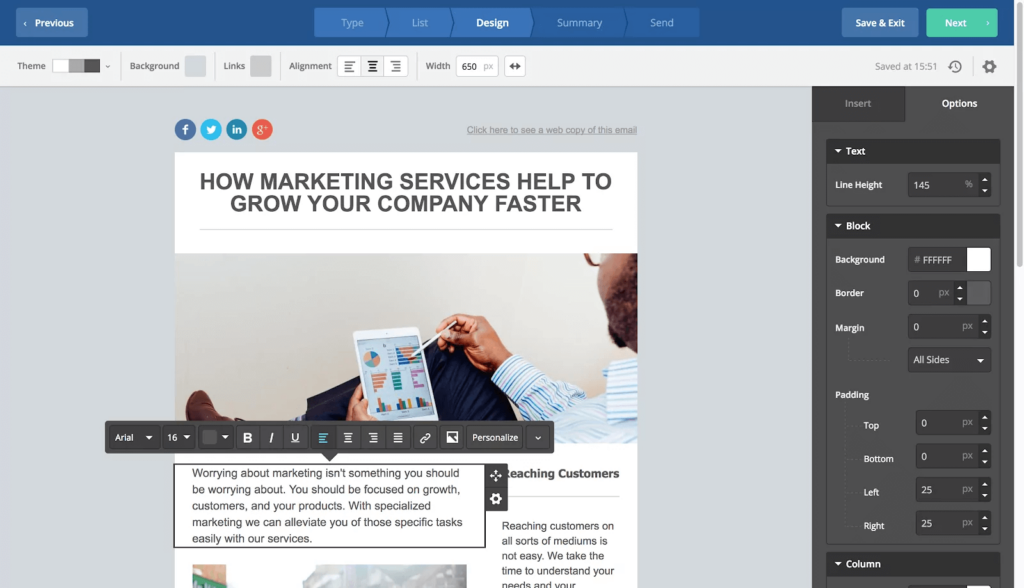 Email layouts are dynamic and work with drag-and-drop functionality similar to Mailchimp, Ontraport, and other email marketing tools.
The email automation and follow-up campaigns are all set up via an easy-to-use flowchart-style system. There are also pre-made automation layouts for you to use, or you can start your own automation builder from scratch.
Perhaps the most impressive benefit of ActiveCampaign is that it scores as one of the highest in email deliverability for the most popular email service providers like Gmail, Yahoo, and Outlook.A recent report ranked ActiveCampaign at a 91% deliverability rate, compared with Mailchimp and AWeber, which have 86% and 74% delivery rates, respectively. The only tools that scored higher higher than ActiveCampaign are:
MailerLite (97%)
CleverReach (94.6%)
ConvertKit (93%)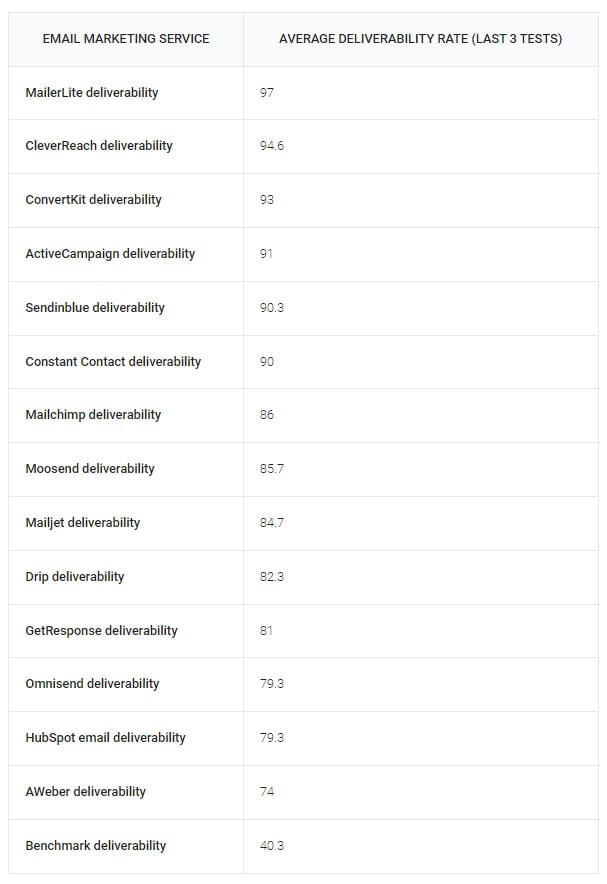 Email split testing in a marketing automation tool like ActiveCampaign allows you to perform split tests directly in an automation sequence. Not all email marketing tools allow you to do this — for example, ConvertKit only lets you perform split tests in Broadcasts (similar to Campaigns in ActiveCampaign).
Another great feature is the ability to resend your emails to everyone who didn't open them the first time.
Plenty of email templates to choose from
You don't have to start from scratch when you're creating emails in the email editor. ActiveCampaign offers an extensive library of pre-built templates you can choose from.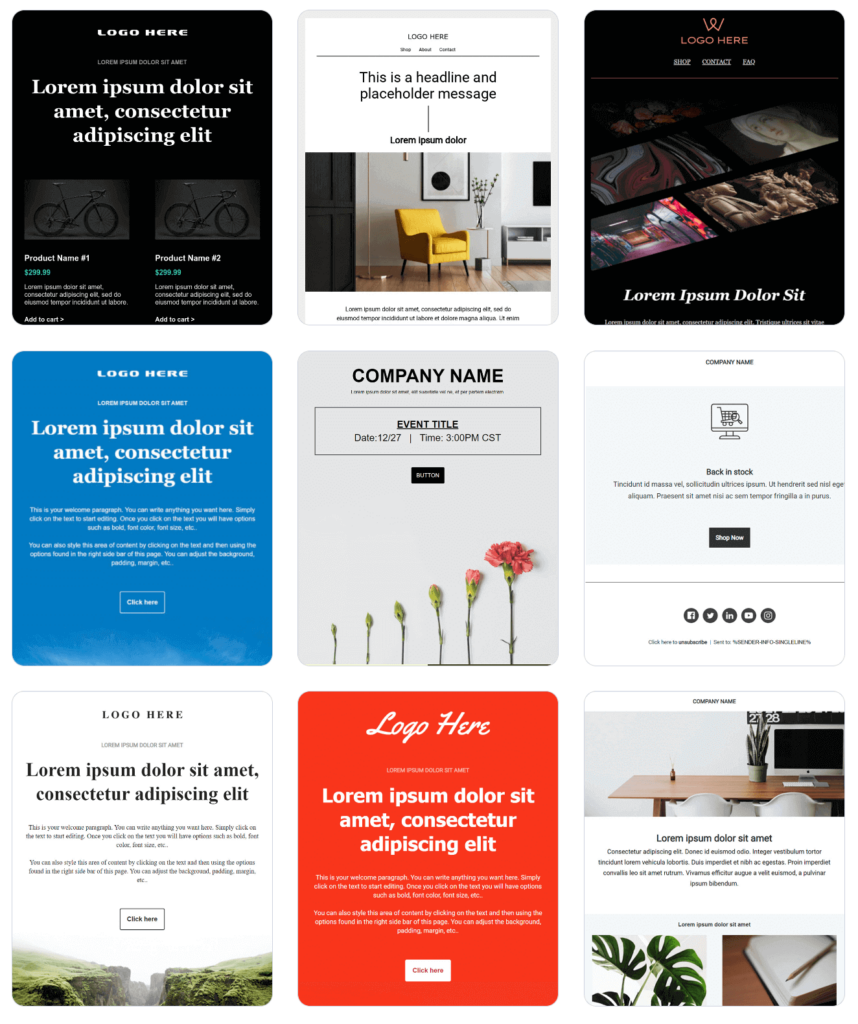 Email templates are available for the following categories:
Abandoned cart
Conference events
Customer service
Holidays
Newsletters
Reviews feedback
Each template is easily editable in the email editor. Plus, you can save your own edited versions so you never have to edit them again.
Content personalization with conditional blocks
Send more relevant (and personalized) emails to everyone on your list with conditional blocks. With the Conditional Content tool in ActiveCampaign's email editor, you can select parts of an email to only show up if they meet the conditions you set.
For example, you can add a conditional promotion for a specific product but only show it to people who don't have a tag that indicates they've purchased it before. Or you could offer special discounts and reward subscribers based on their engagement level.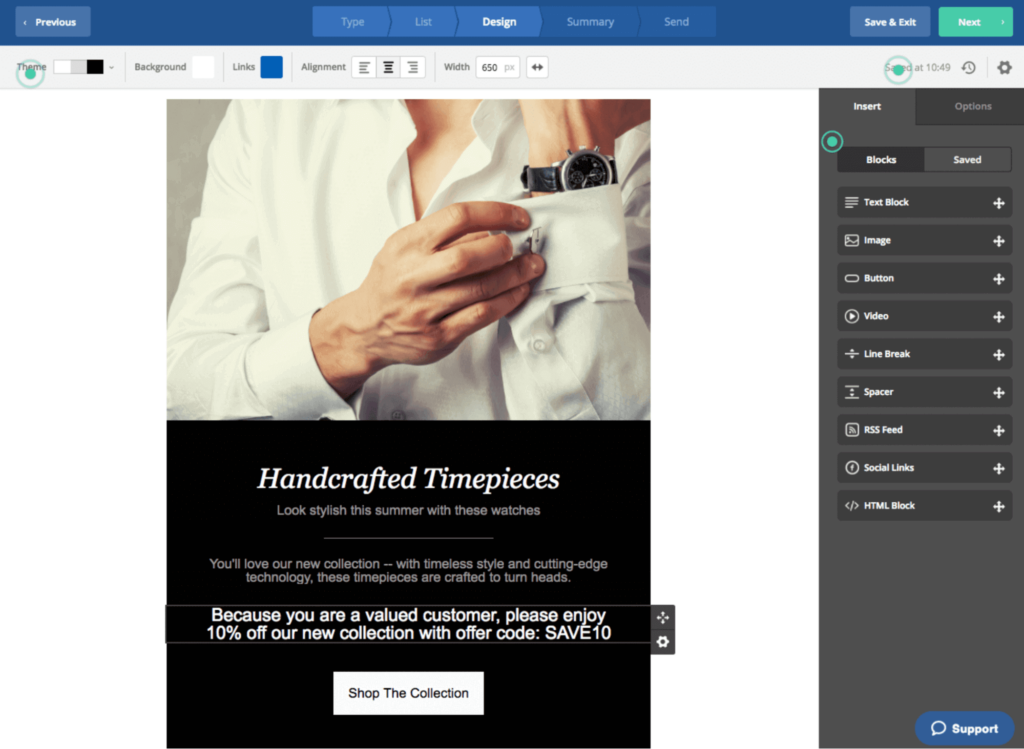 Conditional blocks allow you to tailor each subscriber's experience based on their interests, preferences, demographics, or behaviors. When you send more relevant content, the likelihood of your subscribers being interested will increase.
CRM integration to keep in contact
ActiveCampaign tracks your contacts through a "deals" sales pipeline. Similar to Kanban boards that use horizontal organization to track each section of the sales process, the pipeline in ActiveCampaign helps to define your entire sales cycle through a series of steps.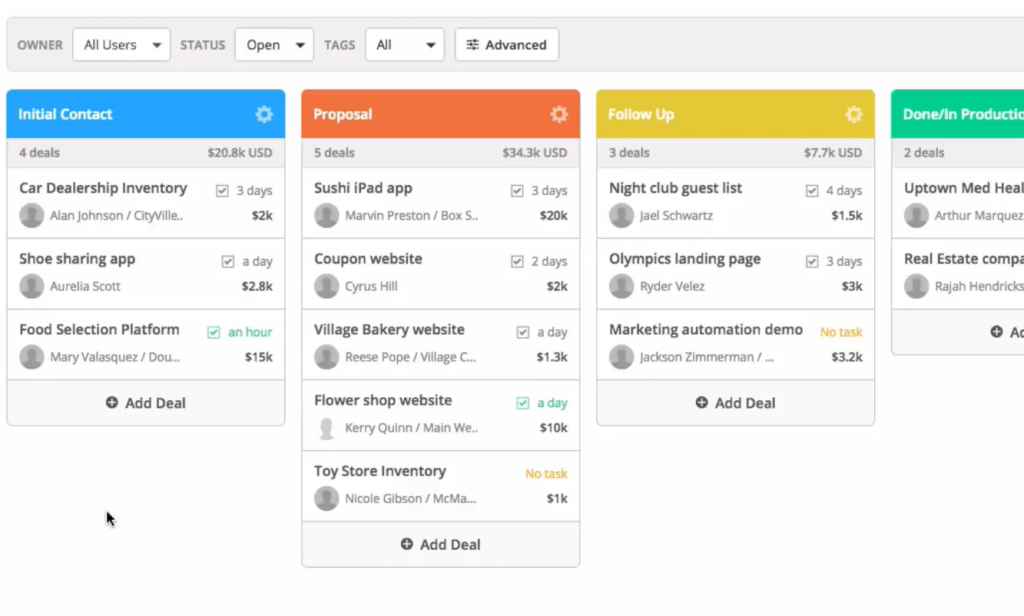 It can be a great tool to help to visualize the stages that your deals must go through to reach completion.
ActiveCampaign also allows you to build multiple deal pipelines so that you can create different pipelines for your various audience segments.
When set up correctly, the ActiveCampaign CRM tools create clarity around which leads your people should focus on, and how well your marketing is nurturing cold leads into warm leads.
You can quickly determine if any leads do not have a task assigned to them. This detail ensures you know when your next follow-up will be with every single lead in your database.
No matter which stage of the funnel your customers are in, they won't slip through the cracks when you use the CRM to its full potential.
But the CRM doesn't just keep track of your customers — it also houses everything you need to know about them in a single place. You won't need to scramble to find a phone number or scour through your notebook to remember a customer's past activity.
The CRM is especially important when you're working with a team of salespeople. When everyone uses the tool correctly, nothing gets lost in translation.
Integrates natively with 77 apps
ActiveCampaign offers native integrations with the following:
Salesforce
SugarCRM (via Zapier)
ZohoCRM
Highrise
Facebook
Google Analytics
Shopify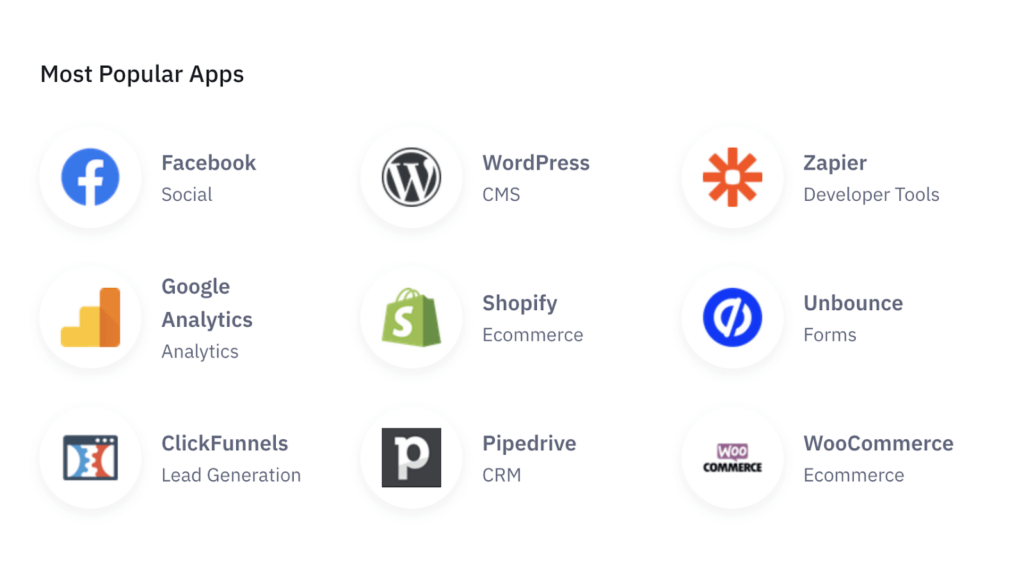 And that's only the tip of the iceberg. ActiveCampaign natively connects with a total of 77 apps as of 2022. The platform also integrates with over 900 other tools and apps!
Visual Marketing Automation Tools
While email tools like AWeber and Mailchimp both have automation features, they're limited. ActiveCampaign takes your customer relationship management to the next level.
ActiveCampaign's marketing automation builder is one of the most visual and intuitive on the market. You can easily start from scratch or use their automation templates. The pre-made templates offer both short and long-term lead nurturing sequences.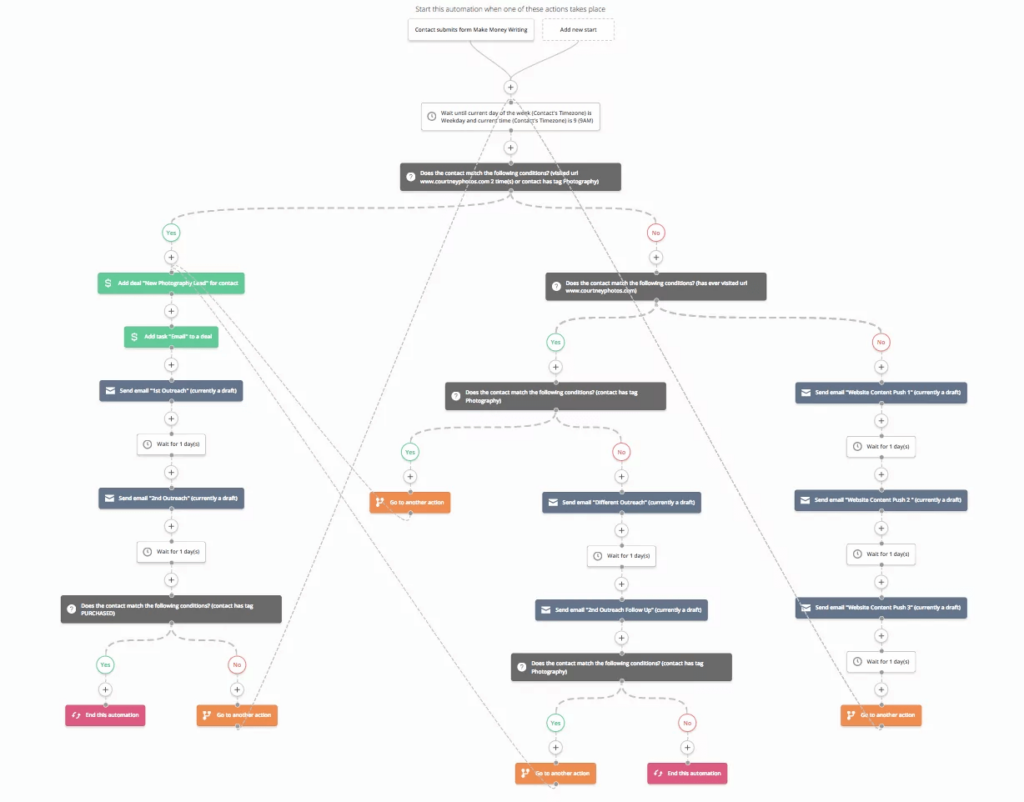 The automation tool offers if/then logic, which allows you to show customers different content based on certain conditions like interests, links clicked, and more.
You can use automations to perform a variety of marketing tasks. For example, you can create nurturing sequences for subscribers who reach a certain point in their journey (like brand-new subscribers or subscribers who purchase a specific product).
Short-term nurturing sequences are more educational, making leads aware of new blog posts, webinars, offers, and more. You can segment these campaigns to make them relevant for different types of leads.
Long-term nurturing sequences usually include checking in with leads after certain intervals (e.g., 6 or 12 months). They can also be triggered by an action (e.g., if a past customer visits our website).
But you can also use the automation features to segment your subscribers. With the built-in triggers, you can:
Tag subscribers based on behaviors (or add them to a different list)
Remove people from other campaigns
Add dynamic content
Re-engage cold subscribers
And so much more
Plus, ActiveCampaign comes fully loaded with automation recipes that are ready to go with existing marketing campaigns. Some examples of recipes you'll find in the ActiveCampaign Marketplace include:
Gathering feedback after a purchase
Onboarding for new Facebook Ad leads
Sending reminders to sign a document
Creating a deal in your CRM when you receive an inbound call
Sending abandoned cart email sequences
Several recipes even integrate with specific platforms like Shopify or Facebook.
Texting automation can also be combined with emails through ActiveCampaign.
Responsive reporting
There's no point in creating a bunch of fancy marketing automations if you don't have any data to review after they run. ActiveCampaign offers several different reporting formats both at the campaign level and also for individual contacts.
The Goal Reporting Dashboard makes it possible to drill down into specific goals for more in-depth insights into your automation's success.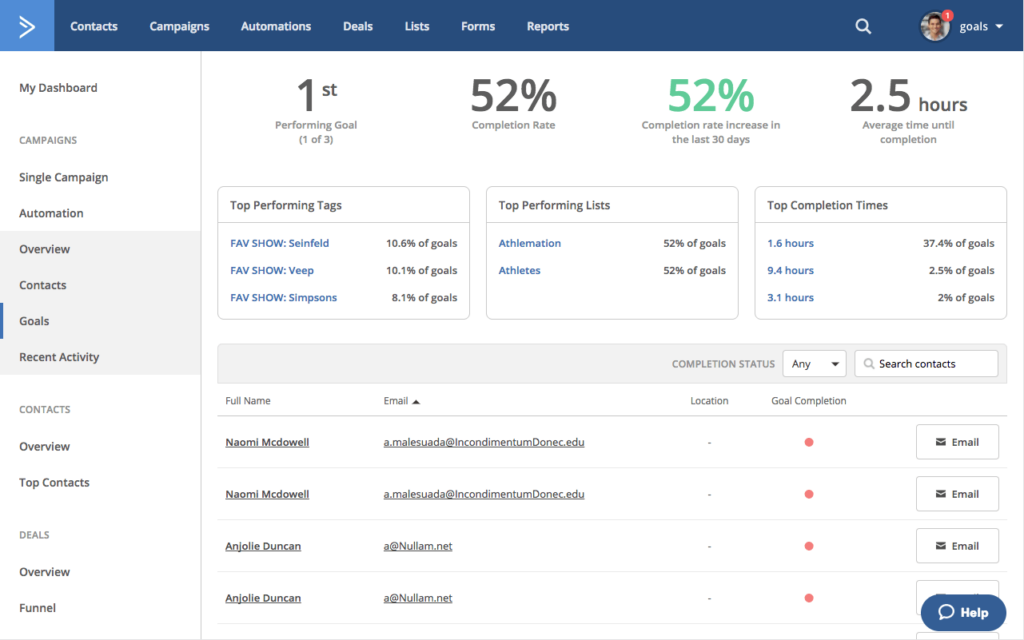 Another nice feature of the reporting tool is that you can see how many of your client leads are at each stage of a campaign. This format gives you a real-time visual feel to the email reporting, and lets you know where there might be room for improvement.
The reporting is a great way to build more robust customer profiles off the data and to target the right segments better and personalize each customer's experience more closely.
Landing pages for all
Most savvy marketers will use landing pages to better convert visitors into leads. Using ActiveCampaign alongside landing page opt-in tools is quite simple. It can be used to import emails from landing pages, so the prospect receives an automated welcome email after entering their information.
Landing pages that are integrated into ActiveCampaign can:
Add subscribers to an email newsletter
Give out a discount code or coupon
Boost attendance for a webinar
Encourage sign up for a free trial
Book a consultation or demo
There are several behaviors and actions that you can choose from for your opt-ins. These behaviors can be triggered by new email signups, which then adds the users into the automation sequence.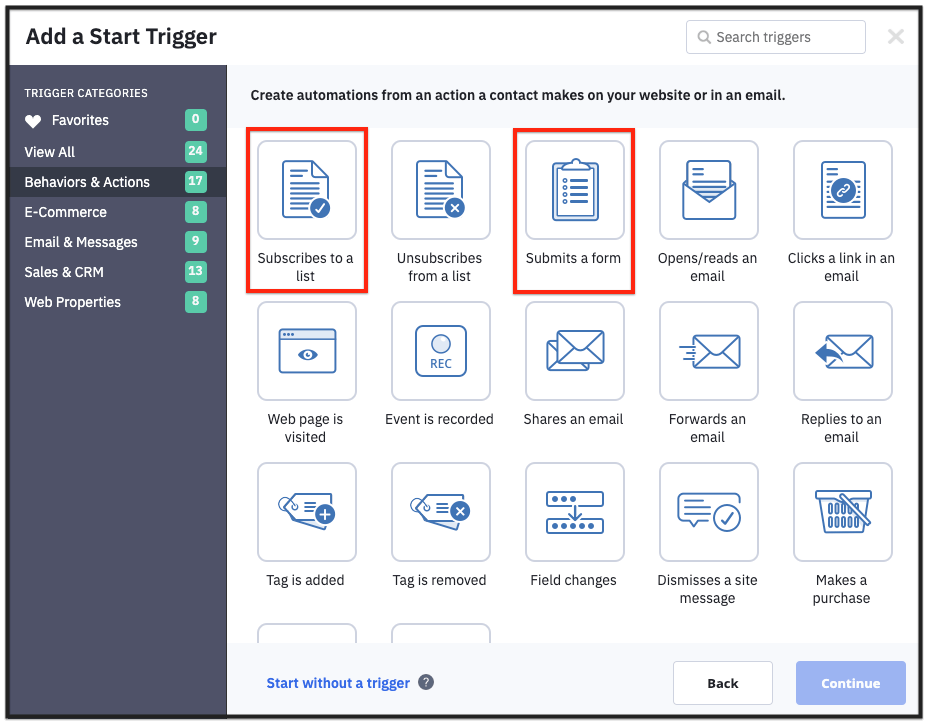 There are several apps you can integrate with it like ConvertFlow, Instapage, Clickfunnels, Unbounce, KickOff Labs, and more.
It also integrates nicely with blogging apps; you can integrate it with WordPress, Squarespace, Kajabi, and more if you want to use lead capture and signup forms on your website.
Integrated customer service chat
Customer service chats provide customer service your visitors enjoy. But it's important to keep all the data you have about your customers in one place. 54% of customers say their biggest frustration with chat tools is repeating themselves and answering many questions before getting to talk to a real person.
With ActiveCampaign, you won't need a separate tool to chat with your website visitors.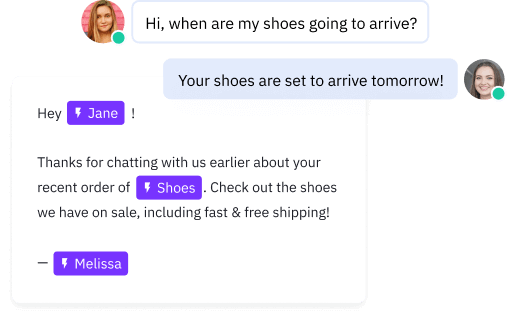 ActiveCampaign keeps your history with each customer so they don't need to keep answering the same questions.
Plus, you can implement conditional content in all your automated messages. This means you can send custom messages based on what your customers purchase. You can also use what you know about your customers to upsell or cross-sell other products.
ActiveCampaign cons
ActiveCampaign is an advanced email and marketing automation tool, and it takes some time to familiarize yourself with all the tools. It also requires ongoing maintenance to set up, monitor, and optimize your email campaigns.
Let's look at some of the cons of using ActiveCampaign compared to other marketing software.
No social media posting tools
Unfortunately, ActiveCampaign doesn't offer the ability to post content to social media and to work within the tool to perform search marketing research.
This means that even though you can add contacts into ActiveCampaign from Facebook Lead Forms and Google contacts, you can't use this data to target those same people again on the platforms.
Difficult for beginners
Like any software tool that has a lot of features, ActiveCampaign is a little challenging to learn. A lot of the features can discourage beginners. This is especially true if they've come from programs like Mailchimp, which only do basic automation or emails.
The onboarding process is time-consuming. At times, the UI in ActiveCampaign feels hard to navigate. Some of the features are buried in menu options that don't make a lot of sense, especially if you are new to terms like "Deals" and "Conversations".
There are a lot of visual articles offering support, but they're somewhat confusing to follow, and it feels like some simple video tutorials would have been a better option.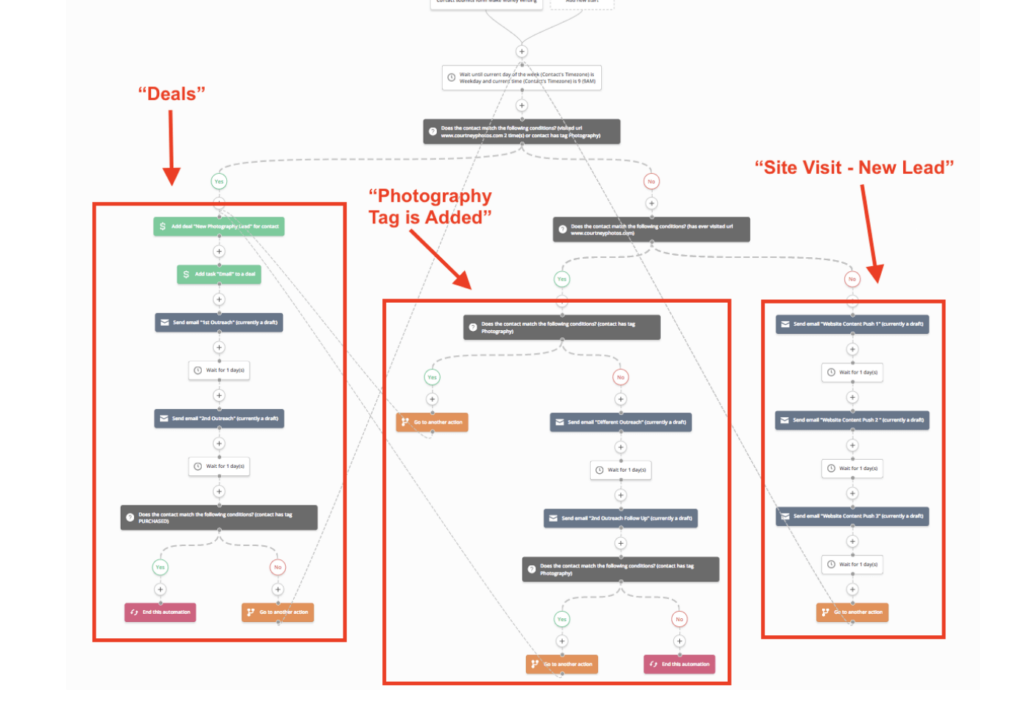 Similarly, if you don't have any HTML coding skills, your emails will all look similar because you're limited to using the email templates they provide.
Limited help options
On every screen, you'll see a button with a question mark on it with links to the knowledge base, training resources, and live chat with support.
The knowledge base that ActiveCampaign offers includes videos and articles on all the features, but these are time-consuming to watch when you're ready to get started. The chat bar reference is a nice touch, but some of the articles feel a bit overwhelming to read in that format.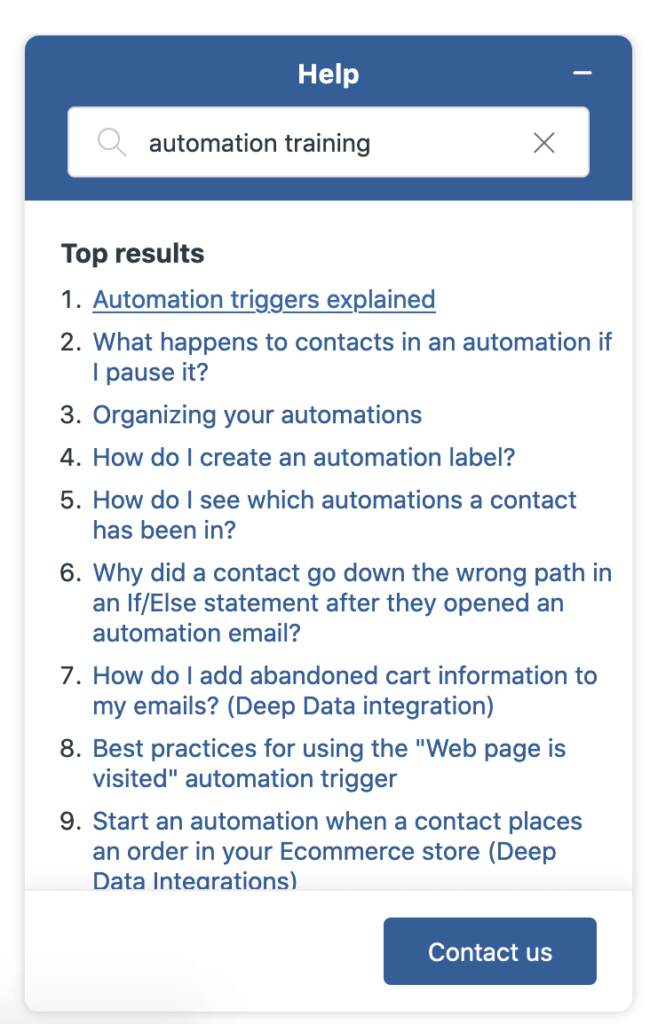 You can schedule a 30-minute customer support phone call to get a detailed walkthrough of the service. The company also runs training webinars, usually once a week. Surprisingly, there's no direct phone support available except for the sales team.
Takes several clicks to send an email
Want to send a broadcast to your list or a segment of your list? Even if you want to keep things simple, you'll still have to go through several screens to make that happen.
The fastest way to send a simple campaign is to duplicate an existing one that closely resembles what you want to do. However, you'll still have to navigate through each menu.
And because campaign details (such as subject line, email design, and list targeting) are spread out across several screens, sending an email can feel cumbersome when you want to keep things simple.
Plans & Pricing
ActiveCampaign offers marketing automation at the lowest entry point price on the market. You can start with as little as $9 per month for up to 500 contacts when you pay for an entire year, and grow from there. The same plan costs $15 per month if you prefer monthly payments.
One nice feature of all plans is the ability to send unlimited emails. Some email marketing tools will cap the volume, and this can be a limiting factor. ActiveCampaign solves this issue even for Lite plan users.
Instead of paying for the number of emails you send, ActiveCampaign charges you differently for each plan based on how many contacts you have. For example, going from 0–500 contacts to 501–1,000 will cost you $39 per month when paid monthly (or $29 per month for the yearly option).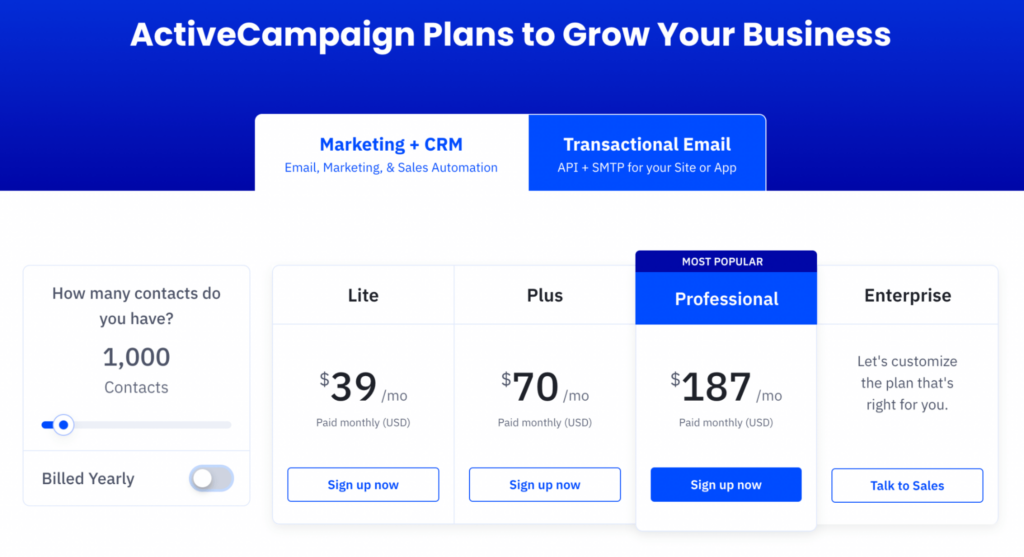 Because of this pricing model, it's easy to see why ActiveCampaign is a great tool for small businesses, as it allows you to scale up and down.
The Lite plan only allows a single user to login, which can be frustrating. However, for small businesses, it's easy enough to share logins for the software. The plan also misses a few of the essential tools that make ActiveCampaign stand out, like Contact Scoring and Landing Pages.
Moving up to the Plus, Professional, or Enterprise will see a dramatic increase in fees and some increased functionality. For instance, the Plus plan starts at $70 per month when paid monthly (for 1,000 subscribers).
The most significant change from Lite to Pro is the addition of the full suite of CRM tools, integrations, and SMS messaging.
Do we recommend ActiveCampaign?
If all you need is an email marketing platform, ActiveCampaign might be a bit of overkill. You can think of it as a hybrid of a sales CRM and email marketing software. It's great if you want to start using multiple campaigns or splitting contacts into various lists.
At the Lite plan price, ActiveCampaign has no rivals. You can handle everything from basic automated email marketing to advanced marketing automation, custom behavioral automations, audience tagging and segmentation, and more. If you upgrade to the more advanced packages to introduce a CRM, it becomes much more useful for sales teams.
To get these same CRM and sales tracking features, you typically need to sign up with a more expensive platform.
Keep in mind that ActiveCampaign does have a steep learning curve if you are new to marketing campaigns. You have to be willing to put in the time to learn the features of ActiveCampaign, or you may be better off with a simpler platform, such as Mailchimp or ConvertKit, to simply send emails.
Overall, ActiveCampaign is a great entry point into the marketing automation world for those who need more than email marketing software.
Want to start creating more powerful email marketing campaigns and deal pipelines? Sign up for ActiveCampaign to get started.