Businesses collect data for many reasons. They use it for market research, in the decision-making process, to improve their products and services, and to build stronger relationships with customers.
Unless you collect data, you are only guessing what the customer wants, thinks, and needs. With real data on hand, you can learn how to solve the problems of your customers and improve as a brand.
Still, collecting data is a lot of work and can be very time-consuming. There are so many methods to consider, so many places to find information, and then there's the issue of how to store, organize, and analyze what you collected.
The right type of data will help you make better content marketing decisions, data-driven content attracts quality links and as well as thrive in the industry. That being said, you shouldn't skip this part of doing business, especially now when there are so many tools to make this easier for you.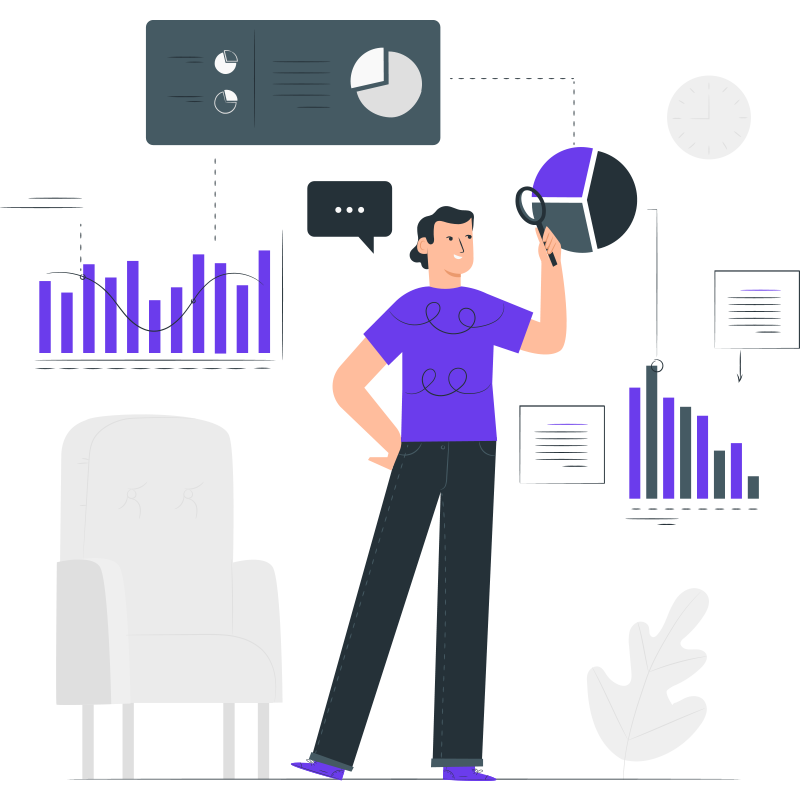 Get long-term ROI.
We help you grow through expertise, strategy, and the best content on the web.
What is a data collection tool?
Any technology-driven tool used to gather data falls under this category. There are thousands of choices for this purpose today, including tools that will help you do checklists, surveys, questionnaires, interviews, case studies, and much more.
These types of tools use a variety of techniques to gather data, as well as artificial intelligence to analyze it and report on it. You can also use the best of them to store all that data and use it when you most need it.
Top data collection tools to use today
Now without any further ado, let's take a look at the top tools for online data collection you should be considering.
1. 123FormBuilder: Best overall
If you are looking for the ultimate tool that's easy to use and has many features, 123FormBuilder gets the highest rating from many businesses worldwide. You can use it to create online surveys and forms without any coding experience. The drag-and-drop form builder is very easy to master and gives you access to over 2000 quality templates at this point.
Thanks to this tool, businesses today collect, store, and analyze data safely and with ease. You can customize the templates to create forms and share them across different channels without having to leave 123FormBuilder.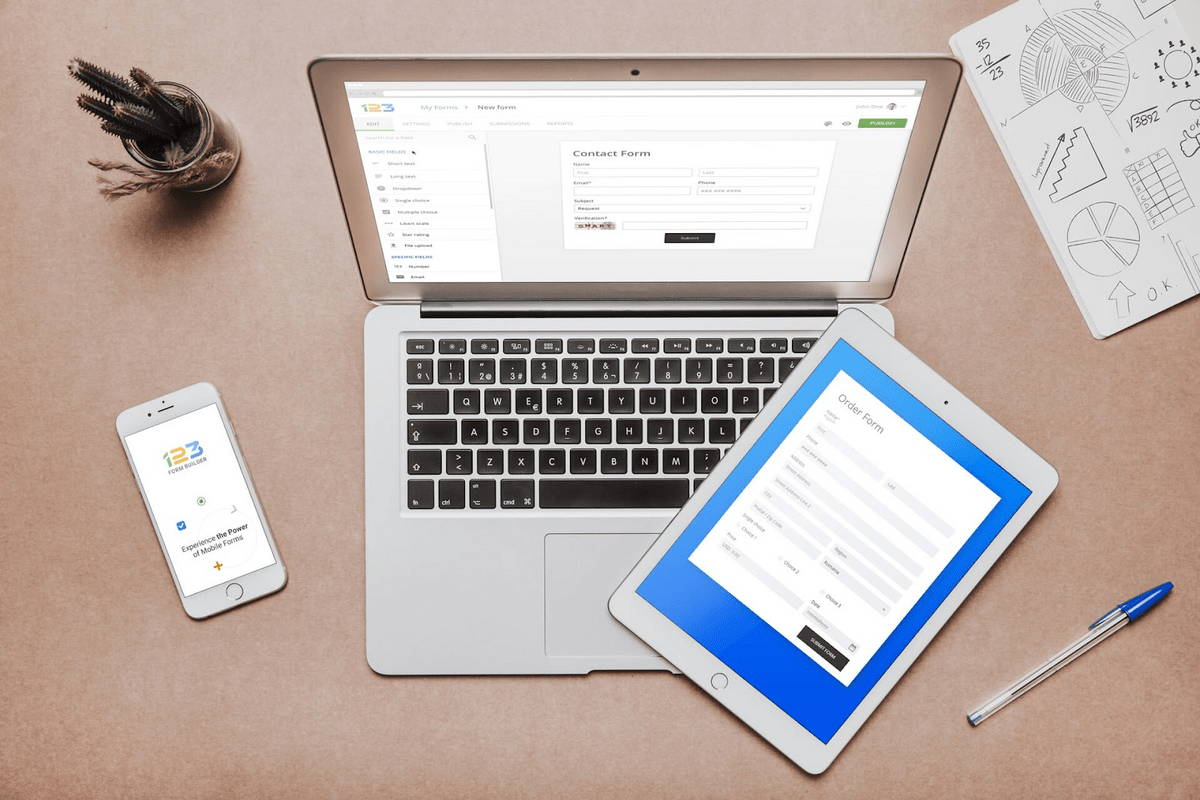 One of the best things about 123FormBuilder is its automation capacity. You can integrate this tool with a variety of popular solutions that businesses use today. For example, you can use your Salesforce data to prefill the forms without any effort or get paid via PayPal. If you want to send the ready forms to everyone in your email list, you can integrate it with Mailchimp and get them automatically instead of manually exporting everything.
Right now, the tool has over 80 different integrations.
Every form you'll create with the help of this tool is HIPAA compliant and GDPR-ready. It's a very safe solution with various levels of compliance, which makes your business' data and that of your customers very secure.
2. Repsly: Best for collecting customer data
The second on our list is Repsly, a field management tool that's ideal for small to medium-sized companies. This tool makes data mining very simple, and the CRM application allows teams to analyze data with minimum effort.
If you opt for this data collection tool, you'll get detailed insights into the activities of your team members. The simplified dashboard gives you an overview of everything in a single place including the work of your sales reps to the data regarding your customers.
Repsly is a cloud-based solution where you can easily access the history and other customer information. The mobile forms are fully-customizable and the field data you collect will automatically be transformed into accurate reports.
In addition to all this, Repsly has features such as reminders, scheduling, mileage tracking, alert notifications, as well as numerous device integrations.
3. Woorise: Best for marketing and lead generation
Woorise stands as a comprehensive platform for lead generation and marketing, encapsulating a variety of tools to create interactive campaigns. From landing pages, forms, surveys to quizzes, and viral giveaways & contests, Woorise simplifies the process of engaging with audiences and collecting valuable data. This is particularly beneficial for businesses looking to deepen their market research and improve customer relationships without the hassle of juggling multiple platforms.
The modern landing page and form builder is a notable feature of Woorise, offering over 40 form field types and a plethora of social actions. This flexibility in data collection not only enhances the user experience but also streamlines the process of gathering actionable insights. The platform further extends its utility with over 100 interactive templates, conditional logic, real-time email notifications, and multi-language support. These features are designed to provide a seamless data collection experience, enabling real-time insights crucial for making data-driven decisions.
Integration is a strong suit for Woorise, with seamless connectivity to popular marketing platforms like Mailchimp, Hubspot, ActiveCampaign, and more. This ensures that the new leads generated are automatically funneled to the tools businesses are already utilizing, thus enhancing workflow efficiency. Moreover, with integration to payment platforms like PayPal and Stripe, Woorise extends its utility beyond just data collection to facilitating business transactions, making it a holistic solution for both data collection and lead generation endeavors.
The built-in analytics feature of Woorise is particularly powerful, providing an immediate understanding of campaign performance and user engagement. This feature is essential for businesses aiming to make better content marketing decisions and thrive in the industry. With real data on hand, solving customer problems and improving as a brand becomes a more attainable goal. Woorise, with its all-encompassing features, emerges as a robust tool in the arsenal of marketing professionals aiming to optimize their data collection process and achieve long-term ROI.
4. Fulcrum: Best for collecting mobile data
Fulcrum is a cloud-based collection app that you can use to design custom forms and conduct field data research on an app. This is an affordable tool that requires little to no training to master, is extremely easy to use, and will automatically synchronize the data to the cloud.
You can use both the app and the desktop version of Fulcrum to collect data on the job and in the office and input it both online and offline. Since it's a cloud-based solution, everyone can access it in real-time, and save files like videos, photos, audio, barcodes, etc.
5. ContentSnare: Best for collecting data on clients
Unlike the previously mentioned tools, ContentSnare is more focused on clients. You can use the rest to collect mass data on customers, employees, etc. This tool, on the other hand, helps businesses like accountants and marketing agencies to gather and organize data including files, forms, logos, images, and entities and deal with clients.
If you use Content Snare, you can collect form responses and analyze both quantitative and qualitative data. This is a cloud-based solution where you can store and save your images, videos, and logos.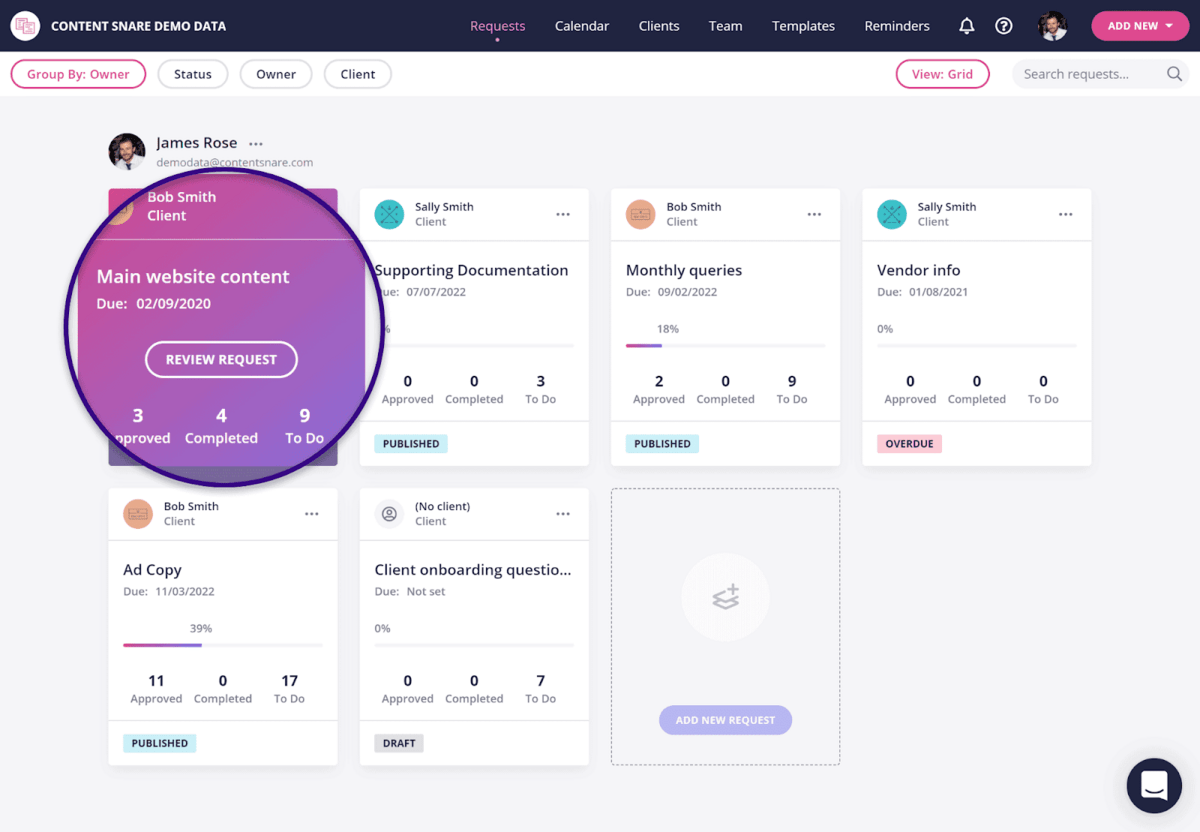 Thanks to ContentSNare, businesses can set up requests and send them to clients, automate emails and remainders for the clients, and organize requests based on the individual projects of their customers.
6. QuickTapSurvey: Best for online data collection and storage
Businesses can create forms and surveys within minutes with QuickTapSurvey. This tool is popular because it allows you to capture data both online and offline. You can store it while offline and it will automatically synchronize with the cloud once you go online.
QuickTapSurvey is a great tool for capturing leads, collecting customer feedback, performing feedback analytics and audits, doing research, gathering data from in-person surveys, etc.
There are over 35 survey question types available in Quick Tap Survey, and the tool is designed for mobile as well as desktop data collection. With it, you can capture detailed leads with information such as email addresses, contact numbers, physical addresses, etc.
If you want to get notifications and alerts, you can automate them in this tool. The tool can be integrated with numerous other tools including MailChimp, Salesforce, and Zapier.
7. Zonka: Best for collecting customer feedback
Gathering information directly from the customers is the best way to determine if your strategies are good, your product is of high quality, and if you need to make changes in your marketing strategy. If you are looking for a tool that can help you specifically with gathering customer feedback, you should consider Zonka.
Zonka Feedback is a tool that allows businesses to collect feedback from employees and customers with the help of CES, CSAT, and NPS surveys. Based on the collected data, Zonka will help you get accurate reports and analyze the data automatically. Instead of bothering with each survey to learn the results, you can use this tool and get actionable insights in half the time.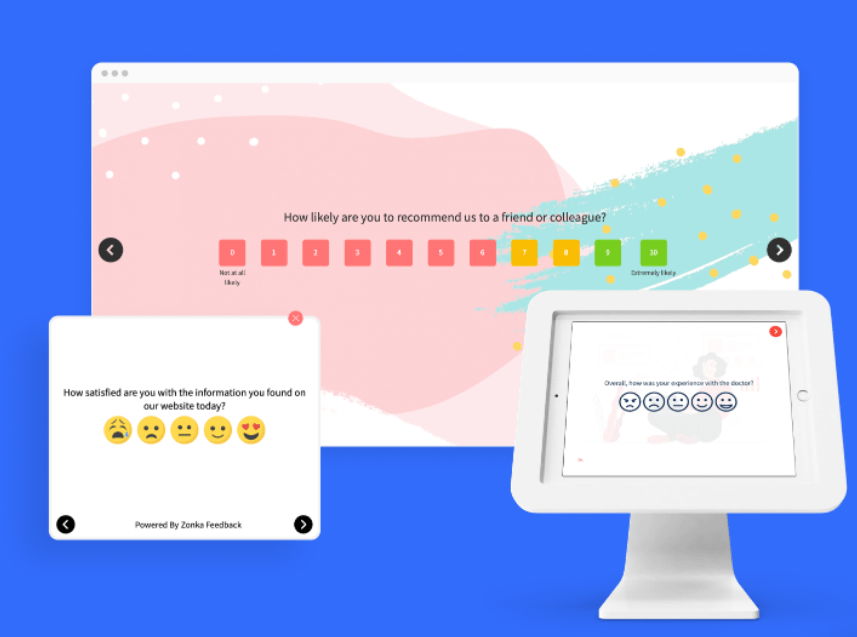 This tool has numerous feedback forms that you can customize to collect customer data effortlessly, so it saves time in design, too. The forms are easily customizable, flexible, and can fit into every industry. The best part about this is that Zonka supports over 30 different languages, so you can gather feedback from a wide audience with its help.
If you use this tool, you can complete the surveys and forms through smartphone and desktop devices. The analysis of the data collected occurs almost instantly. Instead of spending hours checking the customer responses in those surveys, you can get interactive reports and use them right away.
8. Monday: Best for project management data
Monday is an affordable tool that's very popular with entrepreneurs. This is basically a project management tool with a variety of collaboration options, tracking features, calendar views, as well as integration capabilities.
Since you will use it during the projects and in the planning stages, the tool will capture useful data, analyze it for you, and give you insightful reports that you can act on. Monday integrates with several other tools like Twitter, Excel, Dropbox, and Shopify.
Featuring a categorized, well-organized interface, Monday gives you options that can be customized based on your needs. Its capabilities include metrics for individuals, as well as entire teams that work on the projects.
9. Jotform Surveys: Best for Survey Creation
Jotform is a no-code online form builder that helps users create, customize and share engaging online surveys within minutes. With its classic drag-and-drop builder, you can easily create and customize your surveys, quizzes, and polls.
If you're looking to quickly collect data from your audience, all you need to do is choose one of the 800+ ready-to-use templates and customize it to your needs, and make it stand out, by creating a unique experience for your audience with Jorform's conditional logic function.
After you send out your survey via email, a link, or a QR code, you can collect and track your submissions by using Jotform's detailed Form Analytics and Report Builder features. Moreover, choose one of many integrations to help with things like email lists and CRM contacts. Jotform is the choice survey maker for more than 15 million users worldwide.
10. LeadGen: Best for Generating Leads
For many firms today, field data is crucial. If your company falls under this category, you will need LeadGen to gather and evaluate data. LeadGen is an online form builder tool that is used to generate leads. You can easily create a powerful multi-step form to capture up to five times more leads and verify and manage your contacts in one place.
With the LeadGen app, you can create a basic to advanced multi-step form in just five minutes! Leadgen form builder is a great service for marketers, agencies, and those who provide lead generation services.
The useful features of LeadGen are easy customization of multi-step forms without any basic programming knowledge, simple and user-friendly interface, an Intuitive form-builder with amazing features like different question types, calculator feature, etc
LeadGen App helps small businesses by providing the most flexible and conversion-focused form builder to generate more leads. Its mission is to help businesses get more customers and clients with engaging, flexible, and user-friendly forms. They are committed to giving our users the tools to grow your revenue by making web pages convert up to 5 times more.
11. Osano: Best for Protecting Consumer Information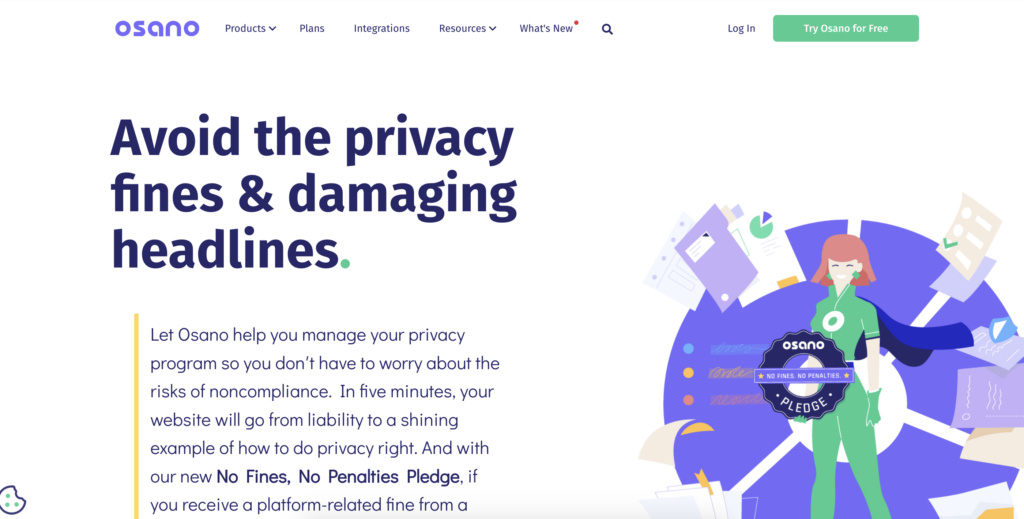 Every business that collects consumer data is subject to several privacy laws. Privacy laws exist to protect consumer information, and abiding by them can help build customers' trust in your business. However, failure to comply with these laws can attract heavy fines and legal consequences.
Sadly, some companies don't even realize that they may be violating some privacy laws. So, it's best to have a tool that keeps you in compliance with all privacy laws.
Osano is a cloud-based data privacy platform designed to help businesses ensure compliance with data governance laws such as the General Data Protection Regulation (GDPR) and California Consumer Privacy Act (CCPA) across websites. Key features of Osano include:
Consent Management
Vendor risk administration
Policy change detection
Privacy law alerts
For example, GDPR introduced new terms and rules that set the bar for data privacy worldwide, called RoPAs (records of processing activities). RoPAs are just one way to ensure a business's compliance with the Regulation's standards. According to Article 30, "Each controller and, where applicable, the controller's representative shall maintain a record of processing activities under its responsibility." Businesses lacking data privacy compliance tools may be unaware of these new rules. However, ignorance is not an excuse under the law. This is why having a data privacy compliance tool is important. You can read this guide which offers detailed information on RoPA.
12. Nicereply: Ideal for gathering customer feedback
Nicereply is a user-friendly feedback tool designed for small to medium-sized companies seeking to collect customer feedback. This tool simplifies the process of gathering data, and its CRM application enables teams to analyze information effortlessly.
By choosing Nicereply as your feedback collection tool, you gain access to comprehensive insights into the actions of your team members. The convenient dashboard provides a consolidated view of various aspects.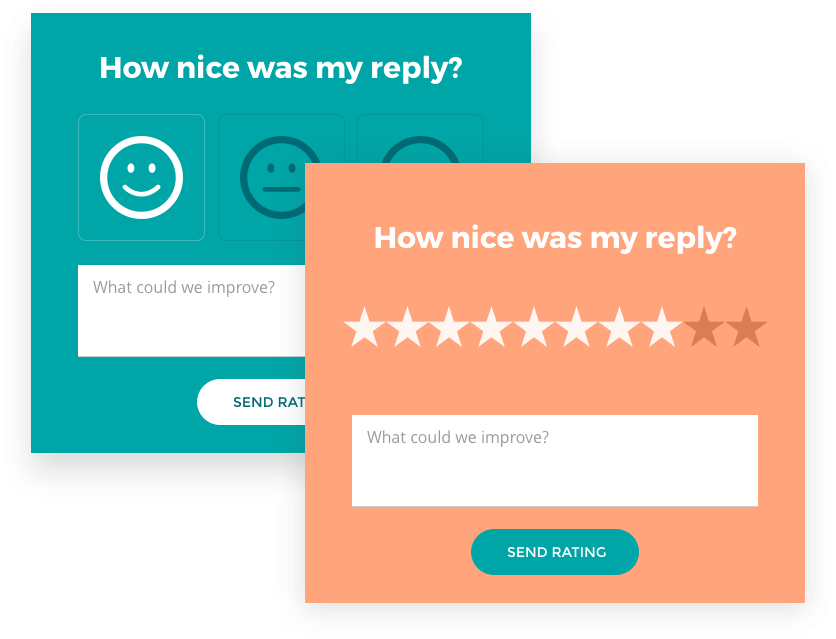 Nicereply forms are highly customizable, and the field data you collect is automatically transformed into accurate reports. Furthermore, the app offers additional features like filters, alert notifications, and seamless integration with various devices. Nicereply recently introduced new Popup surveys, enabling you to gather valuable feedback from visitors to your website.
You can integrate Nicereply with tools such as Zendesk, Front, Liveagent, Freshdesk, Aircall, and many others. One of Nicereply's notable strengths lies in its customization options, allowing you to personalize the design, language, and content of your surveys.
Why not give Nicereply a try with their 14-day trial?
What tool will you be using first?
Gathering data and files is a time-consuming, challenging procedure, but not when you have the right data collection and storage tool at your disposal. This is essential to keeping the most valuable information about your brand organized and secure. Based on the needs and size of your business, you should pick a tool from our list and optimize your data collection process.