Are you struggling with measuring your customer experiences and digital campaigns? These metrics are vital for your business's online success, and online success usually means overall success these days.
Perhaps you'll be relieved to learn that you are not alone. Many businesses, startups, and larger companies are struggling with this kind of metrics tracking. There are countless tools available out there, and deciding which one to go with can be stressful enough alone, not to mention dealing with the actual metrics.
Adobe Marketing Cloud is a set of tools specializing in digital campaigns and customer experience tracking.
In this article, we will go through how Adobe Marketing Cloud works and some of its essential functions.
TABLE OF CONTENTS
What Is Adobe Marketing Cloud?
Adobe Marketing Cloud is a comprehensive marketing suite that helps with personalization, optimization, and measurement of customer experiences and digital campaigns. The goal here, as you know, is optimal online marketing performance.
Inside the Adobe Marketing Cloud package, you get a set of immensely useful tools, including Adobe Social, Adobe Campaign, Adobe Media Optimizer, Adobe Manager, Adobe Analytics, and Adobe Target.
Compared to many other similar tools, Adobe Marketing Cloud offers an intuitive interface that allows you to synchronize a lot of important information across the board.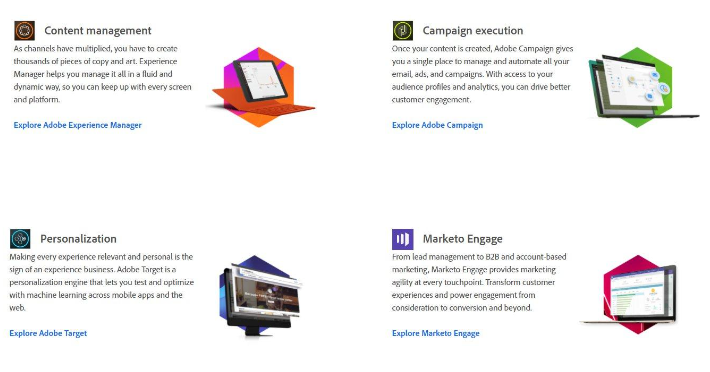 Why Use Adobe Marketing Cloud?
Marketing is all about conversions; every professional will tell you this. A campaign is worth absolutely nothing if it doesn't lead to product or service sales.
But every campaign, successful or unsuccessful, requires a lot of work. In marketing, targeting is especially important. Adobe Marketing Cloud allows you to automate this targeting process, directly related to conversion increase and workload reduction.
The platform can also automate multilingual campaigns, and bridge the gap between digital channels and emails.
In short, you should consider using Adobe Marketing Cloud because it encompasses everything that a business marketer may need for creating the customer journey.
How to Use Adobe Marketing Cloud
Normally, we'd give you a step-by-step walkthrough of how to use a piece of software. However, not only is Adobe Marketing Cloud more than a piece of software (it's a bundle of various marketing tools), but there are full-length courses that teach you how to make it work with your campaigns.
It sounds subtle. But just like the experts from our MasterClass review can attest, it's the details that make all the difference!
Instead, we're going to run through what Adobe Marketing Cloud enables you to do in more detail.
Marketing Automation
Thanks to the Adobe Campaign tool, a digital marketer can automate certain aspects of a digital campaign to boost the overall campaign productivity. With Adobe Campaign, such automation doesn't decrease the customer experience, as long as you know which aspects of the campaign are fit for automation. Adobe Campaign also allows you to create profiles for individual customers. These are based on their actions, which are tracked via various channels.
A/B Testing
Tracking the success of a marketing campaign is vital. This is done through a practice called "A/B testing," where two items (ads, for instance) are released and carefully tracked for success. The problem here is that sometimes, the "A" and "B" are located in separate locations. Thanks to the Adobe Target tool (part of the Adobe Marketing Cloud bundle), you get a clearer picture of an A/B test run's effectiveness.
Digital Analytics in Real-Time
The Adobe Analytics tool from the bundle helps a business better understand its customers and clients. Thanks to this incredible tool, a company can learn more about what its customers need and want and what they believe.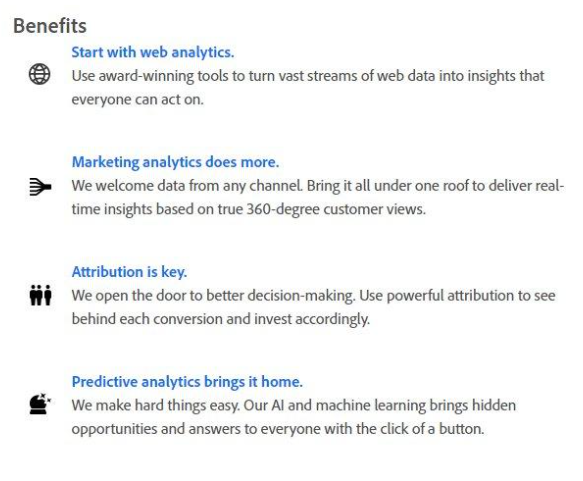 Social Insights
The Adobe Social tool can track and moderate various social media conversations, publish and promote content, as well as analyze conversion engagement. Adobe Social can assign tracking codes to your leads' social content and help you better understand which content best drives your engagement.
Retargeting and High-Value Audiences
Thanks to the Adobe Media Optimizer tool, a marketing expert can place a piece of code stored in the form of cookies in the user's browser/app after they've visited your website. In this way, the user can automate ads that pop up while the user is browsing the internet or accessing the app in question. This is hugely important for reminding the user of your product/service.
Adobe Marketing Cloud FAQs
What does Adobe Marketing Cloud do?
In short, it offers everything a marketing specialist needs to create and run a successful online campaign. It's a brilliant marketing metrics bundle, but it's much more than that, as well. When combined together and used by a knowledgeable and experienced professional, the tools included in the Adobe Marketing Cloud allow a company to truly understand their customers and clients and how to turn leads into conversions.
How much does Adobe Marketing Cloud cost?
There is no exact way to tell how much Adobe Marketing Cloud will set you back. It depends on your company's needs. Consider the fact that every company's marketing requirements are different and that Adobe Marketing Cloud covers the majority of your marketing metrics needs.
On Adobe's official website, you can submit your company's information. This gets you in contact with Adobe and is the only way to get pricing quotes.
Does Adobe have a CRM?
Adobe does have a CRM (Customer Relationship Management) tool that allows you to do everything from sales and customer support management to marketing strategy creation. So, Adobe does offer a CRM tool bundle, called Adobe Marketing Cloud.
Is Adobe Marketing Cloud worth it?
This is not an easy question to answer. Although many companies use this platform for their marketing efforts, you won't be able to tell if it's a perfect bundle for yours until you've tried it. Luckily, the free demo gives you more than enough time to assess the included features.
Adobe Marketing Cloud – the Golden Opportunity for Every Marketing Effort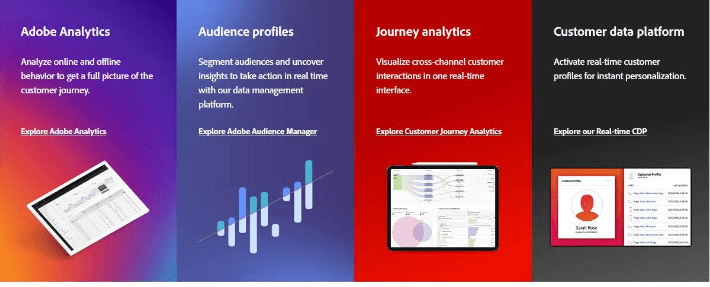 We hope that we've helped you better understand the essence of Adobe Marketing Cloud. You should realize that this is not a tool but rather a bundle of brilliant features that can help breathe life into your business's marketing campaigns.
Although it's widely regarded as a CRM tool, this bundle is much more than that – it's Adobe's effort to help maximize the effectiveness of any business's marketing campaign. Get started with the Adobe Marketing Cloud demo and see if it's a good fit for your company's marketing efforts.