Are you struggling to track your hot leads and focus your sales efforts? Are existing customers slipping through your fingers?
We've come a long way from keeping customer info on card Rolodexes. Nowadays, even the smallest business needs a CRM to keep everything straight. And it needs to be affordable, too.
If you've had problems tracking and maintaining your customer base, you're not alone. It's a pain point that every business experiences at one time or another.
That's where BenchmarkONE Hatchbuck comes in.
Having the right CRM at your fingertips not only helps you keep track of existing customers, but it can also help maintain those important sales leads, too.
This article will give you a breakdown of what BenchmarkONE Hatchbuck is and what it can do for your business.
TABLE OF CONTENTS
What Is BenchmarkONE Hatchbuck?
BenchmarkONE (formally Hatchbuck) is a marketing and sales solution for small and medium-sized business owners. Essentially, it's software that helps you keep track of the customers you already have as well as any hot leads in your database.
And keeping everything organized and tracked is essential for any business.
If it takes an average of 18 calls to connect with a buyer, you need to know who you're calling and when it happened. When you have a CRM like BenchmarkONE, you can.
BenchmarkONE also has solutions for email marketing and marketing automation. They like to say that they're an all-in-one choice for small business owners and agencies who want a simple and affordable sales tool.

Why Use BenchmarkONE Hatchbuck?
Every business has its own way of keeping track of customers and sales leads. Most of the time, it involves some type of CRM. But many of the big-name CRM solutions have too many features.
Normally, getting more bang for your buck is a good thing. But when you just want to do a few actions a day, wading through a sea of features can get tiresome.
So, BenchmarkONE streamlined the most important features in their system. They have a convenient Dash to check activity in real-time to see what's in the pipeline.
BenchmarkONE also has a convenient email marketing solution to put your own spin on messages that go out. And they have an email link tracking system that gives you important metrics like who's opening your emails and who's visiting your website.
It sounds subtle. But just like the experts from our MasterClass review can attest, it's the details that make all the difference!
How to Get Started Using BenchmarkONE: A Step-by-Step Walkthrough
Getting started with BenchmarkONE is a simple process. Take a look at the steps below to begin your setup:
1. Create an Account
When you click on the Get Started button on the BenchmarkONE website, it automatically directs you to the Free Plan sign-up page. This happens even if you made up your mind that you were going to go with an upgraded plan.
The first section of the form tells you to pick the plan and it's always going to be the free plan. This plan includes one user and up to 1,000 emails. You can also add 500 contacts with this plan.
Don't worry about upgrading and onboarding at this point. You can upgrade your plan and add additional team members later.
After you fill out the form, you just need to check your inbox for the activation link.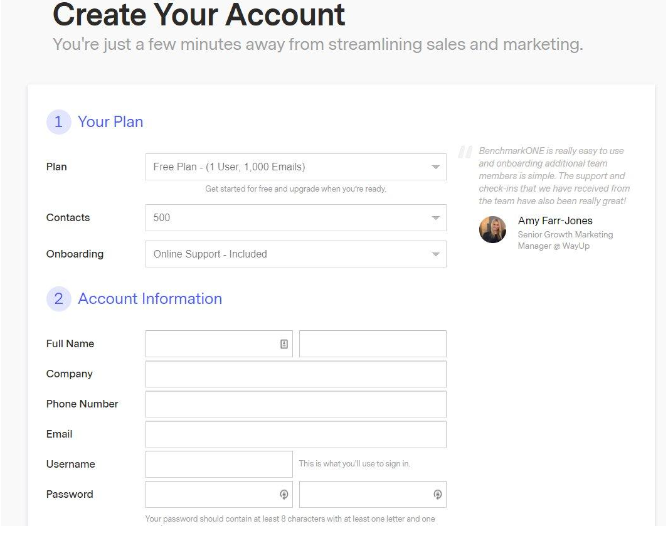 2. Customize It
You may be tempted to jump in and start importing lists right away. Before you do that, though, make sure that all the customization fields are suited to your business. Taking the time to do this now can save you a lot of headaches later.
Some of the customization options include:
Contact status
Deal stages
Lead sources
Tags
Custom fields
3. Import Your Database
Now that you're done with setting up your customizations, it's time to organize and import your spreadsheet. If you need to do a little housekeeping on your database, now's the time to do it. When you're ready, use the import wizard to upload it to BenchmarkONE.
Once you complete the initial set-up, you're ready to begin using the other features. Here's a quick run-down of some of the features you have access to:
Website traffic tracking
Building a landing page or online form
Email template creation
Remember that you don't have to stick with the default fields if they don't suit your industry. You can create custom fields as you see the need for them.

BenchmarkONE Hatchbuck FAQs
How much does BenchmarkONE cost?
BenchmarkOne has a free plan that everybody starts with to get familiar with the software. From there, you can upgrade to three plans:
Core – $79 per month, billed semi-annually
Pro – $139 per month, billed semi-annually
Enterprise – $199 per month, billed semi-annually
Onboarding packages are included with each plan. But you can also upgrade these packages to the next tier level for more support.
Who are the typical users of BenchmarkONE?
BenchmarkONE is for small to medium-sized businesses whose main focus is email nurturing to drive sales.
It's primarily a "do-it-yourself" system where you're the one in the driver's seat. The software just helps streamline all of the information to give you a more complete picture of your pipeline.
What types of payment does BenchmarkONE accept?
BenchmarkONE accepts major credit cards such as Visa, Mastercard, and American Express. Unfortunately, they don't accept any other forms of payment such as bank checks or PayPal at this time.
Does BenchmarkONE offer a money-back guarantee?
No, BenchmarkONE does not offer a money-back guarantee. Since you're not tied to a long-term contract, though, you're free to cancel the service at any time.
Can you get more training for BenchmarkONE?
Each plan includes online training and support with live training included in Small Biz plans and higher. If you need more help, you can buy an onboarding package that offers additional support.
Get Onboard
Hopefully, this article gave you a better understanding of BenchmarkONE and how it works. Ultimately, it's a CRM software option that's pared down for easy use. And it has a pared-down price tag to reflect its slim feature list.
For small business owners, this could be a good thing. But it may not offer enough features to handle prospects for larger companies.