Simple as they may sound, forms and surveys, if conducted properly, can bring a ton of information to the table. Unfortunately, the available free tools are limiting, to say the least. If you're reading this, you're probably struggling with this yourself.
Well, you're not alone. Whether we're talking about businesses, nonprofit organizations, or individuals who want to create forms for personal reasons, many people out there are, like yourself, are struggling with forms.
If forms that you need require special attention and focus, there is no reason why you should keep struggling with various basic and feature-poor platforms out there. JotForm is a perfect example of a form creation tool that allows you to get into all the nooks and crannies of form creation.
In this article, we're going to give you a rundown of the JotForm basics and JotForm pricing options.
TABLE OF CONTENTS
What Is JotForm?
JotForm may be simple to use, but it's far from a basic platform. We're talking about a powerful form builder tool that focuses on user-friendliness and collaboration.
This platform enables its users to work on a form at the same time. Think of it as Google Docs of form builders. With it, the users get to customize their surveys, down to the tiniest detail.
It sounds subtle. But just like the experts from our MasterClass review can attest, it's the details that make all the difference!
If form design and details aren't up your alley, you'll be happy to know that JotForm uses smart, pre-designed templates to help you create simple yet stunning forms.

Why Use JotForm?
Well, first of all, we'd like to emphasize that JotForm allows you to create and design your surveys and forms from scratch. Not every form creation tool allows this. Secondly, there are more than 10,000 free templates available. The library of these templates is category-based and is completely searchable.
Then, there's the app integration factor. It's all about connectivity in this day and age, and JotForm is fully-integrated with Google Drive, Dropbox, Square, PayPal, and many other commonly used, world-renowned cloud, organization, and payment tools. You get to choose from almost 200 different apps to connect to JotForm.
How Much Does JotForm Cost?
There are five different plans for JotForm: Starter, Bronze, Silver, Gold, and Enterprise. Most of these plans are paid monthly or yearly (which gives you a slight discount). Here's more on each of these plans, individually.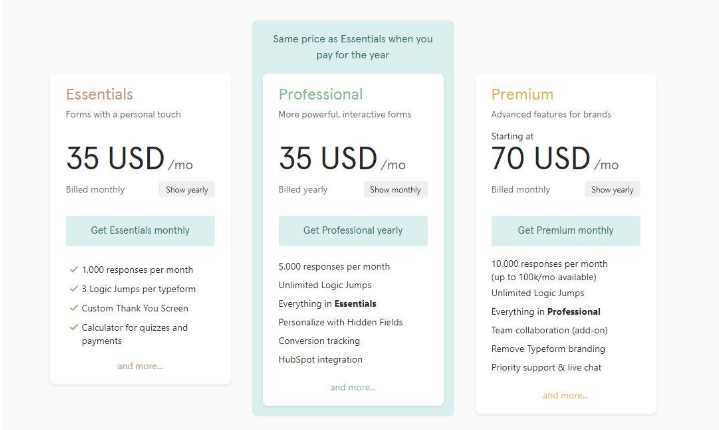 JotForm Starter
This is a free plan. It comes with a five-form limit, which is far from satisfactory for most, but we are talking about a free plan here. You get a limit of 100 monthly submissions, as well as 100MB of cloud space.
There's a 1,000 views limit per month on your forms and a 500 submissions cap. The maximum number of payment submissions is 10, and each form comes with a JotForm watermark on it. The Starter plan is ideal for people who rarely use forms.
JotForm Bronze
The first paid JotForm plan will set you back $29 or $24, when billed monthly or annually (respectively). The form limit of this plan is 24, and you get 1,000 submissions per month. With a cloud space of 10GB, you get more than enough room for your needs.
The form view cap is at 10,000 per month, and there's a maximum of 100 payment submissions. No JotForm watermark is applied to your forms. You get unlimited total submission storage, as well.
JotForm Silver
For $39 per month (or $29 if paid per year), you get the Silver JotForm plan, which is considered "best value." The form limit here is upped to 100, while the monthly submissions cap is 10,000. There's 100GB of storage space. The payment submissions cap sits at 1,000, while the total submission storage, monthly form views, and reports are all unlimited.
With the Silver plan, HIPAA (the Health Insurance Portability and Accountability Act) Compliance is guaranteed. This is incredibly important when it comes to the accountability and reliability of your forms. Expect no watermarks here, either.
JotForm Gold
For $99 per month or $79 per month when paid annually, you get JotForm's most comprehensive, Gold plan. With this one, the form limit is removed. You get 100,000 submissions a month and storage of a whopping 1TB. Everything else, including payment submissions, is completely unlimited, and the plan also brings HIPAA Compliance to the table.
JotForm Enterprise
If the Gold plan isn't enough for you, contact JotForm to get your quotes on a fully-customizable Enterprise plan.
JotForm Pricing FAQs
Is JotForm really free?
As you can see in the pricing section above, JotForm isn't exactly free, but it does offer a Starter plan. You can use all the JotForm features here. However, it has significantly lower feature limits compared to paid plans. If you don't use forms a lot and don't mind a JotForm watermark, the free Starter plan is the best way to go.
Are there any student discounts?
Students may need to create a few forms here and there. JotForm is well-aware of this, which is why they offer a 50% discount for worldwide educational institutions. If you're in K-12 (kindergarten to 12th grade) at school or at a major university, you are likely eligible for a discount.
Do nonprofits use JotForm?
Nonprofit organizations are well-known for their form and survey usage. In fact, they are the form market's golden egg. JotForm, unlike some of its competitors, offers a 50% discount for nonprofits, regardless of their size.
Can I get my money back?
You're going to be more than happy with JotForm with all its features and options. If you don't find JotForm a good fit for you, however, the company will issue you a full refund within 30 days of your subscription. Think of it as a 30-day demo.
Is JotForm worth the money?
At the end of the day, like with any other paid service, it all boils down to the question of whether or not it's worth it.
As you can see from Jotform pricing options, it isn't exactly cheap, however, it is significantly less expensive than its competitors. If you want to give it a shot, start with the Starter plan.
If you want to dive deeper and still get your money back, they offer a 30-day money-back guarantee, no questions asked. In other words, yes, JotForm is worth your investment.