Are you tired of endless spreadsheets with dates and information posts?
Don't worry. There are many people in marketing that experience the same frustration. With files scattered on several platforms, it's hard to keep track of everything.
That's where Loomly comes in. It offers all-in-one social media management tools and constant support during the publishing process.
In this guide, we'll show you how to use Loomly to upgrade the quality of your posts and organize them so well that you'll never miss a thing.
TABLE OF CONTENTS
What Is Loomly?
Loomly is a content creation tool that helps you plan, publish, and analyze your social media posts. It includes a user-friendly interface that assists in strategizing your posts and running them on Facebook, Instagram, Twitter, and LinkedIn.
If you're a marketing strategist or social media account manager, this tool comes in handy, especially if you're managing multiple accounts simultaneously. With Loomly, you can plan every single post and streamline your team's creativity.
Every small business requires serious branding to position itself on the market. With a tool like Loomly, your content will be relevant, timely, and, more than anything, very professional.

Why Use Loomly?
Should you want to build successful brands, you'll need to cope with various social media accounts professionally and without delays. Loomly's List and Calendar View enable you to schedule posts, plan ad campaigns, and analyze their success from the same dashboard.
What's more, all your data and post templates will be stored in one place so that you can access them whenever necessary. Share them with a designer in a few simple clicks, send them for approval, and post on Facebook, Instagram, Pinterest, or Twitter.
Every company that has a remote team would find Loomly practical. Why? Because it lets team members create posts together. And they can optimize marketing strategies on the go while developing steps to reach ambitious goals.
Loomly comes packed with features:
Social media calendar
Team collaboration tools
Post scheduling calendar with automated publishing
Useful Post Ideas tool
Analytics tools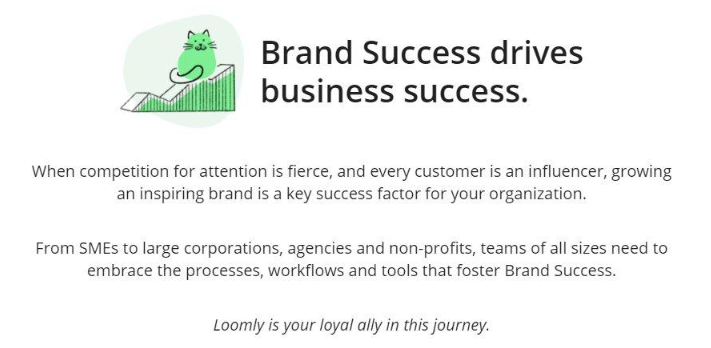 How to Use Loomly: A Step-by-Step Walkthrough
Whether you plan to work on your own or have a committed team, Loomly can be a playground for your ideas and a place where you can develop various marketing strategies.
Create a New Loomly Calendar
Once you've started using Loomly, the first thing you'll need to set up is your calendar. You can customize it with a logo, company name, and your client's industry. If you have clients in different time zones, you can adjust every calendar accordingly.
Besides individual calendars, Loomly allows you to create a Master calendar should you decide to use similar posts on multiple accounts on the same platform.
For example, you can use one LinkedIn post and post it on several profiles with slight changes. Connect your accounts by clicking the green "Connect" button next to a calendar, and you'll be able to see their post schedules all in one place.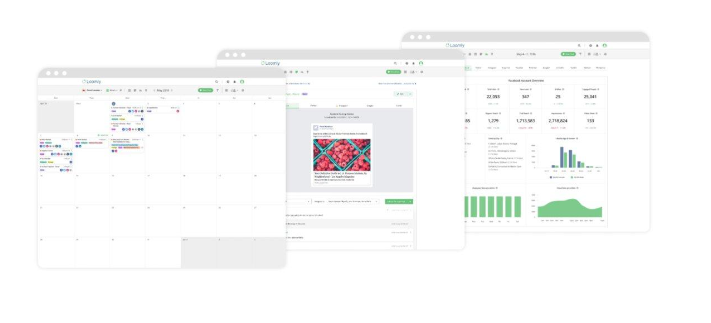 Connect Social Media Accounts
When it's time to connect your social media accounts, keep in mind that one calendar connects with only one account at a time.
Calendar Workflow
When you start using a calendar, it's essential to decide what kind of workflow is best suited for you and your team. Loomly offers three types of workflow organization:
Original Workflow
Light Workflow
Zero Workflow
Original workflow is ideal for managing bigger teams where a few people must see and approve each post. On the other hand, if you only have one collaborator or you're working all by yourself, it's best to use Light or Zero Workflow since, that way, your content goes directly to publishing.
Invite Collaborators
Adding new collaborators to your calendars is a very straightforward process. You can invite them to one or several calendars, depending on their expertise. If you have several teams, assign them to individual calendars, and they'll get email notifications.
Create a New Post
With a Post Builder tool, you can manage your content and create new posts. Choose the right time to post on Instagram and other social media channels, and use Loomly's software to edit all segments of your posts.
You can individually customize your posts by adding hashtags for Twitter and Instagram posts or LinkedIn links. Also, you can customize Facebook Ads to reach the right audience and create the best impact.

Loomly FAQs
How Do You Create a Loomly Account?
Setting up a Loomly calendar is an uncomplicated process. All you need to do is open loomly.com and decide on the plan you'll be using. There's a monthly and a yearly subscription you can choose from.
Once you add your billing information and pay, the platform becomes available. Then you can set your account and use all the tools this platform provides.
What Is Unique About Loomly?
One thing that sets Loomly apart from other marketing and social media tools is that every time you start creating a post, Loomly generates Post Ideas. This feature inspires you to create a post as it relies on AI to find or make helpful post suggestions.
According to the day, location, or trending topics on social media platforms, you'll always get useful information on making your post more engaging.
How Much Does Loomly Cost?
The platform offers five different billing options according to the package you decide to go for. Here are the prices for monthly and yearly subscription packages:
Base package $34 (billed monthly) and $25 (billed yearly)
Standard package $76 (billed monthly) and $57 (billed yearly)
Advanced package $159 (billed monthly) and $119 (billed yearly)
Premium package$332 (billed monthly) and $249 (billed yearly)
For an Enterprise package tailored to your company's needs, you'll have to contact Loomly's sales team.

Creating with Loomly
All things considered, Loomly is one of the best tools for post scheduling and social media content management. And it's made to support both small and large marketing teams.
Sure, you can do all that by yourself or using a spreadsheet, but there's no guarantee that you'll make it on time and have everyone to approve it. That's why Loomly feeds you with a fresh ideas to make every post more engaging.
It sounds subtle. But just like the experts from our MasterClass review can attest, it's the details that make all the difference!
Hopefully, this guide gives you a better understanding of how Loomly helps marketers and account managers.