Are you struggling to train your team?
Don't worry. You're not alone. Many small companies face a similar problem. The training process is one of the critical parts of a successful career in a new company, and doing it right, requires a lot more than one quick meeting with HR.
Fortunately, there is an efficient way to train your employees. It's a Trainual app that combines step-by-step training modules and a company knowledge database.
In this article, we'll tell you everything you need to know about Trainual, complete with a guide of the app's best features.
Let's dive into it.
TABLE OF CONTENTS
What Is Trainual?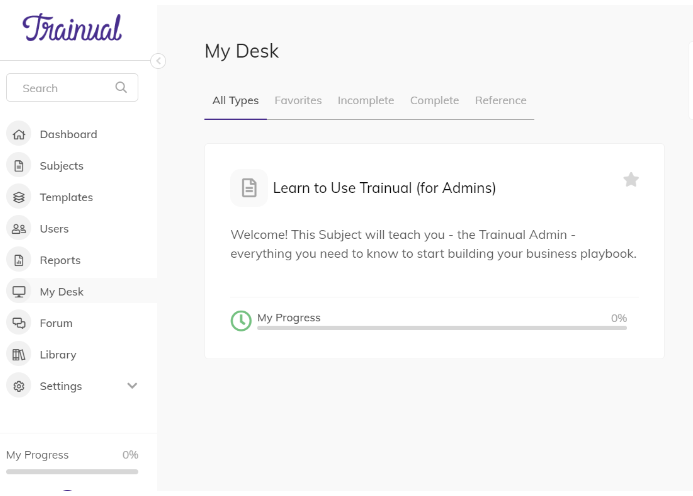 Trainual is an all-in-one onboarding, training, and company management tool. It's award-winning software that allows your employees to reference core processes and find all project-related information.
Plus, it can provide documents for every element of your business, including SOP and training sessions. It empowers you to automate the onboarding processes and train your staff remotely without the hassle of staying after work or traveling.
Very often, the training process comes down to answering the same question over and over again. Once you start using Trainual, you can upload videos and documents that address those questions. That way, you'll have more time on your hands while your new hires can find all the answers in one place.
Why Use Trainual?
Building a successful company is the goal of every entrepreneur. But if you're still not sure whether to invest in efficient management software, have a look at what Trainual has to offer.
Training Tools
One of the key segments of any successful company is training. Since all new hires need to get acquainted with the company processes, Trainual makes this more efficient with various interactive guides and tests.
Additionally, you can create interactive training manuals, materials, guides, add videos or presentations, and make assessments to evaluate your employees' skills and progress. Regardless of their previous experience, you'll be able to see how much they know about your company or if they've acquired new skills.
All Information Stored in One Place

Indeed, once everything is in the system, you'll be able to quickly locate all documentation, various forms, project plans, company textbooks, etc. All of which you'll be able to share with your team.
When in doubt, all they need to do is open Trainual to access files. There won't have to scroll endlessly through old emails or look for them in an unnamed folder.
Process Automation
Once your company starts growing, you'll have less time to manage your staff and ensure that every process goes through all the necessary stages. That's why it is useful to have a built-in checklist to remind you of what needs to be done.
Trainual comes with a set of tools to confirm compliance in every segment of your business. Plus, you can connect it with platforms like Asana and Slack to boost performance.
Company Culture
Lastly, Trainual lets you create a company page and share your vision with everyone. With interactive schedule tools and mentoring features, new hires will have access to all the documents that enable them to learn faster. Using Forum, they can ask questions and connect with senior team members to guide them through the onboarding process. It's what makes Trainual unique and why a lot of small companies are already using it.
How to use Trainual
Once you start building your company's profile, you'll see what makes Trainual so unique. In the next section, we'll cover how you use and set up Trainual. Additionally, we'll mention some of Trainual's best features.
Let's take a closer look.
#1 Customizing Your Account
Once you create your account, you can brand it with your company's logo and signature color palette. Seeing your logo everywhere will make you feel as if Trainual is part of your company. Since users enjoy customizing their Trainual accounts, their developers are always creating more options to make it look and feel like the company page.
After setting up a branded account and choosing all the templates, the next step is to organize your content.
#2 Organizing Your Data
In Trainual, everything is organized according to Subjects, Topics, and Steps.

Subjects serve as big folders for all policy documentation. To make everything simple, within the Subject, you can create various Topics that function like individual documents. Finally, Steps are included in every Topic as they demonstrate the order of steps necessary to act according to the company rules and regulations.
With a three-layered structure, the organization of your company's content comes almost naturally. You'll always know where you've saved your documents without losing precious time.
And you can even use emojis to add something extra to the Subject names. You can do so whenever you open the Subject from the admin view.
#3 Collaboration Tools
Team collaborations are based on the Activity Feed, where everyone can access all news and updates in one place. What's more, you set Trainual to send notifications whenever there's a piece of new information or when a new discussion thread opens. With options to share files and use a mobile version of the app, all team members will feel like a part of a big community that works together.
If your team already uses Slack, Asana, or another management app, Trainual allows third-party app integrations as well.
#4 Assessment Tools
When you start using Trainual, most users work exclusively on their content. Later, when there's a lot of materials on the platform, you might want to check your employee's retention. Since there's no limit on the number of tests, you can create them as often as you think necessary.
One of the most prominent qualities of asynchronous learning is that everyone can access the training modules in their own time. As stated, every team member will learn at their own pace, and trainers can follow their progress.
With a built-in LMS, Trainual enables you to create certifications for a corporate environment. Knowing that there's a certificate at the end of the process, your new hires will feel motivated to learn more.
Using Due Dates, you can follow your team's progress. With this tool, HR can see who is on track with their training and who's falling behind.
#5 Creating and Assigning Materials
Writing your content is an integral part of building your company's profile. Trainual developed a straightforward way to create documents, just like in Google Docs or Microsoft Word. The text editor is very intuitive and allows you to add visuals to your content.
You can embed anything from YouTube videos, audio files, interactive presentations to GIFs, and even HTML code.
While Google Docs, OneDrive, or Dropbox are great for storing your data, you can't really use them to assign projects. With that in mind, Trainual created a system that efficiently allocates any work-related content to a person or a role. That way, everyone that holds a specific function can see the document and provide instant feedback on a report or monthly schedule.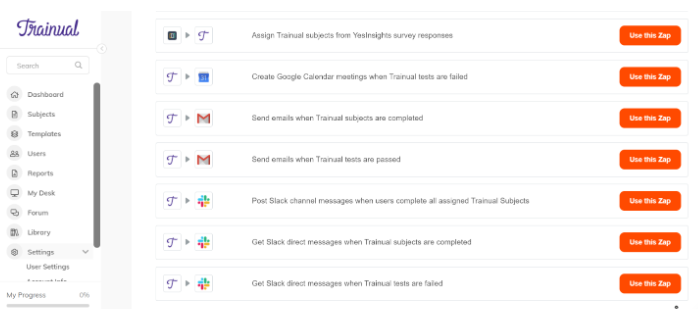 Keep in mind that you can also tag people or send materials individually, if you need a specific person to see something or use it for a project. These types of assignments have a higher priority compared to role tasks and prove useful in big teams.
It sounds subtle. But just like the experts from our MasterClass review can attest, it's the details that make all the difference!
Trainual FAQs
What Is Trainual Used For?
For every entrepreneur looking for an app for systematizing your business and training your employees successfully, Trainual is an all-in-one solution.
It helps you generate core systems to ensure that everyone is on the same page regarding company procedures. Plus, you can create a number of training modules to educate your staff on new procedures and products as well as use it for onboarding new hires.
At this stage, the app works well for both small and medium companies. Here's what Trainual can help you with:
Project management
Customer relations
Training and courses
Onboarding process
Internal communication
Data organization
Finance and accounting
Who Are the Typical Users of Trainual?
Trainual was developed to work best with small companies and entrepreneurs that manage a team of up to 25 people. They're the ones that can benefit most from the app. However, a number of medium-sized companies with remote employees are using the software successfully.
Usually, small companies or start-ups don't have any system set up as they're starting from scratch. Therefore, the main priority is to develop a set of steps quickly and efficiently for every process.
Managers involved in staff training also find the Trainual app quite useful as it allows them to keep records and answer questions online. Not only that, they're saving time, empowering staff to use Forum and answer each other's questions, while having all materials available 24/7.
How Much Does Trainual Cost?
Initially, you can get a seven-day free trial to see whether Trainual is the right software for your team. Once the trial period expires, you're encouraged to upgrade to a Pro or Premium package. Once you decide, you can pay monthly or yearly.
Trainual Pro and Premium come with a distinct set of features, and it's imperative to know which one will benefit you most.
The Pro Package will cost you $119 monthly or $99 when billed annually. The Premium Package ranges from $179 monthly or to $149 if you decide to get a yearly membership.
On occasion, there might be discounts, and if interested, you can follow the Trainual blog or sign up for a newsletter.
How to Create a New Account in Trainual?
Creating a new account in Trainual is relatively straightforward. You have to enter your business email and password and click on "Continue." Afterward, you'll need to type your full name, organization, and a custom URL that you want to use. Trainual then creates your URL and opens your Dashboard.
Now, you're ready to start working in Trainual and start adding new or existing documents.
Organization Is the Key to Success
Managing your company is significantly more challenging when there's no system in place.
The difference between a successful and a failed business is often the way they're organized. Once you start using Trainual to scale your company's processes, you can empower more staff and grow your team.
Hopefully, we've shown you how useful Trainual can be for your business. Should you decide to use it to get your employers certified, even with a Pro version, you'll have most of the features at your disposal.