For seasoned content marketers, one surefire way to bolster the quality of a blog is by updating an old post. It doesn't matter if you wrote the blog post five years ago or six months ago. Fresh content is always a winner in increasing engagement across social media and other channels.
In this guide, we'll explain how updating your old posts can improve your blog's search engine rankings, increase your website's traffic, and enhance your readers' experiences.
Read on and get ready to revive those dusty old posts.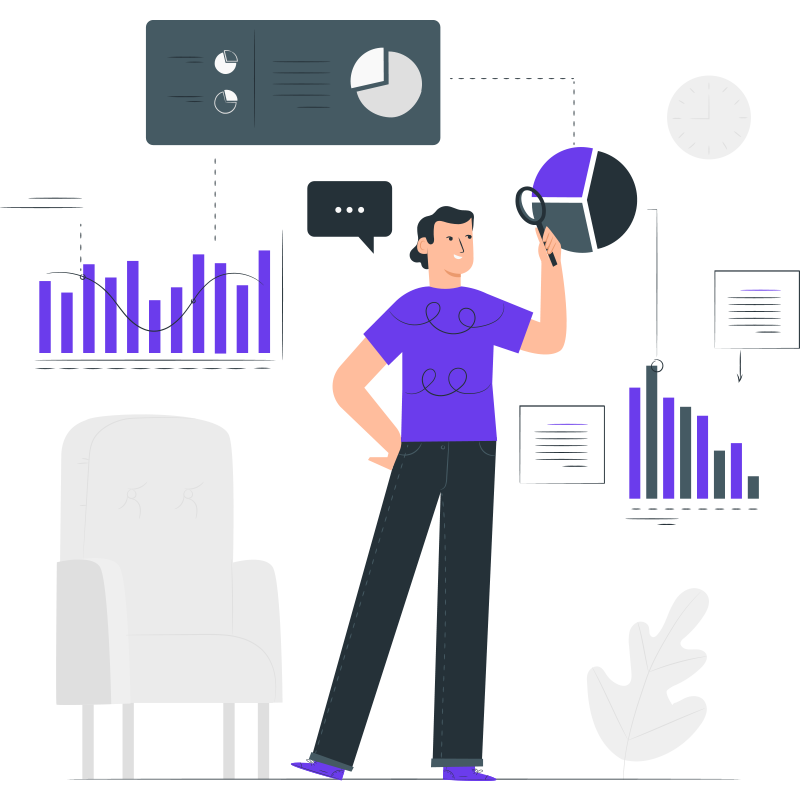 Get long-term ROI.
We help you grow through expertise, strategy, and the best content on the web.
Why it's essential to update your old blog posts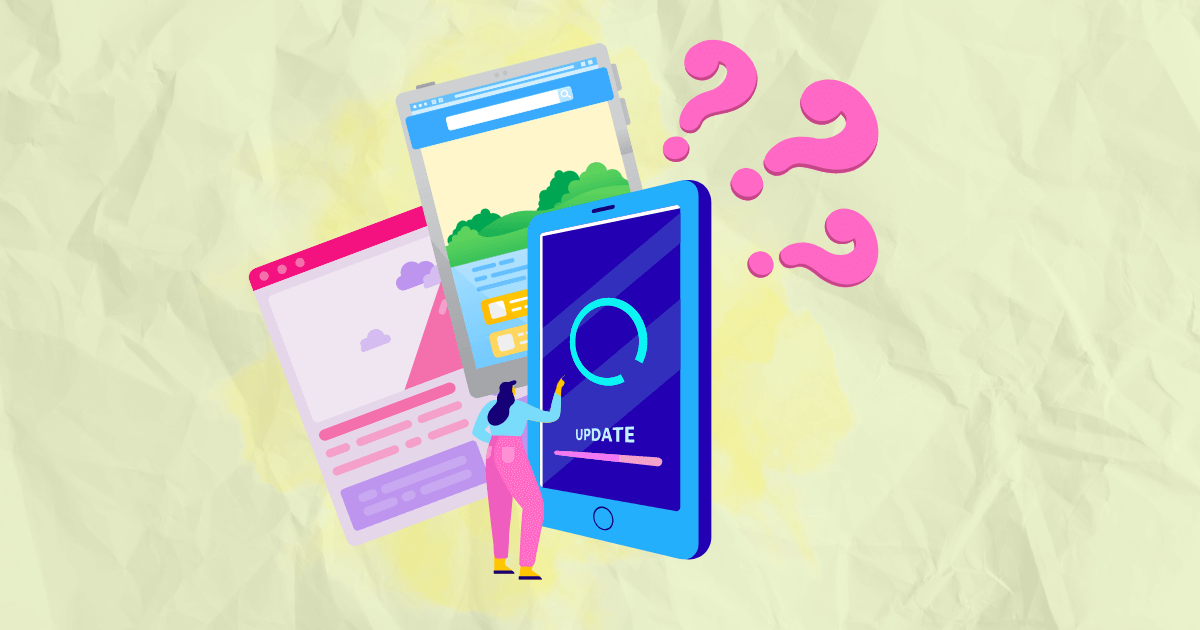 Updating old blog posts may, at first, seem like a way to avoid cranking out new content. However, there are real benefits to putting the time and effort into refreshing those past pieces.
Attention spans are short and user experience matters.
You must keep your content fresh to hold your reader's attention. Updating your old posts to include current statistics, images, and other points of interest will engage your audience and encourage social shares.
Doing so also makes your content more likely to appeal to new readers and demonstrates that you care about the information you share. Being conscientious about your content is the perfect way to win the hearts and loyalty of your readers.
Google likes new content.
Outdated blog posts won't rank in Google's search results. Google loves fresh and updated original content. Its goal is to provide users with the most up-to-date, relevant information. After all, no one does a Google search looking for outdated answers.
To ensure satisfied users, Google tracks websites for content updates. Keeping your content fresh will ensure that Google approves your website and ranks it higher in the SERPs.
How to update your old posts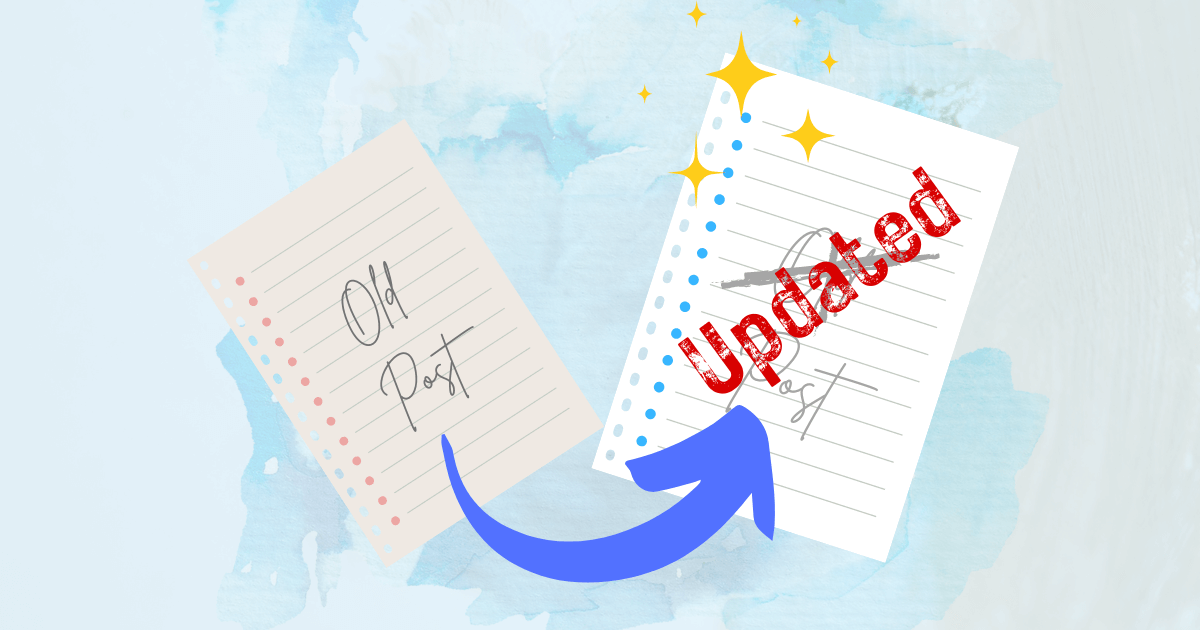 The amount of work needed to update a blog post for SEO depends on several factors, but the effort is definitely worthwhile. By following the steps below, you'll have a plan to transform your old blog posts into effective content.
1. Look through your old posts and identify which ones need updates.
Analyze your most popular posts by reviewing your website's data in Google Analytics or another analytics tool. These posts have the most potential to attract new visitors. They should each have a high search volume for a specific keyword.
They may also be related to specific trends or issues and may contain outdated information. Therefore, you'll need to check your links, statistics, and other information quoted in the post for accuracy and replace obsolete information.
For example, if you have written an article on online sales platforms, you may need to update the prices and add the newest app features.
2. Make the necessary changes.
Your update could include adding new information to reflect more knowledge. You can also hunt for errors and correct them, including erroneous information, grammatical mistakes, or an overlooked typo. Use tools like Grammarly or Writer to help proofread and edit.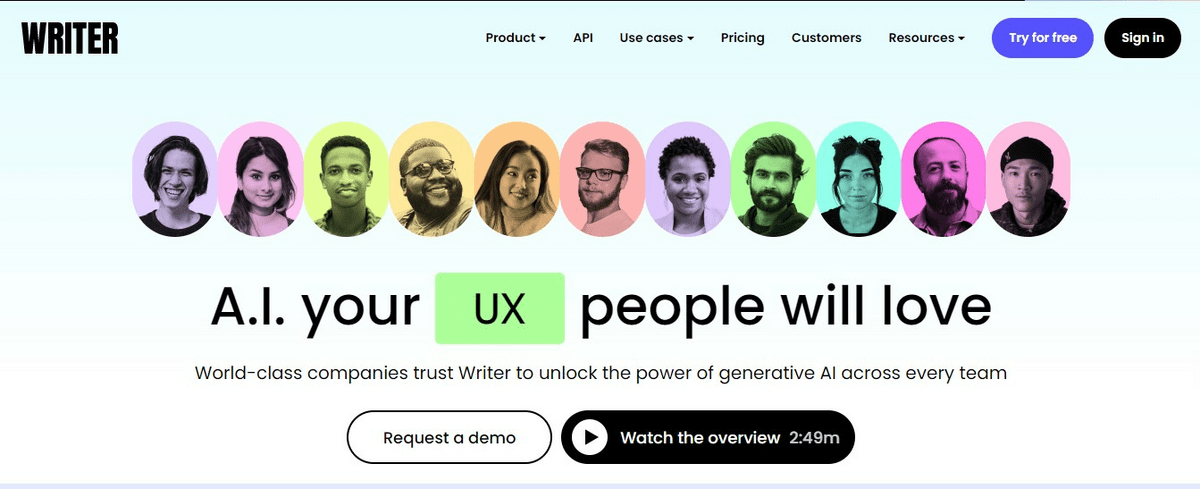 You should also review the content and ensure it aligns with your current SEO strategy. Then, run it through Google Search Console to see what you can do to get more organic traffic. Tools like GSC, SEMRush and Ahrefs will also help you track if you are targeting keywords correctly.
3. Take a final look at your updated post.
Once you've updated an old blog post, check it thoroughly and see if there's anything else you'd like to change. One trick many professional writers use is reading the entire post aloud. Doing this helps catch any phrasing issues or typos you may have missed when reading silently.
Once you think your updated blog content is in good shape, proceed to the next step.
4. Finally, publish your refreshed post and track its progress.
After you publish the updated post, watch how the update affects your analytics and SEO. Use SEO tools like Google Analytics to track the number of page views and visitor engagement.
The Five (5) key benefits of updated blog posts
Refreshing your content with updated information can bring many benefits. Most notably, you'll see the following advantages:
More traffic to your website
Freshly updated posts count as new content, increasing site traffic, especially if your content provides valuable, up-to-date information readers can't find elsewhere. More traffic means more potential customers, so it's worth the effort.
Improved SEO
It's common knowledge that keeping your website up-to-date is essential to boosting SEO.
Not only does it instantly update your content and make it indexable as soon as you hit "publish." It also boosts user experience, a substantial ranking factor nowadays. Improved SEO equals increased traffic which leads to more business.
Increased engagement
The people who enjoy your blog posts are the ones who'll comment on and share them. Updating your old posts can make them more engaging and start new conversations.
These conversations help build relationships with your followers and make them more likely to return for future updates.
Allows you to showcase your skill and expertise
You can establish yourself as an expert by consistently updating your blog posts. Readers will appreciate your attention to detail and dedication to giving them the most accurate information.
Your authority will encourage other content creators to reference your work and drive more organic traffic to your site via backlinks.
Great opportunity to reach out and communicate with your audience
When done correctly, updated content can generate engagement, particularly on social media platforms. This engagement will help you connect with your readers, leading to lasting relationships.
Your audience's comments and social media shares should help you better understand their thoughts. You can also use their feedback to improve your content.
Nine (9) tips for keeping your blog post updated over time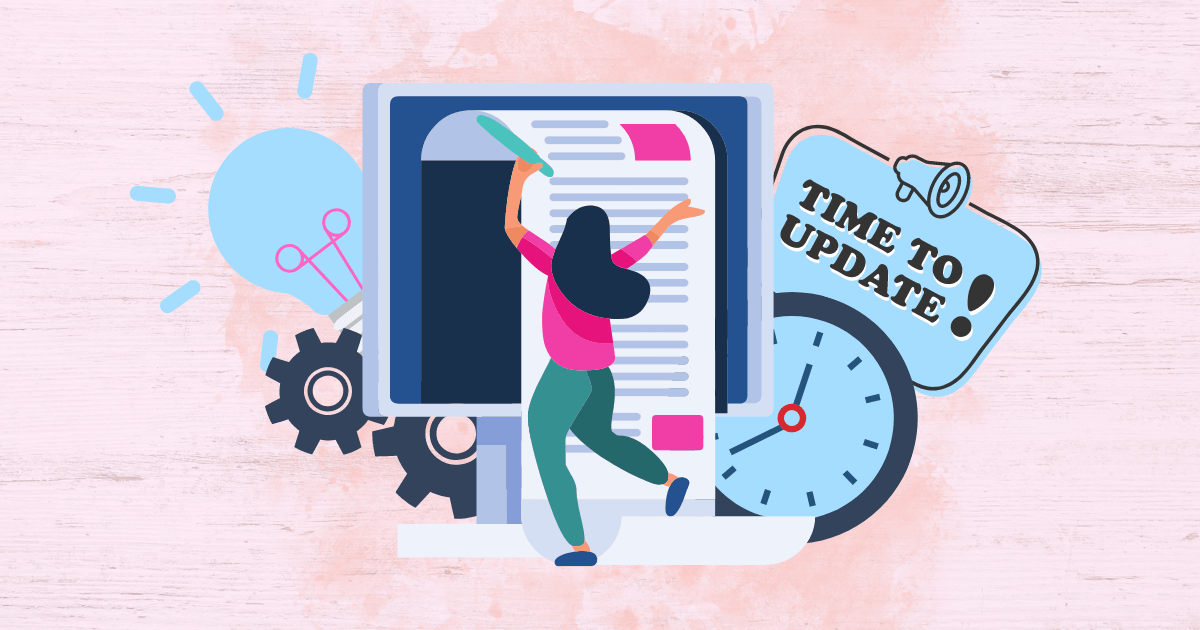 Updating old blog posts is essential to any content marketing strategy. Here are some great tips to remember when refreshing stale content:
Compile evergreen posts.
Evergreen content is content that's relevant year-round. Therefore, even if most of the information in an evergreen post remains accurate, you should revisit and update it periodically to ensure it's as current as possible.
Doing so will also update the post's publishing date, making it look like a newer article. A more recent publishing date will draw new readers, help the post rank higher in the SERPs, and help increase traffic to your website. Also, remember to check links to avoid outdated or broken links.
Beyond these benefits, you should always strive to provide your readers with accurate, up-to-date information. Offering your audience what they're looking for is how you build trust and authority with your target audience.
Focus on providing value.
When revamping outdated blog posts, it's important to provide valuable information your readers can use. Whether adding new data points or expanding on old ideas, ensure you give your readers something valuable.
If you don't have time to do an extensive rewrite, simply add an update note at the end of the blog post. Doing so will let your readers know you are paying attention to your blog and ensuring it stays relevant and its information correct.
Make a note of the corrected errors.
As we've said, ensuring the post is current is essential by checking for outdated information, statistics, and references.
Once you've made your corrections, don't be afraid to note the error in the original post and the new correction. Show your audience you value your integrity and they can count on you to tell them the truth.
Add fresh visuals.
Visuals like fresh images or videos are a great way to make your blog posts more appealing and engaging. Additionally, charts, graphs, and infographics can further illustrate your points and make it easier for your readers to understand complex ideas and topics.
Do new research on the topic.
Doing updated research on the topic can help you gain new perspectives and insights not available when you first published the post. Then, you can provide your readers with up-to-date information and new angles you discover.
Link to other relevant (current) content.
Linking to other relevant content can help draw in readers and provide more value to them. Ensure you link to authoritative sources, such as websites ending in .edu or .gov, and information no more than 2–3 years old.
If you subscribe to an SEO tool, such as Ahrefs or SEMRush, you can also check the DR (domain rating) for websites you reference to ensure you only link to sites with a minimum authority. For example, Hubspot has an excellent DR of 93.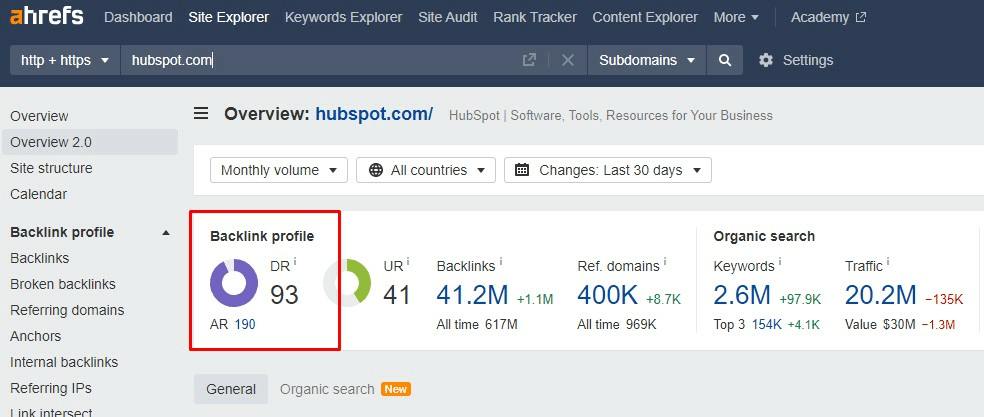 You may also reference other blog posts you've written to encourage readers to explore more of your content.
Make content updates based on reader feedback.
Check out the comments section of your blog posts and see what readers have to say. Pay attention to feedback points that can help improve or update your content, and make sure you use them. Do further research to expand on your audience's suggestions, and don't forget to thank them for their input.
Doing this will show your readers you value their opinions and are open to improving the quality of your blog content. Additionally, doing so will help you build relationships with your readers and make them more likely to return.
Add internal links to new, related blog posts.
Internal links refer to hyperlinks from one page on your website to another. These links help readers explore more of your content and strengthen your SEO efforts.
Consider adding internal links to recently published posts related to your old content (and vice versa). It can help your old posts stay relevant while directing readers to new content.
Update regularly.
Finally, set a regular schedule to audit and update your blog. If your blog consists of hundreds of posts, you may only do an audit annually. If you only have a few dozen posts.
Keep a watch on changes in your industry and constantly check the accuracy of your content. That way, you can ensure your readers get valuable information when visiting your blog.
Conclusion
Updating your old blog posts is a great way to increase traffic, improve search engine rankings, and connect with your audience. By having access to the right tools and resources, updating old posts doesn't have to be a daunting task.
Set a schedule for yourself, keep up with trending topics, and repurpose old posts into new content pieces. By following these steps, you'll be able to keep your blog up-to-date and more engaging for readers. With some effort, you'll soon start seeing the benefits of updated blog posts.