Content marketing is a means to connect with your target audience. It's one of the best marketing strategies because it's cost-effective and works.
But the B2B industry finds content strategy more challenging. Decision-makers aren't always open to accepting new ideas, and B2B content can feel stale and boring.
The good news is that it doesn't have to be.
In this article, we'll explain why content marketing for B2B is vital and how you can sell the strategy to your stakeholders.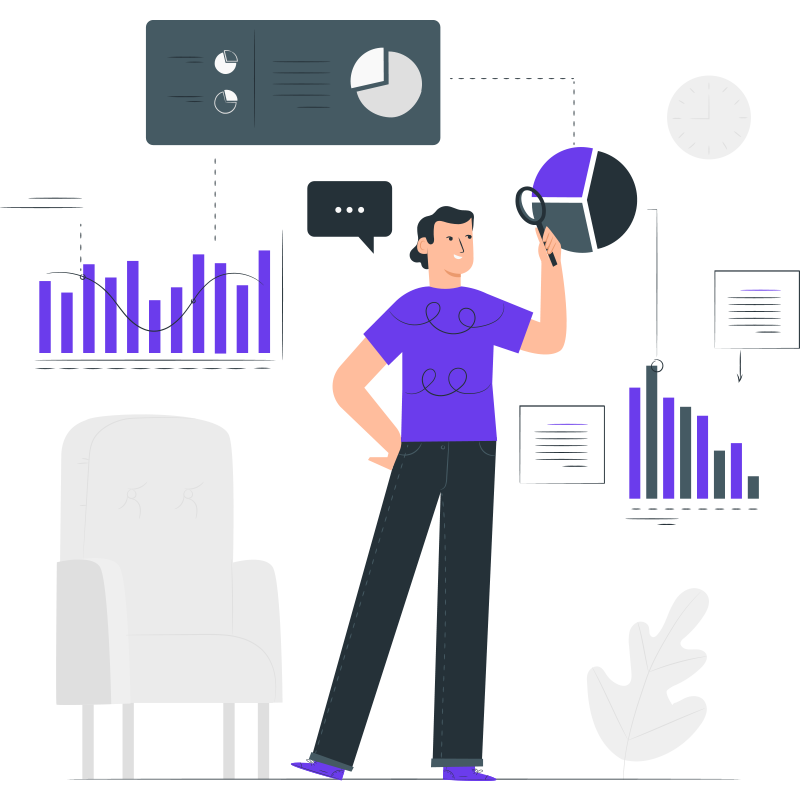 Get long-term ROI.
We help you grow through expertise, strategy, and the best content on the web.
Why use content marketing for the B2B industry?
The thing we need to establish is that content marketing is necessary for almost every industry and type of business. Whether the company is B2C, B2B, SaaS, or other types doesn't matter. They all need to communicate a message to sell their product or service, and content marketing is the best way to do that.
The data is clear. 91% of B2B businesses use content marketing and have a blog. 55% of that market feel blogs are the best way to move customers through sales funnels. Additionally, 77% of Fortune 500 companies have a dedicated blog. Obviously, blogs and content marketing are worth the investment.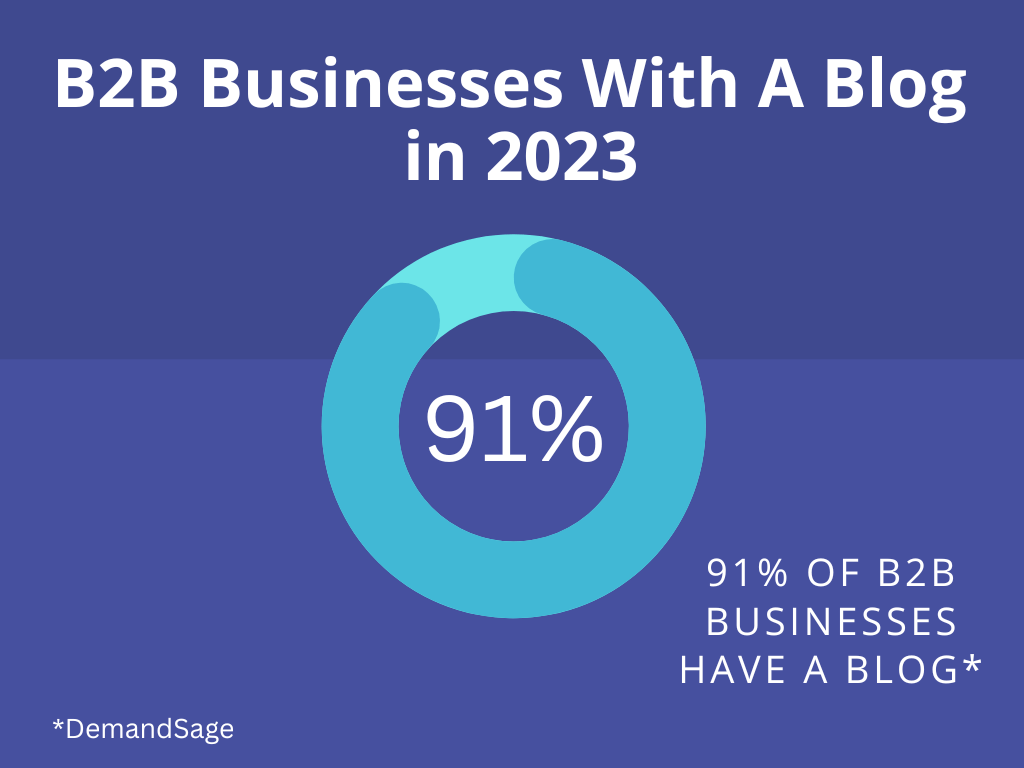 Screenshot provided by Author
Benefits of content marketing for B2B
The following are the top seven reasons content marketing will benefit your business.
1. Providing information for buyers
When you use content marketing, you help B2B buyers decide what to purchase.
Depending on what you sell, buyers may need several of your products. So, if they are to spend money on buying several items from you, they need to know more about your brand and products. They'll also benefit from hearing what other customers say about your brand.
By providing this information, you increase their chance of purchasing from you. You can do this in different formats and with different types of content – we'll go into more detail later in this article – to educate your prospects, such as how-to articles or videos, infographics, etc., and publish them on your blog or social media channels.
Sharing such information helps your potential leads decide whether to buy from you. It increases your organic reach as they are shareable, gains backlinks from high-authority websites, and improves your brand reputation.
2. Economically improving your online presence
Content marketing is a great way to establish and improve your online presence over time at a reasonable cost.
Although it provides one of the highest ROIs in marketing, your content marketing budget still needs to reflect your goals. If you are aiming for a top-notch blog and content strategy, you need to invest in an in-house content marketing team consisting of skilled SEO writers and specialists.
When you get your team on board, you should ensure everyone knows your goals and objectives. Everyone should know about the content strategy and all the plans so that different content formats are ready before the deadlines. To manage this accurately, you can use agile project management tools.
You can also ‌outsource your content marketing to SEO agencies.
Investing in content marketing and driving organic traffic is more cost-efficient than pouring money into paid ad campaigns. According to Neal Schaffer, it costs 62% less than traditional marketing but generates three times as many leads. Investing in a dedicated server can also provide the infrastructure to manage an outsourced content marketing team effectively. You can ensure seamless collaboration and communication with your outsourced partners with the right server resources.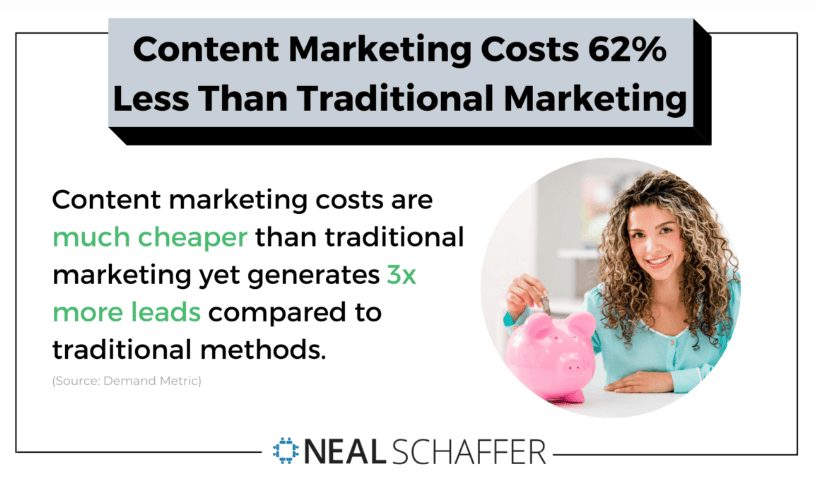 Additionally, a robust blog on your website and a strategic content marketing calendar utilizing your social media channels can build brand awareness for you.
Using SEO keyword targeting, you can optimize your messaging and other information for search engines and improve your organic ranking. Your prospects will find you on the search engine results pages (SERPs) whenever needed when you optimize persistently and appropriately.
3. Bringing evergreen results
As we just mentioned, content marketing is an ongoing process with evergreen results, given that you keep your content regularly SEO-optimized and updated.
Unlike paid marketing efforts that are costly and short-term, organic content marketing provides long-term results with less effort. Simply audit and update your content once or twice a year to ensure it remains relevant.
Incorporating evergreen content into your marketing strategy continuously directs more organic visitors to your website for an extended period. You can also always update and repurpose this content for your other marketing channels, such as email marketing and social media.
Moreover, you can use this content for offline sources as well. This is especially great for B2B because you can create brochures or guides for your sales team or resellers to reach out to and present to your future B2B customers.
4. Building connections
When done correctly and continuously, B2B content marketing can help you build long-term connections with your target audience.
From engaging blog articles to videos, white papers, case studies, customer success stories, courses, webinars, and social media posts, content marketing allows your business to attract, engage, and convert your target audience.
Your content can help you establish authority as a subject matter expert. This authority, in turn, will help your customers trust you even more. If you keep publishing on-topic, current, timely, and relevant content, people will start seeing you as a go-to resource when they need industry information.
This approach can help your organization develop a good reputation, and stay top of mind. You'll also receive more recommendations, especially if your content is easy to share.
Instead of just talking about your products or services, creating content that focuses on solving problems can help you connect better with your intended audience. Imagine yourself in your customer's shoes and create content that meets their needs. According to DemandSage research, 96% of B2B customers want insights from industry experts.
When you understand how your customers think, what they care about, and how they engage with content, you can create B2B content that feels more personal and directly addresses the needs of your target audience. This builds a strong connection with your audience, leading to long-lasting customer relationships, and turning one-time visitors into loyal, lifelong customers.
5. Generating high-quality leads
Focus on lead-gen if your primary goal is to acquire more customers and grow the business. There are many ways to use content to drive traffic to your website.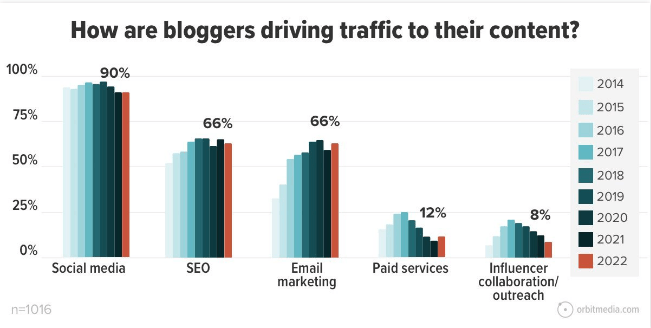 You can customize your content to achieve your goals and reach customers at different stages of their journey. For instance, sharing informative content can attract potential customers and increase brand awareness. Sharing case studies can nudge people considering your brand into a purchase decision.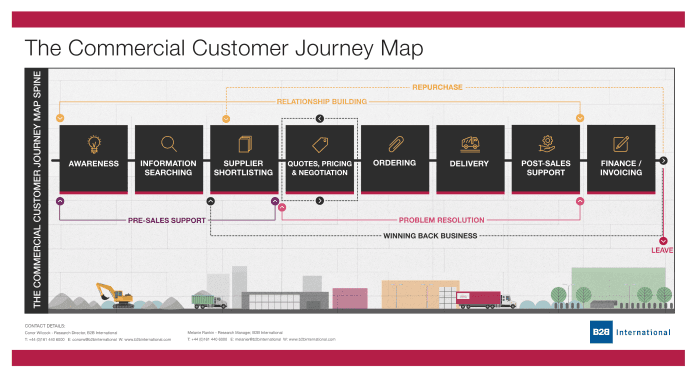 (Image Source: B2B International)
As part of your strategy for search engine optimization and content marketing, you can use something enticing, like a lead magnet, to guide your audience through the various stages of their decision-making process – from considering your products or services to intending to make a purchase and finally, actually converting into a customer.
This lead magnet could take various forms, such as emails, ebooks, online brochures, PDFs, or other downloadable forms.
You can think of various ways to promote this content. For instance, you can add a pop-up on your website that invites visitors to subscribe to your monthly newsletters. Doing so lets you gather their email addresses and send them more relevant content, keeping them engaged with your business.
6. Making your products more understandable
If your company sells technical goods or services, you need to translate that technical information into easy-to-understand descriptions for everyone to understand.
For instance, imagine you're selling high-end projectors. Not everyone can understand each model's technical specifications because they refer to ‌brightness levels, focus power, projection sizes, and lens information.
However, by creating easy-to-understand content, such as a simplified owner's manual, you can deliver the information in a way your target audience fully comprehends.
Moreover, consider that time is a valuable asset for people. Your content should deliver the most in the shortest time possible. Or, if it's longer, ensure you're creating great content that brings your audience the most value possible.
7. Standing out
No matter the industry or niche, you'll always have competitors. Investing time and money in content marketing is wise to stand out and win more customers.
Look closely at where you stand in your market and how you stack up against competitors. Use tools like Ahrefs or Semrush to perform a competitor analysis.
Look for the following:
Keywords they rank for
Topics they cover in their blog
Average blog post length
Number of images included in each blog post
Backlink profile

Once you've analyzed your top competitors, it's time to take action. Find the gaps in your competitors' content strategies and fill them. Be more comprehensive, find keywords with lower difficulty and higher volume, and pursue a robust backlink strategy.
A thorough competitor analysis is the cherry on top of a great content strategy. Make sure yours hits the mark.
The best content formats to boost your B2B content marketing strategy
Now, let's look at some of the best formats of content you can consider for your content-sharing strategy:
1. Blog posts
The first thing to share with your B2B audience is long-form articles – blog posts. These articles should include relevant keywords to be SEO-friendly, address your customers' pain points and questions, and offer solutions. Publish the articles on your blog consistently, like once a week or twice a month.
To promote your articles, you can share social media posts about them and refer your social media audience to your blog. This can increase organic traffic to your website and improve your article's ranking on search engines.
Check out how Buffer uses their Instagram feed to promote their blog.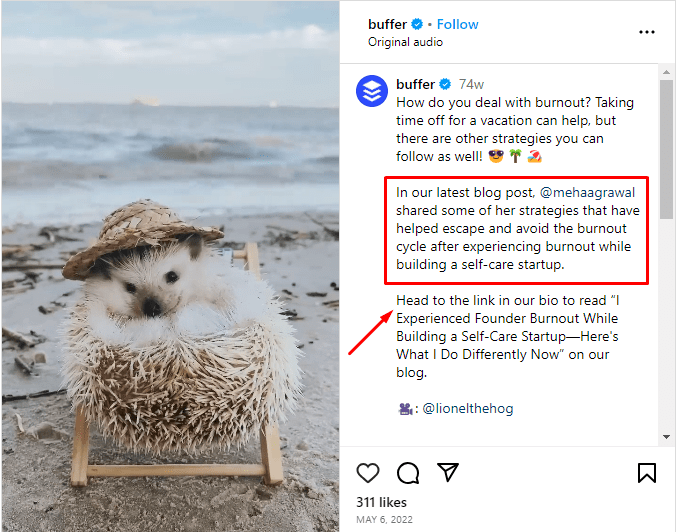 2. Podcasts and webinars
Podcasts and webinars are also great ways to connect with your professional B2B audience. Think of a relevant topic, invite a relevant guest, and talk about the issues that might also be a question for your audience.
You can promote your podcasts and webinars in various ways, such as social media posts, newsletters, and blog posts. Take a look at how IBM informs its Instagram audience about its latest episode of Smart Talks in the screenshot below.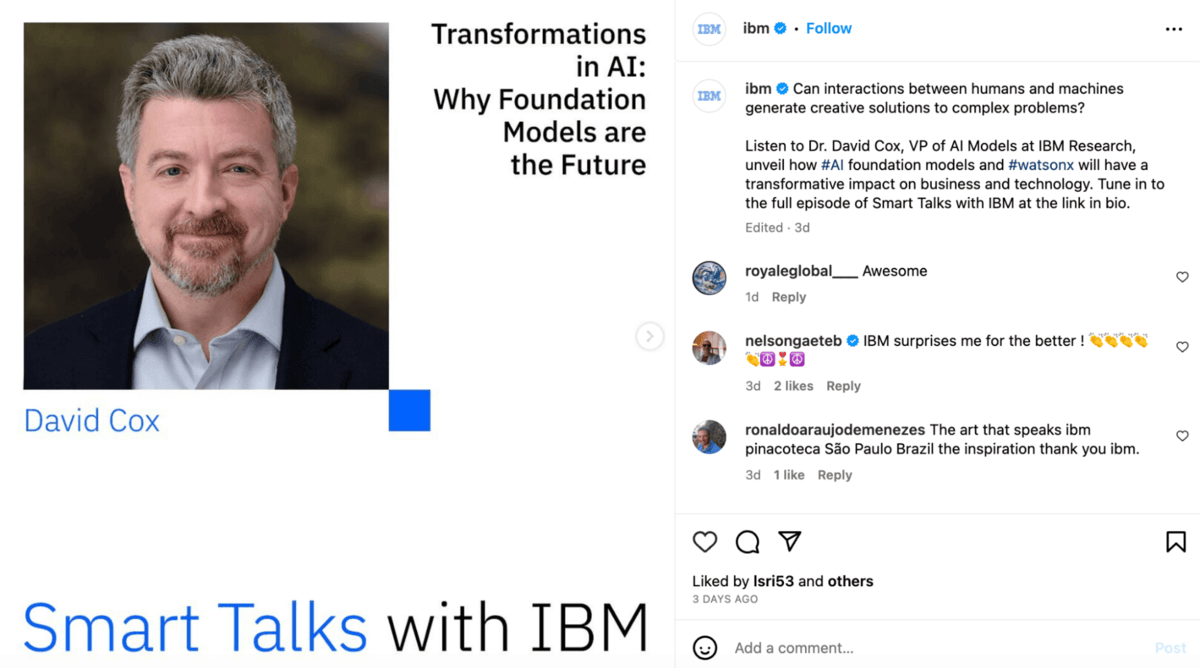 3. Downloadable documents
PDFs, ebooks, guides, and brochures are some examples of downloadable documents where you can explain more about your technology or product features. You can promote them on a landing page and use them in different campaigns, just like BenQ did below.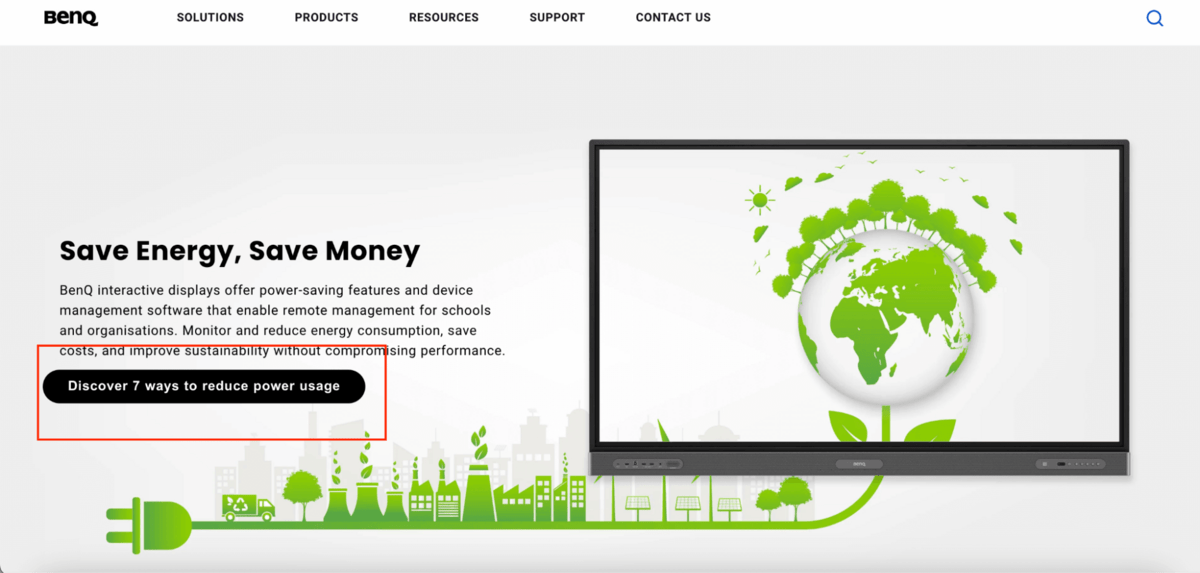 And by clicking the CTA button, your audience gets full access to what you hint at on the landing page.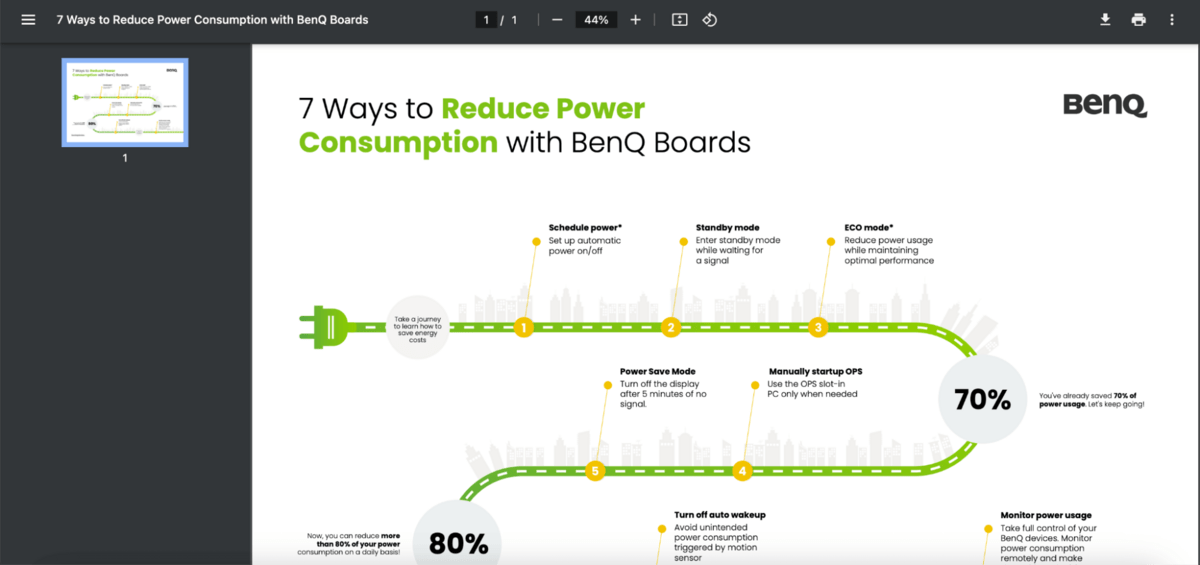 4. Videos
Visual content, such as videos and infographics, can capture more attention than textual content. They can communicate information faster than text, and most people tend to prefer visuals to text. Even if you're creating textual content, consider including visuals for added interest.
You can create videos and share them on different platforms – from YouTube and social media platforms to your own blog. Doing this allows you to get more use out of a single piece of content, thus stretching your budget.
Here's HubSpot's YouTube channel, where they share many informative, educational, and how-to videos: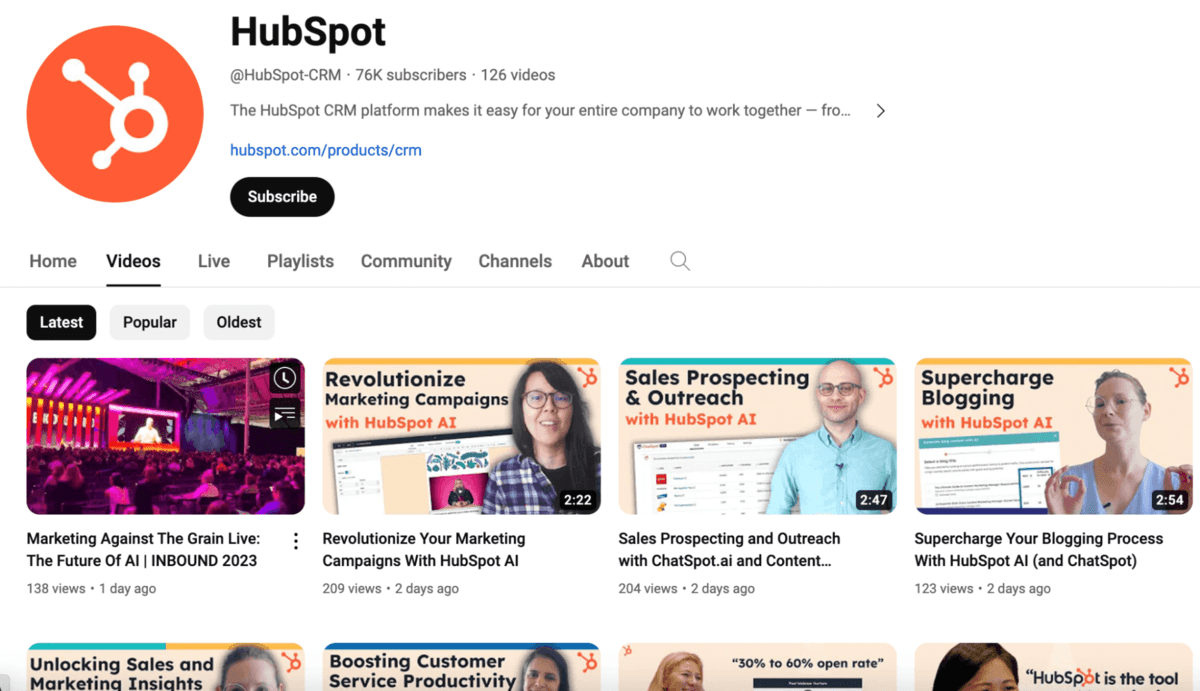 5. LinkedIn posts
LinkedIn is the best social media platform for B2B marketing. In fact, 82% of B2B marketers use LinkedIn to share their content.
Unlike other social media platforms, LinkedIn gives you the freedom to share various content formats. You can share LinkedIn articles, carousels, videos, polls, and short or long texts with banners. Don't forget to use hashtags (three to five) to increase your posts' reach.
To build your content strategy for LinkedIn, you can check out how famous B2B brands are taking advantage of this platform. Here's how Hootsuite announced its new features on LinkedIn: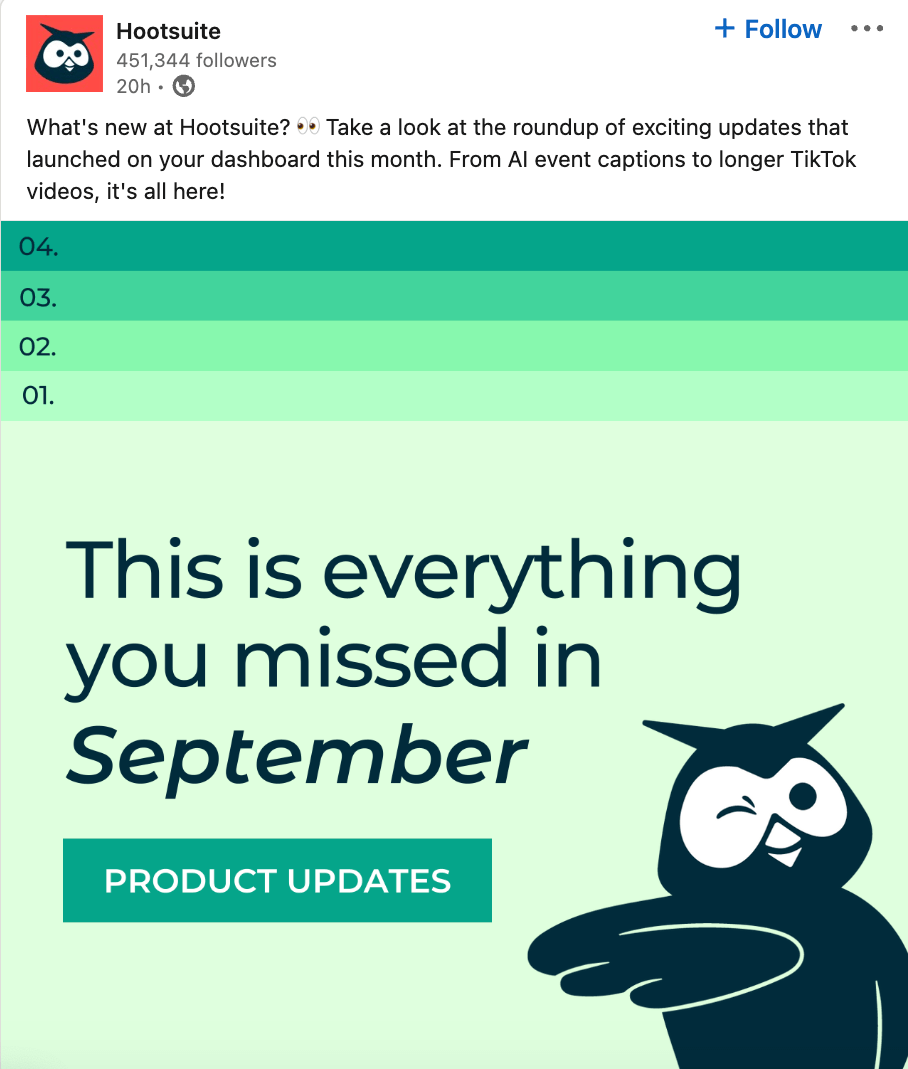 Conclusion
While it may be difficult to persuade business owners to take on new strategies, content marketing for B2B is a beneficial strategy that can result in continuous growth over time.
With SEO-friendly content, you can reach more qualified leads, improve your online presence, and grow your organic rankings. All these will result in increased brand awareness and reputation as well as improving your bottom line.
Don't wait to level up your B2B content marketing efforts. Remember that content marketing for B2B isn't a sprint. It's a marathon. So, be patient, follow the tips in this article, and watch the new leads roll in.