More often than not, the top priority of eStore owners is to list and sell their products to maximize profits. Therefore, they might deem writing a blog for eCommerce websites a waste of time and effort. However, it is generally accepted that a successful active blog can be a centerpiece of a holistic marketing strategy to help you venture further into the eCommerce world.
In this article, we will guide you through steps to easily start a blog for eCommerce websites.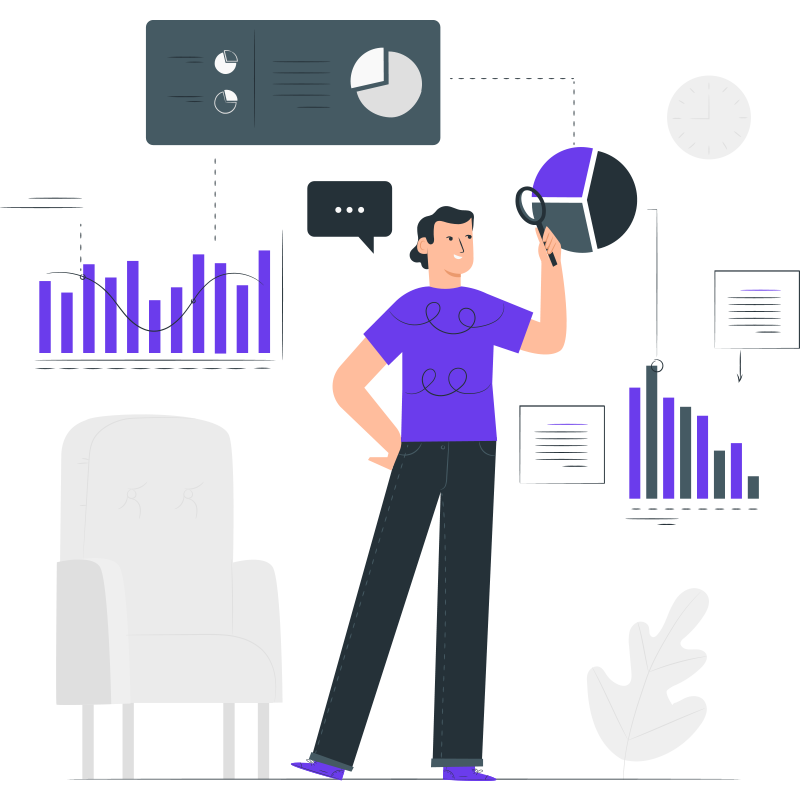 Get long-term ROI.
We help you grow through expertise, strategy, and the best content on the web.
Why blog on an eCommerce website?
If you are still wondering whether to kick off a blog for eCommerce websites or not, these following statistics are well worth considering:
77% of Internet users read blogs.
Companies who blog receive 97% more links to their website.
92% of companies who blog multiple times per day have acquired a customer from their blog.
70% of consumers learn about a company through articles rather than ads.
Explicitly, having a blog helps you avoid being at risk of getting left behind if your competitors are already blogging. A blog for eCommerce websites is far more beneficial to your business than you might think as content plays an important role in digital marketing strategy.
SEO Benefits
Search engines are responsible for 67% of traffic to your site, thus it is of great importance to make your site optimized. Blogging has become such a powerful tool to boost Search Engine Optimization (SEO).
Crawling content and building an index are two main functions of search engine bots. When Internet users make a search, bots will provide them results based on relevancy. As blogs often include links, SEO-rich content related to your site and products, they can help search engine bots crawl your online content more effectively and rank your eCommerce site in a higher position.
Having a blog allows you to regularly add new content to your eCommerce site which will increase the amount of content it contains. As search engines love fresh content, keeping your eCommerce site updated is likely to higher its ranking on Google search.
Moreover, by adding search engine optimized keywords to your posts, you can increase the chance of your eCommerce site being on top of SERPs.
Build Your Brand Image
Blogs about guides or comparisons can give your customers necessary assistance when they need it. By that, you can make your site the go-to option when your audience needs help, thus building trust and connection with your target customers.
Through eCommerce blogs, you can also bring further information about your business and your products as well as show off your expertise in the industry. Therefore, a blog for eCommerce sites is a vital part when it comes to brand image success.
Drive More Traffic
Product pages alone can't attract a huge amount of visitors. Meanwhile, high-ranked blog posts can reach more customers and generate more traffic to your eCommerce site.
Internal links create an interconnected network which means a high-ranked post can lead to higher volume of traffic in other related links added in that post.
Therefore, the overall traffic of your site will significantly increase. You can monetize these traffic by adding links to your products to inspire customers to make a purchase.
How to build a blog for eCommerce sites
1. Choose a Platform
If you already have an online store on an eCommerce platform, go ahead and skip this section, and dive into blog design instead. Or else, you'd better opt for a platform that is optimal for both sales and blogging.
Among a reservoir of hosted and open-source eCommerce platforms, Shopify and WordPress stand out from all the rest. Both will give you excellent eCommerce features while allowing you to create stunning blog posts and manage your content.
Skim through this comprehensive comparison between Shopify and WordPress to choose an optimal platform to kick off your online business and start a blog.
2. Design Your eCommerce Blog
Remember that you only have a few seconds to impress first-time visitors. An effective design contributes to bringing visitors the best on-page experience. A blog with aesthetic visibility and a user-friendly interface will encourage the audience to stay on your site longer.
In modern design, less is more. Make sure all sections you put on your blog are necessary. Moreover, a simple design can also result in a better page load speed.
When it comes to blog design, the first and most important thing is to pick up a suitable template. Typically, each eCommerce platform will offer you a number of built-in themes to choose from.
For example, Shopify provides you with 80 professionally designed themes and allows you to make slight variations in colors, fonts.
If you are not sure any of these are suitable for you, and you have higher expectations, you can always reach out to top Shopify companies and get some help with your custom eCommerce shop design.
If you start your blogging on an open-source platform like WordPress, you can capitalize on a plethora of themes. You can freely choose from more than 8000 themes available on the WordPress site.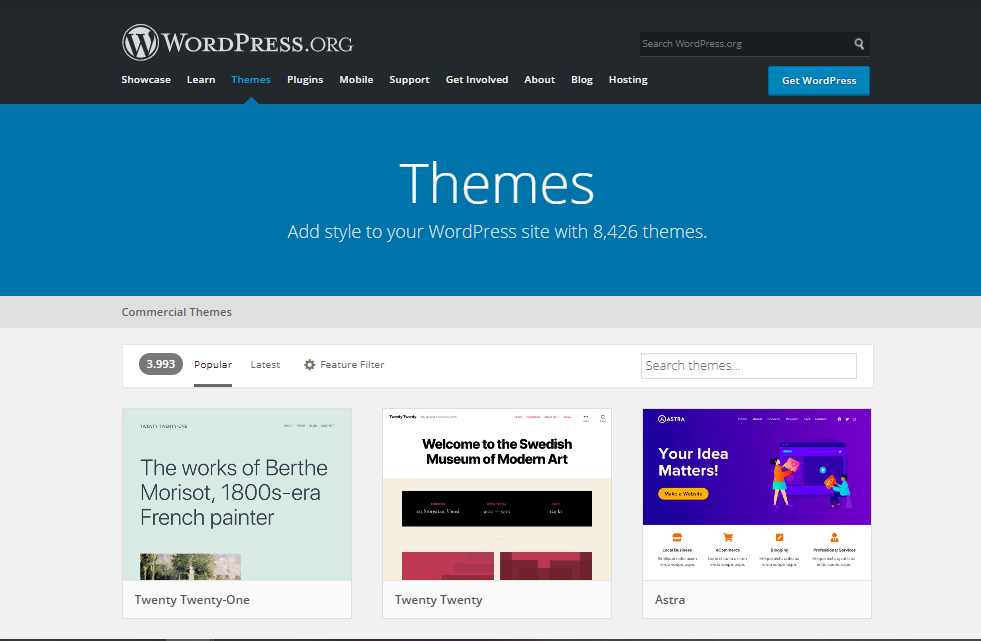 On these platforms, if these built-in themes can not please you, you can create your own custom templates and upload them on your site to use. Therefore, if you have technical knowledge, you can fully control the appearance of your eCommerce blog site.
Along with choosing a theme for your eCommerce blog, you also need to spend time selecting fonts and font sizes. Sans-Serif Fonts with the size of 16pt at minimum are best suited for blogging. However, depending on your branding style, you may want to consider customizing headings and infographics with a font generator.
Practical tips to write blog for eCommerce website
1. Decide What to Write About
Before blogging, you should clarify what your content is focused on. It should be the combination of the needs of your customers and your purpose for writing these posts (provide information, announcements, or improve SEO scores…).
Clearly determining the purpose of a blog can give you a consistent direction to follow. And remember, quality over quantity. Instead of trying to write as much as possible, try to make sure your blog posts provide actual value to your audience.
An eCommerce blog can focus on the following contents: guides (how-to), product reviews and comparisons, trends… To own a successful blog, you will have to create content which is not only unique but also engaging and here are some useful tips.
Bear in mind that your posts should be informative to visitors, with updated information and statistics. Spend time researching to make sure you have a deep understanding of what you write about.
Also, try to include trending and current topics to make your blog in sync with the industry and grab the attention of visitors.
2. Research Your Keywords
Determining targeted keywords for your blog posts is the very first and important step of creating your content. This not only helps you please search engines for higher ranking but also understand customers' intent and the way they search for solutions.
Search for SEO keywords seems demanding at the beginning. You can use keyword tools such as Ahrefs Keyword Explorer, Moz… or try searching on Google. A good SEO keyword must be relevant to the topic, have a high search volume and a low keyword difficulty. Then you can sort content for your eCommerce blog into topics involving targeted keywords.
3. Make a Plan for Your Content – Be Organized
In order to help you keep track of your content ideas as well as posting frequency, it is advisable to create a content plan and stick to it.
Try to post on a regular basis, such as a set number of blog posts per week / month, at a set time. Maintaining a posting frequency makes your eCommerce blog more professional and stays top-of-mind with customers.
For high traffic or high-ranked articles, you can also create subtopics related to the main topic of these posts to drive more traffic.
4. Promote Your Blog
When it comes to blog promotion, social media stands out as one of the most effective channels to popularize your eCommerce blog. You should consider using a social media engagement tool to promote your blog. It works best for bloggers who have large followings on sites like Facebook, Twitter, and LinkedIn and in turn, leads up sales through increased traffic from these sources.
According to statistics from Website Builder, 94% of bloggers consider social media the best choice for blog promotion, and Facebook is the most popular network. In addition to social media, you can use other promotional options such as through your subscribers list or email marketing.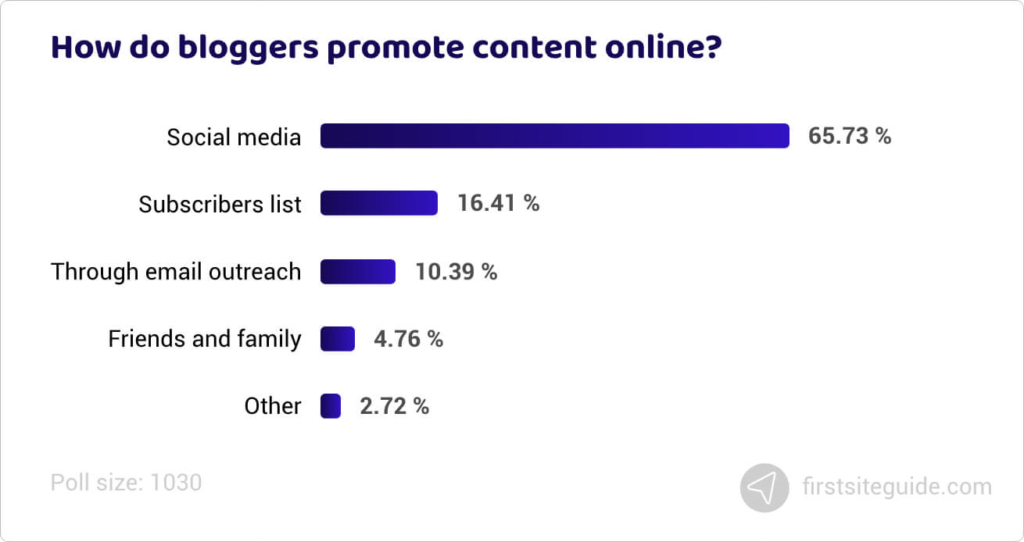 Conclusion
At the end of the day, starting a blog from scratch is not so demanding. However, it takes time to grow your audience. Don't be despondent, keep improving your eCommerce blog to bear fruit someday. If you can build and maintain a successful blog, you can create a network with a valuable audience to power your business for a long time to come.
Hope that you found this article helpful! In case you are looking for a more suited platform for blogging, have a look at LitExtension – the world-leading shopping cart migration expert. Using its automated migration tool, shopping cart migration is a piece of cake for you.