Affiliate marketing has never been more lucrative.
Spending on affiliate marketing is projected to reach a staggering $8.2 billion by 2022, up from $1.6 billion in 2010.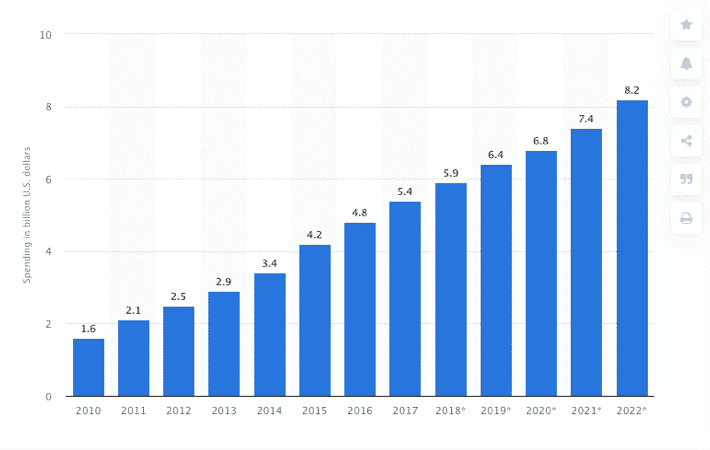 Those figures are only expected to increase.
Now you might be wondering…
"How can I get in on that?!"
Good question.
First, you'll need to know how to write content for affiliate marketing sites.
Because if you can do that, you'll be practically unstoppable. You'll be able to produce the kind of content that delights your audience and ranks in Google.
But unless you know what you're doing, you'll struggle to make any affiliate income. You'll spend a ton of time writing content that barely gets any traffic.
Worse, you'll give up thinking that affiliate marketing just isn't for you.
Not to worry.
This guide will explain step-by-step how to write content for affiliate marketing sites and make more money.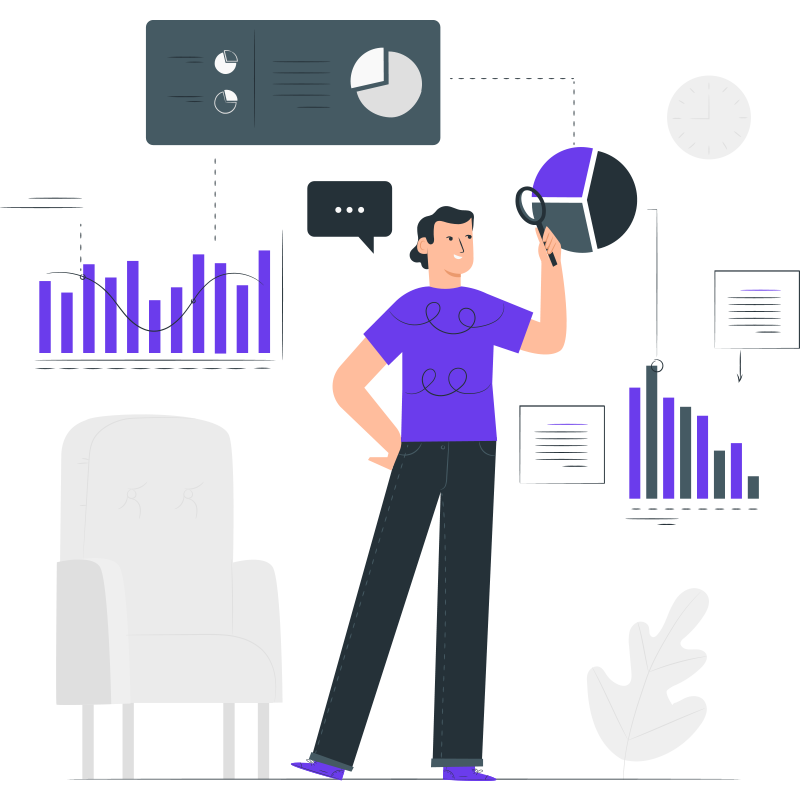 Get long-term ROI.
We help you grow through expertise, strategy, and the best content on the web.
Here's what we'll cover in this in-depth guide:
What is Affiliate Marketing?
Examples of Successful Affiliate Sites
How to Write Content For Affiliate Marketing Sites
What is Affiliate Marketing?
Affiliate marketing is the process of promoting a merchant's product or service.
You could promote products on your site or drive traffic with advertising campaigns on Google Ads or Facebook. Anytime someone buys through your affiliate link, you get credited with the sale and earn a commission.
Here's a breakdown of how affiliate marketing works: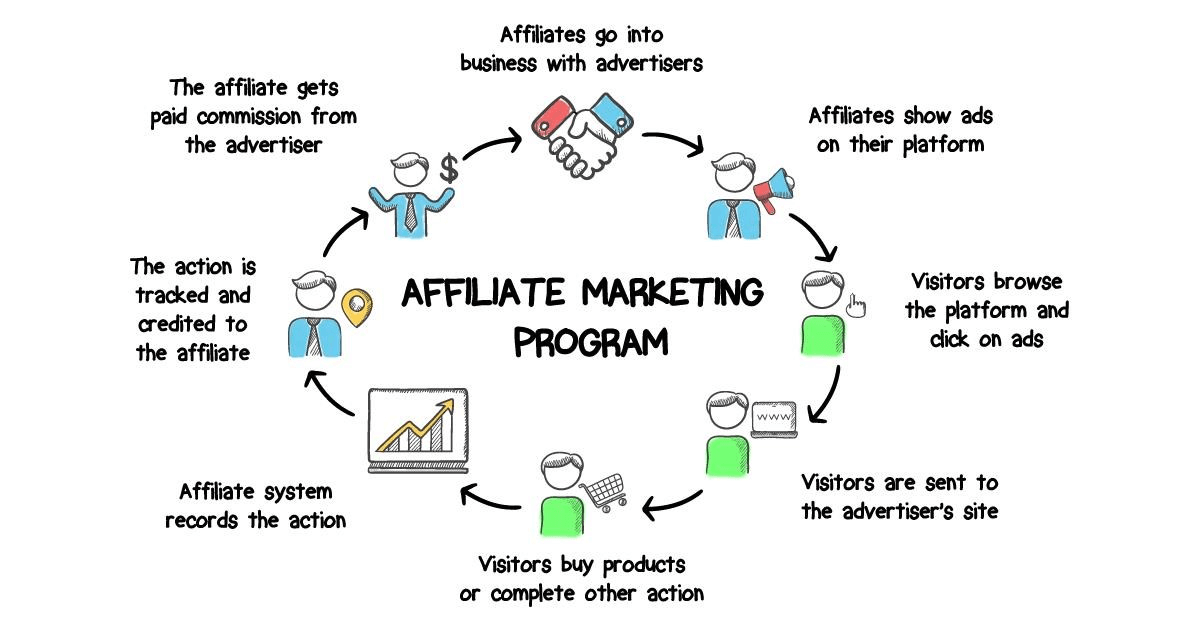 Here's the best part:
You don't need to stock any products or worry about handling customer support. The merchant takes care of all that. All you have to do is refer customers their way.
So how do you find products or services to promote?
The best way to get started is to sign up to an affiliate network — a platform that connects merchants and affiliates.
Affiliate networks give you access to tons of merchants across different industries. They also handle all payments and provide sales tracking in one place.
ShareASale, for example, has over 3,900 affiliate programs to choose from. Popular brands like Reebok, FreshBooks, Etsy, and Weebly use this network.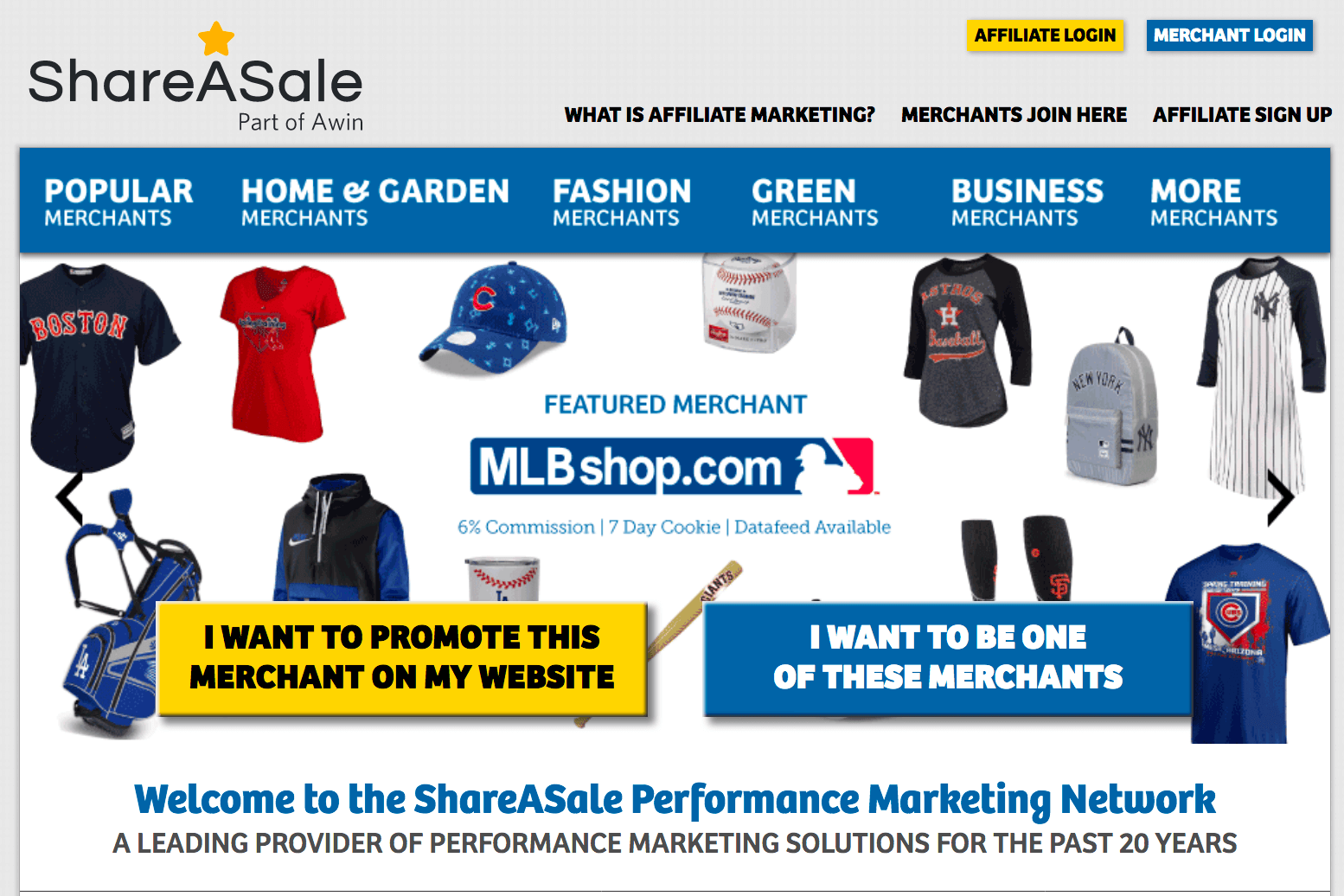 Other affiliate networks you can join include:
Many companies also manage their own affiliate programs. For example, Amazon Associates is managed completely in-house.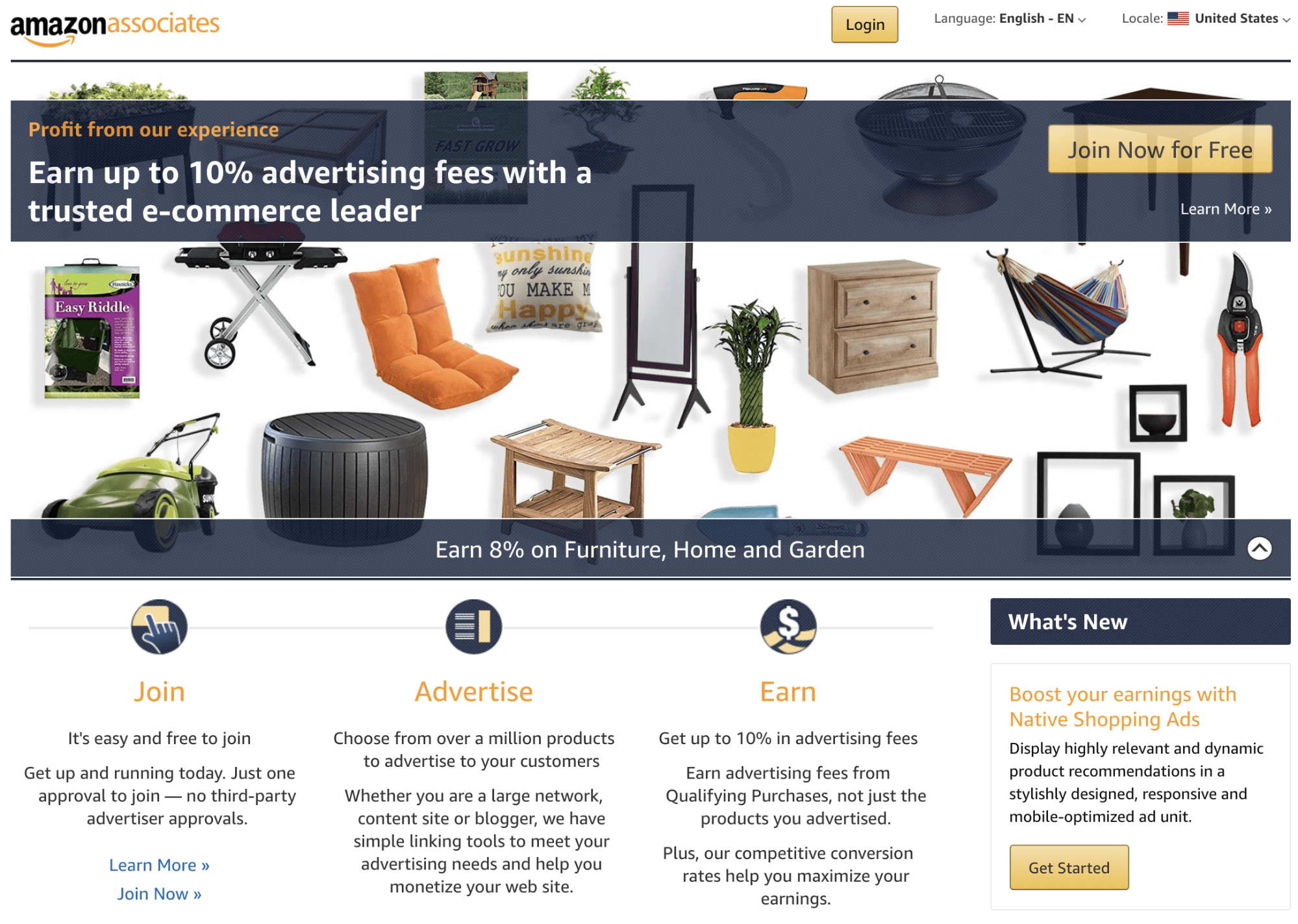 Amazon's affiliate program is easy to join and gives you access to over a million products you can promote. As an affiliate, you can earn up to 10% of each sale you refer.
How much money can you make with affiliate marketing?
It depends.
Bill Widmer and his wife built The Wandering RV, an RV lifestyle blog, into a six figure affiliate marketing business in under two years.
If you're interested in learning more about affiliate marketing, there are many affiliate marketing courses available that can teach you the skills and strategies needed to succeed, just like Bill Widmer and his wife did.

What makes affiliate marketing attractive is its low barrier of entry.
You don't need thousands of dollars to get started with this business model. All you need is a domain name and web hosting — both of which cost anywhere from $10 to $20 a year.
Let's look at some examples of affiliate sites that are wildly profitable.
Examples of Successful Affiliate Sites With Great Content
Here are some examples of niche sites that do affiliate marketing right:
NerdWallet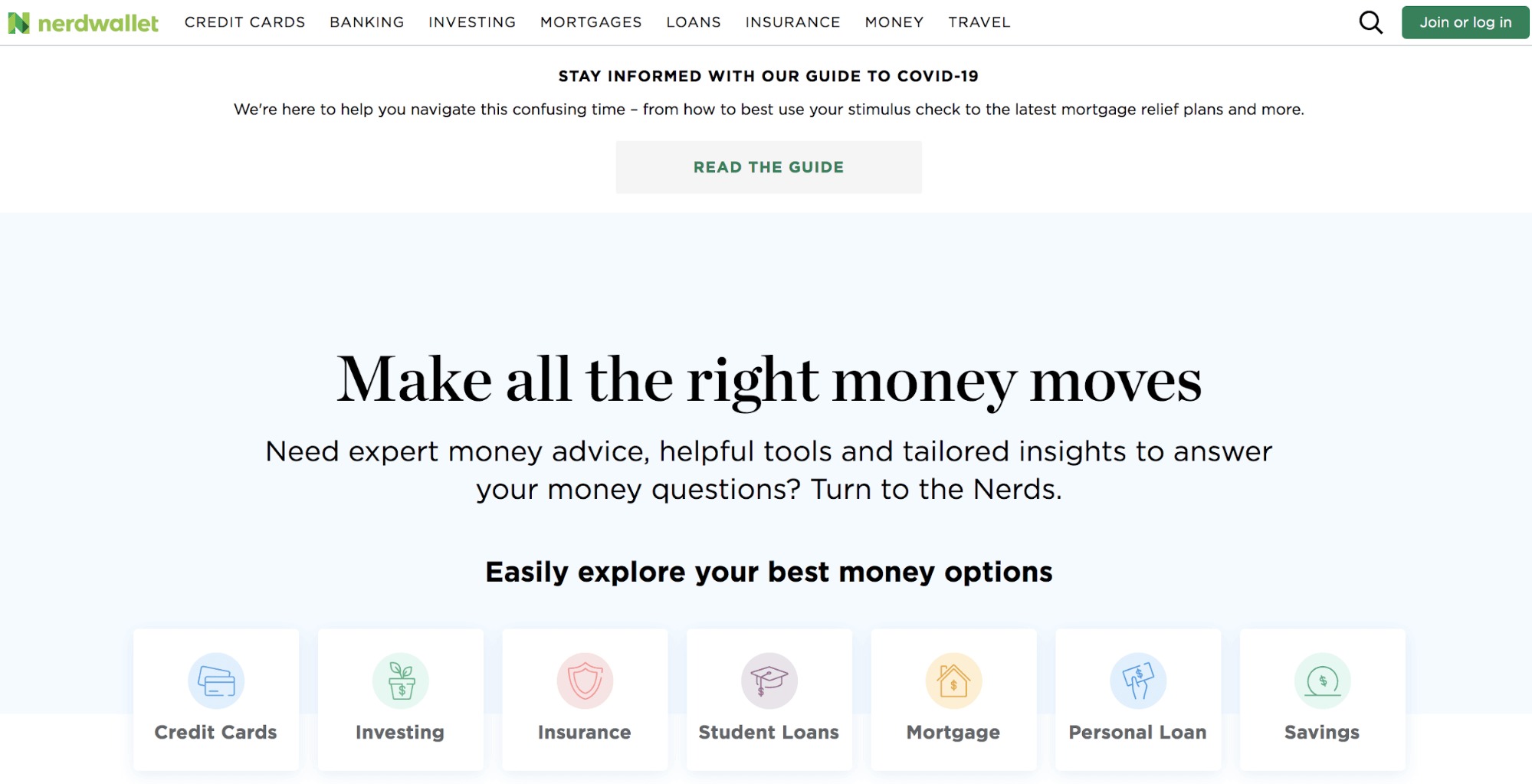 NerdWallet is a personal finance site that helps consumers make better financial decisions.
Tim Chen, Nerdwallet's CEO and co-founder, received an email from his sister asking for advice on choosing a credit card with lower foreign transaction fees.
But he was dismayed when all he could find on Google were promotional materials. So he created NerdWallet with the aim of making resources available for everyday consumers.
What distinguishes NerdWallet from other personal finance sites is that they focus on providing value.
Here's an in-depth guide they've published that explains what brokerage accounts are and how to open them: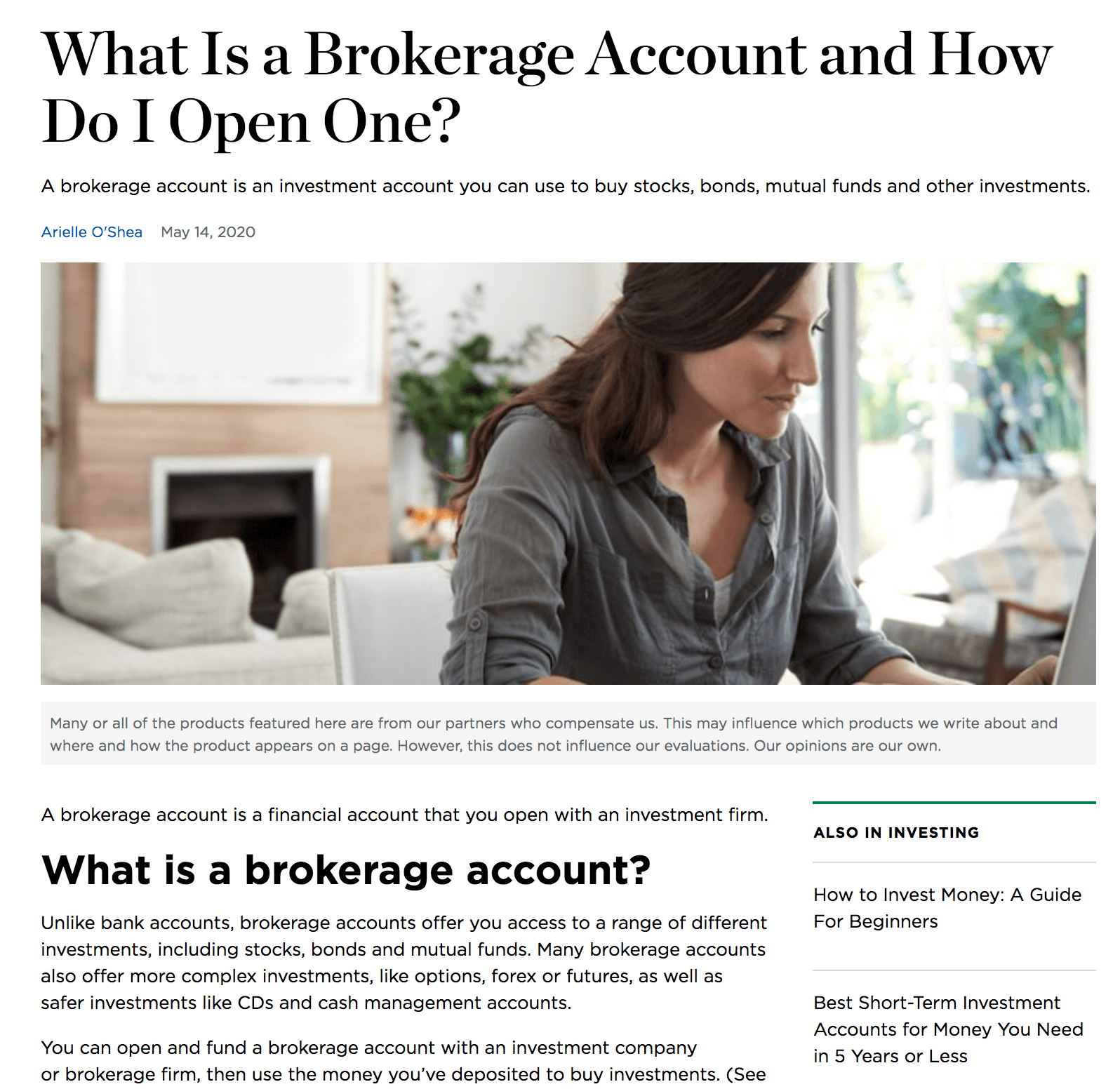 NerdWallet also provides comparisons of various financial products like credit cards, savings accounts, and more.
The site attracts over 10 million visitors a month and is valued at more than $500 million.
Wirecutter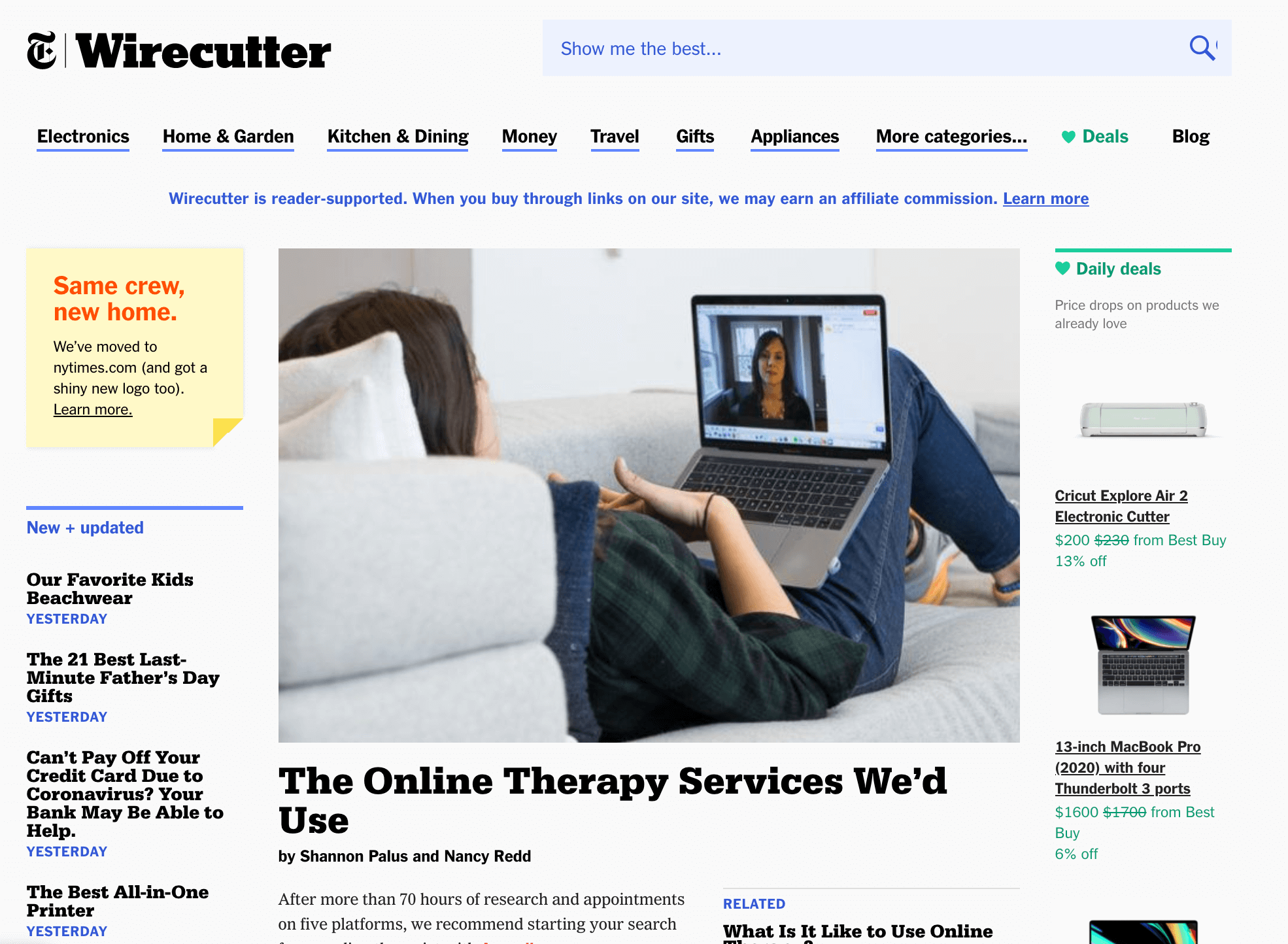 Wirecutter was founded by Brian Lam, a former editorial director at Gizmodo. The site provides in-depth reviews and shopping guides across different product categories.
They spend a significant amount of time testing products before publishing detailed buying guides.
Here's an example of a post that reviews earbuds under $50:
Wirecutter ranks well for tons of "best + product" keywords in Google. They earn a commission whenever someone reads a review and buys through their links.
PCPartPicker
PCPartPicker helps shoppers compare prices on computer parts like CPUs, memory cards, and more. They also have a section that contains completed builds with a parts list.
The real value, though, comes from their system builder tool.
Users can "build" a PC and choose different components. The tool then cross-checks for compatibility and indicates if there are any complications.
Here's an example of how this looks:
The tool also includes links to merchants that offer the best prices. PCPartPicker earns a commission for sales they refer.
What makes these affiliate sites successful?
You guessed it:
Quality content.
Each of these sites are seen as authoritative in their respective niche. In fact, Wirecutter was acquired by the New York Times for $30 million.
Making money online with affiliate marketing sounds awesome. Who wouldn't want to earn money while they sleep?
Make no mistake though:
Affiliate marketing isn't easy.
You can't simply write a product review and expect to start raking it in. Each of the sites above are successful because they focused foremost on providing value.
You need to get your content right to succeed with affiliate marketing. Otherwise, your content will be lost amongst the millions of blog posts that get published daily.
Fortunately, you're in the right place.
How to Write Content For Affiliate Marketing Sites
Follow these steps to write great content for your affiliate marketing site.
#1: Start With Keyword Research
Keyword research is arguably the most important step of affiliate marketing. If you don't target the right keywords, you'll waste time writing content that barely gets any traffic.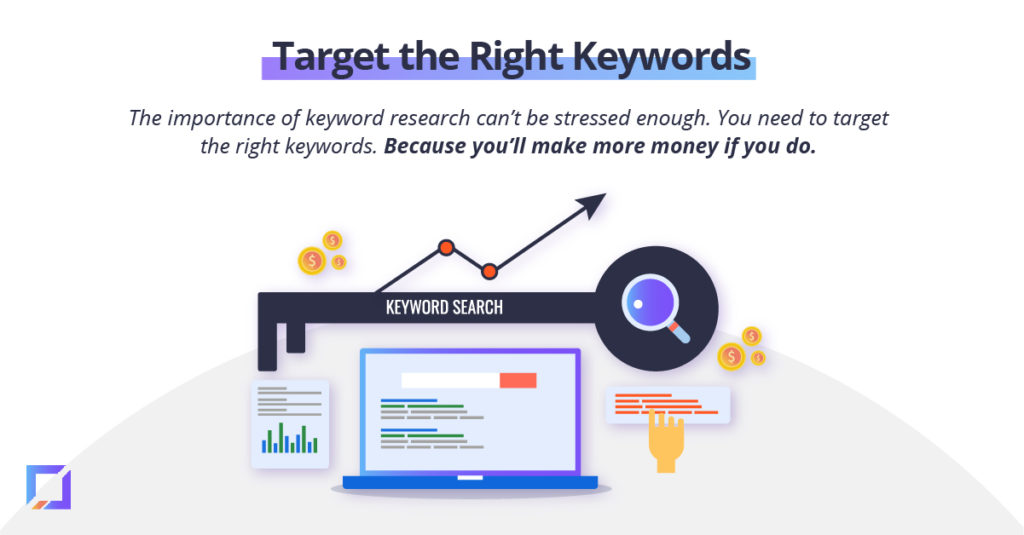 Here's how you can identify profitable keywords:
Brainstorm Keywords With Keyword Planner
Brainstorm a list of keywords for your niche. Think about what your audience would search for to find the products or services you're promoting.
Then enter those keywords into Keyword Planner to get traffic estimates and additional keyword ideas.
Here's what we see for the phrase "mattress for athletes":
Ideally, you want to target keywords with a decent amount of traffic.
Measure Keyword Difficulty
The first page of the search results drives a majority of all search clicks.
If the keyword you're targeting is too competitive, you'll have a hard time getting into the top positions. And that means your site will barely get any traffic.
Type your keywords into Google and analyze the sites on the first page. If there are a ton of authority sites, you may want to focus on another keyword.
You can also use a tool like UberSuggest to measure keyword difficulty.
A good approach for new affiliates sites is to target long tail keywords.
Long tail keywords may have less search volume, but they tend to convert better than their head terms. For example, a search for "best running shoes under $100" is more likely to lead to a sale than a search for "running shoes".
Long tail keywords are also generally easier to rank for. Target a healthy mix of informational (e.g., "how to…") and transactional (e.g., "product + review") keywords.
#2: Plan Your Content For Your Affiliate Site
Home builders don't just start building. They follow building plans that detail the entire layout, so they know exactly what goes where.
Similarly, you'll want to plan your content first before you do any writing.
Write an Engaging Page Title
Page titles are an important on-page SEO factor. They're also the first thing that visitors see before clicking through a search result.
Include your primary keywords in your page title. If you're writing a list post, here are the most engaging numbers in headlines according to BuzzSumo.
If you were writing a product review page, you could write something like: "The 10 Best [Product Keyword] Under [Price]".
Structure Your Headings
Headings serve two purposes — they improve the relevance of your content and make it easier for visitors to skim through.
Type in your target keyword in Google and look at the "People also ask" search box.
These are good keywords that you can include as H2 and H3 headings.
Structure product reviews around things like design, features, pros and cons, and pricing to make them useful for potential buyers.
Once you create an outline, save it as a template to speed up the content creation process.
#3: Write In-Depth Content That Provides Value
"Thin" content just doesn't cut it anymore.
Google made sure of that with its Panda update.
If you want your content to rank in Google, you need to go in-depth. That means covering a topic comprehensively.
The average word count of the top ten results in Google is 1,447 words.
Look at what's already ranking for your target keywords. What are they missing from their content that you can add to yours? What can you do to make your content even better?
Just remember to always focus on providing value. Don't stuff your content with fluff for the sake of making it longer.
There's another reason to go with long-form content — more backlinks.
Writing long-form content can help you attract more backlinks, which in turn leads to higher search engine rankings.
#4: Improve the Readability of Your Content
Improving readability is a must for affiliate marketing sites.
Users are likely to leave if your content is difficult to read.
Here's how to improve the readability of your content:
Use Short Sentences
Online users don't read on the web — they scan.
Short sentences make it easier for readers to scan your content. Read through your content and break up any long sentences.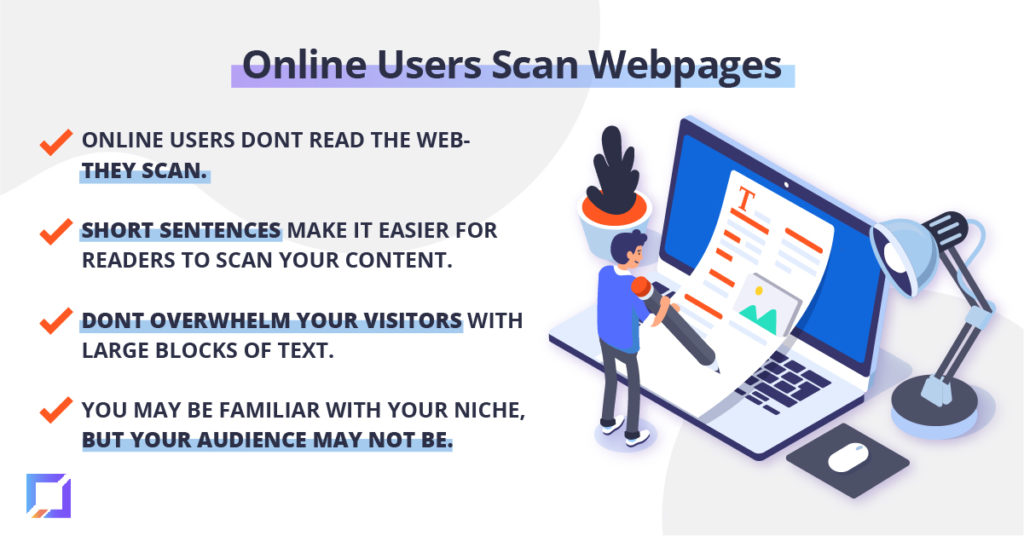 Don't overwhelm your visitors with large blocks of text. Keep your paragraphs to 2 to 3 sentences max.
You may be familiar with your niche, but your audience may not be. Avoid any jargon or technical terms in your content.
Include a Table of Contents
Those headings you created in your content outline?
Use them to create a table of contents. Then add links, so your visitors can easily navigate to the right section.
Here's an example of the table of contents we included on our B2B copywriting blog post:
Use an Online Editing Tool
The Hemingway Editor is an online tool that checks the readability of your content.
Aim for a reading grade of 6 for any long-form content you publish. Alternatively, there are also tools like Grammarly you can use.
#5: Optimize Your Content For SEO
59% of consumers turn to Google for product research.
Ranking your affiliate site means you can reach people who use Google for product research and earn more money.
Use tools like Frase to further optimize your content. The tool provides a "content score" to see how your content stacks up against the competition.
A high content score can help your content rank in Google. But you also need to strike a balance here — provide value to your visitors and work in any keywords naturally.
Once your content is optimized, you're ready to publish your content.
Conclusion
Affiliate marketing offers a viable way to make money online but you can also think about dropshipping.
But the digital landscape is more competitive than ever. Writing a short blog post and sprinkling in some keywords just doesn't work anymore.
Follow the tips outlined here to write content for affiliate marketing sites. Publishing quality content takes more work, but you'll see your earnings rise.
Get a content marketing strategy implemented for your affiliate site. Book a call with us today!