To connect with your customers, you must experiment with various content types. The world of content marketing offers a wide variety of content to choose from.
Some content builds trust, establishes your brand as an authority, and boosts conversion rates. While other content educates, persuades, or drives traffic to a destination.
You must learn about them all if you're going to leverage them for your business.
This article will teach you about nine types of content every marketer should have in their repertoire.
Let's get started.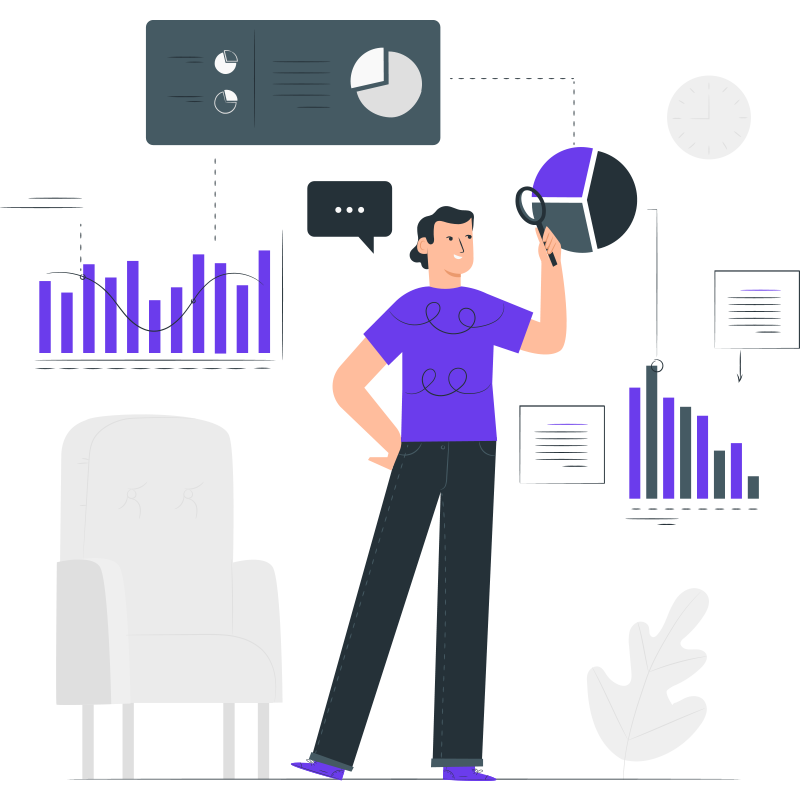 Get long-term ROI.
We help you grow through expertise, strategy, and the best content on the web.
1. Blog posts: The bread and butter of content marketing
Every business website should have a blog. Blogs drive organic traffic to your website. If you publish new content regularly, that is.
A blog's structure lets you focus on specific keywords and relevant topics. And you can choose keywords and topics that fit your audience's interests. For businesses struggling with consistent content creation, content generators can offer valuable assistance in producing quality blog posts.
Blogs also play a vital role in SEO strategy. Since most blog posts are at least 1000 words long, Google has plenty of content to crawl when searching for answers to users' queries. That's why marketers should optimize blog content for search engines.
Want to get the best results from your content marketing strategy? First, focus on creating content for your readers. Don't focus solely on search engines. Understanding your audience and creating valuable content that meets their needs is essential.
However, SEO is important for your blog and website's overall health. The following best practices can improve SEO (and your rankings in search engine results pages (SERPs)).
Incorporate relevant keywords in your blog posts, but avoid keyword stuffing
Include your primary keyword in your title, introduction, at least one subheading, the body of your text, and conclusion
Use appropriate formatting, including headings (H1) and subheadings (H2, H3), to make scanning easier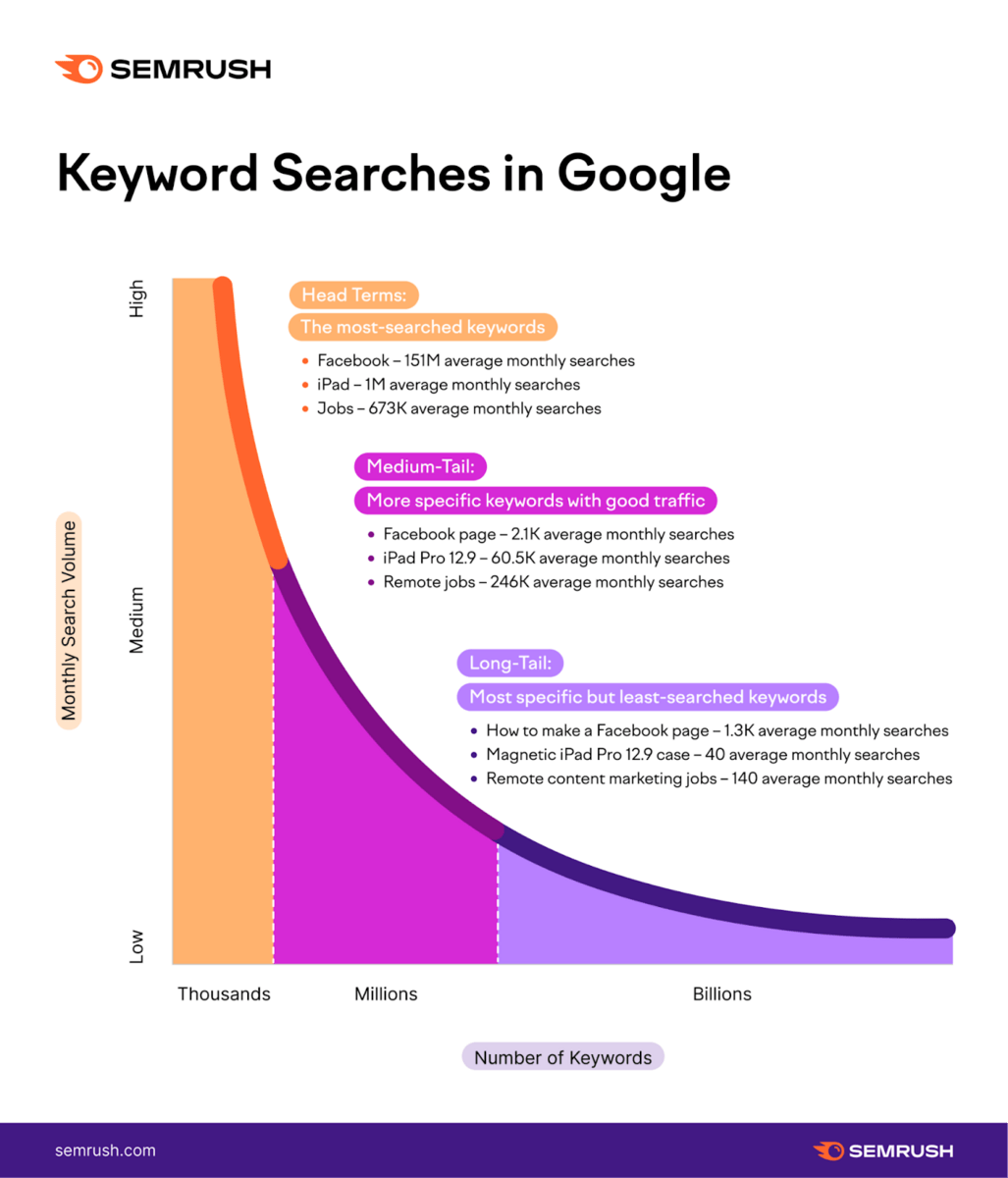 Long-tail keywords can be especially useful since they tend to attract users with a specific interest in your topic. Additionally, providing high-quality, comprehensive posts will likely increase the dwell time and decrease the bounce rate on your website.
An excellent example of a comprehensive blog post is HubSpot's "The Ultimate Guide to Marketing Channels." This post helps ‌establish Hubspot as a leader in the industry.
How to create a blog post
If you want to create compelling blog content, here are some valuable tips to remember.
Understand your audience – Identify their interests and pain points so you can tailor your content. Use buyer personas to clarify and segment your audience as needed.
Deliver value to your audience – Provide helpful tips and insights to help them solve problems or achieve their goals.
Include visuals such as images, infographics, and videos to enhance engagement.
Promote your published article – Use social media, email newsletters, and other platforms to increase organic traffic and engagement.
2. Infographics: Presenting information visually
Infographics are incredibly effective tools for presenting information. They're also liked and shared three times more often than any other type of content on social media, according to Demandsage.
What sets infographics apart in today's fast-paced digital world is their thumb-stopping ability to catch the eye of people who usually skim through web pages.
Using infographics lets you grab people's attention and interest them in your content while making them feel more connected to your message.
For marketers, this translates into the ability to highlight the information that matters. It can also ensure that your key points resonate and leave a lasting impression.
How to create infographics
Create infographics that showcase important facts, events, or timelines related to your business. Then, post them on your social media channels.
Many marketers use Canva to design their infographics because of its simplicity and variety of free templates.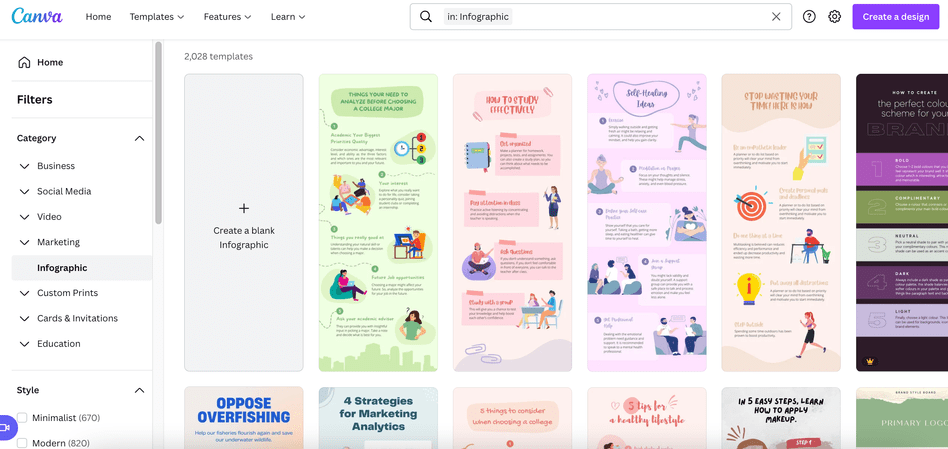 Make sure to brand your infographics with your company logo and name, so if anyone shares it, it's obvious where it came from.
There are many benefits of using infographics in marketing. Here are some brilliant use cases to inspire you.
3. Videos: Give people what they want
With 91% of marketers using video and 92% reporting positive ROI with video marketing, it's no wonder this strategy has taken off. Obviously, audiences are voting for video with their attention and their dollars.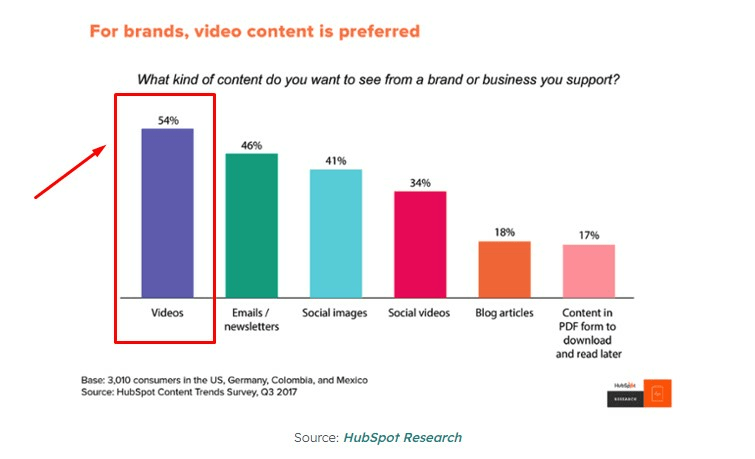 You can use videos across many platforms, including YouTube, social media, and your website. You can post entertaining short-form videos on social media like TikTok and Instagram. YouTube is perfect for longer videos like tutorials and product reviews.
HubSpot's marketing report shows the value of video in a content marketing strategy. The report highlights the 87% traffic increase videos have helped create for marketers. According to the report, video marketing has contributed to an astounding 80% of sales.
Also, integrating videos into your content marketing can convey complex messages in a user-friendly format. Presenting information in an easy-to-digest format makes it more appealing, shareable, and memorable. For example, while people can only remember 10% of what they read three days later, they can remember 65% of content associated with an image, such as a video or an infographic.
How to start creating videos
To embark on a successful video content marketing journey, consider these valuable suggestions:
Analyze what your competitors are doing. Doing your research beforehand will provide insights into what you should invest in and avoid. You can start by Googling keywords or questions associated with your industry (remember to check the "People Also Ask" section) and see what videos already exist and which don't. Then, decide whether to one-up your competitors or fill the gaps.
Understand your target audience and their preferred content. Determine whether educational or informational videos resonate best with them. Are they looking for information or entertainment? Give them what they want!
Do the best you can within your budget. If you can't invest in skilled photographers and videographers, use the great software and equipment available to create captivating content. Just because you're working on a shoestring budget doesn't mean your content can't look like a million bucks!
Ensure every video topic aligns with your brand message and audience interests.
Organize and schedule your content in advance. A content scheduler like Later or Hootsuite helps maintain consistency, even when you're too busy to post manually.
By following these tips, you'll create great video content. Content that delights your audience, increases conversions, and boosts your SEO!
4. Podcasts: The rise of audio content
Podcasting is the latest craze to hit the marketing world, and it's taking it by storm. Over 464 million people listen to podcasts regularly, and that number is growing daily.
Podcasts build trust with listeners and can establish your brand as an industry authority. They also increase brand awareness and customer loyalty and drive sales.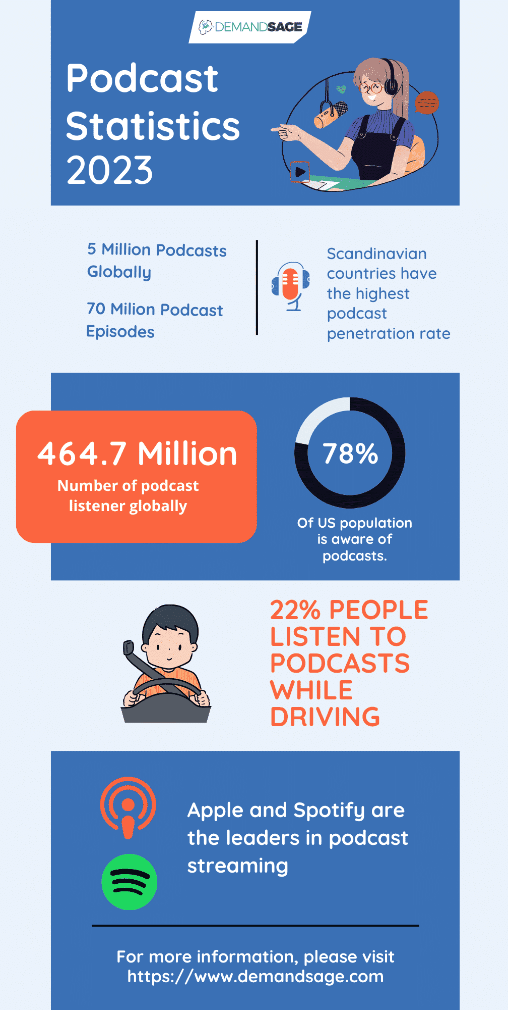 Podcasts offer a convenient mode of content consumption since listeners can multitask while absorbing the content. For example, studies reveal that 22% of podcast enthusiasts prefer to listen during their drives.
In our busy lives, multitasking has become essential. And podcasts fit in perfectly.
Whether taking an online course while getting the dishes done or tuning in to the latest episode of your favorite comedy podcast on your way to work, podcasts allow listeners freedom that reading and video don't.
How to create a podcast
To To start a successful podcast, you'll need a recipe with a strong script, the right format, and a topic or theme that interests your audience.
The average podcast lasts between 20 and 40 minutes, so staying within that sweet spot is a good idea. You can use AI tools for podcasters or hire a freelancer to write a winning script. Weigh the pros and cons of each before deciding which is best for you.
Also, remember, there are some things AI just can't do as well as a person, so be sure you're fact-checking and proofreading before recording and publishing.
Want to showcase your expertise? Create interview-based podcasts by hosting leaders and subject matter experts (SMEs) as guests. They can provide in-depth insights and analysis on specific topics.
These are also great for employee and C-Suite spotlights. The host can ask relevant questions the audience wants to know about the heads of the company or about what life is like for the everyday employee.
Another popular format is the narrative-style podcast. It explores stories or themes, captivating listeners with its engaging approach. This format is perfect for company stories and new product launches (the story of product development).
Regardless of the chosen podcast format, it'd be best to remember these three things:
Define a clear goal and target audience for the podcast. Doing this will ensure your content aligns with the needs of your target listeners.
Maintain a consistent podcast schedule – once a week, once a month, or twice a month. A regular schedule cultivates a devoted following who knows when to expect new episodes.
Promote your podcast on social media. Social media is where 93% of listeners hear about podcasts. When promoting your show, you must know which social media platforms your audience frequents and share your episodes there.
5. Case studies: Demonstrating your expertise
Case studies and customer testimonials make powerful content and social proof. They enable marketers to establish credibility and build trust in a way that other types of content simply can't.
When a business delivers exceptional results for a customer, they'll often write a case study that outlines the customer's problem, the solution the company supplied, and the results achieved.
The case study allows the company to demonstrate its expertise and persuade potential customers to work with them.
How to create a case study
What makes an effective case study?
First, the focus should be on the results achieved for the client or customer. The case study should emphasize specific outcomes.
For example, increased revenue or improved customer satisfaction. The results should be in the context of the client's problems and goals, and you should incorporate real-life examples and data, such as quotes or before-and-after statistics.
In the screenshot below, you can see the case studies featured on Codeless' website. Notice how they highlight a quote from each client and include the client's logo for recognition. All the user has to do is click to access the full case study.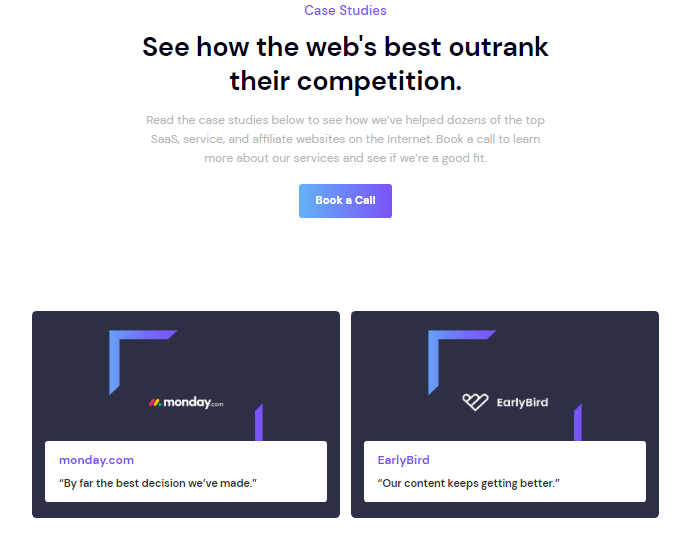 Additionally, it's crucial to make the case study engaging and visually appealing. Including images, graphics, or videos can illustrate key points and break up the text.
A narrative-style format can also make the case study more captivating. And this keeps readers engaged from start to finish.
Many successful examples of case studies are available. For example, the extensive collection from Salesforce.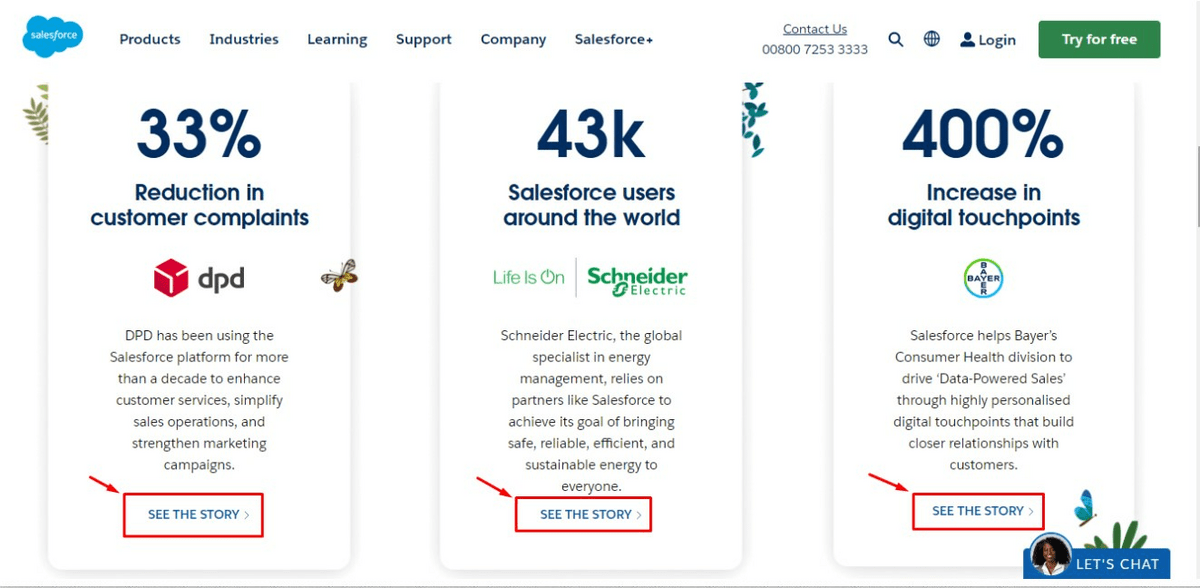 These case studies show the effectiveness of their software. That way, readers can decide if Salesforce can help companies achieve their goals.
6. Social media content: Encouraging engagement
Social media has become essential for businesses. Especially those seeking to connect with their audience on a personal level. Or the ones looking to expand their loyal customer base.
Want to promote your brand and generate better sales? Platforms like Facebook, Instagram, TikTok, Twitter, and LinkedIn can help.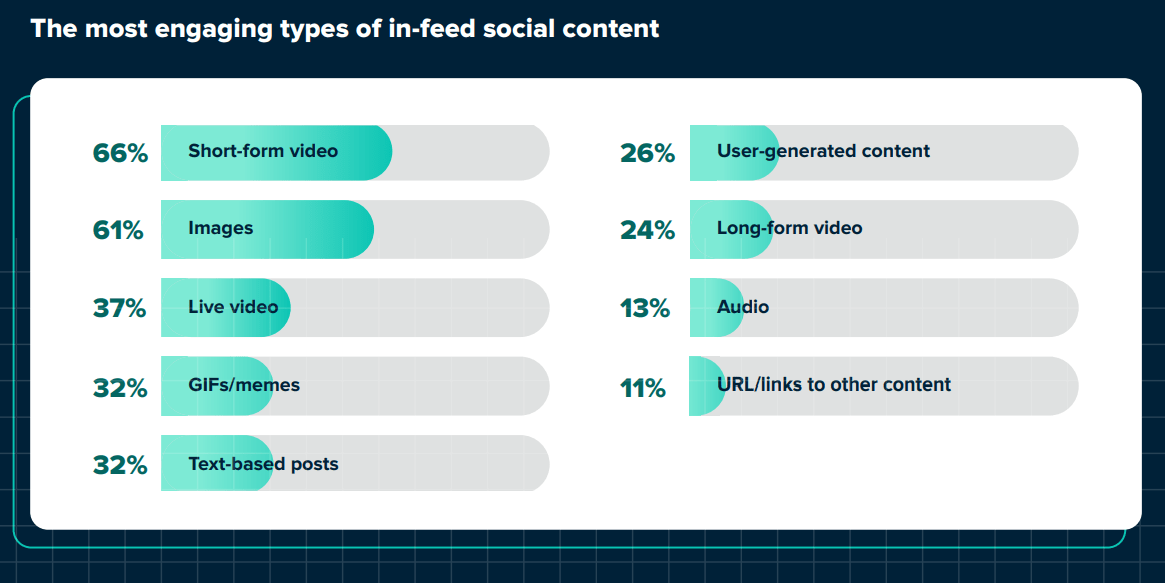 Social media stands out for its ability to build real connections. The only prerequisite is choosing the right platform to target the right audience.
How to create social media content
As with all of your content, your social media content should reflect the interests of your target audience. However, when posting to social media you must also remember to make adjustments according to the platform.
Pro Tip: You can also repurpose content and save yourself some time and effort. For example, share a screenshot of a Twitter post on Instagram. Or you can break a LinkedIn post into pieces and turn it into a Twitter thread.
Visual content, such as photos and videos, grabs users' attention and is easy to share. You can get more bang for your buck, so to speak, by sharing videos on multiple platforms like YouTube, Instagram, and Tiktok.
Remember these best practices when creating social media posts.
Customize your content to your audience and your specific platform(s). Each social media platform is unique. So creating content that aligns with your audience and the platform's features is crucial.
Provide value to your audience. Instead of promoting products or services, create content that benefits your followers. Providing helpful advice or engaging material is crucial to meeting your audience's needs. Give first, sell later – that's how you build brand loyalty.
Be consistent. It demonstrates your commitment to delivering valuable content and provides your followers with reasonable expectations. Creating a content calendar and using a social media scheduler can help maintain consistency.
Engage with your audience! Social media is all about fostering a two-way conversation. Respond to comments and messages. Create strong connections with your followers and build a loyal customer base. It can also make customers feel appreciated and listened to.
7. E-books: providing value and building authority
E-books are some of the best lead-generation tools in the world today. But it's crucial to go beyond a simple promotional piece and create something of real value.
Provide your target audience with relevant, beneficial, and insightful solutions to their problems. Then, they'll line up to offer you their contact information in exchange.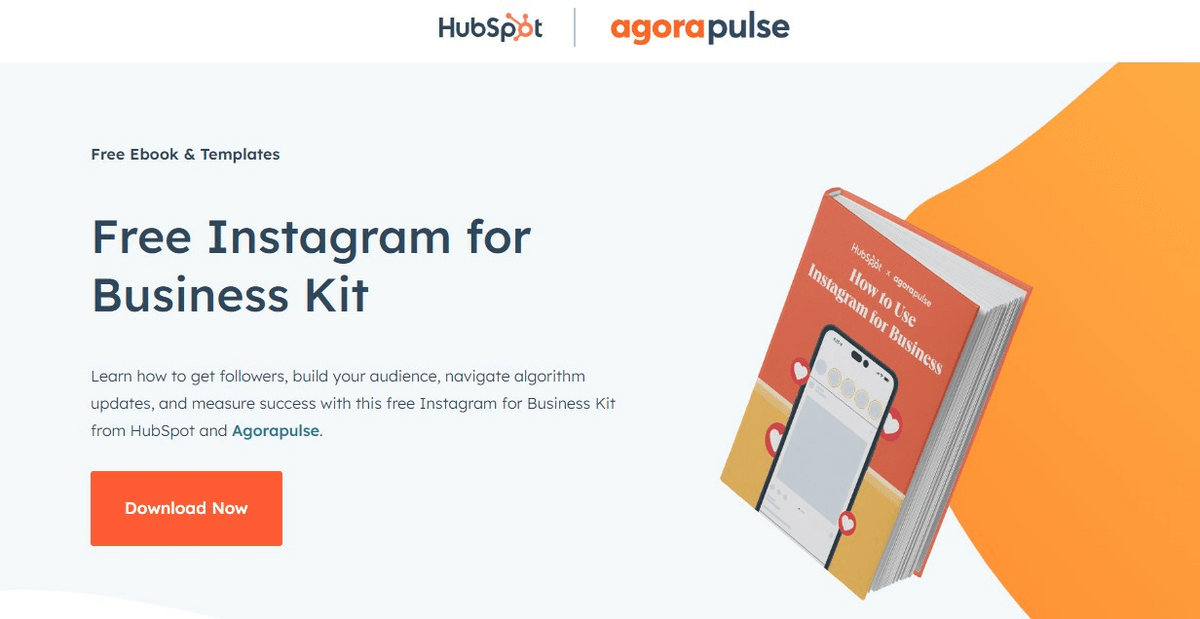 Most companies ask users for information such as their name and email address. You can use a simple form followed by a "Download Now" button.
But strike the right balance and keep the format clear and concise. If you require too much information, it can overwhelm potential customers. And it may stop them from completing the form.
Remember, simplicity is key to encouraging engagement and gathering valuable leads.
How to create an e-book
As a marketer, you have many options for creating e-books. For example, you can create a beginner's guide specific to the industry. Or a comprehensive e-book demonstrating expertise.
Statistically, how-to guides do exceptionally well as lead generators. Just be sure your e-book is thorough, well-written, and easy to read.
Follow these best practices when creating your e-book.
Select a topic that resonates with your target audience. The topic should deliver value by offering a genuine solution for a problem the target audience experiences.
Format the e-book with headings, subheadings, and a well-structured table of contents. Doing so will improve readability and enhance the user experience.
Proofread and edit. If your budget won't allow for a professional editor, use a tool like Grammarly or Writer to ensure you don't miss typos or grammatical mistakes and to enhance the readability of your e-book.
Promote your e-book. Effective promotion is critical to make sure your e-book reaches the intended audience. Use your website, email marketing, and social media to promote your e-book.
8. Newsletters: Building your list
Speaking of email marketing, newsletters are another type of content that lends itself perfectly to email marketing.
Chances are you've got some newsletters in your inbox right now. How'd they wind up there? Simple – you subscribed to an email list.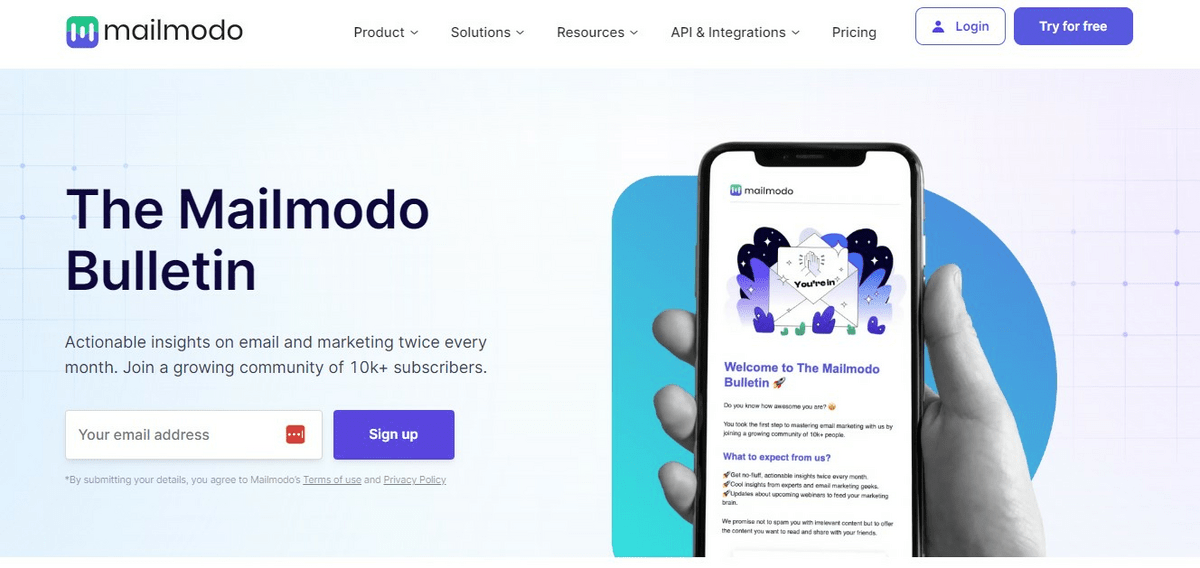 When you find a brand or blog you love and want to keep up with, you don't hesitate to hand over your email address. And businesses treat those emails like gold – email marketing has an average ROI of $36 for every $1 spent.
How to start a newsletter
Just because every business and brand has a newsletter doesn't mean they're all the bee's knees. To make sure yours stands apart, you need to follow these rules:
Use ‌double opt-in to ensure you're only getting subscribers who‌ want to receive your emails.
Leverage engaging subject lines – if possible, hire a professional writer to help create hooks that won't fail.
Keep your content 90% informational and 10% promotional. [HubSpot, 2022]
Optimize for mobile – remember that most people read, watch, and scroll on their mobile devices, so make sure your newsletter looks fabulous on phones.
Personalize your content while staying aligned with your brand – whether you're speaking to a particular segment of your audience or celebrating a milestone your company achieved, personalization goes a long way toward getting your customers engaged.
9. White papers: Diving deep into research
A white paper offers insights, analysis, and recommendations on a particular topic or issue. It can also show a company's authority and expertise. White papers do this by offering valuable information and thorough research.
White papers serve as educational tools. They present practical suggestions that help readers address challenges or make well-informed choices.
While there are plenty of examples of white papers across various industries, we decided to highlight ZenDesk's collection.
ZenDesk offers exceptional examples of white papers on its website. They feature several, each on a different topic.
From state-of-the-industry reports to deep dives into how their solutions can help customers, they leverage these white papers perfectly. They're inviting, informative, and thorough without overwhelming the reader.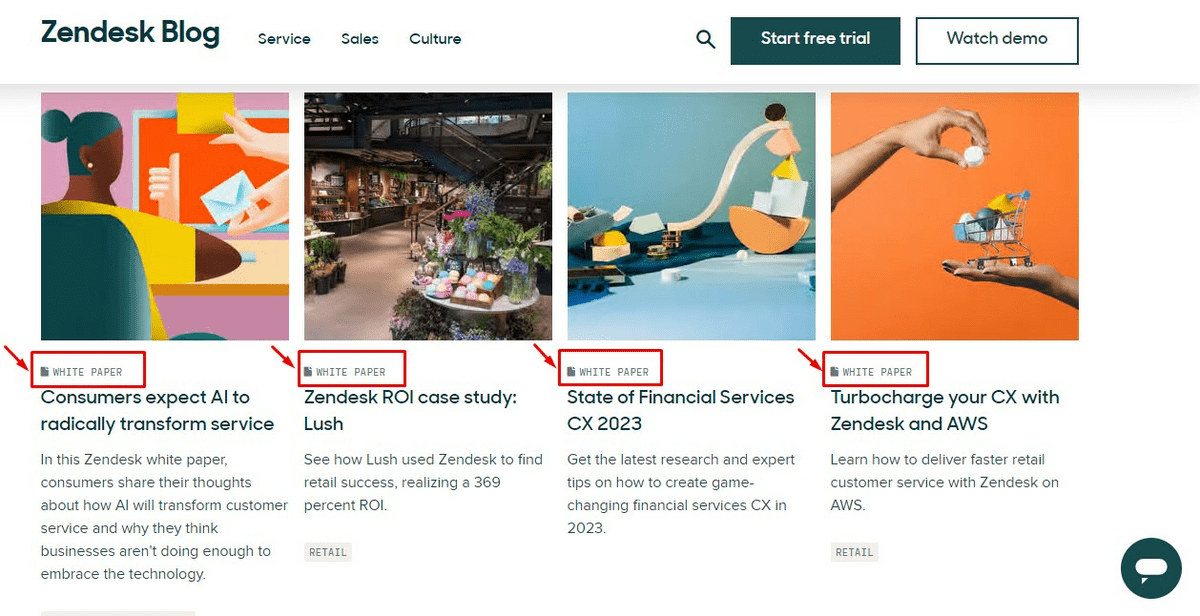 How to create a white paper
A critical point many people miss when writing white papers is that they shouldn't be salesy. Instead, they should educate and inform but avoid a hard sell.
While similar to e-books in many ways, they're a different animal. White papers should be between five and twelve pages long and feel like a deep dive into research and technical information. Notably, they also usually contain few, if any, images.
You should choose a relevant subject for your target audience that offers genuine value. For instance, many white papers focus on unique products or service solutions companies offer.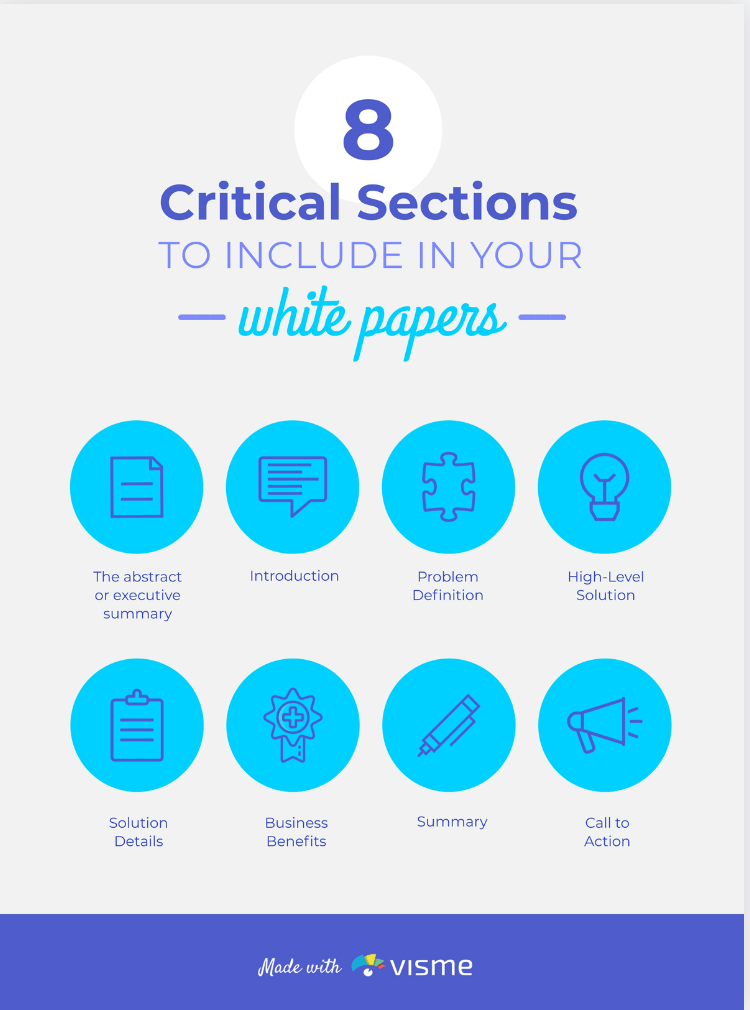 Follow these tips to create a winning white paper.
Conduct thorough research and analysis to provide meaningful insights and recommendations. Research may include surveying your audience, studying industry trends, or interviewing subject matter experts.
Provide information clearly, and remember that your goal is to explain how a product or service solves your audience's problems better than other alternatives. However, keep your language objective and neutral rather than subjective and persuasive.
Consider gating your white paper as a lead generation tool. You can offer it on your website in exchange for a user's name and email address. If you'd prefer not to gate it, you can incorporate it into your email marketing strategy and promote it on social media.
Conclusion
Creating different types of marketing content is crucial for attracting and retaining customers.
You don't have to use all of these types of content, but finding the right combination for your target audience will result in more engagement and conversions.
By experimenting with different types of content, you'll find what resonates best with your audience. Once you do, double down on those successes and watch your brand prosper.