Most B2B content marketing best practices are bullshit.
They tell you to "develop long-form content" and "create content for the buyer's journey."
Don't get it twisted: both of those are significant steps in the right direction, but they aren't best practices anymore.
Those are standard, bush league, rinse and repeat steps that should serve as a baseline for anything you do in B2B content marketing.
It's not unique to create long-form content. Everyone does it. Buyer's journey? It's been around the block longer than Jenny.
Best practices are the tactics that most B2B companies aren't doing.
Ones that will actually net you results instead of trying to compete with 80+ domain authorities for a low traffic long-tail term.
Here are some B2B content marketing best practices to nail that you probably won't hear elsewhere.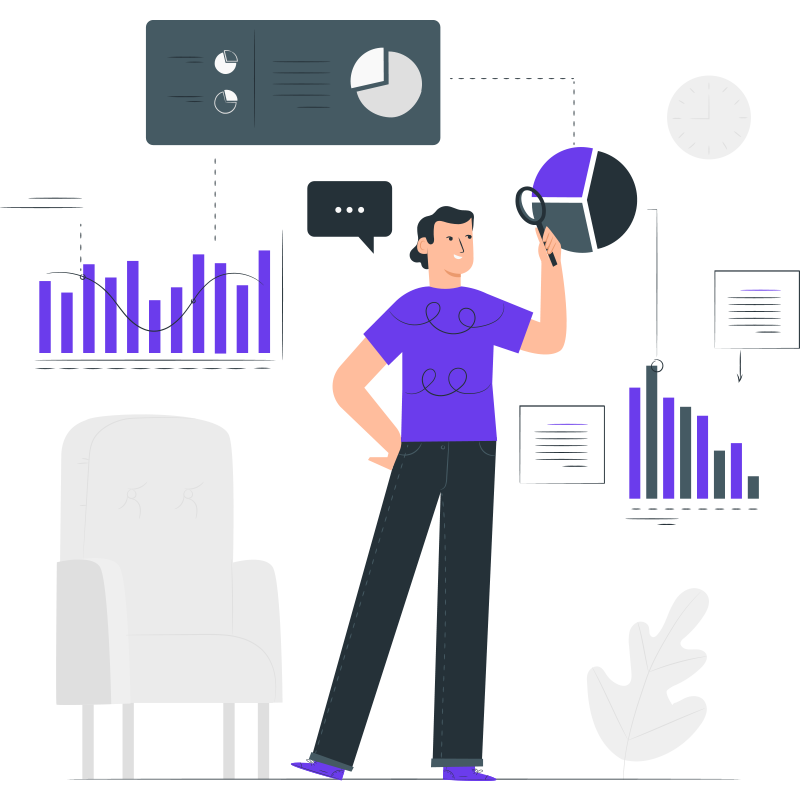 Get long-term ROI.
We help you grow through expertise, strategy, and the best content on the web.
Quick Fireside Chat: What Is B2B Content Marketing?
B2B (business-to-business) content marketing is simply content marketing for the B2B arena.
This could be anything from a blog post to an infographic to a learning center on your site.
It's essentially any form of content that helps you:
Build a brand / build a business
Bring in traffic
Turn that traffic into real sales
For those bookworms out there, here's a concrete definition.
B2B Content Marketing Definition: The marketing practice in which a business uses content (like blog posts, ebooks, whitepapers, etc.) to grow their audience, develop brand awareness, drive traffic to their website, and turn users from leads into clients.
Bored yet? Probably.
Now it's time for the fun stuff: B2B content marketing best practices that you probably won't hear from cookie cutter blogs.
Ready? Of course you are, you were born ready.
Best Practice #1: Branding Isn't Just for Coke and Pepsi
Branding is just for huge brands.
Lol, you're in B2B? Don't waste your money on branding.
Unfortunately, these are common things you'll hear in B2B content marketing best practices.
Or you'll hear branding thrown on the backburner as some side project that you do when you're bored or done with all your other work. But they couldn't be more wrong.
Branding isn't just for consumer-focused companies or mass-produced goods or even the big-spending corporations.
Branding is the process to take your business to the next level and give it a unique identity, so people can easily recognize it and trust it. In simple words, branding is a marketing strategy, created by companies to stand out of the crowd so people can quickly identify their products and organization. A logo works the face of any business, thus companies concentrate more on their business logo design. One approach to creating an effective logo is to use a reliable logo maker, which can assist businesses in generating unique and memorable logo designs that accurately represent their brand identity.
Sure, it's easier for Pepsi and Coke to brand themselves because their product almost has no target market.
But that doesn't mean B2B isn't brand focused just because markets are more niche.
Think of CRM companies and B2B companies.
What just popped into your head? HubSpot? Yep. Social scheduling tools? Buffer? Yep.
Case in point, branding is probably the most important factor of B2B sales and lead generation.
An older 2013 study on search results and brands found that the first thing that searchers look for before clicking on a SERP result is branding.
While the study itself is old, it still holds true. You've probably subconsciously done this yourself, too. Think about it:
Are you gonna click on an XX tips post from genericmarketingname.com or HubSpot? Chances are it's the latter no matter how compelling the title tag was.

Why? Branding signals trust and authority. It signals that you're gonna get what you want when you click: good content.
Recent data and Google trends like this and this prove that branding is and always has been huge in SERP importance.
Not only does Google cater to brands, but users are more likely to engage with ones they know on SERPs.
Beyond that, why do you think it takes tons of touches to build a single viable lead?
Salesforce says it takes 6-8 touches. The DMA says 7-13.
Why?
Brand perception. Users are forming an image of the brand in their conscience before making a buying decision.
Rarely do you ever conduct a single unbranded search and purchase on your first touch.
Brand building is a critical piece in content marketing. And no, I'm not talking about optimizing your existing site content for "branding."
This isn't driving traffic to an about me page. That's a colossal waste of time.
Branding in B2B is done through informative content.
HubSpot is a prime example of this, yet again: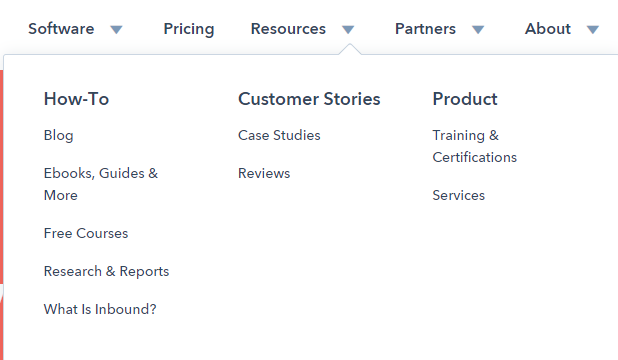 Content builds their brand. And that image revolves around knowledge and education.
Helping other businesses learn about marketing is their forte.
Their brand is resource based. Name any single marketing topic that you want to learn the basics/beginnings of and HubSpot is there as the first resource you find.
That's branding themselves as a teacher in the marketing space.
So, how do you brand your own business through content? Here's one way to start.
Guest Posting to Build B2B Brand Awareness
Start by guest posting on topics that relate to your business and help develop your brand.
But don't follow crappy advice that tells you to do it "for the link juice!"
Sigh.
Ignore that terrible, terrible advice.
Look to get featured on popular sites in your space and focus on generating awareness of your brand, your expertise, and your ability to communicate that to eager beavers.
For instance, I recently guest posted on BigCommerce and generated over 1,000 social shares with a single post on local marketing: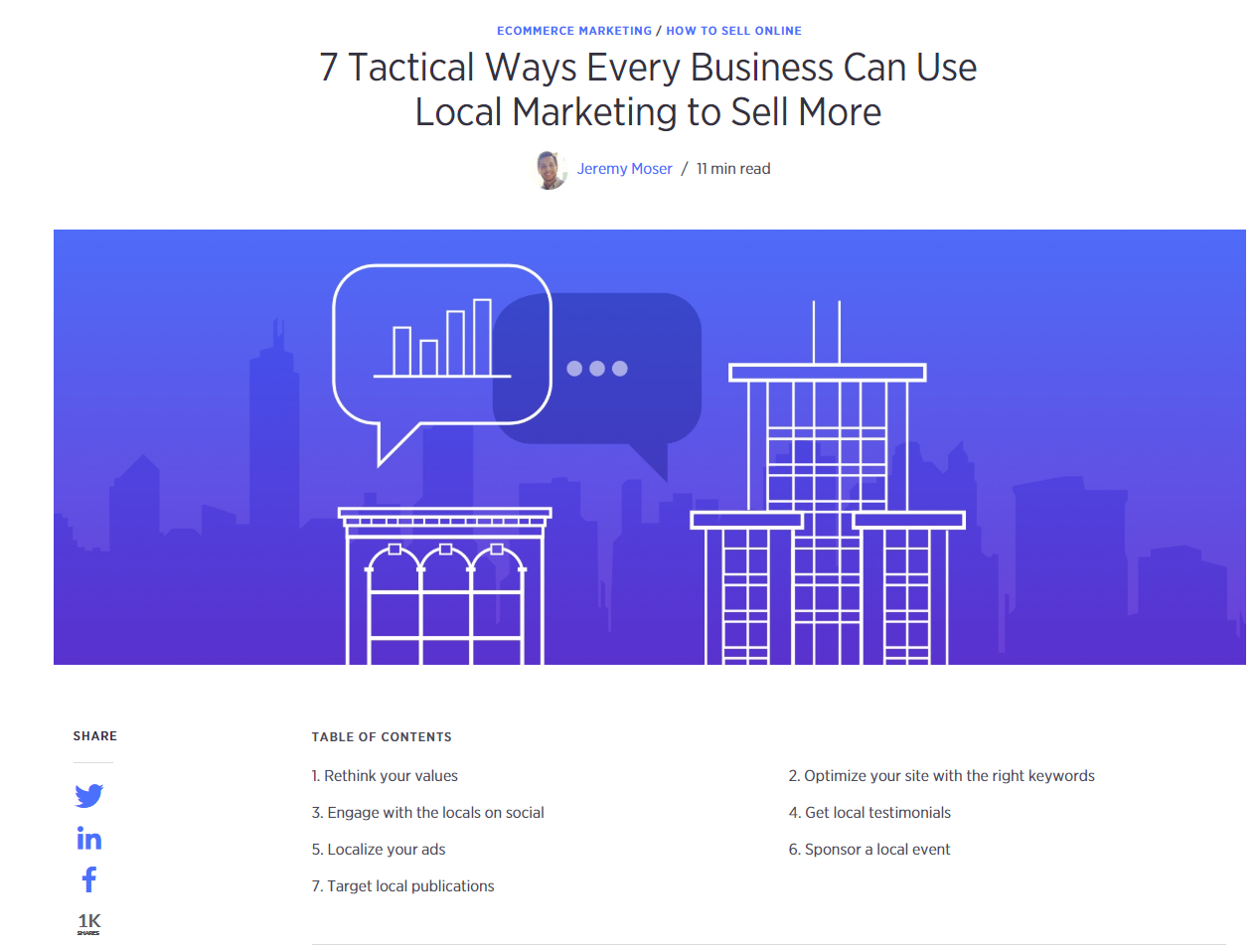 Guest posting gets your content in front of a new, relevant audience, allowing you to make a first impression and brand your business (and yourself).
Plus you get a snazzy byline to drive more traffic and turn new readers into loyal readers.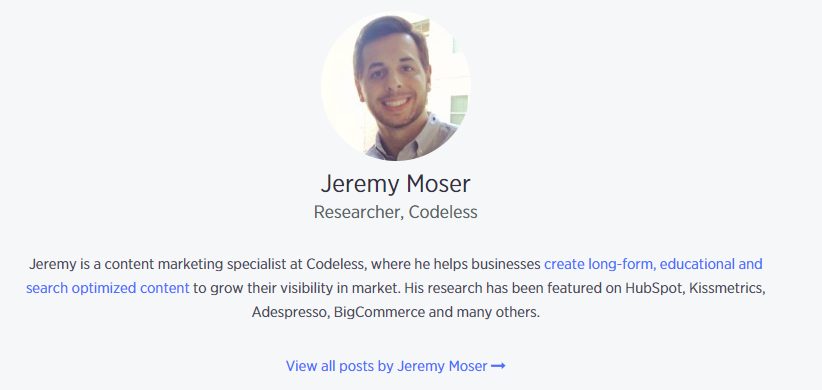 That's a win-win.
Use guest posting as your time to showcase what your brand is all about.
Do you sell social tools? Craft the best damn social selling post you can.
Do you sell email marketing tools? Your email tips post better be kick-ass.
You Are Who You Associate With: Mention and Get Mentioned ASAP
Our parents used to drive this point home like there was no tomorrow.
Literally, you thought the convo would never end. You probably weren't even listening.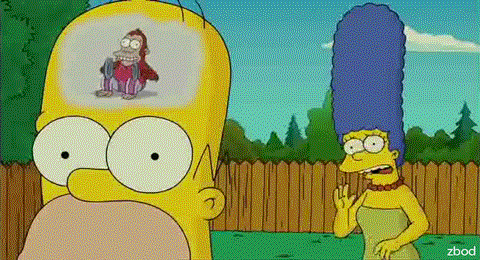 Heck, I don't blame you. I sure as hell wasn't. Sorry, Mom and Dad!
It turns out they were actually right (you're welcome, Mom and Dad!). Especially in B2B content.
Building your brand through content is easier when you mention or get mentioned by other top performers in your space.
Mentions lead to links which lead to traffic and new audiences. That's more impressionable to visitors that read your content and become brand followers.
You can see this strategy in full swing with a few top players in the B2B content space, like Aaron Orendorff, Editor in Chief of Shopify Plus: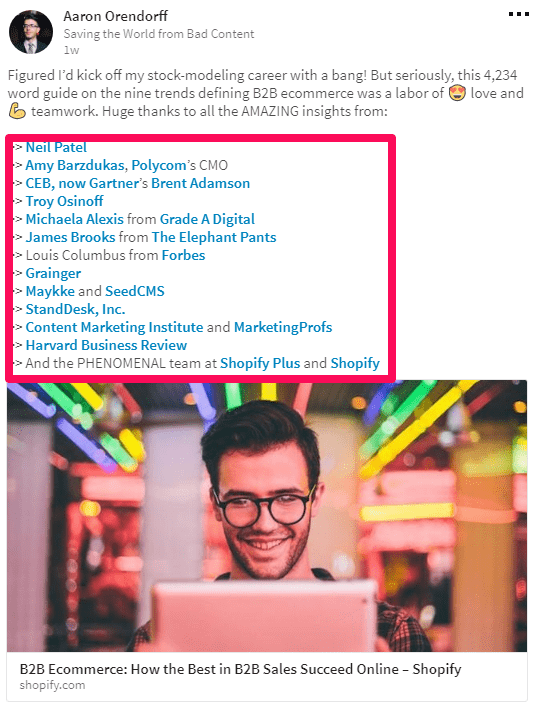 Neil Patel? CEOs and CMOs?? HARVARD??? This dude must be legit! 😉 — Social proof in action.
Or me, capturing some valuable mentions and brand awareness on Shopify marketing tactics from Databox to showcase ecommerce writing skills that might drive a few leads to check out our work: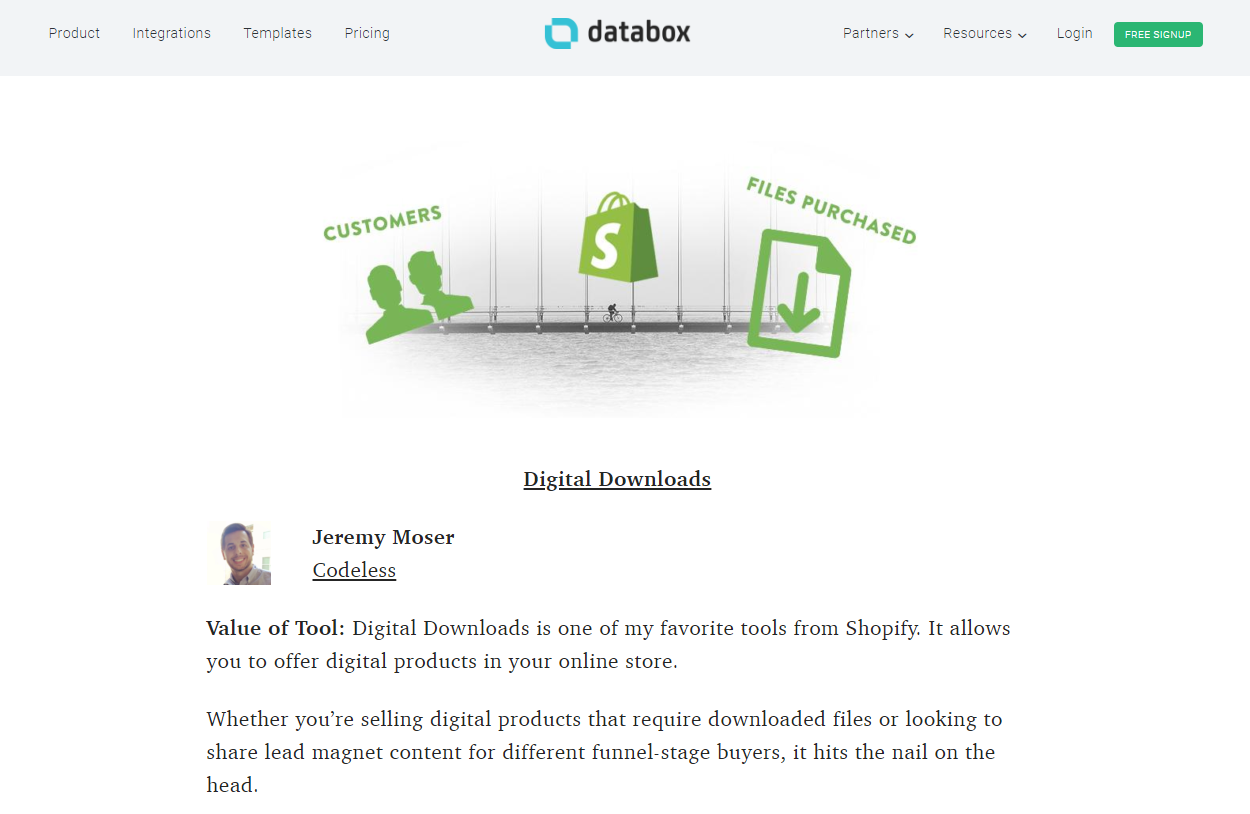 Mentioning and getting mentioned help to establish critical markers of social proof: trust and authority.
Got mentioned by a top site? People are gonna think you're hot shit because they think that site is hot shit.
Doing this, you're killing two birds with one stone: B2B content & brand building.
Best Practice #2: Create Content That Doesn't Suck (Harder Than You Think)
Most B2B best practices for content marketing will tell you the same old crap:
Just churn out content. Tons of it. At least 2k words with dozens of semantically related keywords. Cool. Thanks for the wonderfully personalized advice.
"Just blogging" doesn't do shit for your B2B sales.
And creating long-form content because someone told you doesn't either.
Sure, long-form content is great. If you can pull it off without your readers dozing off in the first 15 seconds (which 55% of them will).
People skim. So "good" content isn't going to cut it.
Most go wrong when following traditional B2B best practices for content marketing because they try to hit every single marker of a "good post."
Arbitrary things like word count, keyword density, keywords in every damn subheader from H1 to h2o.
While these are good for SEO, readers won't stick around long enough to form a brand impression.
Boring content is boring. Stop focusing on checking boxes off your list for word count and start focusing on creating memorable pieces of content.
Want an example? Read any post from Joanna Wiebe.
Or even just her bio: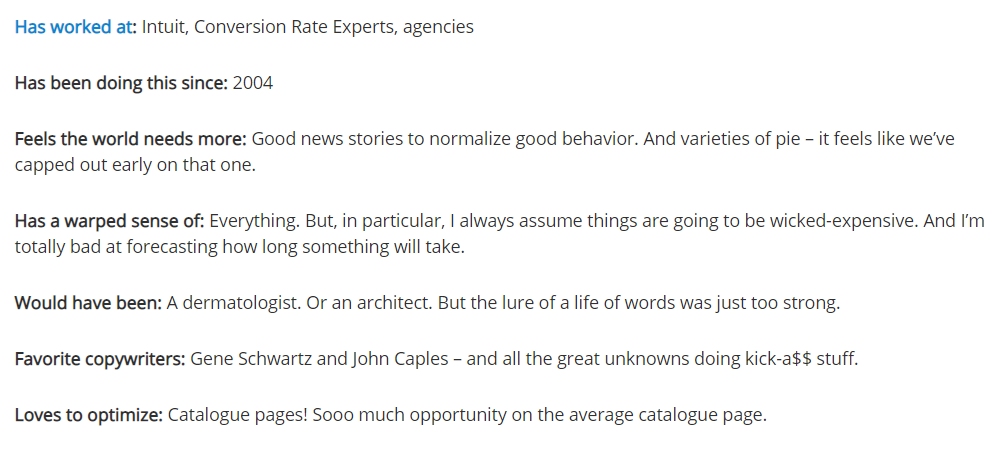 I bet that about page was more interesting than the last generic B2B post you read, right?
Even her meta descriptions are catchy:

Content doesn't have to suck, but unfortunately for readers, most of it does. And the ones who are creating content that doesn't suck are the ones satisfying readers and growing their businesses every month.
How to Develop Content Ideas That Captivate Your Audience
In B2B content marketing, there is one rule that should stick with you:
If thinking of the content idea was easy, you shouldn't even bother to spend the time on it.
XX social sharing tips? 68 million results.
A more complex topic like B2B social selling? 7 million.
These ideas are easy to think of off the top of your head. And that's why most people write them. They're easy to create, and it helps to add content to your site quickly. But those topics don't captivate your audience. If you birthed the idea in ten seconds, scrap it.
You think it took Buffer ten seconds to put their entire businesses value proposition on the line for a post on Facebook organic reach? Heck no!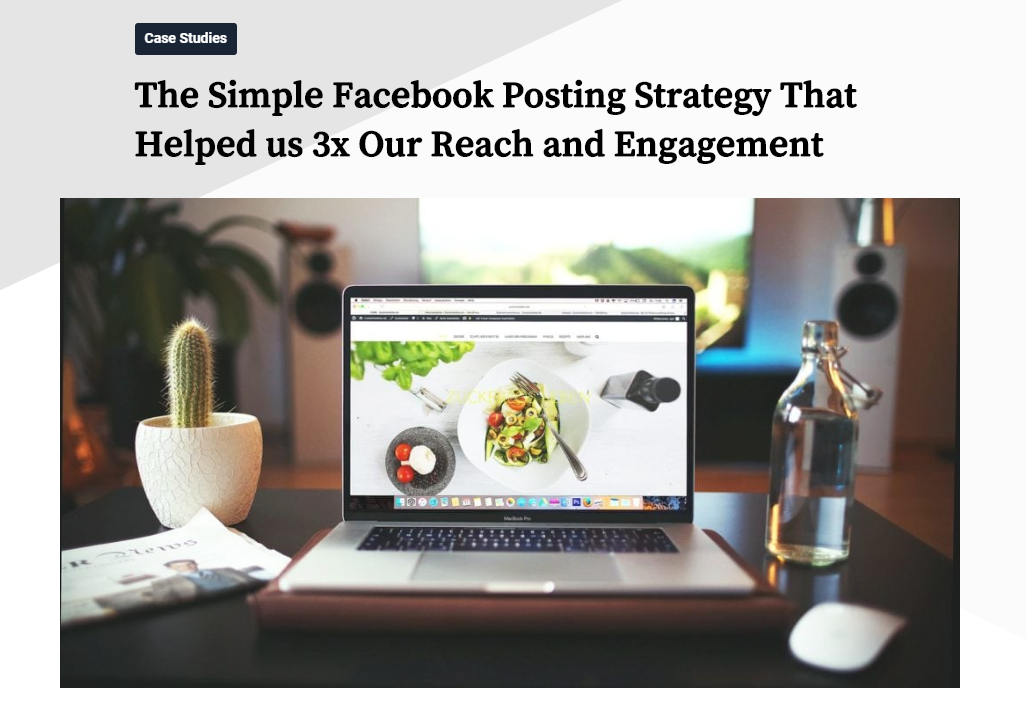 Were the time, effort, and huge potential risk worth it? You tell me:

You think it took Groupon ten seconds to decide to put their organic traffic and entire business at stake for a single content piece on dark traffic?
Probably not.
Was it worth it? SERP results years after speak for themselves: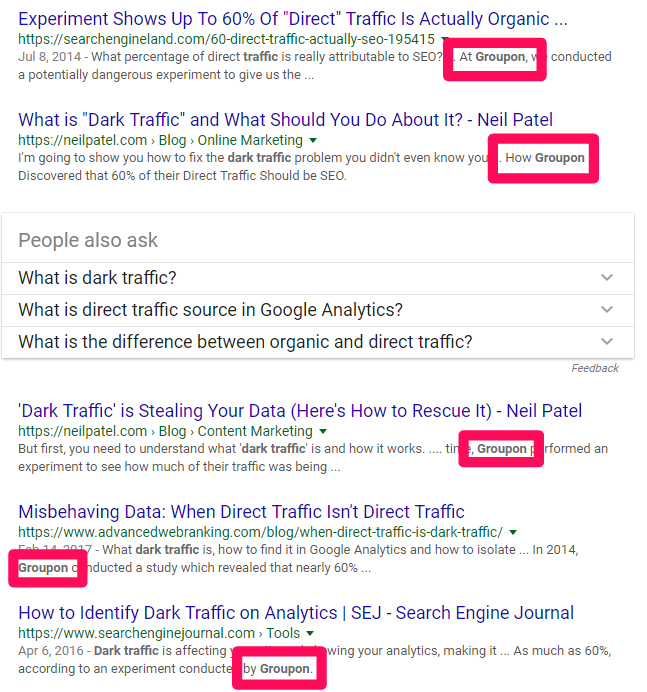 This type of content is what readers want. Something interesting and captivating. Something that keeps you on the edge of your seat. Something that makes dreadfully boring topics interesting.
Organic reach? We get it. It's bad. Borrrrrrring. Snoozefest. But when Buffer, a social scheduling tool, goes against their business model of mass content scheduling to see how it impacts their organic reach?
Now you're hooked like an 80 lb. shark from the crow's nest.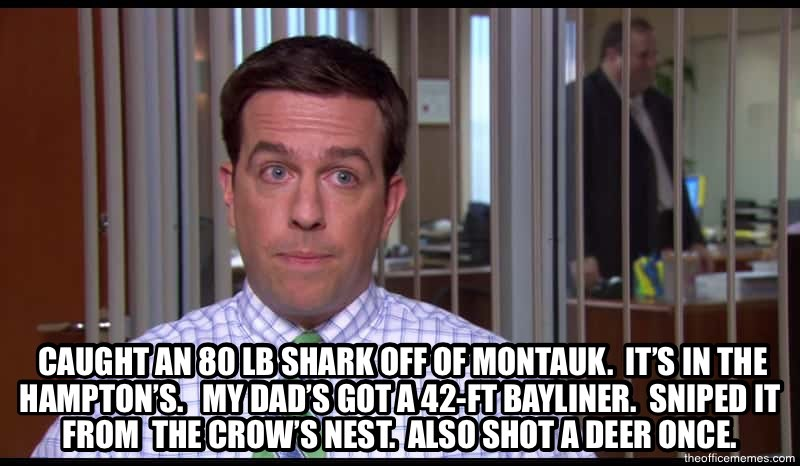 So, where do you start? Start by looking at current SERP results for big-picture ideas that you want to cover: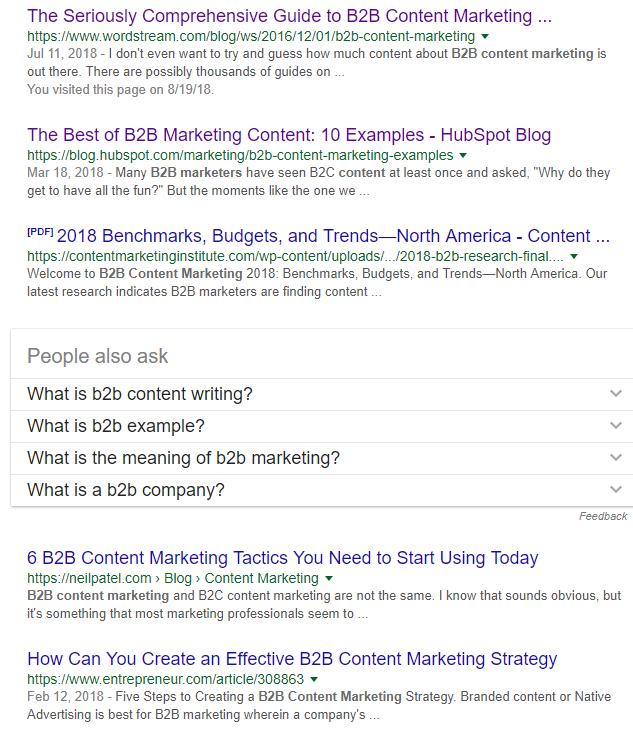 Ask yourself how you can add spice and flavor to overtake that content. Can you produce any cool experiments in-house with your tool or service?
What value can you add that doesn't suck the life out of readers?
Take a look at the "People also ask" section. Here's an interesting, common search:

Maybe you can create a huge content piece deconstructing the top B2B content marketing campaigns of 2018.
Look at SERPs for broad topics and start to think about the big picture. About content that can really captivate users instead of put them to sleep.
If this takes you weeks or even a month to generate an idea, don't feel discouraged. It's not easy and creating top of the line content will never be easy.
If you want baseline results, you wouldn't be here.
Crafting Your Business Brand Tone and Style
An essential component in creating content that doesn't suck (and builds your brand image) is tone and style.
What style of writing are you using? Are you just free-flowing words on the page or do you follow a carefully crafted system of baiting and setting the hook?
Do you tell your readers how to do something or do you creatively explain it with humor, wit, and make the piece actually fun to read?
The easiest way to set up a framework for better content is to develop a style first. Personally, I use the PAS (problem, agitate, solution) style of writing on a fair amount of content and sprinkle in some witty or "against the grain" verbiage for dramatic effect.
Even the intro to this post was using PAS: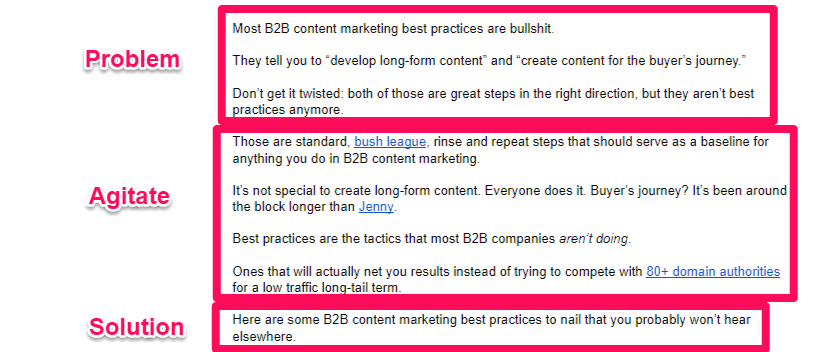 Why? It works.
It…..
Taps into common pain points
Agitates those pain points in a dramatic and suspenseful fashion
Provides real ways to fix it beyond generic advice
As for tone, that can depend on brand image goals as well as expertise levels.
For instance, is your product or service more technical or for high-level brands? If so, you'll want to cater your content and verbiage toward that (think: SEJ):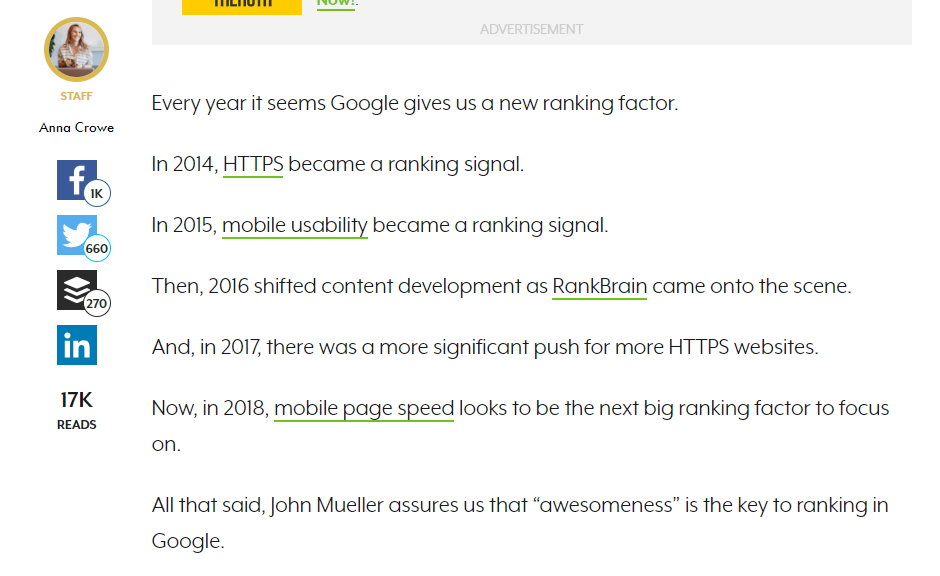 You wouldn't want to talk about the basics of SEO to an audience looking for an in-depth technical SEO tool.
That just wouldn't fit your audience.
Keep in mind these factors when writing as they can have a massive impact on whether or not your content sucks in the eyes of readers.
Best Practice #3: Align Content and Branding With Realistic Goals
Everybody wants to be king of the hill. They want that elusive 10,000% growth case study that goes viral.
But most of those are like Instagram fitness accounts: false realities that produce false hope.
These false realities lead to bad goal setting and eventually proclaiming that a tactic doesn't work or is dead. Or that your genetics are bad and you can't ever hit a 300 lb. squat.
Same thing, different situation.
And we've sure seen it before: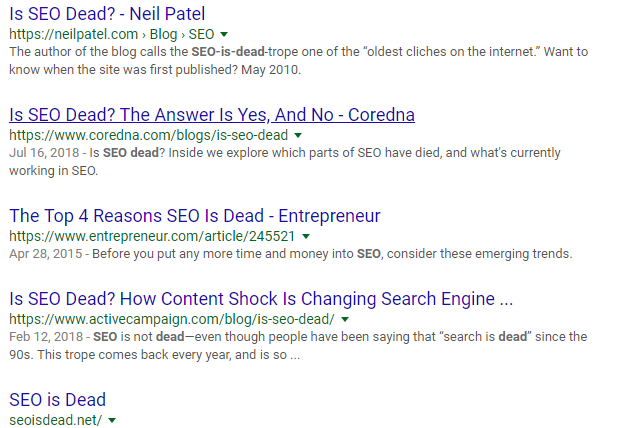 Tactics rarely die (see: people are still producing big wins on freaking radio advertising).
Instead, the same generic advice gets spewed over and over until it's run into the ground, like basic B2B content practices.
Meanwhile, there are still a few key players at the top driving engagement and real sales from their efforts.
The difference? They have realistic goals and ways to achieve them that are measurable and attainable. They ignore basic shit and pursue the unconventional.
This leads to rich data that can show them whether efforts flopped or became a cash cow.
Did merely creating long-form content do it? Let's look at the data. The goals, the sub-goals, and the inputs.
In the end, it might not have been simply upping the word count but the study that was added to the post, giving it more value and take-home points.
When setting your goals for B2B content marketing, set a top goal and then list out sub-goals and inputs for each. Inputs are essentially what it takes from you to produce the results to match a goal.
For example:
Goal: Sign 3 more clients in 90 days
Sub-goal: Generate 30 qualified, high-quality leads
Inputs required: Develop 3 blog posts by XX date and 1 landmark post by XX date
If it worked, continue your process and continually improve it.
Stop focusing on generic crap like "hit 2k words on this post" or "blog more."
Focus on realistic goals that separate your B2B content from the rest.
Conclusion
Most B2B content marketing advice and best practice tips are generic.
Hit a word count. Post XX times a month. Tap into the buyer's journey.
This stuff is standard work now, not a best practice. Best practices should net best results, not baseline results.
Focus on creating content that doesn't suck. Content that helps you establish a specific brand image, whether that's an expert teacher or a vast resource library for advanced marketers.
Align both with realistic, timeline-driven goals, and you won't need to sweat the small stuff.