Getting content marketing right requires many things. One of the more important elements of success is knowledge. Knowing how your content performs, or how it will perform, and planning accordingly, helps marketers reach their goals. This knowledge also helps marketers adjust their content strategy to keep up with their competitors.
Content analytics tools make these steps simpler. In-depth research is always a requirement but with the right choice of tool, you can get automated, accurate, insightful, and highly actionable data. The best content analytics tools:
are easy enough to use that teams can take new marketing professionals aboard without much difficulty,
provide an accurate view of content quality so appropriate adjustments can be made,
provide all the data points that are relevant to your business,
let you know the state of your competition, and
are reasonably priced for the scope of the resources they offer.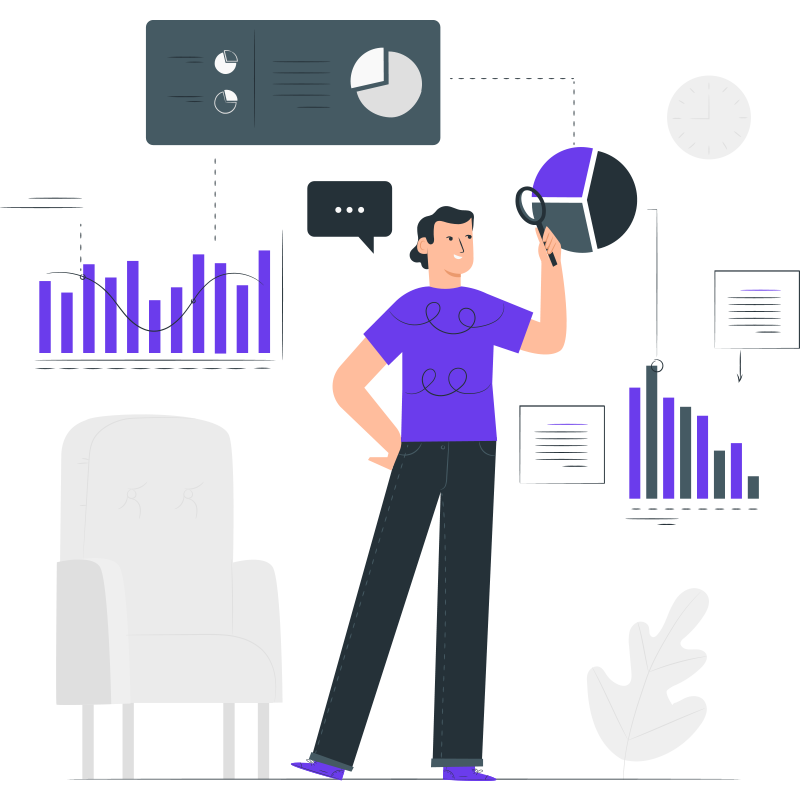 Get long-term ROI.
We help you grow through expertise, strategy, and the best content on the web.
Here are the best 7 content analytics tool:
1. DashThis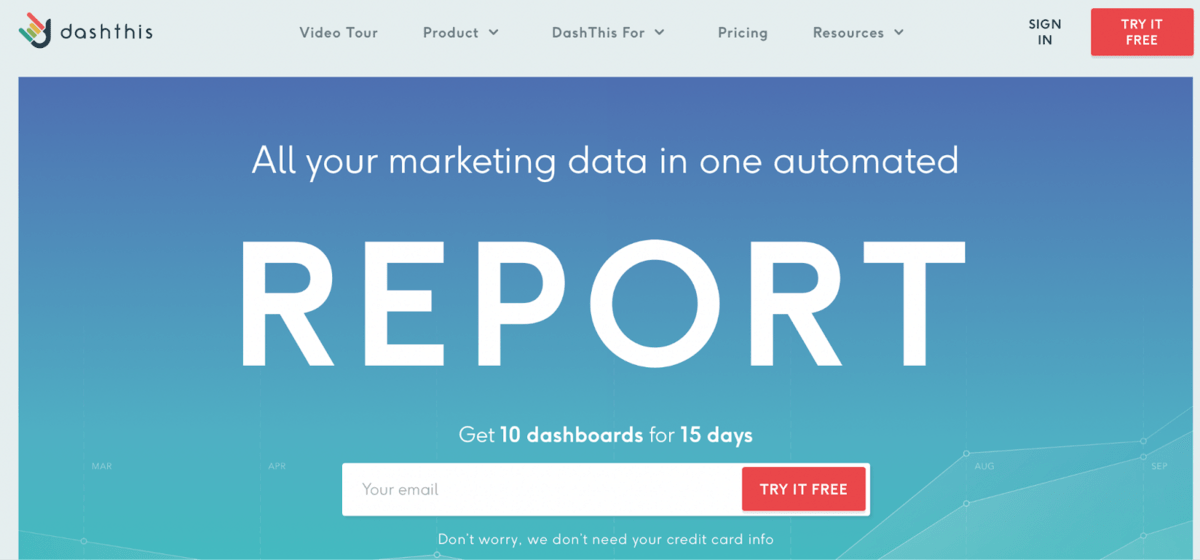 DashThis is primarily used as a KPI dashboard tool for marketing. It connects all of your different data sources & channels together in one simple, shareable dashboard.
Best for: Best overall analytics tool, highly specified reporting for small businesses
Starting price: $33/month
Free trial: 15 days
Jobs to be done: Connecting data sources, creating marketing KPI dashboards
Reasons to Use DashThis
DashThis is an ideal choice for any marketer that is running multiple channels, and/or needs an easy way to share KPIs with a team.
What sets DashThis apart is its diverse, high quality data sources. What the tool provides is all relevant SEO metrics, insights into social media users' behaviors, advertising data, SEM, and more. But at the same time, the items that make it onto the dashboard are completely up to you. So, your DashThis dashboard is only as rich or complex as you need it to be.
This level of functionality makes DashThis quite diverse in its applications. It was designed and priced for very small to small businesses. So if you're trying to compete for customers, especially in very niche markets, DashThis provides an accessible competitive edge through customizable content analytics.
Pricing
| | | | |
| --- | --- | --- | --- |
| Plan | Price (monthly) | Dashboards | Additional Features |
| Individual | $33 | 3 | N/A |
| Professional | $109 | 10 | Custom domain, additional thematic customization |
| Business | $209 | 25 | Priority support |
| Standard | $339+ | 50+ (pay for more) | All features unlocked |
2. SurferSEO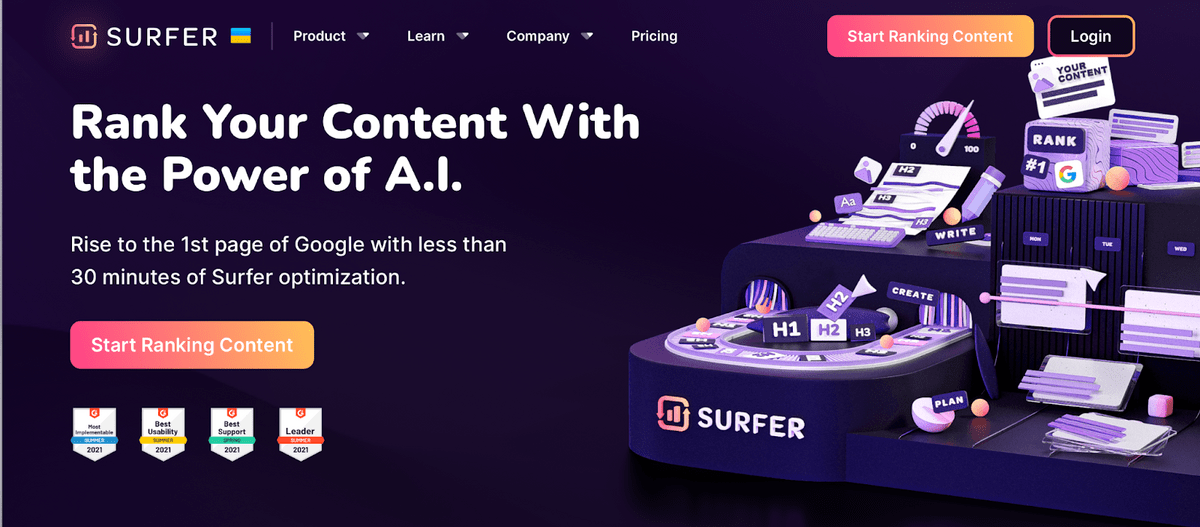 SurferSEO is best-known for its SEO content editor. However, the company has greatly expanded on its excellent underlying analytical tools to create many useful features.
Best for: Best content analytics tool with an SEO focus
Starting price: $49/month
Free trial: No
Jobs to be done: Keyword and SERP research, SEO research, content writing/editing optimization
Reasons to Use SurferSEO
SurferSEO is meant to get content to the first page of the Google search results. To reach that goal, the tool provides AI-powered content analytics. SurferSEO provides both suggestions for content you're drafting and analysis of content you copy into the tool. Or, if you have a goal but no content, SurferSEO can also start you off with AI content.
The analytics SurferSEO offers include SERP analysis, SEO scoring, ongoing content auditing, and link building opportunities. If you're worried your content is under- or over-optimized, SurferSEO makes sure you don't need to worry anymore.
Read Codeless' full review here.
Pricing
| | | | | |
| --- | --- | --- | --- | --- |
| Plan | Price (monthly) | Users | Team Members | Audits |
| Basic | $49 | 10 | 1 | 10 |
| Pro | $99 | 30 | 3 | 30 |
| Business | $199 | 70 | 10 | 70 |
3. Frase
Frase provides a complete package for content creation. Its package includes AI-powered suggestions and writing assistance. The tool ensures you don't miss any opportunities to reach the featured snippets while answering the widest range of users' questions.
Best for: High-volume content creation & optimization
Starting price: $39.99
Free trial: 7 days
Jobs to be done: Content outlining, planning, and SEO AI writing and editing
Reasons to Use Frase
Frase provides a wide range of analytics for a relatively low price. Every piece of content gets the attention it deserves to ensure you:
answer all relevant questions users have when they click "search," and
don't miss any opportunities to pop up on the first search page (for both snippets and regular results).
The reasons to choose Frase are similar to the reasons for choosing SurferSEO but there are a few key differences between them. SurferSEO works very well for growing content marketing teams looking for scalability and close collaboration. Frase offers great collaborative features as well but also has a slightly lower entry cost, a simpler toolset overall, and more features for outlines, ideation, and AI writing. Read Codeless' full review here.
Pricing
| | | | |
| --- | --- | --- | --- |
| Plan | Price (Monthly) | Users | Documents |
| Basic | $44.99 | 1 | 30 |
| Team | $114.99 | 3 | Unlimited |
| Enterprise | Customized | Unlimited | Unlimited |
4. HockeyStack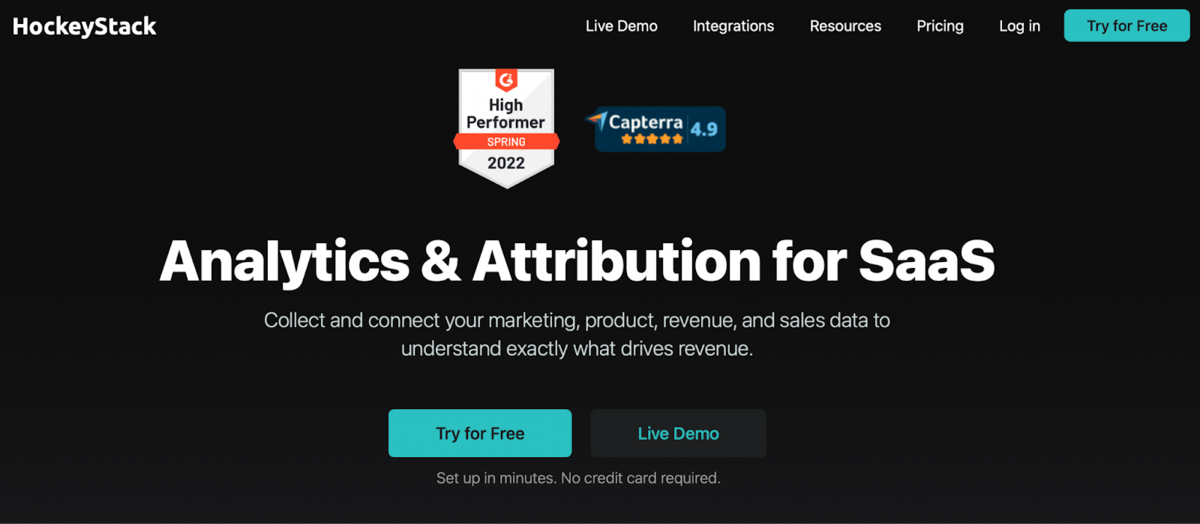 HockeyStack is a marketing analytics tool designed specifically for the SaaS industry.
Best for: Content marketing attribution for SaaS
Starting price: $199/month
Free trial: Yes
Jobs to be done: Content performance analytics, content revenue attribution
Reasons to Use HockeyStack
For SaaS, it can be tricky for content marketers to really understand which posts drive revenue. Web analytics (up to the point of trial signup) might be straightforward, but attribution gets lost beyond that.
HockeyStack overcomes that challenge by connecting up all of your data in one place, to track the entire journey.
The result is simple dashboards like this, which help you to analyze which content performs best.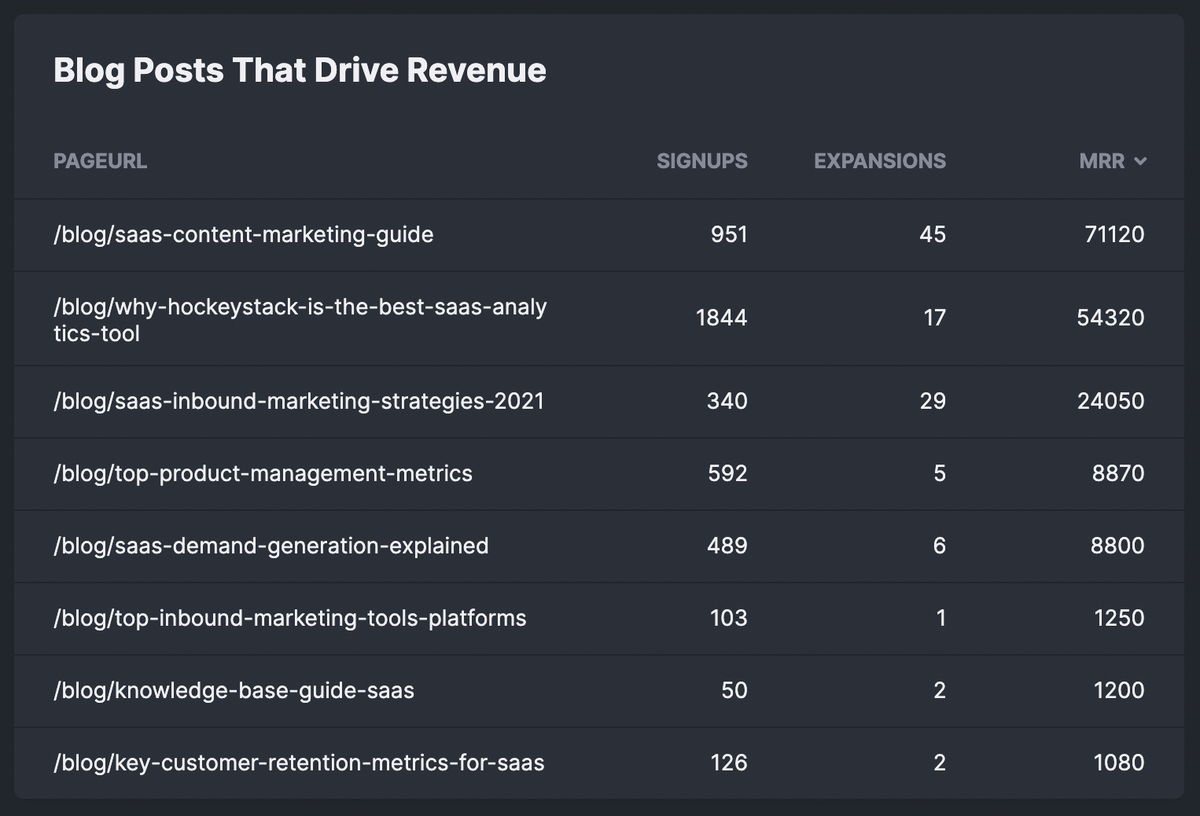 Outside of content analytics, HockeyStack can also be used for sales & product analytics too.
Pricing
Pricing starts from $199 per month. Higher pricing tiers allow for more monthly tracked users, more data history, more team members, and additional features.
5. Sitechecker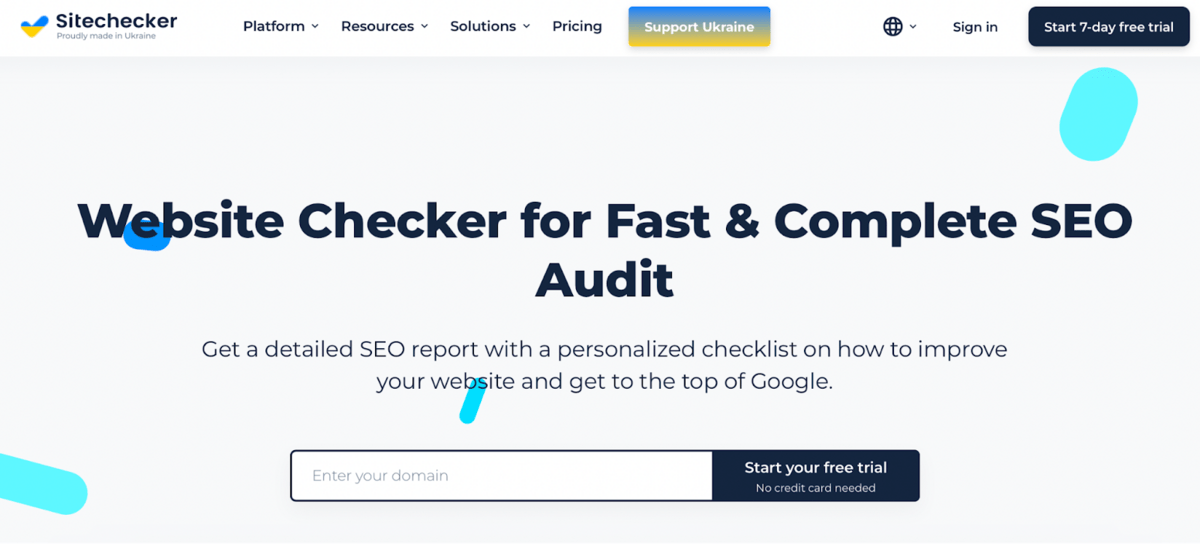 Sitechecker is a platform that tracks website visibility. As a content analytics tool, the platform's rank tracker tool provides relevant data for content performance.
Best for: Small teams needing analyze content from an SEO/ranking perspective
Starting price: $23/month
Free trial: Some features are always free to use. A free trial is also offered for advanced features.
Jobs to be done: SEO: rank tracking, technical site audits, ongoing performance monitoring
Reasons to Use Sitechecker
As a content marketer, SEO is important. Sitechecker provides an effective, low-cost rank tracking solution to help you monitor SEO performance.
Sitechecker functions as an SEO toolkit, with a rank tracker, site crawler, and SEO monitoring tool in one. This is provided to the end user through the following features:
Site Audit
Rank Tracker
Backlink Tracker
Google Analytics integration
Google Search Console integration
On-Page Checker (browser extension)
Pricing
| | | | |
| --- | --- | --- | --- |
| Plan | Price (monthly) | Websites | Keywords |
| Basics | $23 | 3 | 150 |
| Startup | $39 | 5 | 500 |
| Growing | $79 | 10 | 1,000 |
Enterprise packages starting at $499/month are available for larger businesses with more comprehensive needs. You must contact Sitetracker and discuss your needs to receive a quote.
6. Google Data Studio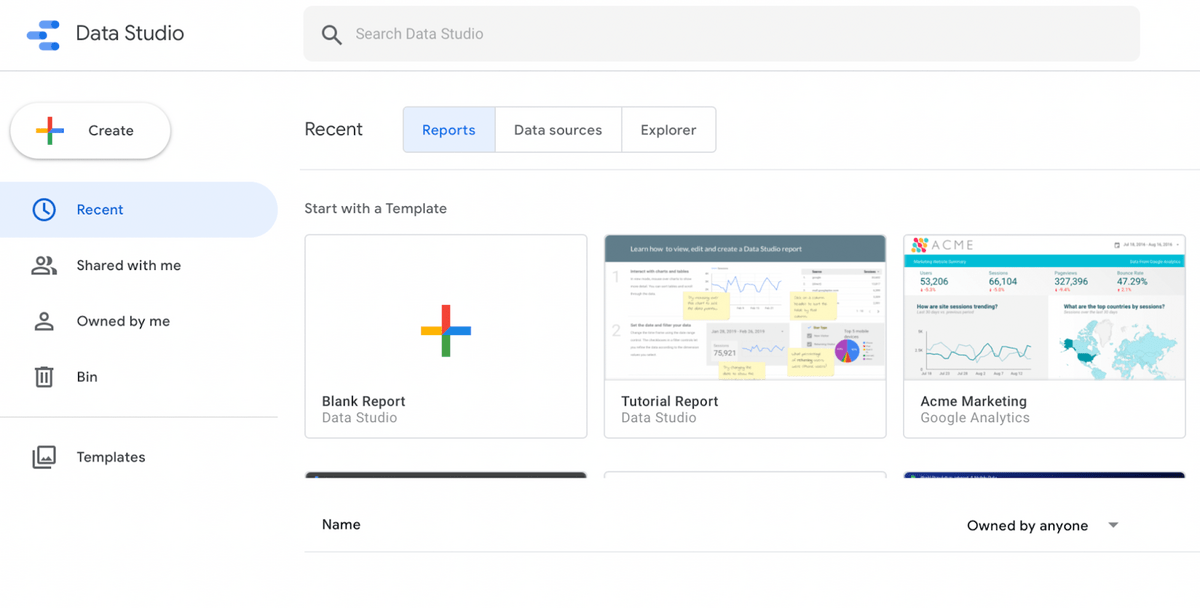 Google Data Studio is a free tool that anyone can use to get started with content analytics. But it's also a strong assistant that can complement an existing content strategy and be used alongside other tools on this list.
Best for: Everyone (as an additional tool)
Starting price: Free
Free trial: Forever
Jobs to be done: Collecting datasets, collecting data from many sources, dynamic and simple reporting
Reasons to Use Google Data Studio
Like most of Google's free analytics tools, Google Data Studio is very useful and a great addition to any existing content strategy. For its price ($0), you get a surprising range of specific search data, including geographic data.
In terms of data management and customization, Google Data Studio is fairly limited. However, its interfaces are as crisp and its data as insightful as any leader in content analytics.
Another great reason to use Google Data Studio is that, like Google's other products, it's extremely conducive to team collaboration. Automated, interactive reports can be shared instantly and edited by a team over Google with the regular permissions the company sets.
The only real drawbacks are that some integrations are missing (e.g. Facebook ads) which means you need to pay for a separate connector. Other than that, you lack the customer support that you'd get in a paid tool. For those reasons, some users might choose to look at a Data Studio alternative such as DashThis mentioned above.
Pricing
Google Data Studio is completely free to use for anyone with a Google account.
7. Google Analytics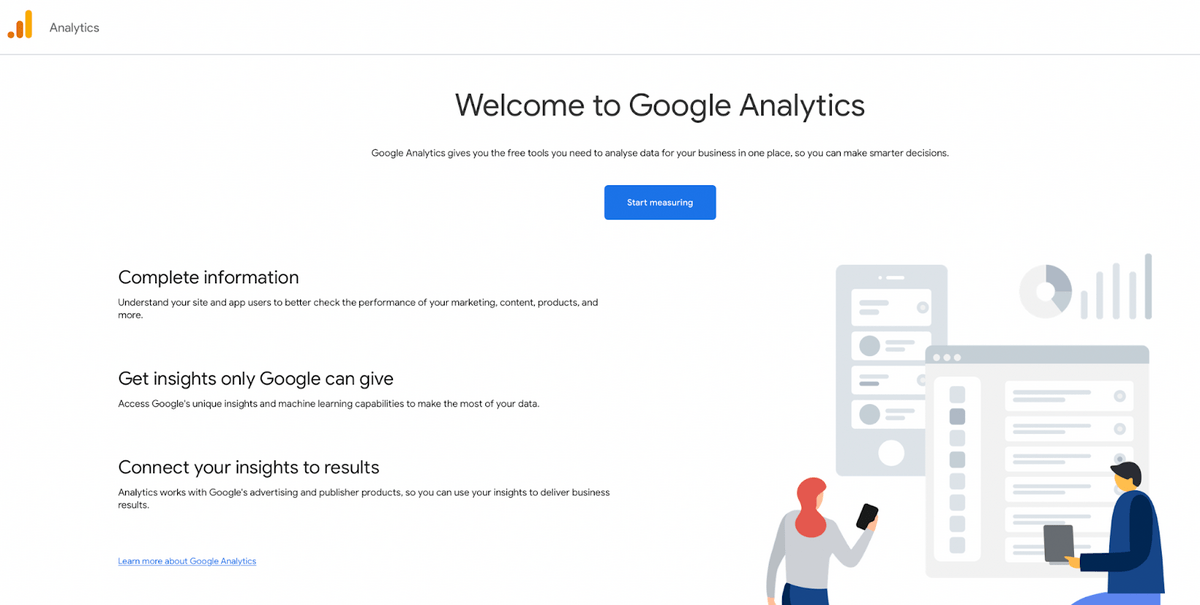 Google Analytics is another free tool from Google for website content analysis.
Best for: Everyone (as an additional tool)
Starting price: Free
Free trial: Forever
Jobs to be done: Analytics on visitor engagement and visibility
Reasons to Use Google Analytics
Google Analytics is a free tool that you should probably be using regardless of what other tools you're using right now. The tool can supplement your content strategy and any other tools you use with (potentially) additional data points:
number of pages visited per session (Are readers leaving right away or are they clicking through your site?)
how much time is spent on average on each page
conversions (Are readers taking desirable actions?)
visits per page
more
Pricing
Google Analytics is fairly complete on its own. But an extremely comprehensive premium package called "Google Analytics 360" is also available. You must contact Google for a quote' Rates start at $12,500/year.