They say that every good business simply solves a problem in exchange for money.
In 2006, you likely spent every other minute clicking 'save' on word processors.
I'm pretty sure everyone remembers that heart-wrenching moment of a computer crash and losing hours of work because of one moment of forgetfulness.
So we welcomed the invention of Google Docs.
The 'save' button is now as outdated as a cd-player.
But Google Docs has long-surpassed its initial solution focus of enabling online text based storage and editing.
Because the real kicker to the success of Google Docs is the diverse range of add-on applications.
It's the go-to tool for any professional.
Whether you're looking to sign legal contracts, add a dynamic QR code generator, or even make quizzes, Google Docs can facilitate it all.
With thousands of different extensions available, it can be overwhelming to try to find the ones you need.
Here, we're sharing the best Google Doc add-ons to make your professional life easier.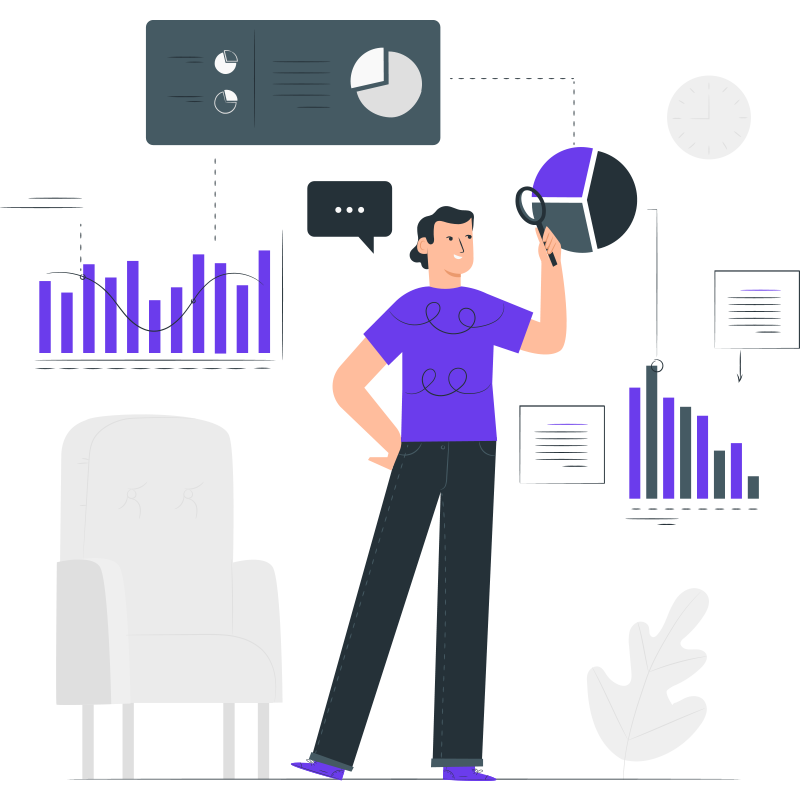 Get long-term ROI.
We help you grow through expertise, strategy, and the best content on the web.
Best Google Docs Add Ons
GSuite is an undeniable beast.
With Google's armory now at 251 products and counting (along with thousands of other integrations), launching the best quality products across the board is unrealistic.
You don't even have to look far back in history to believe it either.
Remember when the company shut down their beloved Google+ in 2019 due to several unfortunate design flaws?
Some thought that taking on the giants at Microsoft to create productivity software in direct competition with the likes of Office 365 was risky.
I'd have to disagree.
This is Google we're talking about.
With over six million paying G Suite customers, it seems like the rest of the world would too.
Google Docs is emerging as the pick of the bunch.
But isn't Google Docs just for students writing their college essays?
Not anymore.
Here at Codeless, we use Google Docs in every stage of our SaaS marketing strategy, from training and research, to article outlines, writing, and editing.
And since you're reading this article, it's a safe assumption that you probably already use the Google app too.
So What Are Google Docs Add Ons?
GDocs Add Ons heighten your productivity by adding extra ability to your basic Google Document.
Like your regular chrome extension, they automate parts of your process to increase efficiency and reduce costs both in time and resources.
Think of it like a keyboard shortcut.
You'll find Add-ons located in the menu bar of your Google Document, between 'Tools' and 'Help'.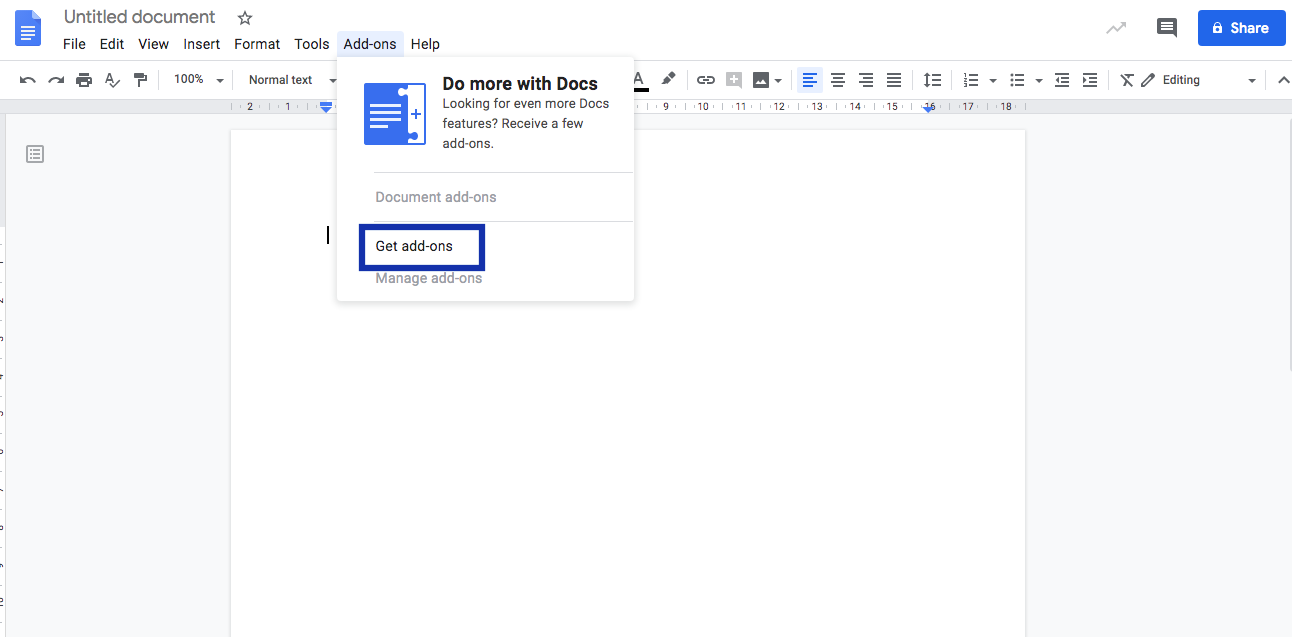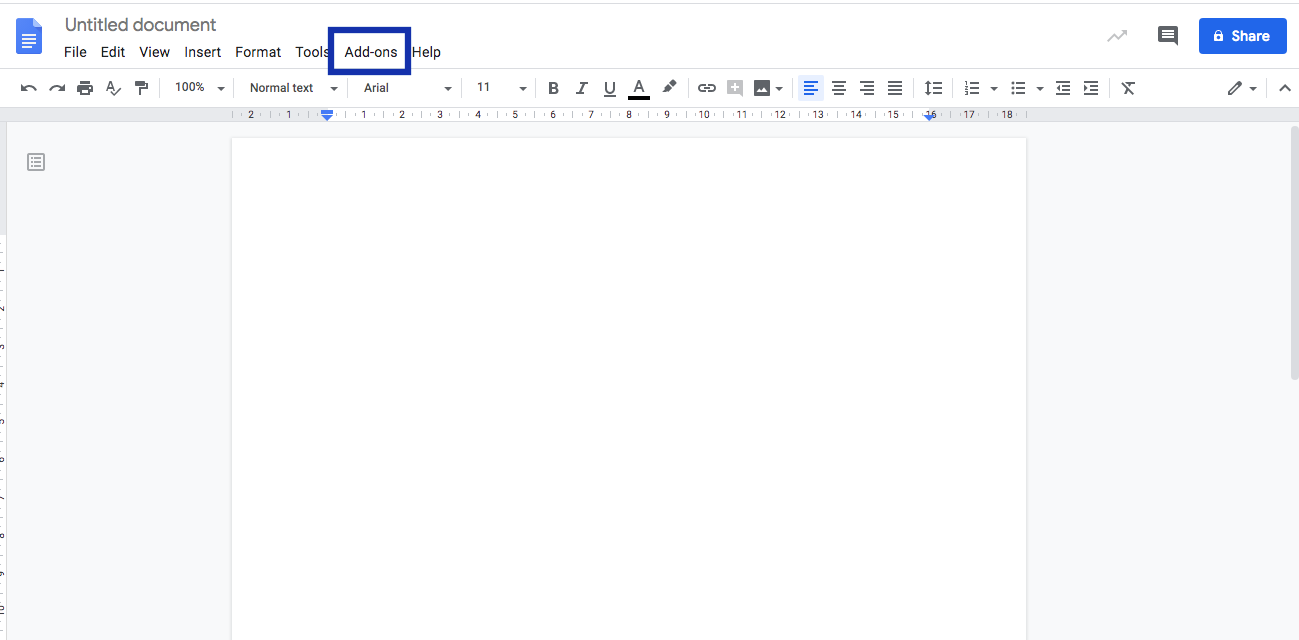 Click this button, along with 'Get add-ons' to reveal the choice of different extensions available (as shown in the screenshot below).
There's a lot to choose from, and it can be overwhelming to sort through each application.
In this article, we're sharing our top six add-ons and their most defining feature.
Remember, this won't change all of the great features you usually find in your Google Drive account, like the ability to track changes made by different team members. It just gives you more tools to work with.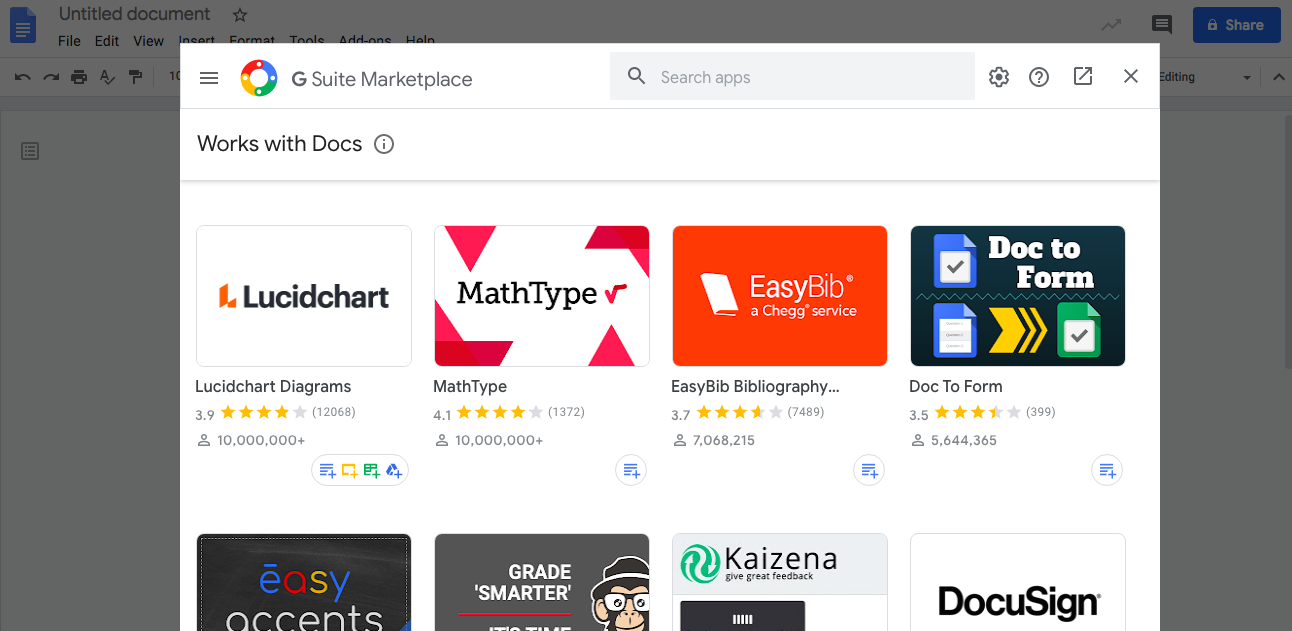 Best Google Doc Add On to Make Google Docs Look Pretty
Get your document looking all shiny and new with the perfect presentation tool.
#1. LucidChart
Imagine you're at a 5* restaurant with a friend.
Their meal arrives before yours. It's delicious looking, rich smelling, and mouth-wateringly tasty.
Your meal arrives looking just as fantastic.
Then you notice a hair on the side of the plate.
Let's be honest: 80% of millennials (or anyone in their right mind for that matter) would send it back to the kitchen, including you.
And you'd probably get your meal comped for good measure!
Because no matter how good it tastes, presentation is everything.
Similarly, we often pass over documents and reports that are ugly and boring.
You know the struggle. Even if it's a must-read, "word nerd" report, it will be challenging to get through.
But, a visual presentation such as a mind map can improve understanding and engagement.
That's why the demand for infographics has soared by 8000% in 2020 alone, and why we used visuals to simplify complex data in our case study.
Enter LucidChart.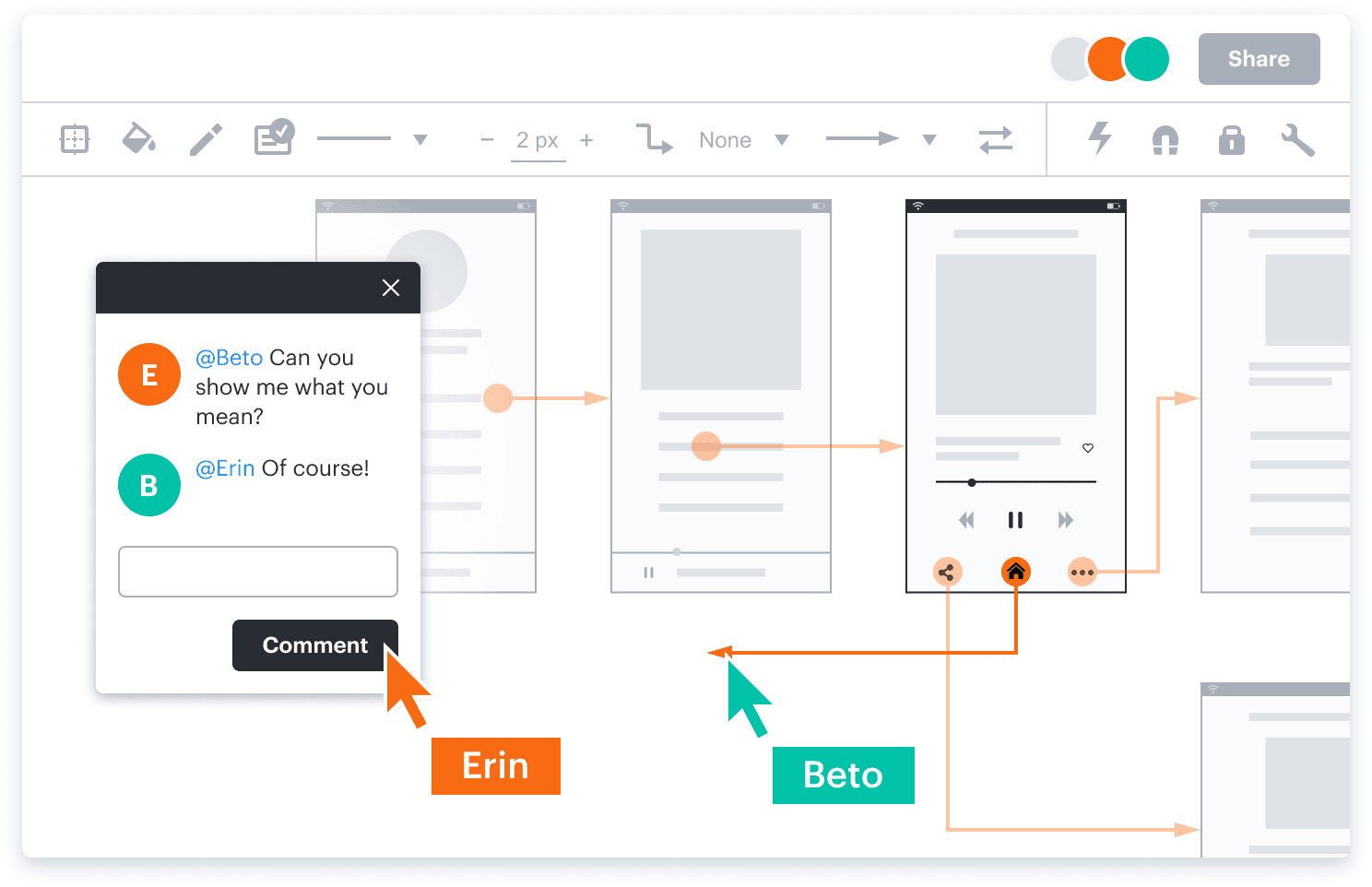 As one of the top-rated GoogleDoc add-on applications, you might be surprised to learn that a free version is still available.
Simply put, diagrams made in LucidCharts offer more eye-catching methods of data presentation than the standard Excel pie chart or blocks of text.
It has the ability to engage even the most prolific skim-readers.
This visual add-on can increase key purchase-indication metrics such as time on page and exit rate.
The add-on integrates with your Google Docs data by using AI to automatically create appealing optics.
You choose which pieces of information to highlight and let LucidChart apply its code blocks to the rest.
Whether you're a teacher, lawyer, or the top salesman in your area, you can likely find a use for LucidChart.
Perfect for:
Putting together a KPI Google spreadsheet for analysis
Creating SOPs with visual aids
Designing ROI and conversion expectations for sales funnels
Engaging audiences with a mind map
The Best Google Doc Add On
#2. VoiceTyping
One of the biggest struggles for any B2B company in 2020 is making sure their product stays relevant and receptive to the needs of the customer.
Take SEO research, for example.
Marketing teams are competing to appear for the words and phrases that their target audience searches.
If you don't rank for the right terms, you'll simply be invisible.
Now turn up that pressure gauge by throwing Voice Search into the mix.
It's a feature that was used in 50% of all search queries during 2019, and it's only getting more popular.
And really, who can blame the younger generation for preferring it's user-friendliness?
In fact, voice-related user features are growing in all areas, which is why the VoiceTyping add-on is particularly relevant for the years to come.
You won't need VoiceTyping if your typing speed is faster than a bullet train.
But, most of us don't happen to be professional keyboard warriors.
So it's always going to be quicker and more efficient to speak into the mic and let your laptop do the hard work.
Voice Typing is perfect for even the laziest professionals (it's called working smarter and not harder for a reason).
But if you have an accent, beware. The AI program might have a difficult time picking up on anything outside of a standard English accent. Whatever that is.
Relying on the power of Artificial Intelligence, VoiceTyping integrates its technology with Google Docs to translate the sound of your voice in real-time. Like any form of automated transcription service, it's not perfect. But only needing a quick glance over the work guarantees you'll save some time.
Plus, VoiceTyping is a great way for companies to increase their inclusion and accessibility to a wider range of workers.
Dyslexics in particular could benefit greatly from an add-on like VoiceTyping as it removes the cognitive difficulties that usually go with typing and spelling.
In an age where diversity is celebrated, there are calls for more brands to put their money where their mouth is.
And with 15% of the US population thought to be dyslexic, allowing employees to use voice typing in their everyday work takes spelling out of the equation and circumvents the usual barriers in the hiring process.
Best Google Drive Extension for Professionals
These days, we could all do with an extra free moment here and there.
So, spending the little time we have left filling out paperwork is a bit of a drag.
Unfortunately, the next add-on won't magically make paperwork exciting, but it should make filling out paperwork online a whole lot easier.
Saving you those extra minutes to spend on something else!
#3.DocuSign
Did you know that the introduction of the 'e-signature' has reduced document completion time from an average of 5 days to just37 minutes?
DocuSign is by far one of the best google suite add-ons for professionals.
It allows you to add your own personalized signature electronically to any Google Doc.
Forget the lengthy process you know and love:
Printing
Signing
Scanning
Emailing
It's dead.
This add-on lets you sign your document there and then before sending it straight back to the other party.
The best bit?
A co-signer doesn't even need an account for access!
It's the perfect add-on if you're hiring and need to get a contract signed or if you're bound by insider secrets.
DocuSign also gives you the added luxury of saving your signature to fill multiple documents or choosing to sign each form separately.
It's what dreams are made of for the HR professionals among us!
Fill in your details and let DocuSign do the rest.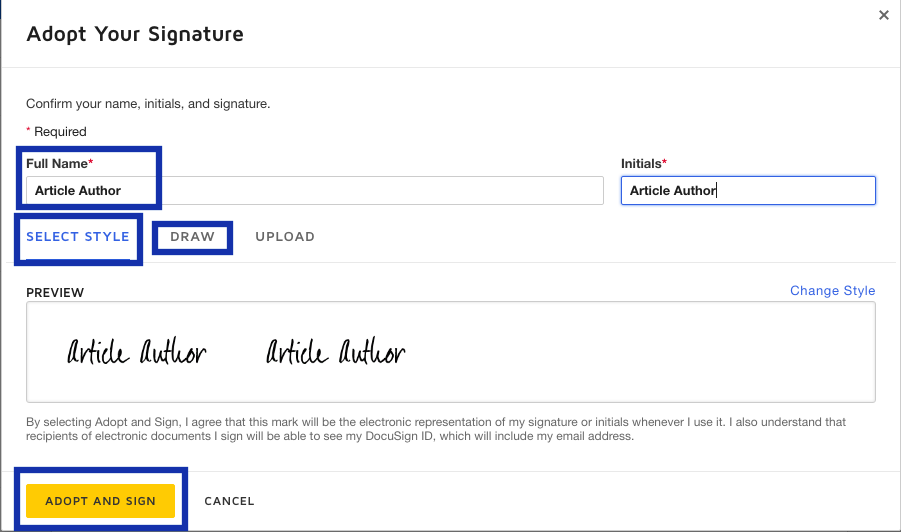 It's simple to use:
Add other recipients to your document using the sharing function on Google Docs or once you're inside DocuSign
Click on the parts where you intend to sign
Select the pre-designed style or use your trackpad/ mouse to draw a signature in the box
If this looks good, accept the signature by clicking 'finish'.
If not, you can easily clear the box and start again.
Repeat this for adding other details by clicking: 'date', 'initials', or 'stamp'.
Download your copy and save it to your Gdrive.
But here's the real kicker: think of all the paper you'll save without having to print forms and contracts!
As more and more companies pledge towards sustainability this is an actionable way to genuinely cut environmental impact.
Those companies who do adopt e-signatures tend to save around 85% on paper expenses.
It's seriously a no-brainer.
Best Google Doc Add Ons for Writers
As a content writing agency, let's just say that Google Docs are essential in our methods. As are some of it's super Add Ons.
#4. Grammarly
A few years back, Grammarly annoyed everybody and their mother by placing YouTube Ads on just about every video they could find.
It was somewhat maddening to see the same advert over and over again as you poured through the nightly youtube binge.
But the ads worked and I downloaded the Grammarly add-on to use as part of my blog post process.
And I'm sure glad I did.
Grammarly is a spelling, grammar, and all-round readability checker.
For writers, this Google app can be a godsend in your sidebar.
Imagine the embarrassment of sending off a misspelled word to your editor.
Even worse, if it slips through the cracks and gets published.
I can already envision the comments section,
"A writer who can't spell? Fire her already!"
Avoid all of the extra markdown, editing, and formatting with Grammarly.
The add-on uses technology to make smart suggestions for your work.
It also considers regional variations in spelling and writing style. So you'll get personalized suggestions based on whether you're writing for a UK, US, or Australian audience, for example.
Grammarly actually improves the confidence level of writers who use it – so say goodbye to imposter syndrome.
#5. SEO Assistant
Another must-have for any blog writer is SEO Assistant.
Having content appear within the top search results for chosen keywords is one of the big reasons businesses invest so much into well-written content.
People are inherently lazy – they don't want to waste time scrolling down the page looking through different search results.
That's why 67% of all clicks go to the top 5 results on every page.
The purpose of this sidebar add-on, of course, is to increase those ranking chances by analyzing the SEO of your entire document.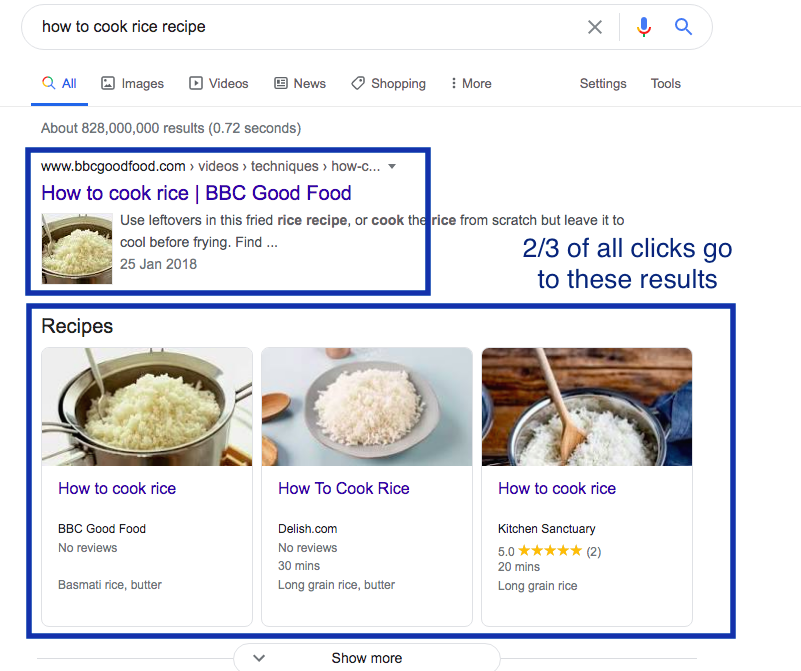 Many writers are fans of using external SEO programs and often have several within their playbook, but this only elongates the writing process.
Integrating your SEO into the core of the system with an add-on like SEO Assistant just makes sense.
But keywords are not the end-all, be-all of SEO.
Which is why SEO Assistant beats some of the SEO giants when it comes to optimizing your blogs.
The Google Doc Feature You Didn't Even Know Existed
Honestly, there are so many extra tools you can use with Google Docs, and this article is only a small introduction.
Once you start exploring all of the Add On possibilities, you'll find software that you didn't even know existed, like DocuSecrets.
#6. DocuSecrets
Looking for a way to keep your document the next best-kept secret?
Perhaps you're guarding sensitive information, or it's something you don't want your direct reports to have access to.
Hide and encrypt those files using DocuSecrets.
In an age where 51% of Americans have transitioned into work-from-home roles, the ability to provide remote access to office documents is growing increasingly important.
Calling up your boss to ask for the "password", or keeping a Google sheets spreadsheet full of log-in information just doesn't work anymore.
DocuSecrets can provide that extra layer of security when peace of mind isn't always present.
It also allows for different team members to have varying levels of restriction access.
This can be good for when your team is made up of members with assorted levels of security clearance, for example.
With 81% of business leaders feeling an increasing vulnerability to cybercrime attacks, the popularity of this type of add-on is likely to skyrocket.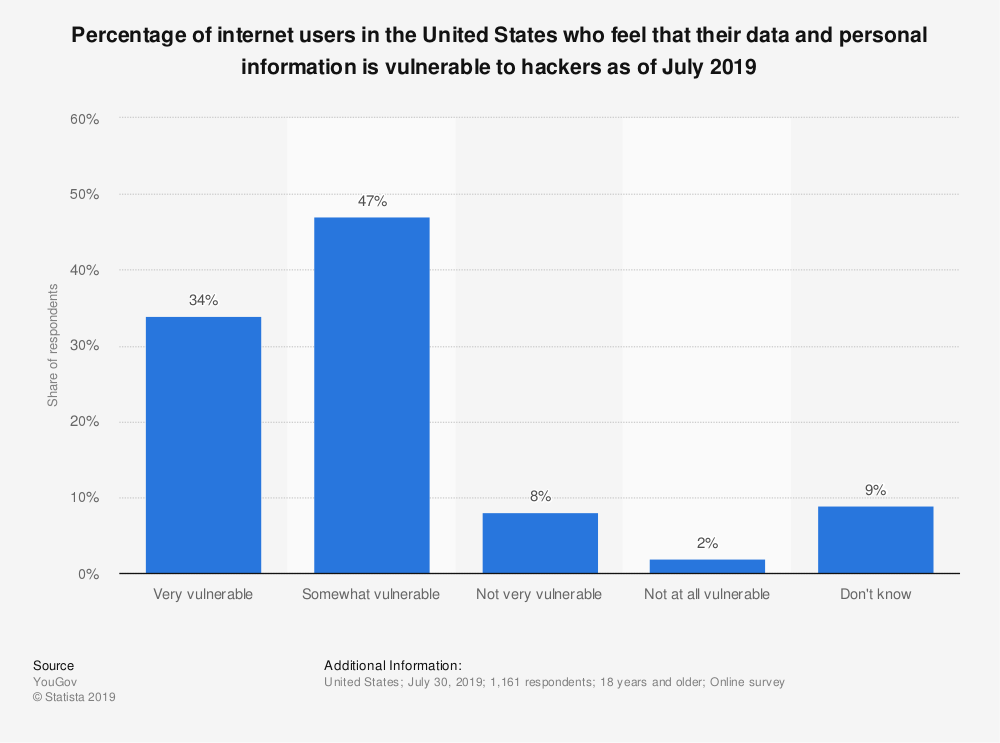 While this isn't a foolproof method of protecting your documents, the tool does offer a security blanket.
Conclusion
It's your turn.
Now you have a solid basis on some of the applications and features that integrate with your Google Drive.
Why not make a list of the key components you need?
The add-on choice is vast, and it's almost guaranteed that someone out there has created a way to solve your Google Doc problem.
Whether you're looking to improve overall productivity or get more specific support, the likelihood is that there's an add-on for your needs.
In fact, why stop at Google Docs?
The entirety of your Google Drive folder integrates with these doc builder programs. You could use add-ons with:
Google Sheet
Google Slide
Google Form
Google Keep
As a chrome user, you are also able to download a browser extension version for many of these.
And even though they say every good business solves a problem in exchange for money, most of these Google Doc Add-ons are free.
All you need is a Google account. So what's holding you back?