Content marketing is a phrase that is thrown around a lot, but what is it? How does it work? And how can we improve upon it?
A world away from print-based traditional marketing, content marketing focuses on customer relationships. A strong content strategy acts much like a publishing arm, churning out different forms of media based on what your customers want to see.
In recent years, chatbots have evolved to allow for deep data collection, personalized experiences, and content distribution.
Combine this with no-code platforms that have democratized the ability to make a chatbot, now is the time to add a new weapon to your marketing arsenal.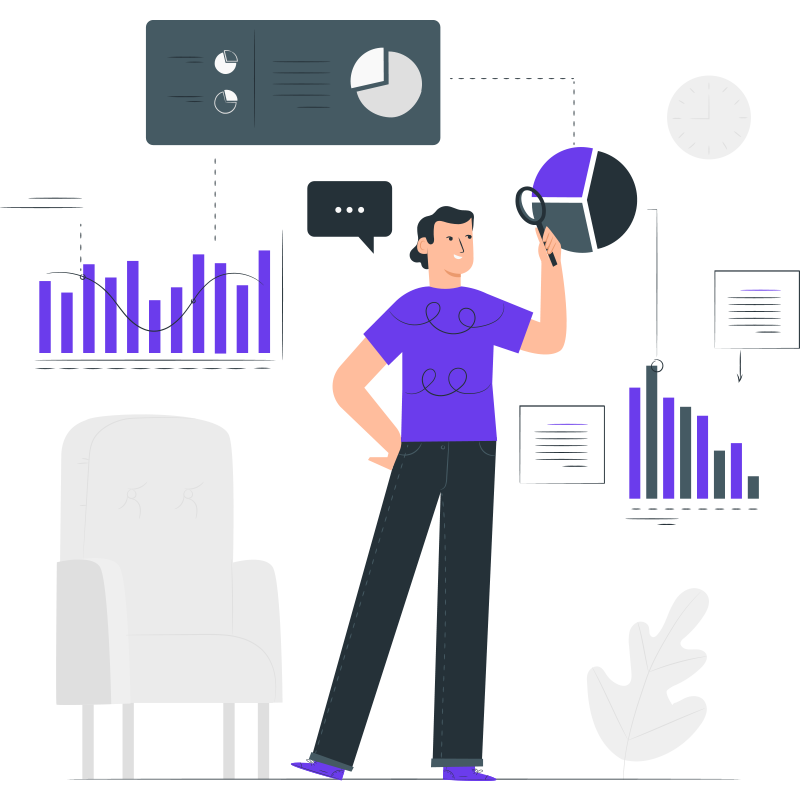 Get long-term ROI.
We help you grow through expertise, strategy, and the best content on the web.
Content strategy basics
As a brand, you take your target demographics interests, questions, and curiosities, and use them to inform the content you produce.
The aim is to educate or entertain, propped up by a clear business objective that your visitors will trickle down to.
This content can take on any form:

Ebooks
Podcasts
Infographics
Social Posts
Blogs
Apps
Webinars
The goal is to use these posts to position yourself as a thought leader within your sector. As a result, you'll build rapport and trust with prospects, and your expertise will reflect on the products or services you offer, making people more likely to buy.
The future of content marketing
Over the past year, digital consumerism has been on the rise. Local lockdowns have meant that almost every industry has had to adapt in order to stay viable. Without footfall or physical shoppers, the new age of e-stores has taken precedent.
Content marketing is at the center of this changing landscape. From 2019 to 2020 alone, global online content consumption increased by over 100%, with 2021 following closely behind.
More eyes on the internet mean more opportunities to have your blogs, videos, or social posts seen by potential visitors. On the one hand, the opportunity to employ an effective content strategy is there, but it's also crucial not to get lost in the noise.
Whether it's companies that are new to digital or those that have doubled down, competition is growing more fierce by the day. Standing out now is more important than ever.
The new chatbots: What are they?
One vital aspect of differentiating your brand is through personalization. This is where chatbots come into play.
Parallel to the rise of digital consumerism is the growth of chatbots and no-code platforms.
As 54% of people state that businesses need to transform the way they communicate, the combination of chatbot and content marketing strategy is a guaranteed goer.
Nowadays, chatbots are far more than a live-talk tool. Used across different web elements such as landing pages, quizzes, & help-bubbles, they function as a way to:
Qualify Prospects
Nurture Leads
Segment Lists
Collate User Feedback
Offer Tailored Experiences
Release Content
Upsell
Schedule Calls
Reallocate Resources
A popular choice for chatbot creation is no-code platforms. With easy-to-use interfaces, sites like Landbot have made chatbot usage accessible to anyone. Those with little-to-no programming experience now have the chance to implement them in a quick and cost-effective manner. Yet if you have an ML/engineering background, you could go the other way, and develop a model yourself by feeding it text annotation so that your model learns to understand and contextualize the human language.
If you want experts to develop and manage chatbots for you, go for professional chatbot app development.
Personalized journeys
Personalized customer experience is the bread-and-butter of a modern-day chatbot.
They engage the user in conversation, taking them on a tailored journey specific to their needs. The importance of this can't be overstated, as 80% of shoppers are more likely to buy from a brand that offers a personalized experience,
With a Rule-Based bot, you set the route you want the user to go down. The idea is to map out all potential questions and avenues that may occur, which will then lead to a series of goals.
On the content side, this could be an e-book, tutorial, or webinar registration, or in general, any product or service that this type of visitor would be interested in.
Another option is an AI, aka NLP bot. AI chatbots utilize natural language processing to mimic human interaction as closely as possible. Some of the best chatbots out there use synthetic copies of real customer data created with synthetic data generation techniques. This enables developers to train chatbots on intent detection and many other areas.
Though more costly and time-sensitive to implement, they're an option for those who want a more human touch – though rule-based bots can also fill this gap.
Four ways you can factor chatbots into your content marketing strategy
Collect content ideas
How can you create an effective content marketing strategy if you aren't sure what your audience wants to see?
Content creators know that without pre-planning, rolling out a varied schedule is difficult.
Depending on your niche, topics can be few and far between. Utilizing tools and metrics like keyword research or competitor analysis can provide valuable insight, but the results can be vague.
Chatbots give full conversational access to the mindset of your audience.
These people have found your website one way or another, so any data you collect from these conversations will be hyper-targeted.
During or after a conversation, you'll have full access to every user's questions and answers. Analyzing this data is pivotal to creating valuable content, as the focus is now on what your customers want to see.
For every one conversation, there'll be a larger sub-section of your audience that you haven't spoken to, but who will resonate with this type of content.
You now have direct access to your visitor's pain points and a content marketing strategy that revolves around resolving them.
Content distribution
Any content marketing worth its weight should delve into as many relevant channels as possible.
Multichannel distribution ensures that every aspect of your marketing efforts follows the same trajectory, with each piece of content being part of an over-arching strategy.
This approach routinely achieves upwards of 91% customer retention versus competitors that aren't aligned in this way.
One element of this is reproducing content across different mediums.
Due to the range of digital touch-points and channels available, different customers will engage more with one kind of content over another.
An AI chatbot allows you to target those that respond better to one-to-one interactions, conversations, or with mediums that they may not have seen before.
You can still relay the well-researched and articulate points you made with your content elsewhere, except now it's put forward in a way that helps you stand out and connect with this section of your audience.
Resource reallocation
Creating content takes time. Especially if the focus is on quality over quantity.
A marketer's weekly tasks are often split between data collection, analysis, emails, landing page optimization, social media management, and list segmentation.
By utilizing a chatbot, you can free up time for more important tasks, whilst also propping up the data used to make key marketing decisions.
A large part of social media management is replying to direct messages, form submissions, and comments. Chatbots can be used in conjunction with social platforms like Whatsapp and Facebook, to help alleviate some of this pressure.
The majority of questions are very similar, so you can set automation around these FAQs, and direct the visitor to a live agent if their query falls into more advanced territory. WhatsApp message templates can be created to automate frequently asked questions, allowing chatbots to handle simple queries and direct visitors to a live agent when necessary.
Landing pages can also be further optimized with full-page chatbots. Not only are these memorable, but they're also more likely to inhibit engagement due to them being so uncommon.
Leverage your team's skillsets by allocating them tasks that drive true value, whilst leaving the monotonous, repetitive jobs to your chatbot.
Valuable feedback
Feedback is one of the most essential, yet difficult to attain, data-sets available to businesses.
Data-driven marketing revolves around optimizing your strategy in line with the experiences of your customers or third parties.
Without this type of data, business decisions are based purely on assumptions. Not that this is inherently bad, as there is always a certain level of intuition that goes into marketing campaigns.
However, the more you can rely on stats, data, and feedback, the higher the chance of a positive ROI.
Rule-based chatbots allow for instant customer feedback collection. Bots can be programmed to pick up on cues of when a conversation has taken a distinctly positive or negative turn.
From here, they can reach out for a rating or survey, which can be fed back for analysis.
Attaining customer testimonials is another laborious marketing task that can be automated by naturally slipping it into a positive conversation with your chatbot.
In summary
Getting your content marketing strategy up to par is crucial if you want to withstand the latest wave of digital competition.
No-code tools like chatbots are one of the latest developments that have allowed businesses to stand out through humanized, individual customer experiences.
For marketers, allowing a chatbot to gather data, collect feedback and push out content frees them up to focus on tasks that are more likely to drive growth in the future.