There is a lot of pressure on copywriters, there are no signs of gears slowing down.
After all, it's the copywriters job to write stellar copy with proper grammar and impeccable attention to detail.
So naturally, a hiring manager would expect the same when the product you're selling is yourself, right?
Think of the copywriter resume as the first work sample you or any other applicant presents to before an employer. It can be a nerve-wracking thought until you discover that crafting a compelling resume is far from rocket science
In this post, I'll aim to help you achieve precisely that!
I'll show you how to write an impressive resume, whether it's for the first time or to update your old one. Put in use our tips and you'll undoubtedly raise the bar and stand out from the competition.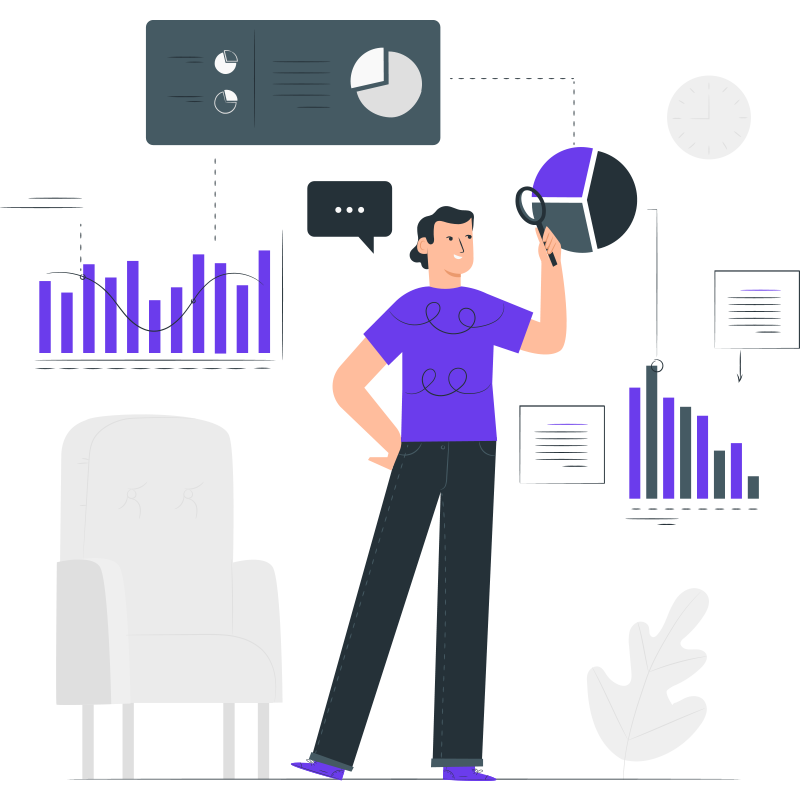 Get long-term ROI.
We help you grow through expertise, strategy, and the best content on the web.
What do employers look for in a copywriting resume?
Recruiters rarely have time to go through your resume thoroughly.
Therefore, it is essential to put the most important information first to capture their interest.
If you show your value early on, they'll most likely scan through the rest of your resume.
Here's what to include to grab the attention of employers:
A structured layout with brief and well-written information.
Proof of working as part of a team, association with marketing specialists, and interpersonal qualities.
An understanding of customer needs and the willingness to adapt to various writing challenges.
Persistence and a commitment to meet deadlines.
A relevant degree in Languages/Marketing.
Experience in a niche area (like SaaS, healthcare, tourism, computer science, etc) is always a plus.
A list of achievements that shows your ability to overcome challenges.
A link to an online portfolio of your work that shows your copywriting and marketing expertise.
If you're in doubt, use a resume scanner to compare your resume to the job desired description.
In the end, even if you decide to hire a skillhub writer for this, the writer might follow these similar steps.
Step 1. Get Creative
Common sense dictates not to stray from the basic guidelines when formatting your resume, but copywriters can afford to tweak things a bit.
Grab the opportunity to highlight your writing skills in your professional background and in your cover letter.
Demonstrate your creativity and prove your ability to target the right audience and thus promote yourself. Even the choice of fonts for your cover letter can subtly contribute to this expression of creativity. Just ensure that it remains professional and enhances, rather than detracts from, the overall presentation of your application.
Here is an example of a creative resume that captures attention fast:
Step 2. Leave No Room for Mistakes
Although every resume should be grammatically correct, standards for copywriters are always high.
Keep your resume brief, use active verbs.
Keep your vocabulary diverse.
Proofread your application materials multiple times – including the file names.
It bodes well to get a fresh perspective and have someone else read them too.
Run your resume through Grammarly to ensure it's up to par:
Step 3. Quantify Your Resume
Highlighting your strong copywriting skills is one part of the equation, especially to prove yourself as the best choice for the position.
Hiring managers want to see how your expertise contributed to increasing sales conversions, defining brand guidelines, or building mailing lists.
Mention the outcomes of projects you were a part of and how you contributed to their success. Include the engagement on your blog posts, response rates for emails, and sales numbers for product descriptions you wrote.
It's crucial to note that these achievements should be listed in the section for professional experience.
You can even use templates provided by a professional resume maker to make sure the achievements are shown elegantly.
Step 4. Display Your Soft Skills
It is essential to showcase your proficiency in communication.
Your role as a copywriter is to integrate the client's needs, expectations, and business goals into a stellar copy. This means you have to guide strategic content creation and communicate your ideas. Thus, soft skills are important. If communication is where you lack, you may consider enrolling in an online MCM program to gain an advantage.
It is key to prove you're an active listener, a team player, and a good verbal communicator. Explain how your transferable skills helped you understand client and company goals and how you implemented feedback to improve your work.
Try to incorporate the following in your key skills and cover letter sections:
Strong communication skills
Empathetic
Creative
Analytical
Persuasive
Step 5. Select Your Work Samples
If you submit copy samples along with your resume, make sure they are relevant to the position you're applying for.
Include samples that:
Correspond with the company's industries or those of its clients;
Display the type of work required in the position;
Have the same tone or vision as the company's communications.
Step 6. List Copywriter Specific Skills
Excellent research skills and the ability to understand client expectations;
Transferable skills and the ability to be a team player;
An understanding of SEO and SEM;
A talent for persuasive communication;
Excellent grammar and a wide vocabulary;
Attention and an eye for detail;
Good verbal communication and listening skills;
Creativity and the ability to think outside of the box.
Copywriter Resume Examples
#1. Entry-level copywriter resume
Entry-level applicants are usually fresh out of college and have little to none experience.
If you are fairly new to the field it is best to improve your skill level.
To do that try getting into an internship program, or take up copywriter courses.
Also, keep in mind that various digital agencies use methods like Search Engine Optimization (SEO) and Search Engine Marketing (SEM).
These interconnect with copywriting to a growing degree, so it is mandatory to expand knowledge on the matter.
Here's an example of a great resume for an entry-level copywriter: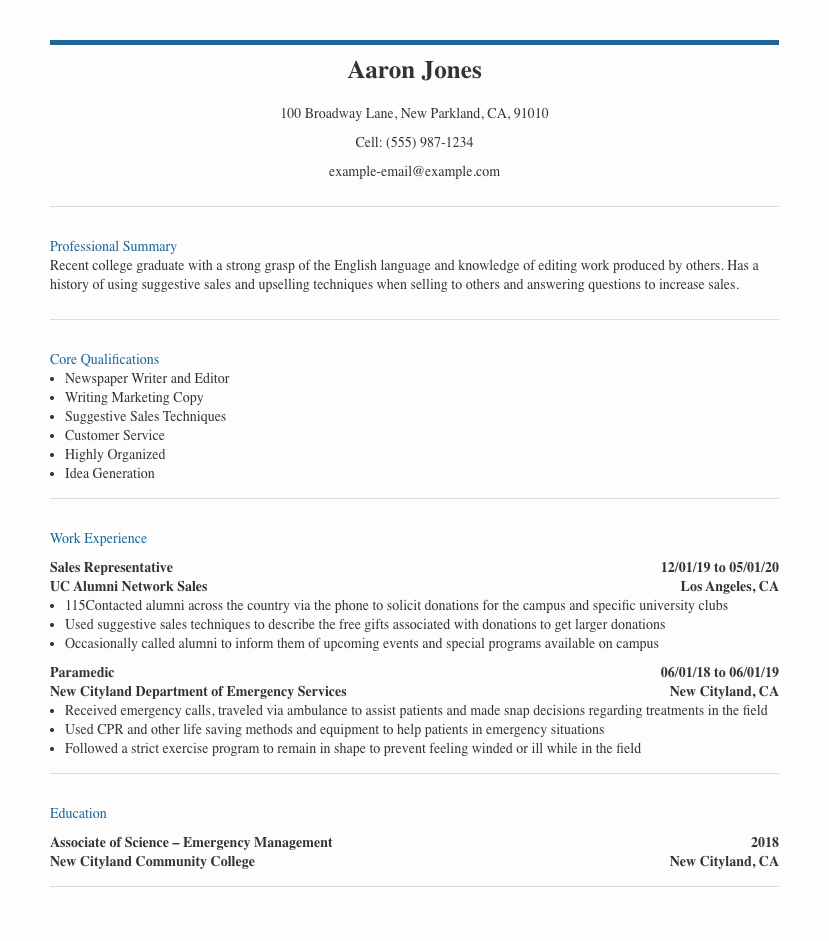 #2. Senior copywriter resume
When looking at your resume, the first thing hiring managers will see is your objective statement. It should be like a bridge between you and the recruiter.
Think of it as your voice and it must speak loud enough to draw the attention.
Start off your statement with your years of experience as a copywriter and list the main responsibilities you had. Then include a section that displays any outstanding qualities which contributed to the company.
Last, finish your objective statement with additional skills, certifications, or even a sentence that reinforces how valuable you are and why you are suitable for the job.
Here's an example of a great resume for an senior-level copywriter:
#3. Freelance copywriter resume
When it comes to freelance copywriting, the most important part of your resume is the "Work Experience" section.
It should be a detailed summary of your latest 3 or 4 positions. It's the first thing recruiters seek and pay attention to.
This section, however, isn't simply a list of your previous responsibilities.
Its purpose is to showcase you as a wholesome applicant by displaying your relevant accomplishments and should correspond to the position you're applying for.
Here's an example of a great resume for a freelance copywriter: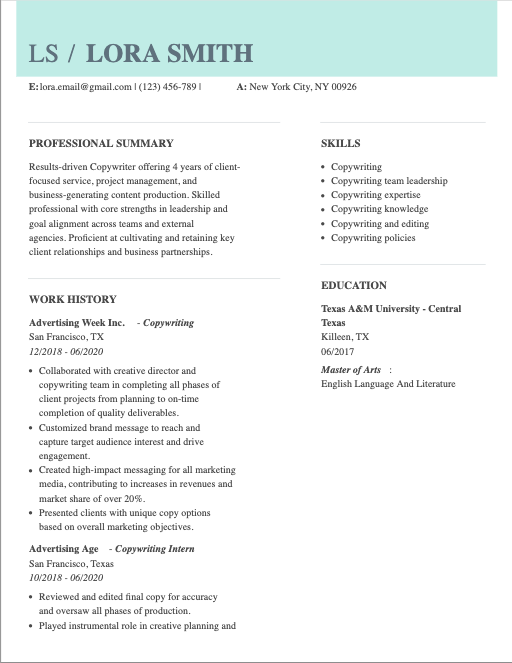 Conclusion
It is essential to know how to craft one compelling copywriting resume that will get the job you desire.
It is key to know how to format your resume and highlight your previous experience, copywriter skills, education, and personal goals.
I hope that after reading this guide you'll have the knowledge and confidence to craft a strong copywriting resume that'll land you an interview.