We're in a moment in history where more people have access to your brand. With an eCommerce model, your target customers can find you. Anyone else may stumble across you through ads, websites, social media, etc. With a global audience, it's crucial to create inclusive content.
What if – you may ask yourself – my brand caters to a specific niche? That's great! Often brands that focus on a particular target audience do a better job of connecting with them. The message speaks to that distinct audience.
Inclusivity isn't about speaking to everyone. For example, a toddler clothing brand doesn't need to include people who don't have children in their lives. Instead, inclusivity recognizes that your consumers come from various backgrounds and experiences, even within your niche.
Society today focuses on (and abhors) historical exclusivity. However, we are learning to be more cognisant and celebratory of our differences. In 2023 and beyond, exclusivity could become the downfall of brands.
This article will discuss what constitutes inclusive content and how brands can get more from their communities when building their content strategy.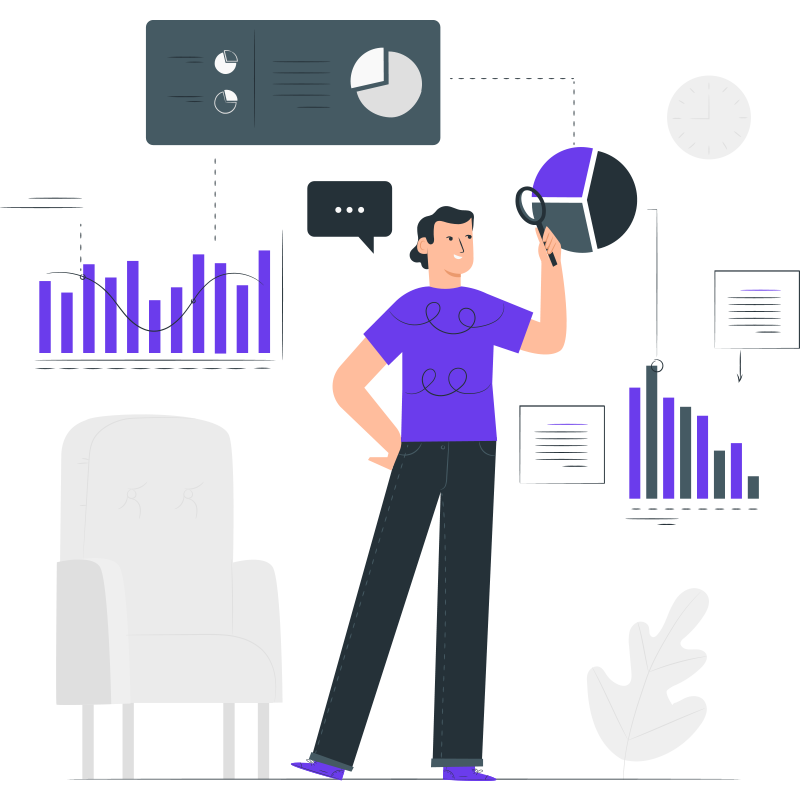 Get long-term ROI.
We help you grow through expertise, strategy, and the best content on the web.
What is inclusive content?
Inclusive content can mean many things. For example:
Is your content representative of a diverse community?
Your content manager can use exclusivity effectively in your marketing. For instance, luxury brands likely cater to people above a certain annual income. Some makeup brands may focus on tones for people of color that many brands have historically left out. A fashion brand could specialize in plus-sized clothing.

But even within these niches, audiences are still not homogenous. There are differences between one person that can afford a luxury car and another. And inclusive content considers this.
Inclusivity can cover the following:
Why is inclusivity important?
As mentioned, producing inclusive content widens your audience. It helps build genuine connections with your consumers. You're acknowledging them as unique human beings. No one wants you to think of them solely as a sale. Your consumers want you to recognize them as humans with problems or needs your brand solves.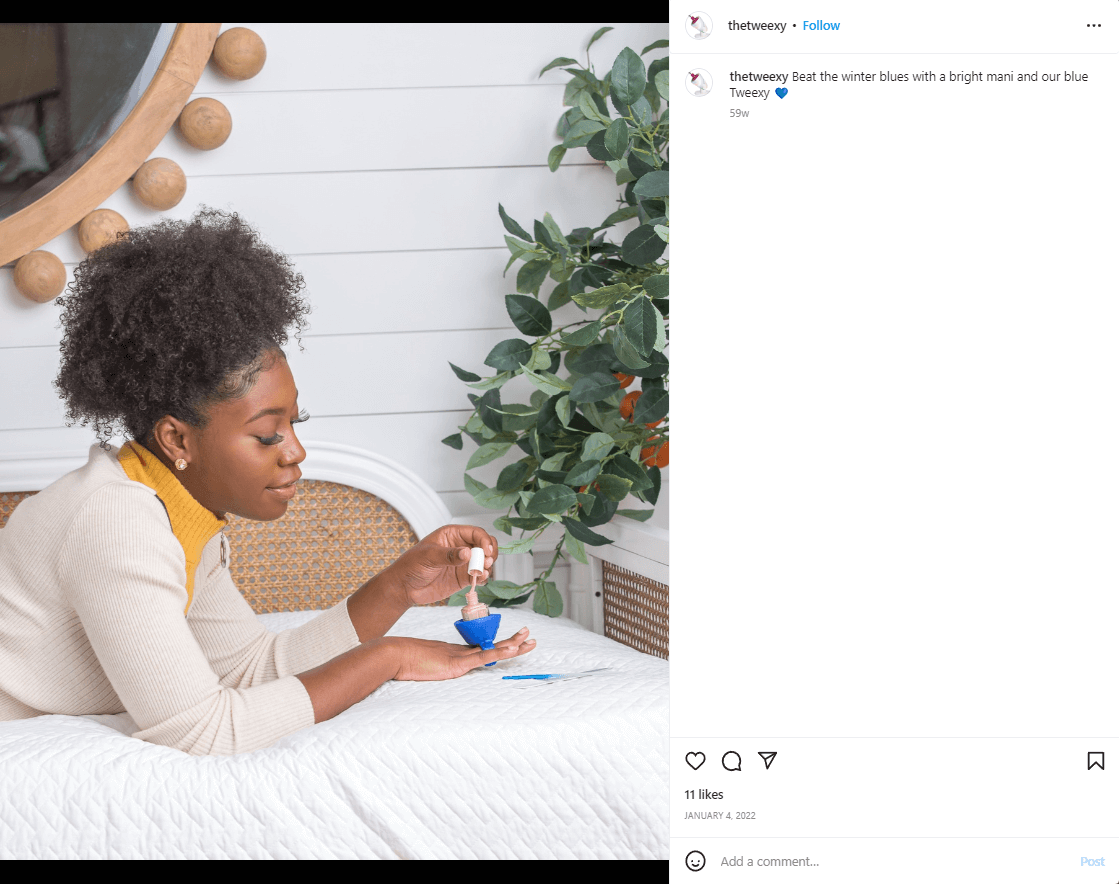 61% of Americans find diversity in advertising important. But, sometimes, all it takes is not seeing yourself represented by a company to feel like their products aren't made for you. And that can put you off a brand altogether.
Building connections with consumers increases customer loyalty, conversions, and revenue growth. Consumers care about representation, and they're voting with their wallets. Inclusivity isn't just good for humanity. It's a great way to grow your brand.
What is User-Generated Content
As the name suggests, a brand's users create user-generated content (UGC). Customers often view UGC as more authentic and trustworthy than brand content. Nearly 80% of surveyed consumers say UGC highly impacts their purchasing decisions.
UGC gives you the unique opportunity to showcase your brand from your consumers' perspective authentically. Examples of UGC include:
Sponsored and unsponsored posts
And any other content featuring your brand
Collecting UGC is an important content marketing strategy. First, get permission to reuse content generated by your brand community and customers. Then, you'll collect a library of images, videos, and more to repurpose in your marketing plan.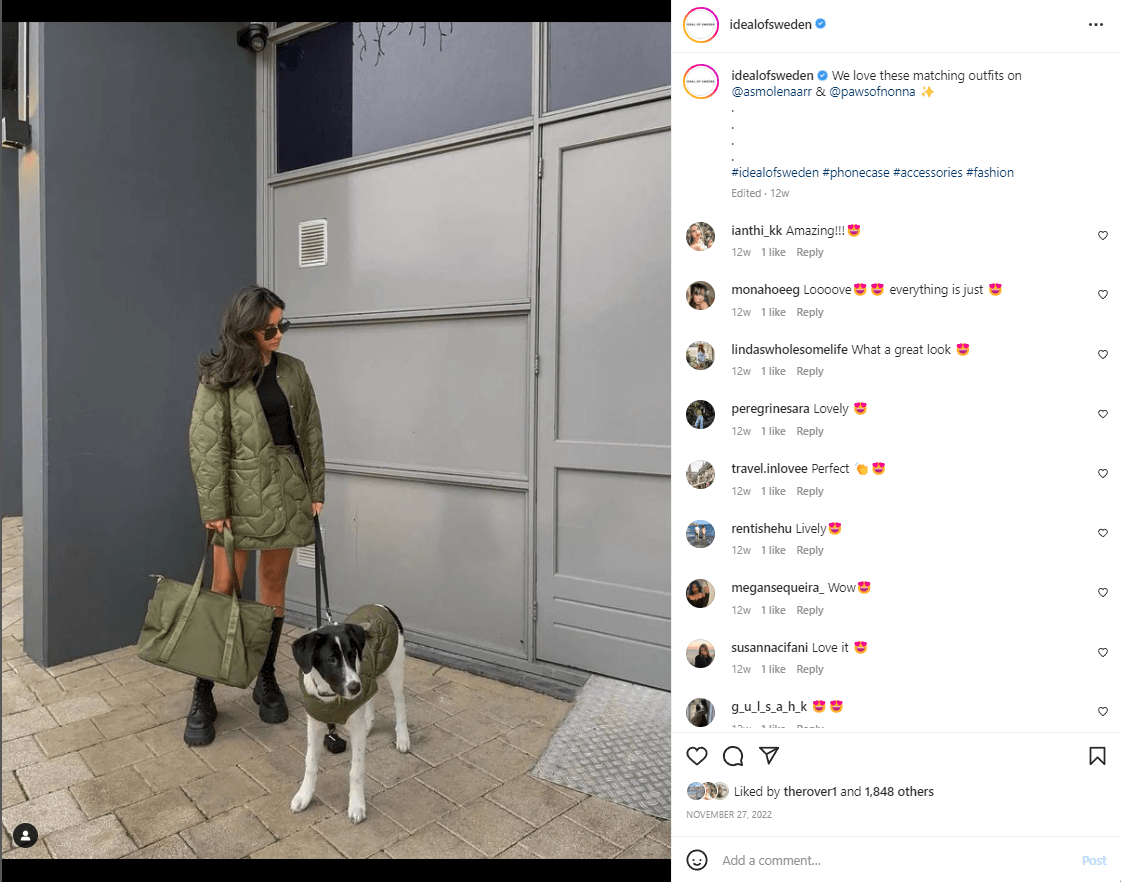 This saves you resources you'd typically have to allocate to content production. Also, since you're repurposing valuable social proof, it connects you more authentically with your audience.
How to get inclusive UGC from your brand community
1. Start an outreach program
Starting an outreach marketing program gives your brand more control over user-generated content. Rather than waiting for customers to create content, you commission content. Popular outreach marketing programs include:
Brand ambassador programs
You may even use a combination of these strategies to maximize content. For example, using outreach marketing enables you to reuse the content your community creates. Just make sure the contract is clear regarding such instances.
2. Diversify your influencers
And ambassadors and affiliates. Ensure that the creators you collaborate with are from diverse backgrounds. A diverse team will naturally create more diverse content.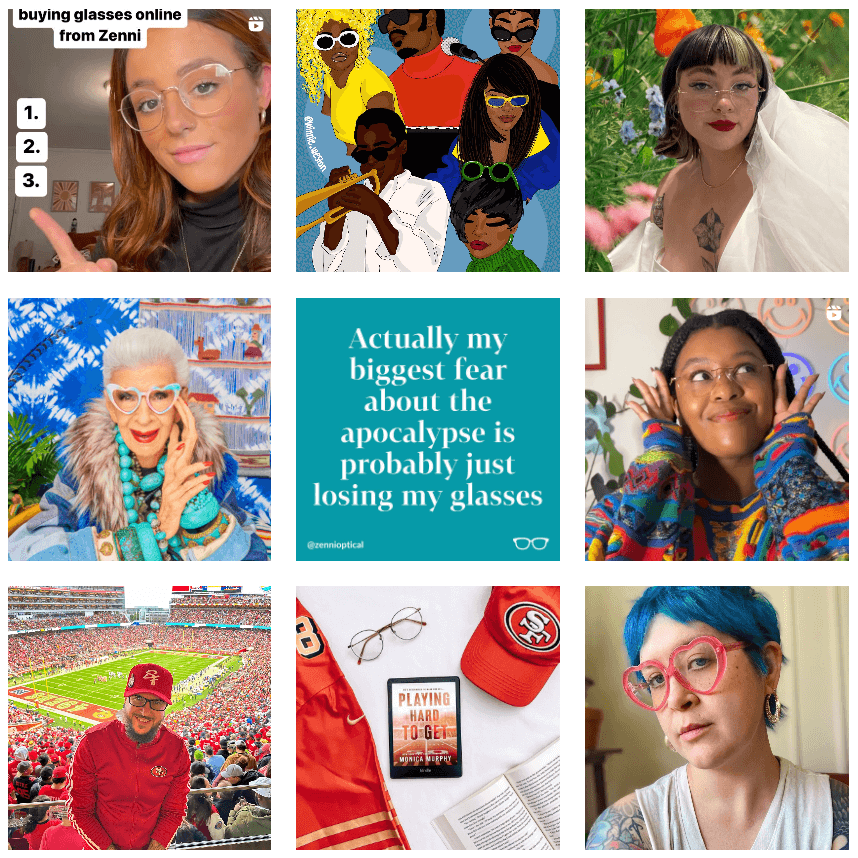 A diverse community of influencers, brand ambassadors, and affiliates showcase your products in different environments. It shows other uses and attracts customers who may have preconceived ideas of your product that excluded them before.
For example, the massive multiplayer online role-playing video game (MMORPG) World of Warcraft – especially when it was first released – mainly targeted male teenagers. Rating disclaimers include blood and gore, crude humor, and violence. It doesn't seem like a game for an audience who prefers light, casual, feel-good games like farm simulators.
However, the rise of cozy game influencers has found players who also enjoy World of Warcraft. They praise the game's "cozier" features. TikTok is full of videos showing cozy gamers on WoW collecting pets, exploring gorgeous landscapes, and farming. Moreover, the higher the number of likes a TikTok video receives, the more likely users are to engage with it.
Embed TikTok
Diversifying your advocate community helps avoid diversity mishaps. Diversity mishaps are when brands attempt to create inclusive content and miss the mark. As you aim to create more inclusive content, engaging with TikTok influencers also can provide a dynamic and diverse perspective, allowing your brand to tap into a platform known for its creativity and cultural influence.
We see this with brands using disabilities in their marketing. Many companies are "now weaving people with disabilities into brand narratives. These narratives often evoke feelings of pity or portray people with disabilities as inspiring, solely or in part on the basis of their disability." (Source)
When you allow people to speak for themselves, you avoid perpetuating stereotypes. Instead, you gain genuinely inclusive content.
3. Have clearly defined content guidelines
Create clear guidelines for your influencers, brand ambassadors, and affiliates. Building a content guide each creator receives makes it easy to regulate your content and uphold your brand standards.
What should be in your content guide? Research best practices for your particular industry. If you're a cosmetics brand, stipulate that influencers can't use filters on sponsored content that features your brand. This specification guarantees an accurate representation of your products. It also prevents alienating those who compare their natural looks to photoshopped influencers.
Other ideas for your content guide include the following:
Phrases or words to not use
Avoiding decorative/stylized fonts that could be hard to read
Having good contrast of colors between font and background
Using Alt Text on image posts
Including captions for video content. (And manually editing any that are auto-generated to ensure accuracy)
4. Create ultra-customized campaigns
Now that you have a diverse community of content creators, you can play to their strengths and experiences. Segmenting your community helps you create more specific content. Community-wide campaigns can be great. But sometimes, it's helpful to create specific tasks for specific demographics.
During Women's History Month, Verizon partnered with women who ran small businesses. This particular campaign required the brand to request content from a specific demographic.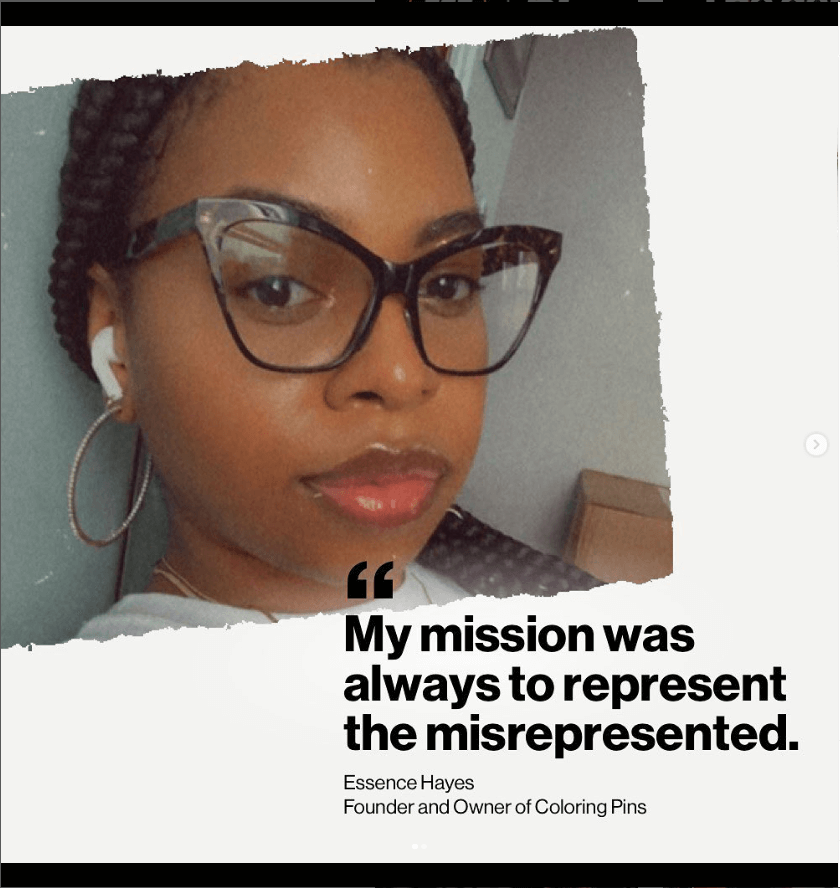 As another example, a shoe brand could create campaigns such as:
Most comfortable shoes for pregnancy
Each of these would require content from different demographics within their target audience. Some countries segment campaigns for different countries. Or holidays from a variety of cultures or traditions. Others allow influencers to post in their native languages so the promotion targets a more specific group. The ideas are endless.
5. Create broad campaigns
Sometimes getting ultra-specific is the key to creating more inclusive content. Other times, creating broad campaigns can provide you with a wide variety of content. General campaigns can be an excellent strategy if you are willing to give your content creators more creative control.
Take a food brand, for example. It could ask its community to create a video showcasing how they spice up a family or cultural recipe with the brand's product. This approach allows people to share dishes that are important to them. A simple campaign that connects your brand to those who may have similar experiences.
You may want to make Christmas or New Year-themed campaigns when the holiday season approaches. But try creating a campaign asking your influencers, brand ambassadors, and affiliates to share their holiday traditions and incorporate your products in the content. You'll end up with content that spans various traditions and includes more potential consumers.
6. Be authentic
Even well-intentioned attempts to share more inclusive content can backfire. If the content seems too strategic or inclusivity is the focus of the content, some consumers may attribute it to virtue signaling.
Virtue signaling is when someone posts content about a hot-topic issue to make themselves look good. So how do you avoid being called out for virtue signaling?
There's never a guarantee. Some people will always think you have ulterior motives when you try to improve as a brand. But you can mitigate this by being as authentic as possible. Approach getting more inclusive user-generated content from your community as an overall reflection of your brand. Make sure your branded content is more inclusive as well.
Be careful about being too loud about particular current events. If your brand doesn't have a history of showing they stand for something, it seems out of place, especially if it contradicts what you do.
For example, it makes sense for a fast fashion brand to take a stance on gender equality and break down fashion stereotypes between genders. However, the same brand may come under fire if it commissions content geared towards sustainability.
Start infusing your brand with inclusivity wherever you can. Prove that it's something you value, not just another way to make a sale.
7. Ensure fair payment
When rewarding your community for creating content, you need a fair and unbiased payment structure. Influencers are becoming more transparent about their pay. As a result, they've revealed disparities between influencers of different races and genders.
IZEA released its annual State of Influencer Equality report. Though the pay gap is decreasing, it's still there.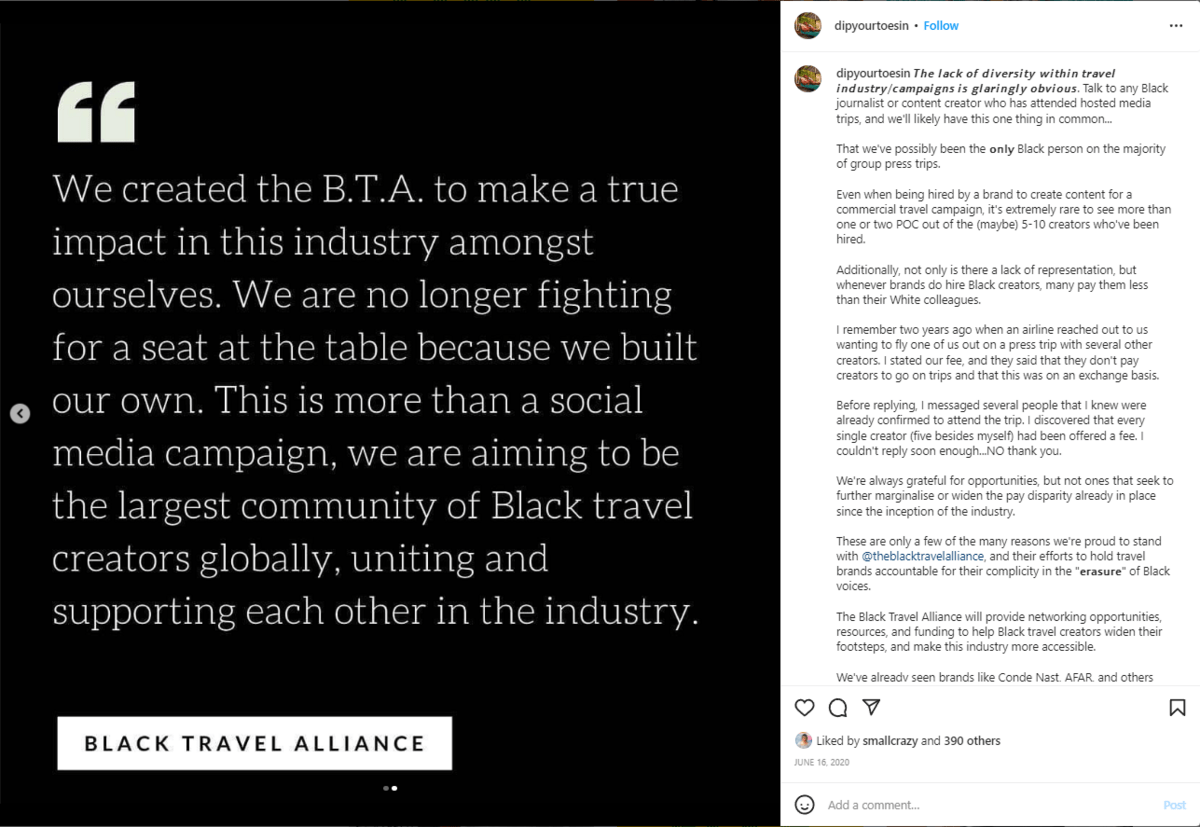 In 2020, black travel influencer Eulanda Osagiede revealed an airline invited her and her husband, Omo, to join a group of content creators for a press trip. However, when she gave her fee, they told her they didn't pay any creators but offered the trip as an exchange.
Eulanda reached out to the other creators who were attending. She discovered the airline offered everyone payment except her.
Transparency is key. If you're running an ambassador or affiliate program, payment should be the same for everyone. You can dictate that compensation is based on follower count or engagement rates. But the structure should be the same for everyone. For example, $1/like on an Instagram post, regardless of who posts it.
Equal pay can be trickier with individual influencers, as many have set fees. But create and document your approach to paying influencers. That way, even if someone gets paid less for a similar campaign, you can explain your payment structure. You can show that you based the payment on what the influencer themselves charged. Not because you explicitly wanted to pay them less.
Creating a fair and transparent pay structure will build positive relationships with creators from all backgrounds. With more positive relationships, you'll continue receiving more inclusive and diverse content.
8. Get feedback from your community
You have a direct line to some of your most loyal customers. Use it! Ask:
How can your products or content be more inclusive?
What challenges does your community face as content creators?
What type of content do they want to make?
What content do they want to see?
And make sure to listen to the answers. Incorporate their feedback when it makes sense. Listen to negative feedback and vow to use it to do better in the future. By showing your community that you value inclusivity, you give them the confidence they need to create more inclusive content and make the content they want to see in the world.
Conclusion
Following the eight steps above, your brand will receive more inclusive content from your brand community. Representing your consumers as unique individuals creates deeper connections, reaches a broader audience, and increases brand loyalty.