Ah, France. The country of love, croissants, and brie.
And also the country where I felt the most defeated by another language.
One of the worst French fails I had was in Marseille, France, when I accidentally drove into the wrong parking lot. The gist? I didn't grab a ticket on the way in and had to pay a $100 fine before I could exit.
I had to communicate in French with an attendant that wasn't physically present. And the attendant was pissed. He yelled at me through the speaker, threatening to call the police.
I kept trying to respond with my best French grammar, but none of my responses made sense to him.
Luckily, a local swooped in and saved me from heading to a French jail. But without them, the story would've turned out differently.
And that's why proper French grammar is so important. So you don't go to jail. In France, at least.
In this article, I'll share some of the best French grammar checkers I've found. I'll also answer some commonly asked questions about French grammar checkers.
Disclosure: These reviews are reader-supported. We might earn a small commission if you purchase something through our site. Learn more
Grammarly
Best All-Around
$11.66
/mo – before discount
PROS
86% out of 86% accuracy
16+ billion database
150k+ word limit
5 devlice limit
Includes plagiarism
1-hour response
CONS
Only supports English
Expensive without our link
Grammarly Premium Walkthrough Video
What kinds of errors does a French grammar tool find?
Every French grammar tool is designed a bit differently, but each one usually includes a grammar check and spell check feature. French grammar checkers spot common errors like grammatical errors, sentence fragments, poor word choice, confusing sentences, and spelling errors.
The key to finding the right French grammar tool for you is to know your priorities.
Here are a few additional features French grammar tools may have:
Plagiarism checker
Do you get paid to write in French? Are you taking French classes at school? If so, look for a grammar checker that includes a plagiarism checker, too. Otherwise, you'll need to use two tools: One for grammar checking and the other for plagiarism checking.
Punctuation checker and writing style suggestions
When you're writing in French, you'll need to look for a feature that catches your punctuation mistakes. An extra bonus? Look for a French grammar check feature that also includes in-depth writing style suggestions.
Grammar corrector with explanations
Are you taking a trip to France soon and want to avoid sounding like a stereotype? Make sure your grammar checker tool has a grammar corrector that explains your grammar mistakes, too.
Understanding where you went wrong is one of the best ways to catch yourself from making the same mistake twice.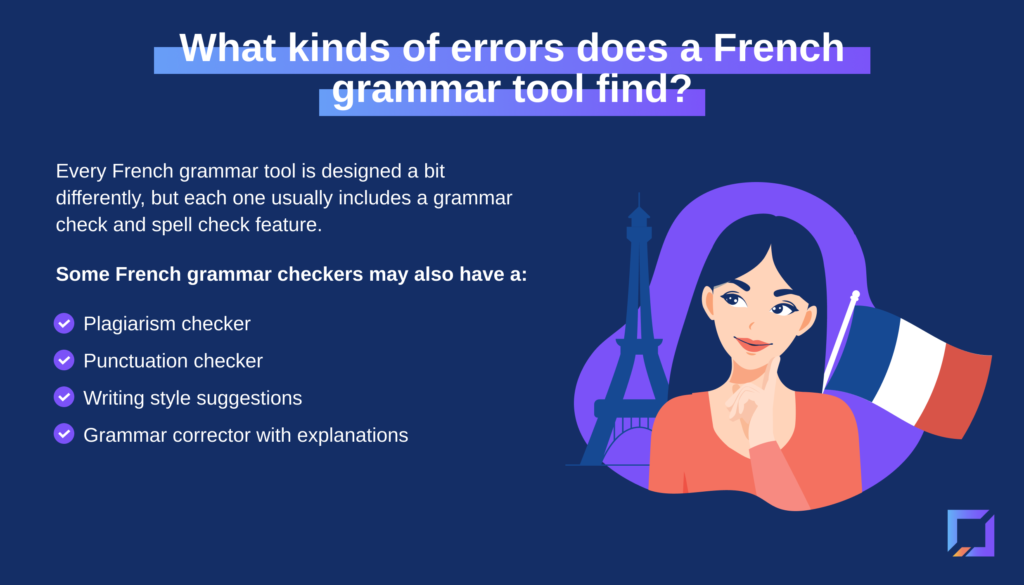 What is the best French grammar checker?
Here are the best French grammar checkers I've found to date:
1. WhiteSmoke
You can turn WhiteSmoke into a French grammar checker by using its 'Multilingual Dictionary for Writer' plugin.
Here's what you need to know about WhiteSmoke.
Pros:
WhiteSmoke's color-coded error checker is genius. The tool shows grammar errors in green, punctuation and style errors in blue, and spelling errors in red.
You also don't have to poke around their suggestions to figure out what it is you need to change. Instead, you'll easily see the correction suggestion in italics above each error.
And the best part? To the side, you'll see an explanation behind your mistake. Voilà! There's that bonus feature I was raving about earlier.
WhiteSmoke is also effective at catching all kinds of errors, such as subject and verb agreement errors and incomplete sentences. It also has a nifty translation feature that can translate English text into a close-to-perfect French translation.
Cons:
WhiteSmoke might be one of the only tools that won't let you try it for free before you commit to a plan. That's a bit surprising, considering their prices aren't cheap.
Pricing:
Without a WhiteSmoke discount, you're looking at paying between $11.95 to $19.95 per month with a monthly plan. A yearly plan costs between $99.95 to $159.95. And a three-year plan costs between $199.95 to $399.95.
Sometimes, WhiteSmoke offers 25% off their plans, so be sure to keep a lookout for discount specials.
2. LanguageTool
LanguageTool is a free grammar checker for more than 20 languages — including French, of course. If its multilingual capacity has you questioning if the tool is an effective French grammar checker, don't worry. It gets the job done.
Here's what you need to know about LanguageTool.
Pros:
LanguageTool is designed well and feels intuitive to use. If you're familiar with Grammarly, you'll feel like a natural using LanguageTool.
LanguageTool's best feature is something called 'Picky mode.' If you turn this mode on, you'll get:
Additional tone and style suggestions (great for French writers)
Synonyms and word choice suggestions for repetitive words
A readability feature that detects long or complex sentences
Picky mode also picks up on colloquialisms, so you can impress others with your hip French slang.
You can access LanguageTool's features through their web browser, browser extensions, apps, or integrations. This makes it highly accessible and flexible to use for school or work.
Cons:
Everything above is listed in the free version, which is great, but if you write long-form text, you'll need to upgrade. With the free version, you can analyze up to 10,000 characters at a time. With the premium version, you can analyze up to 100,000 characters at a time.
Pricing:
LanguageTool offers monthly, quarterly, annual, and two-year plans for individual users and businesses.
Here's how the individual plans stack up:
Monthly plan: About $12 a month, billed monthly
Quarterly plan: About $8 a month, billed quarterly
Annual plan: About $2 a month, billed annually
2-year plan: About $1.90 a month, billed every two years
LanguageTool's business plan prices vary greatly depending on how many logins your team needs. To learn more, check out their pricing page or contact them directly if you need to add more than 20 users.
3. BonPatron
BonPatron is a simple French grammar checker you can start using in seconds, no sign-up required.
The tool claims to check more than 250,000 texts per day for mostly French native speakers. Wait, you mean even native French speakers struggle with French grammar time and again?
Phew.
Here's what you need to know about BonPatron.
Pros:
One thing I found especially helpful about BonPatron is that their grammar explanations were in English. That's not always the case with French grammar tools, which makes this tool a great start for English natives.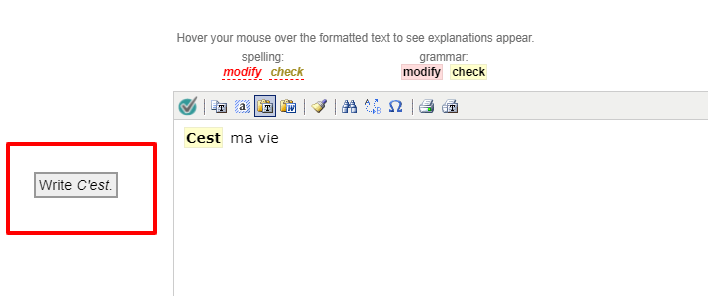 To use the tool, simply start typing into the online editor or paste text instead. To see a correction, just hover over the word in question.
Cons:
Unfortunately, I found quite a few cons with BonPatron.
Not only did the tool spot incorrect errors, such as names, it also didn't catch my poor French spelling. For instance, I wrote 'il dore les voitures,' and it didn't recommend that I change 'dore' to 'adoré.'
It also missed incorrect gendered adjectives and basic punctuation errors like capitalized letters.
I also didn't find the tool easy to use. Though it was simply laid out, it didn't feel intuitive. I also couldn't find information about character limits.
Another weird thing was when I tried signing up for the premium version, it took me to an invalid web page. So, I couldn't test drive the premium features either.
Pricing:
BonPatron is free to use unless you choose the premium plan, which costs about $15 per year. I didn't try the premium version, so it's hard to know if the upgrade is worth it.
4. FrenchCorrector
FrenchCorrector feels like a secret friend you'll never meet. I say that because there's no 'About us' page or information about when the tool first launched.
There's a lot to love about FrenchCorrector, though, and the cons are minimal, too.
Here's what you need to know about this tool.
Pros:
FrenchCorrector is simple and easy to use, and there's no sign-up required. They have a useful autocorrect feature that — you guessed it — auto-corrects your French text. If you've waited until the last minute to turn in your French essay, this tool's your buddy.
FrenchCorrector also has an 'Ignore List' that you can add words to so that they don't flag you for something they shouldn't. For instance, I added the name 'Angélica' to the ignore list because it wanted me to change it to 'Angélique.'
You can also clear the ignore list quickly and easily by clicking 'Remove all words in the Ignore List.'

Cons:
FrenchCorrector has minimal cons. Its load time is a bit longer than other tools once you hit 'Submit,' but the wait is only about three seconds long.
Another minor con is that it won't let you add certain words to the ignore list. But in its defense, the words it wouldn't let me ignore were correct French words.
The final con I spotted, which is a bigger deal than the previous two, is that the grammar explanations are in French.
If you have a basic French level, you should still get by. But if your level is zilch, you'll need to turn to a friend, tutor, or online translator to understand the explanations.
Pricing:
I didn't see any pricing plans for FrenchCorrector, which should mean the tool is 100% free. This makes it great for French learners on a budget.
5. Lingua
This one's a special add, as it's not technically a French grammar checker — but that really depends on how you use it.
What I love about Lingua is its vast French learning resources, especially reading resources.
With Lingua's resources, you can study various writing styles and sentence structures, as well as expand your vocabulary.
Here's what you need to know about Lingua.
Pros:
Lingua offers free French learning resources, including reading excerpts, speaking exercises, listening exercises, and vocabulary reviews.
Lingua is a powerful tool for French learners that want to up their French level with daily practice. But really, you can use the resources at your convenience, too.
Their resources are plentiful but not overwhelming. The tool's website feels very intuitive to use, and they offer quite a few resources with the free version. For instance, I saw 41 free texts available in the reading and comprehension section.
Cons:
The only real con about using Lingua is that it acts more like a learning tool than a grammar checker.
Pricing:
Lingua's free version has plenty of French practice for you to start with. But if you'd like access to even more resources, you can pay just under $14 for an annual membership.
PS: Need an English grammar checker, too? We adoré Grammarly and ProWritingAid.
Why you need a French grammar checker
A French grammar checker is a must if you use French at work or school.
It's even a must if you use French in your personal life. Wanna impress your French mother-in-law with proper French sentences? Now you can.
Ready to turn in French papers that'll turn heads? Now you can.
Can't wait any longer to figure out how to construct a grammatically correct French sentence? Now you can, my friend. Maintenant vous pouvez.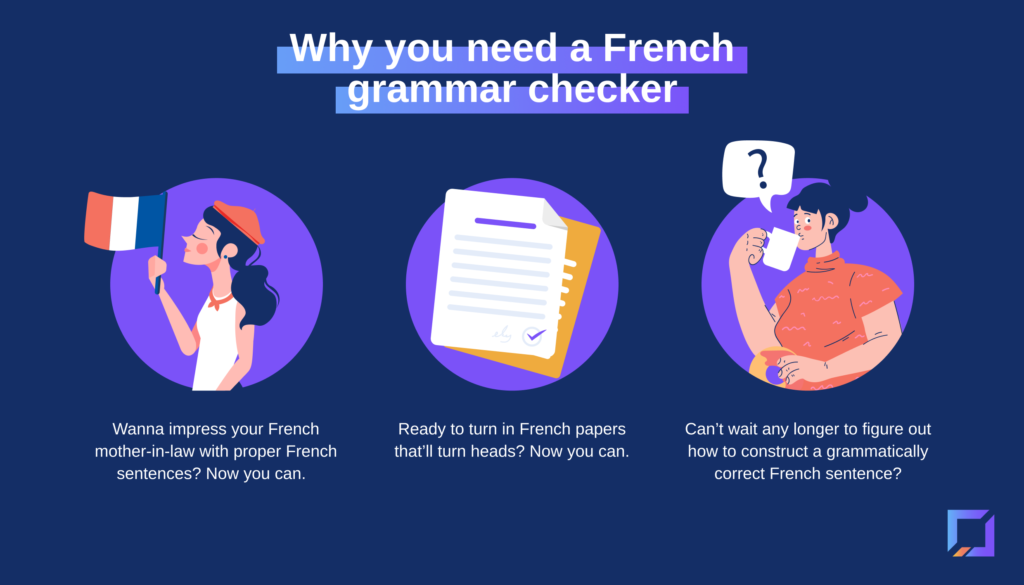 Wrap up
French is notorious for making people queasy. Not because it's not a pretty language — quite the opposite, actually.
French is too beautiful to butcher. Yet butchering it is so easy to do.
So, if you're done with stumbling over your words, getting mediocre grades in French class, or almost going to French jail, cry no more. Use a French grammar checker and say 'au revoir' to bad French grammar once and for all.