Building a social media presence online can make you feel like you're stargazing. You dream of having millions of followers… but they're lightyears away.
How do you make that dream a reality? With enormous effort. And consistency.
You need to understand social platforms, how their algorithms work, how they differ, and how to optimize content for each one.
It's possible to master social media and reach your goals. But you need a social media strategy and action plan to stay consistent.
This article will share five ways to build a strong social media presence by taking it one step at a time.
Let's dive in.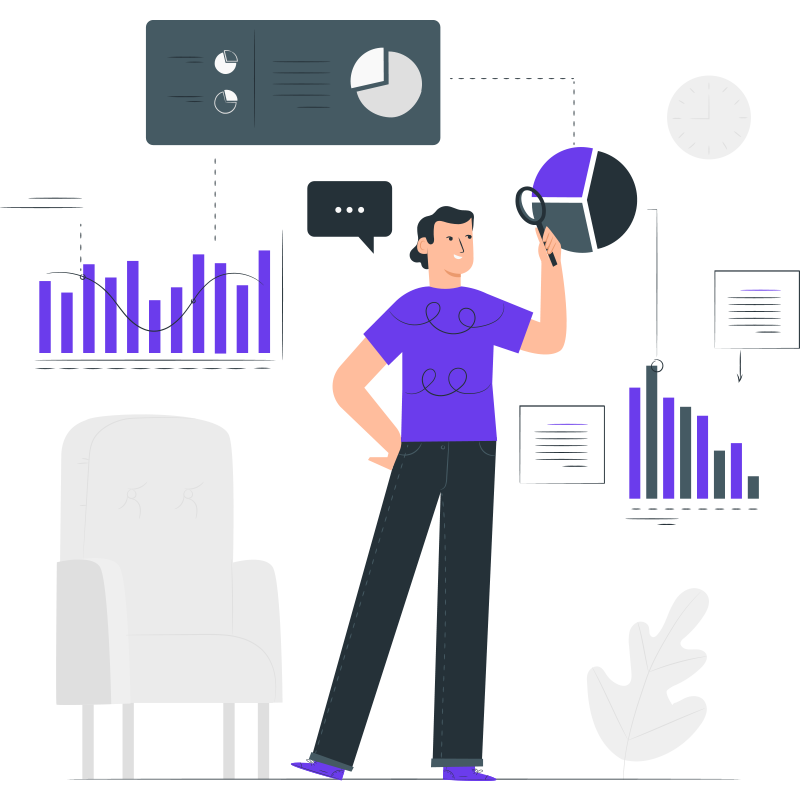 Get long-term ROI.
We help you grow through expertise, strategy, and the best content on the web.
1. Showcase your personality
Showcasing your personality is the subset of brand building. Most brands do it because their key focus isn't just on selling products but building brand awareness.
To define your brand personality, ask yourself:
What's your mission?
What characteristics define your brand?
What makes you different from your competitors?
What do you want your audience to perceive you as?
Let's look at how HelloRache showcases how virtual scribes do their job well and share personal achievements.
Why this works: As a brand, your primary focus is selling the highest-quality products and services. But your audience doesn't know your brand just by your product. By spotlighting high-performing assistants and scribes, it shares the faces behind the brand and builds a stronger bond with potential customers.
How to implement: To build your brand personality, define how your audience perceives you. Next, showcase the face behind your brand with different social activities:
Creating videos with your team
Showing behind-the-scenes videos
Conducting live webinars
2. Create targeted content
Creating targeted content is the second step after finalizing your brand personality.
First, create a social media marketing strategy. Understand your target audience's challenges, what content they consume, the ideal length, and so on. Then, dissect each question and build a social media marketing plan to help you map your pathway to achieving your social media goals.
Suppose you want to sell smart tech products like laptops, phones, and smartwatches. You choose YouTube as your primary social media channel to create your content. Why? Because that's the most popular platform among your tech enthusiast audience.
Now, let's flip this example to a clothing store. If you are a high-end clothing store, you might target fashion-inclined men and women on Instagram.
For this target audience, you'd create shareable posts, Instagram Stories, and Reels, with later fashion trends and visuals like customer images to showcase how your clothes look when in action.
Clearly, creating a content strategy and content for different niches varies. So, be mindful of the difference and create content focusing on your niche accordingly.
Remember, the success of social media visuals depend on great captions and descriptions as well. You will need the best tools available to create the best social media post you can. For this reason, its worth investing in the best laptop for writers and creatives available to create your content.
Let's look at some best practices for creating social media content:
Utilize social listening
Your social media presence not only activates your social efforts and attracts the target audience but also gets you referrals and customer feedback.
Bonus: You can find the gaps in your products and services for a better customer experience.
For example, your customer mentions you on Twitter by tweeting about their current issues while using your product. In turn, your customer support helps them resolve the issue.
This helps you achieve two things:
Get customer feedback on your product and features.
Understand the pain points of the target audience and provide solutions.
Post user-generated content
What if you could get your hands on readymade content without spending hours creating your next posts?
Yes, that's right. You can do this with the help of user-generated content (UGC), aka content created or posted by social media users who are your customers.
For example, if you are a catholic jewelry brand on Instagram and a happy customer shares the image of them wearing the earrings they bought from your online store, you can reuse this image as an Instagram Thread, Instagram Story or post (remember to tag your customer for photo credit).
When you want an engaged audience, there's no better tool than UGC. You can encourage it through contests and giveaways. Make each campaign unique with its own hashtag.
Take this example from GoPro. #gopro has almost 50 million submissions from GoPro owners documenting their adventures. Now that's a successful social media campaign.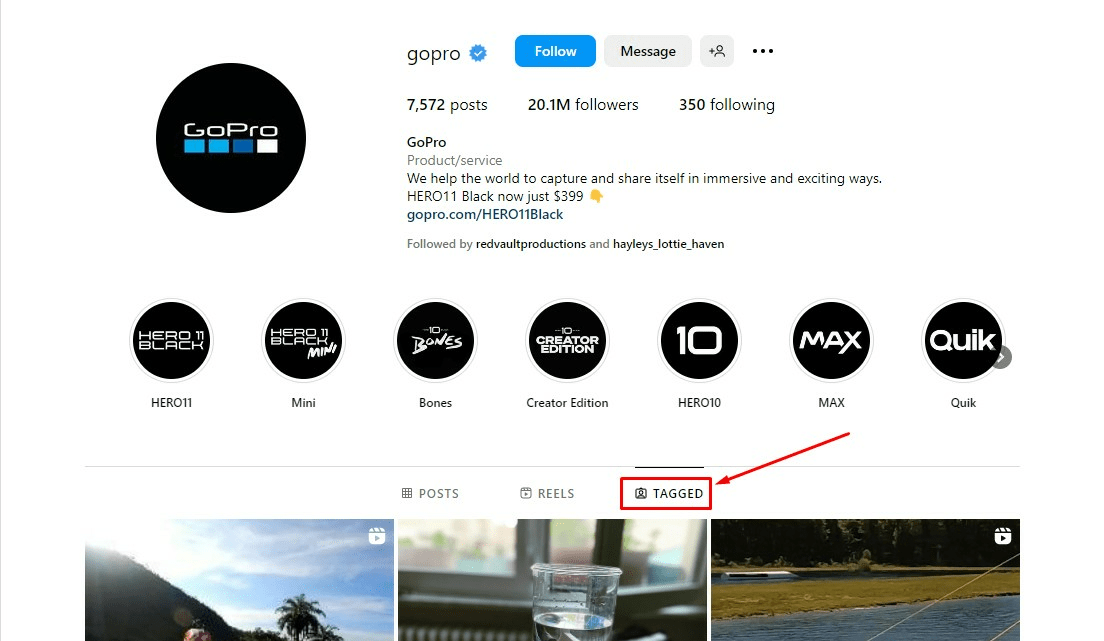 This type of content acts as social proof, similar to reviews. Potential customers seeing UGC are more likely to trust the creators' opinions than the content created by the brand itself. It's even 9.8 times more influential on purchasing decisions than influencer marketing.
Collaborate with other brands
Don't hesitate to collaborate with other brands from complementing industries.
You can conduct Instagram Lives, set up interview panels, and sponsor events together.
Bonus Tip: For extra guidance on content strategy specifically for ecommerce, check out uSERP's Best Practices and Examples.
3. Piggyback on social media trends
Whether it's a mental health issue, a World Cup, or the upcoming holiday season — taking inspiration from fellow brands and piggybacking off trends is a great way to build buzz. Plus, you can showcase your brand personality and reach a wider audience.
To keep up with social media trends, scour content from your niche and other industries.
Some best places you can consume content to hop on to trend:
Subreddits
Public forums
Twitter's Explore page
Based on these trends, be creative and publish insightful content that delivers a meaningful message and makes your audience feel included.
Take a peek at this Instagram post by Hims on mental health. It encourages people to know they aren't alone taking depression medication to overcome mental health issues.
Why this works: One of the hot topics of 2022 has been mental health — and the brand has touched on the same topic. This way, they attract people who are struggling or have struggled with mental health issues to make them feel less alone.
How to implement: See what people talk about in public forums, communities, and social platforms. Your keen observation will help you identify the ongoing trends and be creative.
Next, start talking about these trends in various content formats. For example, once you post a Tweet about mental health, you can create an Instagram Reel on the same topic.
4. Create eye-catching visuals and videos
Picture this: You are an eCommerce business that sells bespoke customized gifts. Following the trend on Instagram, you start posting and scheduling more Reels showcasing your products. But you're disappointed and aren't reaching your social media growth goals.
So what's the deal? Why aren't people engaging with your content? Well, maybe it's because you're missing some compelling elements, like:
Hooking viewers at the beginning
Adding aesthetically pleasing elements
Shooting video in natural or studio light
High-quality transitions and audio
So that's where you need to shift your focus when creating visual content. Whether you share images, carousels, or videos, shoot your pictures with good lighting and edit them to make them even better. Ensuring you have adequate bandwidth to support sharing large files such as videos and HD graphics and photo editing software, will help speed up this process and prevent lag.
For instance, Olipop uses an online photo editing tool to remove the background and replace it with a colorful one that adds to the aesthetics and improves the overall appeal.
Why this works: Olipop removes the old, boring white background from the image to add some pizzazz. As a result, the post is more attractive, eye-catching, and will stand out in a crowded social media feed.
How to implement:
Shoot clear pictures in natural light (if you are focusing on product images).
Take advantage of free online photo editing apps to remove the background. .
Once you get the transparent background, replace it with a color of your choice.
5. Be consistent with a social media scheduler
What are your biggest challenges while building your social media presence? It usually boils down to consistency.
One month you post once a week, and the following month you post daily.
The problem can compound quickly if you have multiple social media accounts on different platforms. Each platform has its own ideal posting schedule – Instagram is 3–7 times a week, while Twitter is 1–5 times a day.
If you can afford it, a social media manager can create and run a content calendar for you. However, if that's not in the budget, a social media scheduler can save the day.
With a social media scheduler, you can do two things:
Publish content consistently on multiple platforms at your preferred time.
Check how well your content is performing with detailed analytics.
Plus, the time you save publishing the posts can turn into time interacting with followers and active users to keep your engagement rate high.
Why it works: When you use a social media scheduler, you store all your social media content inside the platform. You can see how ‌scheduled content looks on each platform (before publication) so you can modify it accordingly. You can also set specific times for publishing to get your content in front of your audience at optimal daily times.
How to implement: Once your social calendar is ready, schedule the posts in the social media scheduler. You must create your account, choose the platform you'd like to use, and then click on New Post. After completing the new post, schedule it for your preferred time.
It's time to level up your social media presence
To successfully build your social media presence, you need a solid strategy, a discipline-worthy plan, and consistency.
Once you create a social media content calendar, use a social media scheduler to help you stick to it.
There's no one-size-fits-all approach to building a social media presence.
But these five tips will help you get on your way. Start testing the waters with different social platforms, formats, and schedules, and stick to the formula that works best for your brand.