Since the inception of social media, users globally have been excitedly uploading their content online. Aptly referred to as user-generated content or UGC, it carries immense potential and has shot several people to fame overnight. Instagram reels, YouTube videos, and TikTok are prime illustrations of this. These platforms can offer you the best marketing opportunities if you know how to leverage UGC.
The best part is that UGC validates the brand. It inspires and influences other users and customers to try the product through positive word of mouth.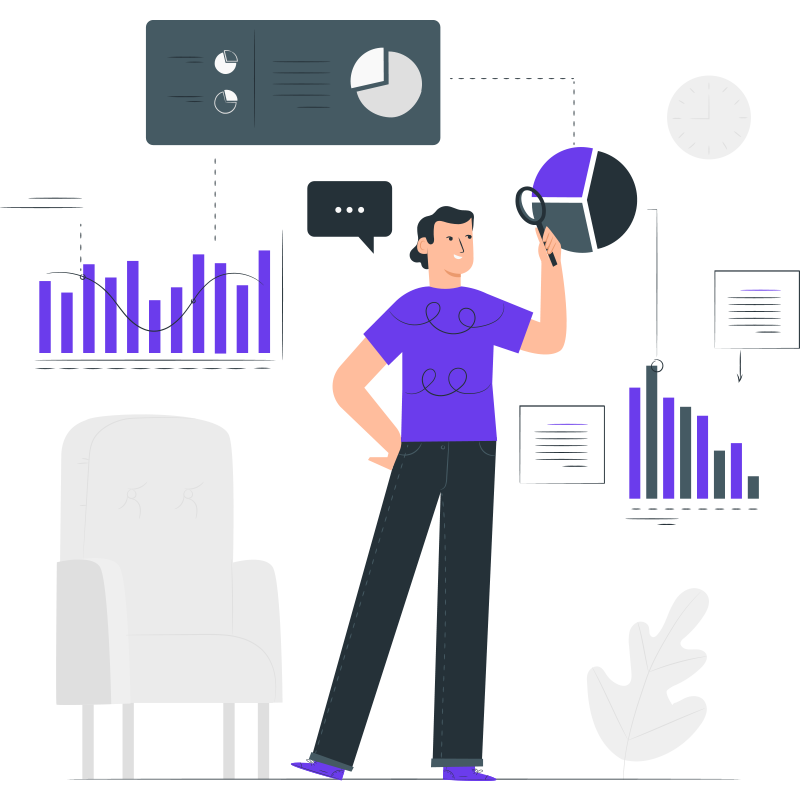 Get long-term ROI.
We help you grow through expertise, strategy, and the best content on the web.
Why is User Generated Content Crucial?
Companies nowadays rely on innovative marketing strategies, and user-generated content is the latest tool helping brands immensely. You can see people participating in various challenges passed on by companies to promote their products. With approximately 5.31 billion people using smartphones worldwide, user-generated content helps create euphoria around brands.
Furthermore, it adds credibility and substance to the branding, leading to the people's trust surges. In 2021, 77% of users read online reviews while browsing for local businesses. It was 17% more than the numbers in 2020. This is a clear indication of the growing significance of user-generated content.
Types of User-Generated Content Marketing
The user-generated content can be segregated into three parts, photos, text, and videos. It can be categorized under different sections.
Blog posts or articles
Social media posts
Case studies
Question and Answer forums
Testimonials and Reviews
Video content
Social media is the most common and easiest way to connect with the targeted audience for B to B (Business to Business) and B to C (Business to customer) companies. It is the most relevant and approachable method.
Around 3.6 billion people globally are on social media platforms. Given the magnanimity, it's not surprising that brands prefer social media platforms like Instagram, Facebook, Twitter, etc., for UGC-driven content.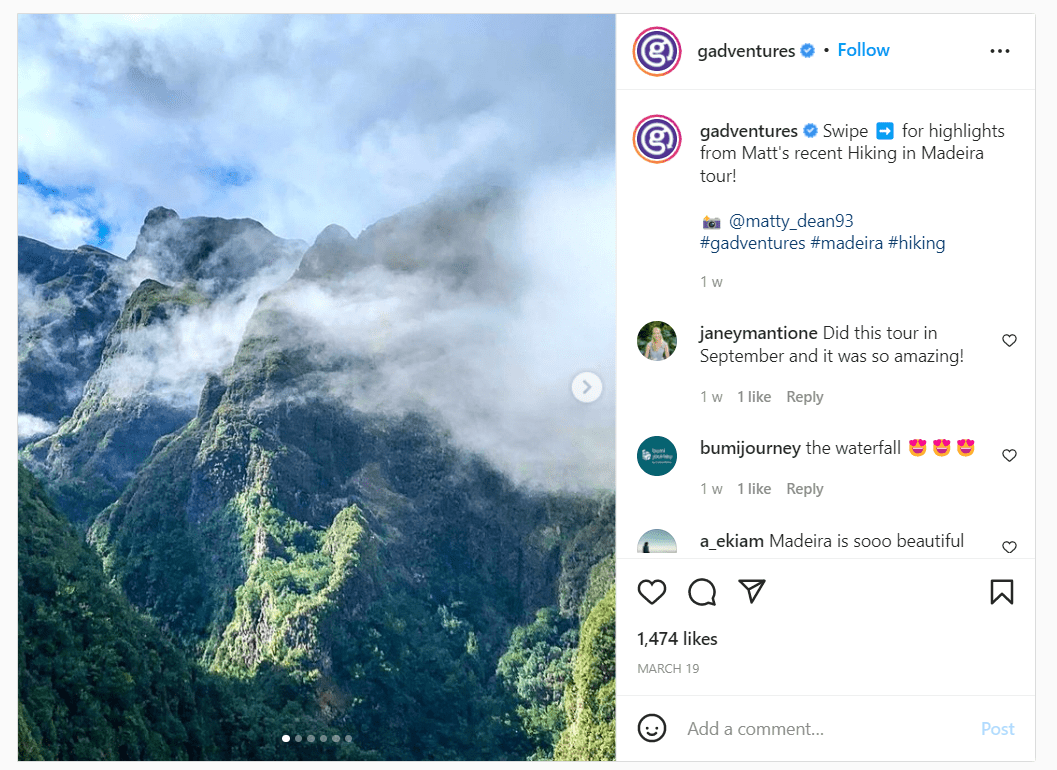 For example, a traveling company G Adventures effectively uses the photograph clicked by one of its customers during a trip. The company has even credited the client by tagging it. This shows how user-generated content is helping G Adventures in its promotions without the company having to spend a dime.
User-generated marketing is an effective way to market and sell a product. Also, it saves the mammoth expenditure of companies that otherwise goes into marketing campaigns on television ads. It can also help individuals promote their side hustles and help them grow into full time businesses.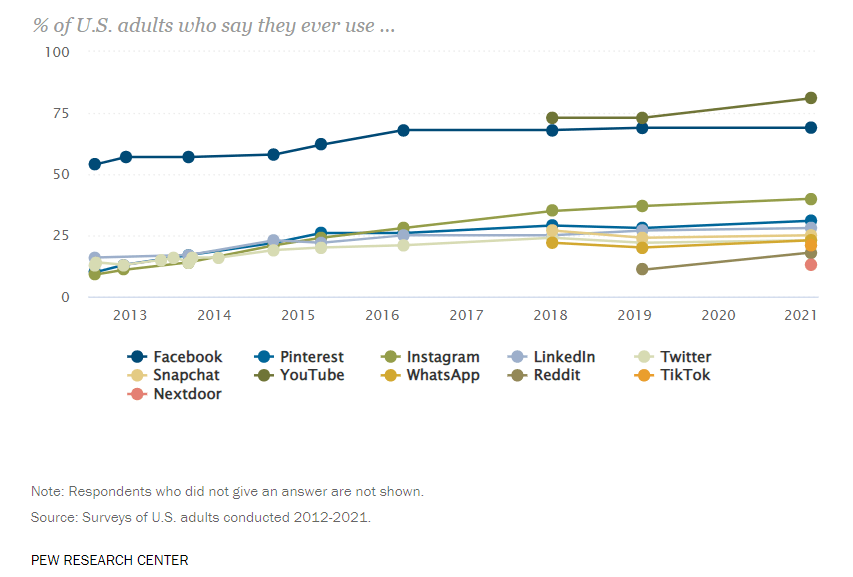 The affordability does the trick here. To remain consistent companies even create social media templates to shape their UGC marketing strategy.
Consider the case of Instagram. Today, most companies leverage Instagram for increasing awareness and engagement. One such company to maximize the B2B content marketing benefits is Buffer. This company uses the hashtag BufferCommunity to highlight the personalities and images of its users from across the globe.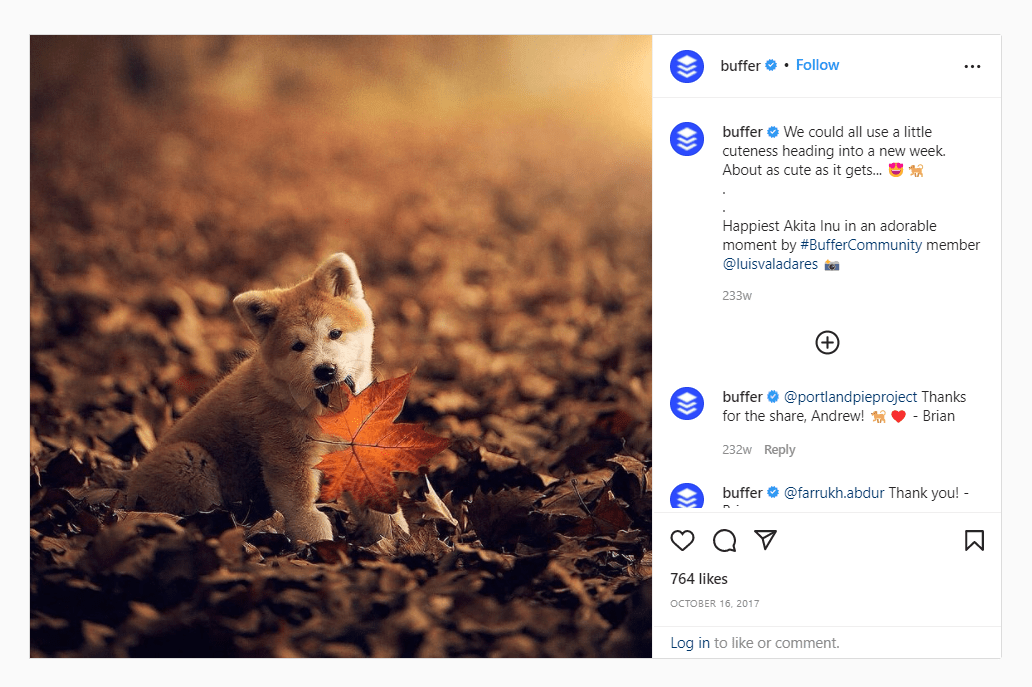 While the images don't qualify as promotional, the company uses them to subtly indicate that its social media management tools make it easier for users to share images on social media effortlessly.
Top Advantages of User Generated Content
The user-generated content dates back to the days of correspondence through letters, artistic expression through puppetry, and theater acts. However, those modes have been replaced or hijacked by technology. The expansion of the internet has invaded every household. Thus, content can be created in a lounge or a room's corner and broadcast to a vast audience.
1. Encourages Purchasing Decisions
The biggest advantage of UGC is that it helps to resolve doubts about a brand's products. This is especially true for clothing. Consumers are often confused while shopping online and are never 100% sure regarding the clothing or apparel's colors, sizes, and looks. UGC often enables them to determine whether a product would suit them or not
That's where the user-generated content can come to the rescue. When users sport a dress or costume and present them without color correction or tampering with the originality, it clears the doubts in the minds of the buyers. For instance, a bride-to-be might be hesitant about purchasing a particular bridal shower dress online, but seeing real-life photos and reviews of the dress on other brides can help her make a confident decision.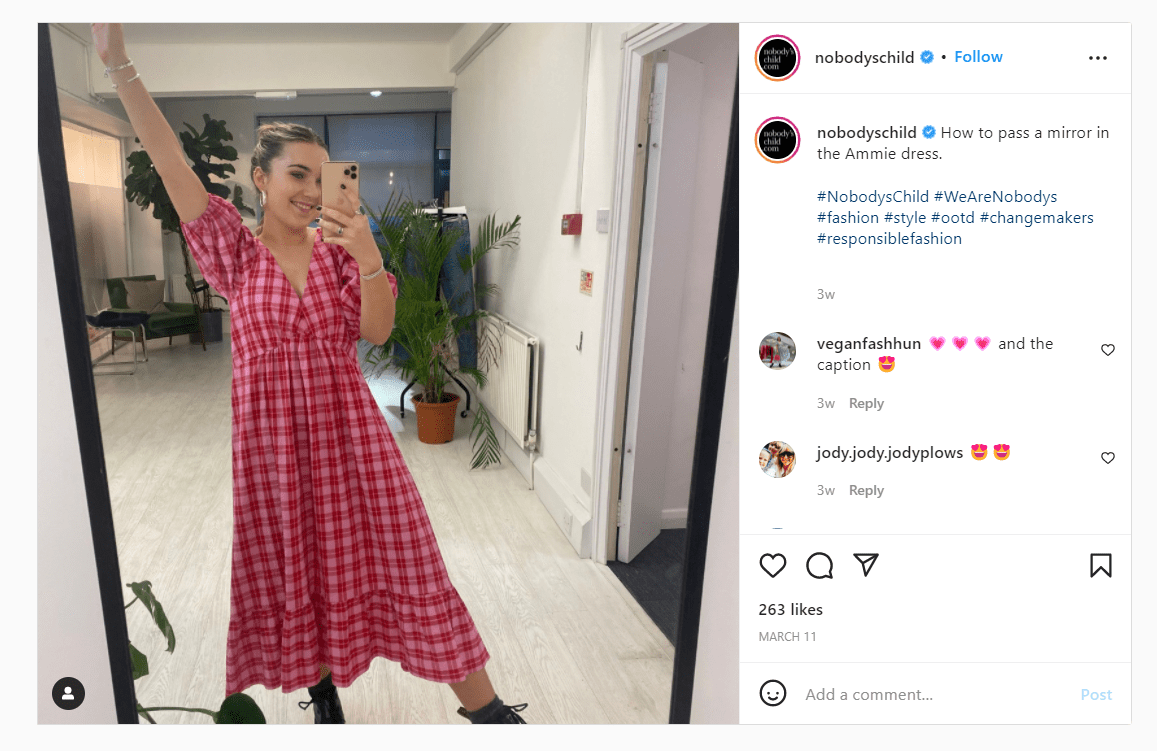 Here in the picture, the user has posted a pic donning the brand Nobody's Child. The brand has shared the picture to show how their product looks when worn by customers and how much they love it.
2. Budget-Friendly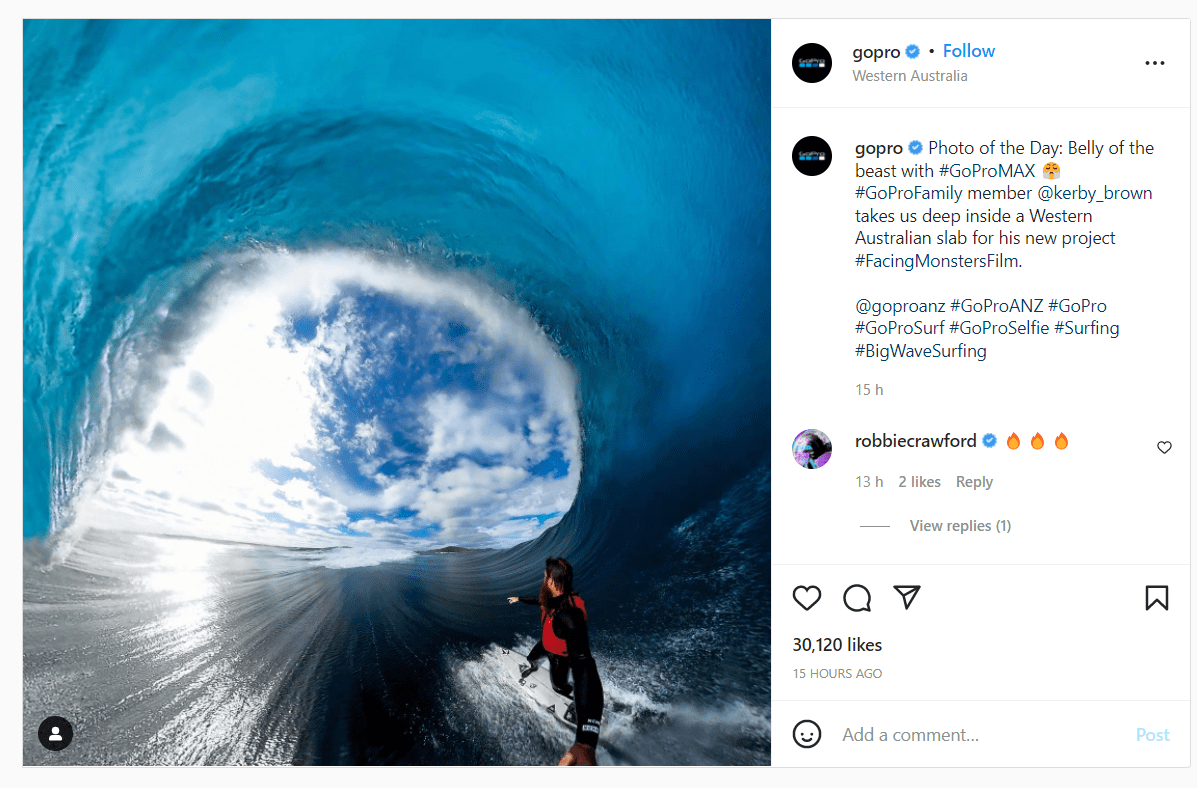 Brands don't have to worry about marketing budget allocation and can use user-generated content. They can share the content on their social media handles and drive home the marketing benefits without creating a dent in their marketing budget.
In this context, Go Pro seems to be one of the biggest beneficiaries of UGC. The company has to make no special arrangements or spend a penny to derive some breathtaking shots. Most of its users post it on their social media accounts. The user-curated content is classy and projects the quality and reason why one must own the product.
In lieu, the brand mentions the user's name in the credits and uses a branded hashtag. It creates a domino effect because the picture has been taken by a normal user and is shared to acknowledge the product.
Thus, a company can have endless content for posting and generating curiosity among the targeted audience while saving on the expenses of studios, photoshoots, models, editing, etc.
3. Saves Efforts and Time for Brands
Besides saving money, companies can save their resources and valuable time by using user-generated content. While they can attempt to create viral content, there's no guarantee of how the content would be perceived.
On the other side, when a random user creates the content, all a brand has to do is use this content with consent, describe it with linking words, and offer credit. There's nothing to lose here. Thus, there's a vast experimental scope for companies. They can see what works for them with minimal effort and time investment.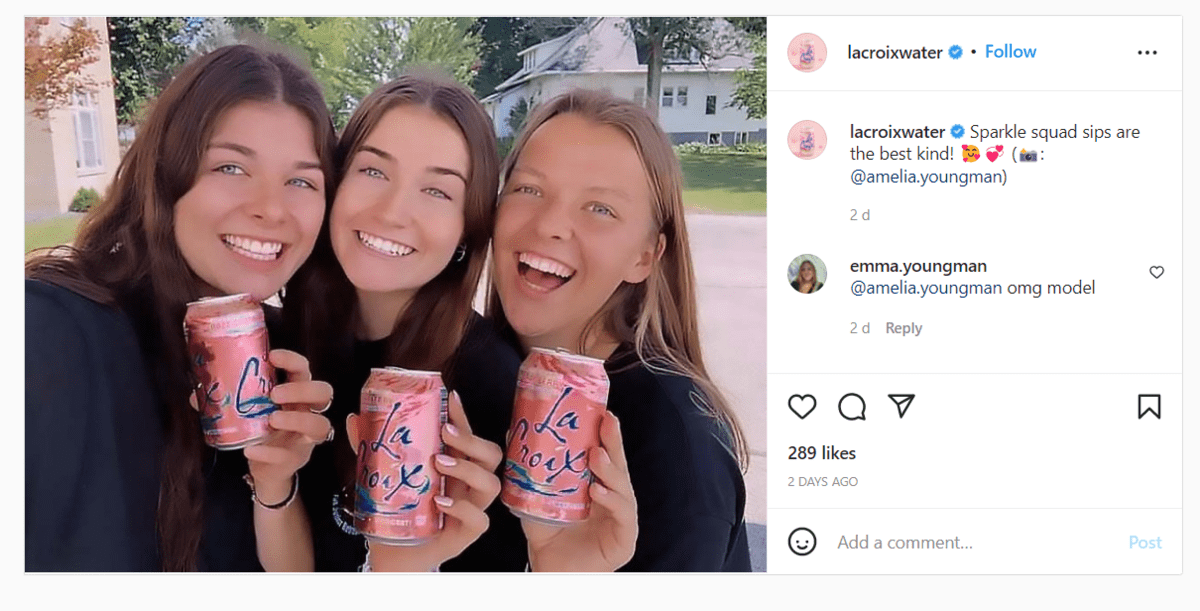 Here, the brand Lacroix Water shared the photo effortlessly by mentioning the photograph's owner and adding an attractive caption to support the product.
Implementing AI algorithms can help marketers better leverage user-generated content by identifying and collecting it from across the web through keywords, topics or analyzing content performance. Powering your marketing with AI makes it easier and more efficient to work with content.
4. Inspires Unique Content
User-generated content is one of the best ways for brands to showcase their products from a fresh perspective. When users share images of a product or place they like, they bring a creative angle to the content, which may be different from what a marketing team may focus on.
Such content often provides the audience with something unique to engage with when they encounter the post.

Through this picture, Mahua Bagh Resort Kumbhalgarh shares a glimpse of the natural beauty of the backdrop as captured in the user's photo. The serene vibe of the place is well-expressed in this user image.
5. Boosts Social Commerce
Social media content can help in generating leads through hashtags and the use of proper keywords. The user-generated content can be magnified using optimization techniques. For example, Facebook can be an effective platform for keyword-based campaigns.

Consider this image. The hotel shares this user-generated content and tags other businesses in it. It efficiently uses the content for B2B marketing purposes and boosts social commerce.
6. Exhibits Brand Authenticity
Understanding the needs of people helps product and service-based companies formulate their marketing strategies and connect with people. Thus, data becomes a crucial factor here. Businesses can use this data to authenticate their standings in the market. This data can be in reviews or visitors' experiences, which are user-generated content.
Interestingly, 97% of Gen Z use social media as an authentic source before buying a product. Thus, UGC becomes crucial in offering valuable information. Before deciding, potential users can read what other users have to say about the product or brand. Hence, UGC helps create brand authenticity.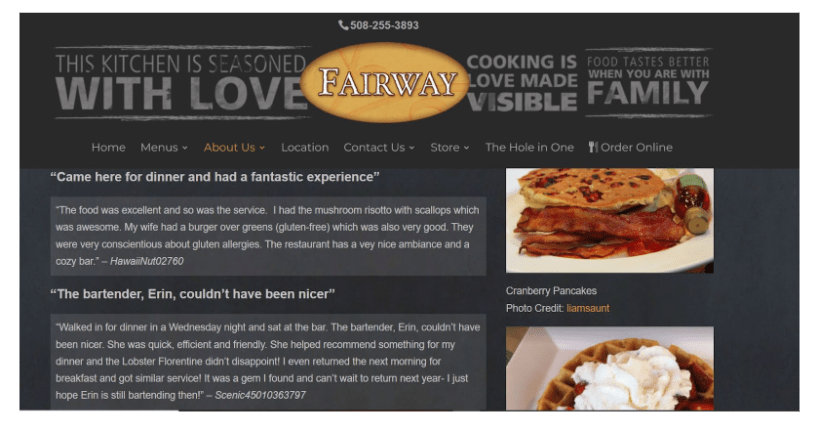 For example, several diners have left their comments on this restaurant's website. If the ratings and comments are positive, it will help the eatery to thrive.
7. Massive Impact Through Visuals
When presented with user-generated content using visuals, a product has a massive impact on people's psychology because what we see reverberates in our minds longer than we read.
So, when a brand uses UGC to sell its product, the effect is significant to users because it etches a part of the brain. What we see for a prolonged time stays with us.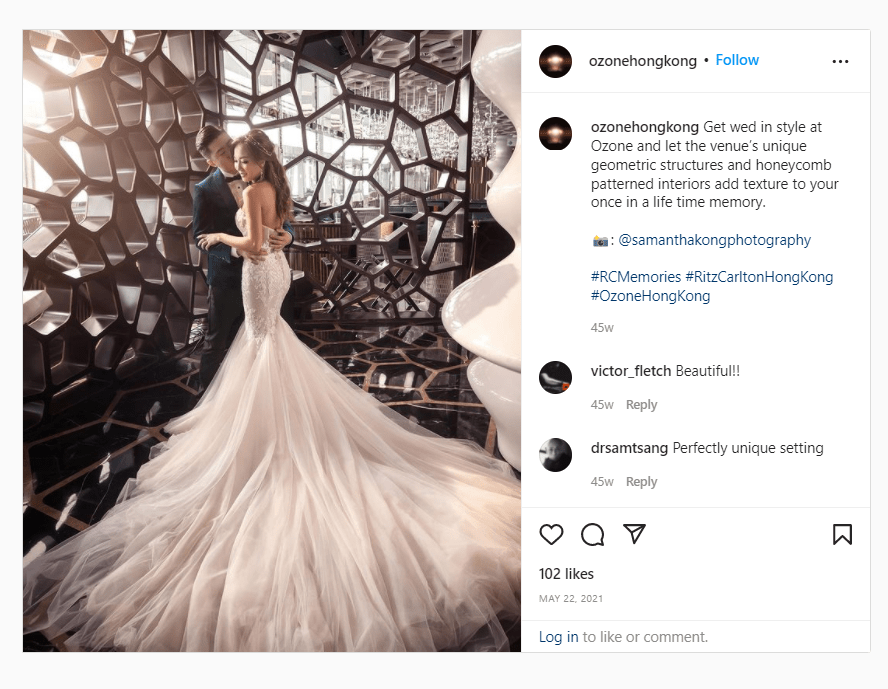 In the picture above, the hotel is enticing visitors to celebrate their memorable occasions in their lavish interiors. Interestingly, the hotel uses an image shared by a user to heighten the impact of the post.
8. Drive More Traffic Conversions
The most significant advantage of user-generated content marketing is driving traffic toward the product. Consumers who engage in reviews and ratings have a conversion rate of 120.3% compared to those who don't. The figure stands at 157.4% for Q&A.
While considering a product online, about 95% of users read reviews before making a final call. The data was substantiated through desktop and mobile. This shows how user-generated content can push conversions and traffic.
Studies indicate that about 92% of consumers trust recommendations from other users rather than branded content.
UGC is the most dependable way to build trust with customers that can help with ranking and conversion.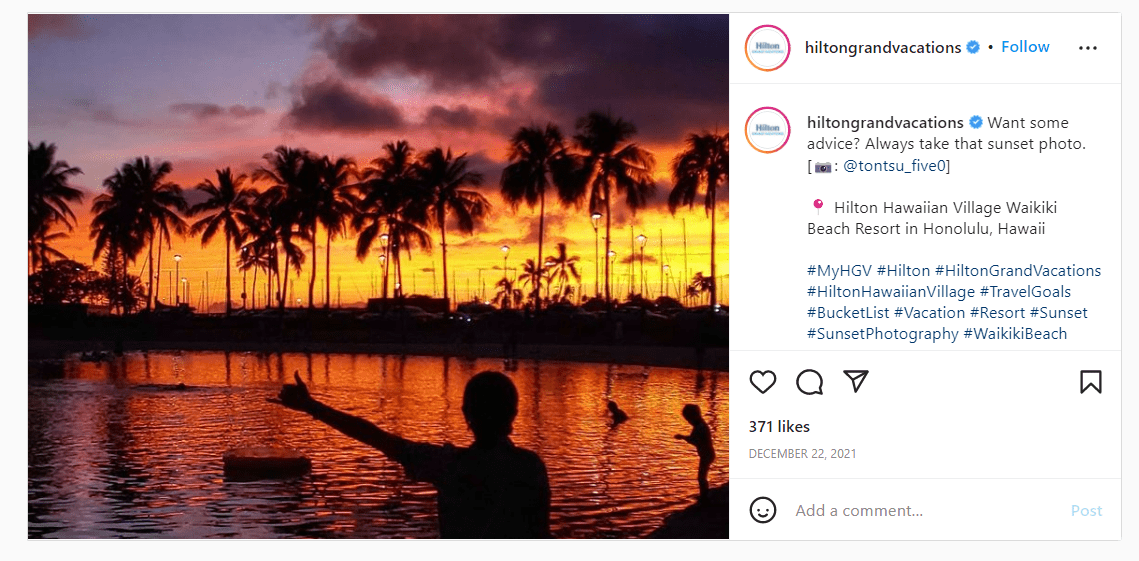 Hilton Grand Vacations present an example of this strategy. Their #MyHGV feed showcases the most attractive images that inspire visitors to opt for them while booking their next holiday. In other words, they use their UGC to enhance their traffic and conversion.
9. Free Trusted Resource
The trust in user-generated content is gaining momentum. It can be understood that until 2021, 34% of internet users in the US shared posts by people on social networking sites.
It signifies that people pay attention to texts or content shared by their peers or even strangers. Moreover, Google accounts for 70.42% of total search traffic globally. So, as per the huge user base, if a brand intertwines its services or products with the user-generated content's trust, it can benefit greatly.
An example in point is the Visit Duluth website. It takes real-time videos and photos posted by general people on social media and places them on their website. This enables them to build trust among the locals and potential visitors.
Their visitors can get a precise image of what's happening at the destination.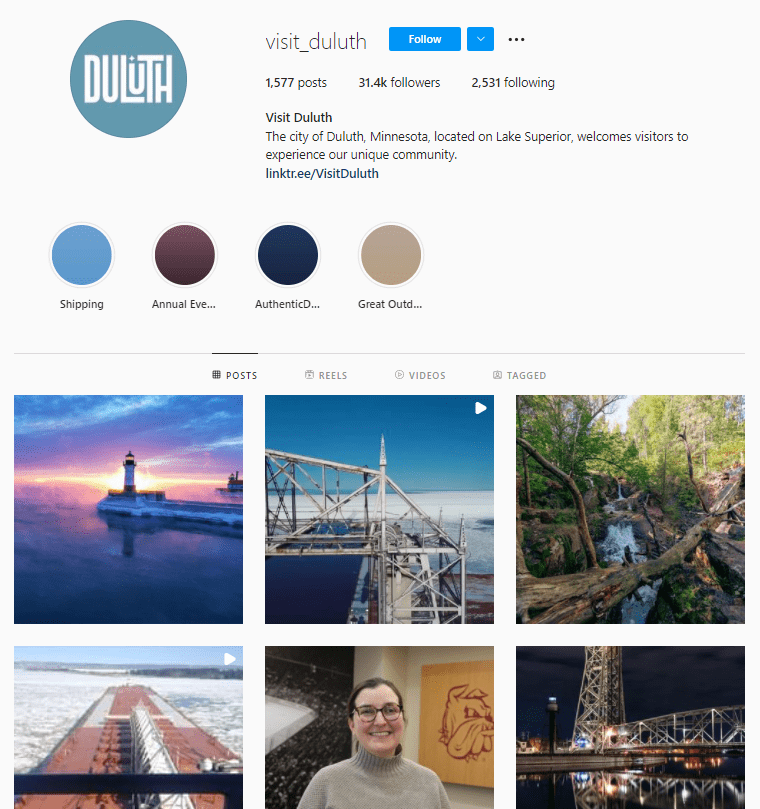 10. Conveing Brand's Values
User-generated content can be a great tool to convey your brand values. For example, Clean Origin uses UGC effectivly to show it's main values of sustainability, ecology, quality, and affordability. They encourage customers to share their experiences and showcase their lab-grown diamond jewelry through social media. By featuring these real-life examples, Clean Origin demonstrates its commitment to quality and affordability.
Customers often share their positive experiences regarding the ecological and ethical aspects of lab-grown diamonds. They highlight the brand's sustainability initiatives, which align with environmentally-conscious consumers. Clean Origin leverages UGC as social proof, reinforcing its values and building trust among its audience.
Incorporating UGC into their branding allows brands to connect with its customers on a personal level while showcasing the values that set the brand apart. It's an authentic and powerful way to communicate their commitment to sustainability, quality, and affordability.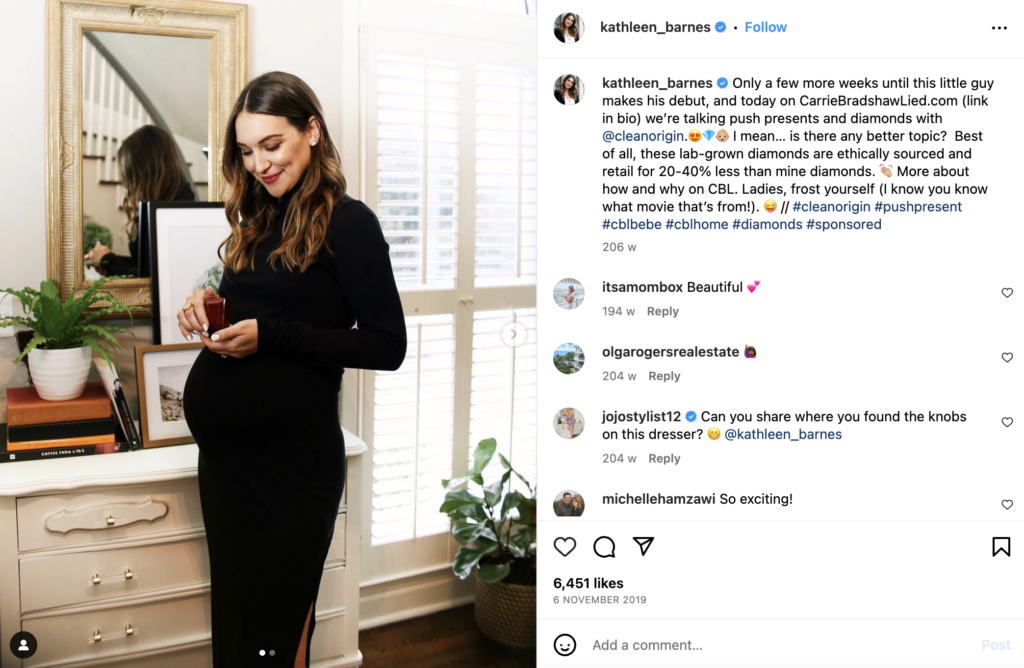 How is User Generated Content Effective Than Traditional Marketing?
UGC and traditional marketing have a stark difference. The content in UGC is personalized, and brands publicly credit it to the user while using it. Here, non-professionals promote the brand voluntarily without any money being paid and under no one's influence.
On the other hand, the content generated in traditional marketing is expensive and attributed to a brand. Content creation is not credited because companies developed it to highlight and publicize their products.
The user-generated content is coupled with the trust factor. It has the upper hand over traditional marketing because it directly comes from the masses. Thus, people connect easily psychologically as the trust is higher. There is no way to measure the impact of traditional marketing ads and campaigning. But social media sites like Twitter, Facebook, Instagram, and others offer a dashboard where you can check impressions, link clicks, visits, and other data in detail.
So, you can see the results or the impact of creator marketing immediately. If people admire some post on social media, they share it. But it is highly unlikely as conventional marketing does not have the scope of viewers making direct comments to them. Some of the disadvantages attached to traditional marketing are:
There is a lack of trust because of no set testimonials.
Traditional marketing is costly. In 2021, the US's money spent on tv ads was about 67.5 billion dollars.
However, unlike traditional marketing, UGC is freely available to brands for including in their marketing strategies, including social media content production and publishing. They can use any user's content with consent and in exchange for no money.
Important Tips
Using the following ideas can draw massive followers and traction for your company, which can be crucial for highlighting the product.
Encourage People to Participate in Contests.
You can attract people and indulge them in creating user-generated content by running some interesting contests. Love My Smile has initiated one such campaign in one of the illustrations above.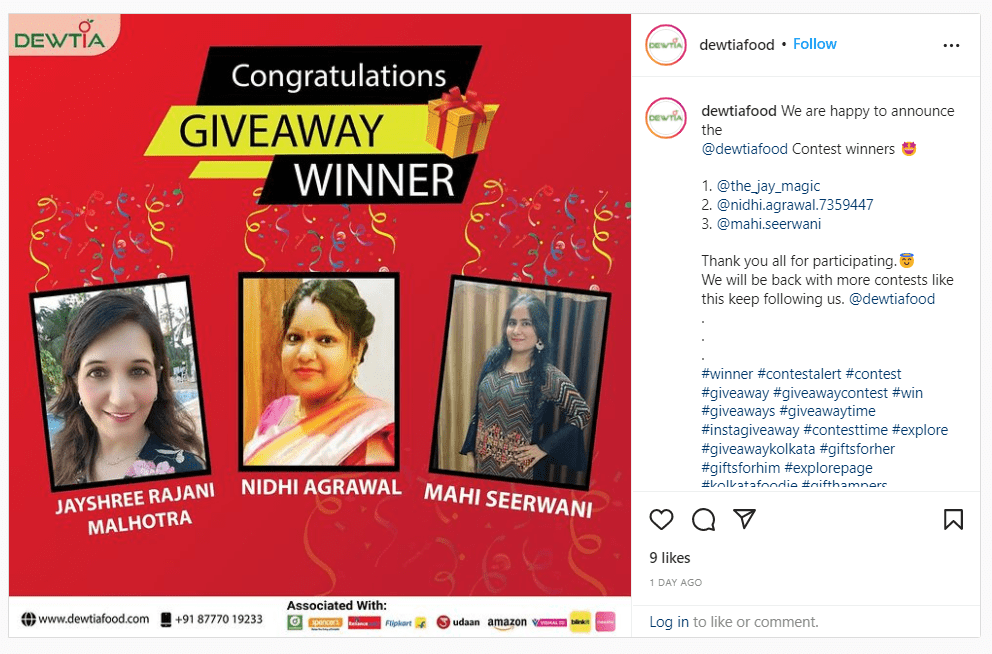 Likewise, the Dewtia food brand ran a campaign that requested people's participation and posted the users' pics as UGC for drawing additional attention.
Ask for Consent Before Using UGC.
It's pivotal that brands or B2B and B2C companies seek consent from users before using their content for their promotional strategy. It's advisable to offer credit to the creator.
For example, one of the world's leading brands, Apple, mentions the name and the Instagram handle of the photographer who took the photo using an iPhone.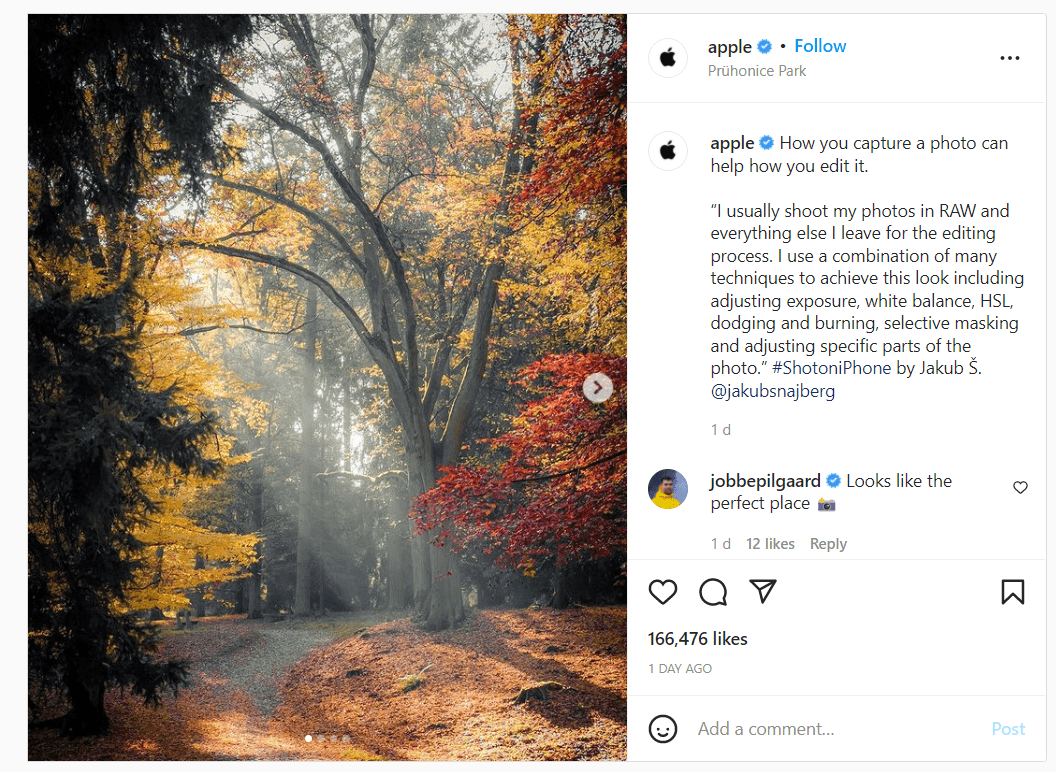 Conclusion
User-generated content is from the people and favors their fellow companions to choose from many options. Today, brands seek advantages from content created by the masses by putting them in the mainstream.
Several contests, campaigns, and offers are run during festive seasons and otherwise to ensure people feel connected with the brand and try them. Hence, UGC is the testimony from the horse's mouth where companies capitalize on the verified comments by content creators to generate leads.