With so much competition in every possible industry, it's only natural for business owners to want the best tools to make their operations run smoothly.
For example, email marketing solutions, sales automation tools, and CRM programs are important for eCommerce businesses. Especially if they aim to grow an email list and guide clients through their customer journey.
If you're a business owner looking for a quality provider of these solutions, ActiveCampaign and Klaviyo are both excellent choices.
Each system allows users to develop a unique email campaign via an email builder and email automation capabilities to promote popular products and high deliverability rates.
They also offer access to spam checks, dynamic automation, direct integrations, and other advanced features.
To help you select the best platform for your business, we'll explore key features, abilities, and pricing options of both marketing automation platforms below.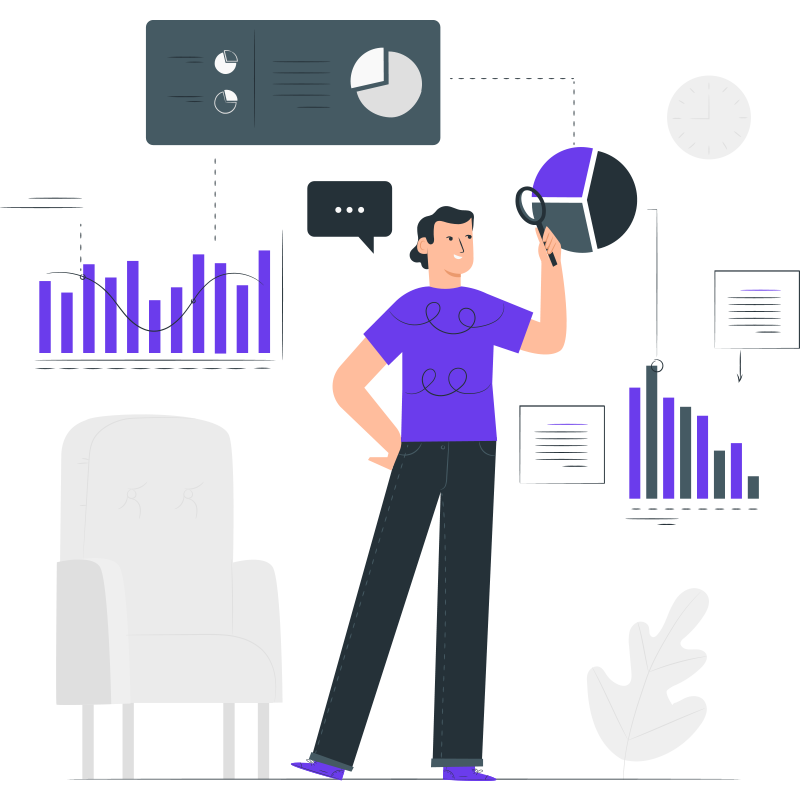 Get long-term ROI.
We help you grow through expertise, strategy, and the best content on the web.
TABLE OF CONTENTS
Exploring the need for an email marketing platform
Email marketing is a critical tool that offers a wide range of benefits for businesses, including:
Increased mobile access to audiences
Quick connection with prospective buyers
Increased sales drive
If you want your business to find success amid the ever-growing sea of competition, you need to leverage a top-quality email marketing platform to help get your sales efforts off the ground.
Below, we'll explore everything you should know about ActiveCampaign and Klaviyo's email marketing capabilities, along with their other key features and price points.
We'll also delve into how to determine which platform is right for your unique needs in 2023.
Unpacking ActiveCampaign
ActiveCampaign is a top-quality provider of everything from email marketing to predictive content creation and beyond.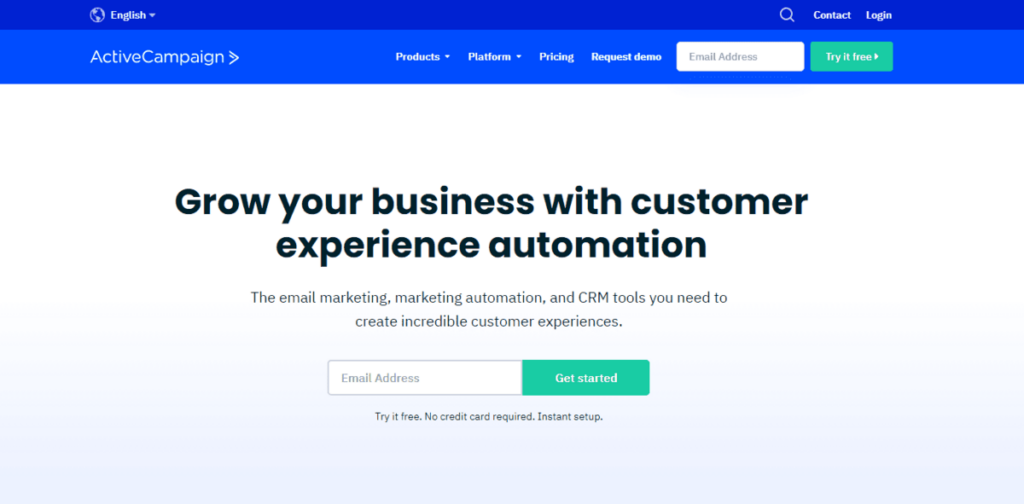 ActiveCampaign offers a wide range of solutions designed to support businesses through every stage of the customer journey, leading to increased conversions and sales.
In short, ActiveCampaign is an ideal platform for businesses requiring quality services that go far beyond email marketing.
To learn more about ActiveCampaign's fantastic features and how it supports eCommerce businesses, be sure to explore our detailed ActiveCampaign review of the platform's major pros and cons.
Platform key features
Whether your business needs help managing a quality email marketing campaign, creating custom landing pages, or setting up dynamic, multi-step automation for flexible workflows, ActiveCampaign has you covered.
The system also offers some of the highest quality support in the market, with free onboarding, training opportunities for their unique system, and consistent chat and email platform support.
With all of these key features, your business shouldn't need to invest in another platform.
Email marketing
ActiveCampaign provides businesses with access to several amazing tools to boost the success of email marketing campaigns. Including specially designed email templates and a drag-and-drop email designer.
They also offer access to split A/B testing features so businesses can access clear, objective data to determine which email marketing tactics work to convert leads.
A dedicated email deliverability team is also available to help plan holders keep track of and better manage their marketing efforts.
Sales and marketing automation
ActiveCampaign offers a wide selection of sales and marketing automation capabilities for businesses to leverage. Ranging from segmentation and automation split testing to lead scoring and win probability.
They also offer a unique automation builder and marketplace for businesses that want to take automation to the next level.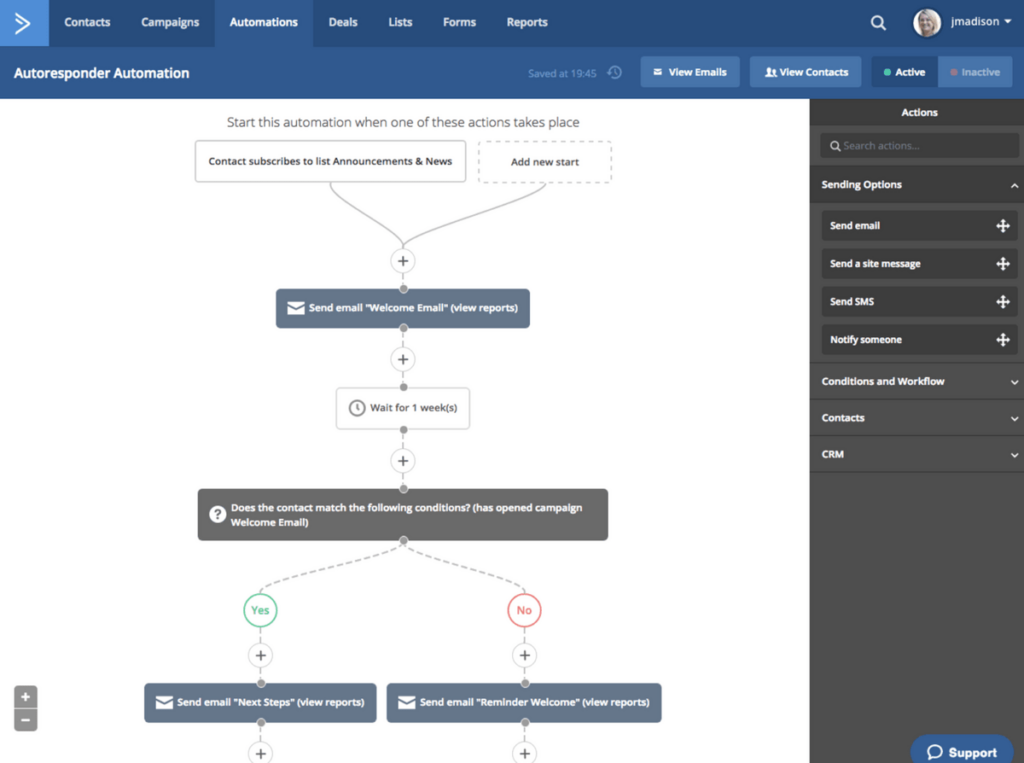 Take advantage of their mobile CRM and SMS capabilities to grow your contact list, connect with contacts, and promote future sales.
Integrations
ActiveCampaign features a whopping 850+ integrations pre-built into their system. These allow their users to integrate seamlessly with major platforms like Shopify, BigCommerce, and Magneto Commerce.
Their platform promotes easy connection and engagement so that you can integrate the system into your other platforms quickly and easily.
Pricing
ActiveCampaign provides a wide range of great plans in several categories, and with fantastic pricing options.
Some categories include email marketing automation, CRM and sales engagement, and transactional emails with API and SMTP for business websites and mobile apps.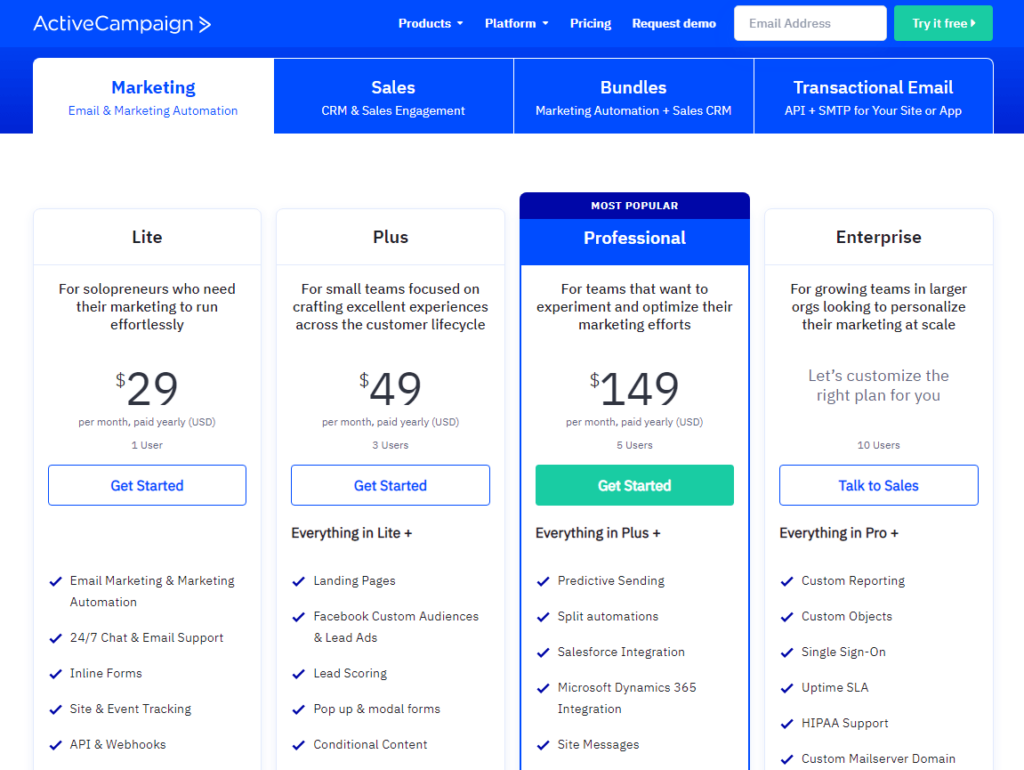 ActiveCampaign's email marketing plans include Lite ($29/mo), Plus ($49/mo), Premium ($149/mo), and Enterprise (custom monthly pricing).
Meanwhile, their CRM and sales engagement plans include Plus ($19/mo), Professional ($49/mo), and Enterprise (custom monthly pricing).
Many of their plans feature the same names, even though they're under different categories. So be sure you select the right plans and categories when building your ideal ActiveCampaign account.
Learn how to take your business to the next level with Codeless SEO content.
Unpacking Klaviyo
Klaviyo is a top-rated eCommerce marketing automation platform dedicated to supporting the efforts of eCommerce businesses by boosting sales and conversions while making email marketing efforts a breeze.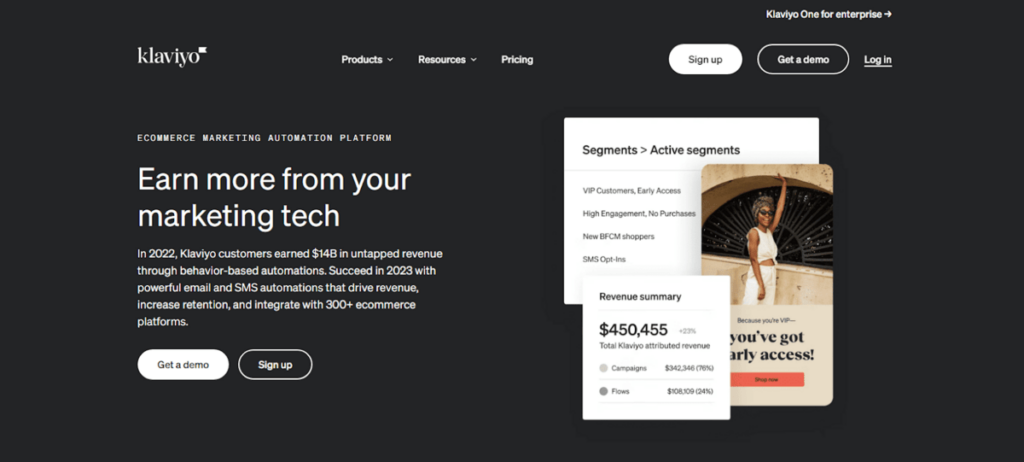 In 2022 alone, Klaviyo users earned upwards of $14 billion in untapped revenue. They also saw an astounding 73% list growth after only six months of leveraging Klaviyo's email forms with customers.
Through Klaviyo, your business can take email marketing to a new level with VIP-exclusive product announcements, newsletters, store opening invites, promotional discount emails, and much more.
Platform key features
The key features included in Klaviyo's customer data platform make it a fantastic solution for online businesses.
The crown jewel of its system is undoubtedly their email marketing capabilities. But you can also access, manage, and leverage everything from customer profiles and transactions to browsing history and beyond. They also offer support tickets and future website event tracking in real-time for optimal segmenting.
Email marketing
Klaviyo provides sophisticated email personalization and email templates to make your email marketing campaigns as easy as possible.
Their email services allow you to customize highly personalized messages to build better relationships with prospective customers and drive sales. They also make email campaigns easy, thanks to their drag-and-drop editor and pre-designed templates.
Klaviyo's services also feature top-quality SMS marketing, so your business can go beyond email to promote products and connect with customers via text.
Marketing automation
While Klaviyo doesn't offer much in the way of strict sales automation like ActiveCampaign, they do offer a range of high-quality marketing automation features.
Some of their most popular automation capabilities include contact scoring and tagging, automation split testing, and customized stacks with scaling capabilities. These automations make it possible to run and manage business marketing operations with ease.
Integrations
Klaviyo's software features 300+ unique tech integrations pre-built into the system. All of which become automatically available to plan holders.
These integrations allow for seamless connectivity with your preferred platforms, including Shopify and Shopify Plus, Wix, Woo Commerce, and BigCommerce. Meaning you don't need to worry about changing your payment provider.
Pricing
Klaviyo offers three monthly plans for businesses, which vary in price depending on how many contacts your business has.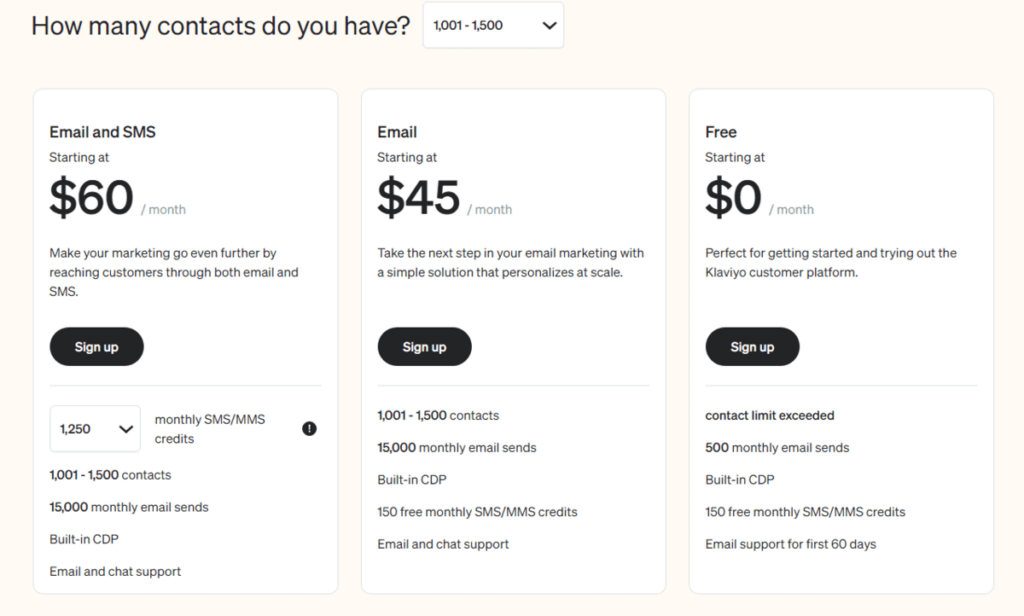 For example, their premium plan, called "Email and SMS," costs only $60 per month if your business has 1,001-1,500 contacts, and the price jumps every time you add another 500 contacts to the plan.
The most contacts you can have in your plan for a fixed price is 150,000, which costs $1,970 per month for their Email and SMS plan. If you have more contacts than that, you'll need to reach out to Klaviyo for a custom quote.
If you aren't sure you want to commit to Klaviyo's system right away, consider trying out their free plan first to start sending 500 emails per month.
Which email marketing solution is right for your business?
ActiveCampaign and Klaviyo are both excellent email service providers for online stores and other businesses. However, each offers its own unique benefits and features that make them more useful in different situations.
In general, we'd recommend ActiveCampaign for any online business that goes beyond smaller eCommerce operations and the sale of physical products to individual consumers.
It offers a single platform for email marketing, CRM solutions, and other marketing automation, making it great for businesses supporting both retail and wholesale clients.
In that same vein, we recommend Klaviyo for eCommerce stores focusing on smaller retail operations and product sales to individual clients online.
The system is advanced enough to meet the needs of most small businesses, and it's easy to use. However, it doesn't offer the same CRM and automation options that larger businesses may want alongside email marketing capabilities.
In the end, the best system for your business will depend on your individual needs and goals. So don't be afraid to explore both options to see what works.
Get ready to take your business operations to the next level
A top-quality email marketing system plays a major role in several areas of business success, especially for small online businesses trying to get ahead of their ever-growing list of digital competitors.
Depending on what your unique business needs are, ActiveCampaign and Klaviyo can help you tackle all of your email marketing goals with ease going forward.
So, consider signing up with one today to check out their wide array of great features.
And if you want access to more information about how other systems can help bolster your business efforts this year, check out the other helpful guides available at Codeless.