Does your business need a comprehensive email marketing tool with CRM and automation capabilities? It isn't easy to find an all-in-one marketing and sales automation platform.
With numerous options available, small businesses and enterprises might have trouble finding the right platform that consolidates all the tools they need for a relatively affordable price. If you're one of them, then ActiveCampaign could be worth your attention.
In this article, we'll provide an ActiveCampaign review and tell you about its pricing plan. On top of that, we'll answer the burning question — Is ActiveCampaign pricing worth it?
Disclosure: These reviews are reader-supported. We might earn a small commission if you purchase something through our site. Learn more
Our Verdict
ActiveCampaign is a great solution if you're looking for an omnichannel marketing and sales automation tool that won't break the bank. The platform offers four different packages for small and medium-sized businesses as well as enterprises, so you won't have to overpay for features you don't use.
TABLE OF CONTENTS
Publish Google Docs to your blog in 1-click
✅ Export in seconds (not hours) 
✅ Less VAs, interns, employees
✅ Save 6-100+ hours/week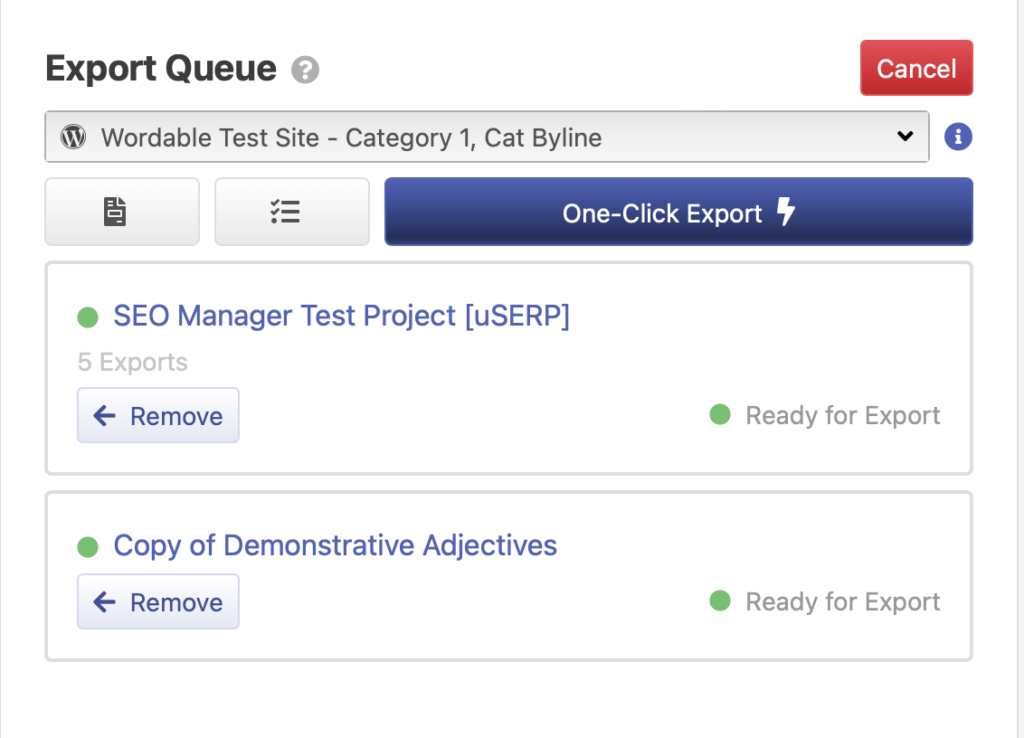 What is ActiveCampaign, and how does it benefit your business?
ActiveCampaign is a sales and marketing automation tool with a focus on email marketing. It helps businesses of all sizes track their deals and communicate with customers at scale.
Sales-wise, ActiveCampaign offers many features to help you manage and nurture your prospects and existing customers. You can rely on ActiveCampaign CRM to unify and enrich your customer data and distribute tasks within your team.
Are there any contacts you'd like to put at the top of this list?
Perhaps they're likely to become your clients soon. If that's the case, ActiveCampaign has you covered. Its lead-scoring capabilities enable users to organize contacts according to priority.
You can also get an insight into customers' interests to help you understand their context. That way, you can customize your message appropriately and serve them better.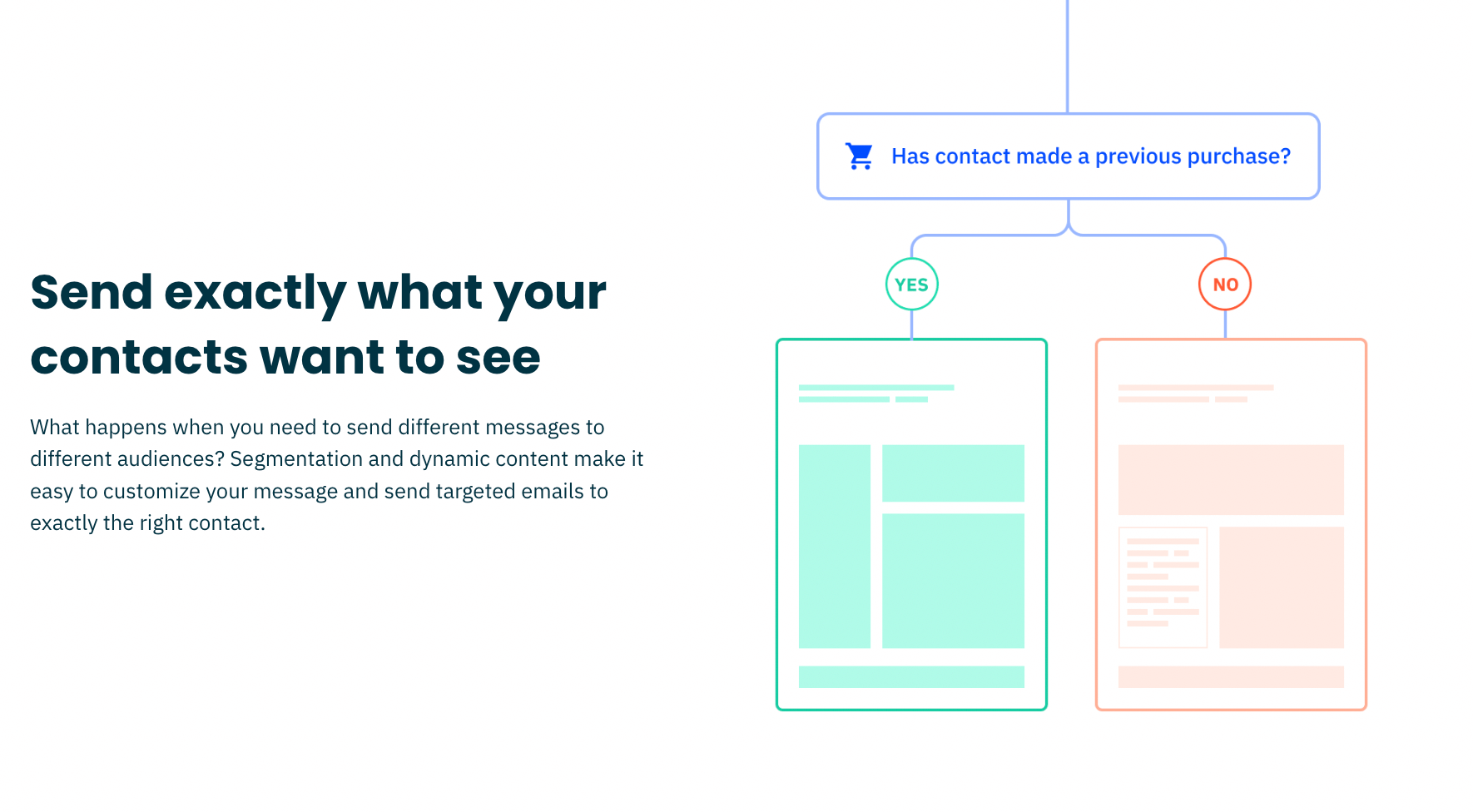 As marketing automation software, ActiveCampaign allows you to streamline your marketing campaigns and make your email content personalized and meaningful. For example, you can target specific segments and serve tailored messages based on customers' interests.
As far as basic email marketing goes, this tool features fantastic options. If you need to create an elegant email campaign in minutes, ActiveCampaign has a library full of editable templates. Do you want to schedule your campaign or tie it to a specific event? The platform can help you with that, too.
ActiveCampaign also provides you with robust analytics tools, automation recipes, and intelligent predictions on how likely a deal will close. In addition, you can use ActiveCampaign to build attractive landing pages and subscription forms to collect email addresses.
ActiveCampaign is a marketing and sales powerhouse with all these features under its belt.
How much is ActiveCampaign?
The most significant feature that makes this email marketing tool so attractive, especially to small businesses, is its pricing.
ActiveCampaign doesn't have setup fees, and it offers flexible pricing plans starting at $15 a month — the smaller your contact list, the less you'll pay. You can save around 30% by paying annually, regardless of the plan you choose.

Now, let's explore each ActiveCampaign pricing plan in depth.
Lite plan
The cheapest plan that ActiveCampaign offers is the Lite plan. Its monthly cost is $15, but if you choose the annual subscription, it becomes $9 a month or $108 per year for 500 contacts or fewer.
The Lite plan includes different marketing and sales features, such as a drag-and-drop email builder, a template collection, reports, subscription forms, user segmentation, and event tracking. It's suitable for small teams, as only one user can utilize this plan.
One thing to keep in mind with the Lite plan is that it comes with ActiveCampaign branding on all subscription forms.
Plus plan
If your team has up to 3 members, the Plus plan is suitable for you.
Unlike the Lite plan, the Plus plan has a built-in CRM to help your business store and effectively manage customers. This package starts at $70 a month, but if you choose the annual subscription, the ActiveCampaign pricing reduces to $49 a month for 1,000 contacts or fewer.
Other attractive functions of this plan are the landing page builder, lead scoring, SMS marketing, content personalization, and ecommerce integrations. On top of that, with the Plus plan, you can add your own branding to landing pages and subscription forms.
Professional plan
If you find the previous plans limiting (perhaps you run a larger business), consider the Professional plan. It's slightly more expensive, with a price tag of $187 a month, or $149 for 2,500 contacts or fewer if you choose to pay yearly.
The Professional plan has everything the previous two plans have and more. For example, you can add up to 5 users, serve personalized browsing experiences, discover the most converting marketing activities, and split automations.

The Professional plan also gives you access to the predictive content feature.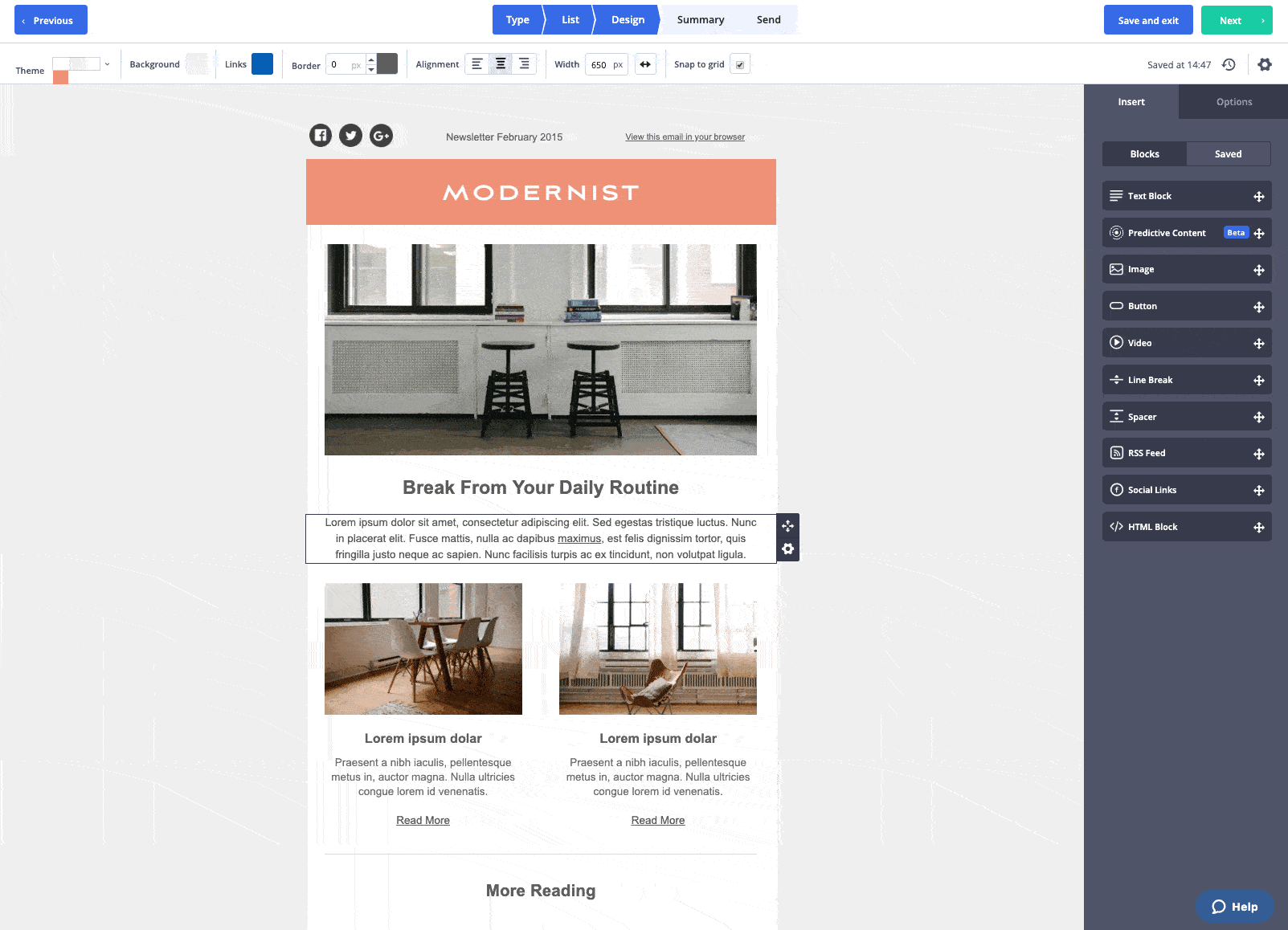 This feature allows you to make your messages more individualized and unique. You prepare up to 5 variants of content, add them to your email template, and let ActiveCampaign do the rest. Predictive content is powered by machine learning and data science.
Enterprise plan
The Enterprise plan has custom pricing based on your company's needs. But for companies that need at least 10 user seats, this package is worth considering. It also comes with unlimited web personalization experiences, custom reports, single sign-on, unlimited inbox previews, custom mail server domains, and more.
Transactional emails
Transactional emails are technical emails you send to your customers in response to their actions on your website or app. They're always personalized and contain little to no promotional content. For example, when your customer places an order, you send them an order confirmation.
If you're only interested in sending transactional emails, you'll enjoy ActiveCampaign's pay-as-you-go pricing model.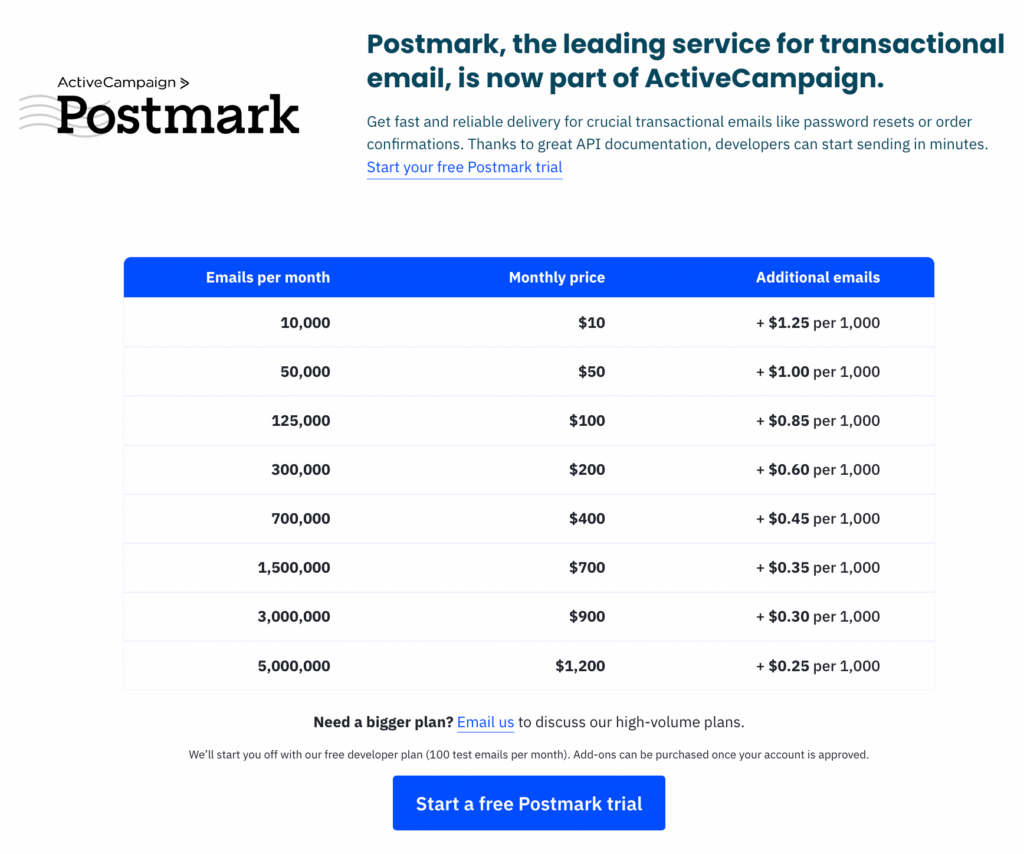 With transactional emails, you'll be paying for individual email bundles, and you'll always be able to purchase add-ons if needed. For $10 a month, you'll get 10,000 emails. An additional 1,000 emails will cost you $1.25. The more emails you buy, the cheaper they'll get.
Is ActiveCampaign cheaper than its alternatives?
To answer this question, we need to look at how much other email automation software providers charge for their services and what exactly they have to offer.
ActiveCampaign has a helpful comparison page where you can find out how it stacks up against the competition. Here's a quick recap:
ActiveCampaign vs. Mailchimp
Mailchimp is a leading email automation platform, so, naturally, it's quite expensive — its premium plan starts at $299 a month. However, Mailchimp's basic plan is almost as affordable as ActiveCampaign's Lite plan.
These two platforms practically go neck and neck when it comes to sales and marketing automation features. Unlike ActiveCampaign, however, Mailchimp offers a limited free plan.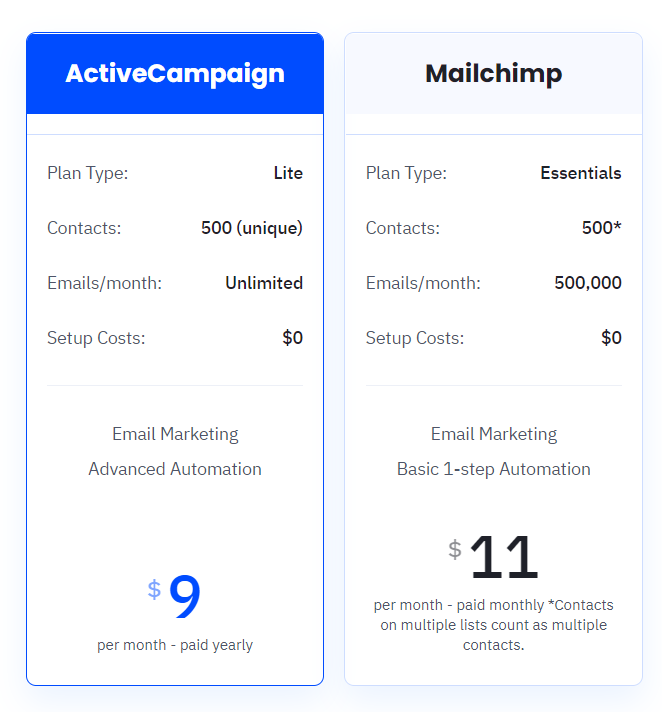 ActiveCampaign vs. Klaviyo
Klaviyo is another one of ActiveCampaign's direct competitors, but it certainly loses to ActiveCampaign when it comes to pricing. Its basic plan costs almost twice as much as the ActiveCampaign's Lite plan, but it offers neither a CRM nor a landing page builder. Also, unlike ActiveCampaign, Klaviyo doesn't allow you to create personalized experiences for your users.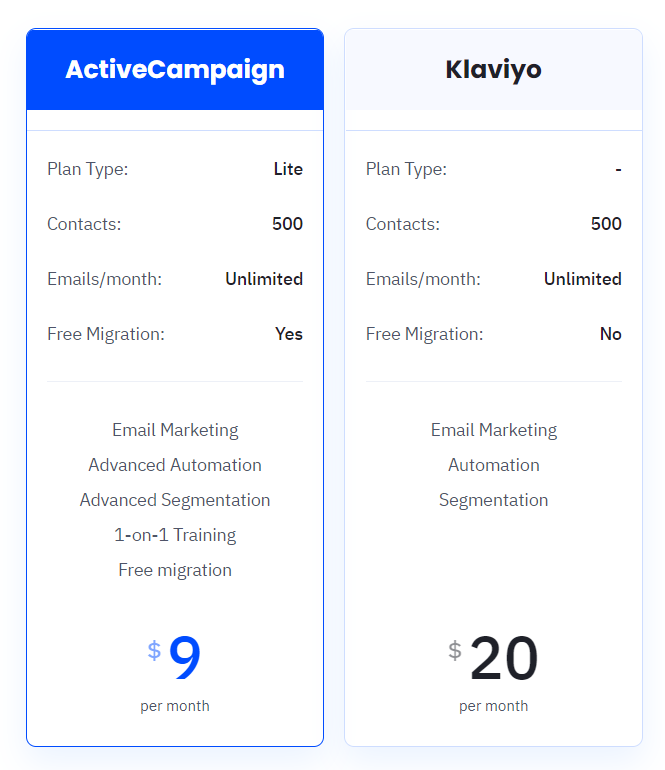 ActiveCampaign vs. Campaign Monitor
Campaign Monitor is a popular ActiveCampaign alternative that offers similar email and SMS automation features. It also lets you create signup forms, build hyper-targeted audience segments, and identify broken links in your emails. It's safe to say that Campaign Monitor and ActiveCampaign are two equally great but slightly different platforms that cost the same amount.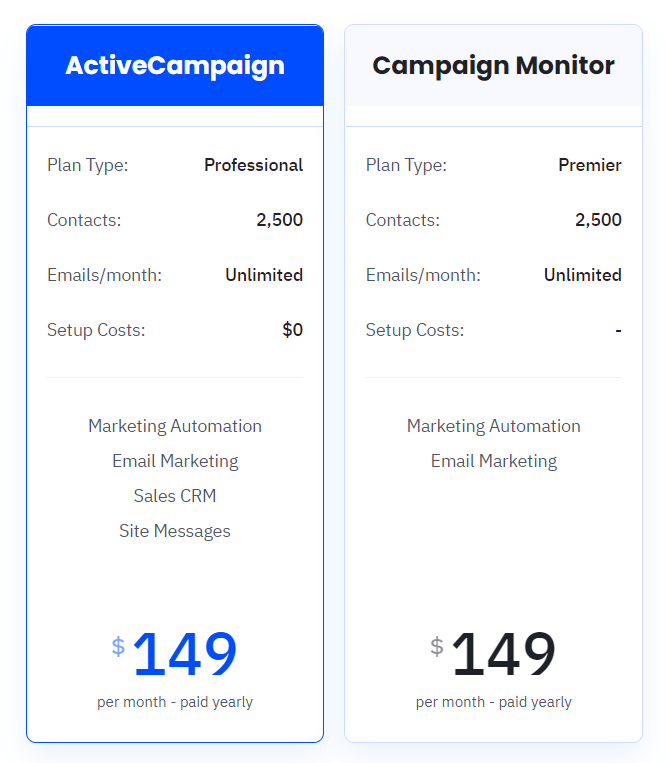 ActiveCampaign vs. RD Station
RD Station is a marketing automation software provider and the largest SaaS company in Latin America, which means you can expect quality technical support in Portuguese, Spanish, and English if you run into problems while using the platform.
That said, RD Station is slightly more expensive than ActiveCampaign, and it doesn't have a CRM. However, RD Station offers SEO and social media tools, so it's also a great fit for content marketers.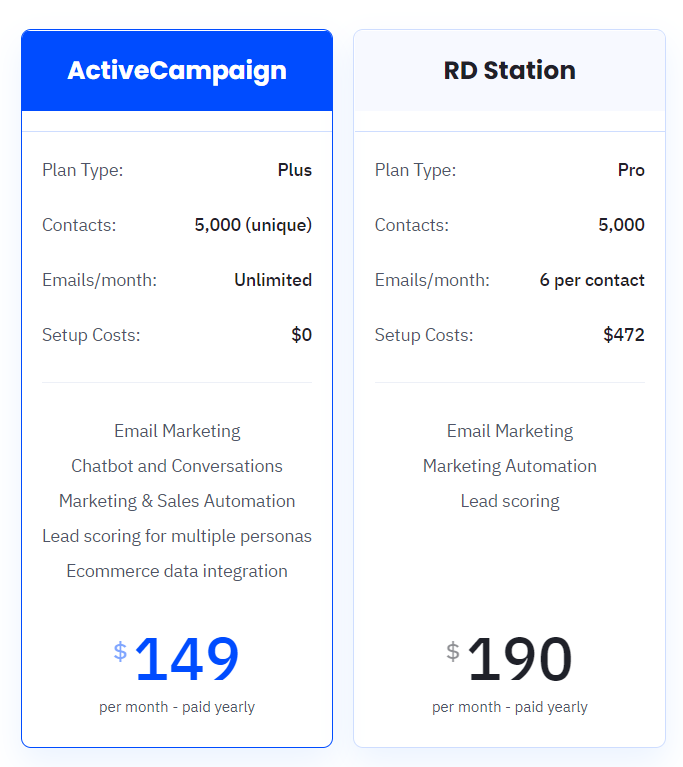 ActiveCampaign FAQs
Does ActiveCampaign have a free plan?
Unfortunately, ActiveCampaign's marketing automation platform doesn't have a free plan. However, it offers a 14-day free trial period so that users can test the software with up to 100 contacts and 100 sent emails. The great thing is that you can contact their support team and ask for a one-time extension of your trial period if you aren't ready to make a buying decision yet. Note that not all requests are granted. The platform doesn't ask you for your credit card details when you sign up for a free trial.
Does ActiveCampaign offer discounts?
ActiveCampaign users get a discount if they choose an annual subscription. For instance, if you have 1,000 contacts, you'll end up paying $29 a month instead of $39 for the Lite plan.
Who needs ActiveCampaign?
Since ActiveCampaign is an automation tool offering various marketing solutions, it's suitable for small businesses, medium-sized companies, and enterprises looking to automate their customer relationships and communications without losing the human touch.
Can ActiveCampaign test trigger campaigns?
Yes, it can. You can choose from more than 20 triggers to determine how your users are added to automation workflows. To test automations, create a test contact and send that contact through your workflow.
Does ActiveCampaign have an affiliate program?
Yes, ActiveCampaign users can earn a recurring commission when referring their followers to the platform. For every new ActiveCampaign user, you get 20% of the subscription price paid. The longer they use the platform, the more you earn — up to 30%. To join the program, you need to get your unique referral link along with the ActiveCampaign marketing assets.
Conclusion
ActiveCampaign is a great solution if you're looking for an omnichannel marketing and sales automation tool that won't break the bank. The platform offers four different packages for small and medium-sized businesses as well as enterprises, so you won't have to overpay for features you don't use.
Compared to its alternatives, ActiveCampaign is a feature-rich but affordable solution. You can't go wrong with this platform — it's scalable and beginner-friendly, and there are tons of resources to help you get started, from ActiveCampaign University and webinars to one-on-one training and a live support team.
Since the platform offers a 14-day free trial period, you can use this to your advantage and see if ActiveCampaign satisfies your brand's needs.