Are you thinking about signing up for MasterClass? If you are, you probably want to know how much it'll cost and what you get for that price, right?
Well, you've come to the right place for answers.
In this review, we'll tell you how much MasterClass costs, what's included in the subscriptions they offer, and whether we think it's worth it.
Disclosure: These reviews are reader-supported. We might earn a small commission if you purchase something through our site. Learn more.
Our Verdict
MasterClass is worth the price.  Not to mention there's a lot of star-studded teachers to choose from. It's the ideal purchase for any learner looking to broaden their skills on a variety of topics.
MasterClass Review
Learn from the Best
PROS
Affordable pricing
User-friendly platform
Features celebrity instructors
Easily refundable
High quality content
Bonus materials
CONS
No free trials
No reviews within the platform
Heavily geared towards creatives
Click the links below to head straight to the section which interests you most:
How much does MasterClass cost?
The cost of MasterClass varies depending on the pricing plan you choose. There are three options to choose from: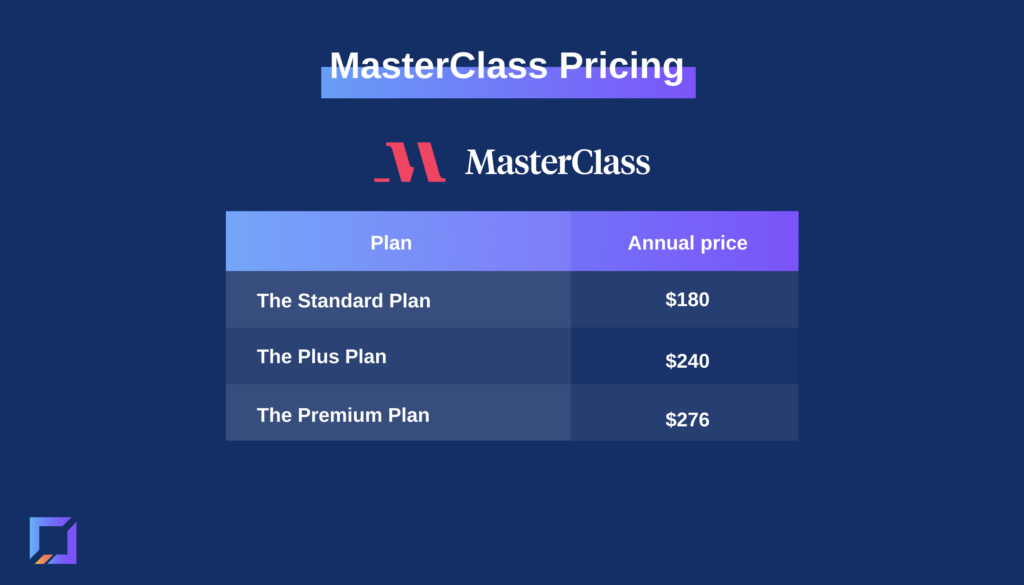 All of these annual membership plans give you access to the entire MasterClass library of over 100 classes across 11 categories.
You also get access to bonus content such as workbooks and the MasterClass Hub. If you're not familiar with the Hub, it's an online forum where users can discuss and share information about specific MasterClasses.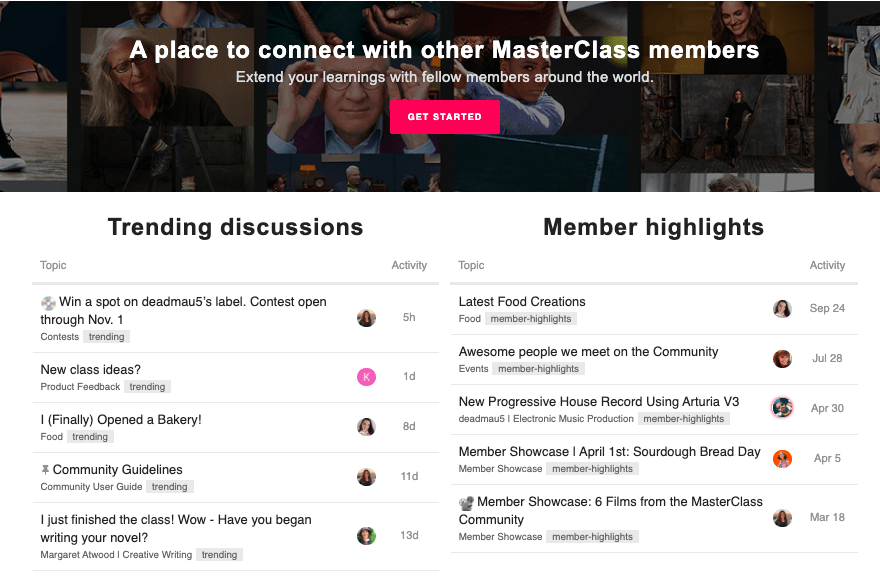 Although there are similarities between the three subscriptions, there are a few differences between them, too.
The Standard Plan allows you to watch courses on one device at a time. But with the Plus and Premium Plans, you can watch courses on multiple devices — the Plus plan allows two devices, while the Premium plan allows up to six.
You can also download courses for offline viewing with the Plus and Premium Plans, but you can't with a Standard account.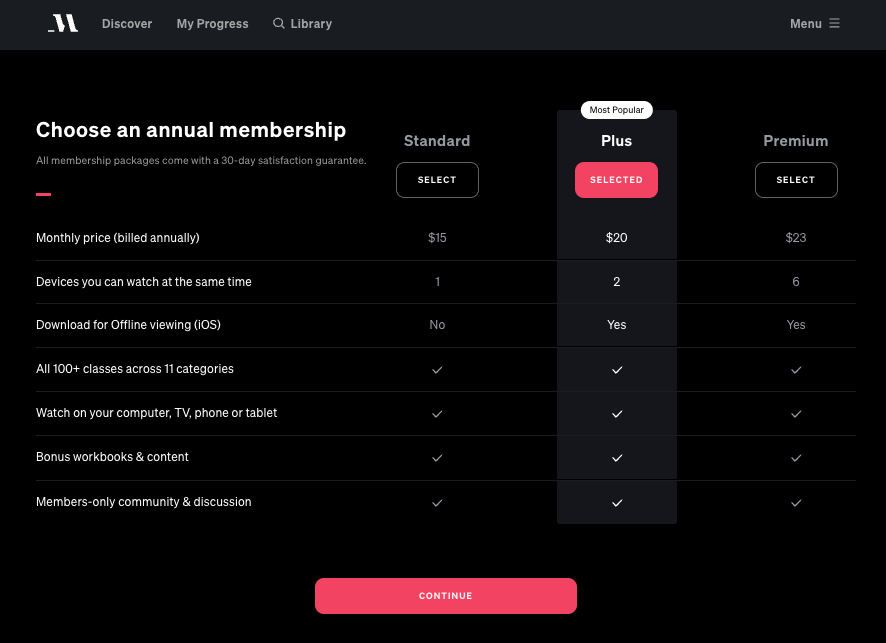 So which pricing plan should you choose?
It depends on a couple of things:
Do you need offline access? Let's say you want to watch your MasterClass during your daily commute on the train. To save draining your data or using the train's spotty wifi, you might want to download the courses offline. As a result, you'll have instant access with no interruptions — it'll save the battery on your device, too. To download courses offline, you need a Plus or Premium account.
How many people will be using your account? If it's just you, a Standard Plan may cover everything you need. If you're sharing with a friend or family member, consider the Plus Plan. And if you want to share with three or more people, opt for the Premium account.
It's worth noting that there isn't an option to create multiple users in one account. So if you're sharing access with your entire family, you'll all be using one account to do everything. This includes adding notes to courses and sharing information on the Hub.
It also means that if two people want to take the same course at the same time, only one person's progress saves to the dashboard. This can make it pretty hard to keep track of progress and continue where you left off.
How much does MasterClass cost for businesses?
Unfortunately, we can't answer this question. Pricing for business users is on a case-by-case basis, so you'd have to contact MasterClass directly to get a firm price.
Having said that, MasterClass has confirmed that it discounts business membership rates between 5–35% for purchases that include 5–1,000 seats.

So what options are available for business users?
There are two business options available:
License: Your company or team gets access to MasterClass for 12 months. You'll also get access to a central admin panel, which allows you to control seat assignment (meaning you can add or remove users at any time).
Gifts: MasterClass gives you a CSV file with a selection of unique codes. Each code gives the user a one-year MasterClass membership. When redeemed, the student creates a personal account, meaning there's no need for a central admin panel.
Both of these options give access to the entire MasterClass catalog.
Frequently-asked questions about MasterClass pricing
Let's take a look at some of the most commonly-asked questions about MasterClass pricing.
What are the MasterClass subscription options?
There are three MasterClass subscription options: Standard, Plus, and Premium. Here's a breakdown of how much they cost and what's included in each: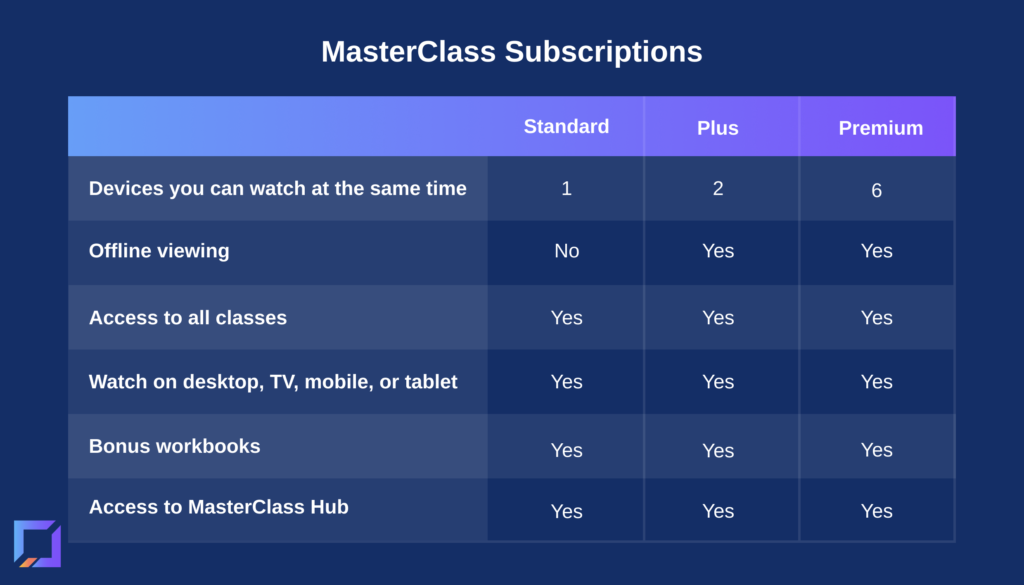 Business users have two account options to choose from: License or Gift. To get an exact price, you'll need to contact the MasterClass sales team.
How long does a MasterClass subscription last?
Unfortunately, you don't get lifetime access with MasterClass. Each subscription lasts for one year.
But, unless you cancel your subscription (you can do this in Account > Edit), your account will automatically renew.
The user in the above image will automatically be charged on September 17 every year unless they cancel their membership.
Does MasterClass offer a discount?
Technically, no. MasterClass doesn't offer discounts on their Standard, Plus, or Premium accounts.
However, you can get a discounted rate with a business account.
All you need is a minimum of five interested parties, and you can contact MasterClass to create a business account. Choose the gift option, and you've each got your own account at a discounted rate between 5–35%.
What form of payment does MasterClass accept?
MasterClass accepts payment online with a valid credit or debit card, including American Express, Visa, MasterCard, and Discover.
Does MasterClass have a cancellation policy?
Yes — if you cancel within the first 30 days of starting your subscription, you can get a full refund. After that date, you won't get any money back.
So if you're thinking about canceling your subscription after the first month, you might as well wait until your year is up.
You can also cancel a gift membership if it hasn't been used by the recipient. You'll need to contact the MasterClass support team to arrange this.
Can you pay for an individual class?
Unfortunately, no. There's no option to only subscribe for a single class. But this isn't necessarily a bad thing.
Why? Because by signing up for a membership, you get access to the whole collection of MasterClass courses. That's right — all of them. We're sure you'll find more than one course in their catalog that piques your interest.
Does MasterClass offer both yearly and monthly membership plans?
In the US, no. You can only pay for an annual membership.
The website makes it a little confusing by listing the prices as a monthly cost. To clarify, this is the monthly price when billed as an annual subscription.
What do you get from a MasterClass subscription?
Now that we've looked at the pricing, let's look in more detail at what MasterClass actually is and what you get for your money.
Simply put, MasterClass is an online learning platform. It's known for its high-quality courses taught by celebrity instructors from around the world.
MasterClass currently has over 100 classes across 11 categories, so it's safe to say it has a wide variety of topics to choose from.
All of the online courses feature pre-recorded video lessons. The video quality is extremely high, and they're pretty cinematic in the way they've filmed and edited.
The courses tend to be between three and six hours in length. But because they're broken down into shorter videos, it's easy to jump back in where you left off if you take a break.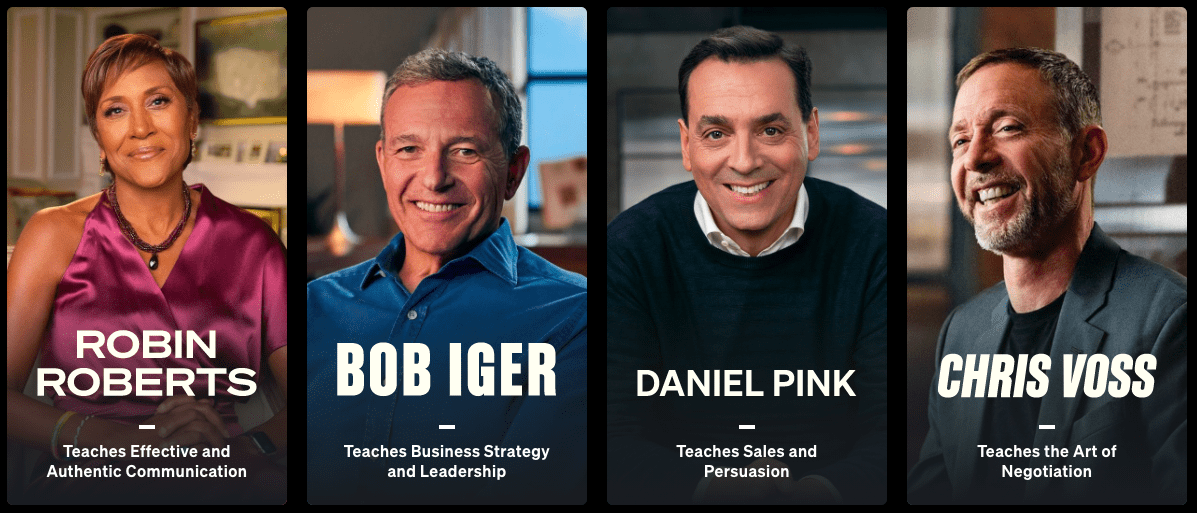 Each course also includes a downloadable workbook and access to the MasterClass Hub, where participants can connect, share information, and ask questions.
What happens when you take a MasterClass course?
First, you choose which course you want to take. You can browse the full list in the MasterClass library.
Once you choose the course you want to take, you'll head to the main course page. Here, you click 'Start Class' to get things moving.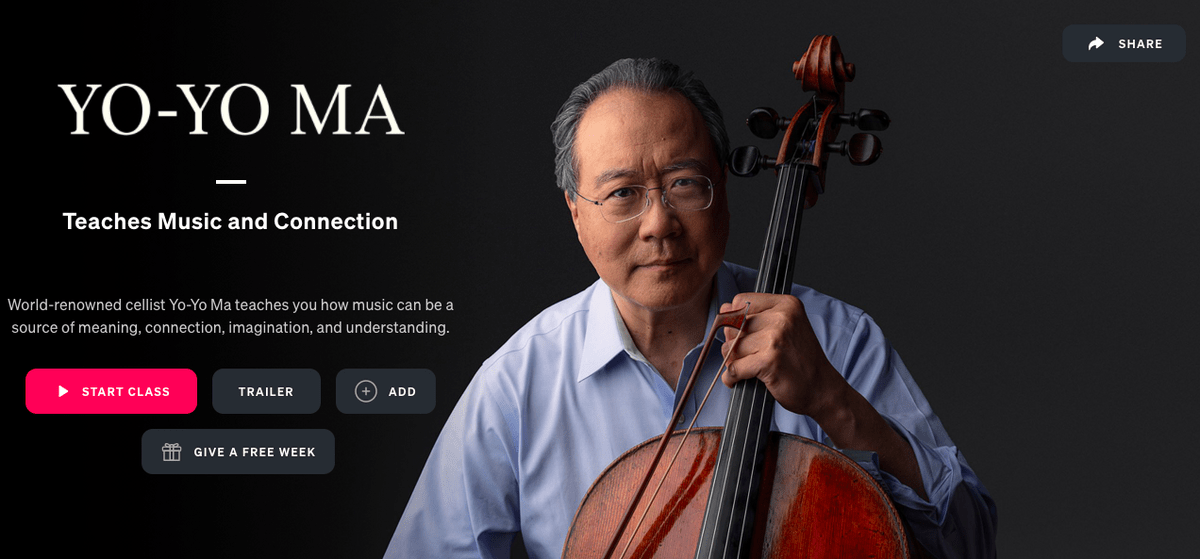 You then go straight to the course itself, where the introductory video begins automatically.
On the screen, you'll see the video lesson on the left-hand side. Below the lesson, you can rate it to provide feedback, share the lesson with other people, and bookmark it to return to later.
To the right-hand side of the screen, you'll see the note-taking section. While watching the course, you can add notes to each lesson.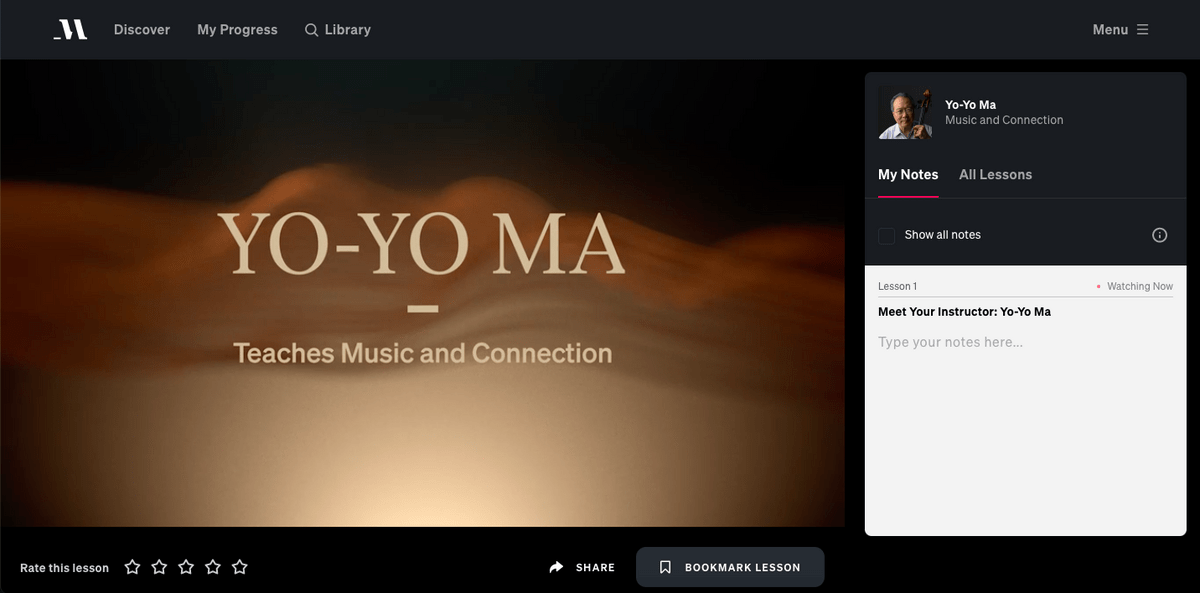 You can also choose to view the full list of lessons and see the total duration of the course.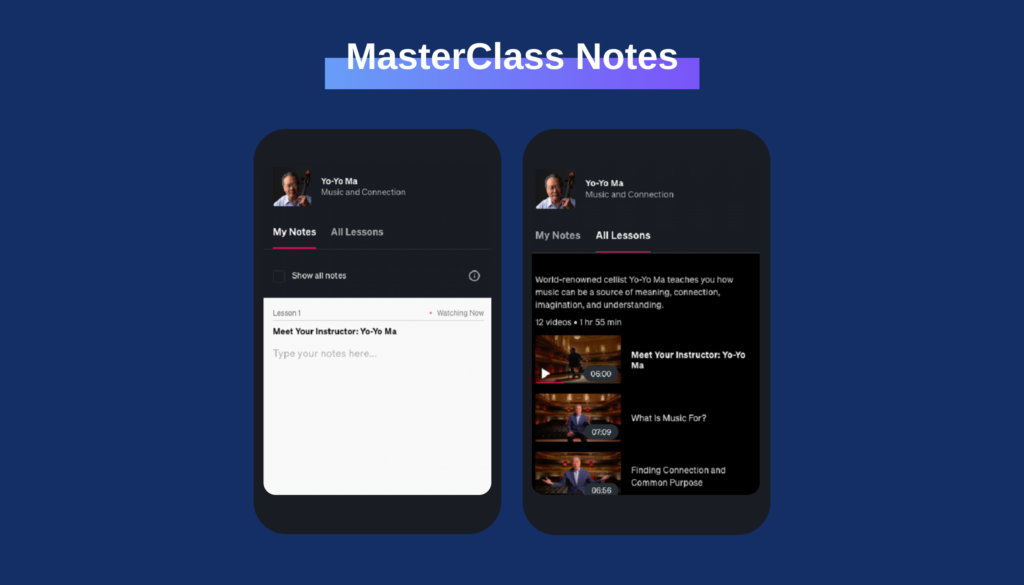 And that's pretty much the thick of it.
MasterClass will automatically take you through all the video lessons, and you can download the supplementary workbook from the course page.
You might also get a few reminders throughout the course to check out the MasterClass Hub, which you can also get to from the course page.
Take a look at a full MasterClass review for more information about how MasterClass works.
What are the most popular classes at MasterClass?
Let's take a look at some of the most popular courses in more detail so you can see some of the courses you get access to with a MasterClass subscription.
Neil Gaiman Teaches The Art of Storytelling
Neil Gaiman is a renowned fiction writer. His most notable works include Coraline, Good Omens, American Gods, Norse Mythology, and the comic book series The Sandman.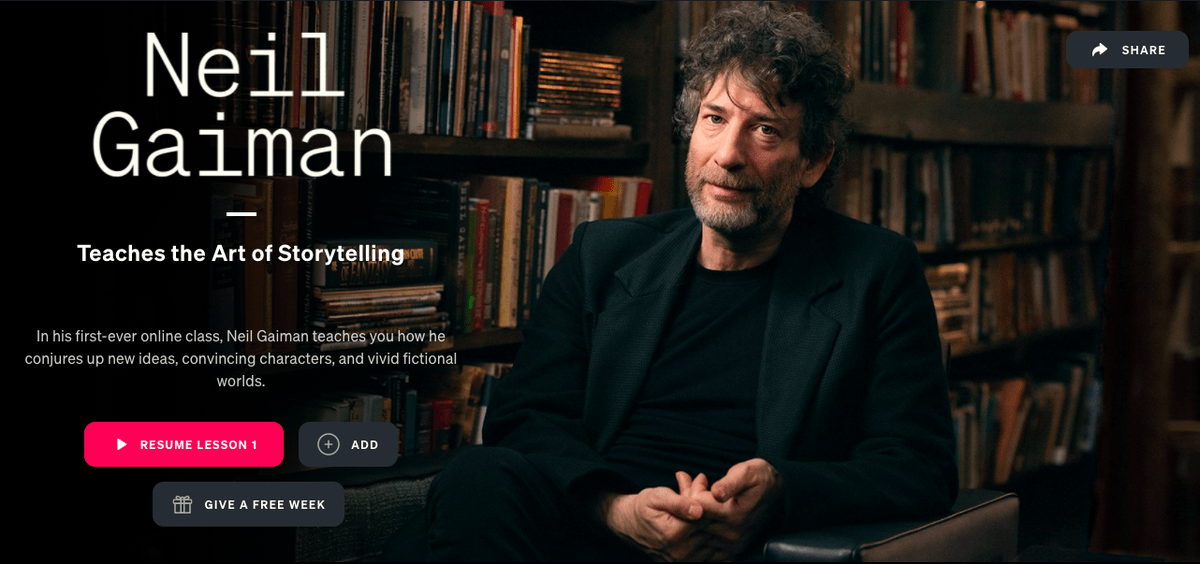 Neil Gaiman's MasterClass teaches you how to become a professional fiction writer. He covers a wide variety of topics to help you develop your writing, including finding inspiration, building characters, coping with writer's block, and dealing with rejection from publishers.
There are 19 video lessons in this online course, totaling a time of just under five hours.
Gaiman offers practical writing advice, backed up with references to his own world-famous works. If you're a passionate writer hoping to write a successful novel, this writing class is for you.
Alicia Keys Teaches Songwriting and Producing
Alicia Keys is one of the world's best-selling music artists, so chances are you're already familiar with who she is.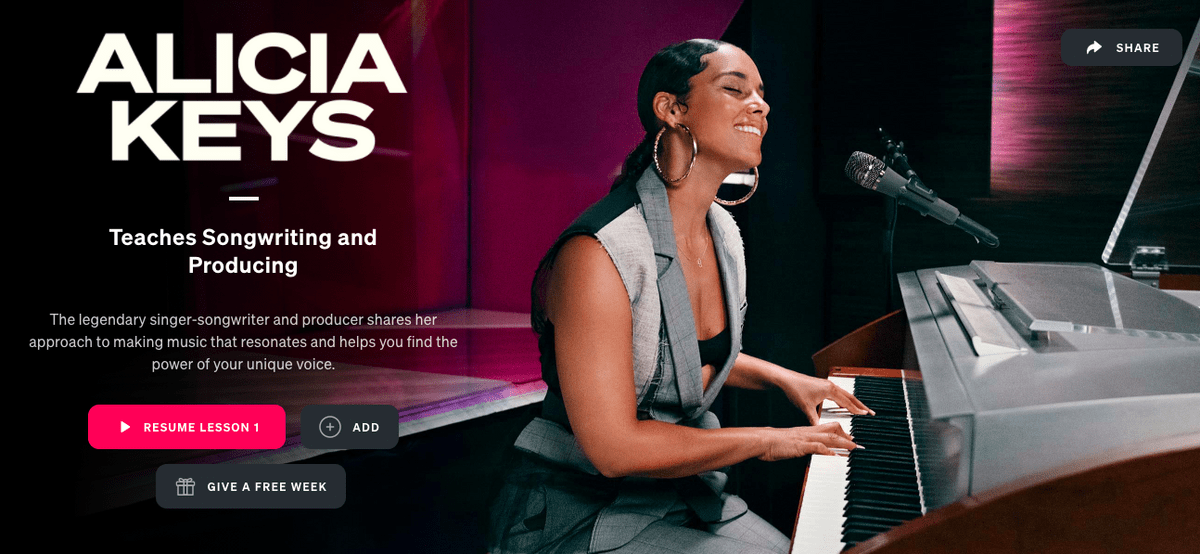 In her MasterClass, Keys shows us everything we need to know about songwriting and storytelling through music. She talks us through the entire process of creating a song, from the initial concept through to production.
As a MasterClass instructor, Keys is very engaging and passionate about what she's teaching. The course lasts for just over three hours.
For all you aspiring songwriters or producers out there, this online class is just what you need. Keys offers actionable and inspiring advice to help you refine your skills and better understand the music production process.
Gordon Ramsay Teaches Cooking I
On TV, Gordon Ramsay is known for his colorful personality. If you've ever seen any of his TV shows, you'll know what we mean by 'colorful'.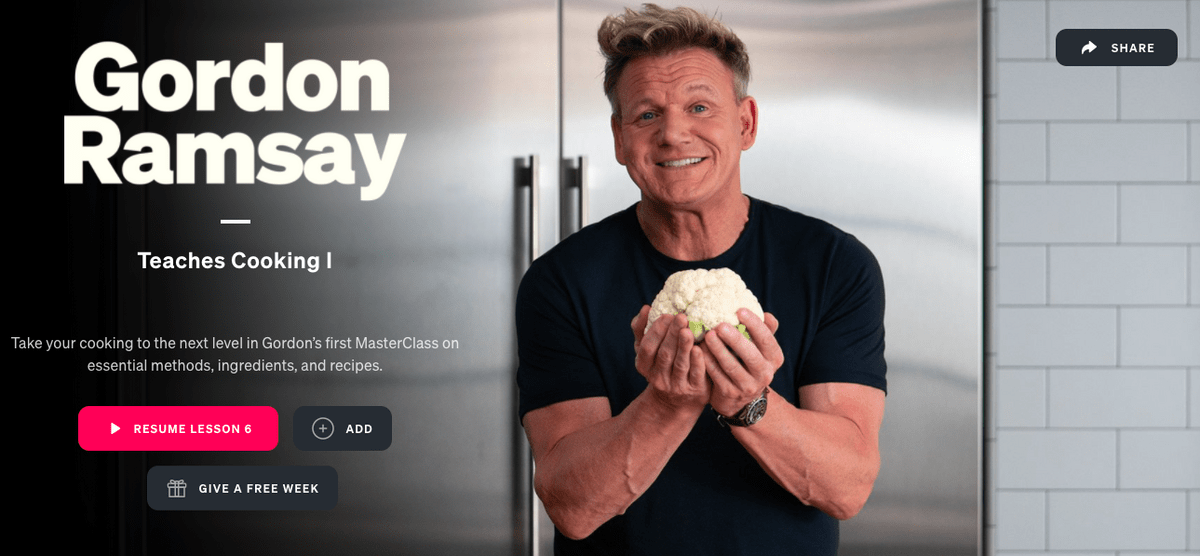 In reality, he's a multi-Michelin star chef with many successful restaurants and a collection of accolades to his name.
In Gordon Ramsay's MasterClass, he teaches an introduction to cooking. He talks about cooking methods, essential ingredients, and walks you through some recipes. The course has 20 lessons and lasts three hours and 54 minutes.
Ramsay actually has two courses on MasterClass. After the introductory course, you can move on to the Restaurant Recipes at Home course to put some of your introductory skills to the test.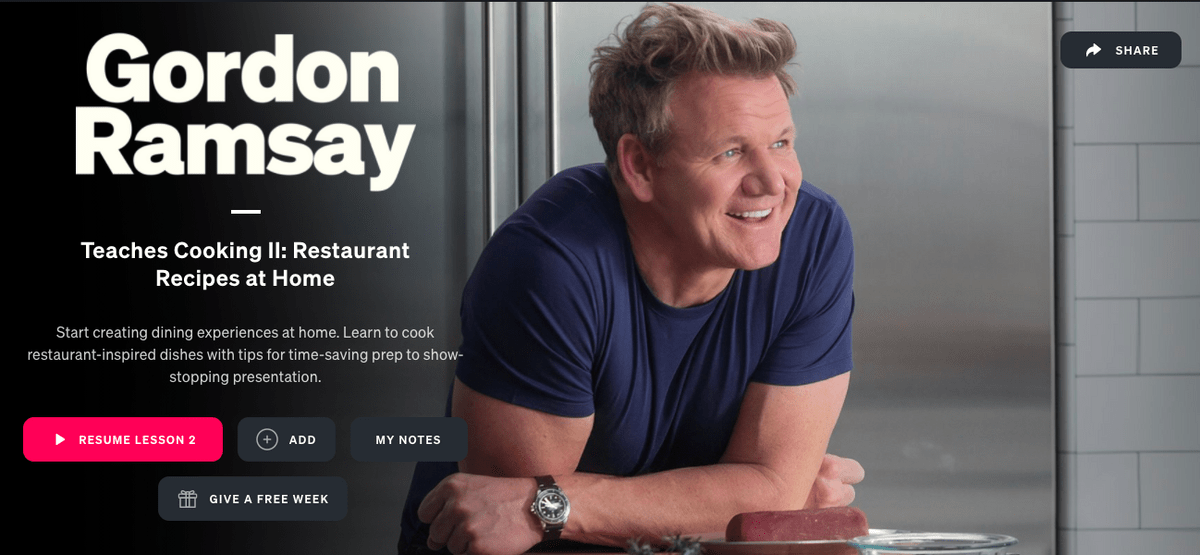 This is a great course for anyone with a passion for food wanting to learn from one of the most famous and accomplished chefs in the world.
The pros and cons of MasterClass
Before we wrap things up, here's a summary of the pros and cons of using MasterClass:
Pros:
Affordable pricing
Easily refundable within 30 days
Variety of pricing options based on the features you want
Business plans available
Wide selection of courses
Courses taught by celebrities and experts from around the world
User-friendly platform
High-quality videos and lessons
Available for use on different devices, including computer, TV, phone, or tablet
Subscribers can use the MasterClass app
All courses have supplementary workbooks
Online community for users to ask questions and develop their learning
Cons:
There's no MasterClass free trial
Unable to create more than one user in the same account without a business subscription
No reviews in the platform itself to help you select courses
Courses are primarily geared towards creatives
Is MasterClass worth it?
Yes, MasterClass is worth the price.
When you consider how many classes you get access to, the quality of the courses, and the awesome instructors available, the MasterClass platform is definitely worth the money.
And even if you subscribe and change your mind, you can get a full refund in the first 30 days. You've got nothing to lose by signing up and giving this online education platform a go.
If you're not convinced, check out our MasterClass Review to find out more about whether a subscription is worth your time and money.