MasterClass Dog Training Course Review Synopsis
What you'll learn: A straightforward training regime to develop trust with your dog and gain control of their behavior.
Based on seven key commands, Brandon teaches you how to establish positive behaviors while eliminating bad habits such as chewing, barking, door dashing, and digging. You'll also learn leash techniques and how to signal commands instead of calling out loud.
How long does Brandon McMillan's MasterClass take?
Almost three hours across 15 lessons.
Pairs well with: Dr. Jane Goodall, Neil deGrasse Tyson, Ron Finley
Do I recommend Brandon McMillan's dog training MasterClass?
In short, yes. If you're looking for a simple dog training system designed by a proven expert, this course is for you and your pup.
Brandon McMillan has a lifetime of experience training all kinds of animals, including (literally) lions and tigers and bears (oh my). But it's not just his success as a trainer that makes him the ideal MasterClass instructor. Brandon's sole aim is to help dogs with his work.
As Brandon puts it: "I've made it my life's mission to save dogs with my training system."
Passion aside, Brandon's proven training system will be a gamechanger. It's simple, effective, and easy to get on board with — for both you and your dog.
Based around building a better relationship, Brandon believes training is the key to communicating with your dog in a healthy, loving way.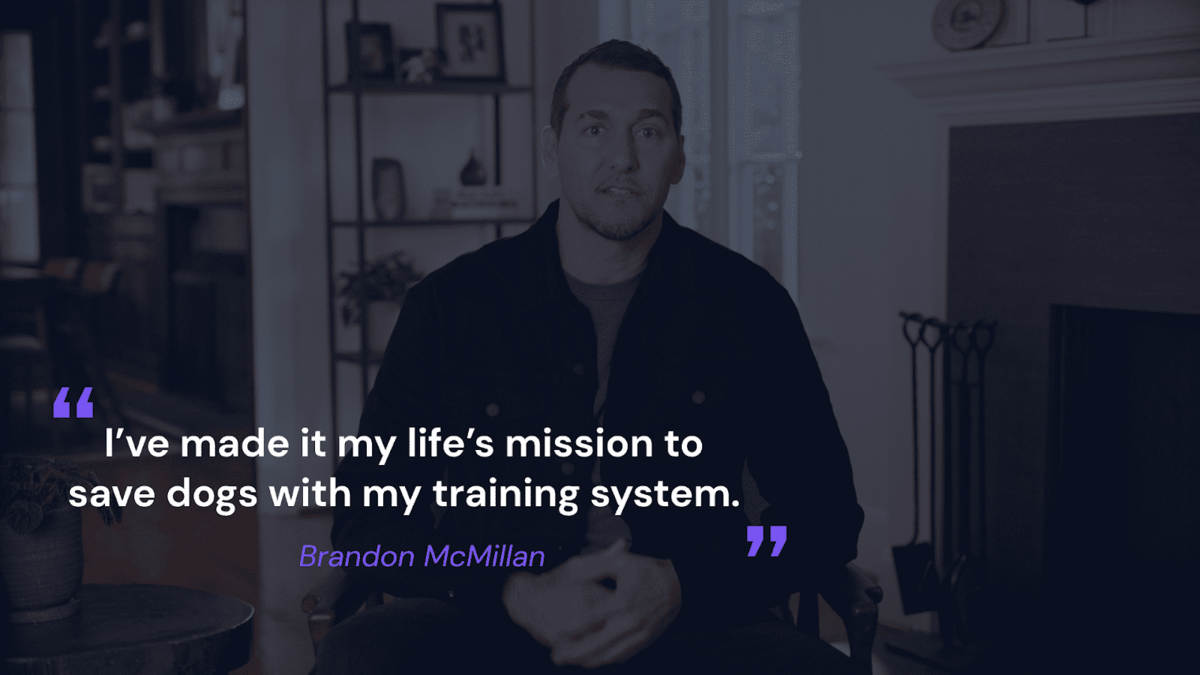 As Brandon explains: "Training, it builds trust. And it deepens your relationship with your dog."
As a dog owner, this class taught me how to build an open and authentic relationship with my pup, so I could communicate simple, consistent commands from a place of trust. Now I just have to look at him, and he gets it.
To find out how Brandon's course can help you improve your dog's behavior, check out this review. It will discuss everything you'll learn from Brandon McMillan's MasterClass dog training videos, along with costs, expectations, and key takeaways.
Disclosure: In the interest of full transparency, Codeless uses affiliate links in our MasterClass reviews to cover our site's costs.
Our Verdict
Whether you're thinking about getting a pup or at the end of your tether with the one you have, this course makes it easy to train your dog.
MasterClass Review
Learn from the Best
PROS
Affordable pricing
User-friendly platform
Features celebrity instructors
Easily refundable
High quality content
Bonus materials
CONS
No free trials
No reviews within the platform
Heavily geared towards creatives
In this MasterClass review, you'll learn:
In this MasterClass review, you'll learn:
A few frequently asked questions
About Brandon McMillan
How much does Brandon McMillan's MasterClass cost?
What is included in the Brandon McMillan Dog Training MasterClass?
A complete breakdown of the Brandon McMillan's MasterClass curriculum
What I learned
Memorable quotes from this MasterClass
Brandon McMillan MasterClass pros and cons
Do I recommend this MasterClass?
A few frequently-asked questions…
Do I need a subscription to access this course?
Yes, annual memberships start at $15.75 a month.
How long is the MasterClass?
15 video lessons (2 hours 58 minutes)
Does MasterClass have a cancellation policy?
While you can cancel your MasterClass subscription at any time, you won't be refunded for the current subscription period you're in. You'll be able to use MasterClass until that month is over.
How do I know if this MasterClass dog training course is worth it?
If you're wondering whether Brandon's training system works, just remember the tiger in the movie The Hangover. If Brandon could train a tiger that well, just imagine the effectiveness of his dog training program.
About Brandon McMillan
Brandon McMillan is a world-renowned animal trainer, bestselling author, and American television personality. He is best known as the three-time Emmy-winning host of the show Lucky Dog.
Brandon started out his animal-training career at 18 years old, having traveled to live in Los Angeles to work for his uncle's animal training company.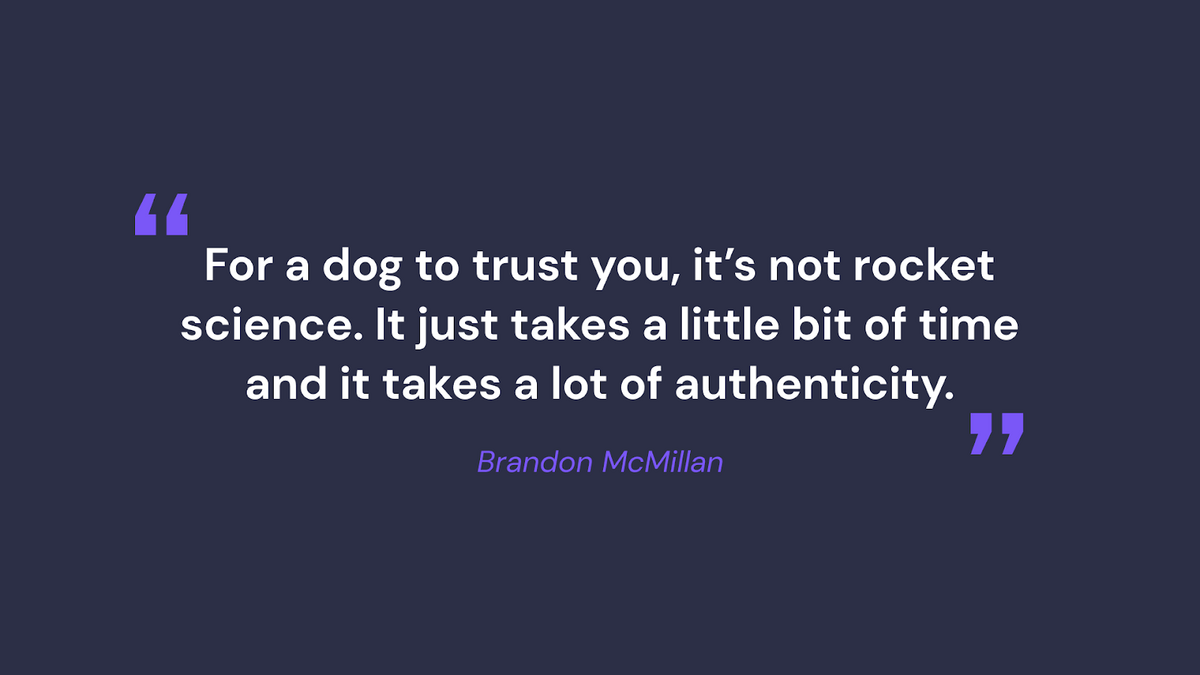 In 2010, Brandon opened his own dog boarding and training facility, so that he could focus on training service and therapy dogs. His program was so successful that he went on to become a dog trainer to the stars, with big-name clients such as Ellen DeGeneres, Hugh Hefner, Ronda Rousey, and Kate Hudson.
Furthering his commitment to training service animals, Brandon co-founded the nonprofit Argus Service Dog Foundation to train dogs to assist veterans with disabilities.
Brandon is also the author of Lucky Dog Lessons: Train Your Dog in 7 Days, a self-help book for dog lovers.
How much does Brandon McMillan's MasterClass cost?
If you want to catch Brandon's dog training MasterClass, you'll need a yearly membership.
MasterClass offers three different payment plans, all paid annually: Individual, Duo, and Family.
Each plan gives you unlimited access to 180 classes across 11 different categories.
Now to the differences:
The Individual plan costs $15.75 per month: You'll have one account which is accessible from one device. With this plan, you can only view MasterClass content while you're online.
The Duo plan costs $21 per month: You'll have one account, but you can access it across two devices at once. You can also save content and view it when you're offline.
The Family plan costs $24.15 per month: You'll be able to access your account from six different devices at the same time, and you can view content offline.
If your business handles dogs (kennels, pet-sitting, groomers, etc), this course is a must-have training resource for your team. A membership won't only buy you this course. MasterClass also has training resources on teamwork, creativity, leadership, communication, and much more.
What is included in Brandon McMillan's dog training MasterClass?
Runtime: 2 hours 58 minutes
Course Value: 5 out of 5
Lessons: 15
Supplementary materials: A class workbook and three free guides on choosing a breed, dog behavior, and training
Supplementary workbook
This dog training MasterClass comes with a 35-page supplementary class workbook that breaks down the course content.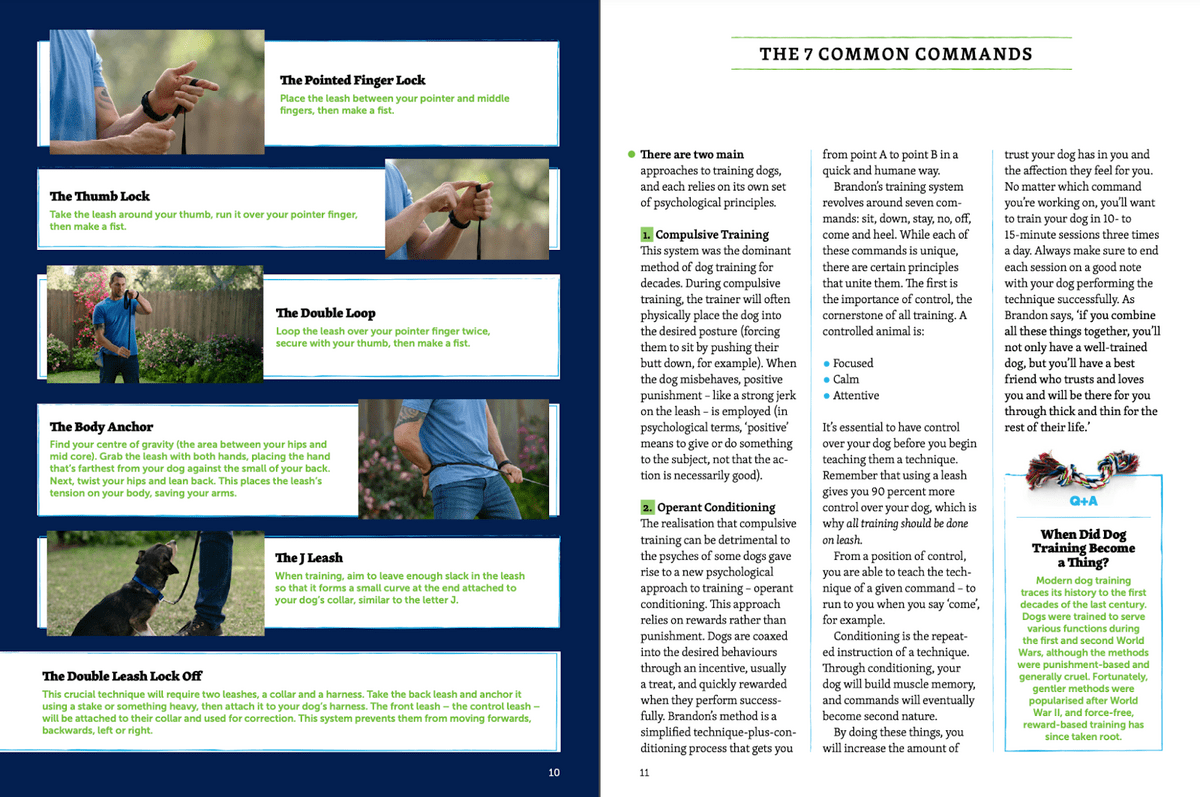 The booklet teaches you all about Brandon and why he's the ideal teacher for the course.
You'll also get a rundown of Brandon's top dog training tools and a progress tracker template to help record your training sessions.
The meat of the workbook is dedicated to explaining Brandon's training techniques in written form, with photos to exemplify these techniques.
You'll get tips on choosing a dog and building trust, as well as the foundations of training and how to prepare. The workbook details Brandon's seven basic commands and his instructions for overcoming typical bad behavior.
The MasterClass Hub
It's super simple to find your way around the MasterClass dashboard.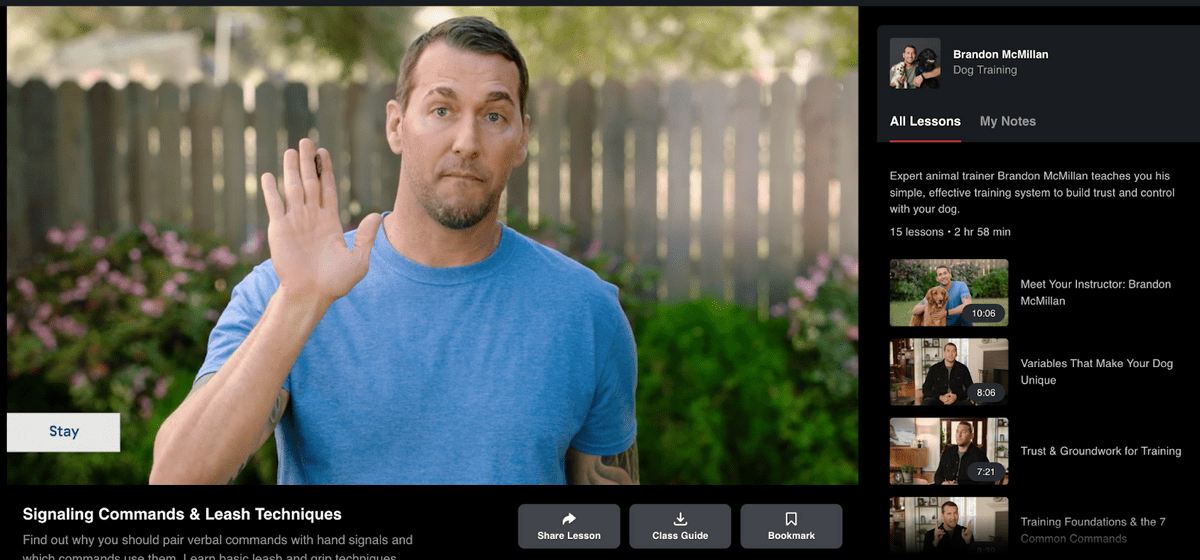 You can view all the lessons in the course on the right-hand side of the screen under "All Lessons".
Head to the"'My Notes" tab to take annotations and write down key points you'd like to remember. Play, pause, skip, and speed up content to watch it at a pace that suits you.
Click the "Class Guide" button to download your workbook and the "Share lesson" button to share to socials or as a private message.
A complete breakdown of the Brandon McMillan's MasterClass curriculum
Celebrity dog trainer and host of Lucky Dog, Brandon McMillan teaches his highly effective dog training program in just over two hours.
Curriculum:
Meet Your Instructor: Brandon McMillan
Variables That Make Your Dog Unique
Trust & Groundwork for Training
Training Foundations & the 7 Common Commands
Signaling Commands & Leash Techniques
Sit
Down
Stay
No
Off
Come
Heel
Behavior: Housebreaking
Behavior: Door Dashing
Behavior: Digging, Chewing, Barking
Course summary
Brandon McMillan's dog training MasterClass is a hands-on affair. Brandon teaches a practical training program, demonstrating actionable measures to help dog owners improve behavior. His course can be broken down into three main steps:
1. Establish a Relationship
The first section of this dog training course looks at building relationships.
Brandon opens by introducing himself, modeling the instructor/learner relationship.
Next, he moves on to explain how the unique characteristics of different dogs can shape training dynamics. A dog's breed, DNA, history, and age will affect its behavior and ability to learn. By teaching you to look at particular traits, Brandon helps you choose a dog and figure out the right training style.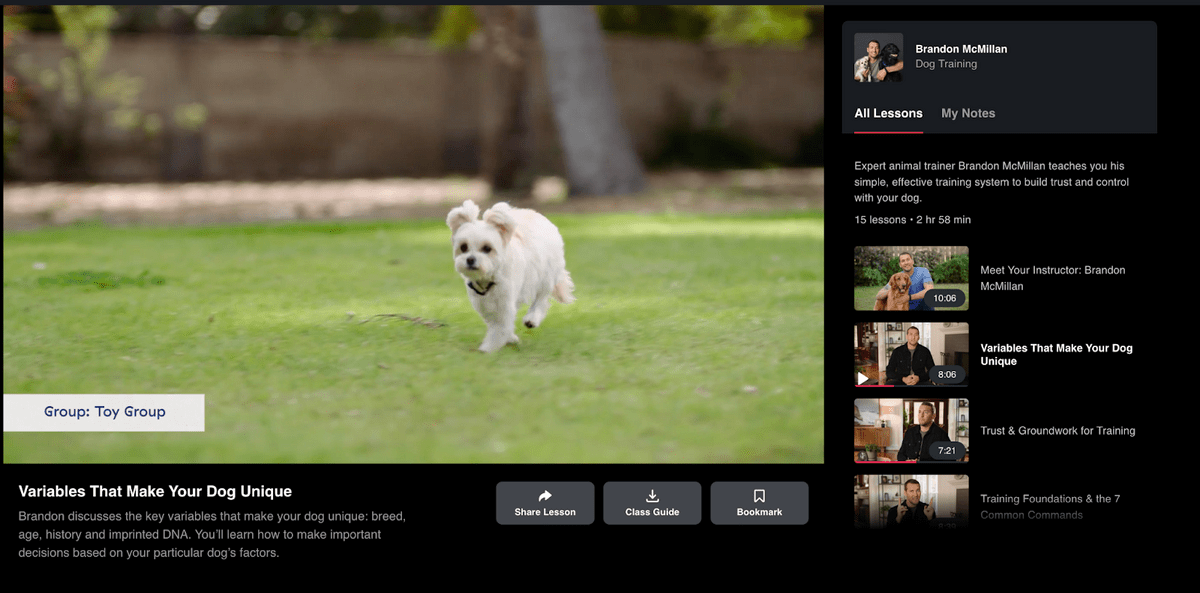 There's an entire section dedicated to trust and groundwork for training to get you and your dog into the right frame-of-mind for your training sessions.
Brandon teaches how leadership rather than dominance builds the trust for a healthy relationship.
Plus, you'll learn the importance of socialization and exercise, and how these two factors intertwine to influence obedience.
2. Learn Basic Training Commands
Following the theoretical introduction to the course, Brandon moves on swiftly to the foundations of training.
You'll learn how to set up the right training environment and the tools you'll need. Brandon gives hands-on advice on how to establish cues that tell your dog it's time for a training session.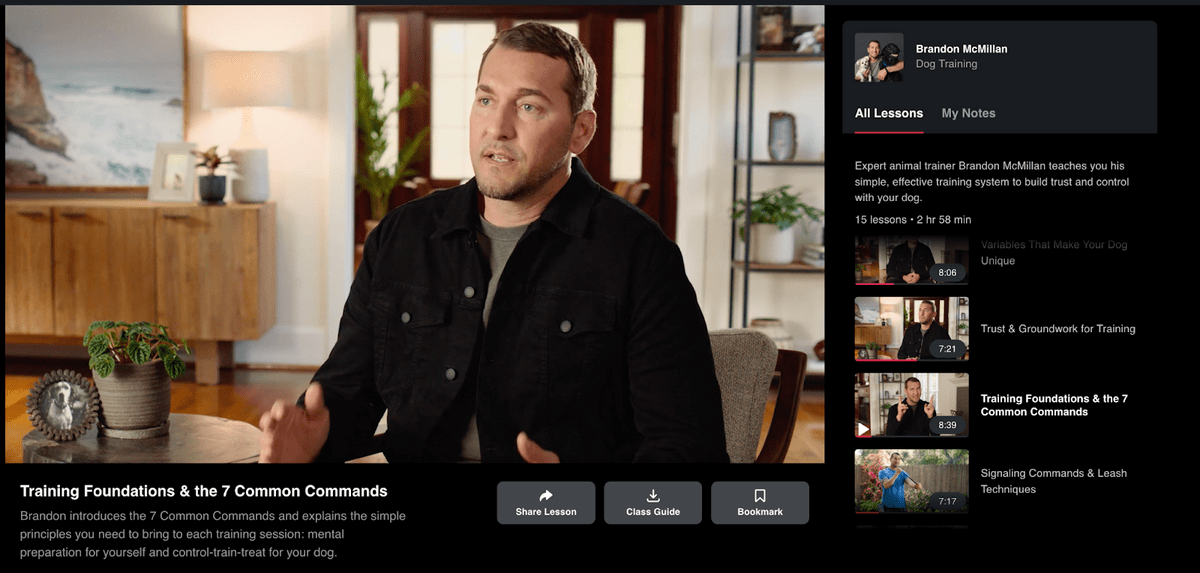 Before teaching any practical commands, Brandon explains how to signal commands with and without sound, along with leash training techniques to establish control.
The main portion of the course goes into detail on seven main common commands:
Sit
Down
Stay
No
Off
Come
Heel
Brandon goes into detail about how and when to use these commands, along with actionable strategies to teach your dog. Instructional video footage shows Brandon teaching these techniques in practice. You can see how a dog might react and learn how to combat these reactions head-on.
3. Break Bad Habits
Brandon tackles the five common problem behaviors that dog owners battle with:
Housebreaking
Door Dashing
Digging
Chewing
Inappropriate barking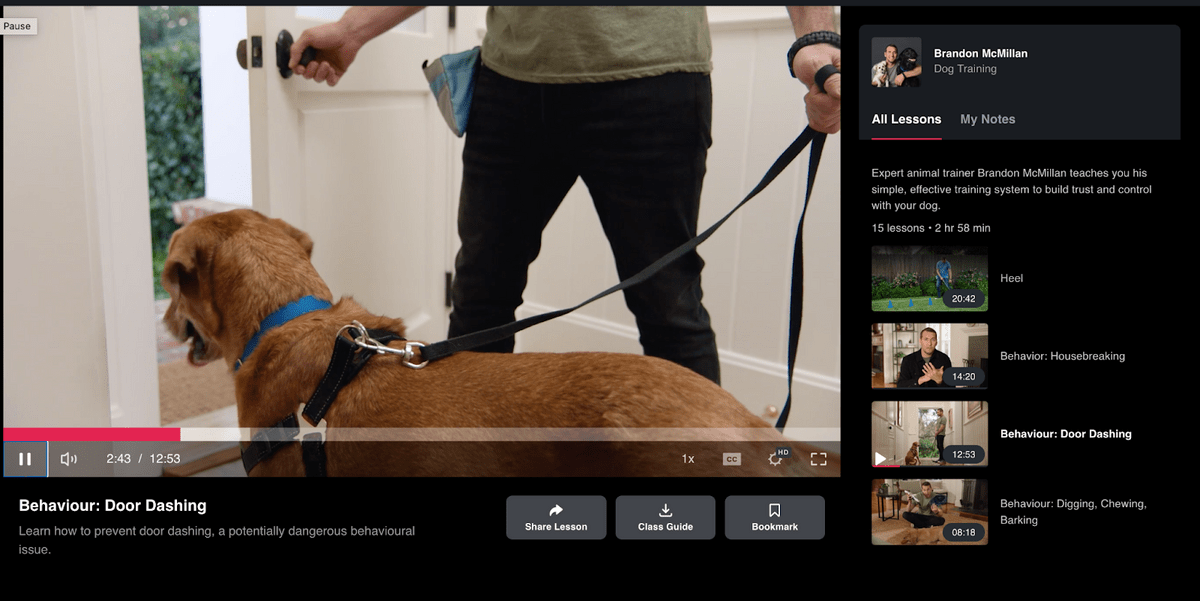 If you're at your wit's end with your dog going crazy every time the doorbell goes or chewing every last one of your left shoes, this section has the answers.
Watch Brandon coach bad habits out of dogs in a loving and calm, yet firm manner. By seeing it in action, these videos help you to understand the value of practice and how your dog might try to push your boundaries.
What I learned
There were two main things I took away from Brandon McMillan's dog training course: simplicity and consistency.
Often, dog owners use all different words to command their dogs. But, by repeating straightforward commands and signals, it becomes easier for your dog to understand how you want them to behave.
5 takeaways from this MasterClass
1. Trust is the foundation of a lifelong bond with your dog
If you haven't built trust with your dog, you haven't got anything. Trust is the foundation for a back-and-forth relationship with your dog. If your dog doesn't trust that you're helping, not harming, they won't listen.
2. You need to lead your dog, instead of trying to dominate them
Sometimes it's tempting to shout a bunch of negativity at our dogs. "Get off the couch", "Leave the toy." "Get away from the door." You might even bop them on the nose or push them away.
Instead of trying to dominate your dog, Brandon teaches you that it's much more effective to lead. Using non-verbal cues alongside verbal commands, you show your dog what you'd like to see, so they're clear about what's acceptable.
3. Exercise is the key to good behavior
As Brandon explains: "90% of a dog's behavior issues come from a lack of exercise."
Bored dogs are like bored kids — they want attention. And for both children and dogs, they don't care about the form the attention comes in. If they have to be naughty so you shout at them, they'll accept this focus from you, even if it's negative.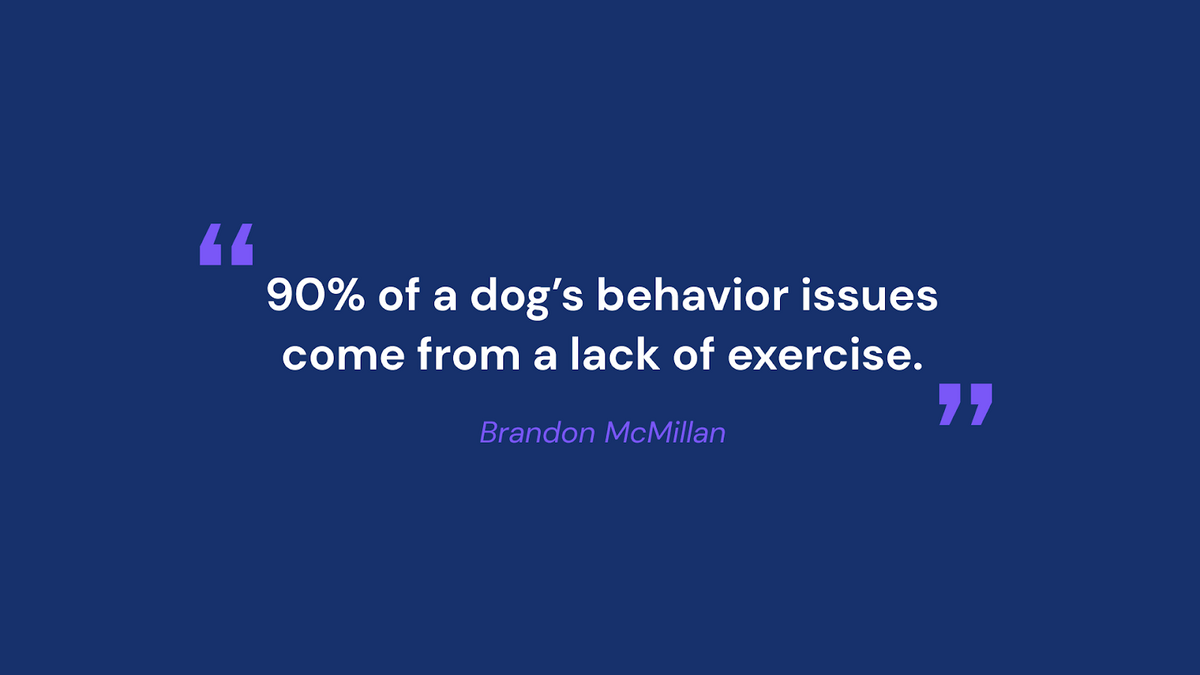 But it's not just that.
Dogs are strong, muscular animals with a lot of energy (much like toddlers). They need to burn off this energy by running, jumping, sniffing, socializing, and living their best dog lives. If you don't give them the space to "run it off," they divert this energy into hyperactive behavior at home.
4. Keep commands simple and consistent
Don't overcomplicate things. Keep your commands concise and straightforward, and repeat them regularly and with confidence.
The more your dog associates a behavior with a word and action, the more they'll notice and respond to it.
5. Break bad habits by practicing and praising better behaviors
To replace bad habits, walk your dog through the behaviors you want to see. When they get it right, use short praise that gets the message across with quick kindness.
Practice walking your dog through these routines regularly. They'll quickly start to associate praise with the right behaviors.
Start Brandon's Dog Training Course Now
Memorable quotes from this MasterClass
"For a dog to trust you, it's not rocket science. It just takes a little bit of time and it takes a lot of authenticity." – Chapter 3 – Trust & Groundwork for Training
"The dog is always playing this cat and mouse game with you. It's always this chess match." – Chapter 4 – Training Foundations & the 7 Common Commands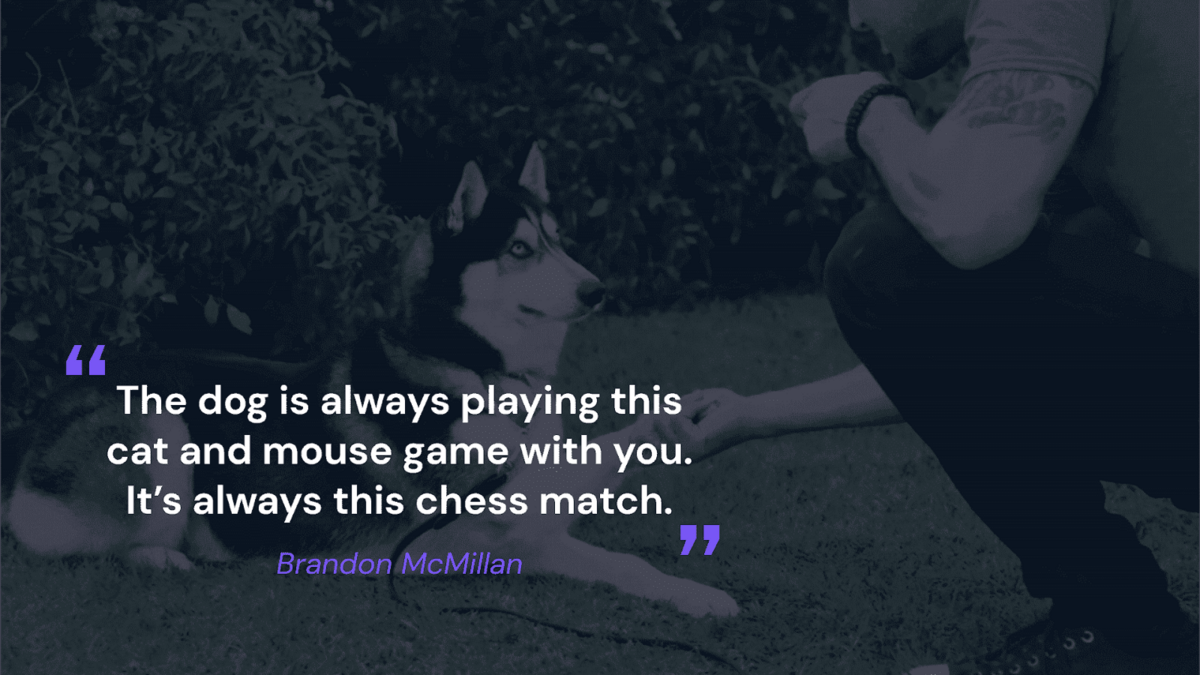 "My core fundamental in training comes down to one word and one word only: control." – Chapter 5 – Signaling Commands & Leash Techniques
Brandon McMillan MasterClass pros and cons
Whether you're training a puppy from scratch or teaching an old dog new tricks, this course gives you the actionable framework.
But, don't expect any frills. This course gets right down to it, gives the goods, and gets out without much closure.
Pros
Taught by a true expert animal trainer, this course gives you a clear, concise guide on how to improve your dog's behavior. With real-life footage and hands-on examples, these video lessons are the perfect resource to learn how to train your dog.
Cons
While this course is jam-packed with actionable help, it ends quite abruptly. There's no sign-off and Brandon doesn't recommend other learning resources.
Do I recommend this MasterClass?
Without a doubt, yes.
Whether you're thinking about getting a pup or at the end of your tether with the one you have, this course makes it easy to train your dog.
A guide to laying the groundwork, seven simple commands, and five habit-breaking strategies — that's all you need.
Real-life training footage and examples from Brandon's own experience help you see how these tactics work in action.
Ultimately, if Brandon's professional experience doesn't convince you, the results you'll see from using his system will speak for themselves.