Decision fatigue is easy to feel when scrolling through all of the potential MasterClass courses — which ones are the best of the best, and where should you even start?
We feel your pain. We've collected a list of the best MasterClass courses on the platform, organized by category and summarized for your convenience.
What are MasterClass courses?
MasterClass courses are collections of pre-recorded video lessons, workbooks and community discussion forums that are accessible through the MasterClass self-paced online learning platform.
These courses are built to support lifelong learners in their quest to enrich their lives as much as possible with tips from masters of their craft.
The best part?
MasterClass courses can be consumed at your leisure, are always produced with the highest quality production standards, and come straight from the minds of celebrity and industry-leading instructors.
Which MasterClasses are best overall?
To determine which courses are the best, we wanted to look at those that have been completed by the most students over the longest period of time.
MasterClass doesn't publicly provide course reviews or enrollment numbers for their courses, so we used their official list of most popular courses to compile this guide to the top 24.
Disclosure: These reviews are reader-supported. We might earn a small commission if you purchase something through our site. Learn more
Our Verdict
No question – we feel strongly that MasterClass is worth it.
The amount of valuable, high-quality, well-produced content that you can access makes it a fantastic purchase for anyone who considers themselves to be a lifelong learner or is interested in continuously pursuing new skills.
MasterClass Review
Learn from the Best
PROS
Affordable pricing
User-friendly platform
Features celebrity instructors
Easily refundable
High quality content
Bonus materials
CONS
No free trials
No reviews within the platform
Heavily geared towards creatives
To skip right to your category of choice, click the link below:
What are the best food or cooking MasterClasses?
The food or cooking category has 18 different courses to choose from and covers everything from the basics of cooking to deep dives into specific cuisines.
1. Gordon Ramsay Teaches Cooking I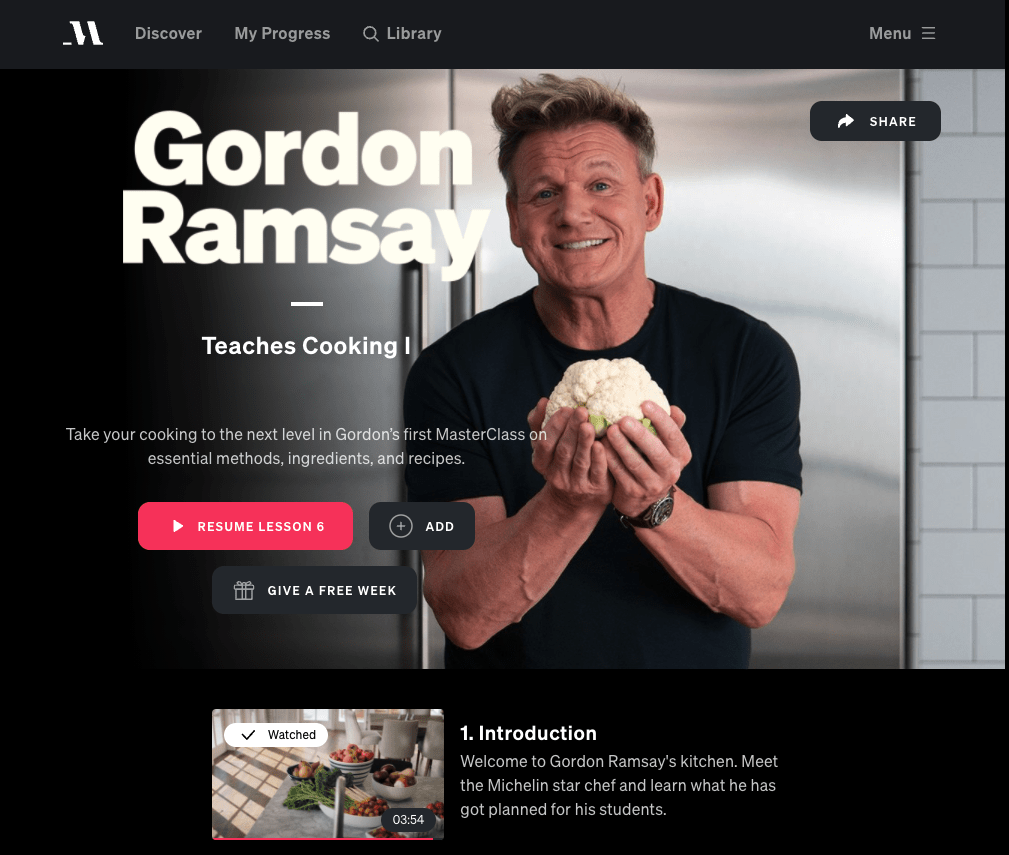 Gordon Ramsay is a famous chef known for his vivid personality on reality television. He's a British chef, restaurateur, and founder of the global restaurant group, Gordon Ramsay Restaurants since 1997.
In his introductory course to cooking, Ramsay covers the essentials of the craft, including ingredients, how to work with them, and basic recipes.
2. Gordon Ramsay Teaches Cooking II: Restaurant Recipes at Home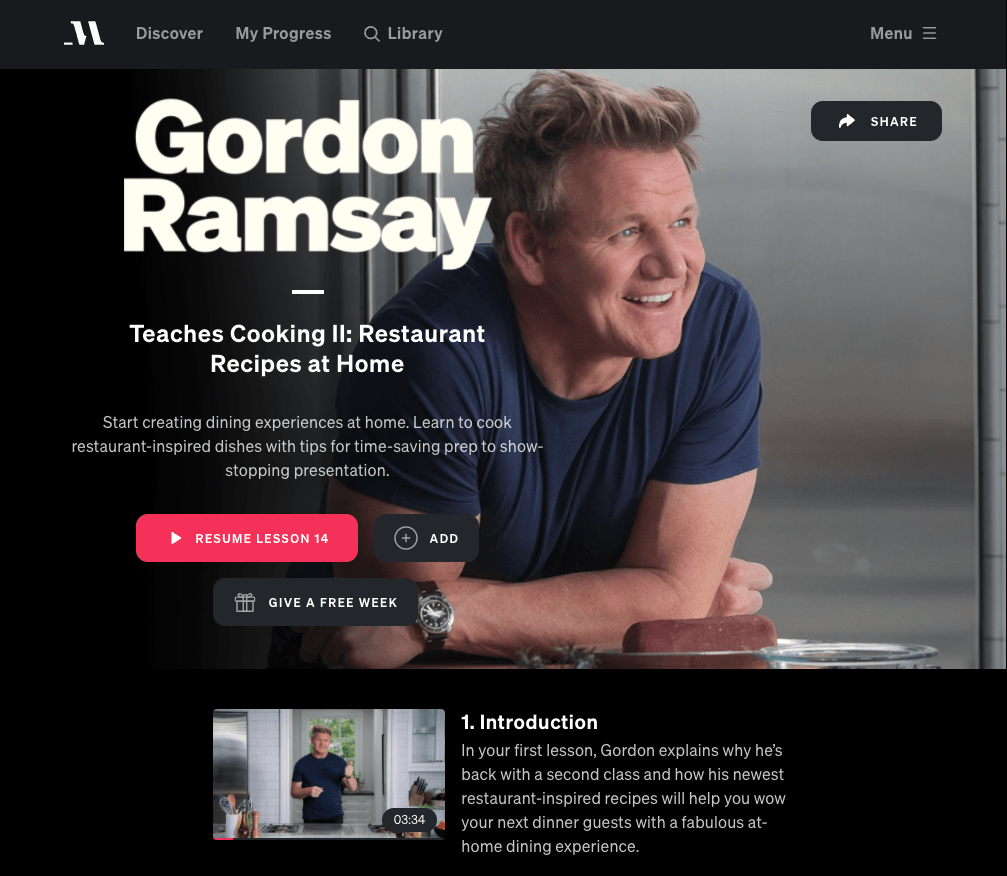 In his second course, Ramsay focuses on how to bring advanced cooking skills from the restaurant to the home kitchen, focusing on a series of more complex recipes. This course also includes tips for presentation and creating the entire dining experience for your guests.
3. Thomas Keller Teaches Cooking Techniques I: Vegetables, Pasta, and Eggs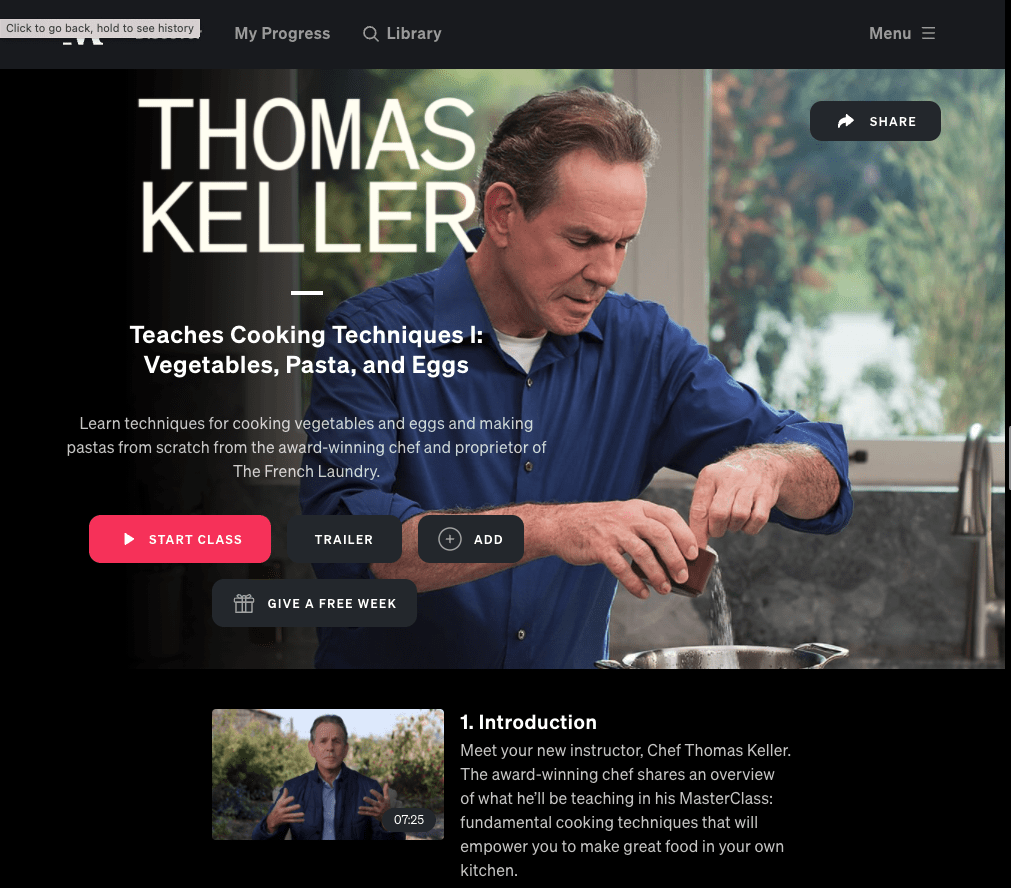 Thomas Keller is a #1 New York Times bestselling author with over 1.5 million cookbooks in print. He's most well-known for his high standards for food and has established a collection of restaurants within the hospitality industry.
In his beginner course, Keller teaches cooking techniques based on common ingredients like vegetables, eggs, and pasta. This course offers a foundational understanding of how these specific ingredients work in the kitchen.
4. Thomas Keller Teaches Cooking II: Meats, Stocks, and Sauces
Keller's second course follows his first, with a deep dive into stocks, sauces, and meats. Again, this course is meant to provide a foundational understanding of how to work with these basics in the kitchen.
5. Aaron Franklin Teaches Texas-Style Barbeque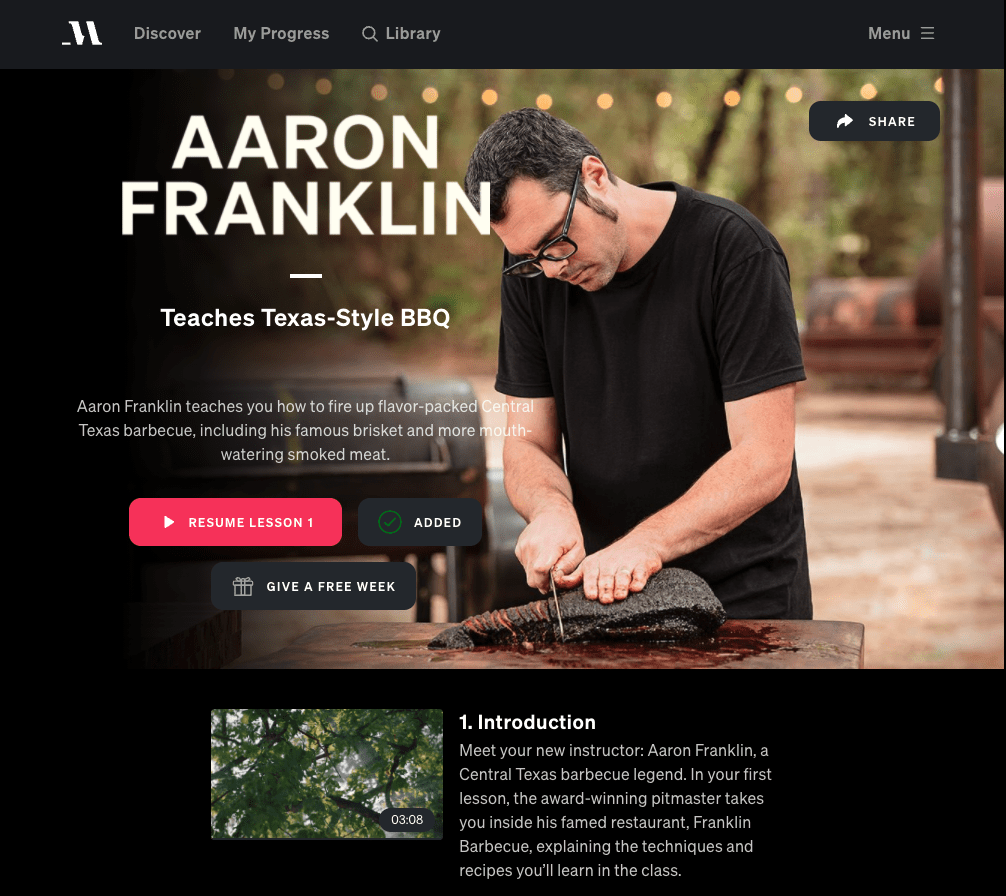 Aaron Franklin is a reality television chef and chief firestarter at Austin's Franklin Barbecue in Austin, Texas. He's gained a reputation for being the most well-known pitmaster in the US and received the James Beard Foundation Award for Best Chef in the Southwest in 2015.
Franklin teaches MasterClass students barbeque cooking with lessons on pork, steak, and brisket, and also provides an inside tour of his restaurant.
5. Gabriela Cåmara Teaches Mexican Cooking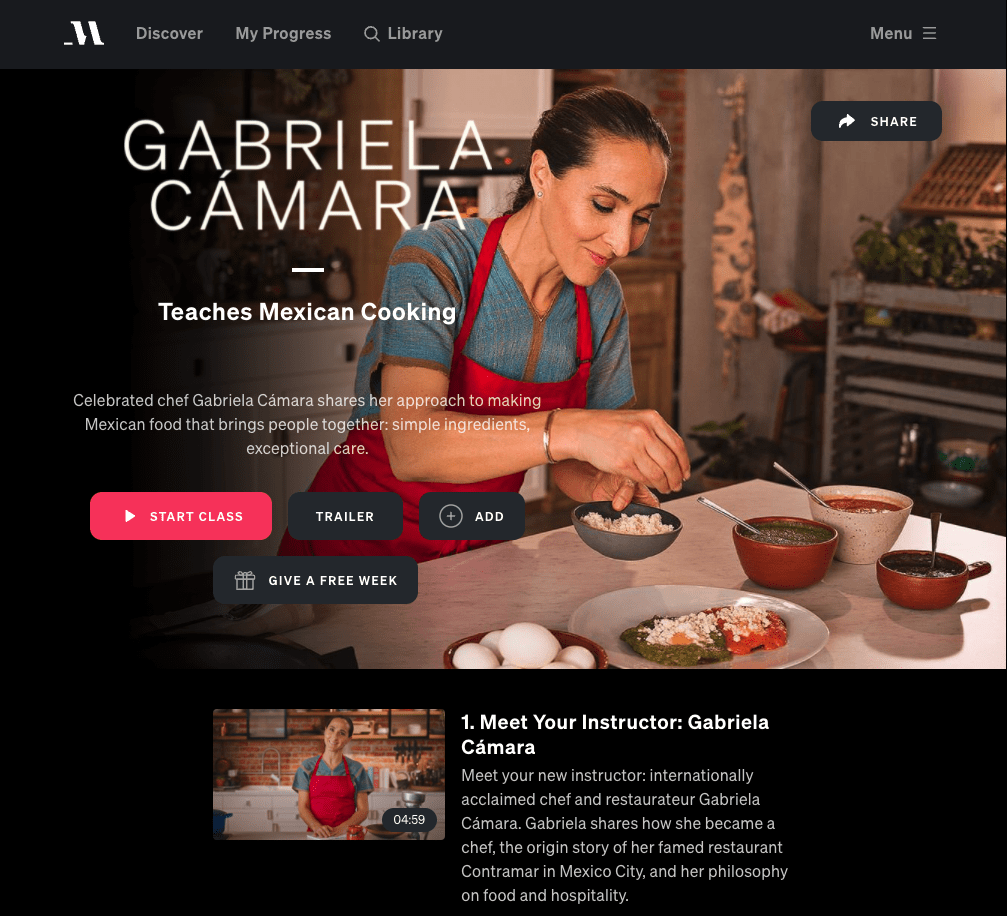 Gabriela Cåmara is an internationally recognized chef and owner of the famous restaurant Contramar in Mexico City. She teaches MasterClass students and Mexican food lovers her approach to Mexican cuisine, including lessons on classics like tortillas, enchiladas, salsa, tacos, and more.
What are the best creative MasterClasses?
Classes on creativity typically fall under the arts and entertainment category and are taught by well-known leaders in editorial, film, design, and more.
6. Anna Wintour Teaches Creativity and Leadership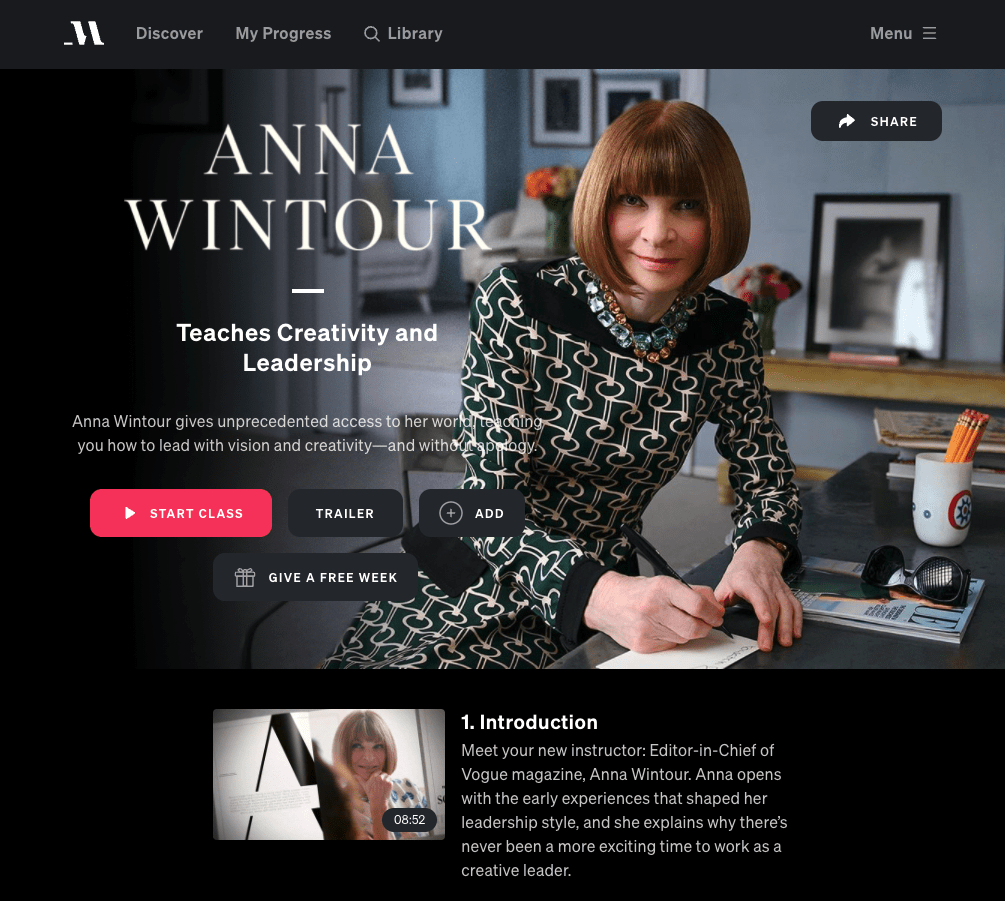 Anna Wintour is a British-American journalist that has been Editor-and-chief of Vogue Magazine since 1988. Since 2020, she's been Global Chief Content Officer for all of Condé Nast and acting Artistic Director.
In this MasterClass, Wintour shares her journey through creative leadership, discussing early experiences that shaped her leadership style, how to get work done, find your voice, build a brand, and much more.
7. Annie Leibovitz Teaches Photography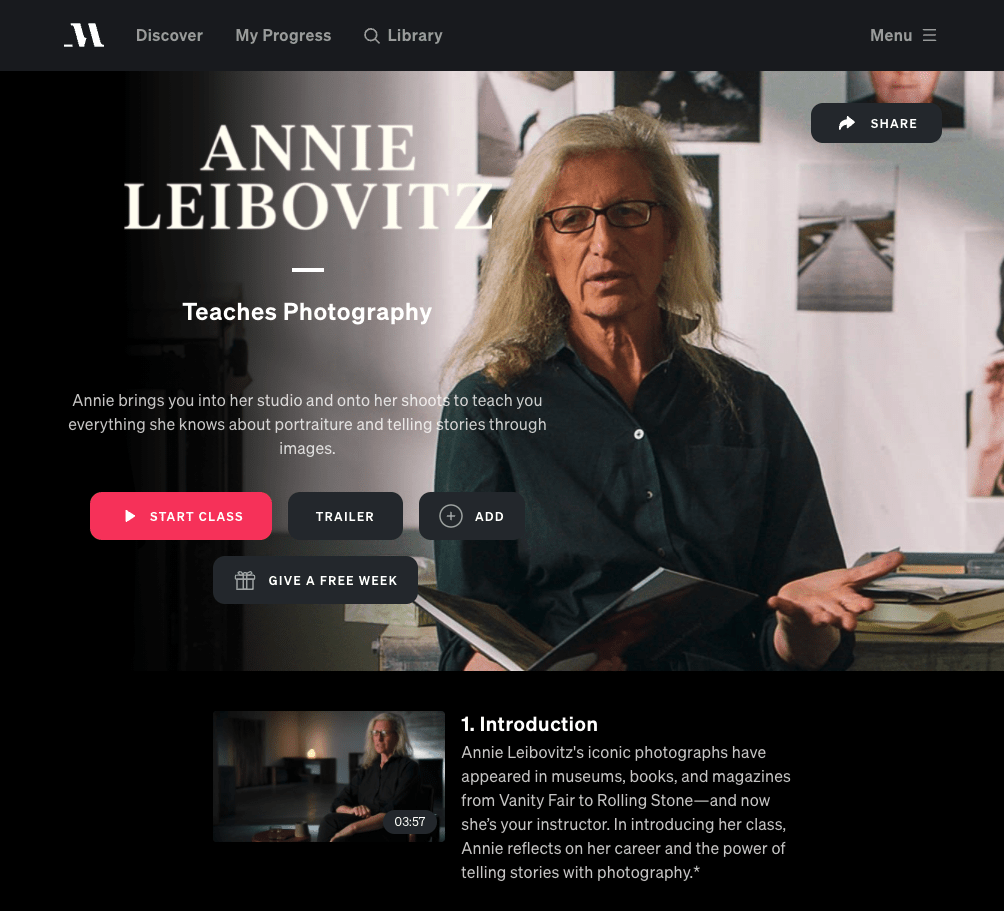 Annie Leibovitz is a photographer with works that have appeared in museums, books, and magazines all over the world in titles like Vanity Fair and Rolling Stone.
Leibovitz brings MasterClass students into her photography studio to teach shooting techniques for portraits, landscapes, action photography, and more. You'll learn photographic concepts, lighting, technical tips for working with equipment, review case studies, and more.
What are the best business masterclasses?
Learn skills on everything from negotiation tactics to strategic product planning with courses from a wide variety of experts.
8. Chris Voss: Teaches the Art of Negotiation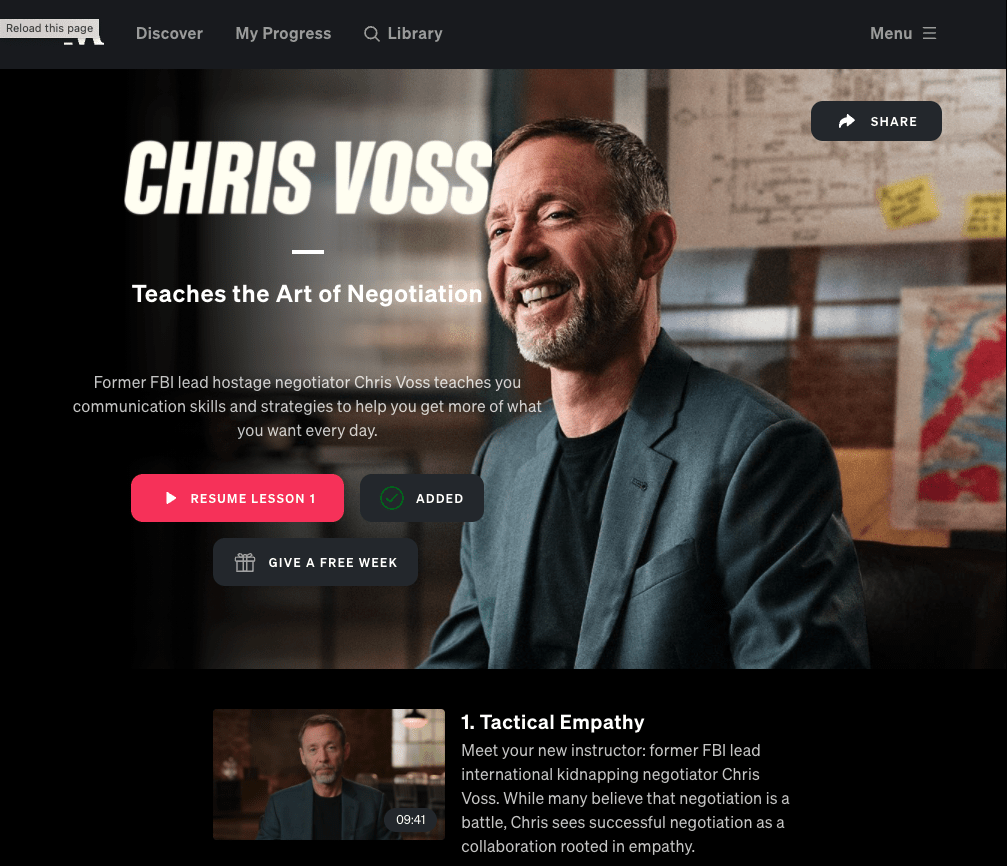 Chris Voss is a former FBI lead and was an international kidnapping negotiator — a role for which good negotiation skills literally meant the difference between life and death for those he was trying to protect. Today, he's a businessman, author, and CEO of The Black Swan Group.
In his class, he teaches students how to tackle negotiations from a place of empathy negotiation as a collaboration rooted in empathy. You'll learn lessons in mirroring, labeling, delivery, body language tips, and much more.
9. Bob Iger Teaches Business Strategy and Leadership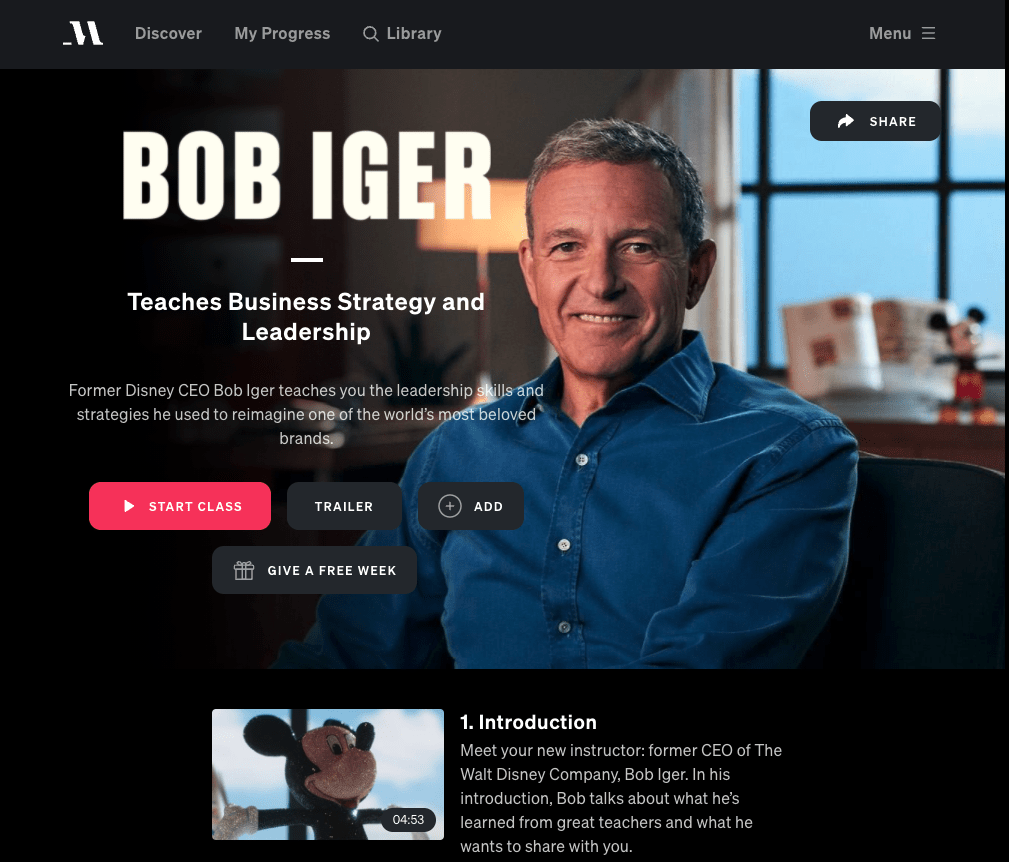 Bob Iger is the former CEO of The Walt Disney Company and current chairman of the board. He's also been president of ABC television and President and COO of Capital Cities before it was acquired by The Walt Disney Company in 1996.
In his MasterClass, he teaches students the leadership skills and business strategies that helped him build one of the world's most loved brands with tips on time management skills, business strategy, negotiating, brand building, customer insights, and much more.
10. Daniel Pink Teaches Sales and Persuasion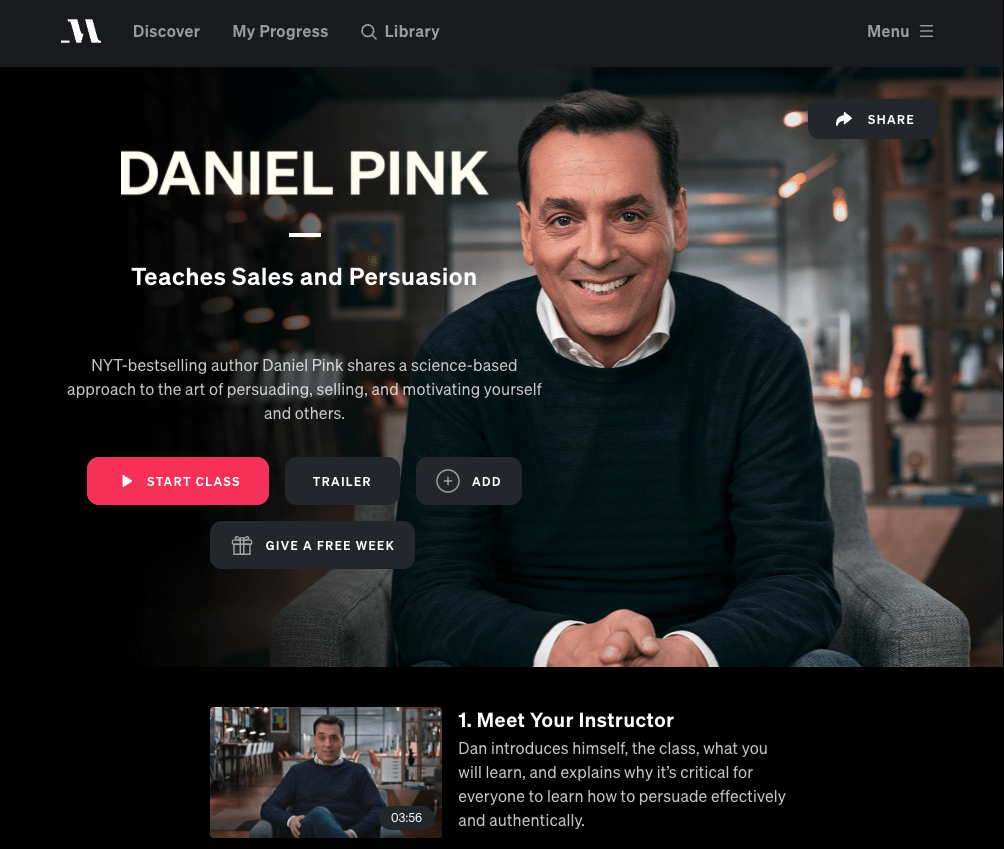 Daniel Pink is a prolific author with four books on the New York Times bestseller list. He's also well-known for his time as a host and co-executive producer for the National Geographic series Crowd Control and his time as chief speechwriter for Vice President Al Gore.
In his MasterClass, he shares how students can handle persuasion, sales, and motivation of the self and others. This class includes lessons on topics like how to find sales trends, attunement techniques, making connections, and much more.
11. Sara Blakely Teaches Self-Made Entrepreneurship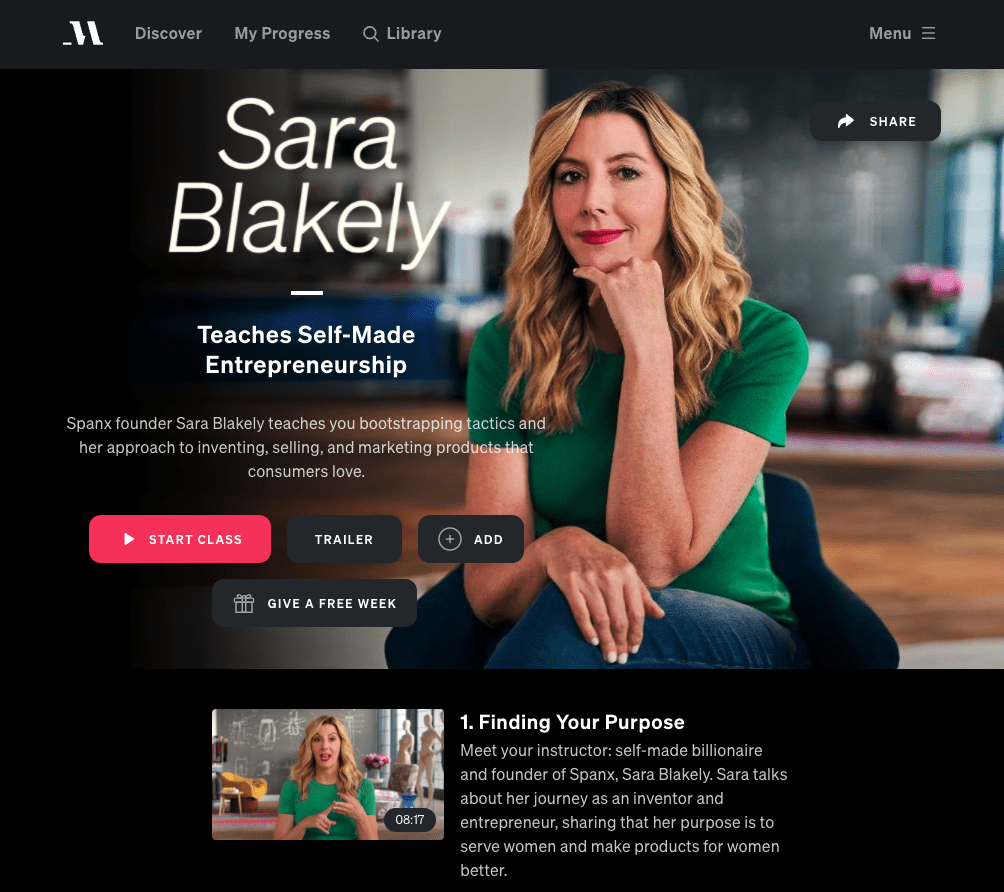 Sara Blakely is the founder of Spanx, a company that has earned her the status of self-made billionaire. Today, she's a businesswoman and philanthropist and was named one of Time Magazine's "Time 100," a list of most influential people in the world.
Her MasterClass covers her journey as an inventor and entrepreneur, discussing her purpose to serve women and make products for women better. You'll learn to develop big ideas, how to tackle prototyping, how to make products, sell them, and build awareness.
What are the best writing MasterClasses?
Whether you're looking to master the art of crafting the perfect novel, writing for the screen or writing for the stage, MasterClass has courses that cover them all.
12. Neil Gaiman Teaches the Art of Storytelling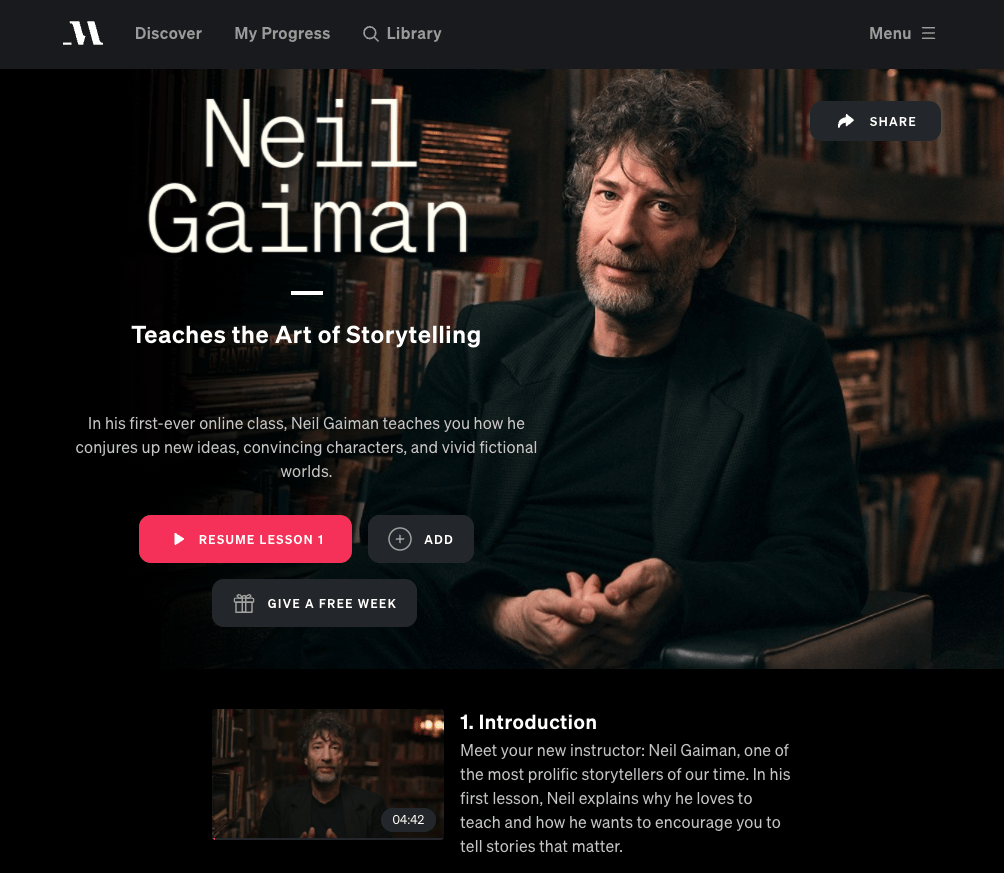 Neil Gaiman has written many beloved books that have become household names — titles like The Sandman, The Graveyard Book, Coraline, and many others — some of which have been adapted into movies. He's also written short fiction, novels, comic books, graphic novels, nonfiction, audio theatre, and films.
Gaiman's MasterClass teaches writing, worldbuilding, and how to craft impactful and believing characters. You'll learn how to get inspired, find your voice, tips for writing short fiction, dialogue, world-building, and much more.
13. Aaron Sorkin Teaches Screenwriting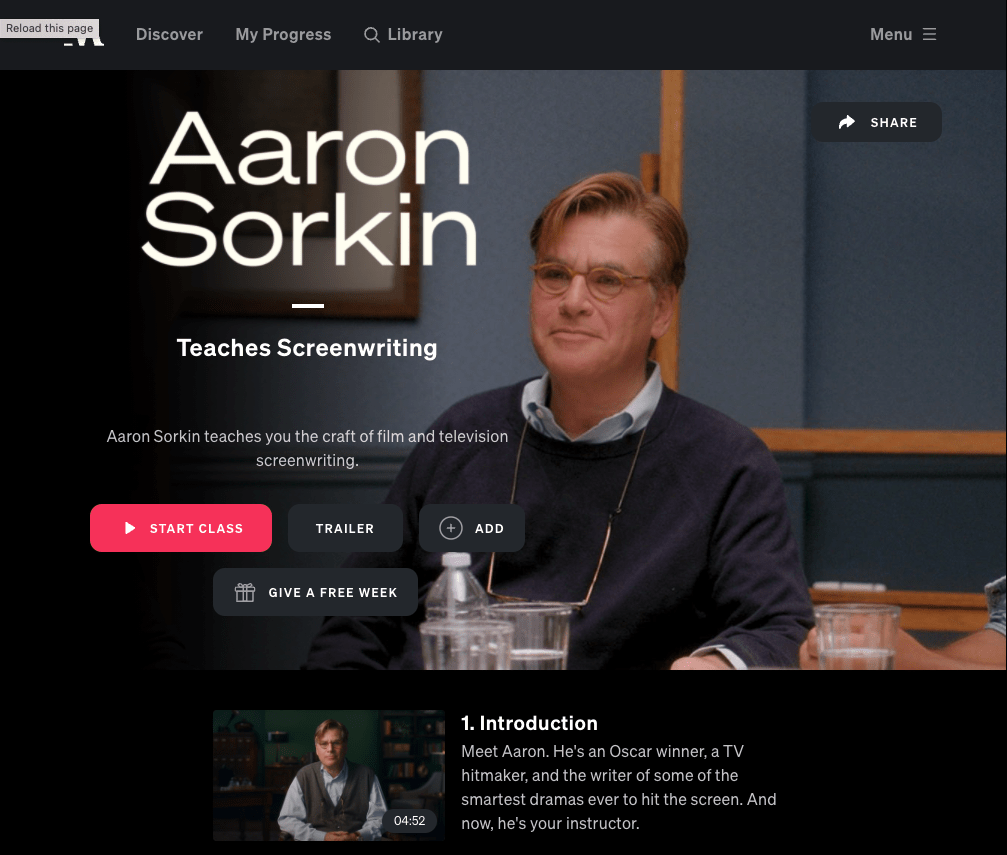 Aaron Sorkin is the Oscar-winning screenwriter behind dramas like A Few Good Men (we knew you couldn't handle the truth!). He's most renowned for his witty and snappy dialogue in stories about politics, law, and the media.
In this MasterClass, you'll learn Sorkin's tips for screenwriting including how to create story ideas, build characters, conduct research, think about your audience, and much more.
14. Margaret Atwood Teaches Creative Writing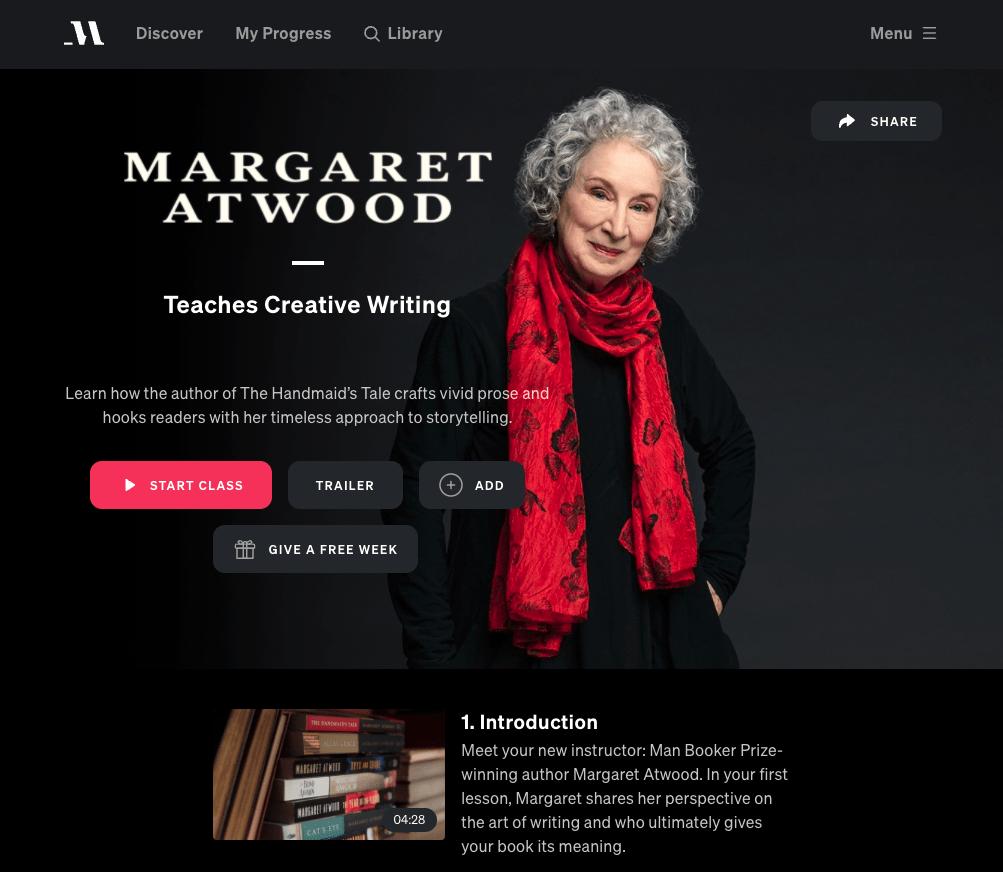 Margaret Atwood is a Man Booker Prize-winning author behind popular titles like The Handmaid's Tale and Oryx and Crake. She's most well-known for role reversal in her stories and weaving common themes throughout all her work.
In her MasterClass, she shares how to tackle vivid prose and craft hooks for stories. You'll learn how to get started as a writer, how to develop different narrative points of view, tips on prose, revise your writing, and much more.
What are the best home and lifestyle MasterClasses?
The home and lifestyle category covers the gamut of topics from makeup tips to gardening and interior design. No matter how you're looking to improve your home life, there's a course for you to choose from.
15. Bobbi Brown Teaches MakeUp and Beauty
Bobbi Brown is the creator of the famous Bobbi Brown makeup line sold through The Estée Lauder Companies and is well-known for the creation of her iconic line of lipstick colors.
In her MasterClass, she covers tips, tricks, and techniques for applying simple, natural makeup that's meant to make students feel beautiful in their own skin. You'll learn about color and makeup, moisturizer, foundation, contouring, eye makeup, lips and so much more.
16. Ron Finley Teaches Gardening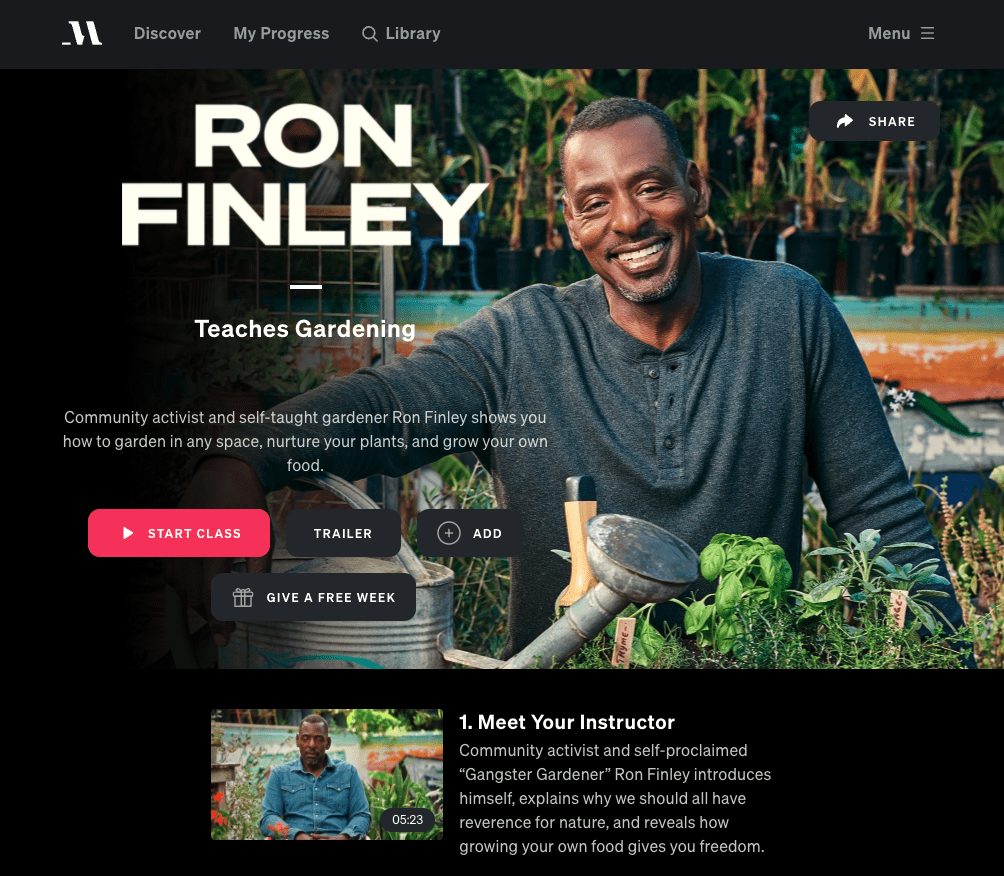 Self-proclaimed "Gangster Gardener" Ron Finley is a well-known community activist and urban gardener. He's well-known for creating a lush garden of fruit, vegetables, and succulents in his West Adams home, even making gardening use of his swimming pool.
He teaches knowledge about topics like dirt, planters, shade, and lighting, and all about how to grow specific types of plants like flowers, legumes, vegetables, herbs, and much more in your home.
17. Brandon McMillan Teaches Dog Training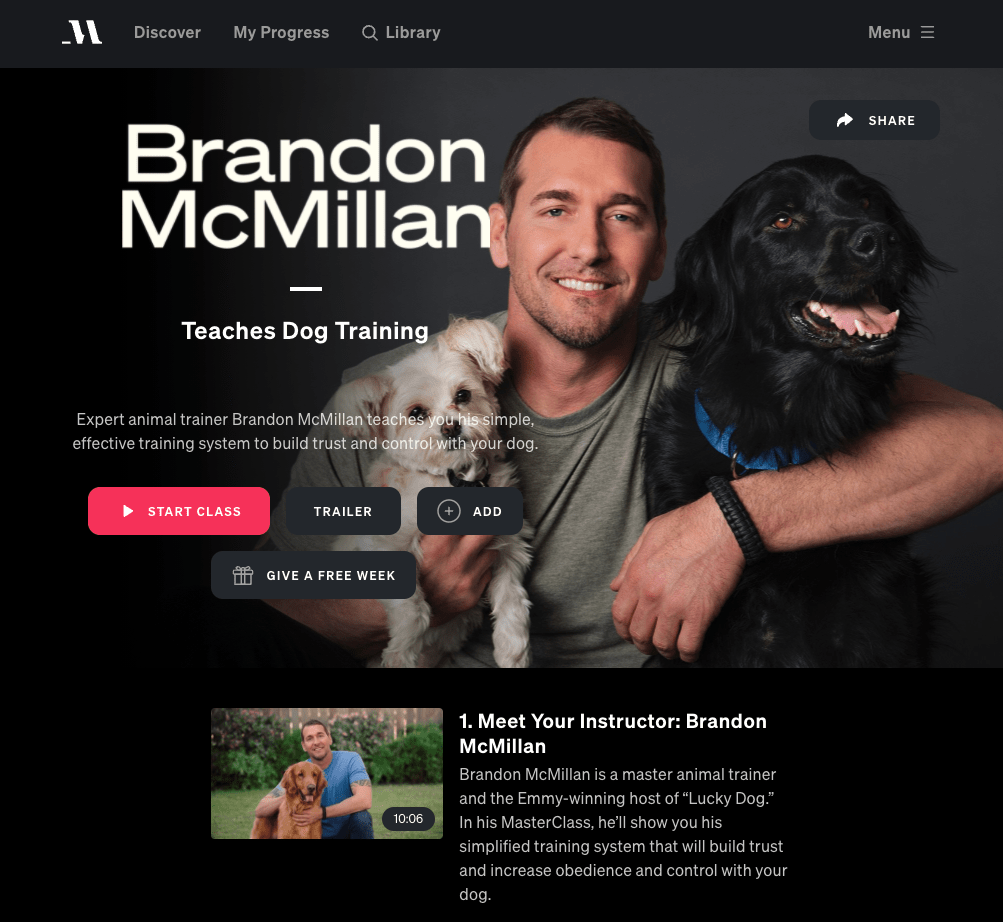 Brandon McMillan is best known as an American television personality and former host of the television series Lucky Dog on CBS. He's also an animal trainer and author.
In his MasterClass, McMillan covers a simple, effective training system to build trust and control with your fur children. You'll learn the foundations of training and then dive deep into popular commands like sit, stay, no, down, off, come, heel, and more.
What are the best wellness MasterClasses?
From mental health to sleep, the MasterClasses wellness courses are all about bringing health, balance, and harmony to your life.
18. Matthew Walker Teaches the Science of Better Sleep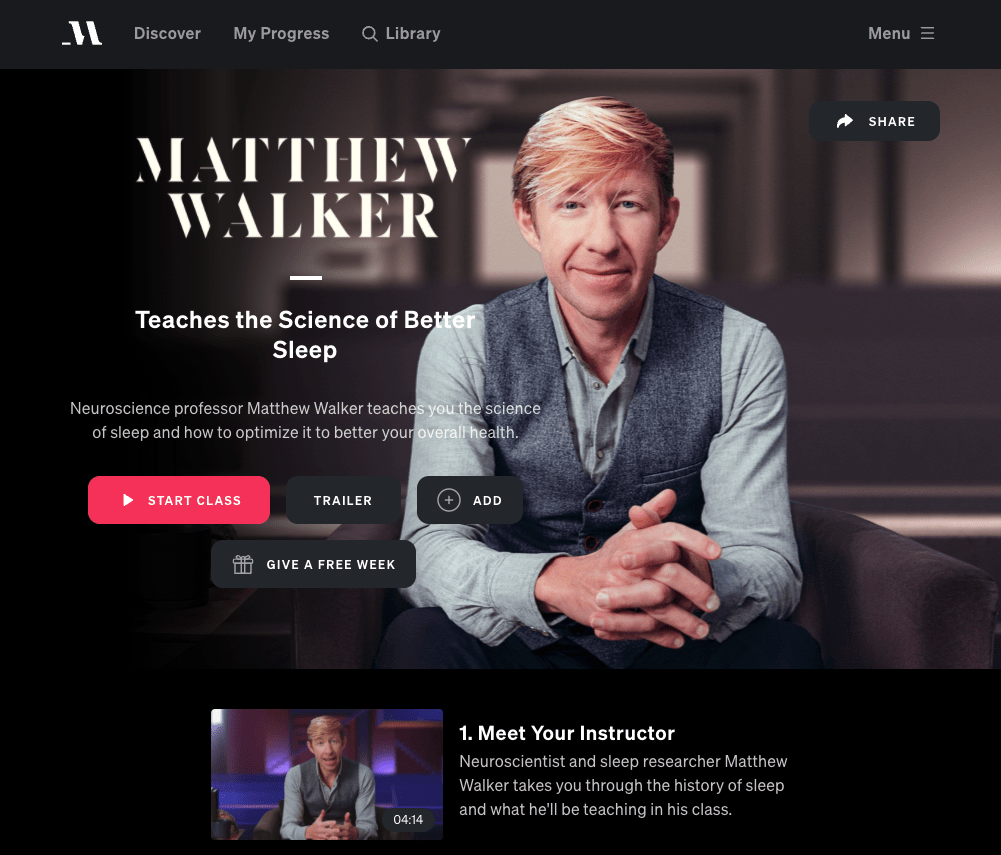 Matthew Walker is a neuroscientist for the University of California, Berkeley. Focused on the science of sleep, this professor wants to help MasterClass students get a little more shut-eye.
He teaches the science of sleep and provides tips on how to optimize your sleep to better your overall health. This includes lessons on how sleep works, how to determine whether or not you are a night owl, how dreams work, how your diet impacts sleep, and so much more.
19. Jon Kabat-Zinn Teaches Mindfulness and Meditation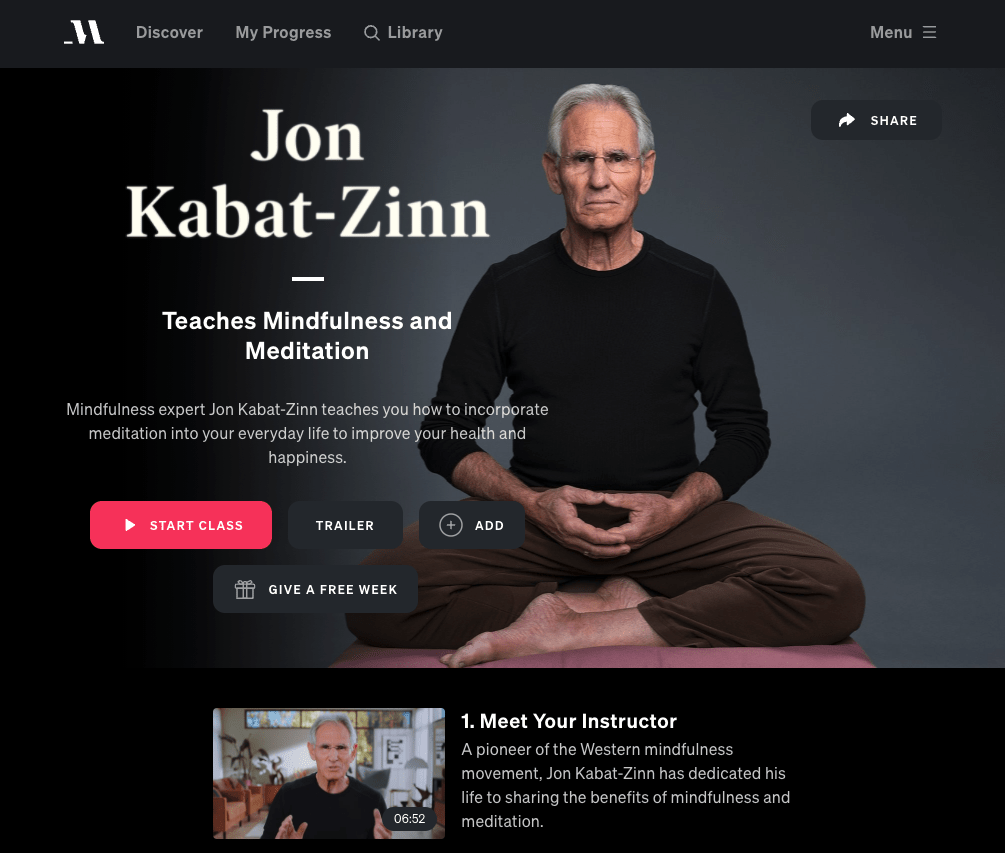 Jon Kabat-Zinn is an American professor emeritus of medicine and the founder of the Stress Reduction Clinic and the Center for Mindfulness in Medicine, Health Care, and Society at the University of Massachusetts Medical School.
In his MasterClass, students will learn how to incorporate meditation into their everyday lives with the goal of improving overall health and happiness. You'll learn the foundations of mindfulness and meditation, stress, and complete several guided meditation courses.
What are the best design and style MasterClasses?
Whether it's designed for everyday life, the office, home, or runway, MasterClass has courses from some of the top interior and clothing designers out there.
20. Kelly Wearstler Teaches Interior Design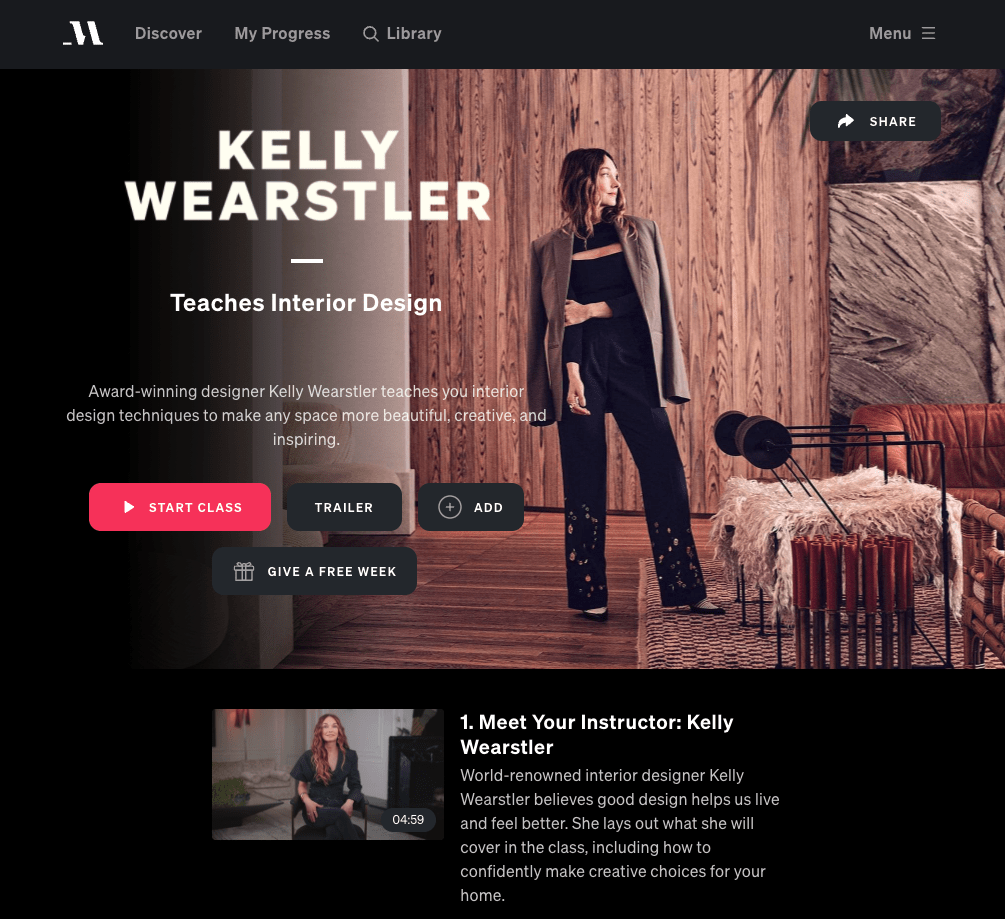 Kelly Wearstler is an American interior designer known for founding her own form Wearstler Interior Design and serving well-known hotels across the country.
In her MasterClass, she teaches the principles behind how she designs high-end residential, commercial, retail, and hospitality spaces to help us all live better. You'll learn how to start a project and work with a space, as well as tips on colors, textures, patterns, lighting, furnishing and so much more.
What are the best sports and gaming MasterClasses?
This MasterClass course category covers both active sports and mental games — learn everything from how to shoot the perfect hoop to how to beat an opponent in a chess match.
21. Daniel Negreanu Teaches Poker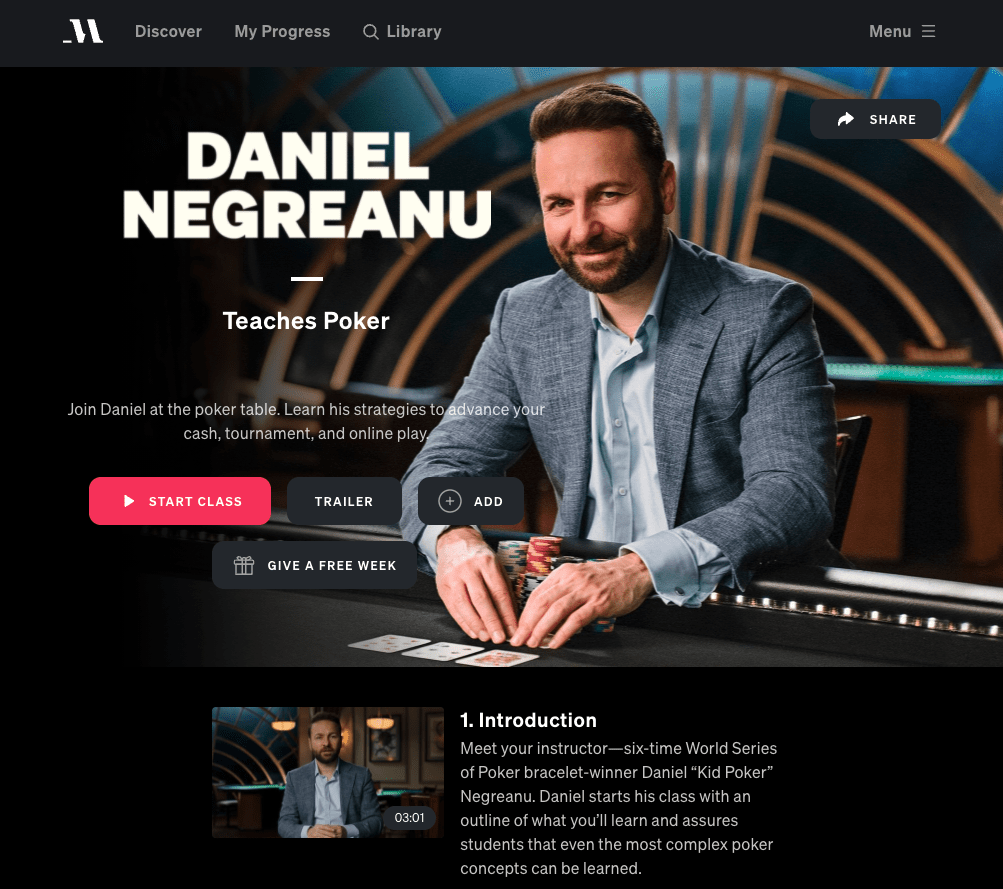 Daniel Negreanu is a six-time World Series of Poker bracelet-winner and recognized best poker player of the decade.
In his MasterClass, students learn strategies to advance cash, win tournaments, and tackle online play. You'll learn game theory, betting, checking, raising, strategy and so much more.
What are the best science and technology MasterClasses?
Classes on scientific theory, space exploration, and more are taught by some of the most intelligent and well-known scientists of our time.
22. Neil deGrasse Tyson Teaches Scientific Thinking and Communication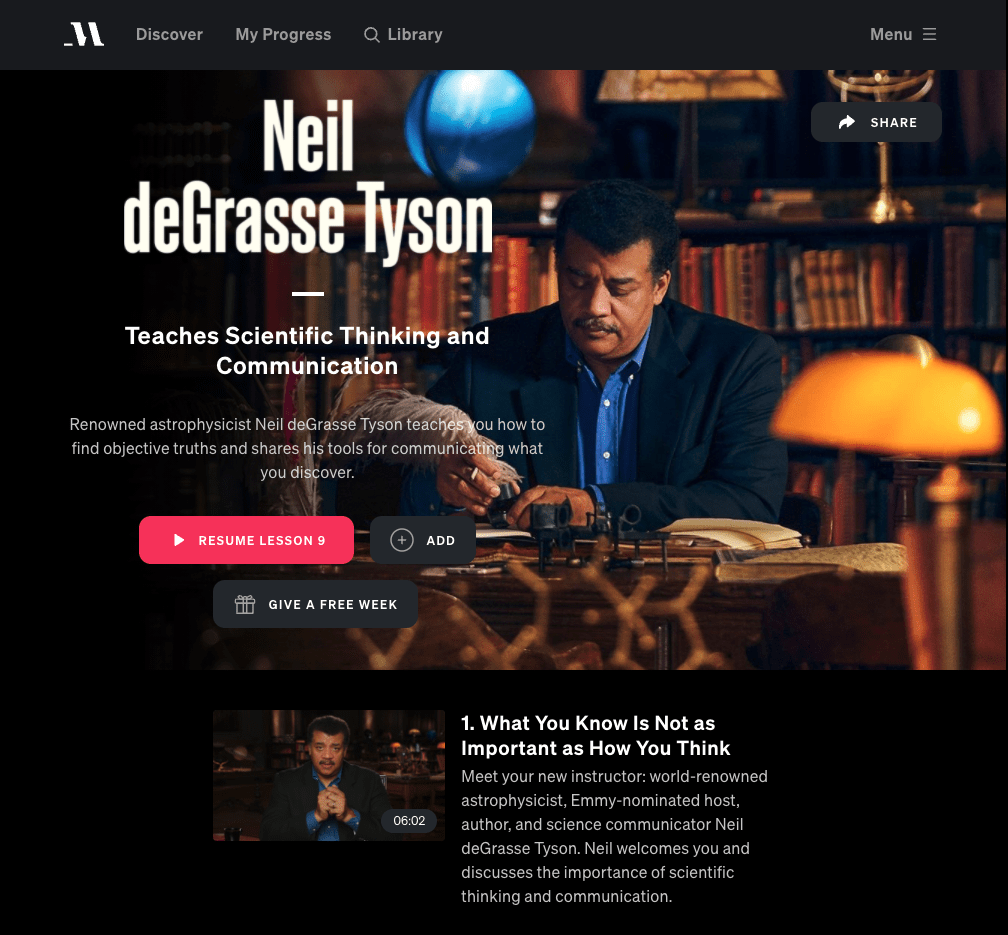 Neil deGrasse Tyson is a famous astrophysicist most well-known for making science popular with books like The Pluto Files and frequent television appearances as a host of Cosmos: A Spacetime Odyssey.
In his MasterClass, he teaches strategies to find objective truths and communicate what you discover. You'll learn about the scientific method, biases, systems of belief, communication tactics, and much more.
23. Chris Hadfield Teaches Space Exploration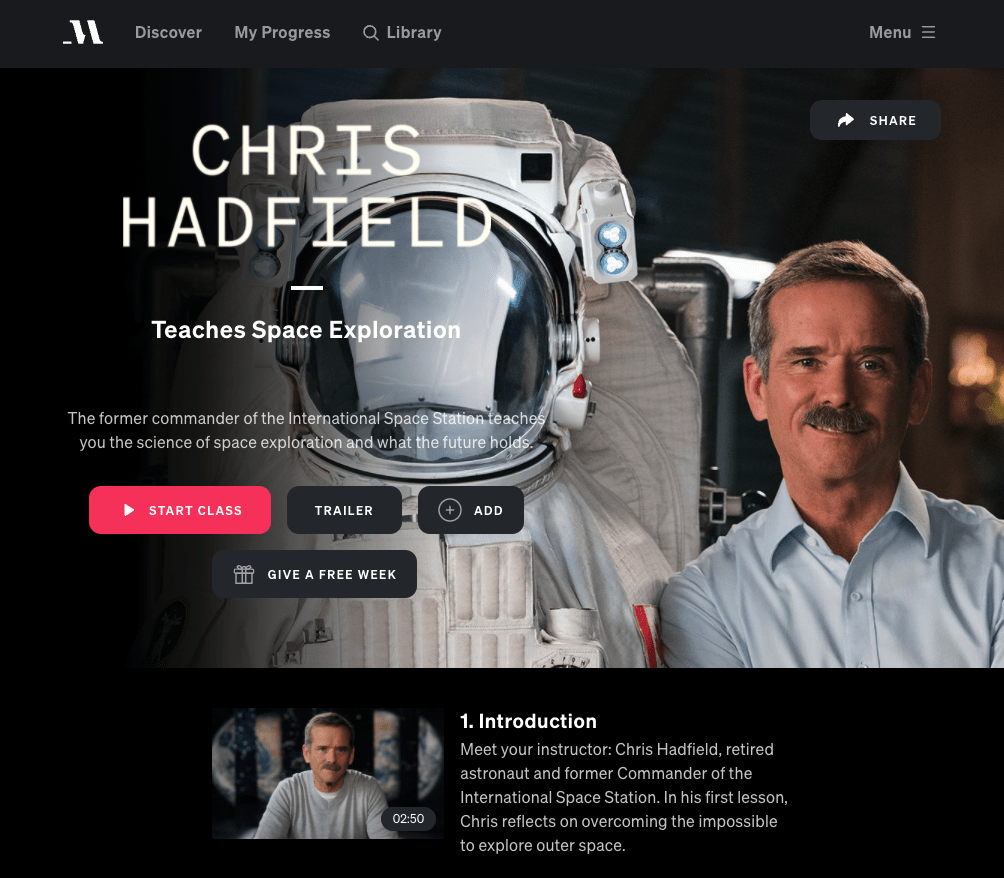 Chris Hadfield is the former commander of the International Space Station (ISS) and a retired Canadian Space Agency astronaut, engineer, science communicator, singer, and former fighter pilot. He was the first Canadian to walk in space and has flown two shuttle missions.
In his MasterClass, he teaches the art of space exploration. You will learn what astronaut training is like, and all about rockets, spaceships, the ISS, and much more.
What are the best community and government MasterClasses?
This category of courses includes topics on how we tackle some of the most complex problems of our time, from economics to climate change.
24. Paul Krugman Teaches Economics and Society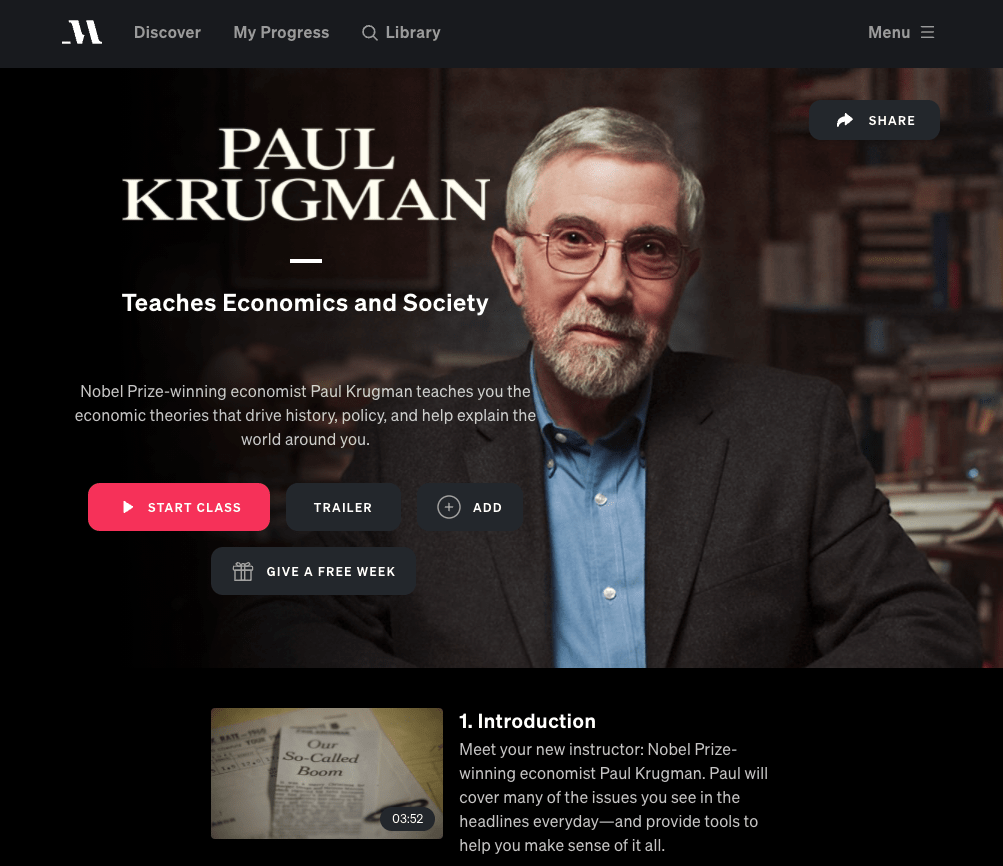 Paul Krugman is a Nobel Prize-winning economist and Professor of Economics at the Graduate Center of the City University of New York. He also frequently writes an economic column for the New York Times.
In his MasterClass, he teaches the economic theories that drive history and policy today. You'll learn the principles of economics and macroeconomics, economic crises, inequality in our society, taxes, healthcare, globalization, and much more.
Learn something new and have fun while doing it
MasterClass is one of the most entertaining ways to tackle online learning. Courses that are taught by instructors who are truly the best of the best on-screen, and at their craft, ensure you're in for a good experience every time.
Get started with your MasterClass subscription today to launch your journey and enrich your life in new ways.