When clients come to us, they naturally want to make sure that they will get a true bang for their buck in terms of both value and performance. And in many cases, you need a solid library of content published steadily over a set period to get those results.
Sometimes, though, there are pieces of standout content that can drive massive amounts of high-quality traffic.
The content we've created for Jobcase has proven that. Five articles alone drive 20,000 monthly visitors to the brand's site, and in this Jobcase case study, we're going to break down the strategy we used to get them those results.
The client
Jobcase is a job search and hiring resource site, making it easier for employers to find potential candidates and for employees to find new jobs. Even beyond that, it has a job seekers community that allows members to ask questions, look for leads, and get advice.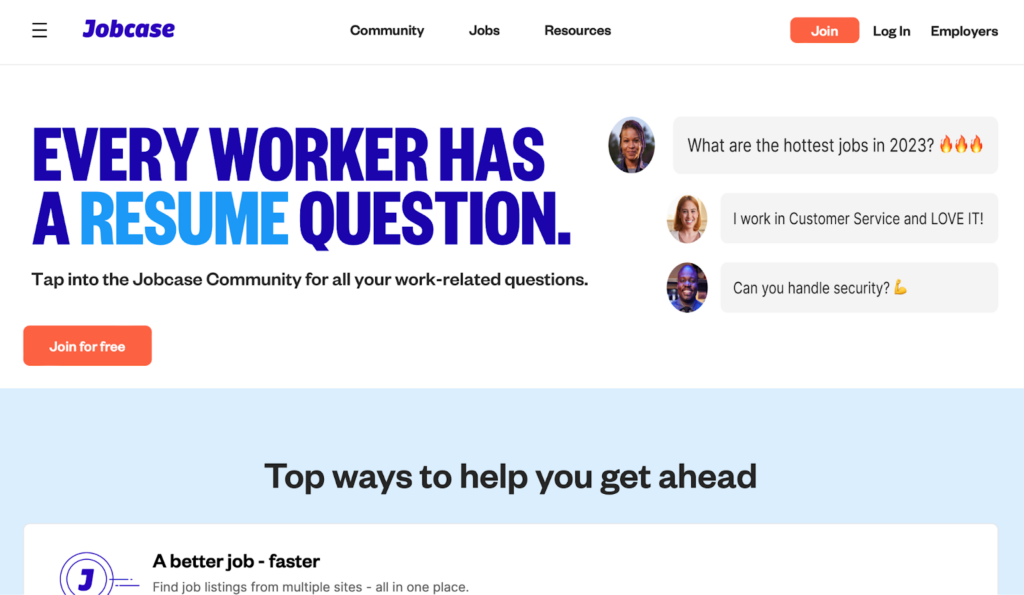 They also have an outstanding resource center designed to help job seekers prepare to find the job of their dreams, with everything from helpful tips for getting hired to avoiding job scams.
The challenge
Not all job search sites are created equal, and knowing that, Jobcase went above and beyond to create a new solution that was unique compared to their competition.
Built around highly-active forums, Q&A pages, and detailed resources, Jobcase had an abundance of brand visibility. They also had solid traffic, and a ton of content.
Still, they were missing the kind of in-depth, authoritative, and actionable guides their members were looking for. They were also struggling to rank high in the search engine results pages (SERPs).
This is why they came to us here at Codeless; we've been working with them since January of 2021 to create the high-quality, search-friendly content they were missing.
The strategy
We did something different while working with Jobcase.
We normally want to be directly involved with (if not in charge of) the client's content plans, but Jobcase already had a solid plan and just needed help with the execution. We let them take the driver's seat, and we were able to create the content they were looking for.
We eventually proceeded to take over the content strategy, too, which we still run today.
We worked with them to create strong pillar content, and branches of supporting posts for each. Let's take a look at the strategy we used.
1. Devise a pillar and post approach
Every content strategy is different. Some clients, like Robinhood, wanted us to create a library of glossary-style content. Others need help creating trending content, or product-focused bottom-of-the-funnel resources.
In this case, we knew we'd take a pillar and post approach, meaning that we needed to find different categories of keywords to create topic clusters.
The topic clusters would all involve a primary core topic, and have multiple corresponding articles that would relate to that pillar topic. Once this was decided, we could start on keyword research.
2. Conduct keyword research
The pillar and post approach is going to be most successful when it's supported by strong keyword research.
Our SEO process has always relied on utilizing advanced tools like Ahrefs and Frase to help us find the strongest possible primary and secondary keywords. This allows us to help our clients rank for semantically-related search terms, too.
Ahrefs provided strong initial keyword research to help us create briefs that we gave our writers, and Frase helps our writers to optimize the content as they're writing.
After conducting keyword research, we'd download the list of keywords we'd pulled and then organize them into different topic clusters.
3. Creating the topic clusters
When deciding what types of content to create, we looked at the types of resources Jobcase's audiences were looking for.
We decided to create resources based on different popular employers, like Walmart or Starbucks.
This strategy involves having a single large primary keyword like "Walmart jobs" that may be used for the "pillar" post. There will then be corresponding articles that link back to this pillar post, like "how to apply for Walmart jobs" and "Walmart job benefits."

The pillar content will then link back to the supporting posts, and vice versa. The "[Employer] careers" article would act as the hub, and the corresponding articles would act as the spokes for the hub.
This allows you to build up domain ranking for individual URLs to increase overall ranking potential. In return, this made it possible for Jobcase to rank for more hyper-competitive keywords like "Walmart careers" and "Target careers," which they couldn't previously rank for.
Our employer-focused content is now visible in a dedicated spot on Jobcase's site, ofring high-value information that users are looking for and making it easy for them to find.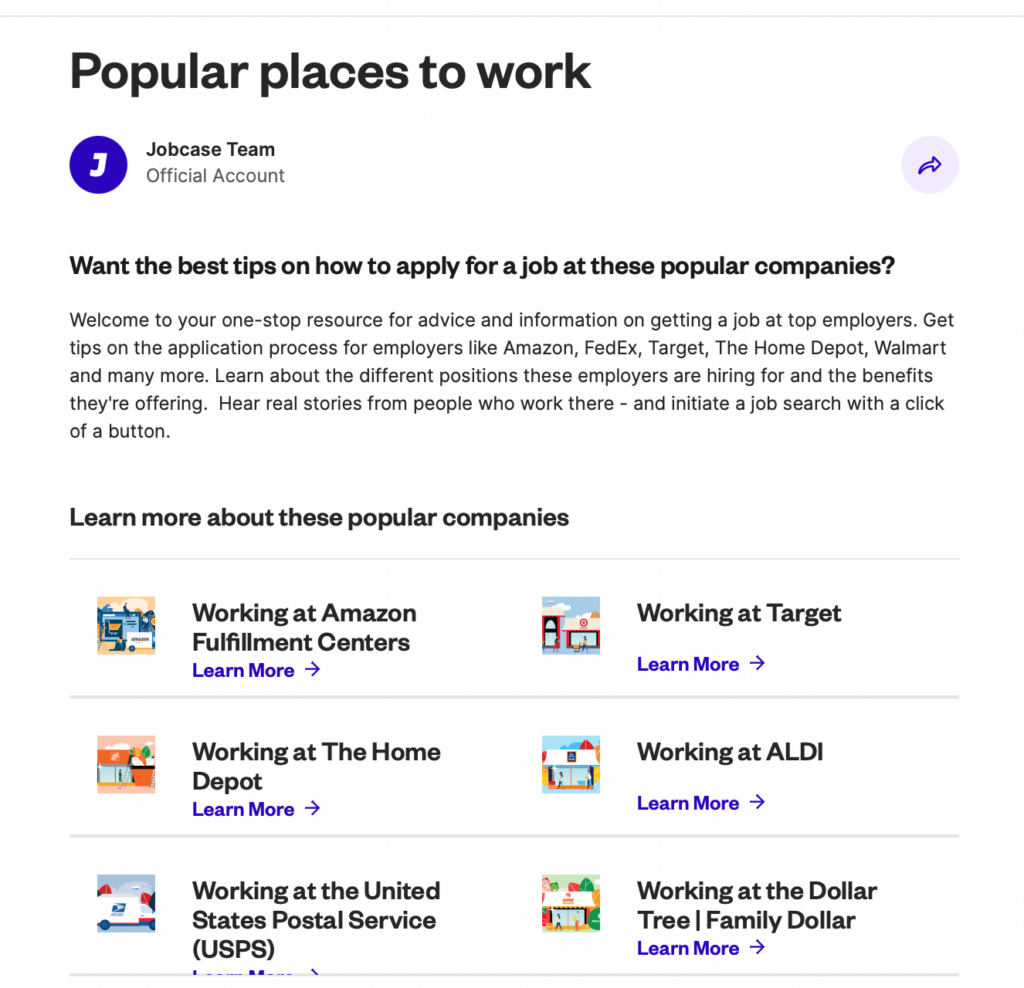 4. Creating and optimizing the content itself
We worked with Jobcase to understand their audience, their goals, and their specific brand voice. We took all this information and incorporated it into detailed briefs that we gave our writers.
Every writer received a tentative outline, keyword research, and information about what each post needed to include. We also provided each writer with a style guide and general writing best practices to follow for well-written and SEO-optimized content.
Even with these detailed briefs, our expert team of editors carefully reviewed each article before passing it along to Jobcase for review. This ensured consistent quality (and a happy client!), making it easier to create content at the kind of scale that Jobcase's audience wanted to find.
The results
During our time working with Jobcase (since January 2021), we've created over 700 articles— and we're still going strong. And so are they, for that matter.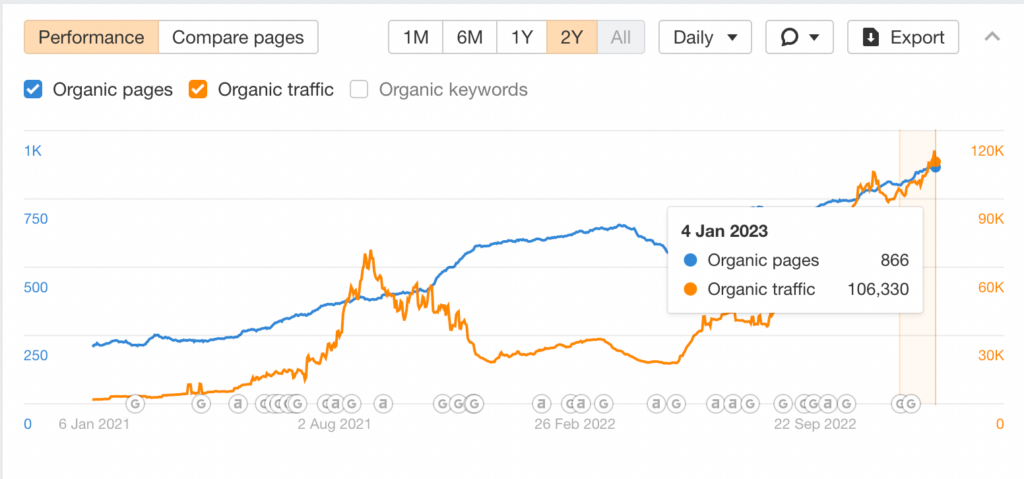 Since January 2021, Jobcase has seen results like the following:
Over 18x more first-page rankings
Raking for over 13x more organic keywords
Have over 5x more referring domains
Over 20x more monthly organic traffic
You can see the difference in the results in this table, which breaks down their initial results in January 2021 compared to the present in January 2023:
We do want to note that they had some existing content before we began working with them. A lot of that content was solid.
That being said, Codeless is responsible for the mass majority of their highest-ranking and highest-performing content, which you can see here: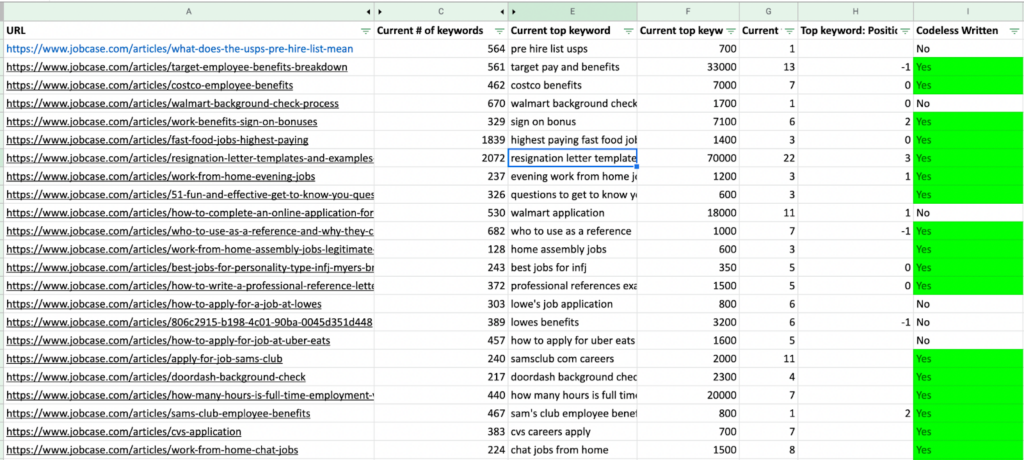 During the duration of our contract, we've also helped Jobcase to excel when it comes to topical authority.
Our pillar and post strategy has made it easier for Jobcase to rank consistently high for high-value and high-competition keywords. A strategic use of both the hub and spoke models and using both primary and secondary keywords were crucial here.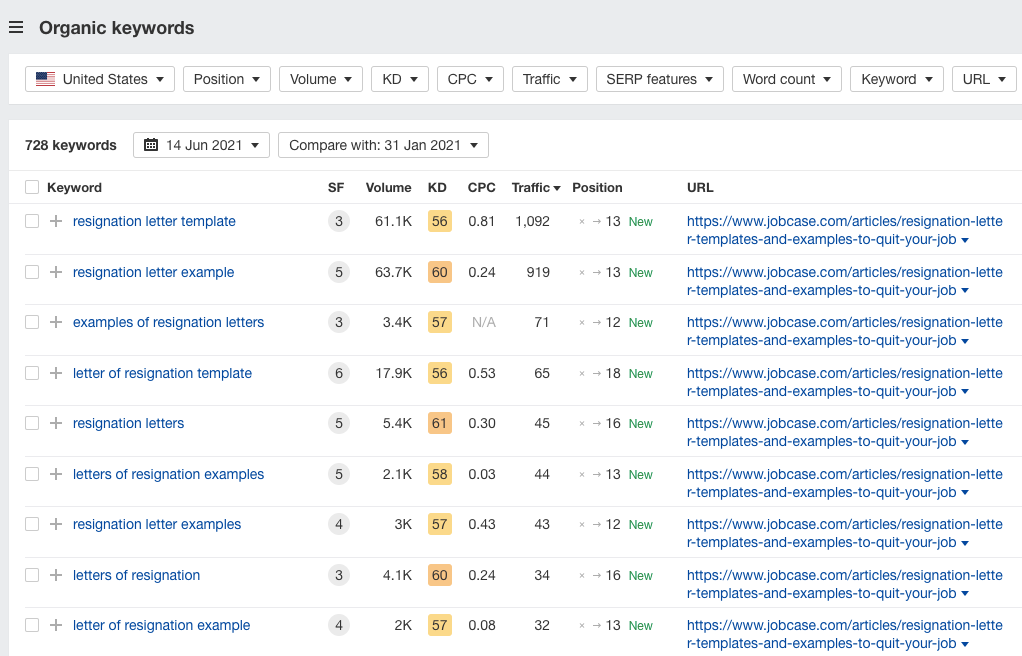 And with all this hard work, the results started paying off, with five articles alone driving over 20,000 monthly visitors.
Final thoughts
This Jobcase case study reiterates how essential it is to come to bat with a strong content strategy and a dedicated, systemized approach to content creation. You need both in order to be successful at scale the way Jobcase was.
Fortunately, we can help with both. Whether you have a solid library of content already or you're starting from scratch, we're ready to help you increase site traffic and your ranking in the SERPs.
Ready to get results with your content marketing? Get in touch for a free consult here.