Background
Jobcase is an online community of people helping people to fight unemployment.
Built around a series of highly-active forums and Q&A pages, Jobcase has a bunch of content and brand visibility, but was missing expert-written, comprehensive guides to the subjects their members care about.
And that's where Codeless came in. In our time working with Jobcase, we've worked to align with their members and target readers and create high quality, search-oriented content.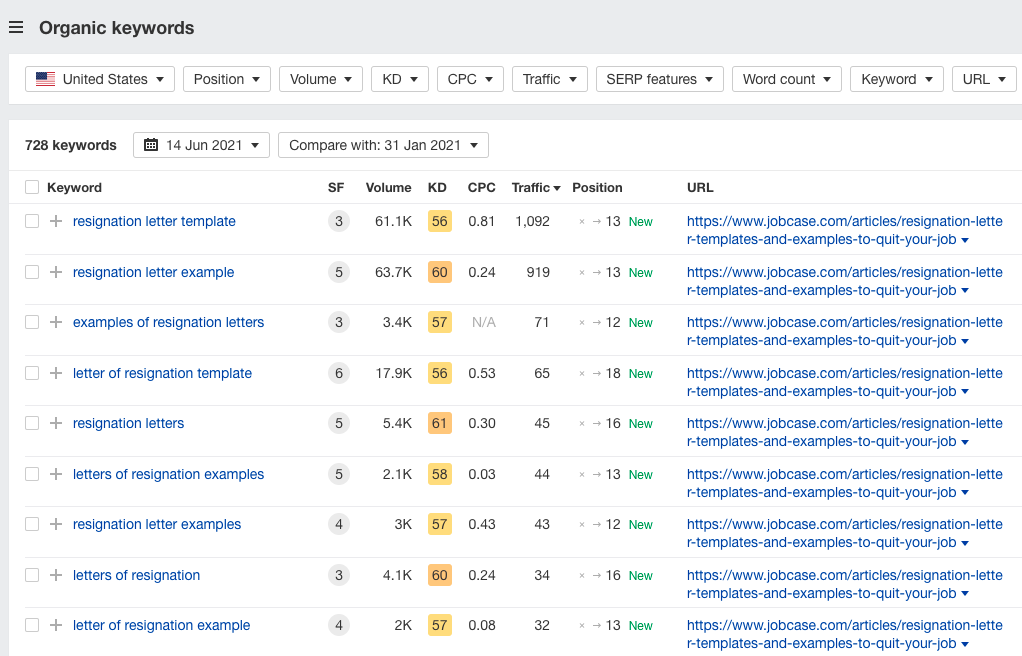 Our Involvement
We are responsible exclusively for executing Jobcase's existing content strategy, which we normally aren't super enthusiastic about. We like to be directly involved (if not in charge of) our client's content plans. But, after meeting with Jobcase and learning more about what they had planned, we were comfortable letting them take the driver's seat while we put gas in the engine.
Our goal, then, was to write the best possible content to help them achieve their brand awareness and traffic goals — and that meant SEO.
Our SEO process relies heavily on tools like Frase and Ahrefs, as they help us ensure every one of our writers can write optimized content to a high (and clear) standard.
We use both tools to ensure our content is optimized not just for the primary keyword, but semantically-related search terms as well. You can see the results of that in the image above.
Results
We've seen quick and exciting successes with Jobcase, including multiple articles going straight to the first page for keywords like "what job should i have?" (with 11,000 monthly searches).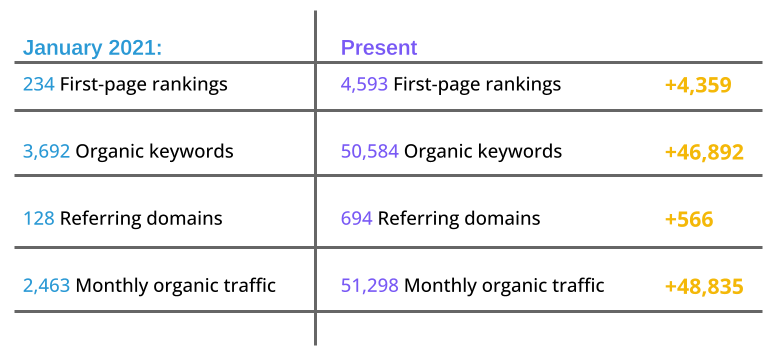 Examples
15 Restaurants That Pay Well for Fast Food Jobs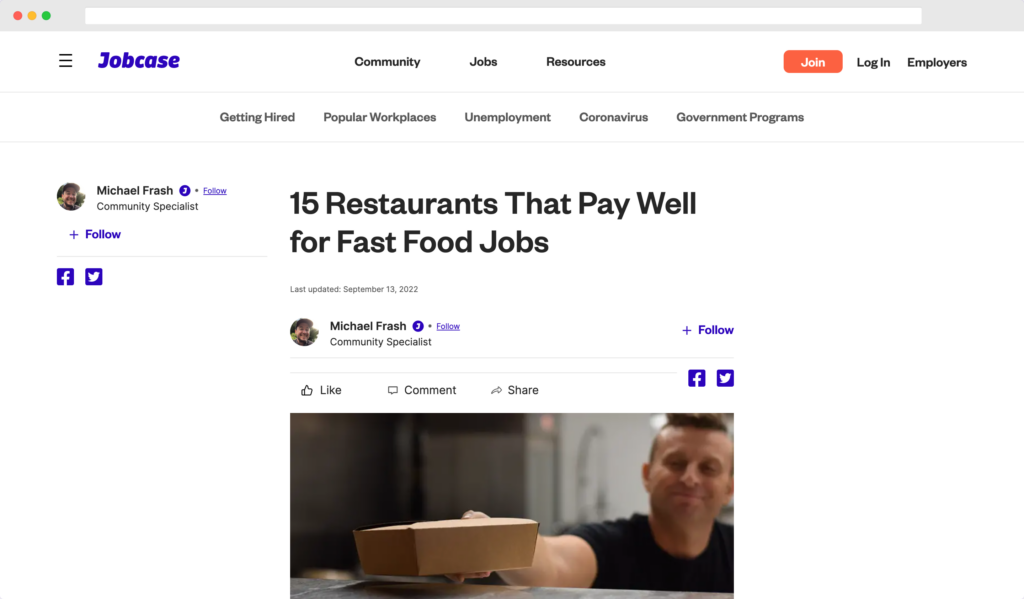 125 keywords ranking on the 1st page of the search results
3rd position for "highest paying fast food jobs" (1,400 monthly search volume)
Article ranks for 1,883 keywords (as of September 13th, 2022)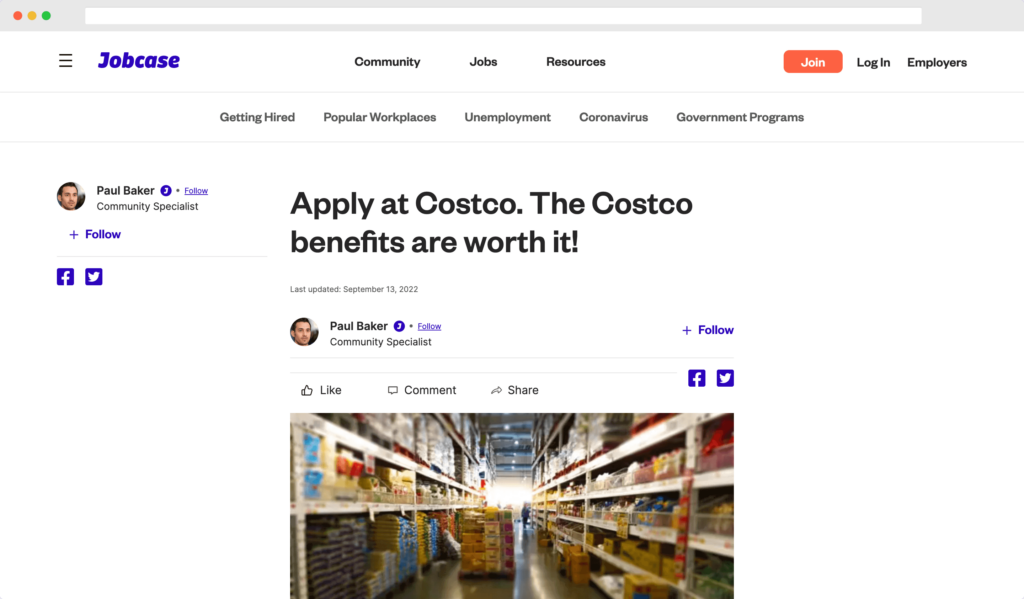 Driving 1,700+ organic search traffic visits per month
102 keywords ranking on the 1st page of the search results
7th position for "costco benefits" (7,000 monthly search volume)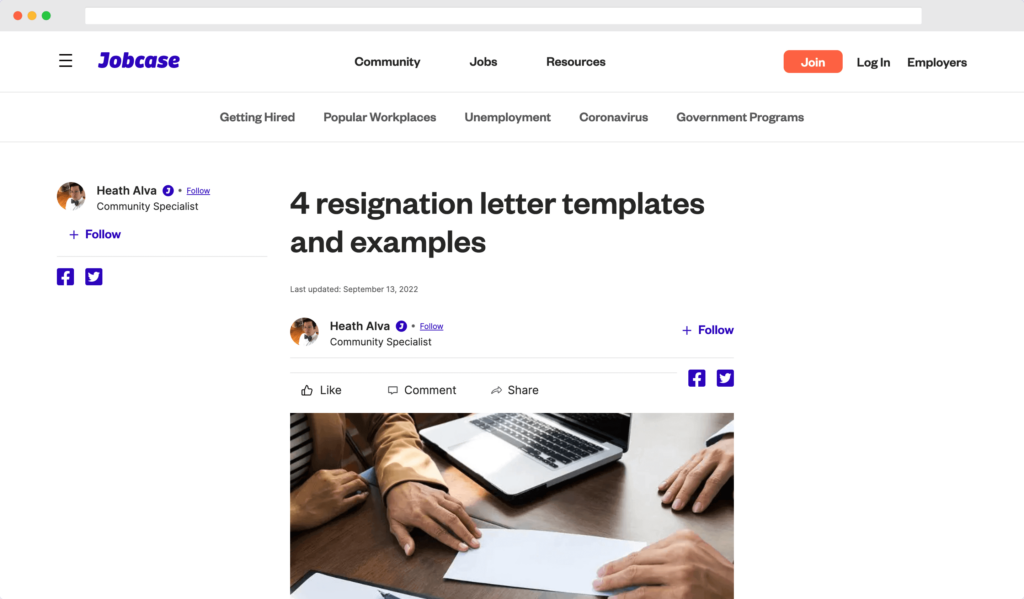 3rd-most valuable post on the Jobcase blog within two months of publication
1st position for "samples of resignation letters" (1,800 search volume)

Article ranks for 1,830 keywords (as of September 13th, 2022)