If you want your SaaS to be an integral part of your customer's daily workflow and life, you need to teach them how to use your features to their fullest potential.
The easiest way to do this is by showing them the process in action in a product tutorial video.
In this article, I'm going to show you 21 ways that you can use SaaS product tutorial videos to achieve three things:
Save yourself time and stop doing boring, manual tasks.
Convert more free trials into customers, and stop customers from churning.
Build your brand's reputation by making connections through video, and stand out from competitors.
Let's get started.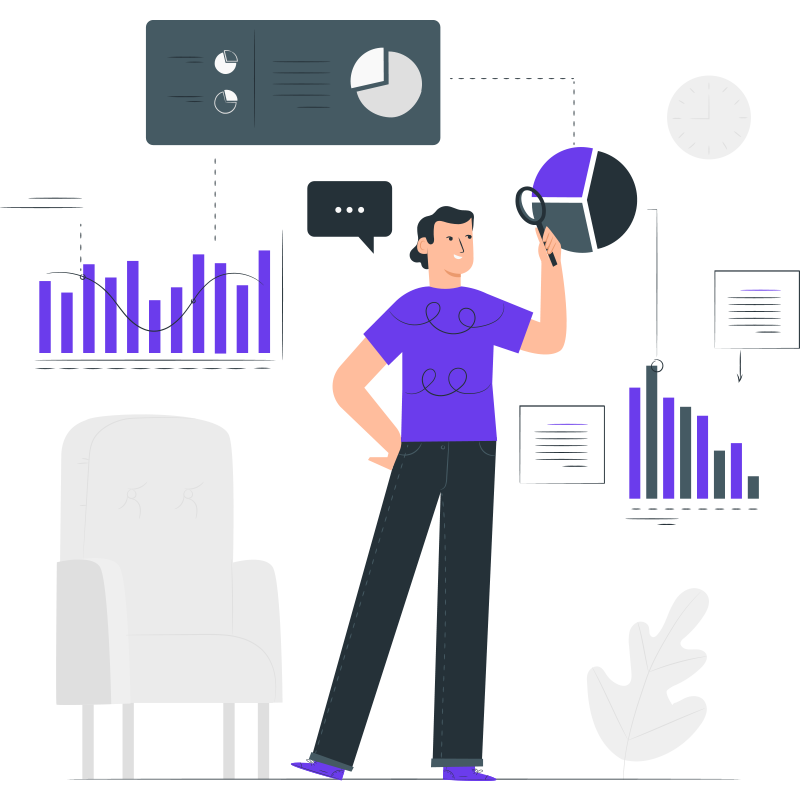 Get long-term ROI.
We help you grow through expertise, strategy, and the best content on the web.
What is a SaaS product tutorial video?
First things first, let me introduce you to a SaaS product tutorial video, often presented using product demo software.
It's a walkthrough video that explains how to complete an action in your product.
The best ones are short (up to 5 minutes maximum, but ideally in the 1-2 minute range).
The ones we make at Codeless have:
A real person narrating the videos.
They don't have animated cartoons, but actually show a real reflection of the product and steps in action using screen recordings.
They have engaging edits to keep the viewer focused on what's most important on screen.
You may have heard these videos be called product demos, tutorials, training videos, walkthroughs, or onboarding videos.
1. Add help icons in your app
Do you ever see those little question mark icons in your favourite apps? If you're stuck or want more information, you can click those to get some extra context. This is a great place to add a product tutorial video to help users at the moment they need it. They just click the help icon, it launches the tutorial video and they can watch it right there and continue on working. They won't get frustrated and leave and you can also avoid another support ticket being added to the queue.
2. Send them in support tickets
Speaking of support tickets, they can be a huge time suck for small teams and hard to keep on top of. Even if you're a large team with a dedicated support staff, it's always good to reduce the volume of those tickets coming in to improve response time and have time to give more value.
Setting up auto-responses can save you time when dealing with a backlog of customers. Or you can take a look at these support ticket response examples which get the ball rolling with your customer right away.
If a customer asks a question that's covered in a product tutorial video, you can save time by sending them a link or having a chat bot automatically give them the right video. They'll appreciate seeing their problem solved in real time, and you can fly through the tickets faster.
3. Embed in your knowledge base articles
Your knowledge base is the go-to place for self service. Give your customers the option to read text or watch a video to solve their issue. A study by Small Biz Trends showed that 59% of executives said that if they're given the option between reading text or watching a video on the same topic, they're more likely to choose video.
Embed your product tutorial videos in your knowledge base articles to give your customers what they want.
4. Upload the videos to YouTube
This is usually the first… and sometimes the only thing marketers do with product tutorial videos. Uploading your tutorial videos to YouTube is a great move – if your customers are seeking out a video on your product, it's the first place they'll think of to look. Use a tool to make Youtube banners online and other graphics to create your channel's visuals if you're only starting out.
That being said, it's definitely not the only place you should be hosting them – pick a few spots from the rest of this list or use all of these videos to get the best possible results from your videos.
5. Use in re-marketing ads
You can use your product tutorial videos in remarketing ads on social media. That will help your new customers or free trial users get back into your product to complete onboarding, or show them how to use features that would be most helpful to them.
6. Embed videos in articles
As part of your SEO strategy, you should be creating long-form articles that draw in free traffic to your site. These articles should cover topics relevant to your industry to get people interested in using your product. This is also a great place to embed your product tutorial videos if it fits the context of the article. For example, OpenPhone has an article here answering the question on how long it takes to port your number to a new provider. After answering this question in depth, they embed a tutorial video showing people how easy it is to port their phone number to OpenPhone.
7. Share videos on social media
Tutorial videos also make for great social media content on your company channels. Usually, people who follow company accounts on social media are already customers. So instead of always trying to sell to new people, you can embrace your existing customer-base and encourage them to try out new features in your product or show them new use-cases that they might not have thought of before.
This can all be done by natively posting your tutorial videos on Twitter, LinkedIn or Instagram.
8. Embed them on your website landing pages
Wordstream found that adding a video on your landing page can increase your conversion rate by up to 80%. That could mean hundreds of thousands or millions of dollars in extra revenue per year.
To tell you the truth, I'm not a huge fan of animated explainer videos that don't even show the product in action. If I'm checking out your website, considering if I want to try out your product or not, I want to see it in action! I want to know about the benefits I'll get and what things I'll be doing in my daily workflow to get there. That's where a product tutorial video shines.
Embed them on your landing pages – whether that's your features pages or use-case pages and show people what it will look like when they're a customer.
9. Give to SDRs as sales material
On the same topic of sales, product tutorial videos make for great sales assets that SDRs can use in their outreach.
Whether they're reaching out to people by email, LinkedIn or wherever else online, they can send a link to a video so the prospect can see your product in action.
Optinmoster found that 72% of customers would rather learn about a product or service by watching a video, so the numbers speak for themselves.
10. Reach out to past interested customers when launching a new feature
Do you have a list of churned customers who left because you didn't have a certain feature that they needed? Or maybe it was a certain audience that couldn't have used your product before because it didn't fit their use-case.
Well, if you just recently launched a new feature that would now be beneficial to them, the best way to show them and get them back is by sending them a product tutorial video of the feature in action.
11. Embed the videos in your in-app onboarding flow
Make a great first impression by embedding the videos in your in-app onboarding flow. Show your customers how to complete the essential first steps they need to do to get value from your product faster.
12. Add them to your onboarding emails
Just like with your onboarding flow, you can also send your product tutorial videos in your onboarding email sequence. Normally, when a new customer signs up for a SaaS trial, they get a series of onboarding emails showing them how to complete essential first steps and get value faster. You can add a link to these tutorials to show customers what the process looks like. It takes a lot of energy to complete a task for the first time, so ease that feeling by showing them the process in action – so they're not jumping into the unknown and getting overwhelmed.
13. Getting customers back with re-engagement emails
If you have some customers that either churned or are at risk of churning because of low activity, you can send a re-engagement email and show them how to use a helpful feature in your app. By showing in real time how easy it is to complete the action in your app, while driving home the benefit that they'll get, you're boosting your chances of having them adopt that feature and either repurchase a subscription, or avoid cancelling.
14. Share with partners & affiliates to give them promotional assets
Not only can you create a tutorial video around how to join your affiliate program and share tips on the best ways to promote your product, but you can also provide tutorial videos to your affiliate partners for them to share as promotional assets in their marketing.
For example, let's say you have a social media scheduling tool. Let's say one one of your affiliate partners is writing an article on how to batch schedule social media content. They could embed one of your tutorial videos in their post to show the process in action using your product. That way, readers of their blog will be more likely to check out your product and become a customer, benefiting both you and your affiliate partner.
15. Training new team members
When a new employee joins your team, they have to get up to speed with your product. The faster they do that, the faster they can start providing value.
You can use your product tutorial videos to onboard new employees, and show them how to use your product. That means existing employees and managers, like yourself, don't have to spend that time manually showing them.
You can even create a training course out of those tutorial videos for your employees, using a tool like Trainual, and then host it on an online course platform such as Thinkific. Another useful tool for optimizing your training processes is Kajabi. Kajabi offers an array of features tailored to create comprehensive courses, ensuring a seamless onboarding process for your new team members.
16. Create a course or training certification
Gamifying your product training is also a great way to get people motivated to watch the videos and improve their usage habits. You can repurpose your product tutorial videos by organizing them into a fully-fledged training certification or course.
Add progress bars, extra resources, achievements, and a certification to make the process feel rewarding.
You've probably seen this done before by companies like HubSpot, Asana, and Privy.
After you've created your product training courses, you can also build more courses to educate your audience around your industry.
Back to that social media example I mentioned before – a social media scheduling tool could create a course on how to get more followers on Instagram, and then include tutorial videos on how to accomplish that using their tool.
17. Show how to integrate with other tools
If you want your product to be an indispensable part of your customer's daily life or workflow, you should create a system where they can integrate your product with other tools that they use on a daily basis.
Many SaaS tools have integrations available, but low adoption rates. If you want to improve daily and monthly active users, get them integrating with the other tools they know and love, like HubSpot, Zapier, and Asana. Create a tutorial video showing step by step how to integrate and some examples of the two tools can work together.
As an added bonus, you can share those tutorial videos with your integration partners, so they can use them as a promotional video on their end too. That will get their audience onto your product too.
18. Use the videos as a fundraising asset with VCs
Product tutorial videos make for a great fundraising asset when you're trying to get funding from a VC. You can show them the value of your product directly, and demonstrate what the experience is like for the user. This can get more donor engagement, help VCs better visualize your potential, and hopefully get them invested.
19. Announce a product feature launch
If you're launching a new product feature, you're going to need to show your customers how to use it. Create a product tutorial video walking through the process and then share it within your own in-app changelog. Adding a changelog to your SaaS product is the best way to keep users updated about the latest product updates and new features. You can also use that video in other marketing efforts: with an in-app message, by email, post it on social media, in the press, or use it as ad creative.
It's the best way to get people excited to use the new feature.
20. Use in live webinars and private demos
If you host live training webinars or private demo calls with leads, you can take care of a lot of the heavy lifting of manually showing the app by playing the pre-recorded product tutorial video instead. Then, you can spend the time individually catering to your audience's questions and needs and really drive home the benefit of your product.
21. Embed the tutorials in your cancellation form
If you have an exit survey for when customers want to cancel their subscription, you can use this opportunity to encourage them to stay. You can embed one of your SaaS product tutorial videos and potentially customize which one displays depending on the customer. Encourage them to try out a new feature that they haven't used yet, or maybe use social proof to promote an underrated feature that's brought a lot of benefit to other customers.
This is your last chance to get your customer to stay before they're potentially gone forever, so use this space to either pique their interest in a feature, or remind them of the benefit that they'll miss out on. The most engaging way to do this is with video.
If you try only just a few of these use cases, you're going to see the benefits in either saving time, saving money, making money or building your brand reputation. But the more use cases you try, the more likely you are to get huge returns.
If this sounds like something you want to do, I want to warn you that it's a lot of work up front.
While it's possible to create these on your own, you need specialized people and professional equipment to make it work. You need someone who is:
Super comfortable and not awkward speaking on camera or in a mic
A high quality camera and microphone, as well as set design extras
Skilled video editor who can enhance audio, colour grade footage and add on-screen animations
A professional screen recording software
An excellent script writer (and one with subject matter expertise for technical industries)
Graphic designer to create eye-catching thumbnails that will make people click in the first place
Hours of time from your team from start to finish, including time for uploading and sharing
We can take care of that for you at a fraction of the time and cost investment, coming on board as your dedicated video team – without the hassle and expense of hiring internally. You can move fast and create these tutorial videos at scale to cover all the essential actions in your SaaS product.
Choose a video actor or voiceover artist from our roster, and we complete everything from start to finish: we'll help with strategy, write scripts, film, edit, create thumbnails, upload them to your channels and give you guidance on how to use these videos to their fullest potential.
This is not right for you if you don't have a team who is willing to try out the use cases listed in this article. It's great to have these videos produced and uploaded, but they won't get you the results you want if they're just sitting idly on YouTube.
If you're ready to get started on your video project, you can set up a Discovery Call here.