Lead generation is a top priority for many marketers. The trouble is that it's also one of their top challenges.
Clever content marketing can attract visitors and convert them into customers, aka leads. It's great for SEO (search engine optimization), establishing thought leadership, and boosting brand awareness. All these factors, in turn, drive high-quality traffic to your website.
But before you see a flood of new leads pour in and fill your pipeline, you must overcome another hurdle. Millions of other websites are competing for the same customers.
There are nearly two billion websites online, and cutting through all that noise is getting more difficult every day, even if you're in a niche industry.
The following lead-generation strategies and content techniques can transform your website and attract new business opportunities when implemented properly. This post will show you how.
Let's get started.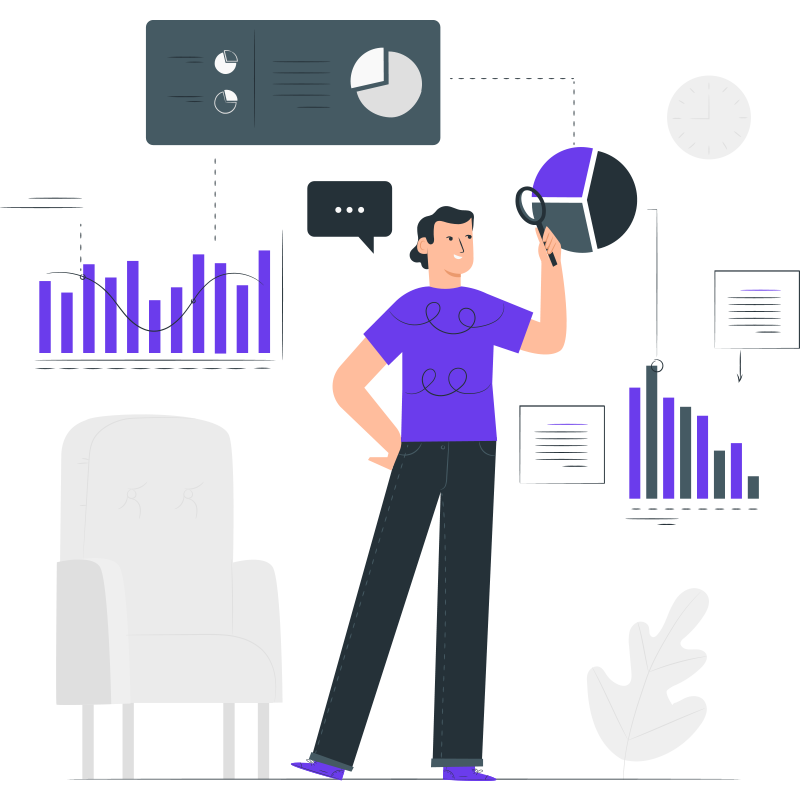 Get long-term ROI.
We help you grow through expertise, strategy, and the best content on the web.
1. Leverage user-generated content (UGC)
Content marketing generates over 30% more leads than its outbound counterpart. Meanwhile, it costs 62% less.
But do you know what's even more affordable?
User-generated content! Happy customers create content to share their positive experiences with your brand. Show it off, and you'll save marketing dollars while building brand trust.
Apart from being low-cost, this tactic is also crucial for demonstrating your authenticity. Note that authenticity is an essential factor that buyers consider when deciding what brands they'll support.
Plus, most people read online reviews before deciding to shop. Knowing this, it's clear why showcasing UGC is one of the most effective lead-generation content techniques.
UGC helps you build credibility with your audience, supplements your content marketing efforts, and offers powerful social proof.
So, showcase your satisfied customers' reviews, testimonials, social media mentions, and visuals on your website instead of your regular promotional sales pitch. Whether your goal is increasing sales or newsletter subscribers, it'll improve conversions.
The ShopSolarKits website is a great example that features a section displaying customers' projects and reviews. That way, website visitors can see the products in use and read what others say about their experience with the brand.
Their target customers are very hands-on people willing to take on DIY solar kit installation projects. So, the brand fosters a kind of DIY community.
In this environment, seeing successful projects is especially valuable. These images also immediately build trust with potential customers by working with other social proof elements.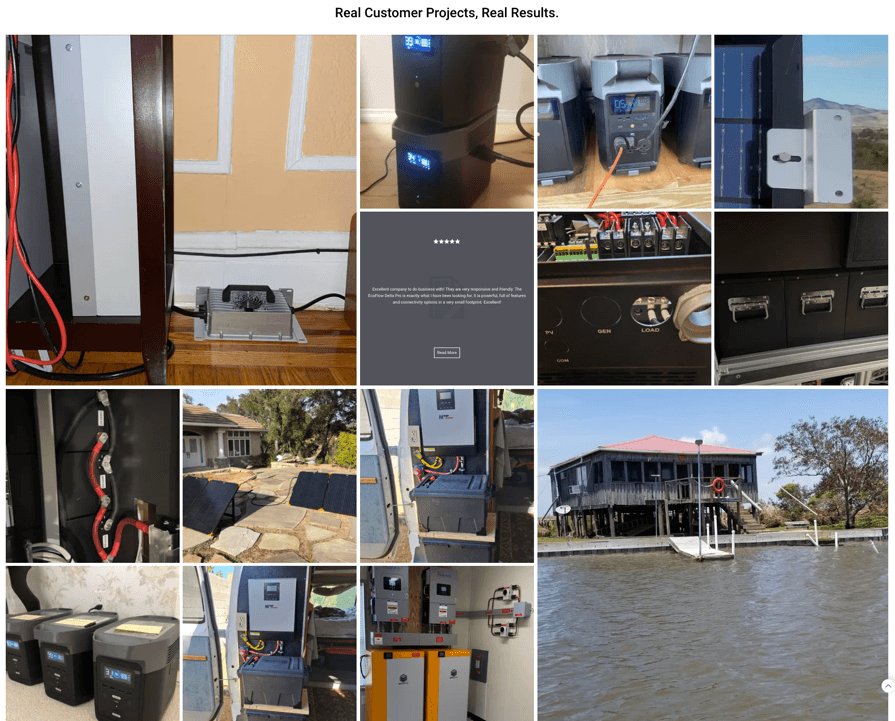 Mannequin Mall uses a similar approach and embraces different types of UGC and social proof across its website. For example, when they land on the brand's homepage, visitors will notice a "Reviews" flyout that's always visible as they scroll up and down.
The brand also shows best-selling products with ratings and reviews on the homepage instead of waiting for them to click on the product page. This clever approach minimizes the chances that leads will slip through the cracks.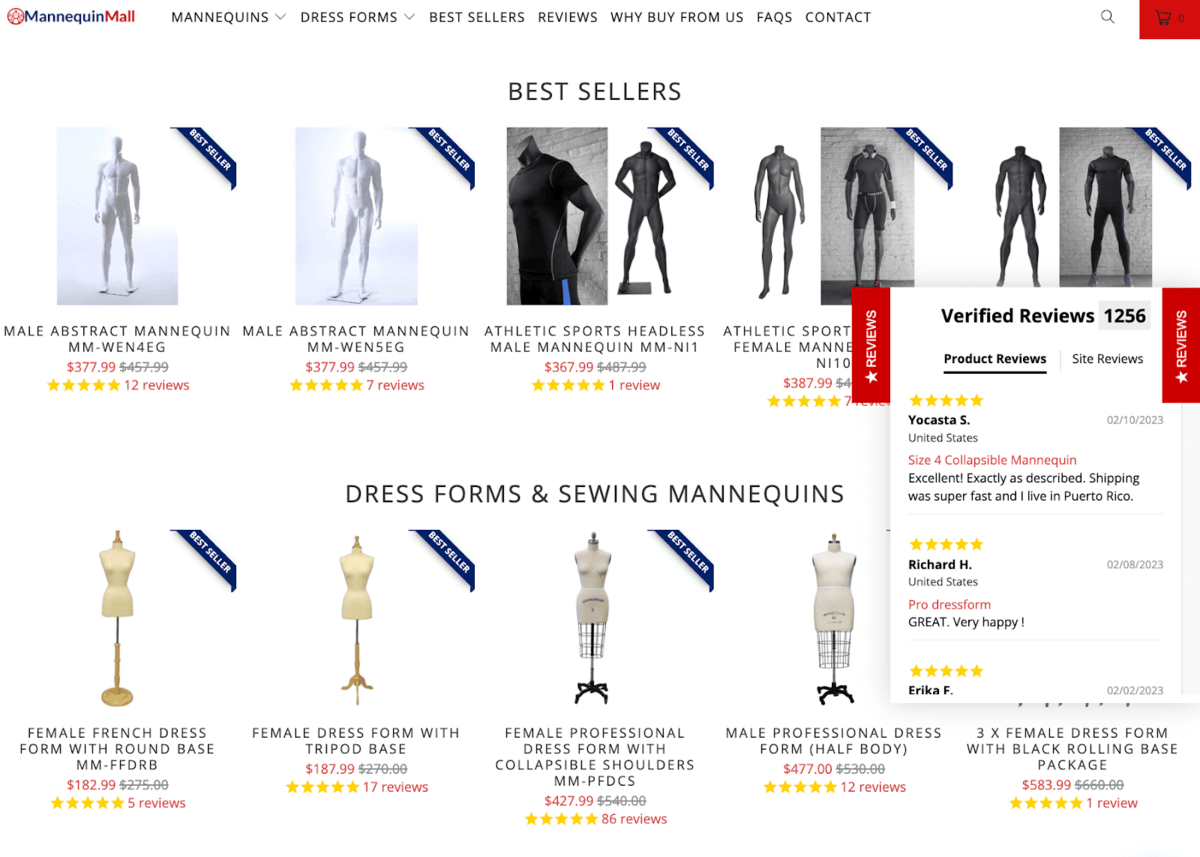 2. Create step-by-step video tutorials
In August of 2022, Google released its "helpful content" update. As you can guess, the search engine wants to improve user experience by serving highly relevant content that meets the searcher's needs.
Content that Google considers helpful is:
people-first, meaning that you should focus on your audience's needs instead of writing for search engine bots
supposed to demonstrate expertise
trustworthy
able to provide helpful information and a satisfying user experience that can be powered by AI
In a nutshell, the value you give your readers should come first, and Google will reward this with better rankings.
Video tutorials are a great example of super-helpful content. Stats corroborate this claim: 83% of people prefer watching instructional videos to reading lengthy blog posts. Also, video performs much better when trying to illustrate complex concepts and ideas.
So, how does video fit into your strategy as one of the best lead-generation content techniques?
Sharing detailed step-by-step guides shows your audience that you genuinely want to help them solve their pain points.
These educational resources tell your potential customers they won't be on their own once they purchase your product or service. The result? You'll become your potential customers' go-to resource for helpful content.
And voila! You've generated some high-quality leads.
Most of GetSafe's audience consists of seniors who might not be tech-savvy. So the brand's main idea is to create educational and helpful content that'll help potential customers learn as much as possible about their products.

Step-by-step videos for setting up and troubleshooting GetSafe's medical alert systems align with their audience's needs and immediately build trust in the brand's commitment to exceptional customer experience.
3. Invest in evergreen content
When discussing super-useful resources that'll bring you tons of new leads, hardly anything beats evergreen content.
This type of content is high-quality, optimized, and remains fresh and relevant long after publishing. Moreover, it keeps accumulating value, traffic, and backlinks over time. As a result, evergreen posts are a goldmine among lead generation content techniques.
The longevity of evergreen pieces stems from the combination of the right choice of topics, format, and regular updates. Here are some tips for crafting valuable, timeless content your prospects will return to:
Regardless of the season, pick topics with consistent interest, search demand, and traffic potential. For example, the latest news, trends, and stories of the moment don't qualify as evergreen content.
Leverage formats such as how-to and ultimate guides, listicles, product reviews, FAQs, and tips.
Optimize for search engines by adding relevant keywords and meta tags.
Regularly update your evergreen content to add new information, stats, and links to recent articles.
Use simple language without industry jargon.
Re-publish your content occasionally to make it visible to new visitors.
Your well-crafted evergreen content will regularly appear for a targeted keyword in search results. So it'll bring you many new leads looking for solutions to their problems.
The Career Sidekick homepage has evergreen content discussing always-relevant job interview questions. It provides plenty of valuable answers from recruitment experts.
Job seekers always need assistance when preparing for the next interview, and these in-depth how-to guides cover all the bases. That content helps make the entire website a useful, always-relevant resource.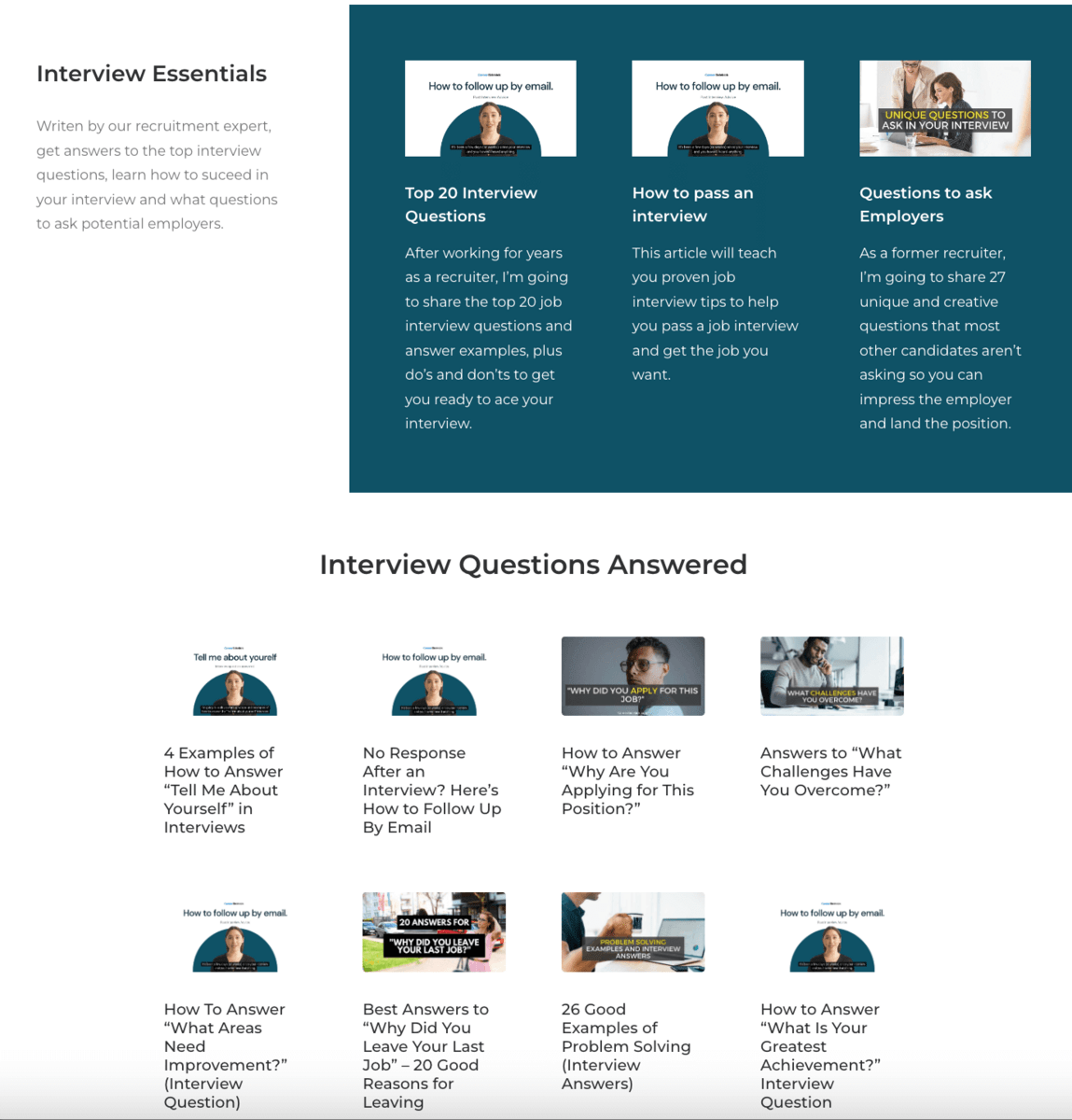 Frequently Asked Questions (FAQ) sections are a fantastic opportunity to create evergreen content.
Take a look at how GILI Sports has a dedicated FAQ section on its homepage. It's where they answer customers' most common questions and offer helpful product tips.
This section helps the brand provide an exceptional customer experience and secure a steady stream of traffic. The FAQ section also consistently attracts new leads interested in learning more about inflatable stand-up paddleboards.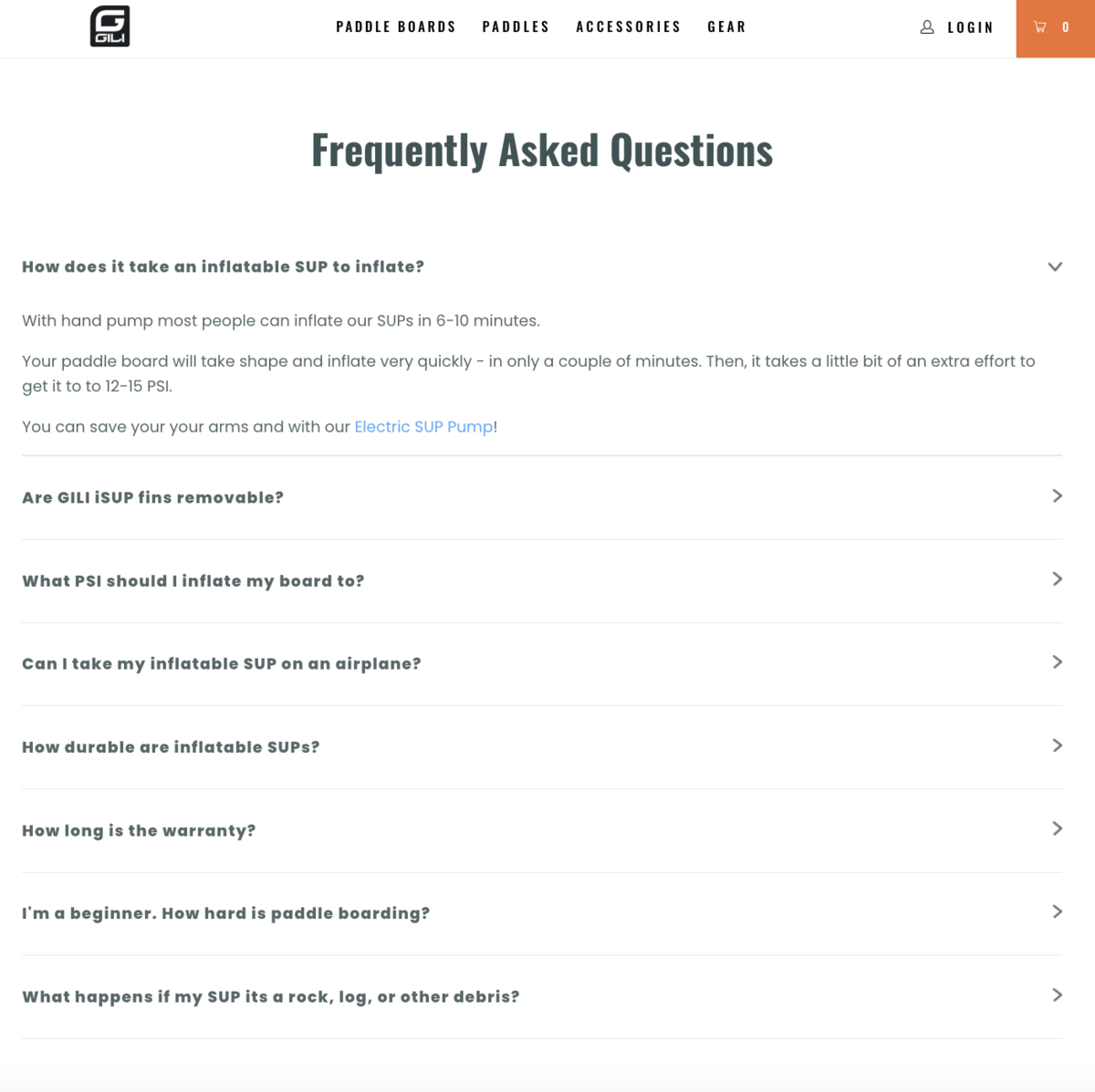 4. Double down on social proof
If you want to build and maintain trust and credibility with your prospects, it's best to enlist the help of your existing customers. Research has shown that:
88% of buyers trust online reviews as much as recommendations from friends and family.
83% of customers don't trust advertising.
Showcasing customer testimonials is one of the most effective lead-generation content techniques.
Your happy customers' online reviews, testimonials, case studies, and other social proof will vouch for the quality of your products or services. And since customers trust other customers more than brands, you can be sure this tactic is effective for lead generation.
Check out uSERP, a B2B backlink and digital PR company which features testimonials from CEOs and founders on its homepage.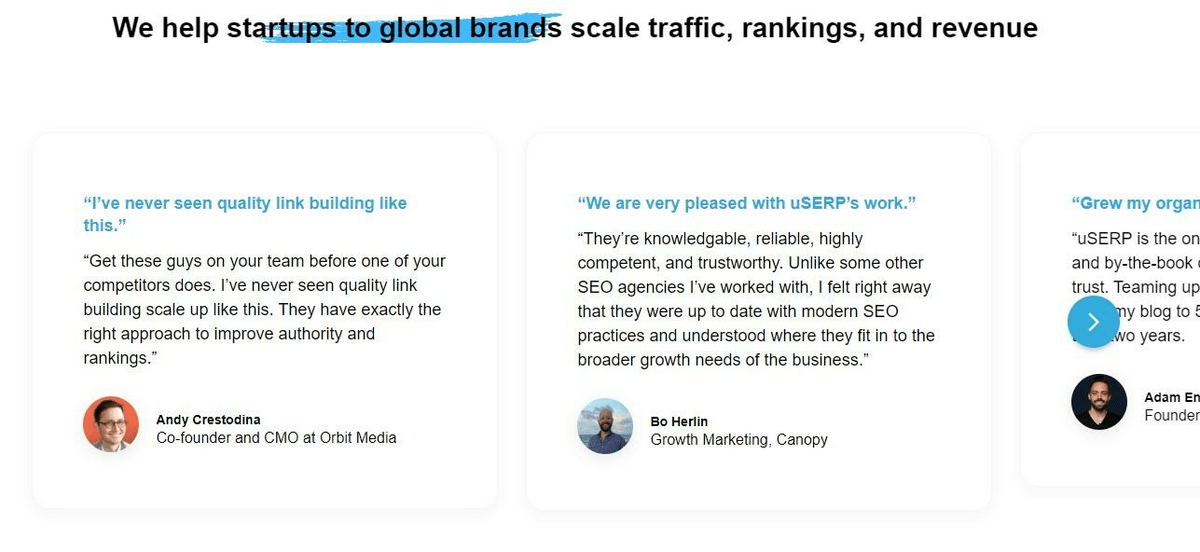 When speaking to the C-suite, you need high-quality social proof, and it doesn't get better than this. Well-known brands and big names in SaaS saying amazing things about your product or service – what more could you ask for? Or consider Matchr.com, a company that connects organizations with the most suitable HR software providers for their unique needs. Their homepage showcases compelling social proof by featuring testimonials from HR Directors of companies who have successfully utilized their services.
If your target market is more casual than the C-suite, you can benefit from pulling comments and reviews straight from social media posts and channels. Get permission from the person who posted and take screenshots of the positive comments or reviews.
Then, feature those screenshots in a testimonial section on your website. Boom – social proof!
5. Optimize for conversions
So, your website features high-quality, valuable content waiting for your target audience to visit. But you need an extra push to turn them from interested website visitors into leads you can nurture. In other words, it's time to optimize for conversions. A good popup plugin can make the most of these opportunities, effectively boosting leads and enhancing the overall user experience.
Here are some tips to get you going.
Keep your web forms short
The web forms you use to capture leads must be short and concise. So, ask only for the information necessary to contact a lead and tailor your messaging. You can go into greater detail later in the nurturing process.
A lengthy web form with lots of fields to fill out will scare off most site visitors. Instead, remove any friction from the conversion process by keeping things simple.
Offer live chat
Potential customers sometimes have product or service-related questions that prevent them from clicking the conversion button. Add live chat to your web pages to minimize the odds of losing potential business opportunities to such a rookie mistake.
Keeping the lines of communication with your website visitors open is an excellent tactic to nip their concerns in the bud. You'll encourage them to convert by exhibiting top-notch customer service.
For example, check out Vetter, a B2B company selling employee suggestion software.
The live chat button is in the bottom right corner of the homepage, and once you click on it, you'll see two options: send a message or schedule a meeting.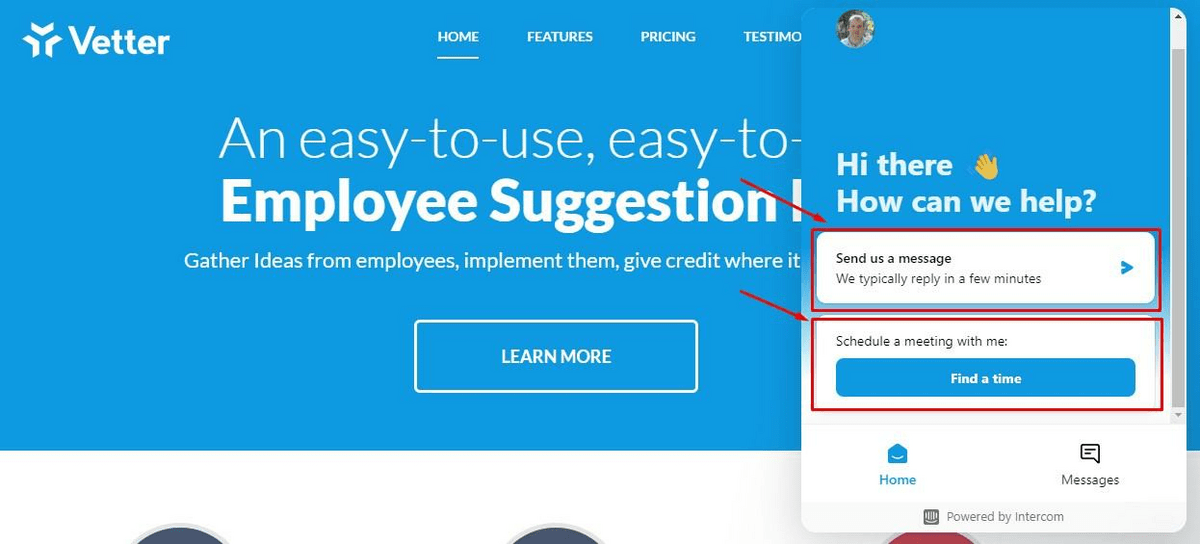 Vetter did a great job with the concise wording here. They provide reassurance by letting you know that they respond quickly to messages.
As for the second option, it's fantastic that they use the live chat option to direct visitors to book a demo. Additionally, the wording in "Schedule a meeting with me" feels more inviting and personal.
Add CTAs
Regardless of what you want your potential customers to do after reading your content, having a strong, highly visible CTA is a must.
To be more precise, strategically place multiple CTA buttons leading to the same landing page throughout your content. Ensure one is at the top of the page because not everyone will read or scroll through your entire blog post. Another spot to put your CTA is at the bottom of the page.
The biggest mistake would be burying your CTAs in a block of text or letting them blend in with the rest of the page.
To make CTA buttons more visible, use contrasting colors. Also, leverage negative space to direct readers' attention to what you want them to do.
For example, Asana does a great job with their blog post about the best project planning software. They place multiple CTAs throughout this one piece of content, which invite readers to learn how Asana can help them. And black call-to-action buttons stand out against the white background and are hard to miss. If you're looking for an Asana alternative, there are other project management tools out there that offer unique features and customizable call-to-action options to help you streamline your workflow and achieve your project goals.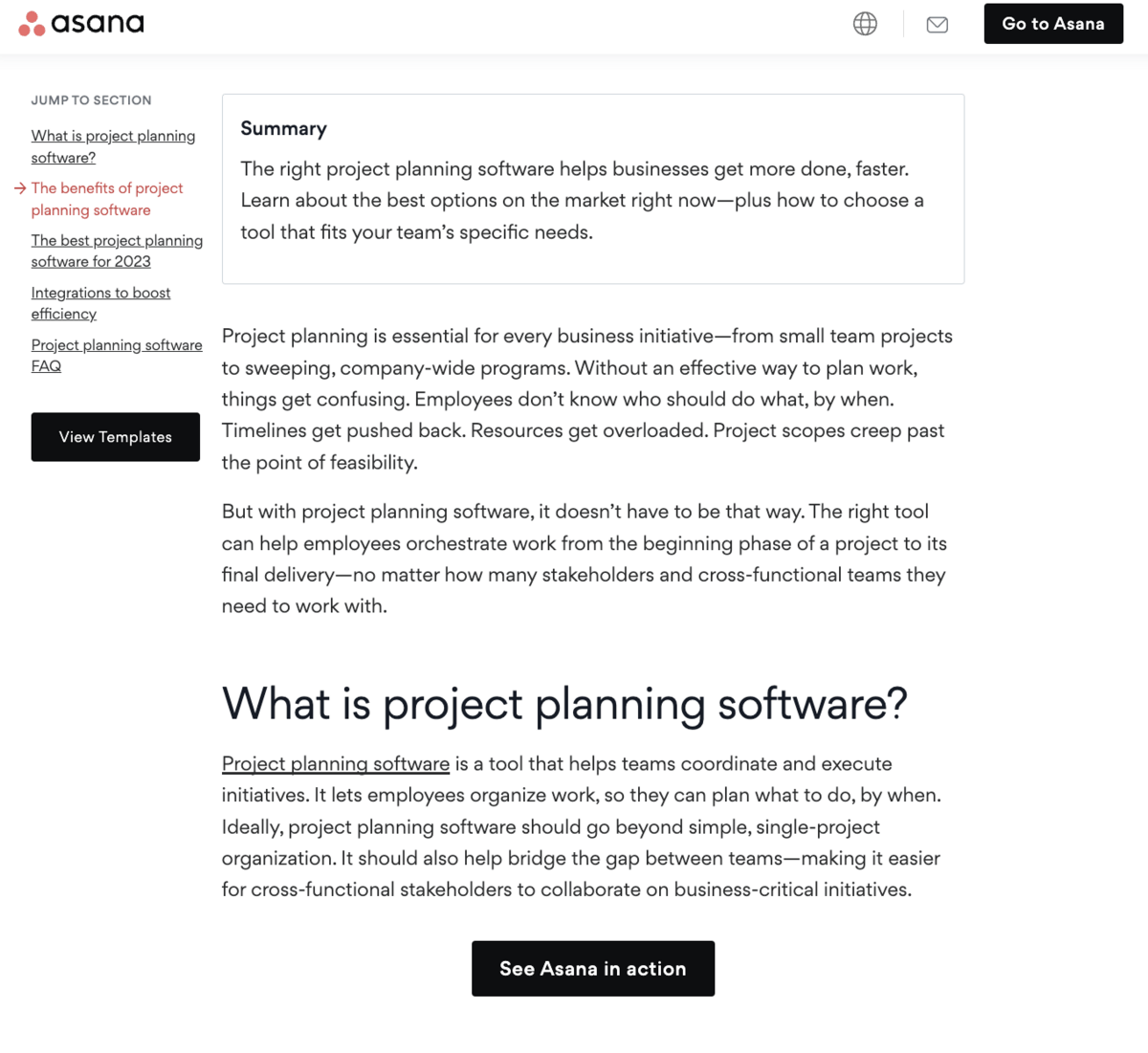 Experiment with gated content
Gating your premium content is another excellent way to get potential customers to share their personal information.
In exchange, you'll give them helpful tips, practical templates, or exclusive industry reports. Your audience will be more willing to provide you with their email addresses since they'll get something valuable.
Bonus: Get rid of risk
While offering a free trial isn't a content technique, it definitely boosts lead generation and conversion.
Reading about and watching demos of a product or service is helpful, but nothing compares to holding it and trying it out for yourself.
A free trial removes a huge barrier to purchase by allowing prospects to see how your product or service works firsthand.
This tactic is a win-win for both you and your customers. You'll have an opportunity to showcase your product's features and benefits while they can have a risk-free shopping experience.
If you offer a no-risk trial, clearly define your free-trial policy and make the process as simple as possible for customers.
Athleta takes the idea of free trials to new heights. The brand's Give-It-A-Workout Guarantee allows customers to wear items and return them if they don't fit.
This tactic can be a real game-changer for turning leads into loyal customers.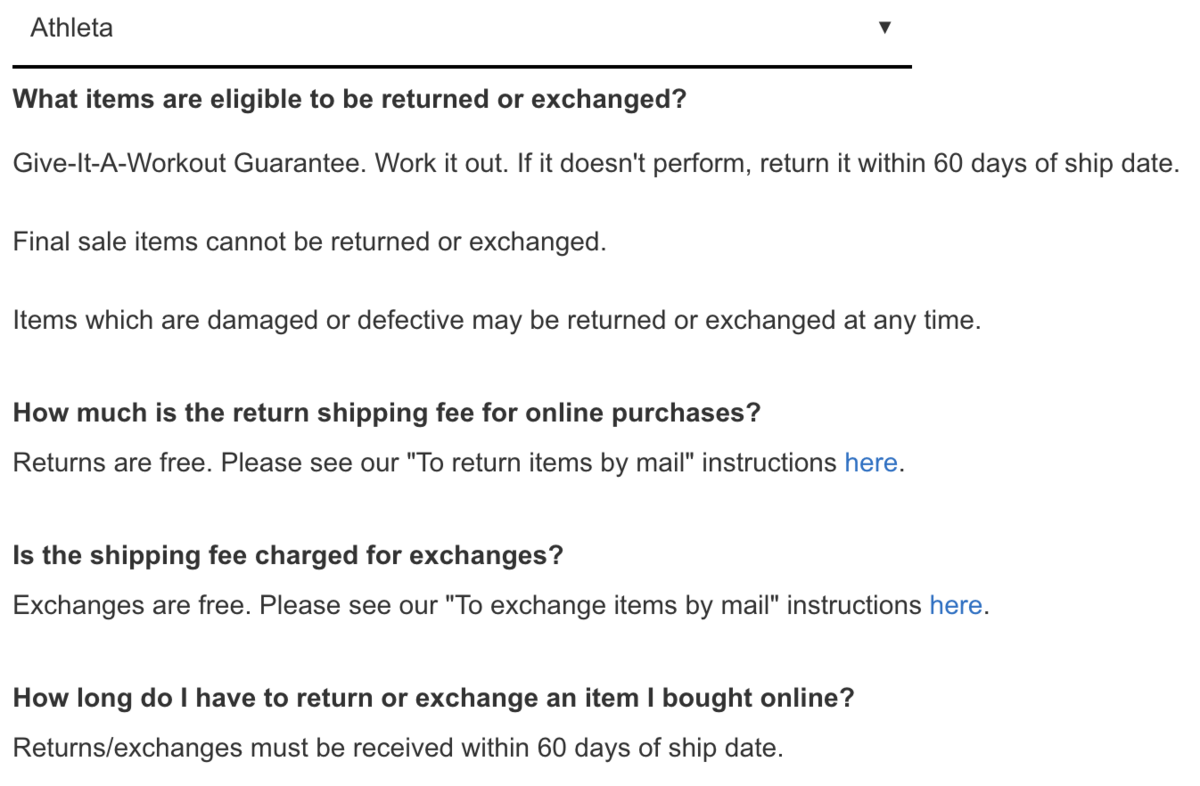 Wrapping up
Website content plays a critical role in lead generation. You can maximize your efforts and land new business opportunities by implementing these five lead-generation content techniques.
Remember that to resonate with your target audience, your content must speak directly to them and solve their problems. If you do that, your content will work wonders.