Generating new traffic and leads is a top challenge for over 60% of growing businesses.
Focusing on lead generation and web traffic is a perfectly sensible way to attract new prospects and build your business.
But you also need to adopt strategies to make sure they keep coming back.
This is where growth marketing or growth hacking can help.
A successful growth strategy will drive revenue by getting your existing customers to buy more and recommend you to others.
This article will broaden your understanding of growth marketing, take you through proven examples, and arm you with tactics and tools to get it right.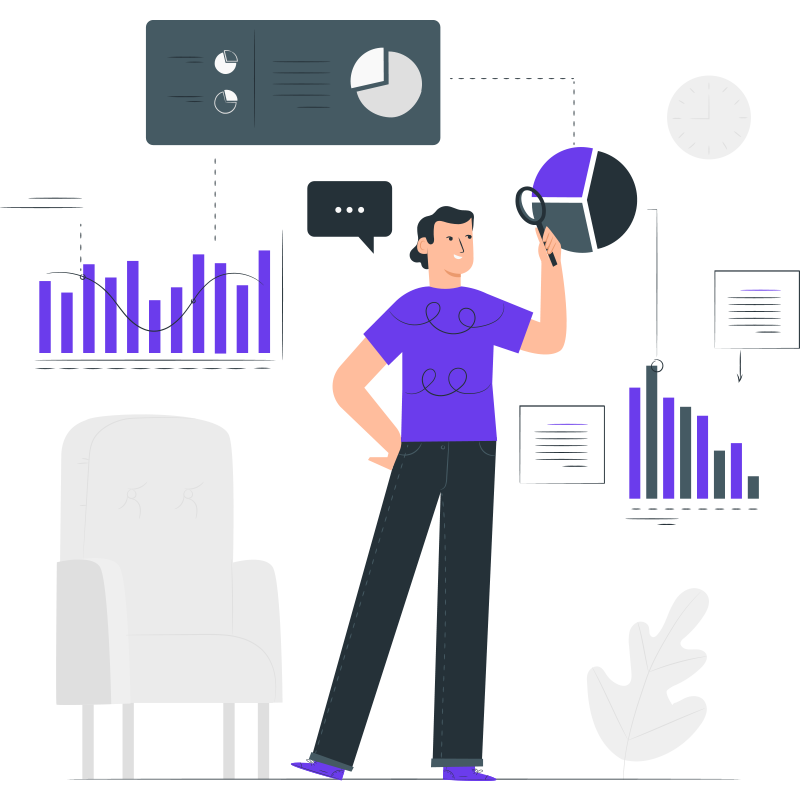 Get long-term ROI.
We help you grow through expertise, strategy, and the best content on the web.
What is Growth Marketing?
Interest in growth marketing has more than doubled compared to a decade ago.
That means more companies are interested in knowing how they can use it to build their brand.
But what is growth marketing?
It's a data-driven approach that is focused on increasing revenue by analyzing every stage of the growth funnel. Everything from customer acquisition and conversion, to retention and referral.
A growth marketing or growth hacking team uses innovative and tailored tactics to attract, engage, and retain users via a digital marketing channel — like social media, email campaigns, SEO, or PPC.
Crucially, it relies on data, experimentation, and testing at every step to achieve meaningful growth.
Why is growth important in business?
A basic goal of any growth marketing strategy is to achieve accelerated (and sustainable) growth over a short period.
Growth marketers are able to understand their target market and use tailored content to engage and convert them. They rely on observation and data analysis to identify and develop growth areas.
They also favor a collaborative approach using inputs from cross functional teams across tech, product, and sales to go beyond attracting new customers.
A growth marketer will focus on providing value and attention at different stages of the sales cycle (retention and referral) to amplify growth.
How is it Different From Traditional Marketing?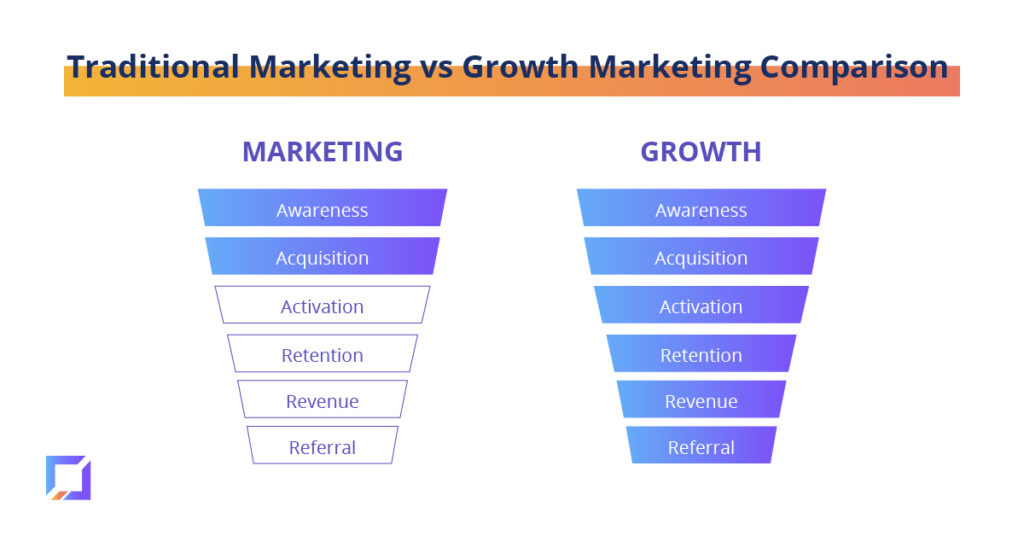 Traditional marketing uses proven methods with the aim of attracting new customers, and is often company or product centric. A traditional marketer will usually be guided by campaigns against an annual sales cycle.
Growth marketing is different.
It's driven by experimentation and uses innovative ways to engage and retain current customers.
Growth marketing is customer centric and focuses on increasing revenue at every stage of the marketing funnel.
A growth marketer relies on a reactive planning cycle and is driven by strategy.
Is Growth Marketing Different From Growth Hacking?
Sean Ellis first used the term 'growth hacker' in 2012 to define a person who is "true north" of growth.
While both terms are often used interchangeably, they have the same goal — business growth.
Growth hacking generally applies to using inventive ways to achieve accelerated growth quickly.
Growth marketers, on the other hand, go after sustainable growth by considering long-term growth, revenue and customer satisfaction
What Does a Growth Marketer Do?
A growth marketer or growth hacker often has multiple skills that could include:
customer research
product marketing
data analysis
content marketing and optimization
Growth marketers are usually data-driven experts who analyze data and experiment at every step to come up with targeted growth techniques to increase revenue.
How to Create a Marketing Strategy to Grow a Brand
Many iconic brands that are now household names started off small.
A Zoom call is now synonymous with a video call. 'Netflix and chill' is a thing. And you've probably ubered to work at some point.
Of course, none of these companies achieved success overnight.
What they did do was execute a highly purposeful and tailored strategy designed to nail growth.
Once you decide to adopt growth hacking as a strategy, your business needs to determine what growth goals you want to achieve. For example, this could be customer acquisition, client retention, brand awareness, or revenue increase.
There are multiple tactics to use, but in this article we will focus on a few proven strategies that have helped to grow a business using specific company examples.
Each example features a winsome growth marketing tactic that was implemented at the right time to skyrocket a brand's growth.
How Groove increased web visitors through content marketing
Content marketing drives conversions, and 70% of digital marketers are now actively investing in content.
But which content types and formats do you invest in?
Without having a content goal, your marketing activity can fail to give you a proper return.
A proven example to look at in this space is Groove.
Groove saw a huge jump in their online readers and revenue when they carried out content marketing tactics targeted at existing customers. Here's what they did.
Groove wanted to increase web visitors and sign-ups for their product.
They decided to reach out to small business communities online as well as send emails to marketers, to understand the challenges they faced and to figure out what kind of content they wanted to see.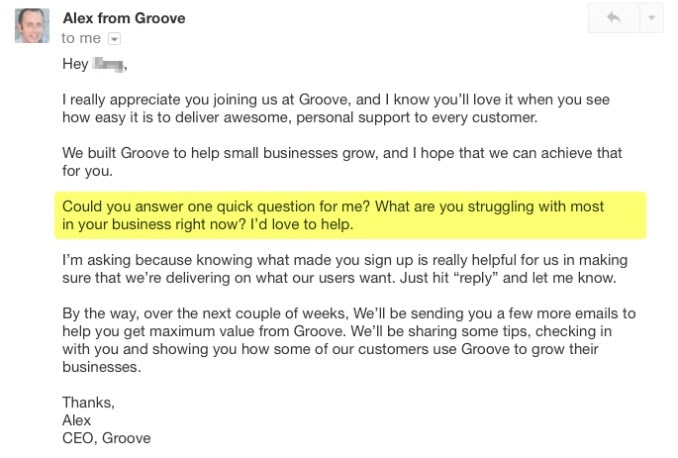 This led to their launch of a blog that specifically addressed a range of issues commonly faced by growing SaaS startups.
Within a month, 5,000 people had subscribed, and were even signing up for their product. This ultimately grew to 250,000 visitors each month.
Their blog succeeded in increasing monthly revenue by $500,000.
Apart from boosting web traffic, they managed to win the trust of their audience quickly. They also built relationships with entrepreneurs who were happy to tell their friends about the blog, giving them even more exposure.
Takeaway:
Spend time understanding your customer and their unique pain points.
Directly address their challenges using unique and useful content that can help them.
How PayPal increased ROI using referrals
A great way to grow a brand and get more exposure is for companies to offer incentives to their customers using a referral program.
Referrals rely on good old word of mouth marketing to grow your brand.
67% of Americans say they're more likely to buy a product after someone they know shared it on email or social media
Think about it. It's a no brainer to start with existing customers who already love and use your product or service.
PayPal is a legendary case in point.
In 2000, PayPal offered $20 for those who signed up and $20 for customers who referred their friends. This led to exponential growth which saw their daily growth increase by 7% to 10% and by over 100 million users.
This was back in the day when social media hadn't quite taken off yet. Their referral program took place mostly over email, instant messaging, and blogs.
This strategy made sense because PayPal's main product is online banking. A free cash offer led to a jump in ROI because their costs were tiny compared to the proportionate increase in growth and revenue.
Of course, this growth hack wasn't sustainable and they gradually phased the referral scheme out once they hit their target.
Takeaway:
Aim to maximize referral conversions per the dollars you spend.
Think about how best you can promote your referral program — your email newsletter, social media pages, blog, or a specially designed landing page perhaps?
If you have a varied target audience, think about segmenting them into groups to offer specific types of incentives.
How Zoom used strategic partnerships to increase customer acquisition
First time installations of the Zoom mobile app have increased by 728% since March 2020.
About a year ago, Zoom wasn't the go-to choice for video conferencing. They started as a small start-up that was struggling to find funding in their early years.
When they started out, they had a simple and efficient product that customers loved.
But there were other timely growth tactics that were used to drive Zoom's engine of growth.
Founder Eric S Yuan attributed Zoom's initial success to organic outreach and forming successful partnerships with B2B companies.

Their App Marketplace allows integration with apps that are used for sales, CRM, productivity, scheduling, learning, finance and people operations. This allows users to access Zoom as the default service when it comes to video conferencing.
This tactic helped them gain wide exposure and reach, and saw them grow an extensive network of users.
An added benefit is that just about anybody with a Zoom link can join a video conference. You don't actually need to sign up for an account.
This not only makes the user familiar with your brand, but also bypasses a cumbersome signing up process. Additionally, their free plan allows unlimited number of meetings and can host up to 100 participants.
Their model was quickly spread by word of mouth.
Zoom soon became the main go-to for video conferencing, leading to a drastic increase in sign ups and customer acquisition.
Note that Zoom is not HIPAA compliant in and of itself but only after you enter into a business associate agreement with them.
Takeaway:
Simplify user experience with your product or service by making it straightforward and hassle-free at every step.
Partner with related companies to find the right distribution channel to increase your product or service's reach and exposure.
Must-Have Tools For Your Growth Team
Making a strategy for growth from scratch within a limited marketing budget and other constraints is time intensive and laborious.
Luckily, there are plenty of useful little tools that can make the process much easier. They cover just about everything from social scheduling and analytics to customer research and website optimization.
Once you've embraced a growth mindset, you'll find that using these tools can make it easier for you to take revenue growth to the next level.
Analyze your customer data with Amplitude
Amplitude gives you real-time insights on user behavior which allows you to:
Increase retention by understanding the path users take with your product and making product tweaks in response.
Set a growth strategy by testing ideas and measuring the impact of experiments.
Drive A/B testing on your website and mobile app with Apptimize
You can use Apptimize across all digital channels to refine your growth strategy:
Their A/B testing platform can help you track the impact of changes you make on each digital platform, including the change in revenue.
Gain insights on user behavior on web and mobile platforms and use it to inform your KPIs.
Personalize Your Website With Proof
Proof can help you increase conversions by personalizing your website for each customer by:
Letting your growth marketing team focus on user experience by tailor made copy, images, CTAs and content blocks.
Testing the changes on your audiences to find out which experience converts.
Build an Email List With Voila Norbert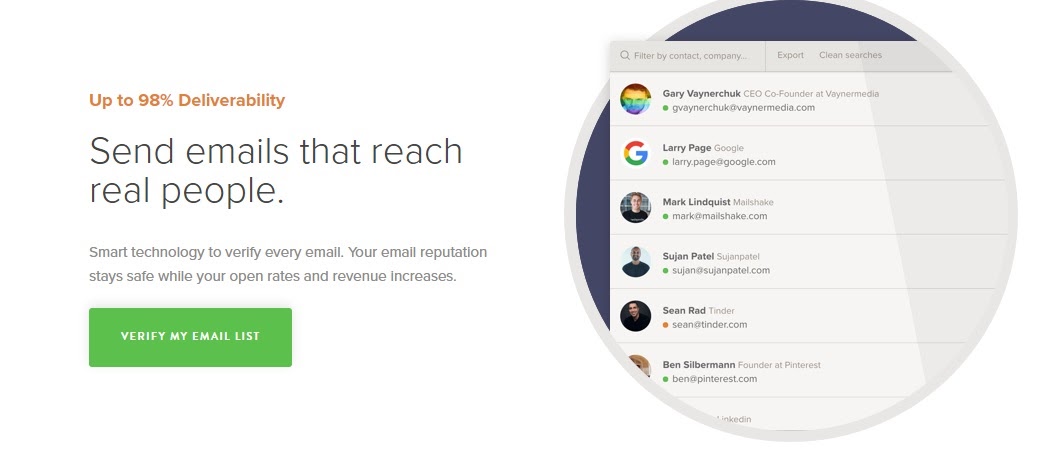 Voila Norbert can boost your email marketing campaign's ROI by:
Growing your email list, chasing leads and targeting your prospects with the right message.
Reaching out to influencers, bloggers, authors and journalists to build relationships, buzz, and exposure.
Publish Content and Analyze Social Campaigns With Buffer
Get your customers engaged using Buffer to grow your social campaigns. Buffer will:
Simplify scheduling social content by planning shares across Facebook, Twitter, Instagram, LinkedIn and Pinterest from a single dashboard.
Help your team track engagement metrics, channel performance and individual posts.
Improve Customer Experience Using Chatbots From Drift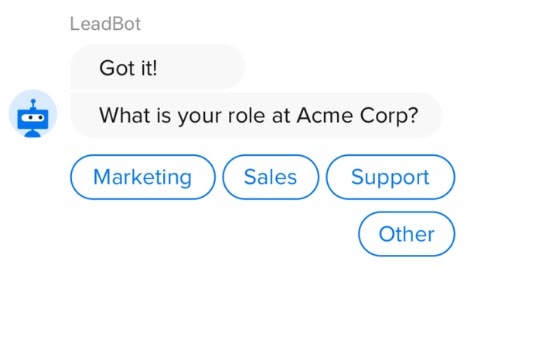 Drift uses AI chatbots that can:
Interact with your current customers and create personalized conversations that convert.
Engage with prospects and leads that visit your site, enhance brand experience and speed up the buying process.
Bonus Read – 5 CRM Hosting Solutions to check out
Conclusion
Hopefully this article has given you actionable insights into how you can develop a growth hacking strategy to grow your business.
The first step is to decide on a growth goal. This could be to increase organic traffic, improve customer retention, or increase your conversion rate. The next is to find your north star metric —the key measure of your company's success — and throw all your marketing efforts behind it.
Listen to your customers, keep them hooked with amazing content, and tweak your product and process to simplify their customer journey. Experiment with creative ideas that give solutions, and test and analyze results to see if the strategy is working for you.
Are you looking to get started with business growth? We have a wealth of content articles and case studies to get you going.
Get in touch for your digital marketing needs.