Think about some of the world's most famous and iconic brands. What do they all have in common besides selling products or services people love? The secret ingredient to their success is an unexpected one: storytelling.
Companies like Nike, Dove, Apple, Google, and many more don't sell products or services– they sell (and tell) stories.
Storytelling is a powerful tool, from building your brand to strengthening customer relationships. But what are the vital elements of a compelling story, and how can you use that story as a foundation for impactful content ideas?
This guide has you covered. Let's dive in!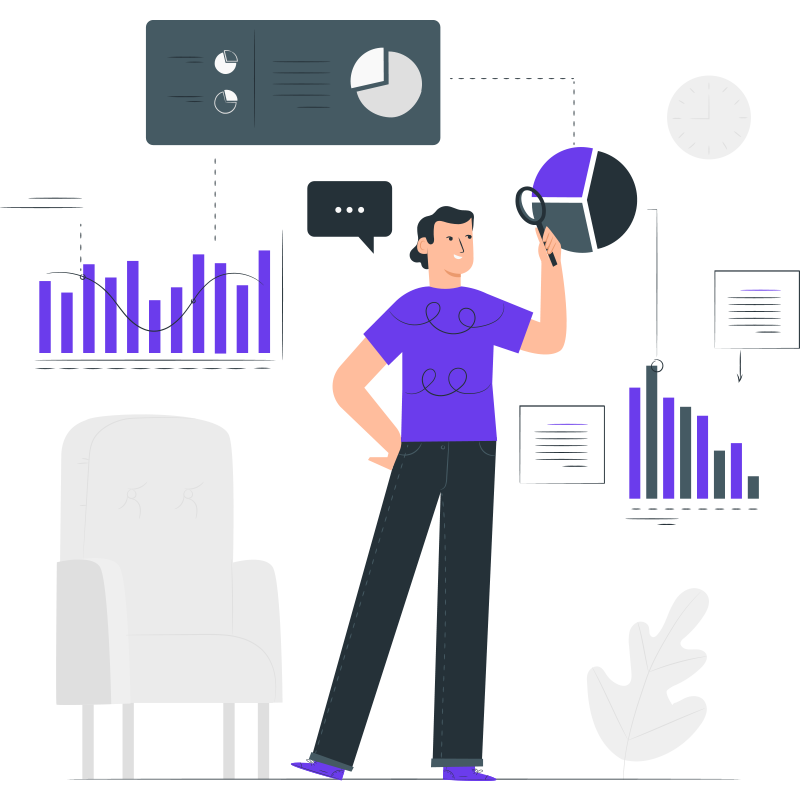 Get long-term ROI.
We help you grow through expertise, strategy, and the best content on the web.
What is storytelling in marketing?
Traditionally, storytelling means creating a narrative featuring one or more characters facing various obstacles. In the end, these characters also come up with a resolution.
But "storytelling" in a broader sense can be much more complex, nuanced, and versatile.
Storytelling isn't the exclusive remit of children's books and fairy tales. You can use it in the product descriptions of your online clothes store or even on the "About" page of your omnichannel contact center website.
As brands struggle to differentiate from each other, storytelling is becoming an increasingly compelling technique. Many successful brands worldwide use storytelling to build stronger customer relationships, boost brand awareness, increase sales, and more.
Let's now uncover the links between storytelling and high-quality content creation and why you can consider these two sides of the same coin.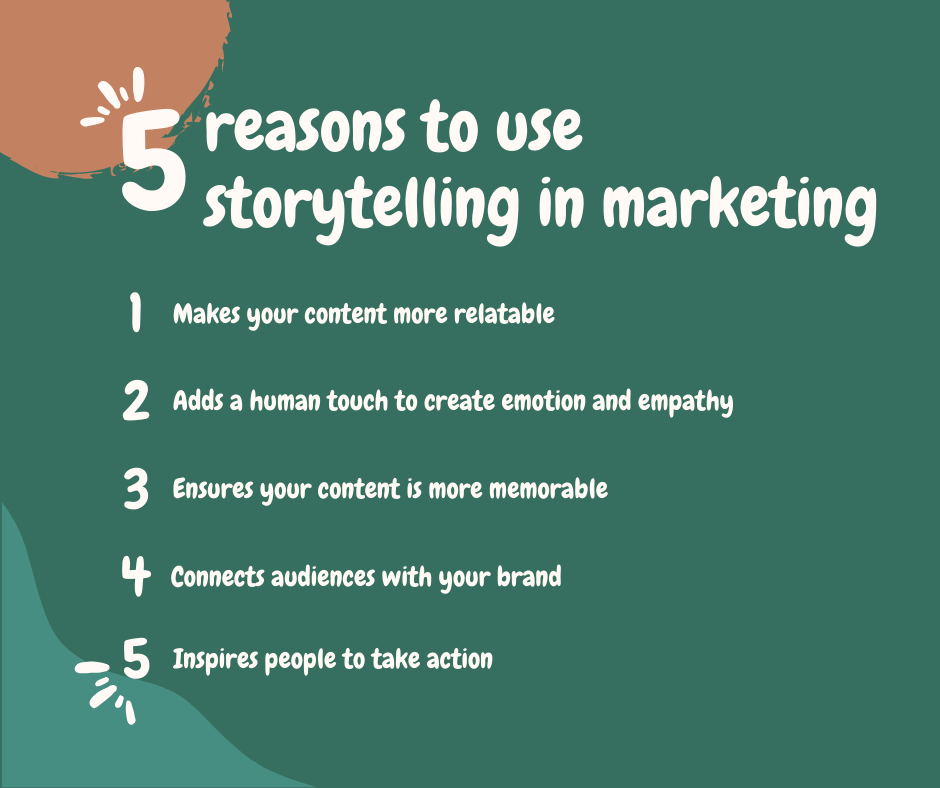 (Screenshot provided by Author)
Storytelling and content creation: A match made in (marketing) heaven
Storytelling uses words to narrate a powerful story that captures your audience's imagination. So, it's no surprise that you should place it at the core of your content marketing strategy.
Any piece of content can benefit from a storytelling approach, whether snappy social media posts, long-form blog posts, product descriptions, or even B2B white papers. So, you can–and should–use a storytelling-based writing style instead of one that's more static, neutral, and simplistic.
If you want to enhance the impact of storytelling even further, consider podcasting. While various content formats benefit from a storytelling approach, podcasting takes it further by inviting listeners into an immersive auditory experience. You can bring characters, conflicts, and resolutions to life through voices and sounds. In this way, podcasting establishes an intimate connection with your audience, making your narratives more engaging and memorable.
But what, exactly, can you use storytelling for regarding content creation? Let's discuss it below.
1. Craft powerful connections
According to research from Sprout Social, nearly two-thirds of today's consumers want brands to connect with them. That connection can impact your bottom line, too, as 76% of consumers would buy from a brand they feel connected to over a competitor.
Storytelling helps you create more authentic connections with your audience. How? Through story-based elements–such as a character, a setting, a conflict, and a resolution.
Doing so helps tap into your readers' emotions, feelings, and sensory stimuli. In turn, you can merge marketing messages and social media content creation to meet their most profound needs, thoughts, and desires.
2. Encourage people to act
Few things work better than storytelling when encouraging customers to take a specific action. Do you want them to sign up for a new service, subscribe to your email newsletter, or buy your latest product?
Whatever your goal, storytelling can be a fun, unexpected, and non-pushy way to nudge your audience into action.
3. Communicate an important message
Sometimes, you want to convey a complicated or essential message to your customers. In these cases, standard types of writing might not be adequate. That's where storytelling comes in.
Communicating even complex messages becomes a cinch by transforming the content on your social media channels into a straightforward, authentic, relatable narrative. For example, this can be particularly useful if you explain a tech-heavy concept, such as a domain name, to a non-tech audience.
Storytelling may also help if you launch a campaign based on a social or environmental cause. Your audience might feel more connected to the message if you present it as a story, as illustrated in the screenshot below from Patagonia.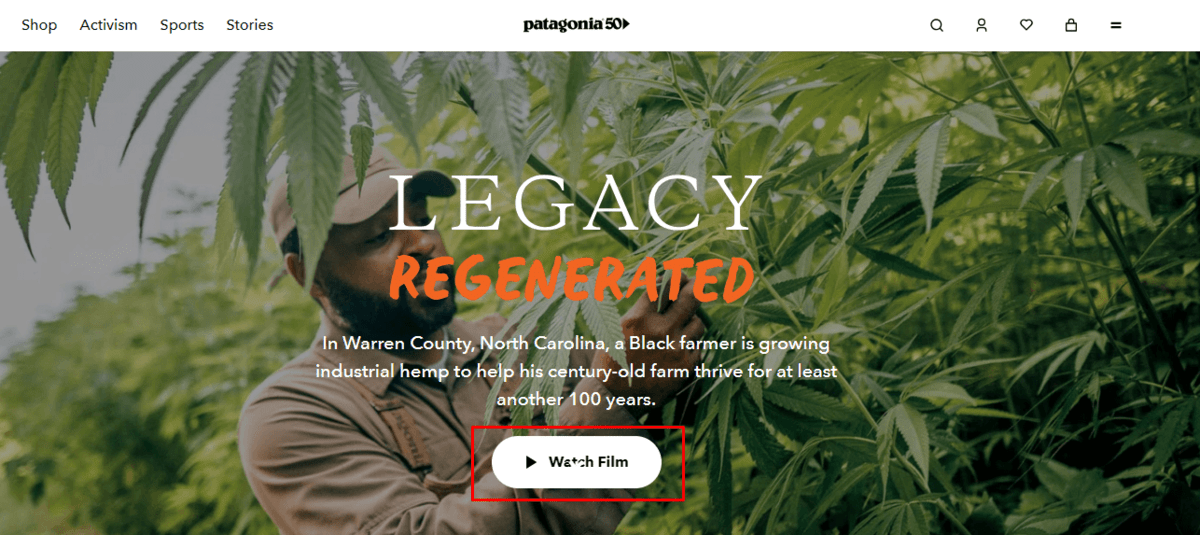 This brand takes it a step further by including interactive video content in addition to the short article that tells this farmer's story. Patagonia shows and tells, and it works like a charm.
The four pillars of storytelling for content creation
So, now you have a clearer picture of why storytelling is crucial to your content creation and content optimization strategy. How can brand stories become content ideas that genuinely move customers' hearts and stock off your shelves?
1. Introduce and develop your characters
Every great story begins with introducing the main character(s). Importantly, you need to remember that whatever story you are writing shouldn't sound like it's about you or your brand. It should have a powerful and genuine affinity with your customers.
As a result, you aren't the story's hero–your customer is. Your hero is a real human being. So set aside any elaborate ideas for the larger-than-life characters that populate traditional stories, myths, and legends.
Opt instead for relatable, even ordinary, people who go about the struggle and strife of daily life. When creating your story, make this your motto: "Real people, real problems, real solutions."
So, what would a realistic character look, sound, and be like in your brand's metaphorical eyes? What are their strengths and weaknesses? What are their wants and needs? At what point in their hero journey do we meet them? Why is this crucial to help us understand who they are and what they're looking for?
If you think carefully, you'll soon realize you're talking about your target audience — the so-called "buyer persona." So, this exercise might be a lot easier than it sounds. Your sales and marketing teams may have already built a figure as part of your brand-building strategy.
A memorable character can only do so much if it's not well-developed throughout your story. So, make sure that you show your readers how the hero grows, changes, and improves.
Maybe you have several "characters" you want to discuss in your marketing. You might already have experience building topic clusters for everything your brand is good at discussing. Once you know the characters you're appealing to, it's easier to build an editorial calendar with many different pieces of content.
2. Set the scene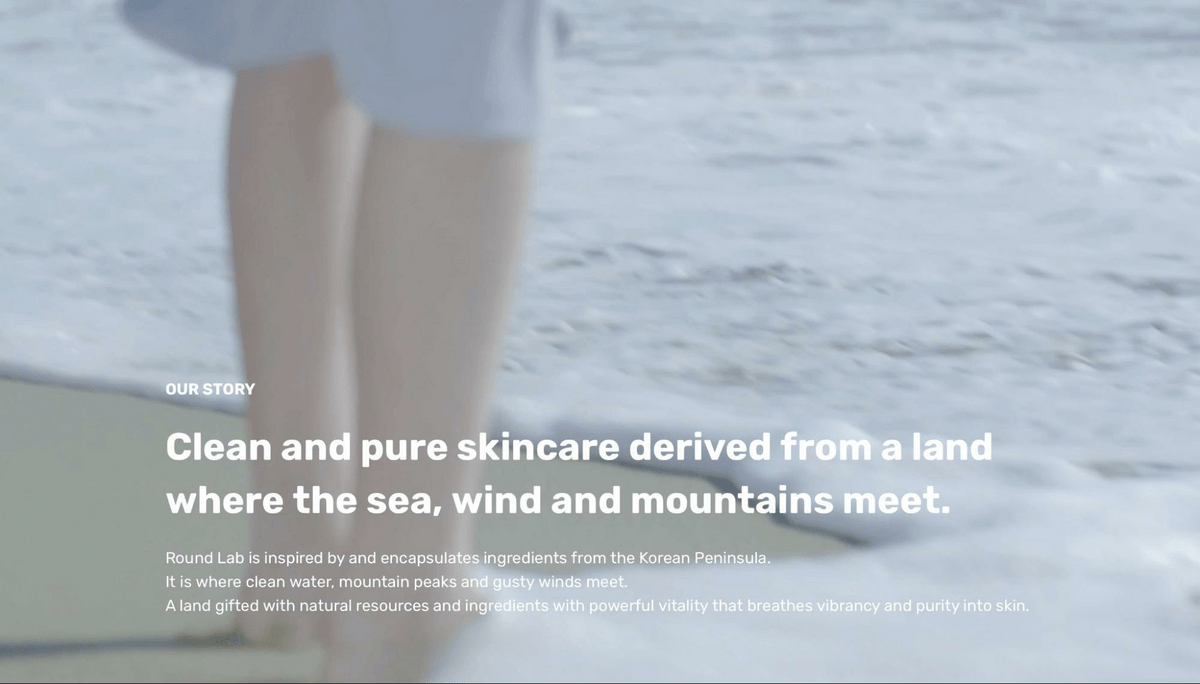 Now that you have established who your story is about, it's time to add a bit of context. Where do these characters live? How's their environment affecting their actions and behaviors? Moreover, how can you place your brand into context?
If you want to bring your story to life, using very descriptive and evocative language is vital. Pack it with sensory details that can resonate with your audience. Remember, this might be easier if you are a product-based business.
For example, imagine you are a brand that sells skincare products. You have just launched a fabulous moisturizer and want to promote it through a storytelling-based campaign.
Your "story" should include lots of enticing sensory details to captivate online shoppers and bring your products to life. The meaningful content you create could end up in your online store and product packaging. Try using adjectives like "soft", "plump", and "fresh", or highlight scent and texture by using evocative words.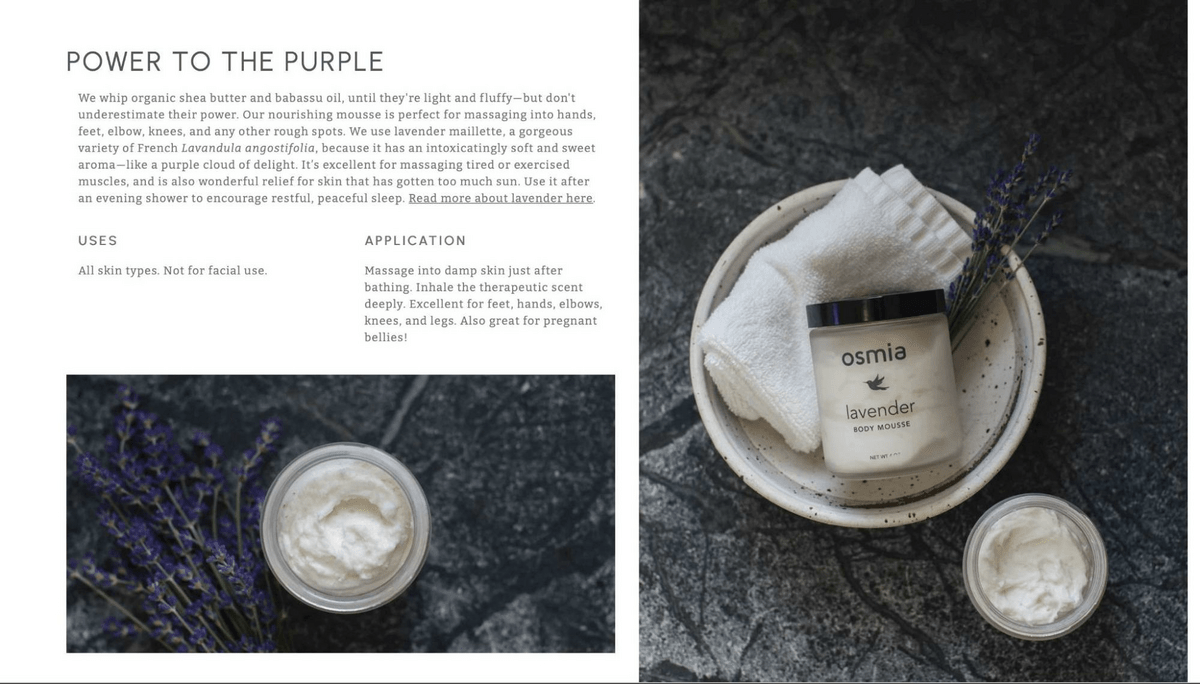 You can adapt this technique to suit all brands and industries. Things can get a bit more complicated if you are, for example, a cloud contact center. However, this doesn't mean you shouldn't try your hand at storytelling–quite the opposite.
Your customers probably expect little storytelling from a company in your sector, which is why you should use it.
Doing so will help you go against the grain, help you stand out from the competition, and attract potential customers.
Are you a service-based business? Then, set the scene of a story by focusing less on sensory inputs and bringing attention to the emotional side of things.
You could use more emotionally driven language to create an authentic, realistic, and relatable environment where your story takes place. Discuss your characters' feelings, their internal struggles, and the personal challenges they are trying to solve.
3. Create a sense of conflict or tension
Challenges, conflicts, and tensions are normal parts of everybody's lives. Adding them to your story is a great way to further strengthen the emotional bond you are building between your brand and your customers.
Adding one (or more) element of conflict serves a dual purpose. On the one hand, you show your readers that the characters in your story faced similar predicaments to theirs. These shared challenges, in turn, create a powerful sense of belonging.
On the other hand, conflict as a storytelling tool introduces a sense of urgency, tension, and challenge. Ultimately, this sparks interest and drives up engagement and investment in the story. This can happen regardless of whether the reader feels close to the hero's struggles.
Out of all the storytelling pillars we describe, this is likely the trickiest to apply to your content creation process. Nonetheless, it's still crucial to include it. In literature and cinema, conflict often presents as an emotional or physical problem that the characters must solve. But things are different in content marketing.
Let's look at the example blog post below from the Airbnb website.
Airbnb runs a blog with real-life stories from hosts worldwide to promote its holiday rental services. In the screenshot above, one of the company's super-hosts talks about a topic that'll likely strike a chord with a huge number of readers: grief.
The loss of a loved one isn't only a massive challenge for anyone but also something that'll resonate with most readers. At some point, we've all lost someone we loved and cared for, whether a family member, friend, colleague, or pet.
By introducing this intimate–yet universal–challenge at the beginning of its storytelling, Airbnb creates an element of conflict/tension that entices the reader to keep going. This topic sparks many questions: What happened to this woman's spouse? How did she react? Why did Airbnb help her, and how?
See? Just by reading the blog's title, you're likely feeling the urge to learn more about this. That's the power of storytelling. If the challenge in the story feels close to home, audiences will almost instantly perceive the brand as more genuine, human, and trustworthy.
4. Incorporate emotion-driven language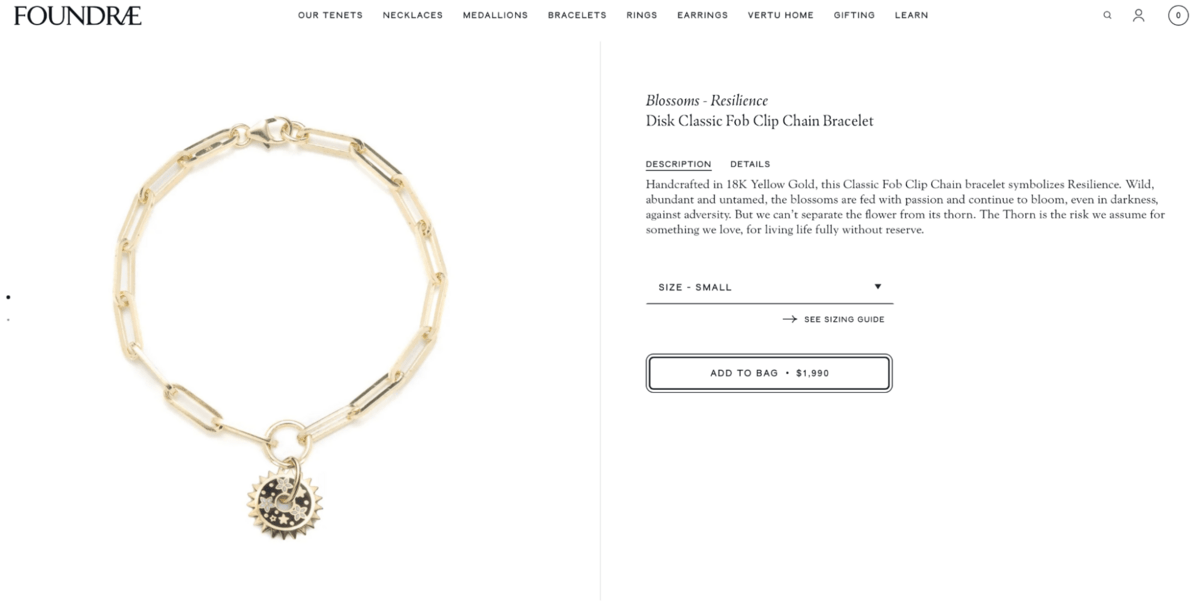 By now, it should be quite clear that storytelling works by generating strong emotions in the reader. The quality of these emotions varies depending on the brand and the specific message of the narrative.
Do you want to convey a sense of joy, relief, sadness, or rage? Either way, crafting an actual story instead of a bland, simplistic paragraph can be more impactful. Before you decide which specific emotions your story will tap into, you must invest some time in better understanding your customers.
Different brands across different sectors have customers with incredibly varied expectations and requirements regarding communication, interaction, and engagement. For example, let's say you're awe-struck by some storytelling that evokes emotions, such as the luxurious feeling of driving an expensive car. But if you're in the business of car rentals, crafting a story that generates similar emotions may not work for you.
Another important factor to remember when writing stories with a strong emotional connotation is that you can also refer to values and beliefs instead of feelings.
Let's say you're an eco-conscious brand actively engaged on social media platforms. It might make sense to incorporate your ethical convictions into your storytelling.
For instance, using visually compelling elements like videos in your storytelling can greatly enhance emotional engagement. You can leverage the art of video production to create narratives that evoke a wide range of emotions. Doing so helps you establish a deeper connection with your target audience.
You can seamlessly integrate these videos into your content creation strategy, spicing up your editorial calendar with visual content that resonates with your viewers profoundly.
Pro Tip: Using specific words, phrases (long-tail keywords), and metadata (like alt text in images and videos) can not only improve the user experience of your content but also make search engines see your content as more valuable, too.
Ready to tell your story?
There's no doubt about it: storytelling is a way to turn different types of content into something more compelling. The benefits that it can generate are many and range from raising brand awareness to driving organic growth and skyrocketing your revenues.
Through storytelling, you can craft more authentic connections with your audience and present yourself as an industry leader. The result? A boost in sales without using annoying and off-putting sales tactics.
What are you waiting for? Start leveraging the power of great storytelling for digital content creation today!