Are you struggling to keep up with all your everyday tasks, deadlines, and workload?
There's nothing worse than forgetting to do something you had at the forefront of your mind.
But did you know that you can learn how to write checklists properly to ensure productivity and maximize efficiency?
This article will provide you with tips for writing checklists and show you why they're so useful.
But before we start, let's dig into this topic a bit deeper…
Disclosure: These reviews are reader-supported. We might earn a small commission if you purchase something through our site. Learn more
Grammarly Premium Walkthrough Video
Grammarly
Best All-Around
$11.66
/mo – before discount
PROS
86% out of 86% accuracy
16+ billion database
150k+ word limit
5 devlice limit
Includes plagiarism
1-hour response
CONS
Only supports English
Expensive without our link
What are Checklists?
Information overload is more common than ever. Because you're bombarded with a lot of new things on a daily basis, you might forget to pay a bill or complete a major task at work.
Human errors and accidental slips are bound to happen and eliminating them altogether is almost impossible. But you can reduce them with the help of checklists.
Checklists are useful lists of things to help remember everyday tasks like grocery shopping or chores. Moreover, they're tools for organizing individual assignments at work and boosting productivity.
However, not everybody was born with the talent of writing checklists the right way. To help, we've created a list of techniques you can use to create great lists.
List of Techniques to Create Great Checklists:
1. Know your goals
The purpose of checklists is to complete realistic tasks. For that reason, you need to have a clear understanding of everything on our checklist. All of the completed tasks on your list help you get one step closer to your ultimate goal. And if they aren't direct, you might accidentally skip them.
So before even starting a new checklist, think about your goals and how you can make them more concrete. This will help you write a checklist with tasks you'll actually complete. Keep in mind that a simple checklist is often best, because you can always refine it and make it more complicated. Achieve the simple goals first, and then go from there.
2. Choose your tools
In the past, if you were out of milk, you'd just make a shopping list or write a note in your planner. But nowadays there are so many different options for writing, you might find yourself using several to write your checklists: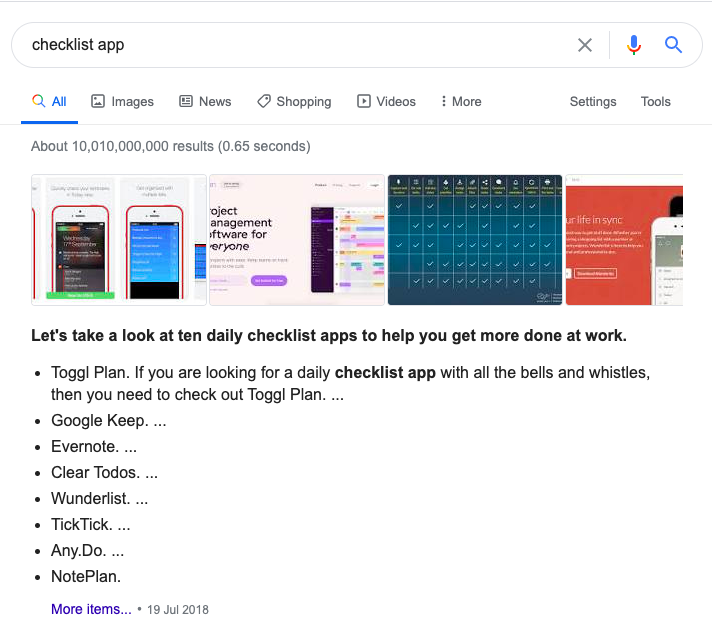 This can complicate things a little bit. To avoid confusion, keep things simple. Choose one or two options. For example, you could make a list of groceries on your phone, and then use your planner for more significant tasks.
3. Brainstorm
Not all of the things you jot down will make the checklists you're going to write. Therefore, you should think of your initial checklist as a first draft.
Write down everything you consider valuable, analyze it, and then you'll be able to create a neat checklist. When it comes to writing a narrative, having the main ideas clearly laid out in front of you will go a long way when it comes to keeping everything organized.
4. Organize
Now that you have everything written down, it's time to organize things. Remember when we mentioned that you need to have a clear goal? This is where it comes in handy. Eliminate all the things from your checklist that don't resonate with your objectives and keep only the important ones.
When it comes to organization, something you may want to try is visiting a writing center where a real life teacher can show you how to make a well organized writing checklist. Another big tip here is to use lots of subheadings. Never cram multiple ideas into the same section. Each idea deserves its own section, complete with subheadings and all.
5. Prioritize
Since you've organized the tasks, it's now time to see which ones are urgent. Put the important things at the top of a list, or if you've already written everything down, simply highlight the tasks you should tackle first. That way, you won't miss them out.
You also need to prioritize your efforts, which of course depend on what your goals are. What is your target audience? Are you engaging in content marketing? Are you writing for social media? Different goals will feature different priorities, and you need to set these before you get started.
6. Use simple language
If you write too many details on your checklist, it's just going to confuse you or your colleagues. Your checklist should be practical, with concise, to-the-point sentences. Make sure you include all necessary information, but don't write an essay on how to complete something. Use Grammarly or any other writing apps that will help you to make sure your sentences flow well and you avoid making any grammatical errors.
Another tip: Write clear instructions and don't use jargon. Everybody should understand the checklist when they see it. If your partner can't read what's on a shopping list, they won't buy the things you ran out of. And if it's work-related and your colleagues can't understand the list, they'll need further clarification.
7. Use the same formatting
Your checklist will look much more organized if you use the same formatting. If you're writing it on a piece of paper, don't scribble. Your handwriting needs to be legible so other people can understand it. And if you're using some software, use uppercase and lowercase.
The main thing when writing checklists is to make everything decipherable and scannable.
8. Check off items
This one goes without saying, but you need to make a mental note and check off the items as you complete them. That way, you avoid doing tasks twice and keep track of everything you still need to accomplish.
And not only that — going through a checklist and checking off everything will give you a sense of accomplishment and boost your motivation. The writing process can be lengthy, but with a good checklist, once those goals are checked off one by one, the process usually always pays off.
9. Add items
When new things come up, feel free to add them to a to-do list. Ideally, when you think of an additional task, write it down immediately. If you don't do so, you might risk forgetting it.
Then, once you have it on your to-do list, you can stop thinking about it until the time comes to accomplish the task. You can always keep adding new goals to the list, but be sure that you never stray too far from the main idea, the original topic sentence.
10. Go through it
The to-do list is a perfect guide for your week. It helps you stay organized and keep track of your plans for any given day.
So, don't think that once you write your checklist, you're done with it. It's always going to be a valuable reminder of everything you need to do. Once you are done writing, be sure to proofread everything to ensure that there are no spelling or grammar errors, that you haven't used many clichés, and that wordiness isn't an issue.
Keep Things Organized
We hope that this article has given you a better understanding of writing checklists. They certainly make life easier, so don't overcomplicate them. The tips we've compiled should be used as guidelines, but ultimately, it's essential you write a to-do list that works for you.
If you're struggling to remember all of this, why not start a new list right now? Compile all the points you found useful and use them the next time you need to write a checklist.