If I earned a nickel every time a Spanish speaker corrected my Spanish grammar, I'd have bought a mansion by the sea years ago.
That's embarrassing, considering I've been immersed in the Spanish language for decades.
Yep, you heard that right.
Even my extensive living experience in Texas, Spain, and Mexico hasn't been enough to whip my Spanish grammar into shape.
But hey, I'm still trying.
That's why I've been on the hunt for reliable Spanish grammar checkers that other Spanish learners can bank on, too.
Because it's embarrassing to say 'por' when you should've said 'para.' And it's just as embarrassing to say 'estoy embarazada' when you should've said 'tengo vergüenza'. But hey, that's a story for another day …
For now, let's take a look at what you should look for in a Spanish grammar checker. We'll also take a look at some of the current Spanish grammar checkers on the market.
Disclosure: These reviews are reader-supported. We might earn a small commission if you purchase something through our site. Learn more
Grammarly
Best All-Around
$11.66
/mo – before discount
PROS
86% out of 86% accuracy
16+ billion database
150k+ word limit
5 devlice limit
Includes plagiarism
1-hour response
CONS
Only supports English
Expensive without our link
Grammarly Premium Walkthrough Video
What to look for in a Spanish grammar checker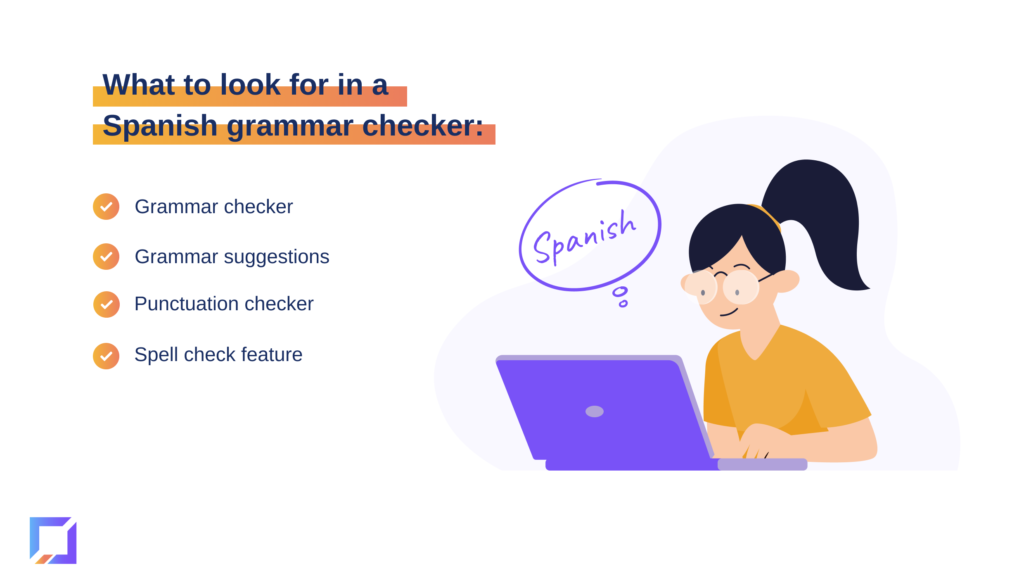 Think of your ideal Spanish grammar checker the way you'd think of an ideal Spanish tutor.
What do you need help with most? Which specific Spanish grammar areas make you want to punch a wall? For instance, I struggle most with past-tense verb conjugations, so I always need help with that.
So first, jot down a list of all of your Spanish grammar pain points and common grammar mistakes. From masculine and feminine use to tense trouble and everything in between. This will help you narrow down a grammar checker tool that fits your needs best.
We also recommend choosing an online tool that not only points out grammar mistakes, but that also provides insight into Spanish grammar. Learning the 'why' behind your mistakes is often more helpful than merely correcting them and moving on.
With that said, here's a list of features we recommend looking for in a Spanish grammar checker:
Grammar checker
Your Spanish grammar checker can't be a Spanish grammar checker without … an actual Spanish grammar checker feature. Ha! That was a mouthful.
On a serious note, your tool should be able to pinpoint every grammatical error in your text quickly and easily. This feature should also feel intuitive to use or — at the very least — easy to learn and navigate.
Grammar suggestions
When your Spanish grammar checker finds faulty grammar, it should supply grammar suggestions or corrections. And ideally, it should also tell you why your grammar is wrong and why their suggestion is correct.
Important Note: Keep in mind that most Spanish grammar checker tools work best when you already have some Spanish grammar under your belt. Like other grammar checker tools, you may get a suggestion that doesn't really work with the text you're writing. Be sure to use your best judgement in these situations.
Punctuation checker
Spanish punctuation works differently than English and other languages.
For starters, exclamation points and question marks go at the beginning and end of a sentence. And the one at the beginning is written upside down.
But there are other punctuation differences, too, such as accent marks, tildes, and umlauts. So make sure your tool has a punctuation checker that suggests proper punctuation, too.
Spell check feature
This one goes without saying, but I'm still going to say it. Get yourself a tool that has a spell check feature so you don't accidentally call someone something you shouldn't. Do you get what I mean? Moving on.
Additional Spanish grammar checker features to look for:
The features we covered before are must-have features to look for in Spanish grammar checkers.
But I'd also like to throw in another section specifically for Spanish writers and Spanish students. These features would also be great for non-native Spanish speakers who have to speak or write in Spanish for work:
Plagiarism checker
If you're getting paid to write in Spanish or if you're writing in Spanish for school, you need a plagiarism checker.
I've written about this in our Grammarly articles multiple times, and I know I sound like a broken record. But I'm going to say it again: It's easy to plagiarize unintentionally.
Yes, unintentionally.
It sounds unreal. But with billions of people living on the same planet, it makes sense that someone else might've written the same thing you did.
A plagiarism checker will help you ensure that everything you write in Spanish is completely authentic.
Writing style tips
Getting writing style tips is like getting the royal treatment at an all-inclusive resort.
You came for the food and drinks, but you're leaving smelling like cucumber water and lavender oil. You came for the grammar check and plagiarism detector, but you're leaving with sound writing-style advice. Pretty sweet deal.
Sentence corrector
Sentence correctors are like warm hugs. They're comforting, rejuvenating, and feel like a breath of fresh air. When you're struggling to string words together for an important assignment, a handy sentence corrector can hold you through it.
Integrations
When you're using a Spanish grammar tool for work or school, you need flexibility.
Look for a Spanish grammar tool that integrates with the tools you use every day, such as Microsoft Word, Google Docs, or your go-to word processor.
4 Spanish grammar checkers on the market today
Here are the top four Spanish grammar checkers I've found to date, in no specific order:
1. LorcaEditor
From what I've seen so far, LorcaEditor is the only Spanish grammar checker tool that resembles Grammarly.
Like Grammarly, LorcaEditor feels intuitive to use, and it even looks like Grammarly, too.
Here's an example of LorcaEditor's interface for reference: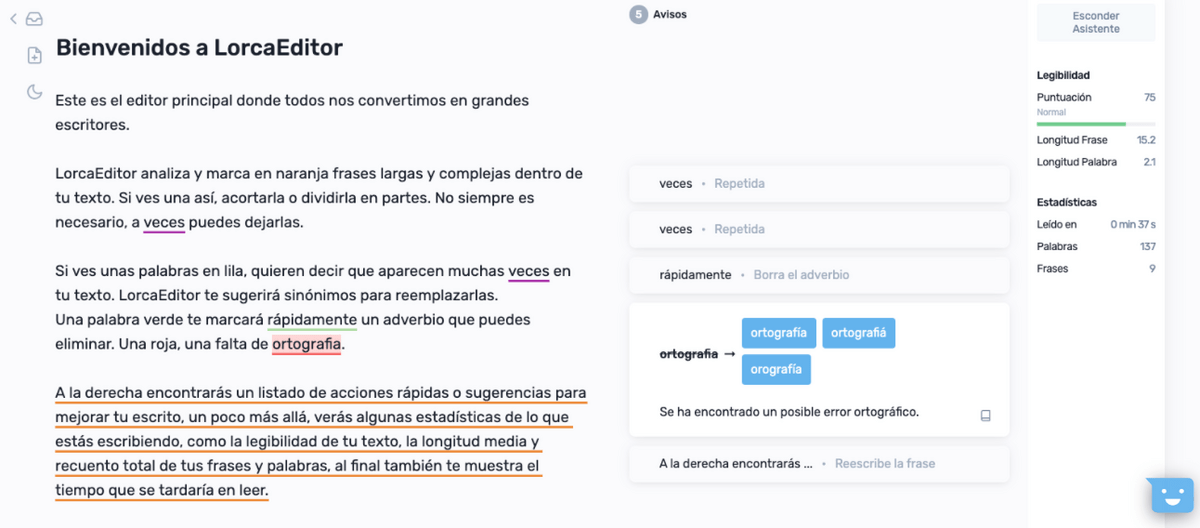 See what I mean?
It honestly might even be a slight rip-off. But I'm here for it.
I'm pretty partial to Grammarly, though. But since Grammarly doesn't have a Spanish option yet, LorcaEditor is here to pick up the slack.
To sign up with LorcaEditor, you just need an email address. Signing up takes just a few seconds. Once you're all set, you'll be automatically directed to the text editor where you can start checking your text.
To check your text, you can upload a document or just type directly inside the text editor.
Friendly reminder, you'll have to use your own common sense around its suggestions.
For instance, when I wrote 'pueblo' the first time, it suggested that I change it to a synonym, like 'lugar'. It did this because I wrote another line using the word 'pueblo' further below, and it likes to flag repeated words.
But 'pueblo' was the right word choice to go with at first because I was referring to a village. The second time, I accepted its suggestion to use 'lugar' ('place' or 'location' in English). Because at that point, the reader would already know which place I was referring to. Anyway, use your best judgement.
With LorcaEditor, you'll have access to the following features:
A punctuation checker
A grammar checker
Average phrase and word lengths
Estimated reading times
Word counter
Phrase counter
What's also pretty cool is that you get all of these features for free. I didn't even see a paid version, which could be a good or bad thing.
Speaking of bad things, I did spot some cons.
Cons:
The site was a bit glitchy at times. It even erased some of the text I wrote, so be sure to always have a backup copy on file. It also didn't pick up on a few spelling and grammar errors, which can be annoying if you have a low Spanish level.
This tool is best for:
Bargain shoppers, since the tool is 100% free. It's also best for Spanish learners that have an intermediate or higher language level.
2. LanguageTool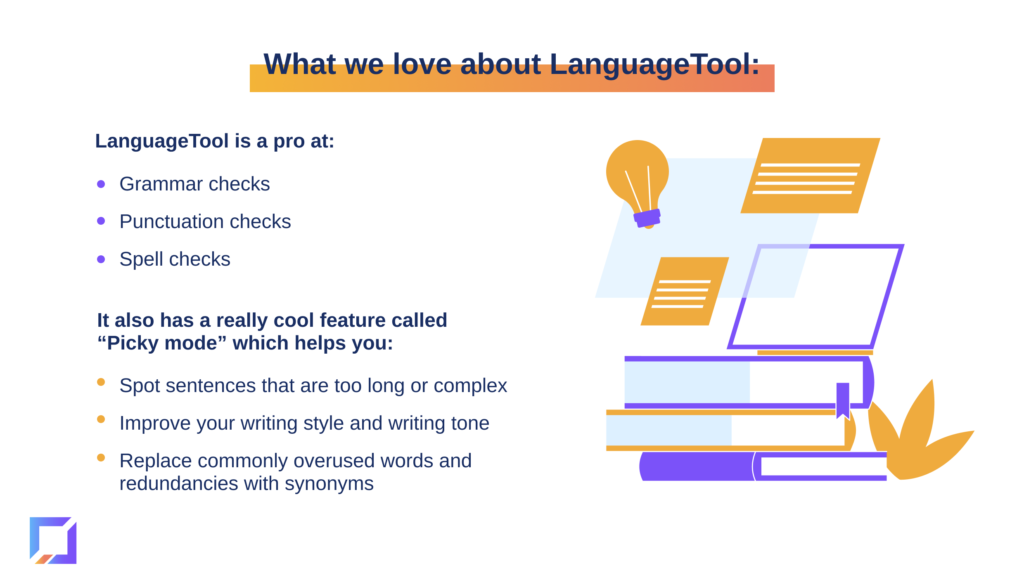 LanguageTool definitely has its own feel, but it still has a Grammarly vibe, which I dig. Signing up is also quick and easy.
After signing up, the tool immediately invites you to try their browser extensions, apps, and integrations. These multiple access points are a major pro since not all Spanish grammar checkers offer them.
LanguageTool is also a pro at:
Grammar checks
Punctuation checks
Spell checks
It also has a really cool feature called 'Picky mode' which helps you:
Spot sentences that are too long or complex
Improve your writing style and writing tone
Replace commonly overused words and redundancies with synonyms
Picky mode also picks up on Spanish slang words so you can use colloquialisms in your text with ease.
Everything I just listed is included in the free version, which I still can't believe.
But the catch is, it only lets you analyze up to 10,000 characters per text field. So if you need to write long-form articles or research papers, you'll need to upgrade to their premium version. The premium version will let you scan up to 100,000 characters per text field.
I also love how intuitive LanguageTool feels. And not just their text editor, but their website as well. In fact, I'd be surprised if anyone had trouble making their way around their web pages and text editor.
Cons:
You'll need to upgrade if you want to analyze more than 10,000 characters at a time.
This tool is best for:
Grammar aficionados, students, writers, and Spanish learners looking for in-depth style and grammar suggestions. It's also great for beginners or for people looking for an intuitive Spanish grammar checker.
3. TextGears
TextGears is a Spanish grammar checker you can use right away — no signup or download required. This makes it a great tool for anyone in a pinch that needs to correct their Spanish text right away. Or for someone who just wants to check a few words (Google-style).
The editor isn't beautiful by any means.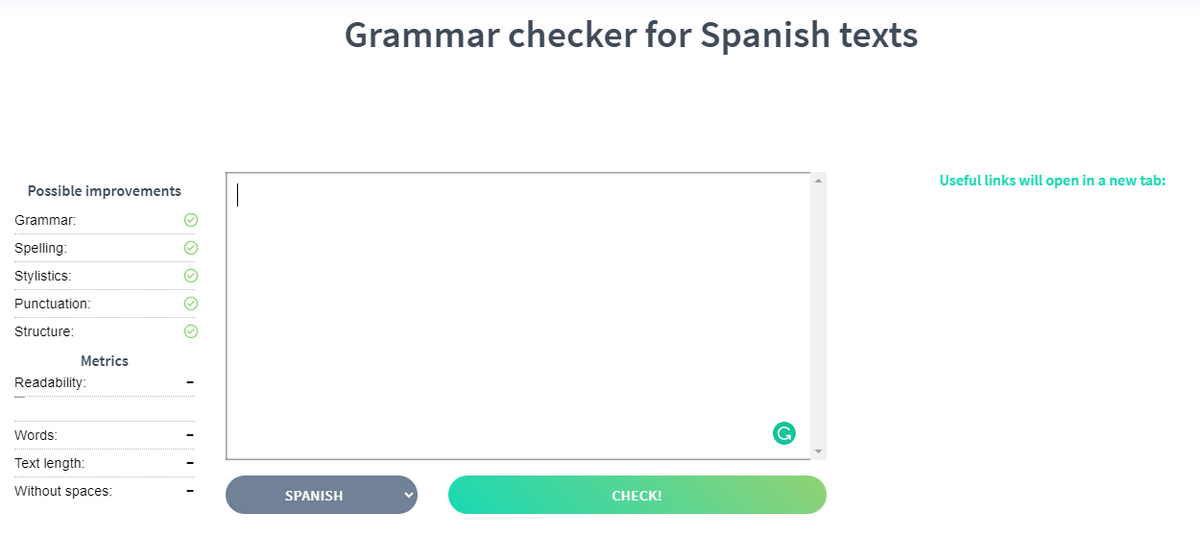 Okay, it's hideous. But it'll get the job done.
Actually, sometimes it won't get the job done. That's the problem with this tool.
It honestly can be hit or miss. Sometimes it'll catch obvious mistakes like accents or spelling, but other times it misses the bar completely.
For instance, it didn't recommend punctuation marks at the beginning of sentences when it should've. And it didn't correct my capitalization or grammar mistakes sometimes.
It's possible that my Grammarly browser extension interfered, but it didn't mess with the other tools I tested.
I wasn't even going to mention this tool in the end. But it's quick access sans signup, and its readability metric made me change my mind.
My advice? Try all of these tools out yourself so you can feel confident in the one you choose to work with.
Cons:
It's not a reliable grammar, punctuation, or spell checker.
This tool is best for:
People who don't want to sign up to use a tool. Or people in a bind that want to check text quickly.
4. Plagiarism Checker X
Plagiarism Checker X doesn't offer much, but what it does offer is pretty sweet.
This tool is exactly as it sounds: It's a plagiarism checker. And nothing more.
But with its ability to scan 20+ languages for plagiarism and its unique reporting features, it's a game-changer. And if you buy a license, you can check as many words as you'd like. In fact, that's what made me choose Plagiarism Checker X over Plagly — which we hate, by the way.
Cons:
I couldn't find word count limits for the free version. That could be pretty frustrating if you upload a document that goes over the word count. In that case, you'd need to scan it in pieces or invest in a license.
I also didn't like that I was forced to download the software and install it on my computer. I'd rather have a web browser I can head to or an app on my phone, instead.
Conclusion
Does a perfect Spanish grammar checker exist on the market today? No, it doesn't.
Just about every Spanish grammar tool has a few cons, but the four on this list made it past some tough criteria.
But don't take our word for it. Try them out yourself and let us know which one strikes your fancy the most.
PS: Need an English grammar checker, too? We can't say enough about Grammarly Premium! Go give'em a try with our 20% off discount. You can also check out our in-depth Grammarly review, here.