If you want to kickstart or progress in your career in marketing, you'll find that your background doesn't matter as much as your ability to excel in the job.
Unlike medicine and law, there's no official board or qualification in marketing. So, naturally, competition for a single role is fierce.
So how do you distinguish yourself from other candidates?
There are many online certifications available today that can enhance your digital marketing skills.
And it works: Getting an online marketing certification can put you 73% ahead of other job seekers.
This article will feature 17 digital courses that will give you a content marketing certification and give you an edge over your competition for online writing jobs.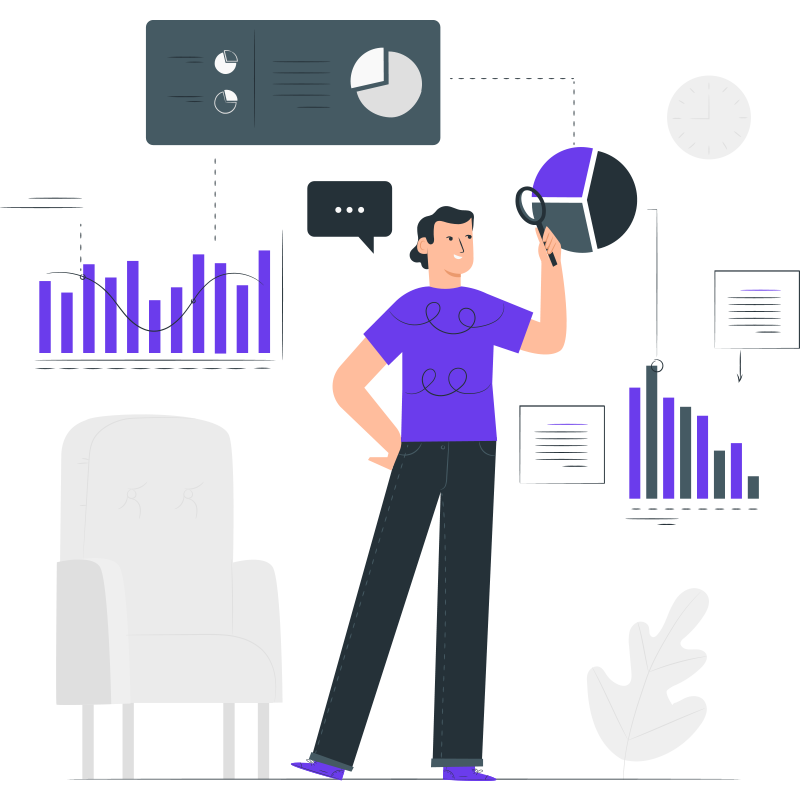 Get long-term ROI.
We help you grow through expertise, strategy, and the best content on the web.
Is a Content Marketing Qualification Worth It?
Most companies are aware that content marketing is very important to their marketing strategy (see the bar chart below).
Nearly 70% of companies say they plan to hire more digital marketers, with the most in-demand skills being content creation and strategy: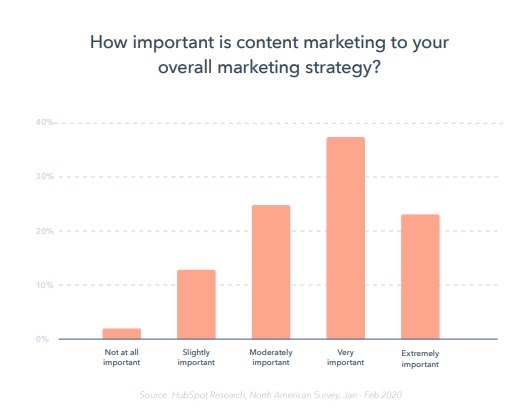 Knowing how to create content and promote it effectively are vital skills for any digital marketing professional today.
"However, there is often a knowledge gap when it comes to understanding the nuances of different platforms and how to tailor content for each one, which can hinder successful promotion and engagement with the target audience." — Subramanian Viswanathan, CEO of disprz.
An online certification course in content marketing has clear benefits:
It helps you plan and craft a content strategy against wider marketing and business goals.
It teaches you to create consistent content that communicates your message to the audience.
It helps you make continuous improvements by measuring and analyzing content performance.
Our content marketing agency produces over 300+ articles/month, and we believe in having a clear and consistent content strategy.
The 17 Best Content Marketing Certifications
A content marketing certification (whether you want to specialize in social media marketing, inbound marketing, email marketing, or digital advertising) will give your resume a boost, and teach you how to make a real impact on your company's bottom line.

#1: Content Marketing Specialist by Digital Marketer
This certification by Digital Marketer promises to help you convert content into organic traffic and sales at every stage of the marketing funnel.
No matter your level of expertise, this extensive certification course will teach you to create and promote content to drive leads, visitors and sales.
There are 6 core modules featuring 40 video lessons, handouts, and quizzes for each module.

On completion, you will get a badge and digital certificate designating you as a Certified Content Marketing Specialist, which can be shared on your website, LinkedIn profile or email signature.
How much does this content marketing certification cost?
$495
What does the course cover?
Creating your customer avatar
Top of Funnel content – goals, content type and metrics
Middle of Funnel content
Content marketing metrics
Blog marketing
Content distribution
#2: Content Marketing Certification by HubSpot
The HubSpot certification course in content marketing takes you through essential tactics required to produce strong and consistent content.
There are 14 lessons covered over 6 hours which will give you a content creation framework and teach you how to be an effective marketer.
How much does this content marketing certification cost?
Free
What does the course cover?
Some topics covered in the certification include
The power of storytelling
Building a content creation framework
Creating quality content your audience loves
Building a guest blogging and video marketing strategy
Measuring and analyzing content
It sounds obvious. But just like the experts from our MasterClass review can attest, it's the details that make all the difference!
#3: Content Marketing Certification by AMA
Become a professional certified content marketer with this certification from the American Marketing Institute.
The course is targeted at marketing professionals at the intermediate level i.e those who have over 7 years of experience in marketing.
It is designed to increase knowledge in 5 key areas: strategy, planning, production, promotion, and measurement.
How much does this content marketing certification cost? $249 (member), $349 (non-member)
What does the course cover?
Content marketing foundation and ROI
Content strategy
SEO foundations
Creating an editorial calendar
Developing a visual campaign
Creating content types — webinar, podcast, blog, ebooks, videos
Google Analytics training
#4: Grow your Business with Content Marketing (Udemy)
This certification teaches content marketing techniques that can be used throughout the marketing funnel.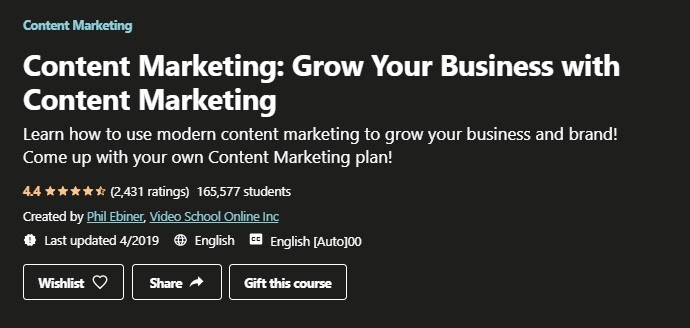 From understanding your customer and content creation to publishing content and growing its reach, this course will teach you how a strong content strategy can help you increase web traffic, get more customers, and sales.
There are 6 articles and 6 resources in addition to over 5 hours of video content that will help you grow your brand.
How much does this content marketing certification cost?
$170
What does the course cover?
Content marketing basics
Defining your brand, purpose and target audience
Content ideation and formats
Create amazing content to market your business
Publish your content
Content marketing funnels
Promote and measure your content marketing results
This course, available on Coursera, teaches you how to develop and implement a content marketing campaign to acquire and train customers.
You'll also learn how to write engaging copy and how to build a brand through creative content.
The course, which takes 20 hours to complete, will allow you to earn a shareable certificate.
How much does this content marketing certification cost?
Enroll for free
What does the course cover?
The content marketing ecosystem
The strategic context
Crafting a content marketing strategy
The strategic types of content
Managing your content
#6: CopyBlogger's Content Marketing Certification
CopyBlogger's online certification is for professional content marketers and content writers who want to boost their skills in content writing and creation.
The certification program will open soon for a limited time only, so add your email to their website to get a notification about it.
Once you complete the course, you can apply for the Content Marketing Certification.
The editorial team will review every application and once you pass the process, CopyBlogger will provide you with a badge that can be displayed on your website or social media page.
You;lll also be listed on their Certified Content Marketers page on their website.
How much does this content marketing certification cost?
$495
What does the course cover?
Content strategy and your role as a writer
The strategic framework for content success
Crafting a content marketing strategy
Strategic content types
#7: CMI's Online Certification
CMI's Content Marketing University features a series of courses that unpack various facets of content marketing including strategies, tactics and tips to drive your digital marketing strategy.
Taught by digital marketing experts and industry leaders, a 12-month enrollment gives you access to 6 core modules.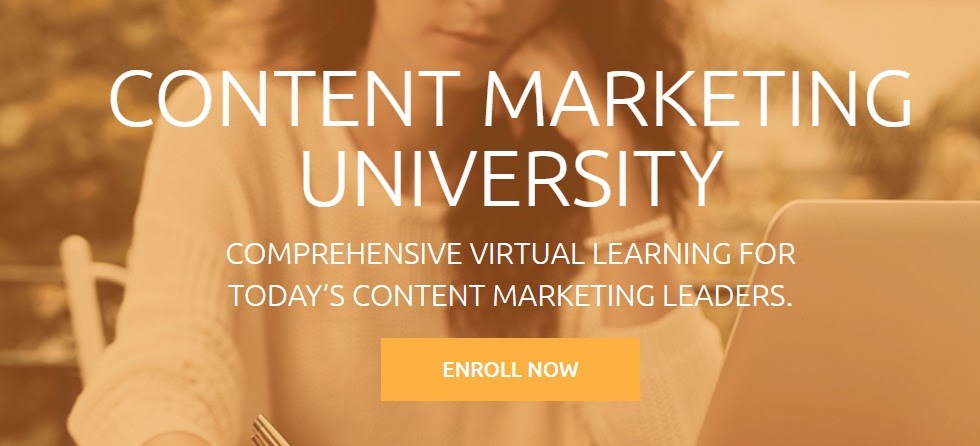 On successful completion of the course and quizzes which follow, learners will receive a CMI certification.
How much does this content marketing certification cost?
$995/learner (Discounts are available for groups, students or non-profits)
What does the course cover?
The 2020 curriculum covers the following
The 2020 state of content: The rise of a functional strategy
Content marketing product plan
Investing in audiences vs buyers
The architecture of business storytelling
Measurement by design
Story mapping your content operation
#8: Content Marketing Fundamentals course by SEMrush
SEMRush has a number of certification exams covering content marketing, SEO, PPC and social media management.
Complete the 2-hours fundamentals online course to learn how to ensure your brand is properly promoted and increase audience engagement via compelling content.
After this, sign up for the Content Marketing Fundamentals exams to receive a personalized certificate that can be displayed on your website, resume or LinkedIn.
P.S — If you already have a good grip of digital marketing techniques, you can skip the online course and simply take the exam to receive a certification.
How much does this content marketing certification cost?
Free
What does the course cover?
How to implement content marketing in your business
Business goals of content marketing
Competitor and audience research
Content audit
Content ideation
Content calendar
Content creation
How to optimize your content
Content distribution
How to measure your content
Advanced content tips
#9: Content Marketing Certification by GetResponse
The digital marketing certification offered by GetResponse includes a course that teaches learners how to craft an effective strategy via webinars, blogs, social media and video marketing.
There are 25 lessons and 6 quizzes over 2.5 hours of training.
There's a final exam at the end which you need to pass to earn their certification as a Content Marketing Expert.
How much does this content marketing certification cost?
$199
What does the course cover?
Introduction to content marketing
Blogging
Webinars
Content marketing in action
Advanced strategies
#10: Clickminded's Content Marketing Training
Clickminded's content training course is geared towards teaching marketing professionals to develop profitable marketing campaigns.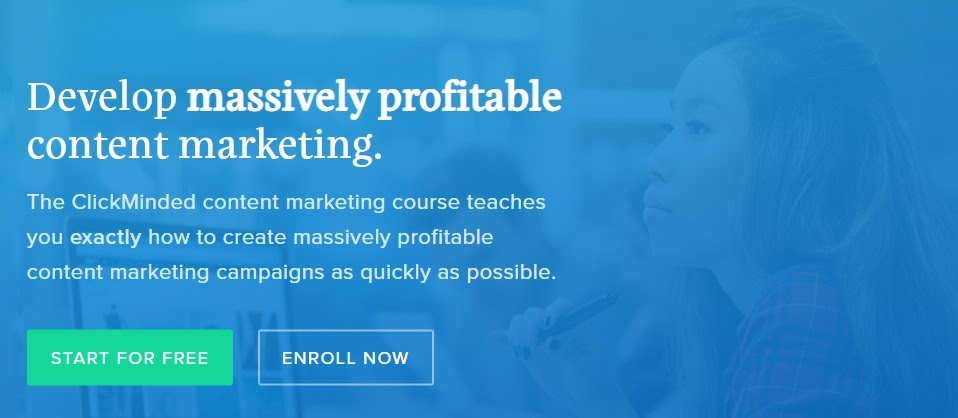 From finding your ideal customer to writing long-form content that converts, the course offers a content marketing framework to ramp up your content campaigns.
How much does this content marketing certification cost?
$497
What does the course cover?
How content marketing fits into your business
Crafting messages that convert
Picking the right channels for content marketing
Writing copy that converts
Optimizing your content
Content marketing walkthroughs and templates
While this is not strictly a content marketing certification, we've included it in this list because every content marketer needs a basic understanding of analytics to measure the impact of their content.
From keyword research to tracking website visitors and user behavior on your site, becoming analytics certified will help you stand out as a data-oriented digital marketing professional by a hiring manager.
How much does this content marketing certification cost?
Free
What does the course cover?
Google Analytics for beginners
Advanced Google Analytics
Google Analytics for power users
#12: Advanced Content Marketing Training from Market Motive
If you are a content marketer who wants to learn how to develop an efficient content strategy, this extensive training will cover all the essentials.
With over 15 hours of online content, B2B and B2C case studies and practice projects, the course will instruct learners on how to produce effective content and improve content efficiency via analytics.
How much does this content marketing certification cost?
$299/month or $2,999/year for an individual membership
What does the course cover?
Developing a vision of content marketing success
Targeting key influencers and influencer marketing
Producing engaging content effectively
Using B2B and B2C content marketing tactics
Helping customers find the information they seek
Measuring content effectiveness
Measuring ROI
#13: Social Media Marketing Master by BootCamp Digital
This industry-recognized certification is a masterclass in getting the best out of your social media marketing campaign.
Catering to all knowledge and experience levels, it includes engaging training videos that cover strategies and tactics, along with real examples and demos.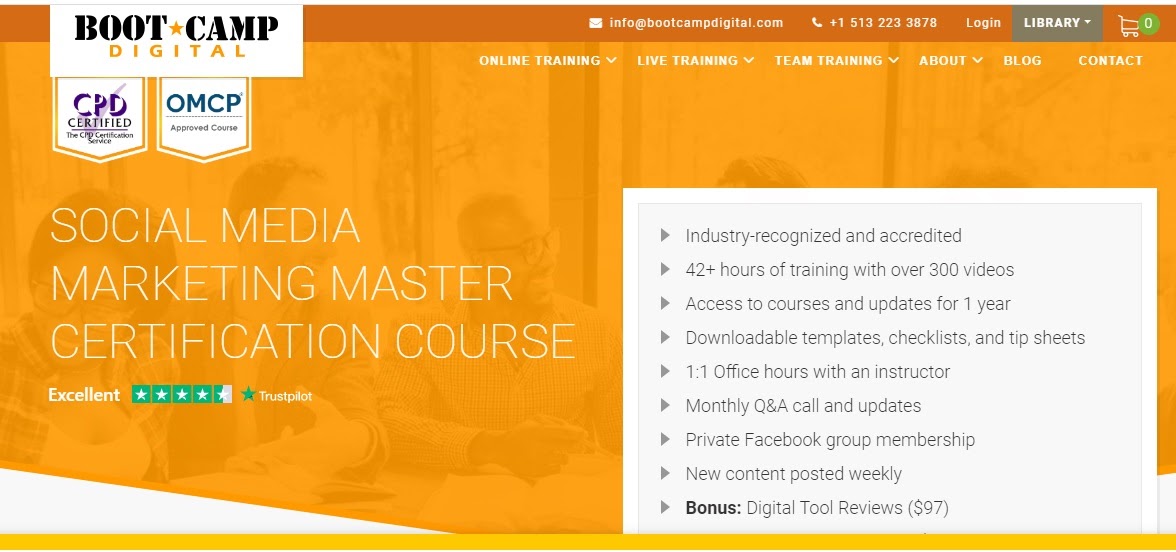 There are 42 hours of training, downloadable templates and checklists, and 1:1 support with an experienced instructor.
How much does this content marketing certification cost?
$997
What does the course cover?
Social media strategy
Facebook marketing and advertising
Blogging
Pinterest marketing
Twitter marketing
LinkedIn marketing
Available on Coursera, this certification will help you to increase your followers and build your brand via effective social media strategies.
It's designed to expand your knowledge and give you resources to build a social media content strategy for your brand using customer insights and analytics..
It'll also give you the tools and training to become a social media influencer to increase followers and build your brand.
How much does this content marketing certification cost?
Enroll for free
What does the course cover?
What is social?
The importance of listening
Engagement and nurture marketing strategies
Content, advertising and social
The business of social
#15: HootSuite's Social Media Certification
Industry leader HootSuite's online certification exam is based on their Social Marketing training course.
It features a series of digestible video tutorials that cover everything from creating and optimizing a social profile to sharing social content and social media ads.
If you score over 80% at the end of the 60-question online test, you will receive a permanent digital certificate that can be shared on your resume, blog, website or LinkedIn profile.
How much does this content marketing certification cost?
$199
What does the course cover?
Optimizing your social media profiles
Social media strategy A-Z
Growing your advocate community
Content marketing fundamentals
Social advertising fundamentals
#16: Facebook's BluePrint certification
Give your resume a much-needed boost with Facebook's Blueprint Certification.
Facebook's digital marketing certification program is for those who want to achieve an advanced level of skill in specific aspects of digital marketing.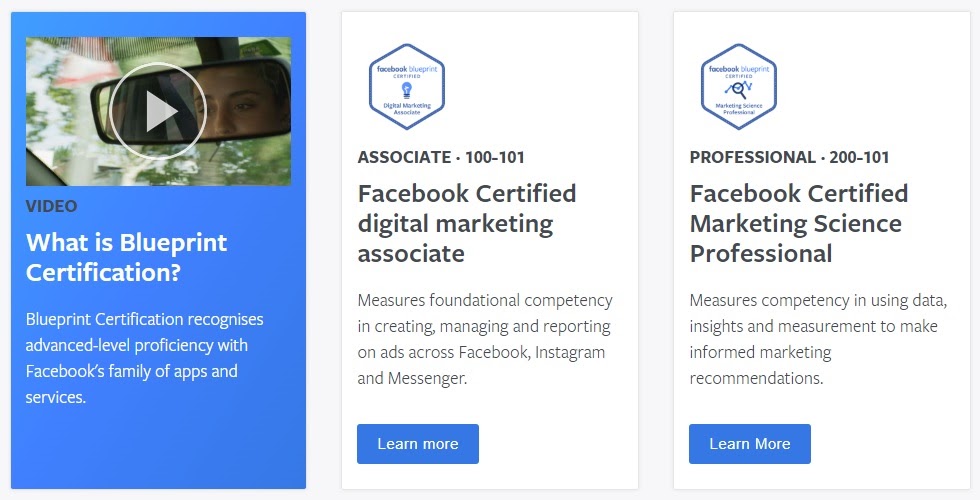 This includes Facebook advertising, creative strategy, media planning, marketing science, media buying and digital product development.
To prepare for the digital marketing certificate, you can learn from the free online courses available at Facebook Blueprint. It includes over 90 lessons on Facebook and Instagram advertising.
How much does this content marketing certification cost?
$150 per exam
What does the course cover?
How to promote your business with Facebook
How to identify your target audience with Facebook tools
How to capture leads across devices
How to get started with Facebook Messenger
How businesses can increase in-store purchases
Buying courses — Facebook and TV
How to buy Instagram ads; Instagram ad formats
#17: OMI's Social Media Marketing Certification
This certification program in social media marketing will help you leverage the power of your social networks to grow your business.
There are 6 hours of training that will give you a deep understanding of various social platforms, social content creation, and marketing analytics.
This course will broaden your understanding of how to use social campaigns to increase brand awareness and boost sales. There are practical strategies that can be used to generate leads, as well as useful tools to measure ROI.
How much does this content marketing certification cost?
Free
What does the course cover?
Introduction to Social Media Marketing
YouTube and Video Content Marketing
Blogging Fundamentals
Facebook, Twitter, and LinkedIn Marketing
Instagram and Pinterest Marketing
Social and Display Retargeting
Search engine optimization and measurement
Conclusion
Strong and compelling content is the lifeblood of any content marketing strategy
The certification courses listed above are designed to impart crucial skills and insights that can help you become a successful content marketer.
Some offer training in the fundamentals of content marketing and strategy. Others offer a deep-dive into a specific aspect of content marketing — from social media and SEO to Google ads and SaaS marketing.
No matter your knowledge or education level, completing an industry-recognized certification course will let your future employer know that you are ready to nail that content marketing role.
So what's stopping you?
Find a course that suits your learning goal, enroll yourself and take the first steps to content marketing success.
Then, once you're ready to publish, use Wordable to automate your export from Google Docs to WordPress in 1-click.
Related reading