The best performing companies are more than twice as likely to use AI for marketing.
And the growing list of Fortune 100 companies that are heralded on SEO companies' websites speaks for itself.
But no company seems to have their foothold in the Fortune 100 world more than BrightEdge Content.
Headquartered in Foster City, CA (with offices in Seattle, Cleveland, Chicago, New York, London, Sydney, and Tokyo), this 400+ employee team is one of the biggest in the SEO game.
Billed as an "enterprise-level toolset," BrightEdge Content boasts an extraordinary level of reporting, educational information, and SEO tools.
But it comes at quite the price.
In this article, we'll take a look at the features, pros and cons, and pricing options. Then you can decide if BrightEdge Content is the right SEO Marketing Tool for your company.
Our Verdict
At the end of the day, it really says something that half of Fortune 100 companies use BrightEdge Content.
TABLE OF CONTENTS
Publish Google Docs to your blog in 1-click
✅ Export in seconds (not hours) 
✅ Less VAs, interns, employees
✅ Save 6-100+ hours/week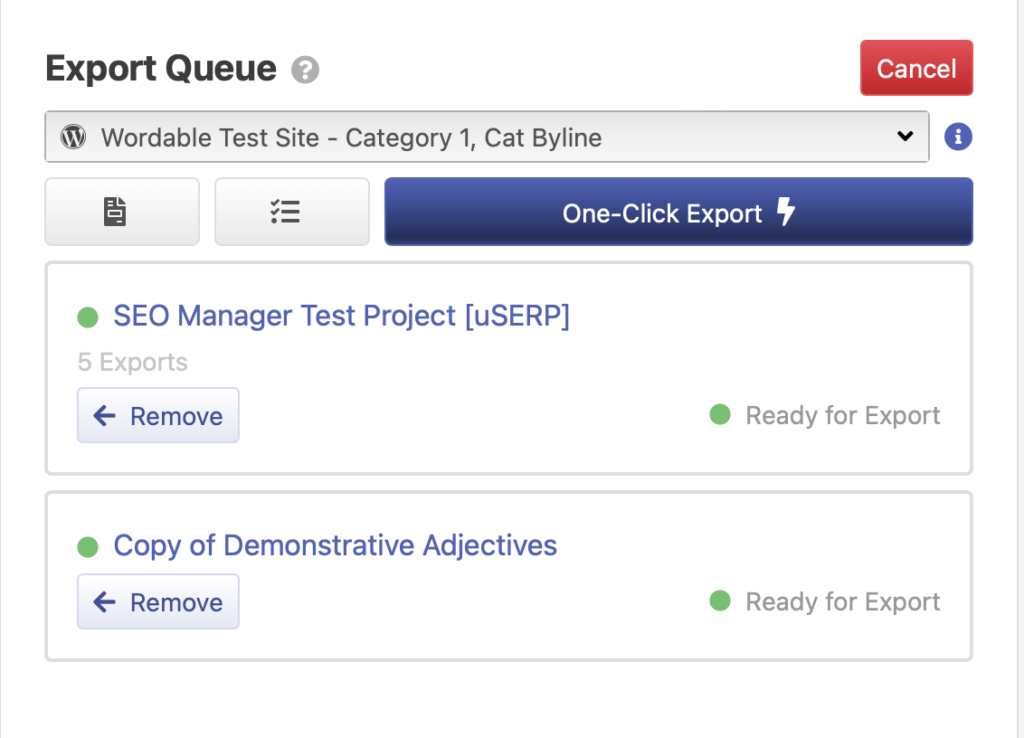 What is BrightEdge Content and Why Should Marketing Professionals Care?
According to BrightEdge internal research, the average SEO professional can spend up to four hours per day on research and analysis.
They also use up to six different tools to accomplish their tasks.
That's a lot of time to spend on preparing content.
For many years, content marketing performance was a challenge to gauge ROI on.
Content marketers would come up with ideas that they believed would be interesting to their target audience.
Then, they'd post them and pray that the search engine gods would find them favorable.
Now, BrightEdge Content claims that they are the global leader in organic search and content performance.
In other words, they believe that they are the best at helping marketing professionals optimize their content, build a clear SEO strategy, and get results.
Thus, eliminating the need to post and pray.
But how do they do that and why are they different?
Pros of BrightEdge Content
We'll start by taking a look at the pros of BrightEdge Content.
#1. Data Cube
Let's begin by talking about one of the largest differentiators that BrightEdge Content's SEO Platform has in its corner: Data Cube.
Data Cube is a content repository that hosts billions of pieces of information. This information includes search terms, rich media, content, and keywords.
It also shows how all of these perform.
In 2014, BrightEdge unlocked this data and made it possible for its customers to tap into the massive amount of information. That allowed content marketers an opportunity to gain insights that fuel their content marketing strategy from the start.
The Data Cube could have potentially been an overwhelming prospect on its own, processing hundreds of terabytes of data each week.
But the team at BrightEdge Content integrated it into a vast and easy to navigate platform.
This makes it easy to access Data Cube on its own, or through the many different tools available in BrightEdge Content's SEO tool kit.
Across the board, Data Cube was the most talked about benefit of the BrightEdge platform.
#2. The Toolkit
BrightEdge Content has broken down their toolkit into three easy to understand segments: Discover, Create, and Measure.
These segments showcase how you can use the tool to guide you through the entire lifecycle of website content optimization.
Let's look at what makes them each a benefit.
1. Discover
Data Cube — As previously discussed, Data Cube is a massive content repository that fuels the service. This is where BrightEdge Content differs from its competitors.
Share of Voice — Share of Voice identifies competitive URLs that outrank your pages and reviews their content. Then, it provides feedback to optimize your pages to compete for higher rankings.
Opportunity Forecasting — This tool forecasts the potential revenue gain that you could see once your pages are optimized. It's a major benefit when trying to quantify the price of SEO optimization and plan out your SEO strategy.
Intent Signal — As SERP layouts evolve, Intent Signal provides current feedback on content that will rank above the fold. It takes the guesswork out of Google.
2. Create
Recommendations — Provides detailed SEO recommendations for your existing content. This helps to improve your organic search visibility. Use this to re-optimize your old articles to get a higher ranking.
Content IQ — Robust site auditor. Great interface, with easy to understand graphs, helps you find errors and correct them. This improves marketing performance.
3. Measure
Site Report — Track the performance of areas that drive website traffic. This is something that all SEO optimization software offers, however, the BrightEdge Content layout is more intuitive.
Story Builder — Helps you to create dashboards that evaluate how your website is performing. Story Builder is an easy to get way to take mined data and transform it into visually pleasing reports.
Keyword Reporting — Prioritizes the keywords that will optimize your content. Like Site Report, this is a tool all SEO optimization software offers. BrightEdge's "edge" is in how it is displayed.
Page Reporting — Where Keyword Reporting looks at the keywords that will optimize your content, Page Reporting looks at the content that will drive brand engagement. See the above points about same product — better delivery.
Integrations
An important part of BrightEdge Connect's success is its integration.
BrightEdge is able to integrate with the following programs:
BrightEdge Connect API
Adobe Analytics
Google Analytics
Coremetrics
Webtrends
Majestic and Moz
Facebook — BrightEdge is the sole Facebook-approved vendor for content performance technology in the Facebook® Preferred Marketing Developer (PMD) program.
Tools and training
Before you even buy the product, Brightedge Content offers a variety of unique tools and training opportunities to help users master its software. These can be found, for free, on their website.
Blogs help keep users updated about the most current software releases.
Checklists, Quizzes, and the SEO Glossary help to keep users on track and optimizing their time.
Finally, there are video tutorials, walkthroughs, and interviews that help educate and teach you about the software and its capabilities.
Educational resources
Case Studies and Customer Stories allow users to browse through the many professional brands that have found success with BrightEdge Content.
White Papers, POV's, and Research Reports keep marketing professionals up to date on current trends and industry insights.
Webinars continue to educate and give insight, in a palatable — video format.
BrightEdge for Fortune 100 companies
One of the big indicators that the BrightEdge platform works is that 57% of Fortune 100 companies use them.
Some could point to a fantastic sales team but, I think the better guess is that they're getting results.
BrightEdge Content also isn't shy about sharing company testimonials on their social media channels and YouTube.
Companies such as Hallmark, Adobe, L'oreal, Microsoft, and Marriott are just some of the many well known brands that have seen success.
Cons of the BrightEdge Content
There's just too much
The major issue that we've found with the BrightEdge Content platform is that it is a pretty complex program.
With so much to offer, many users find that there's a learning curve when trying to get used to the software.
There seems to also be a pretty hefty onboarding process. With SEO Marketers busy schedules, this may prove to be a deterrent when looking at this specific program.
Just like the experts from our MasterClass review can attest, it's the details that make all the difference!
Yes, there are many tutorials and walkthroughs available on the BrightEdge Content website as well as their YouTube Channel.
With that said, It's tough to know where to begin.
Without an a-la-carte choice, you're left with a massively powerful, yet massively massive amount of tools.
Don't want to hand hold
There are certain edits that need you to contact the support team.
While it is awesome to have a dedicated Success Specialist, it's nice when you don't need them.
Some reports can only be created by someone that fully understands BrightEdge Contents software. This requires the "hand holding" from a customer service rep.
There are also reports of Success Specialists that reach out a bit too often.
Search and keywords recommendations
Users have complained about the time that the search terms take to show up. With hundreds of terabytes crunched daily, one can assume that processing takes time.
As with other SEO Optimizer products, users complain about the search recommendations.
I've run into this challenge with other SEO optimizers.
Sometimes, keyword suggestions feel as though they are coming out of left field.
You're also required to use the keywords far too many times, in one content piece, to hit your score.
If I have to find a use for the keyword "SERP" one more time I'm going to scream!
Some say that keywords seem too similar to one another, while others say that they don't match the initial search query.
Many feel that the recommendations are too narrowly focused on exact keyword matches.
With SERPs getting smarter, it begs the question of whether the keyword technology is keeping up with the times.
There's also the matter of the time it takes to build out a keyword list for your entire site.
We circle back around to busy marketing schedules here.
Integration
Users complain about the site's integration with their website.
Currently, BrightEdge isn't able to automatically pull in new URLs from websites. This must be done manually.
For many users, this is one more step that they believe could be an easy fix for BrightEdge Content.
There are others who worry about the integrations with Analytics.
With the reports relying so heavily on these integrations, the importance of a correct set up is key.
Many users talk about not understanding the set up of Analytics and the software.
There are steps that are being missed due to a lack of clarification.
In turn, reports aren't coming back correctly.
Again, you have the ability to consult your Success Specialist on this.
But, since this is such a critical piece of the puzzle it shouldn't be as complex.
If you are on the market for an app that allows you to export from Google Docs to WordPress in 1-click, then we recommend checking out Wordable. It will not only clean and properly format your HTML, but also compress images, open links in a new tab, automatically set featured images, or create a table of contents, and lots more.
Deep pockets
Finally, let's look at the subject of price.
You know that a company that doesn't publicly address their pricing structure is going to require a client with deep pockets.
It's like when you walk into a restaurant and there are no prices on the menu.
I don't know about you but, that's when I'm headed to the drive-through.
While this isn't a negative point in itself, there are customers who claim to have found the same benefits in less expensive programs.
What are you looking to get out of the platform?
Yes, you can find other products that offer a content optimizer, site audit, keyword ranking tool, and other SEO tools.
The question comes down to whether the BrightEdge Technology is worth the price.
BrightEdge Content Plans and Pricing
Well, this is going to be a short article segment now, isn't it?
As stated above, BrightEdge Content doesn't publicly display their pricing structure.
Their website boasts customized plans for enterprise-level companies.
With that said, we did a bit of digging and came up with price quotes from users.
It seems as though the baseline cost is around $4,000 per month.
I mention baseline as it has also been stated that certain premium features are hidden behind additional paywalls.
Since the company, itself, hasn't published these numbers we can only say that these are hearsay and ballpark figures.
That said, they do give you a glimpse as to what you might be expecting to pay.
Is $4,000 per month worth it?
Conclusion
Do I Recommend BrightEdge Content?
YES — if you can afford it.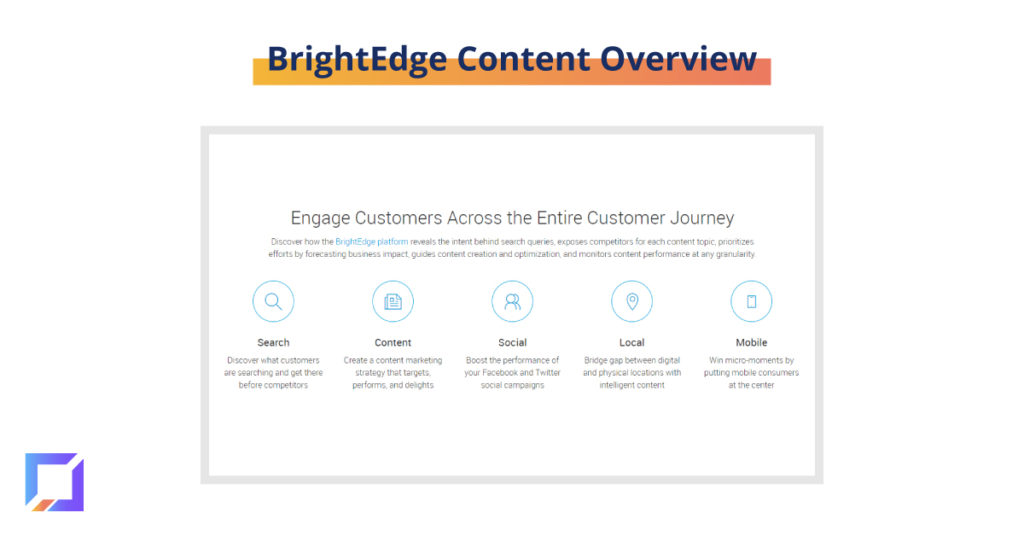 To recap, BrightEdge Content offers SEO resources that competitors just can't offer.
The one-on-one dedicated Support Specialist is a big bonus, regardless of a learning curve.
BrightEdge Content is providing you with smart content that helps any marketing professional improve their productivity.
Who uses BrightEdge?
SEO's use the software to track data and optimize performance
Digital Marketers use the software to build a high performing website
Content Marketers use the software to create engaging content
Executives use the software to track ROI
The Bottom Line
At the end of the day, it really says something that half of all Fortune 100 companies use BrightEdge Content.