Over 83% of marketing professionals believe that digital marketing helps them achieve their goals.
SEO is a complex and multifaceted marketing tool that's essential in getting your digital marketing efforts seen by your target market.
There is, however, a knowledge gap among many marketers that makes SEO a challenge.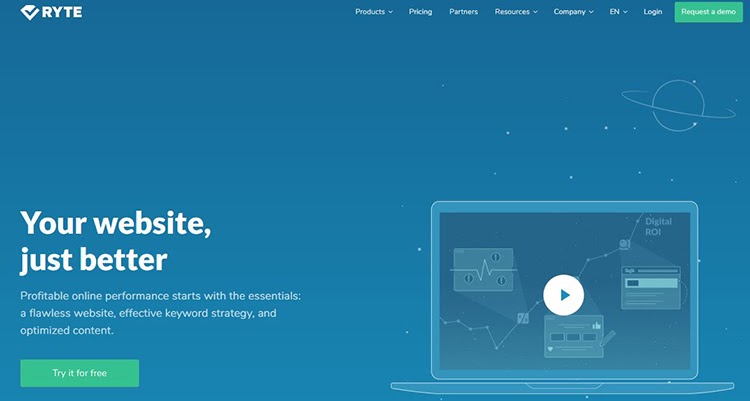 This educational opportunity is precisely what Ryte sets out to address with its suite of SEO tools; Don't just show the what, teach the why.
With more than 1,000,000 users worldwide, this Munich-based company is on track to be one of the fastest-growing technology companies in Europe, and it's easy to see why.
In this article, we'll break down the pros and cons of the Ryte suite. Then you can decide if Ryte is the right SEO analysis tool for you.
Our Verdict
When looking for a toolbox to help optimize your SEO, Ryte has the right products for any step of the process.
TABLE OF CONTENTS
Pros of the Ryte SEO Analysis Suite
We'll start out by taking a look at the pros of this tool.
Ryte resources
Before even diving into the myriad of tools that Ryte provides, let's look at the basic free resources that you can find on their site.
With the Ryte Wiki, digital marketing professionals can discover a goldmine of curated resources to help explain and expand upon your terminology knowledge.
Who doesn't love a good lexicon refresher?
The Ryte Wiki is a searchable database of all things digital marketing.
From online marketing to usability, Social Media to SEO, the Wiki acts as an encyclopedia for the digital marketer.
Next, browse through ebooks, case studies, and white papers to improve website search performance, as well as gather important statistical information.
Finally, stay current on ever-changing SEO trends with Ryte's Magazines and Newsletters. They provide great tidbits of knowledge that will keep you ahead of your competition.
All in one SEO
Right out of the gate, Ryte features three distinct tools to help digital marketing professionals learn how to improve their SEO performance.
Website Success
Content Success
Search Success

With Website Success, you have your very own virtual SEO doctor.
The technology uses a high-performance crawler that helps you monitor blog KPIs, gives actionable items to optimize your website, and analyzes areas that need to be fixed.
Sort of like a doctor's check-up.
With Content Success you have an SEO auditor at your fingertips.
Find out how your content keywords stack up against your competitors. Maybe you want to be known as the most trustworthy baker in town. Your competition has six articles on their site that showcase tips and tricks. You have one.
Here's where you grow.
Content Success also makes you a better SEO writer by suggesting keywords, topics, and terms to make your work more engaging and searchable.
Finally, there's Search Success. The name says it all here. You may have the most compelling content created but, if website algorithms can't find it, your audience won't find it either.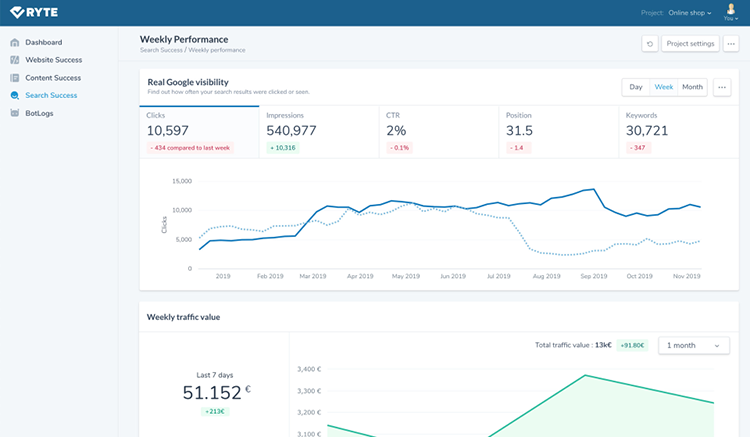 With Search Success, you can monitor what keywords your viewers are using to find your content, where viewers are coming from, how you rank among your competitors, and more.
Ryte also offers an added product — BotLogs — which monitors the bots that visit your site. This is outside the main SEO suite, so we won't go into details, but you can read more about it on their website.
Video webinars and walkthroughs
One area that was very interesting was Ryte's utilization of video webinars and walkthroughs.
In April of 2020, SEO thought-leaders, from around the globe, assembled for a two-hour virtual conference. This video can be found on the webinars and videos portion of Ryte's website.
This digital conference covers topics like:
JavaScripted Guided tour for SEO's
How to use data to make the right SEO decisions during a crisis
Multilingual SEO topics
Q&A about agency life
These types of discussions are typically held at a live conference somewhere in the world.
The opportunity to tune into this conversation is impressive and shows that Ryte cares about their clients.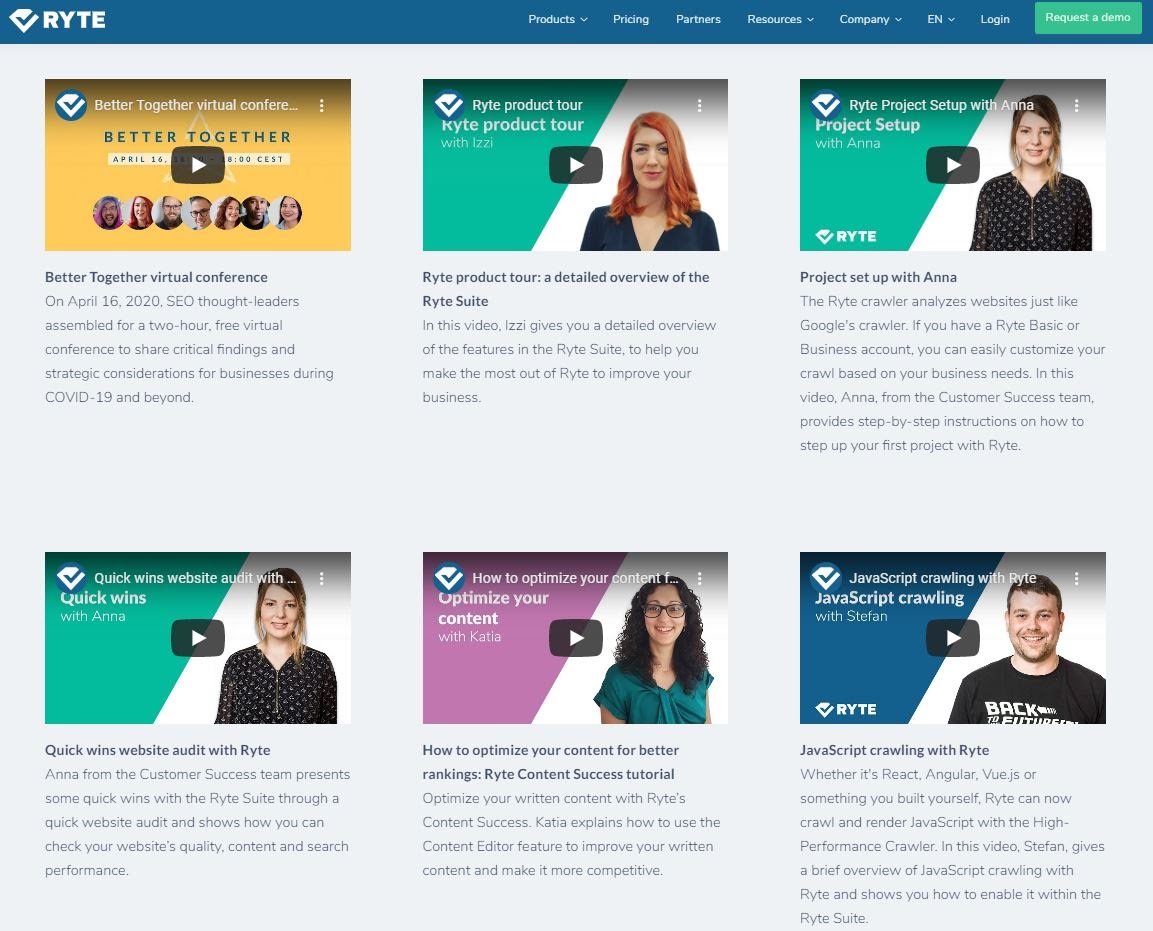 Other topics that are discussed include a complete product tour of the Ryte Suite, step-by-step instructions on how to set up your first project, a walkthrough of how Ryte uses Content Success to optimize their articles, and other helpful topics.
It's our human nature to "lean in" when we see a human speaking and puts us in a more trusting frame of mind.
Having an actual employee walking through these topics really helps with understanding and feeling connected to the content.
Free option
One of the biggest pros is the option for a free account. While the free account is limited in what it provides, it allows you a taste of what the possibilities are.
The free account also doesn't come with a time limit. You can use your free account for as long as you need it.
Here's what you get with the free option:
One crawl per month, with SEO audit of up to 100 URLs
Website errors listed according to priority
Five detailed analyses per month of any URL
10 TF*IDF analyses per month
Keyword recommendations and topic inspiration to ensure good rankings
This may be all you're looking for.
If not, the site allows for easy scalability to the next level of support.
Easy demo scheduling
Not sure exactly what that next level is? No worries!
Ryte makes it easy to schedule a one-on-one walkthrough with a live customer service agent.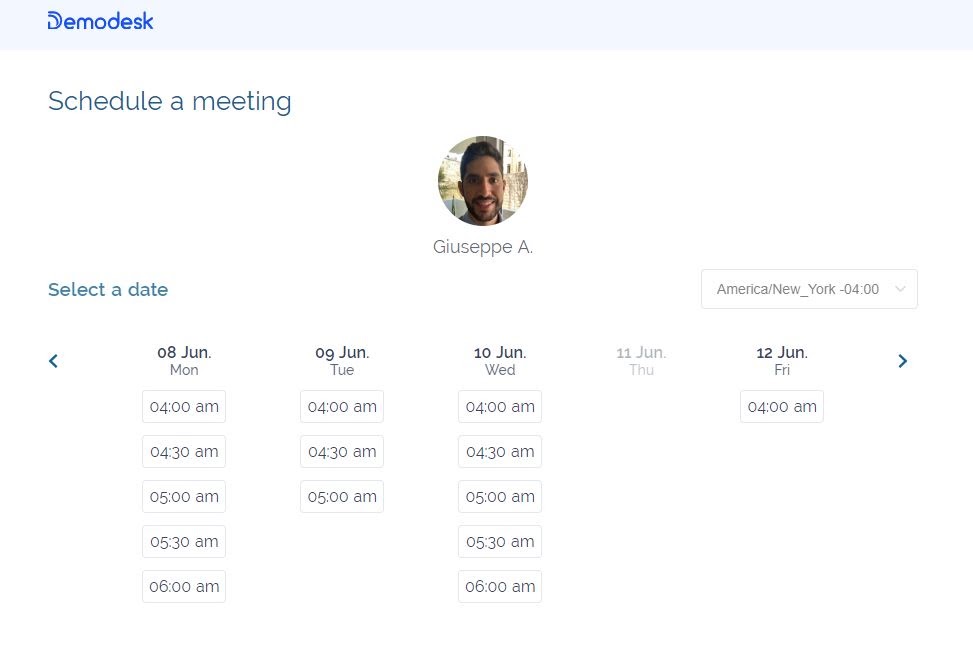 They take it a step further by giving you a calendar to set up the perfect time/day to schedule a walkthrough.
This little step makes it easy for busy digital marketing professionals to fit a demo into their schedule.
Cloud-based
The final pro of the Ryte SEO Analysis Suite is that it is cloud-based.
In today's work environment, this makes it easy to access from multiple devices — no matter where you're working.
Cloud-based software also allows for faster processing and for less hard drive space being taken up by all those pesky files.
Let's be honest, do you really need another icon on your desktop?
Cons of the Ryte SEO Analysis Suite
No tool is perfect. Here are some drawbacks we've found after a thorough examination of Ryte.
Customer service is lacking
Initially, finding anything negative about Ryte was a challenge. It wasn't until after a deeper dive that a few loose ends were uncovered.
The first issue came while testing out the website customer service.
While there is no clear contact page, you will find a form submission in the Help Center link in the website footer.
You'll just have to do some digging.
While following the steps on the submission form, the site will give you alternative links to check out, based on the subject header.
Unfortunately, many of the links aren't relevant to the questions.
If their help page links aren't relevant, how relevant is their bot technology?
The question that was used during the internal test was, "Do you provide a free trial of the more advanced options?"
Immediately after hitting submit, this was the form email received.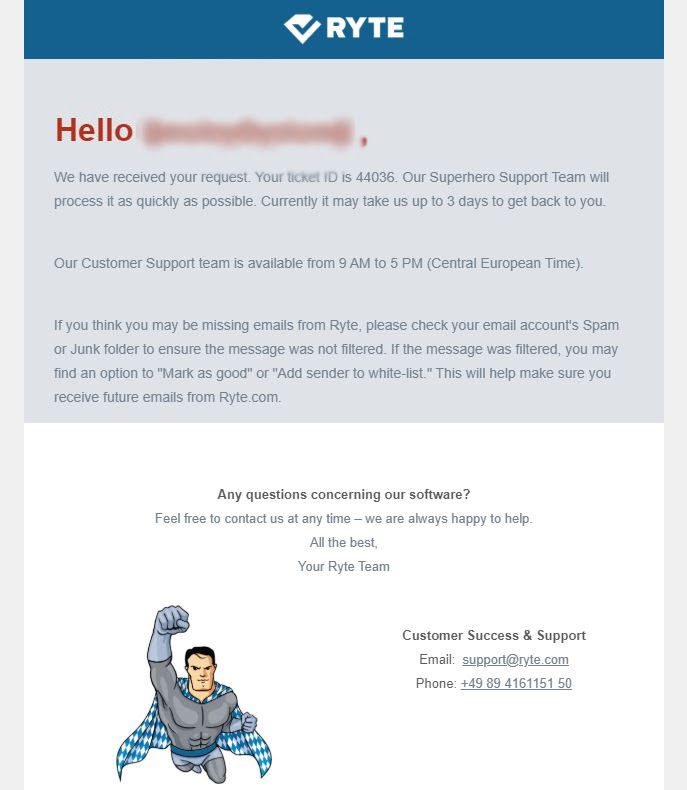 After four days, there was still no response to the original query.
Even three days seems like it could be the difference between a digital marketing professional choosing to go with one product over another.
Almost too much information
Providing a lot of information doesn't seem like a con, at first glance. However, for a busy marketing professional, as we all know, your time is precious.
Before even signing up for a free account, Ryte gives you the opportunity to do a quick analysis of your website.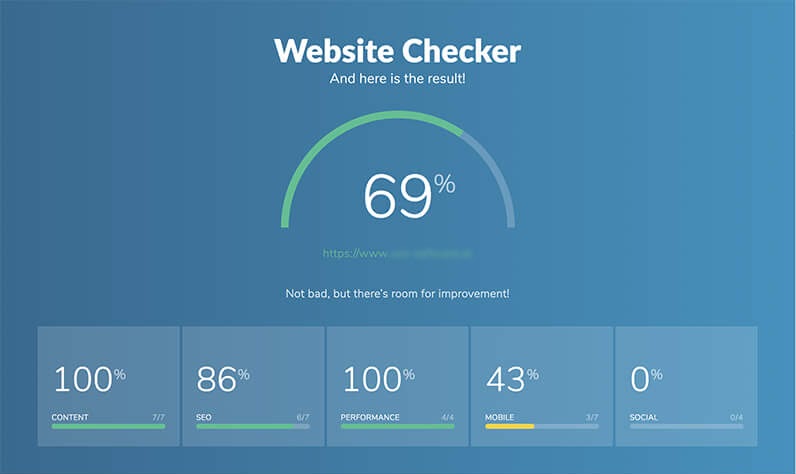 Simple enough!
But logging into the free account was a different story.
With three different verticals of the suite to go through, a multitude of free resources, plus trying to make sense of some of the feedback they provide it begs the question:
Is it too much information?
While definitely thorough, the amount of data available can be almost overwhelming.
At this point, you aren't able to get any of the tools a-la-carte. They all come with the package.
Sifting through which areas of the toolbox are necessary and which can be set aside takes quite a bit of time.
There's just such a wealth of information it's hard to know where to begin.
Ryte SEO Analysis Suite Plans and Pricing
With so many ways to use the Ryte SEO Analysis toolbox, there's bound to be a plan to suit every SEO marketers need.
We've combed through all the plans and have compiled a list of all of the basic, as well as the specific details of each.
Free plan
The Ryte free plan is the bare-bones option. This is for individuals who have a personal website or who only want basic data.
The free plan allows for one user and one crawl per month, with an SEO audit of up to 100 URLs. It allows for five detailed analyses and 10 TF*IDF analyses per month of any URL. The free plan also includes keyword recommendations and topic inspiration advice.
Basic suite
The basic suite is the next step up. This option is for small businesses and websites that need more data support and who create more content.
The basic suite costs $119.90/month or $1,294.92/year and allows for up to three users. It supports up to three projects (domains) and performs up to 50 URL crawls. The basic suite supports Google Search Console and Google Analytic integration and offers technical support via email and chat.
Perhaps the customer support issue that we ran into is resolved at this level.
One thing to note: once we signed up for the free plan, a button appeared offering a 10-day free trial of the Basic Suite. This answered the question posed by the initial customer service email.
Through online research, we did see that some people suggested there were billing issues when they attempted to cancel their 10-day trial, so be warned.
Business suite
The business suite is for the largest companies. This offering is customized for each company and, therefore, doesn't have a price affiliated with it.
With the Business Suite, you get all the bells and whistles. This offering allows for unlimited users, unlimited projects (domains), and custom URL crawling package — which includes JavaScript crawling.
Like the basic plan, it also includes Google Search Console and Google Analytic Integration.
Unlike the basic plan, the Business plan includes Phone, email, and chat support via a dedicated Customer Success Manager. It also includes unlimited usage of all Ryte features, Individual onboarding and user trainings, and extended export functions.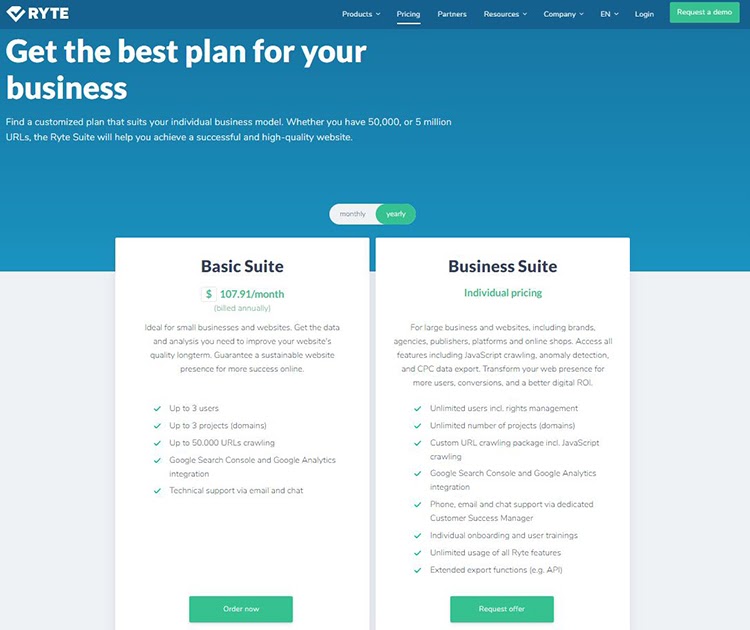 Additional features per product
Ryte not only breaks down the basics of each package but also all of the additional features per product.
Website Success
With the Basic package, this product offers weekly crawls, CSV Export, Custom crawl configuration, and Unlimited Single Page Analysis.
The Business Suite includes all of the features that the basic package has but adds in mobile Crawls, advanced page speed analysis, shareable reports, and white label reports.
Search Success
With the Basic package, this product offers traffic monetization, 1000 data rows from GSC, unlimited data storage from GSC, ten customized/predefined segments, and unlimited keyword monitoring and alerts.
The Business Suite includes all of the features that the basic package has but adds in CPC data export from Google Ads, unlimited keyword monitoring and alerts, anomaly detection, and a CTR Underperformer Report.
Content Success
With the Basic package, this product offers 200 content analyses per month.
The Business Suite offers unlimited content analyses per month.
Do I Recommend Ryte?
Yes, I recommend Ryte.
When looking for a toolbox to help optimize your SEO, Ryte has the right products for any step of the process.
While this app won't allow you to export to WordPress in 1-click, Wordable will allow you to export from Google Docs to WordPress seamlessly. It will not only clean and properly format your HTML, but also compress images, open links in a new tab, automatically set featured images, or create a table of contents, and lots more.
Although there were faults in Ryte's customer service response time, I believe that these issues are solved ones you're actually playing with the products.
The overall suite is clean and thorough. While it may take a bit of time to comprehend all of the data being presented, the product does give you the opportunity to better your content in multiple areas.
My main takeaway from the Ryte SEO Analysis Suite is that it leaves the user with a wealth of knowledge about why changes are made.
This educational aspect of the program is the main selling point.
It allows marketers to not only develop better content but develop better digital marketing skills as well.