How often have you heard two strangers meet one day and draw up a contract to be business partners the next? Hardly, right?
It's unrealistic to expect a prospect will be ready to make a purchase right away after visiting your website for the first time. They'll go through your site to learn more about your business, look for resources that help them get what they want, and decide whether your company is trustworthy.
Content mapping can help you make a solid first impression on the prospect during this process, making it likely for them to convert into a customer.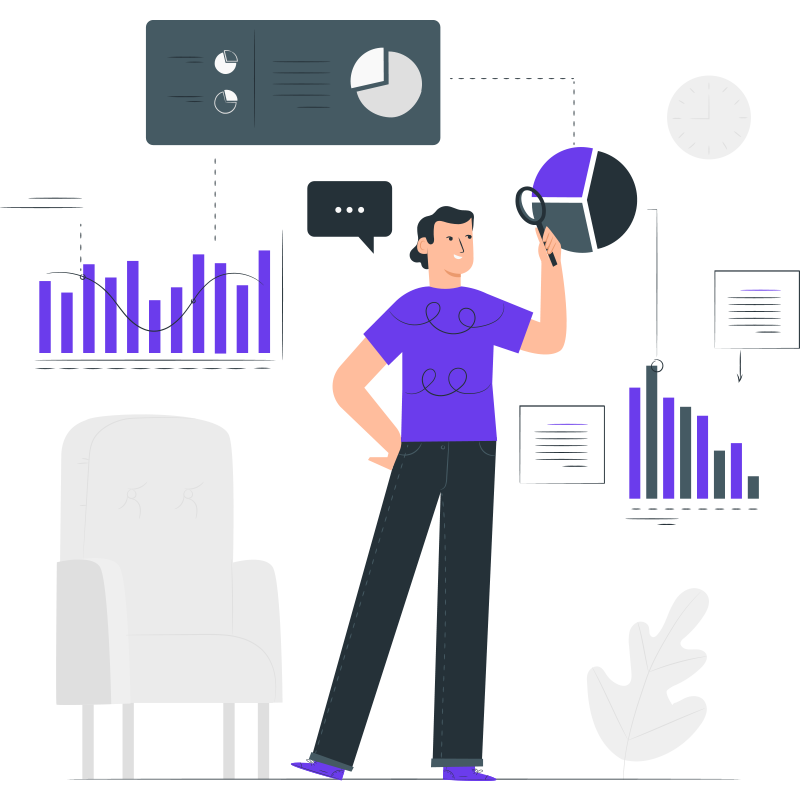 Get long-term ROI.
We help you grow through expertise, strategy, and the best content on the web.
What is Content Mapping, and Why is it Important?
Content mapping is a strategic process to convert readers into paying customers by serving the right content at each stage of the marketing journey. It's typically done before executing content operations and is part of content strategy. Content mapping helps you create the right content, for the right people, at the right time, to best match your product or service to the reader's intent.
Why should you care about content mapping? It enables you to make the most of your content marketing efforts. With a content map, you understand your audience and can connect each piece of content you create to your target audience's customer journey and promote sales.
Here's a breakdown of how effective content marketing can benefit your business:
Greater customer understanding. When drafting a content mapping strategy, you need to define the path each customer will take before doing business with you. On each "path," you'll then break down their needs, goals, and concerns. Knowing these insights will make it easier for you to understand your target audience's characteristics, ultimately helping you develop a stronger marketing strategy.
Higher sales. You could be consistently uploading content on your website, but if you aren't earning more revenue, something clearly isn't working. Content mapping helps make your content more effective by giving it purpose. It creates a catalog of everything you post on your website, showing you the kind of content you'll need for each stage of a sales funnel and ensuring you don't post duplicate content.
How to Create a Content Map?
Content marketing is complex. You have to apply certain steps and best practices to create an effective content map that works for your target audience and niche.
Step 1: Create Buyer Personas
Understand all aspects of your target customer so that you can create content that's relevant and serves them. The more well-developed your buyer persona, the greater the value for your content map. Use it to define your ideal audience:
Demographics: Gender, age, location, income education
Roles: Industry, company size, job titles
Values: What motivates your target audience to make decisions?
Goals: What is your target audience trying to accomplish?
Challenges: Pain points, objections, concerns
Influences: Where does your target audience look for information and insights?
Purchasing habits: When and where does your target audience buy? How long is their typical decision period?
Creating crystal-clear buyer personas will help you map content to their preferences easily. Check out our own article on creating a content marketing persona.
Step 2: Define and Document the Buyer Journey
Define your primary funnel stages. Generally, the buyer journey should have the following three stages:
Awareness: Buyer is just becoming aware of their problem and begins to seek out a solution.
Consideration: Buyer is fully aware of the problem and solutions and takes time to evaluate all options.
Decision: Buyer is finally ready to commit to a solution.
You can also customize the journey and add other stages to document how your ideal buyer moves through their process. Follow this up by notating the customer experience at each stage:
Customer actions: What's the buyer doing in each stage (think: downloading content, searching on Google)?
Thought process: What's the buyer thinking about at each stage? Examples include preferred features and prices.
Touchpoints: How's your brand interacting with the customer at each stage?
Step 3: Understand what Content Works at Each Stage
Align the right content to the right stage. For instance, a buyer in the awareness stage is unlikely to sign up or buy your product, so your content should focus on spreading awareness about your brands — not promotional content.
Here are some ideas about content and stage alignment:
Awareness
Here, you want to catch the buyers' attention. Prioritize information and educational content, not selling-focused versions. Develop this type of content in a variety of forms, from explainer videos to blog posts.
Consideration
This is the stage where buyers are comparing solutions. Create data-focused content, such as reviews, webinars, and whitepapers, telling users your solution is superior and will improve their life.
Decision
The buyer is ready to make the final decision. Give them content that helps them validate their decision and encourages them to choose you. Use case studies to offer social proof or set up an email campaign to deliver special offers.
Step 4: Map Existing Content to Each Stage of the Customer Journey
Start by creating a catalog of existing content. We highly recommend using a CMS to develop an asset hub. Building a CMS can be a strategic move for managing and organizing content, much like creating a content mapping strategy.
Once this is done, focus on developing your first content map. This should cover the type of content, how the content supports the customer funnel, and the quality of the content to publish. If you find some of your content doesn't fit on the content map, make note of it so you can come back to it later and make the necessary changes.
Step 5: Identify Content Map Gaps
This stage will give you a clearer picture of how effective your content marketing strategy is.
Analyze your funnel stages to find underrepresented areas, and then plan your content accordingly to fill these gaps. As you refresh your content map, ensure to add content as your buyer personas evolve.
Templates for Content Mapping and Planning
We'll cover some of the best templates for content mapping to help you draft a solid strategy for your own business.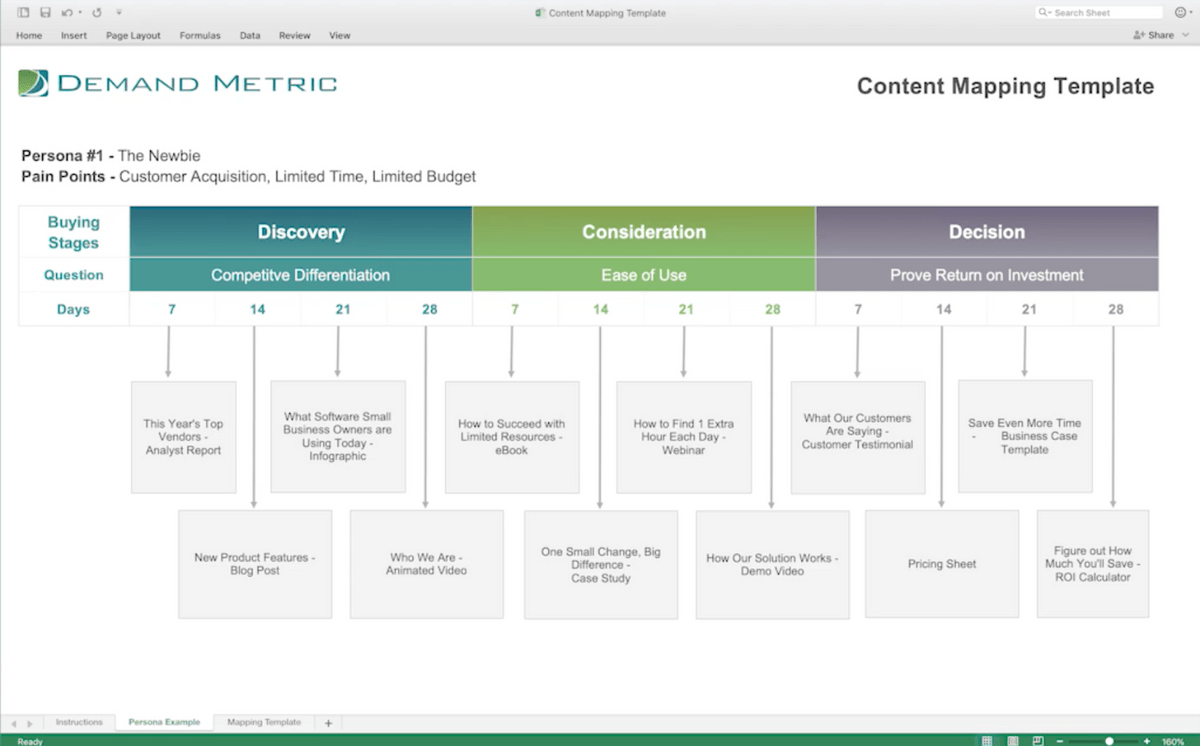 This content mapping template from Demand Metric focuses on three buying stages—Discovery, Consideration, and Decision—based on the Newbie buyer persona.
It identifies the key content assets you need to create and post on specific days, the purpose it'll serve, and the questions it'll answer at each stage of the buying cycle. Notice the regular cadence for each piece of content spread over three months. This enables you to stay fresh in your target audience's mind and earn brownie points from Google to give you greater visibility in the SERPs.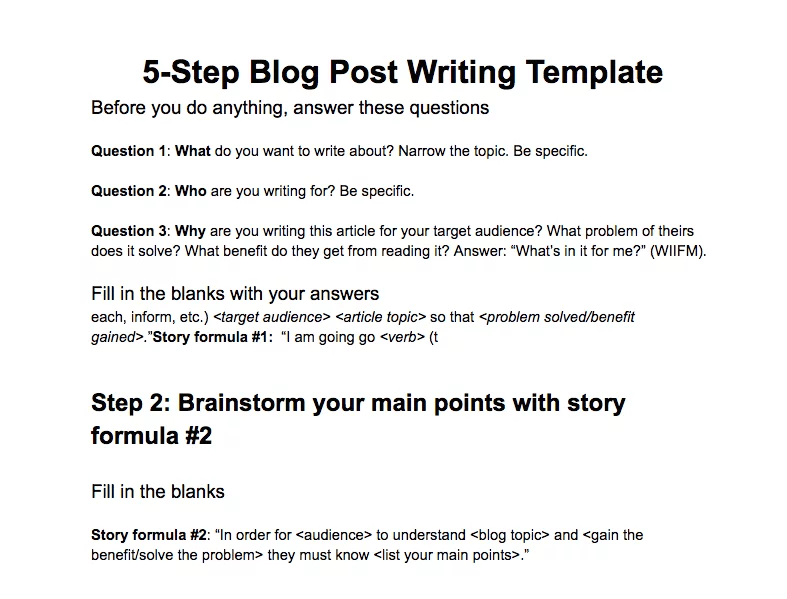 This writing template for a 2000-word blog post focuses on four essential elements:
Article angle and keyword analysis: Think about whether your post should be value-driven or have an unexpected approach. Choose keywords will help outline and determine your post's headings.
Introduction: An attention-grabbing and engaging introduction is necessary to ensure your target audience reads the entire blog post. Codeless recommends using the PAS model—Pain point (introduce the aspect your target reader is struggling with), Agitation (Agitate the pain point, hitting it home on how much it could hurt the reader or their business), and Solution (Introduce your product or service as the optimal solution to the above pain point)
Sections: Focus each section of the blog post on a different point, smoothly transitioning from introduction to conclusion. Give them their own thesis, support, and transition to the next.
Conclusion: Decide whether you'd like to end your blog post by referring to your introductory statement or giving a different outcome. Think about the next step you want your reader to take and how to encourage them to follow the intended CTA.
Based on the above four elements, the template follows a five-step process to help you write an engaging blog post that connects and converts your target audience.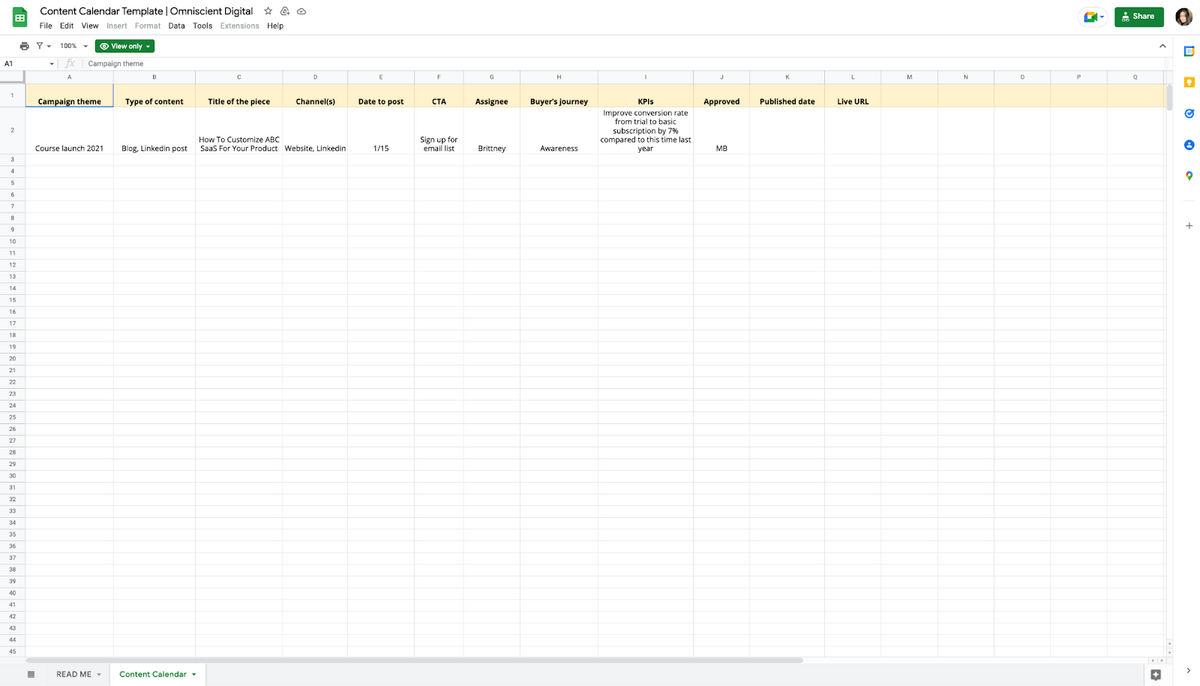 This content calendar from Omniscient Digital is perfect to track your content marketing efforts.
It has specific and carefully chosen headers that tell you every critical detail at a glance, including the type of content, CTA, the buyer's journey, and KPIs. In addition to keeping you in the loop about your content calendar, it makes it easier to identify missing content gaps that you can add later.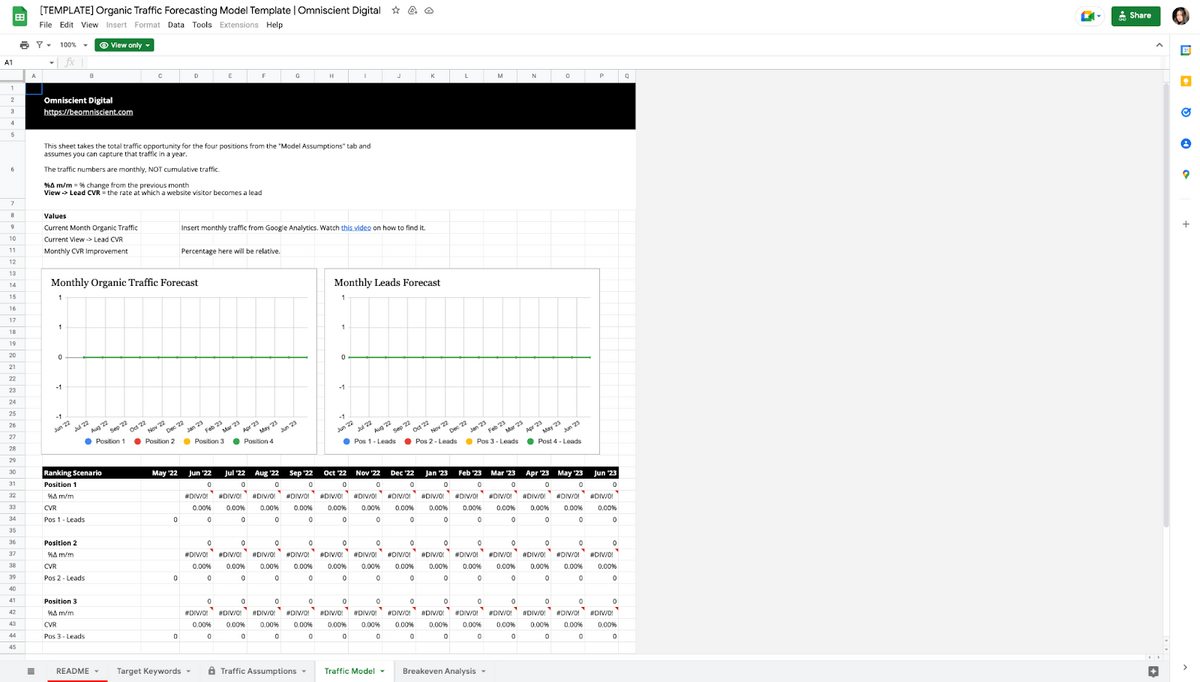 Google's organic algorithm is complex and unpredictable, so accurately forecasting your traffic isn't an easy feat. But it isn't impossible.
Omniscient Digital's organic forecasting model has a four-step process:
Targeting keywords to create a list of the keywords you want to target and the associated MSV.
Traffic assumptions take the total MSV and estimate the potential traffic depending on how your website ranks for a keyword. For instance, you can predict the potential amount of traffic if your website ranks #1 for a keyword, the estimated traffic if it ranks #2, and so on.
Traffic model to predict the total traffic opportunity from the Traffic Assumptions tab, giving you an estimate of the total traffic you can expect in a year.
Break-even analysis pulls the scenarios from the Traffic Model sheet to estimate potential lead generation and when your investment would break even and generate a return, facilitating smarter budget planning.
This will help you understand how different keywords will impact your organic traffic growth models and top line, making it easier to prioritize the most effective keywords likely to generate more revenue faster.
Example of a Content Map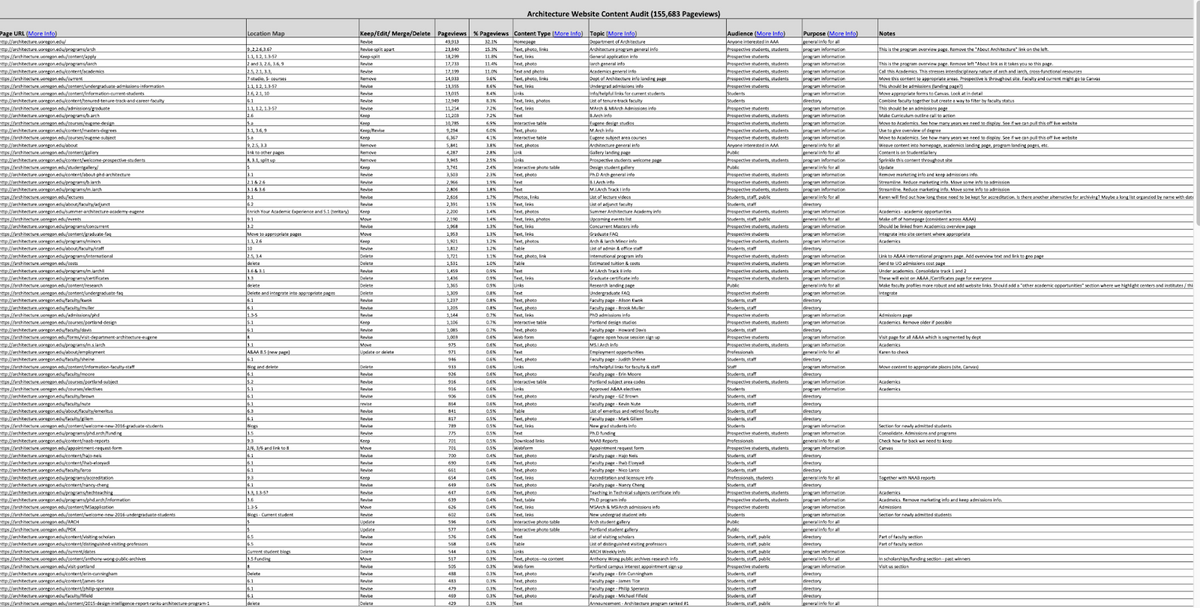 Here's what your content map will look like once you fill it in. This may look intimidating, but it's supposed to be detailed to give you the necessary information to align and streamline your content marketing strategy and ensure you're creating the right content for the right people at the right time.
Map your Content and See Better Results
Content marketing is a critical aspect of building a sound customer-focused content strategy. It lets you define and refine your buyer personas and funnel stages and then use the insights to understand your audience and their likes and preferences.
Now you know what it takes to map your content, don't wait any longer to get results. Use our templates to take the guessing out of your strategy and create exactly what your customer needs from you.