If you're a member of the U.S. Armed Forces, haven't you earned some special privileges?
You've dedicated your life to serving this country, and in many cases, crossed oceans in order to protect our freedoms. You gave selflessly, and we as a nation need to give back to you.
If you're a military veteran or active duty member of the Armed Forces looking for a quality grammar and plagiarism checker, there's no finer choice out there than Grammarly. That's why it's one of our top choices when checking our own content for grammar errors. And content is kind of our whole thing!
The bottom line, everyone needs to write here and there. Let's say you have to write a letter to an attorney or a professional email to a colleague or client — you want what you write to be clear, concise, original, and free of embarrassing grammatical errors.
But does Grammarly have a military discount? If so, how do you access it? If not, can you still save on a Grammarly Premium account?
In this article, I'm going to answer these questions and more. Read on to find out how you can receive a Grammarly military discount.
Disclosure: These reviews are reader-supported. We might earn a small commission if you purchase something through our site. Learn more
Grammarly
Best All-Around
$11.66
/mo – before discount
PROS
86% out of 86% accuracy
16+ billion database
150k+ word limit
5 devlice limit
Includes plagiarism
1-hour response
CONS
Only supports English
Expensive without our link
Grammarly Premium Walkthrough Video
What is Grammarly?
Grammarly is a grammar and plagiarism checker designed to help people write concise, correct, and original content. It does this by automatically checking your document for grammar mistakes, word usage, plagiarism, and more.
You can use Grammarly in several ways. First, you have Grammarly's browser extension. You can get an extension for Google Chrome, Firefox, Microsoft Edge, and Safari. This will allow you to check your work as you write emails, work in Google Docs, and even comment on hateful reviews for movies (Zack Snyder KNOWS what he did!).
Grammarly browser extensions are so great that I'm actually using one right now to check this article. There's some meta-commentary for you!
But that's not the only way to experience what Grammarly has to offer. There are also dedicated apps for desktop computers, a Grammarly keyboard app on iOS and Android, and the ability to use Grammarly through its official website.
You can read more about everything Grammarly has to offer (and some alternative services) in our extensive Grammarly review.
Does Grammarly have a military discount?
Unfortunately, Grammarly does not have an official military discount at this time. There isn't even an official Grammarly student discount.
While that's the bad news, there's also some good news. There's a free version of Grammarly that's available to anyone. Some more bad news, though, it doesn't offer the service's full list of features.
The free version of Grammarly is used for the most basic of basic grammar checks. If you really want to make your content sparkle, Grammarly Premium is where it's at.
But, as I just mentioned, there isn't a dedicated military discount for Grammarly. However, military personnel can still save 20% on a Grammarly Premium membership by following the steps outlined below.
How to save 20% with a Grammarly military discount
Despite Grammarly's lack of an official military discount, there is a way to get a percentage off your Grammarly subscription without having to use a coupon code or promo code at checkout.
Just follow these simple steps to save big on Grammarly's full suite of services, whether you're a military veteran or on active duty.
Step 1: Click on our Grammarly link
Great news off the bat, there's no Grammarly promo code or Grammarly coupon you have to redeem to get this discount.
You only have to click a simple link.
So, let's start off easy.
Just click on this link, and you'll be automatically taken to the Grammarly homepage.
Step 2: Click "Get Started"
Congratulations, you've passed the first barrier! Now it's time to get started by clicking on the button marked "Get Started."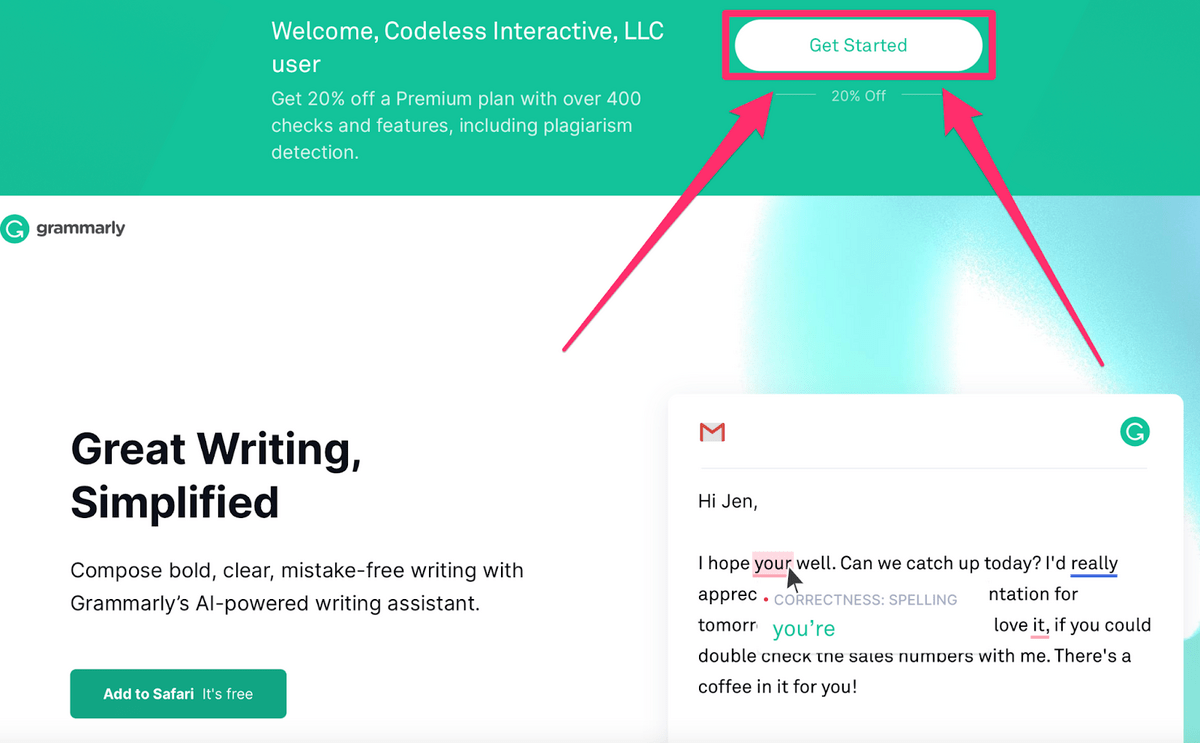 Once you've done that, it's going to be time to actually download the service.
Step 3: Download Grammarly
Next, you'll be taken automatically to a page that allows you to download the Grammarly browser extension for whatever browser you're using.
I'm on a Mac and using Safari for this demonstration, so it took me right to the macOS App Store.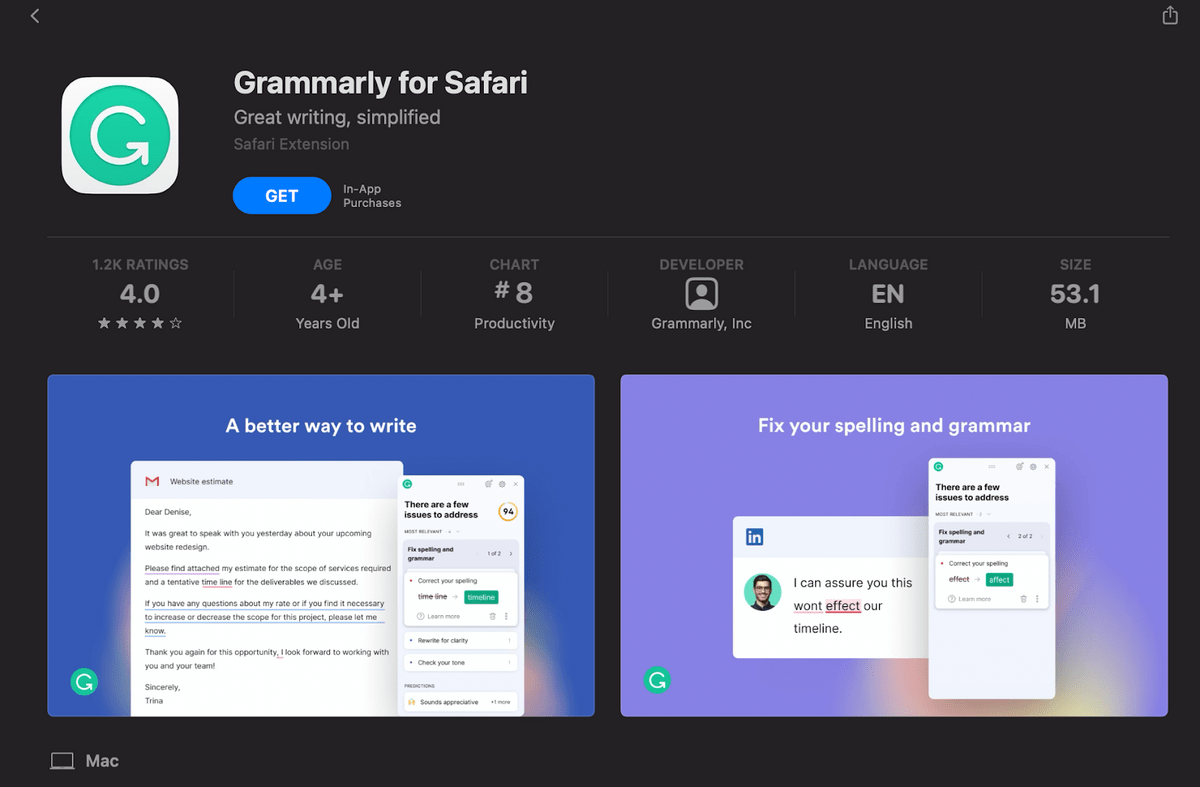 Click "Get" or "Install" based on the browser you're using, and download the service. Depending on your internet connection, it shouldn't take longer than a few seconds. Once that's done, enable the extension, and you'll be good to go with the free version of Grammarly.
Step 4: Sign up for Grammarly
Before you can start using Grammarly, you first have to sign up for an account.
It's really straightforward, and you can even use an existing Google, Apple, or Facebook account to make the process a breeze.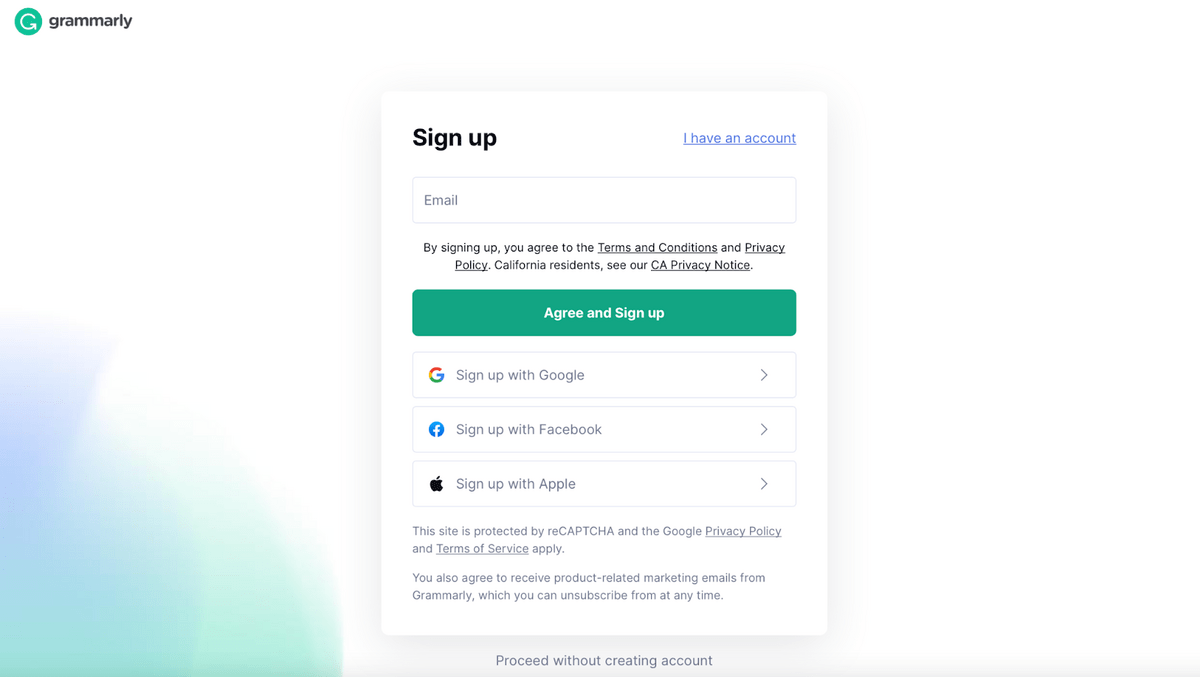 You're now a Grammarly user on the free plan.
Step 5: Sign up for Grammarly Premium
You'll be automatically sent to the Grammarly dashboard, which has a simple layout with a menu on the left side.
In that menu, look for the button marked "Premium" and click on it.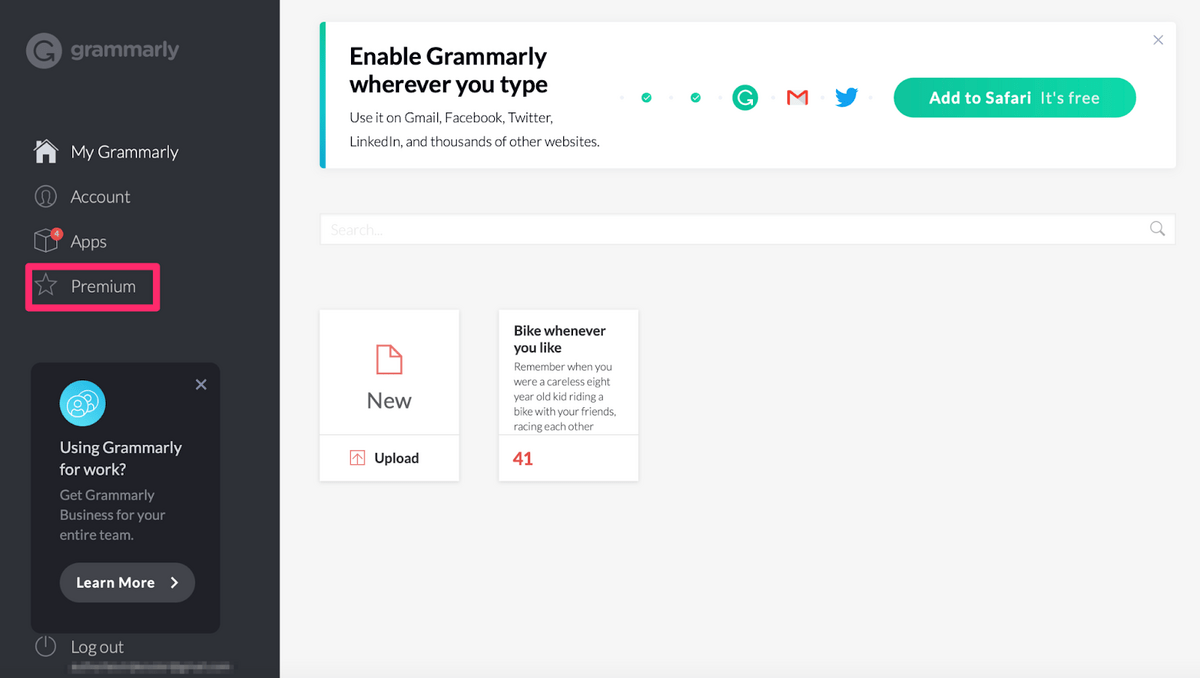 Now, you're ready to select your plan.
Step 6: Choose your Grammarly plan
It's time to choose your Grammarly plan. You'll be able to pick from Grammarly Premium and Grammarly Business. If you're an individual just looking to clean up your writing, Grammarly Premium is enough.
This will take you to a pricing page that will show you your special discounted price.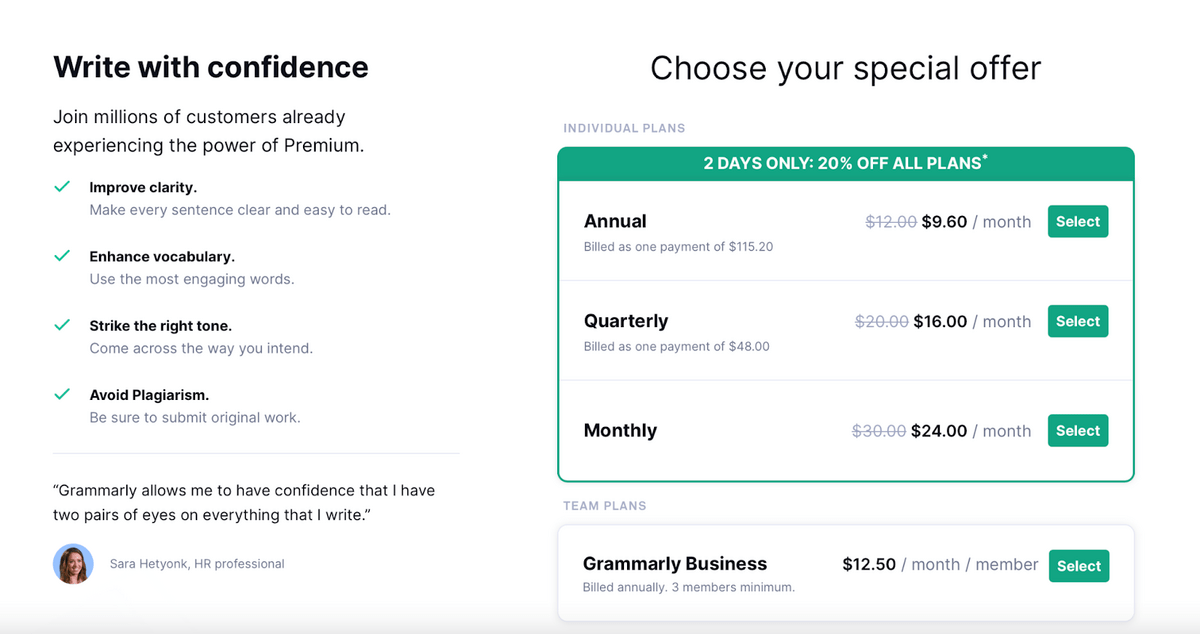 Choose what kind of membership you want, whether it's annual, quarterly, or monthly. You'll be taken to a checkout page where you can pay for your discounted membership.
Conclusion
There you have it! Veterans and active-duty military personnel can take advantage of this Grammarly discount and use the service for grammar checking, plagiarism detection, and more.
Whether you're crafting an email, writing in a Google Doc, or creating your next great manuscript in Microsoft Word, a Grammarly Premium plan can give our U.S. Military personnel access to the finest grammar checker and plagiarism detector in the world today.
Click our Grammarly discount link and start writing with more confidence.
And thank you for your service!