Grammarly, the world's favorite spelling and grammar checker, is rumored to be not as safe as you might think.
Grammarly is a service that stores text and analyzes it for spelling and grammar mistakes. While the analysis part is fine, it's the storage of text that worries cybersecurity watchdogs.
In this article, we take a deep dive into Grammarly's security to determine just how safe it is.
Disclosure: These reviews are reader-supported. We might earn a small commission if you purchase something through our site. Learn more
Grammarly
Best All-Around
$11.66
/mo – before discount
PROS
86% out of 86% accuracy
16+ billion database
150k+ word limit
5 devlice limit
Includes plagiarism
1-hour response
CONS
Only supports English
Expensive without our link
Grammarly Premium Walkthrough Video
TABLE OF CONTENTS
Is Grammarly Safe to Use?
Before I answer if Grammarly is safe or not, understand this:
No matter how tight the online security of a software tool is, there are always workarounds. Someone will always find a way to bypass the security of a software tool and gain access to the user data.
In other words, Grammarly can do its best, implement the latest cybersecurity solutions, and still get hacked. Software manufacturers (all of them, not just Grammarly) are fighting an uphill battle against cyberthreats.
Despite that, Grammarly is safe to use.
The service has enough security measures in place that both pros and average Joes should feel comfortable using it. As long as you are following some common best practices like setting strong passwords, you won't need to think about Grammarly leaking your data.
Still not convinced? Let's see how Grammarly works and see if there's anything for you to worry about.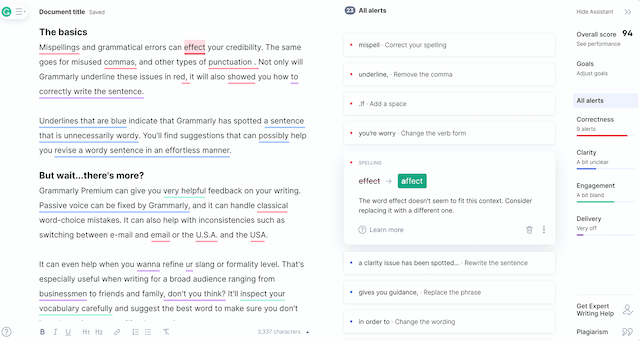 How does Grammarly work?
When you sign-up for Grammarly, either with a paid or a free account, you give Grammarly access to the text you type. For instance, after installing Grammarly's web extension, you'll notice a green bubble hovering in the bottom right corner of text fields on websites. Click on this bubble, and Grammarly's grammar checker will start analyzing the text for spelling mistakes and stylistic errors.
Grammarly reads the text you type, sends it to its web servers in the US, and analyzes the text through its algorithms. Once the analysis is done, Grammarly returns suggestions that you can implement.
Now, ask any cybersecurity expert and they'll tell you that the act of recording and sending information over the internet to remote servers carries the risk of data theft.
To address those risks, Grammarly has put in place safeguards to make sure your data is safe.
Can Grammarly steal your work?
No, Grammarly can't steal your work. And there are a couple of reasons why.
Grammarly uses industry-standard end-to-end encryption. Whatever data Grammarly's grammar checker tool collects, it encrypts it and sends that encrypted data to its servers for analysis. On the way back, Grammarly again encrypts your data.
Grammarly doesn't run where you don't want it to. If you use the Grammarly browser extension, online editor, desktop app, Grammarly keyboard, or Microsoft Word add-in, you can always stop it from running.
Grammarly doesn't run in sensitive text fields. It can't record your passwords, email addresses, and credit card information. The developers have also restricted Grammarly spell check from scanning all single-line text input fields like the ones used for email addresses and credit card numbers.
In short, Grammarly respects user data and has put several security measures in place to guarantee that your data remains yours. And if you are still worried about Grammarly stealing your data, remember that millions of writers, marketers, and editors trust Grammarly with their life's work. So, you can trust it too.
Is there any reason to stop using Grammarly?
Grammarly is one of the best content marketing tools out there. From its cutting-edge textual analysis features to its easy-to-use interface, few writing aids can claim to be better than Grammarly.
The only reason someone might want to stop using Grammarly is because of security concerns that they have read about.
In February 2018, someone found a way to access all user documents using Grammarly's browser extension. While the bug was pretty severe, Grammarly's response was swift. In a few hours after the exploit was reported, Grammarly updated all of its browser extensions. Lo and behold, the issue was fixed way before anyone had the opportunity to take advantage of it.
Put simply, there's no reason to stop using Grammarly.
The amount of value that Grammarly provides far outweighs the little security concerns that you might have. Even in the rare case that someone discovers a vulnerability in Grammarly, the company's track record in dealing with such issues should be enough to dispel your concerns.
Grammarly security (in a nutshell)
Grammarly is secure to use as long as you are also aware of the risks associated with any online service.
Online services like Grammarly need access to their servers to run. These services need to send data over the internet to be processed by their servers. During transmission, a hacker can use an exploit to hijack the process and steal user data.
So, yes, there are risks to using Grammarly.
Ideally, storing and processing data locally can minimize these risks. But Grammarly's proofreading algorithms are too complex and require a lot of resources to run. This calls for the use of remote servers for hosting the algorithms and using them to process data.
In short, there's no way to escape this risky transmission of data to and from some undisclosed server.
That said, Grammarly has implemented several security measures to make sure your data doesn't fall into the wrong hands. Some of these measures include:
End-to-end data encryption, so a third-party can't see your data even if it has access to it.
Never access read-only data or sensitive data, so your secrets remain secrets.
Only running when you want it to, so you can disable Grammarly whenever you want.
The "Principle of least privilege", so only the people that need to access your data can access your data.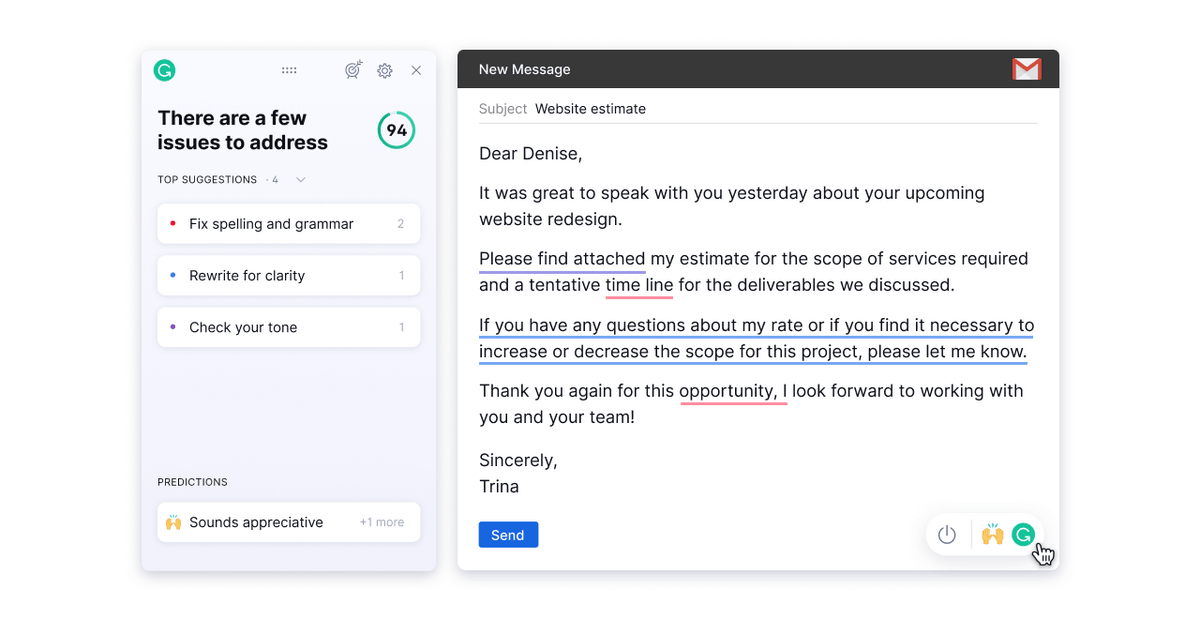 Long story short, you don't need to worry about using Grammarly. It's secure to use. Suffice to say, it was and still is one of the industry's preferred blogging tools.
Can Grammarly steal passwords?
The short answer is no, Grammarly can't steal your passwords. You'd have to give them to them.
What do I mean by that?
Well, if you don't store your passwords in an editable text file on your computer, and then don't analyze it within the app or extension, Grammarly has no way to access your passwords. Otherwise, if you do both these don'ts, Grammarly will access your passwords and send them to its servers for analysis.
Truth be told, this isn't Grammarly's fault. The tool by default doesn't scan anything sensitive. Grammarly does its best to only access what you want it to access. If you store passwords where they belong, you won't need to worry about Grammarly seeing them.
So, store passwords in dedicated password managers like LastPass and practice common sense when browsing the internet. Do all of this and I promise you won't have to worry about your passwords ever again (hopefully).
Does Grammarly store your data?
Grammarly, like all software, does store your data, (including your personal information)
But this doesn't mean that Grammarly uses this data for its own gain. The company clearly states on its website that it doesn't sell your data to make money. Grammarly makes money only when you purchase one of their premium plans. And even with their free plan, your online content writing efforts remain yours.
Finally, the moment you delete your Grammarly account Grammarly also deletes all the personal information and the saved documents from its servers.
If you decide to part ways from Grammarly, Grammarly will also erase its memories about you. It's a cold, emotionless piece of tech, what did you expect?
For more on this, check out Grammarly's helpdesk and articles around data.
Is Grammarly malware?
Grammarly isn't malware. This question only arises due to a lack of understanding about malware and how it works.
So let's first understand what malware is.
Malicious software, (AKA malware), is any piece of software that's designed for the sole purpose of harming your device. Typical malware includes viruses, trojans, spyware, and adware.
Hackers often employ malware to gain access to your personal information like credit card details. Hackers disguise malware as legitimate-looking software. Unsuspecting users install such software and fall victim to identity theft.
Keeping the above definition of malware in mind, Grammarly doesn't even come close to being categorized as malware. It is a trusted grammar software, used by millions of content marketers every single day.
The only way someone can gain access to your data using the Grammarly app is through hidden vulnerabilities and poor cyber hygiene. While Grammarly fixes vulnerabilities as soon as it gets to know about them, only the user can fix the latter.
Long story short, Grammarly isn't harmful to your computer. It doesn't steal or allow anyone else to steal your identity. Grammarly's Chrome extension along with its mobile keyboard and desktop app, do what they are supposed to. The tools check your writing and nothing else.
So, if you practice good cyber hygiene like using multi-factor authentication and password managers, you can rest assured that your online identity is safe while using the Grammarly Chrome extension.
Is Grammarly worth the money?
Grammarly is the best writing and spell checker tool on the market. Every other writing assistant pales in comparison to the breadth of options that Grammarly gives. For instance, along with the best spelling checker on the market, Grammarly can also analyze and correct punctuation errors.
Moreover, stylistic and plagiarism checks are where Grammarly shines. It features the best writing style suggestions that I've seen. Not only do these suggestions help keep a piece fresh and the writing style engaging, but they also allow the writer to improve.
Grammarly also has plagiarism detection. Plagiarism is one of those things that can destroy your site's SEO. So, having Grammarly's plagiarism checker on duty is a big plus.
Finally, Grammarly also performs sentence structure analysis to identify poor sentence makeup and suggest an alternative. This not only makes the user's writing flow well but also informs them about the changes so they can implement them in the future.
In other words, Grammarly improves your writing and helps you to become a better writer at the same time. The value it provides is unmatched and it certainly deserves your money. And the content marketing industry sees this which is why Grammarly's Chrome extension is so popular.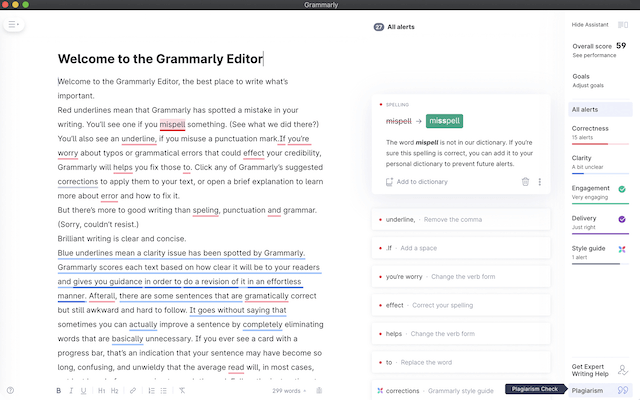 So, to answer the question:
Grammarly is absolutely worth the asking price. While the Grammarly free version will correct spelling and punctuation mistakes just fine, if you want to take your writing to the next level, you'll need a Grammarly premium subscription.
For more on this subject, check out our complete breakdown: "Is Grammarly Worth It?"
Just try not to take every suggestion too seriously. Grammarly is, after all, a software grammar checking tool. It's bound to mess things up sometimes. Pay attention to the suggestions and if they make sense, apply them.
Final thoughts
Web services like Grammarly always carry the risk of data theft. Grammarly's process of sending user data to its servers in the US is bound to raise some eyebrows. Yes, someone can find a way to access this data. But Grammarly has implemented tight security measures to make sure this doesn't happen.
So, if you were holding out from purchasing a Grammarly premium plan because of security concerns, then hold no more.
Grammarly is awesome and every content marketer should be using it. It not only catches your writing mistakes but also makes you a better writer. And every marketer wants to become a better writer, right?