Marketing automation software enables you to streamline your workflows and automate repetitive tasks. The right platform will improve overall efficiency and boost your bottom line.
You've likely heard of ActiveCampaign — a platform offering email marketing, CRM, and even automation capabilities. But is it the right choice for your company?
Are there any ActiveCampaign alternatives?
Absolutely.
Now there's no shortage of marketing automation platforms. But doing your own research can take an entire day, and it's not always easy to find subjective information.
We've put together a list of leading ActiveCampaign alternatives. We've included key information about each to help you make an informed decision.
Our Verdict
While ActiveCampaign is an excellent marketing automation platform that helps you personalize your campaigns, automate repetitive tasks, and nurture leads, it's far from the only option.
TABLE OF CONTENTS
ActiveCampaign overview
ActiveCampaign started by offering marketing consulting services but has since expanded into an all-in-one marketing automation solution. The platform offers email marketing, marketing automation, CRM, and more.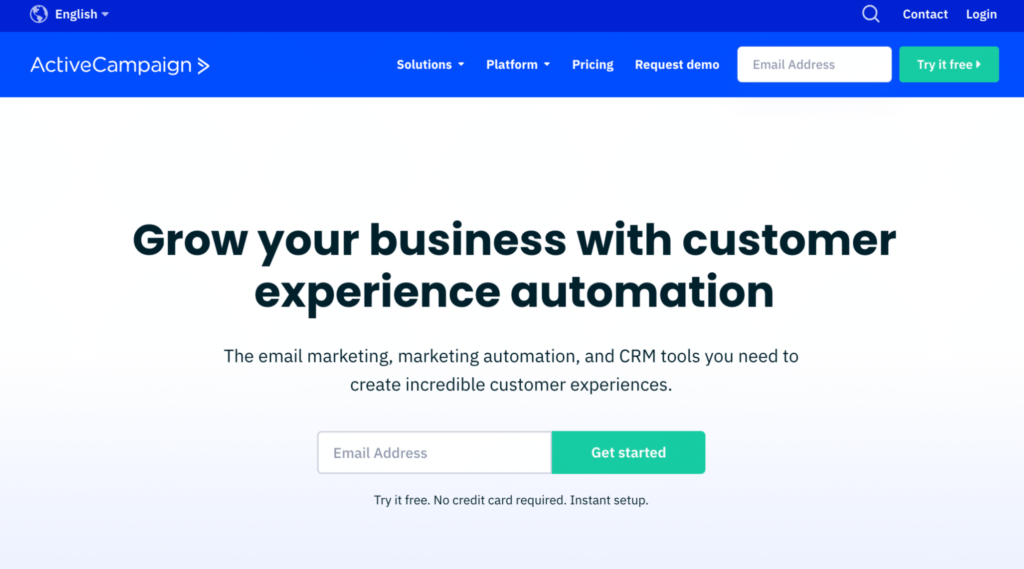 The company now has over 180,000 customers who use its marketing automation platform to manage their campaigns and grow their businesses.
What does ActiveCampaign offer?
ActiveCampaign offers a whole host of advanced features enabling you to nurture and grow customer relationships. These include:
Email marketing: ActiveCampaign allows you to send all kinds of emails, including newsletters, autoresponders, targeted emails, and transactional emails. Choose from over 250 pre-made templates or use the drag-and-drop email designer to create your own.
Marketing automation: Marketers can use the visual flowchart to automate various tasks, from sending welcome emails to new contacts to following up with abandoned shopping carts. You can also browse an array of automation templates from the ActiveCampaign Marketplace.
Sales CRM: ActiveCampaign offers a built-in CRM allowing you to manage your contacts, automate lead scoring, and nurture leads across the sales cycle.
Integrations: ActiveCampaign integrates with over 900 apps, such as Shopify, Salesforce, Asana, and WordPress. These integrations allow you to create multi-channel marketing campaigns.
How much does ActiveCampaign cost?
ActiveCampaign offers two main packages with different pricing tiers:
Marketing: The Lite plan starts at $9 per month for up to 500 contacts and includes email marketing and marketing automation.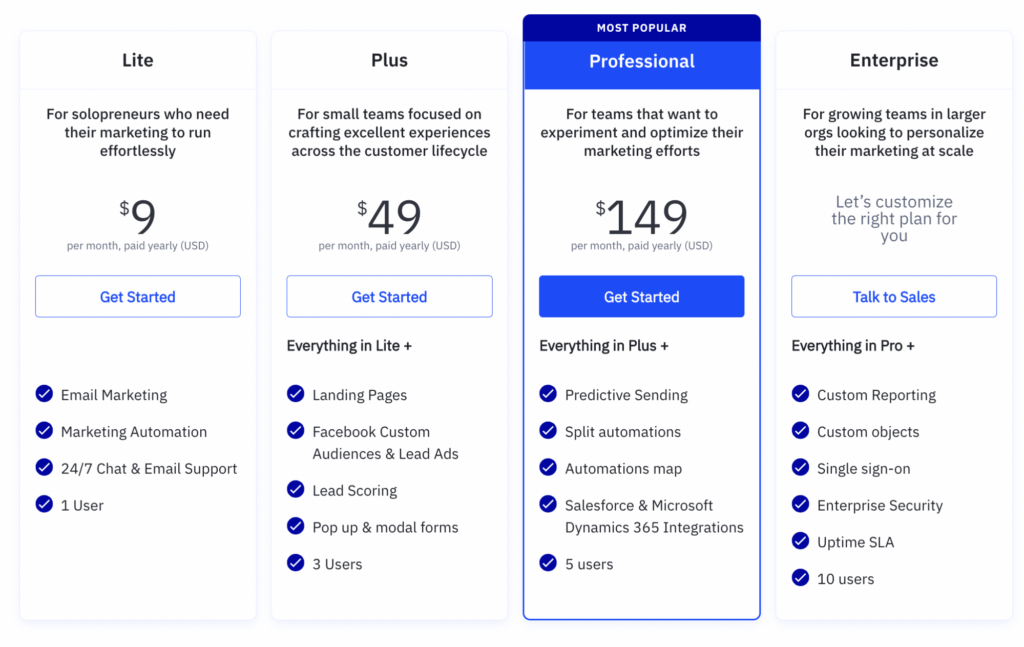 Sales: The Plus plan starts at $19 per month and includes sales automation, account management, and more.
ActiveCampaign also offers a bundle that combines its marketing and sales packages. The Plus plan starts at $93 per month for up to 1,000 contacts and includes five user seats.
Now, let's dive into the top ActiveCampaign alternatives.
ActiveCampaign alternative #1: Ontraport
Ontraport is a CRM and marketing automation platform that helps businesses grow their customer base.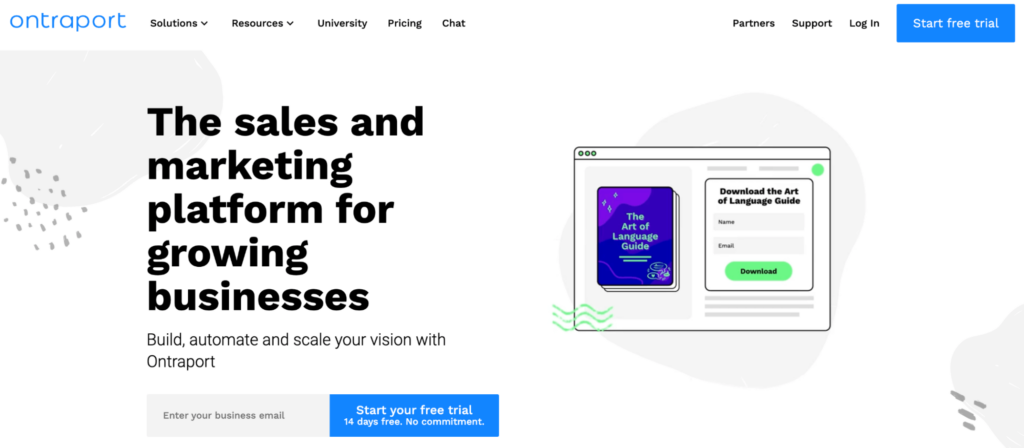 With the ability to automate your marketing campaigns, accept payments online, and even build web apps, Ontraport offers a compelling ActiveCampaign alternative.
What does Ontraport offer?
Here's a closer look at what Ontraport offers:
Email marketing: Send individual messages or bulk emails to specific segments in your email list. UTM tracking gives you a clearer picture of which emails bring in sales.
Sales CRM: Ontraport offers a CRM that lets you automatically capture details about your contacts, including page visits, purchases, and more. The Card View enables you to build your own pipelines and manage your contact list.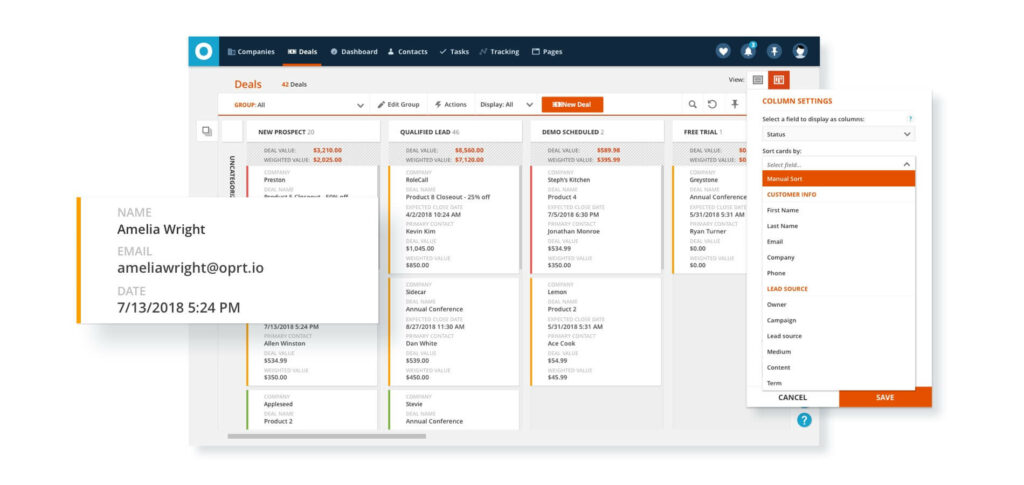 Marketing automation: Use the Automation Builder to create automated workflows in minutes — follow up with leads, re-engage shopping cart abandons, and more.
No-code web apps: Create custom web apps like online courses and customer portals without any coding experience using the drag-and-drop builder.
Built-in payments platform: Ontraport offers a payments platform that lets you accept one-time payments, manage subscriptions, and process offline transactions.
Ontraport pricing
Ontraport offers an affordable tool for marketing automation. There are four plans: Basic, Plus, Pro, and Enterprise.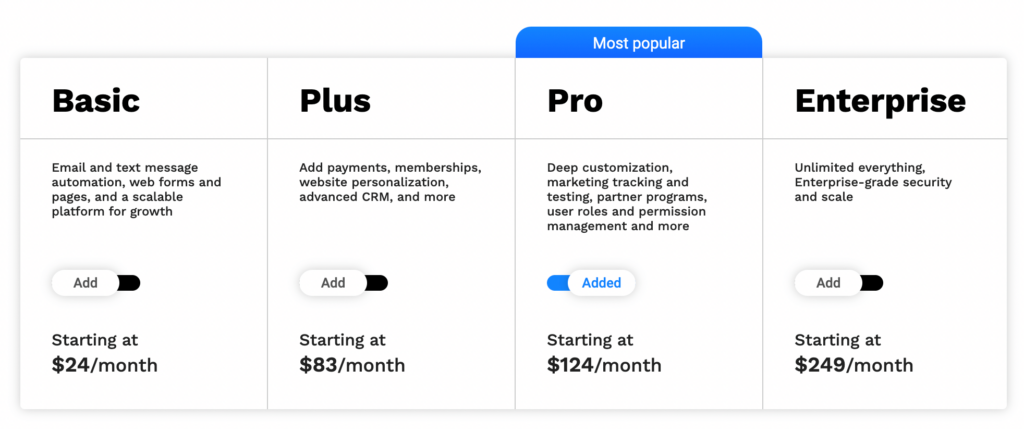 The Basic plan starts at $24 per month for up to 500 contacts. It includes unlimited email sending, marketing automation, and a CRM. However, features like task automation, payment processing, and web page personalization are locked behind higher plans.

Ontraport offers a 14-day free trial (no credit card required).
Read our full Ontraport review here.
ActiveCampaign alternative #2: Salesforce Marketing Cloud
As one of the largest CRM platforms in the world, Salesforce offers its own marketing automation platform called Salesforce Marketing Cloud.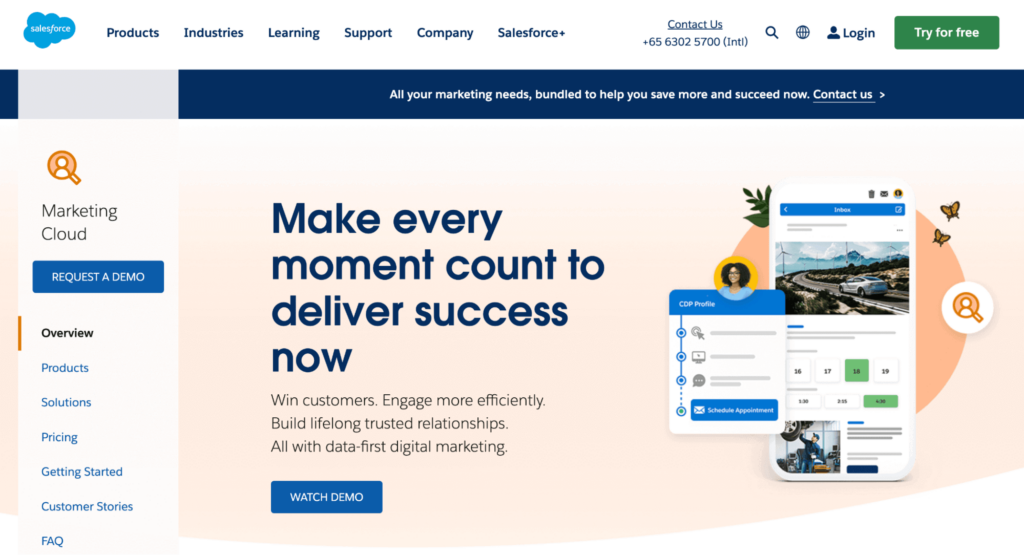 With Salesforce Marketing Cloud, you'll be able to create and automate personalized customer journeys at scale.
What does Salesforce Marketing Cloud offer?
Here's an overview of what Salesforce Marketing Cloud offers:
Journey Builder: Journey Builder is an intuitive tool that lets you create automated journeys across email, mobile, social, and web.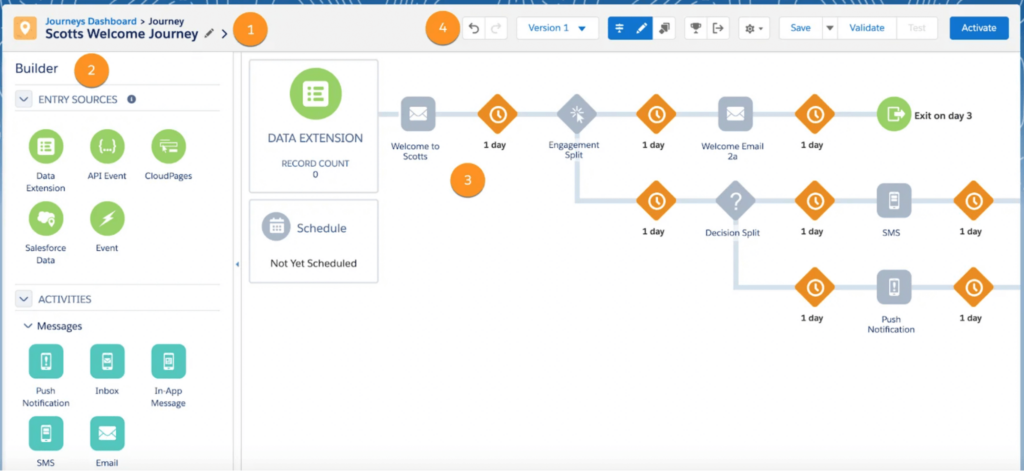 Audience Builder: With Audience Builder, you can import data from sources like Sales Cloud, web analytics, and even offline data. This helps you build a single view of each customer.
Personalization Builder: 71% of consumers expect companies to deliver personalized interactions. Personalization Builder uses predictive analytics and predictive modeling to deliver content according to each customer's preferences automatically.
Analytics Builder: Analytics Builder lets you measure the performance of your campaigns and uncover hidden insights with Salesforce Einstein — a comprehensive AI built for Salesforce.
Salesforce Marketing Cloud pricing
Salesforce Marketing Cloud is aimed at mid to large-size enterprises. Four plans are available: Growth, Plus, Advanced, and Premium.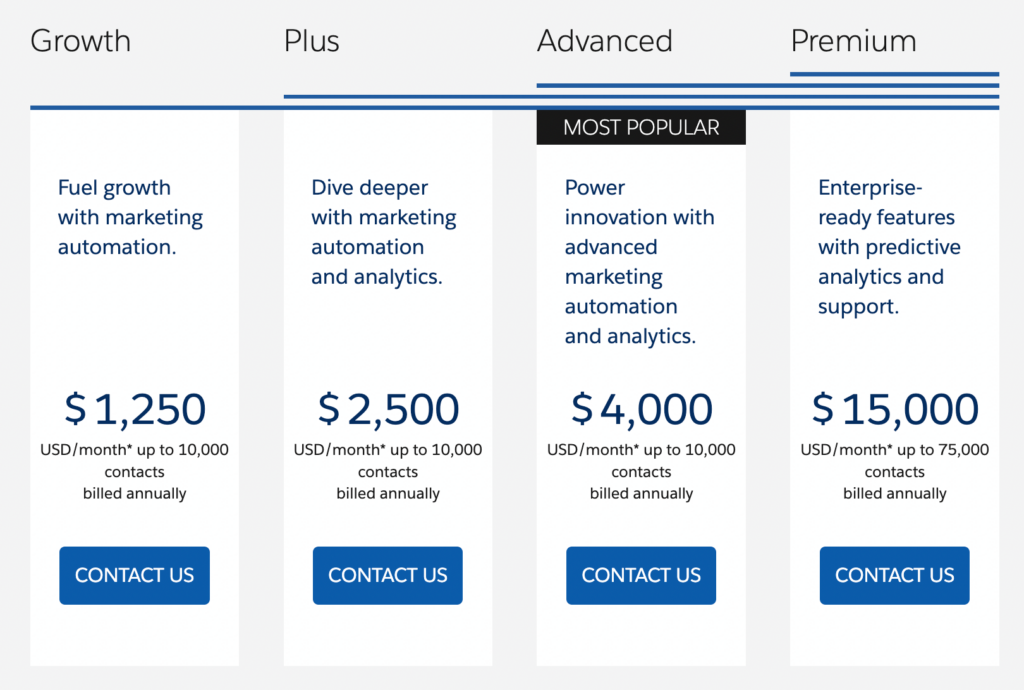 The Growth plan starts at $1,250 per month and includes email marketing, contact management, and lead generation. The Premium plan costs $15,000 per month and includes advanced automation, predictive analytics, and AI capabilities.
Check out our full Salesforce Marketing Cloud review.
ActiveCampaign alternative #3: HubSpot
While HubSpot is primarily a CRM platform, it offers standalone "hubs" that focus on marketing, sales, customer service, and content management.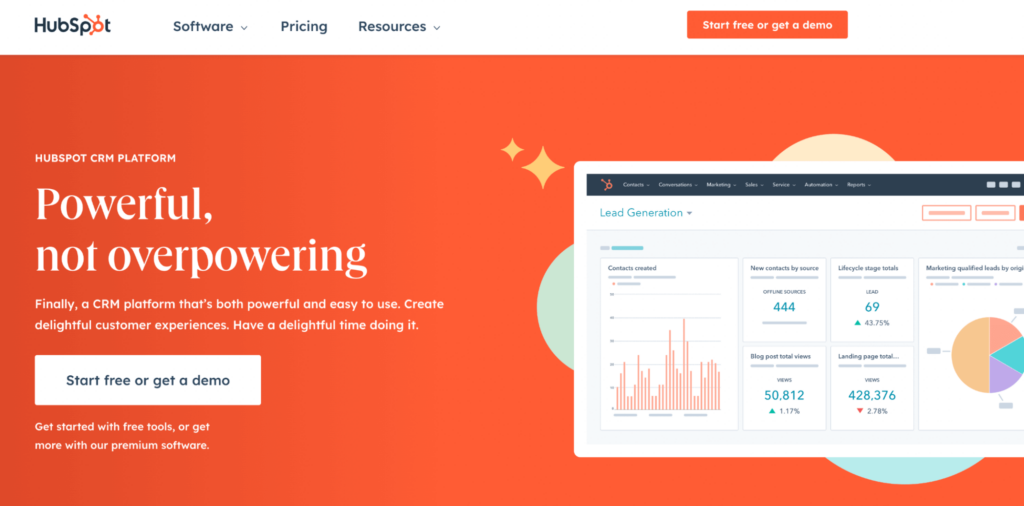 If you're a growing business with a larger budget looking for a comprehensive solution to manage and automate your marketing, consider taking a closer look at HubSpot.
What does HubSpot offer?
Here are some of the key features that HubSpot offers (certain features are only available depending on the hub you're subscribed to):
CRM: HubSpot offers a free CRM that lets you manage your contacts and get a real-time view of your sales pipeline. It includes deal tracking, pipeline management, and more.
Email marketing: With the drag-and-drop editor, you can create professional emails that look great on any device. You can also personalize your emails with "smart rules" that display different versions of your content to your email subscribers.
Marketing automation: The Marketing Hub includes a workflow builder that allows you to create automated campaigns using conditional if/then logic. Additional features include list segmentation, social media management, and contact scoring.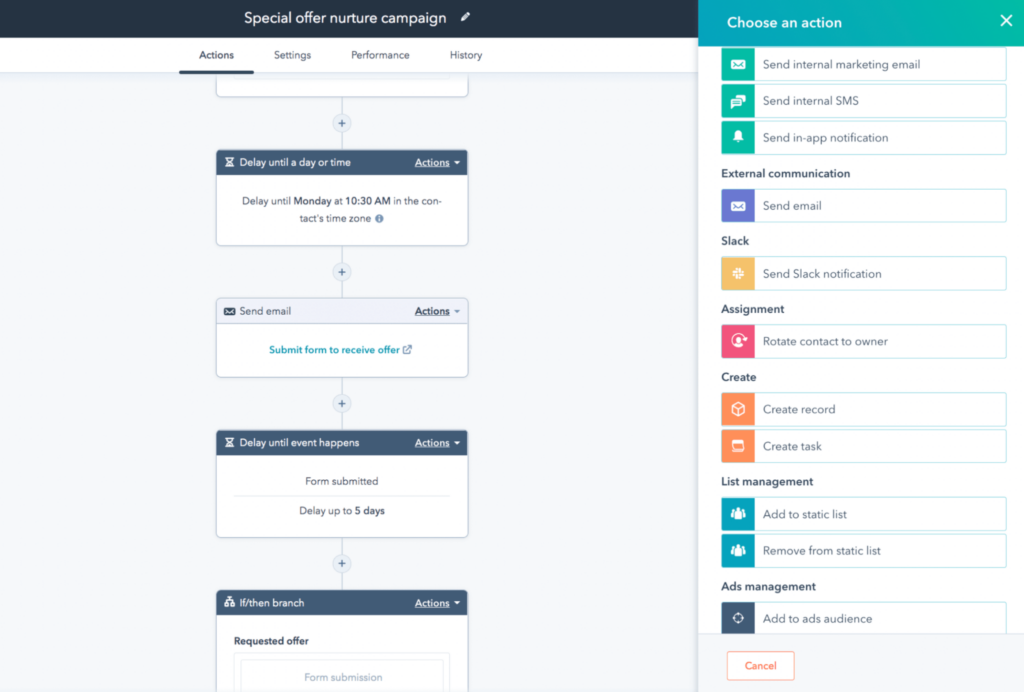 Customer service: The Service Hub supports omnichannel messaging and connects to HubSpot CRM so that you can keep all customer interactions in one place.
HubSpot pricing
As mentioned, HubSpot offers various hubs' to suit your business needs. Each hub has three different tiers: Starter, Professional, and Enterprise.
If you're only interested in the Marketing Hub, here's a look at its pricing:

If you want to access the full set of features that HubSpot offers, there's a bundle combining all five hubs. It starts at $45 per month for the Starter plan and goes up to $5,000 per month for the Enterprise plan.
Read our full Read our in-depth HubSpot review here.
ActiveCampaign alternative #4: SharpSpring
SharpSpring enables you to capture leads, deliver personalized messages, and automate your campaigns from one platform.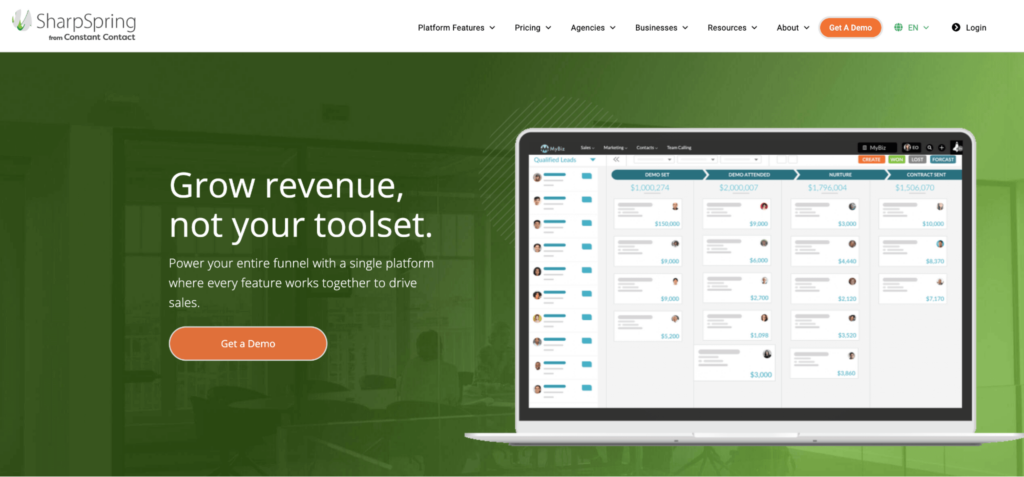 With plans starting at $449 per month, SharpSpring is a more expensive ActiveCampaign alternative that targets established businesses, enterprises, and agencies.
What does SharpSpring offer?
SharpSpring offers the following key features:
Email marketing: SharpSharp offers an intuitive email builder that doesn't require any coding. With dynamic features and smart tags, you can personalize all areas of an email and show different content to your contacts based on their attributes.
Marketing automation: With SharpSpring's Visual Workflow Builder, you can create powerful automated workflows — set up lead nurturing campaigns, follow up with abandoned shopping carts, or reconnect with inactive customers.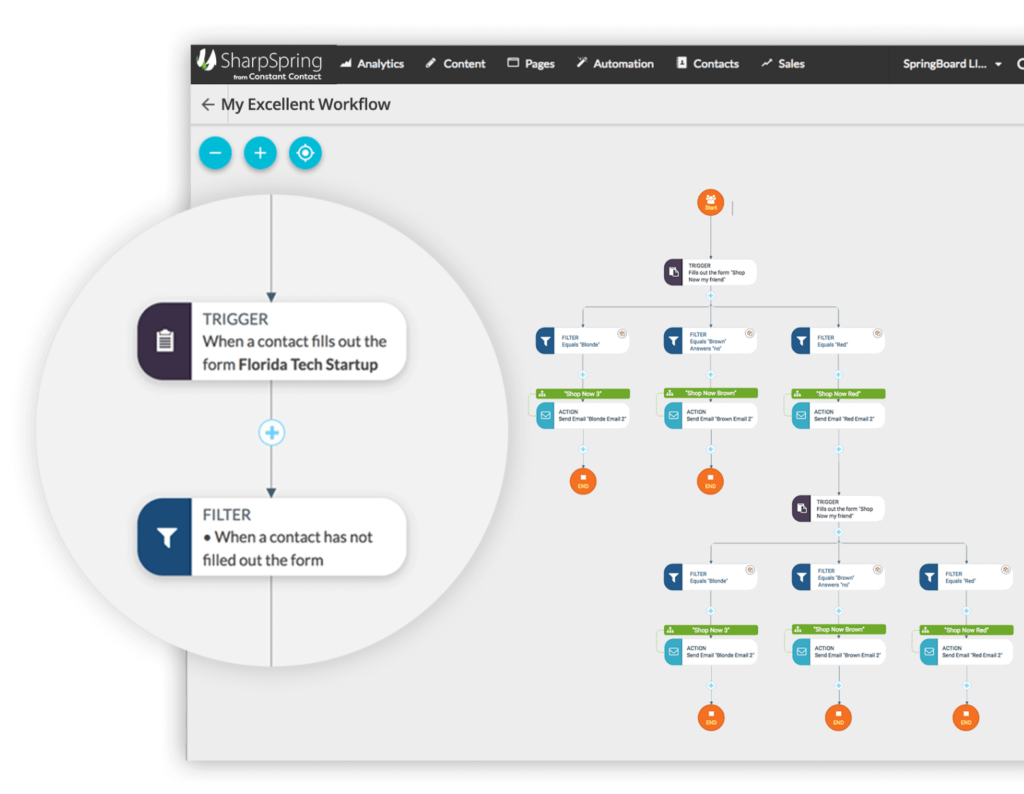 CRM: Like ActiveCampaign, SharpSpring includes a built-in CRM letting you centralize your customer data and manage your contacts. It also offers third-party integrations to sync your leads, activities, and more with your existing CRM.
Social media management: SharpSpring offers social media tools that enable you to publish and schedule posts across Facebook, Twitter, and Linkedin. It also includes social listening tools, so you can monitor what users say about your brand.
SharpSpring pricing
SharpSpring offers three main plans, as well as two plans for agencies and enterprises with custom pricing. All plans include unlimited users, unlimited support, and access to all features.

SharpSpring charges a $1,999 onboarding fee, which includes extra support for the first 60 days to ensure you have everything to get the most out of the software.
Read our full SharpSpring review to learn more.
ActiveCampaign alternative #5: Marketo Engage
Marketo Engage is a marketing automation platform from Adobe. It lets you create personalized email campaigns, nurture leads across online and offline channels, and implement an account-based marketing strategy.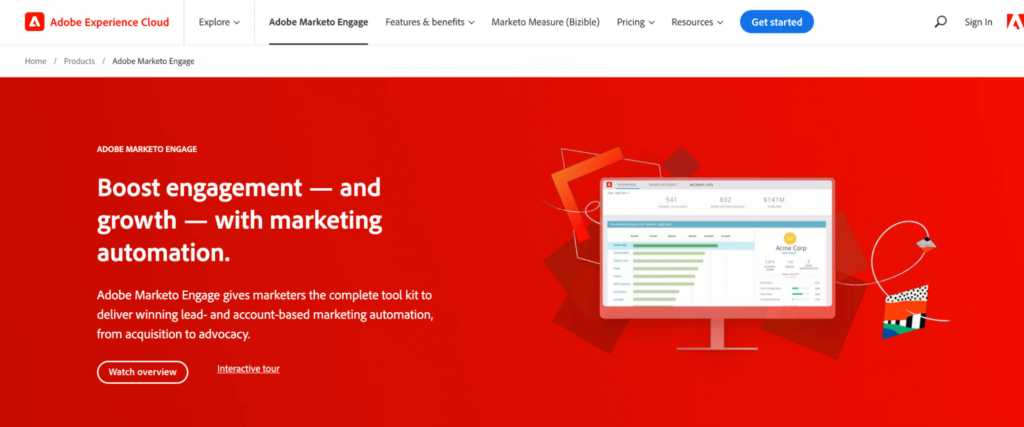 Marketo is ideal for B2B enterprises that are looking to make account-based marketing a core part of their customer acquisition strategy.
What does Marketo offer?
Here's what Marketo Engage has to offer:
Marketing automation: Marketo lets you personalize your marketing across email, mobile, and social media channels through AI-assisted workflows.
Account-based marketing: Marketo uses a combination of AI and machine learning to identify good-fit accounts that sales and marketing can target. Other key features include real-time engagement tracking and automated lead scoring.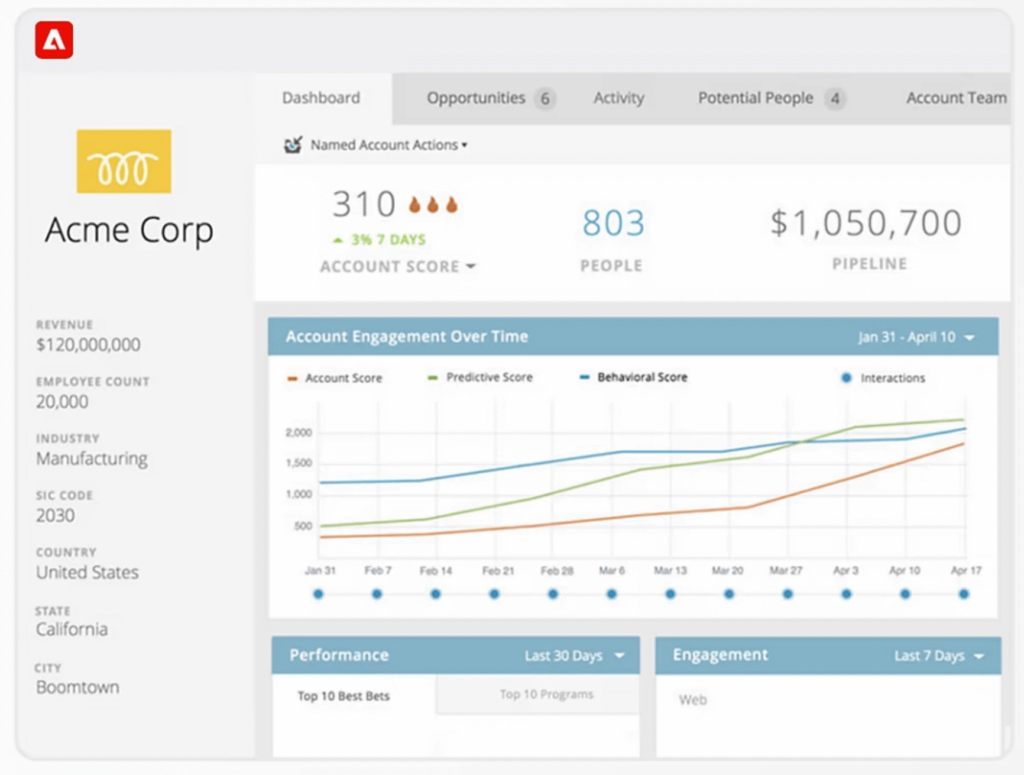 Lead management: With custom lead scoring models, Marketo enables you to prioritize and focus on the most relevant leads.
Marketo pricing
Marketo offers four plans: Growth, Select, Prime, and Ultimate.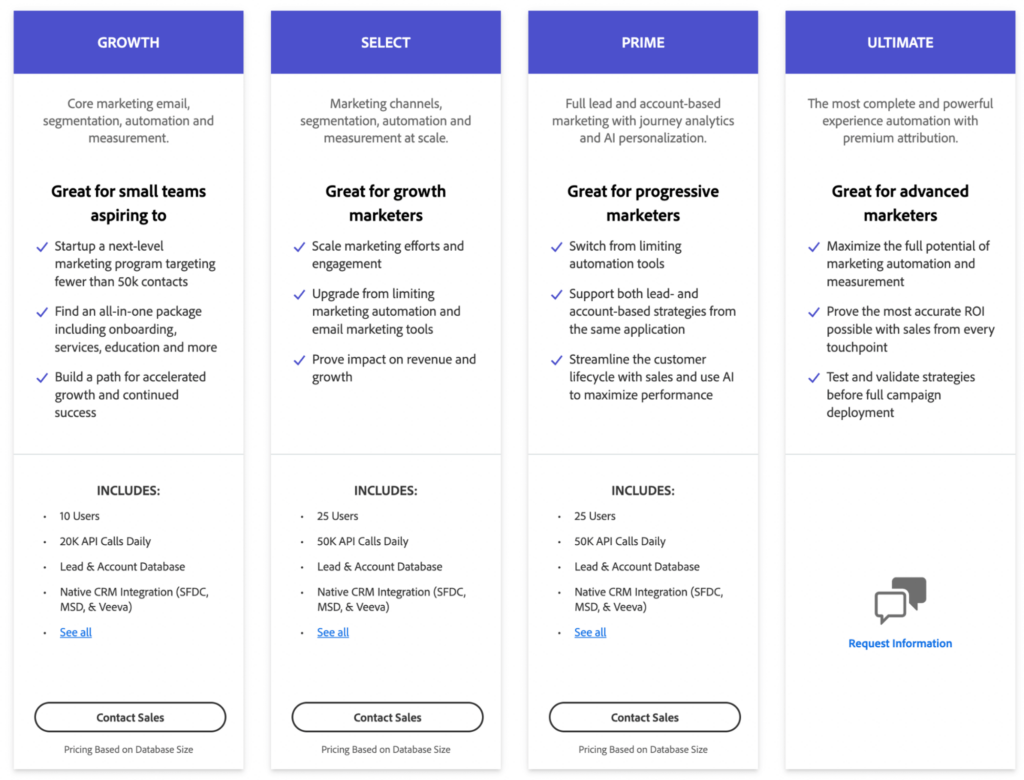 All plans include advanced personalization, journey automation, and email marketing. However, more advanced features like marketing attribution, account management, and journey analytics are only available on the higher plans.
Unfortunately, Marketo doesn't publish any pricing information on its website. You'll need to contact their sales team directly to request a quote.
Check out our full Marketo Engage review here.
Conclusion
While ActiveCampaign is an excellent marketing automation platform that helps you personalize your campaigns, automate repetitive tasks, and nurture leads, it's far from the only option.
If you're looking for a platform that features advanced automation, ecommerce and payment processing capabilities, and smart pipeline management, we recommend Ontraport. If you're a mid to large-sized enterprise looking for an all-in-one email marketing solution that combines marketing, sales, and customer service, then HubSpot might be a better fit.
No matter which ActiveCampaign alternative you choose, be sure to take advantage of free trials or register for free plans to help you make an informed decision.