Setting up autoresponders, segmenting your list, and scoring leads — these are just a few of the many tasks marketers perform daily.
The good news?
Marketing automation platforms can perform these tasks for you. Instead of manually segmenting your list and nurturing your leads, these tools can automate those workflows.
The bad news?
You're stuck deciding between ActiveCampaign vs Mailchimp. Both are popular tools that help automate your marketing processes and deliver more personalized experiences.
While they offer similar features, there are key differences to consider when deciding which is right for your business. In this article, we'll take an in-depth look at ActiveCampaign and Mailchimp so you can make an informed decision.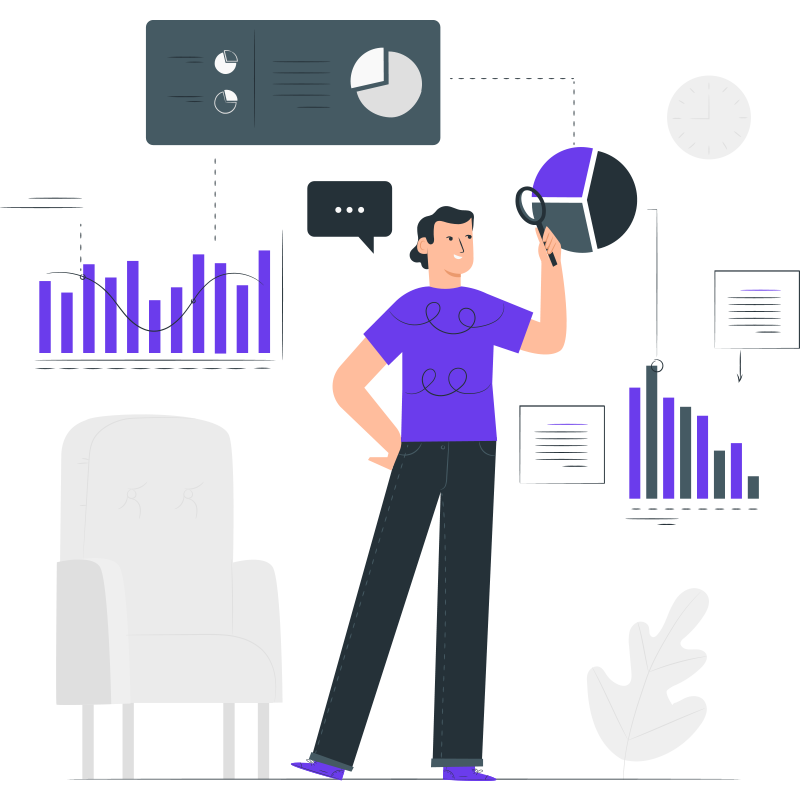 Get long-term ROI.
We help you grow through expertise, strategy, and the best content on the web.
TABLE OF CONTENTS
ActiveCampaign vs Mailchimp comparison
Want the TL;DR?
Here's a quick comparison between ActiveCampaign and Mailchimp:
ActiveCampaign
Mailchimp
Best for

Entrepreneurs
Small to medium businesses
Enterprises

Freelancers
Startups
Small businesses

Key features

Email marketing with drag-and-drop builder
Visual marketing automation builder
Website tracking
Sales CRM with contact and pipeline management
SMS marketing

Email marketing with drag-and-drop builder
Customer Journey builder with pre-built automations
Marketing calendar to schedule posts
Predictive segmentation
CRM lead and contact scoring

Customer support

24/7 chat and email support on all plans

Email support for 30 days on the free plan
24/7 email and chat support on the Standard and Essentials plan
Phone and priority support on the Premium plan

Pricing

No free plan available
Plans start at $9 per month

Free plan available
Plans start at $13 per month
ActiveCampaign overview
ActiveCampaign was founded in 2003 and started as a consulting firm before switching to a Software-as-a-Service (SaaS) platform. It offers email marketing and marketing automation as well as a built-in CRM to nurture leads across the sales cycle.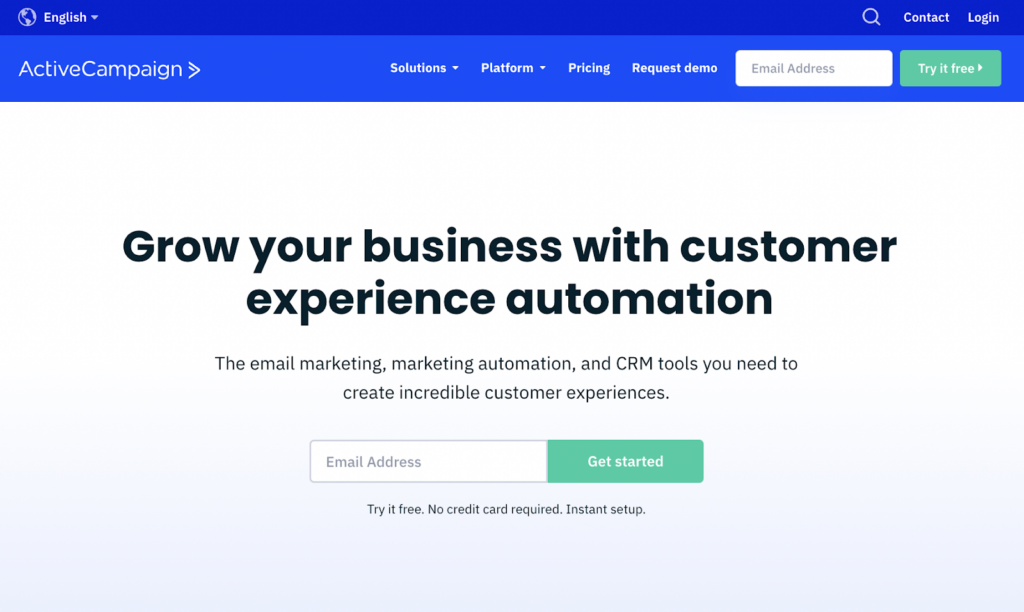 Today, ActiveCampaign has over 180,000 customers worldwide ranging from one-person shops to growing startups and large enterprises.
What we liked about ActiveCampaign:
Marketing automation: ActiveCampaign offers a drag-and-drop builder that you can use to automate all kinds of marketing tasks, such as sending welcome emails to new contacts and recovering abandoned shopping carts.
Marketplace: Kickstart your marketing automation efforts with an extensive library of pre-built automations.
Sales CRM: The built-in CRM helps you manage your contacts, score leads, and monitor deals.
What we didn't like about ActiveCampaign:
Learning curve: ActiveCampaign has a rather high learning curve, making it intimidating for beginners.
Confusing pricing: ActiveCampaign offers two separate packages: Marketing and Sales. If you want to get both, you'll need the Plus package which starts at $93 per month.
Mailchimp overview
Mailchimp launched in 2001 as an email marketing service aimed at small businesses and has since grown into a comprehensive automation platform.

The platform also features contact management, social media integrations, retargeting, and more.
What we liked about Mailchimp:
Personalized recommendations: Mailchimp offers personalized recommendations based on your customer data.
Online store: With Mailchimp, you can create an online store and connect it to Stripe to accept payments.
Free plan: Mailchimp offers a free plan that includes up to 500 contacts, and 2500 email sends a month. It also includes one-step automations, a marketing calendar, and more.
What we didn't like about Mailchimp:
Lack of support on the free plan: Mailchimp offers a generous free plan, but it only offers email support for the first 30 days.
Strict affiliate marketing policy: If you're planning to use MailChimp for affiliate marketing, you may want to reconsider. MailChimp has a strict policy prohibiting certain types of affiliate links. If you send links violating the policy, your account may be suspended or closed.
Let's get into specifics.
Email marketing
With an estimated ROI of $36 for every $1 spent, email marketing is a channel you simply cannot afford to ignore. But you'll need the right platform to build and manage your list.
ActiveCampaign
ActiveCampaign comes with all the tools you need to support your email marketing — send bulk emails, set up autoresponders to nurture leads, and send transactional emails to increase engagement.
Additional features include
List segmentation: Group your list based on data like personal interests, demographic location, and website visits.
Dynamic content: Send more relevant content to your contacts by swapping out images, copy, and CTAs based on engagement history.
A/B split testing: Split test subject lines, body content, images, and CTAs to determine what works (and what doesn't).
Creating your own emails from scratch can be tedious.
ActiveCampaign has an extensive library of email templates for different use cases. There's also an intuitive drag-and-drop email designer that lets you customize your own.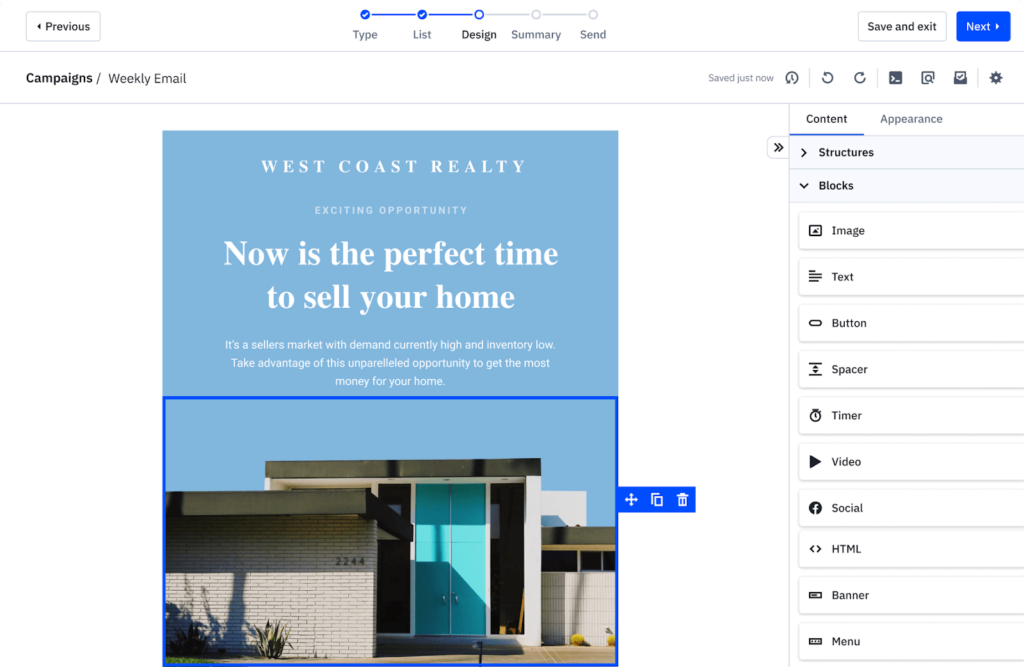 There's no coding required so even if you're not technically inclined, you can still create professional-looking emails that look great on any device.
ActiveCampaign offers subscription forms you can customize and add to your site to build your email list. Choose from four different types of forms:
Inline form
Floating bar
Floating box
Modal pop-up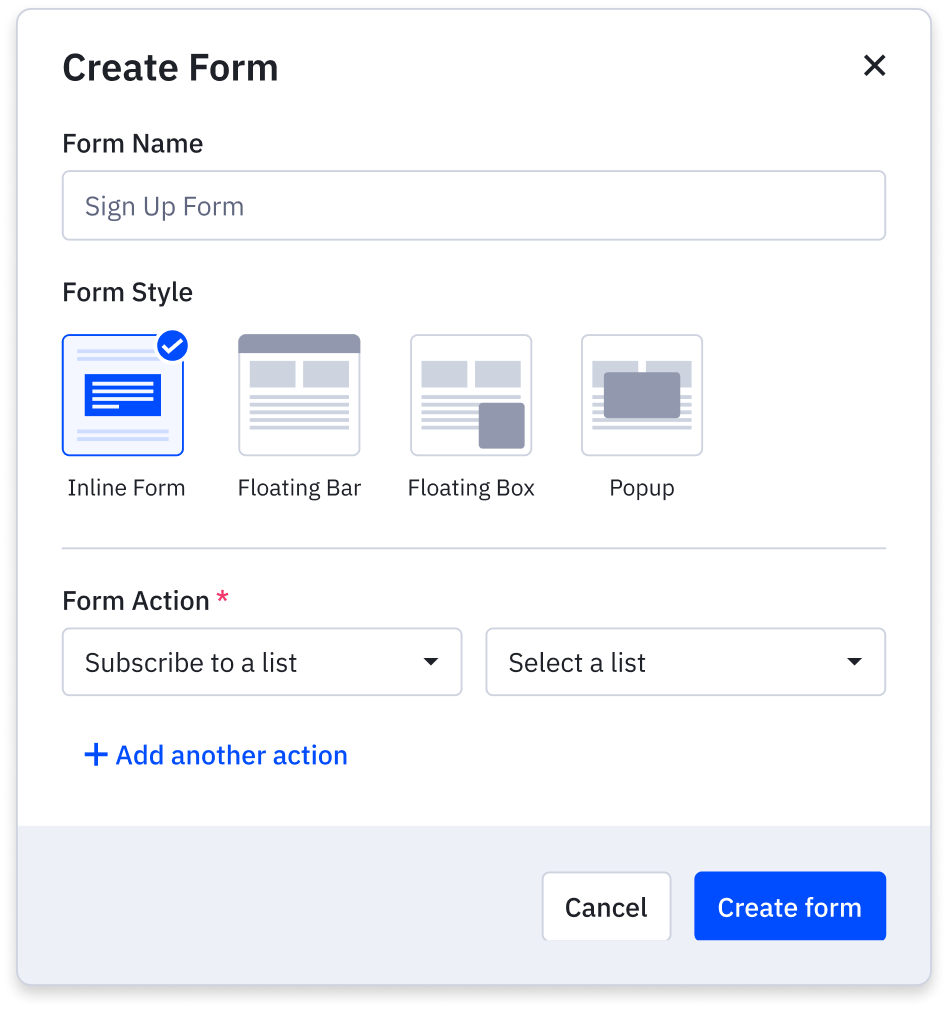 What's more, you'll be able to view statistics for each, so you can see which forms deliver more signups.
Mailchimp
Mailchimp is one of the most popular email marketing tools. If you've researched solutions for your business, you've likely come across this name before.
Email marketing features include
List segmentation: Segment your list based on behaviors and interests, and send more personalized emails to your contacts.
A/B testing: Split test your subject lines, content, and the send times to learn which elements lead to better results.
Email analytics: Email analytics allows you to track metrics like open rates, link clicks, and other actions across all your campaigns.
Like ActiveCampaign, Mailchimp also offers pre-built email templates that you can use right away to kickstart your next campaign. You can also choose a basic layout and customize it with the visual builder.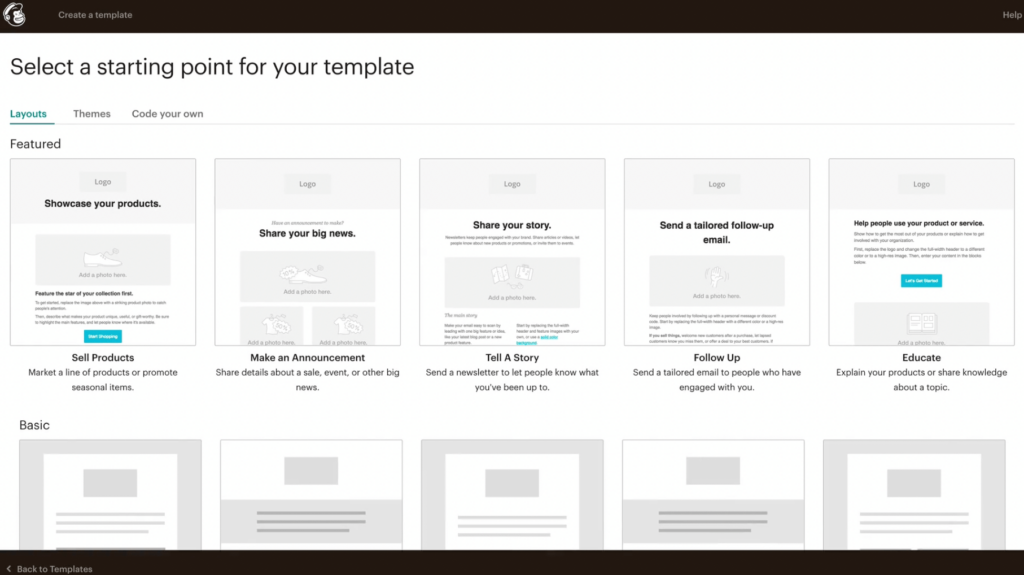 From the interface, you can insert images, videos, social media buttons, and more. Once you create the perfect email, you can save it to your library.
Mailchimp also offers Content Optimizer, a tool that benchmarks your email against millions of top-performing campaigns and offers suggestions to improve engagement.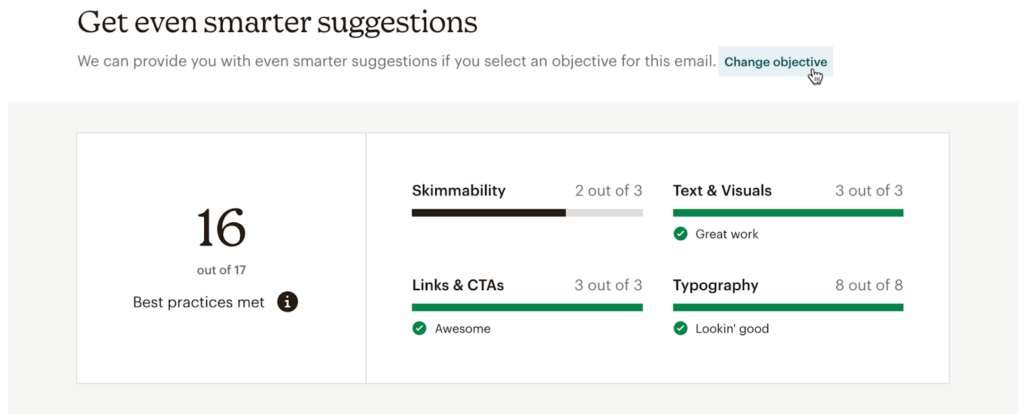 Verdict: Mailchimp is the clear winner when it comes to email marketing. It offers an intuitive interface allowing you to create and manage your campaigns. Plus, there's a free plan available for you to get started with.
Marketing automation
Marketing automation is a must for any business. It allows you to personalize your campaigns at scale, automate repetitive tasks, and nurture customer relationships.
ActiveCampaign
ActiveCampaign features a visual automation builder with a drag-and-drop interface. You can build custom marketing workflows by combining triggers, actions, and conditions.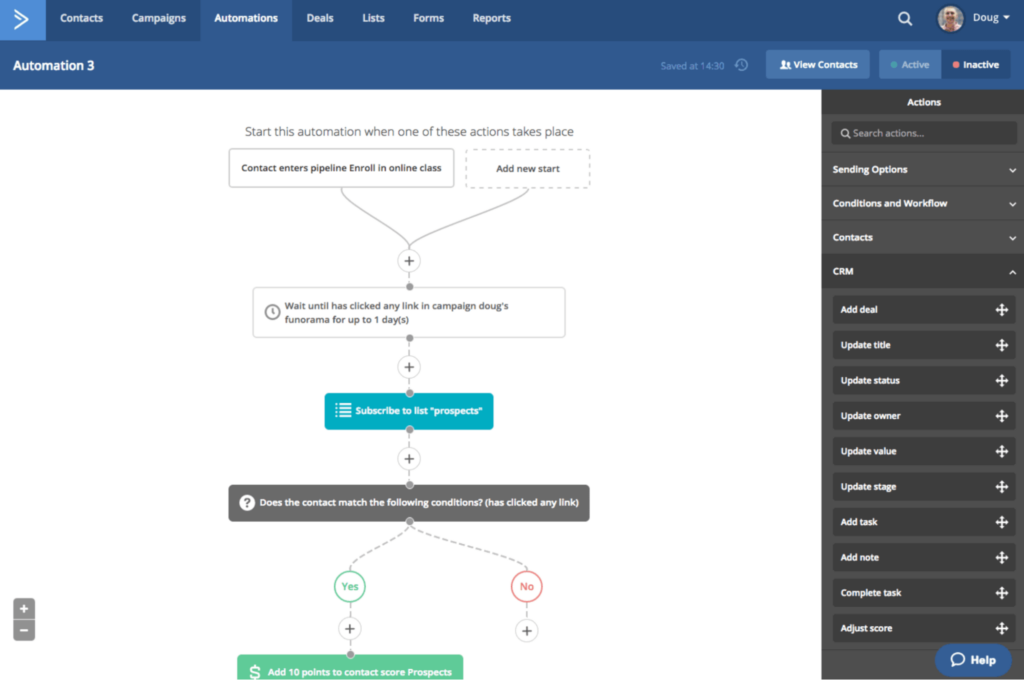 If automations are too much to wrap your head around, ActiveCampaign offers a marketplace with hundreds of "recipes."
Here's an example of a recipe for a welcome email series: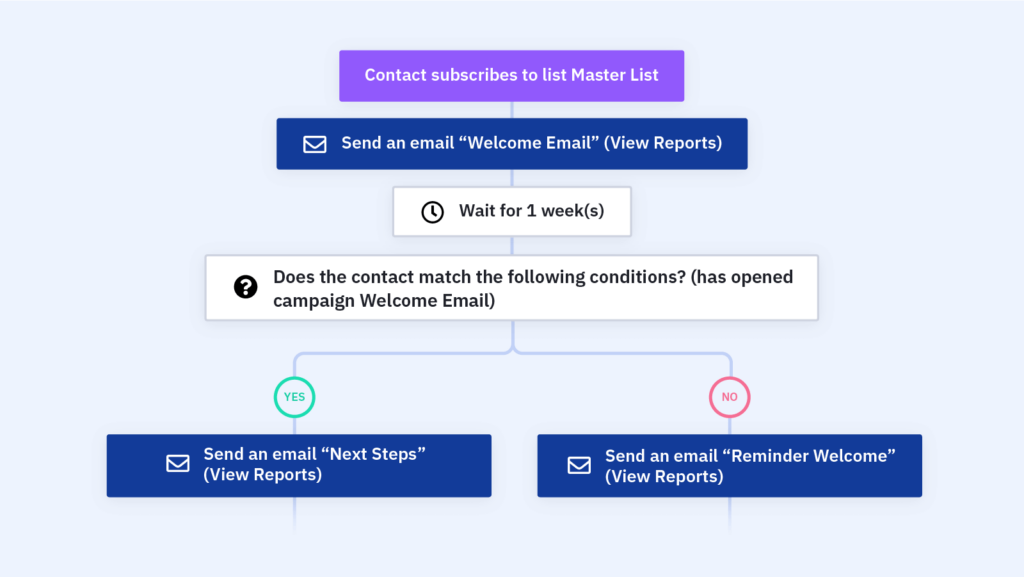 The pre-built automation recipes are free, and you can customize them once you import them into your account.
Mailchimp
Mailchimp offers Customer Journey Builder — a drag-and-drop editor that lets you create automated "paths" for your contacts. You can add starting points, actions, and rules to trigger certain workflows.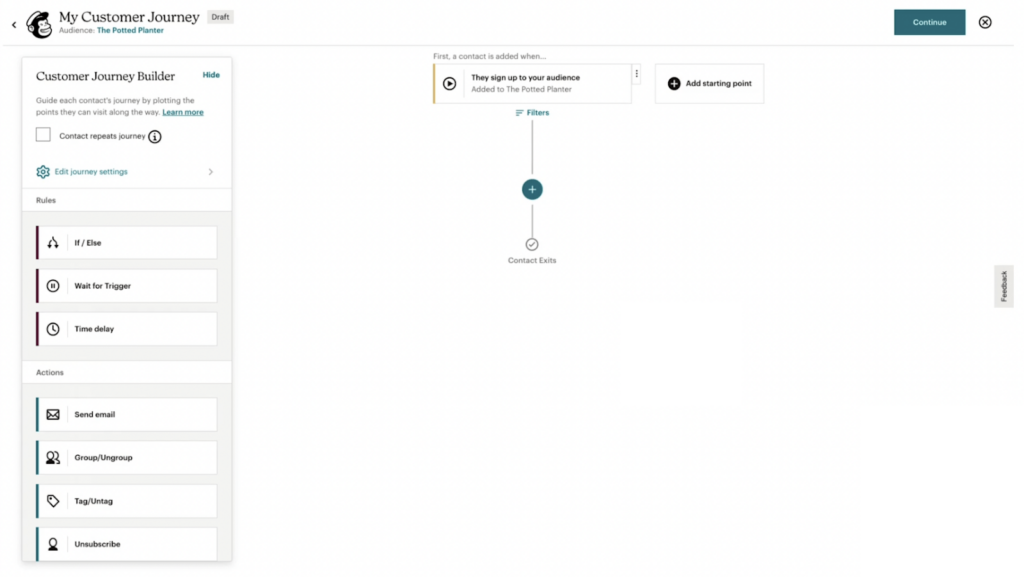 You can also create customer journeys that split contacts into one of two branching paths. For example, you can send email A if a shopper completes their purchase or email B if they abandon their cart.
Mailchimp also offers a library of pre-built journeys, but these are only available on the Standard and Premium plans. Unfortunately, Customer Journeys aren't available on the free plan. However, you can still get started with basic automations like sending a welcome series and offering personalized product recommendations.
Verdict: ActiveCampaign wins, as it offers more advanced automations. For example, you can set up automation split tests and measure the results in real time. You can also set up automations to send site messages and even SMS messages.
CRM and contact management
A CRM helps you build and manage customer relationships. Importantly, it keeps your marketing, sales, and service teams aligned.
ActiveCampaign
ActiveCampaign offers a built-in sales CRM that enables you to manage your contacts, create deal records, and keep customer interactions in one place.
Additional features include:
Lead scoring: With custom lead scoring models, you can streamline your sales process and focus on your most qualified leads.
Win Probability: Win Probability shows how likely a deal will close. Percentages are calculated using historical data from won deals.
Mobile CRM: ActiveCampaign offers mobile apps for iOS and Android devices so reps can manage and create deals on the go.
No two sales processes are alike.
With ActiveCampaign's CRM, you can create and build a pipeline that matches each stage of your sales process. You can easily drag deals to the next column to change a contact's stage.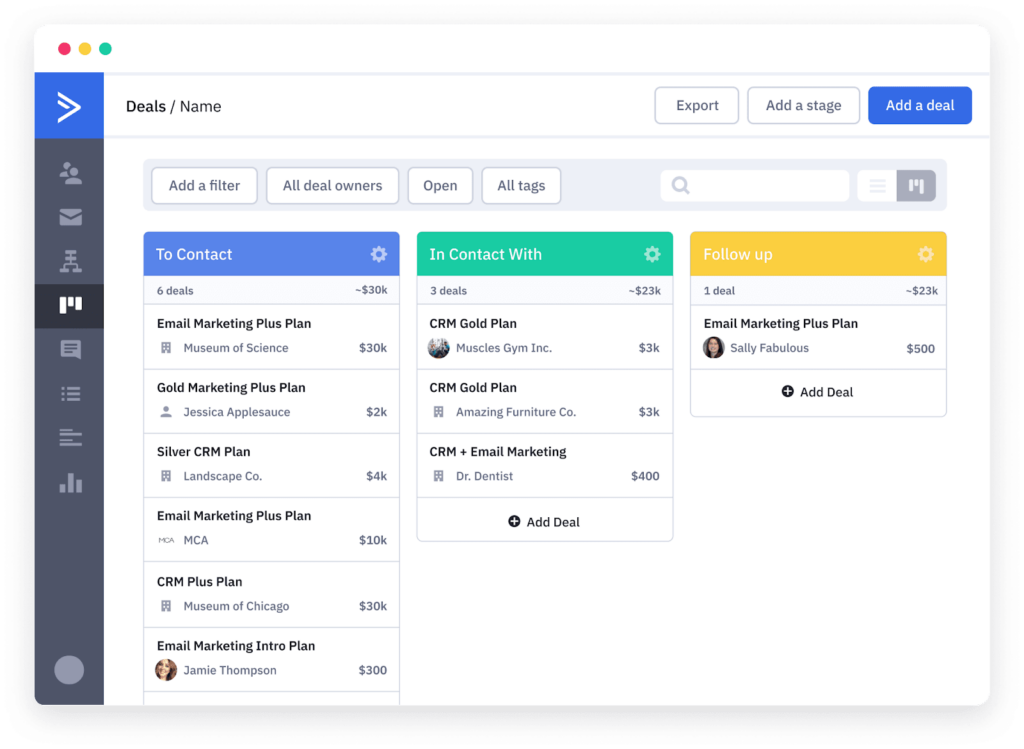 While we're on the topic of contacts, ActiveCampaign offers an excellent contact management tool. You can segment contacts using tags or custom fields.
Click on a contact, and you'll see all your data about that contact, such as open deals, notes, and recent activities.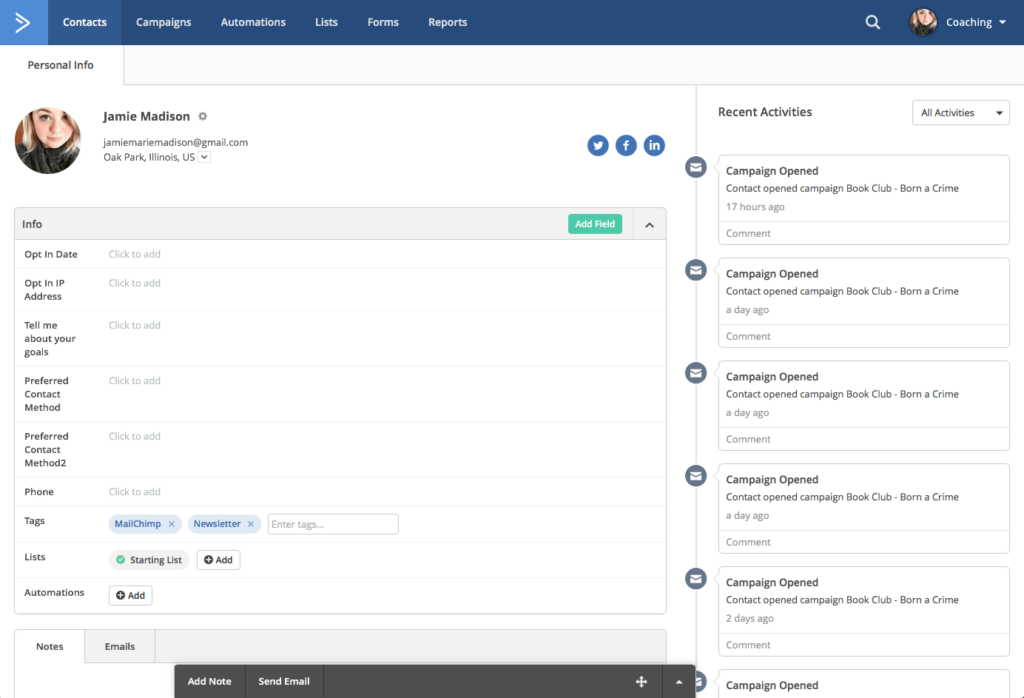 Of course, you can add contacts to existing automations. For example, you can set up an automation that triggers an email notification when a lead hits a certain score.
Pretty powerful stuff.
Mailchimp
Mailchimp also offers a CRM, but it only offers the basics. You can use the platform to organize your contacts, create segments, and set up automated messages.
These features are likely sufficient if you're a startup or a one-person shop. However, if you're a growing business or large enterprise, you'll find Mailchimp's CRM lacking. Fortunately, integrations are available with popular CRMs like Salesforce, Zoho, and Pipedrive.
Verdict: Mailchimp has some catching up to do because their CRM just doesn't provide the same functionality as ActiveCampaign.
Software integrations
Software integrations extend the functionality of any platform you use.
ActiveCampaign
ActiveCampaign offers over 900 integrations to popular platforms like Shopify, Salesforce, Freshbooks, and Asana. Integrations with social media platforms like Facebook and LinkedIn enable you to extend your reach across more channels.
Mailchimp
Mailchimp integrates with over 300 tools, including WooCommerce, Stripe, and Yelp. You can also connect with subscription management platforms like Chargebee and Recurly to manage recurring payments.
ActiveCampaign and Mailchimp also connect to Zapier, an online tool that allows users to integrate tools and create automated workflows.
Verdict: If we're going strictly by numbers, then ActiveCampaign wins here.
Customer support
One important factor when choosing any platform is its support. Quality customer support ensures that you can get help on any issue.
ActiveCampaign
Each plan comes with 24/7 chat and email support. Users also get access to ActiveCampaign University, which features a knowledge base and help guides with video tutorials.
Unfortunately, ActiveCampaign doesn't offer phone support.
Mailchimp
Users on the free plan get email support for the first 30 days, while users on the Standard and Essentials plan get 24/7 email and chat support. Phone and priority support is only offered on the Premium plan.
Like ActiveCampaign, Mailchimp offers a help center where users can access comprehensive tutorials and learn how to utilize the platform fully.
Verdict: Mailchimp has a slight edge over ActiveCampaign here. They offer 24/7 email and chat support in English and Spanish. While phone support is limited to the Premium plan, ActiveCampaign doesn't even offer this option.
Pricing
Finally, let's look at pricing.
ActiveCampaign
ActiveCampaign offers two packages with different tiers:
Marketing: The Marketing package includes email marketing, marketing automation, site tracking, and more. The Lite plan starts at $9 per month for up to 500 contacts.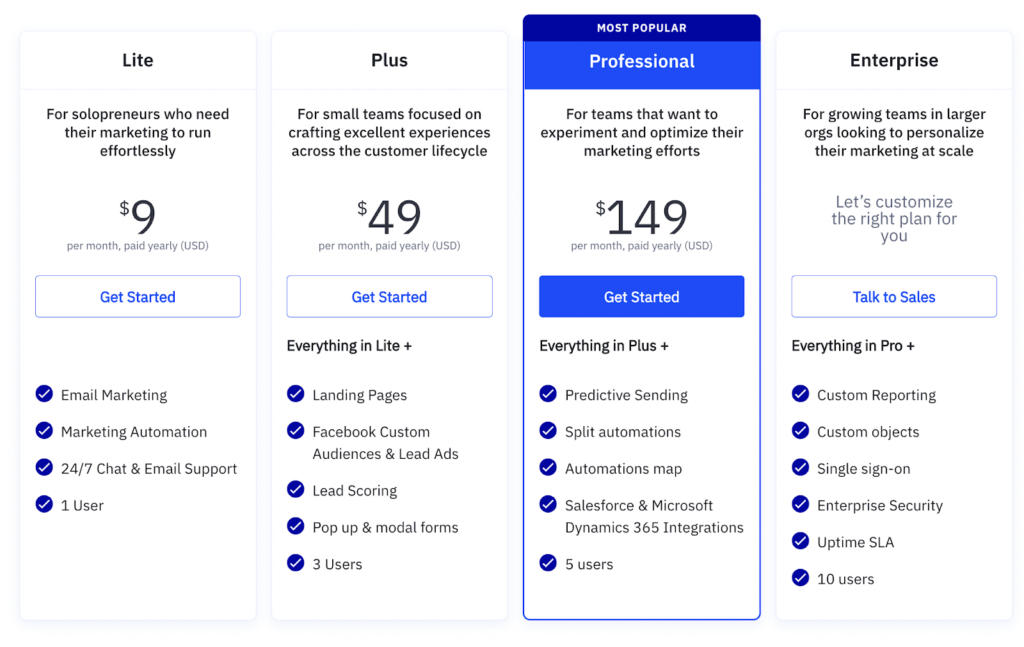 Sales: The Sales package includes a CRM, pipeline management, lead scoring, and more. The Plus plan starts at $19 per month.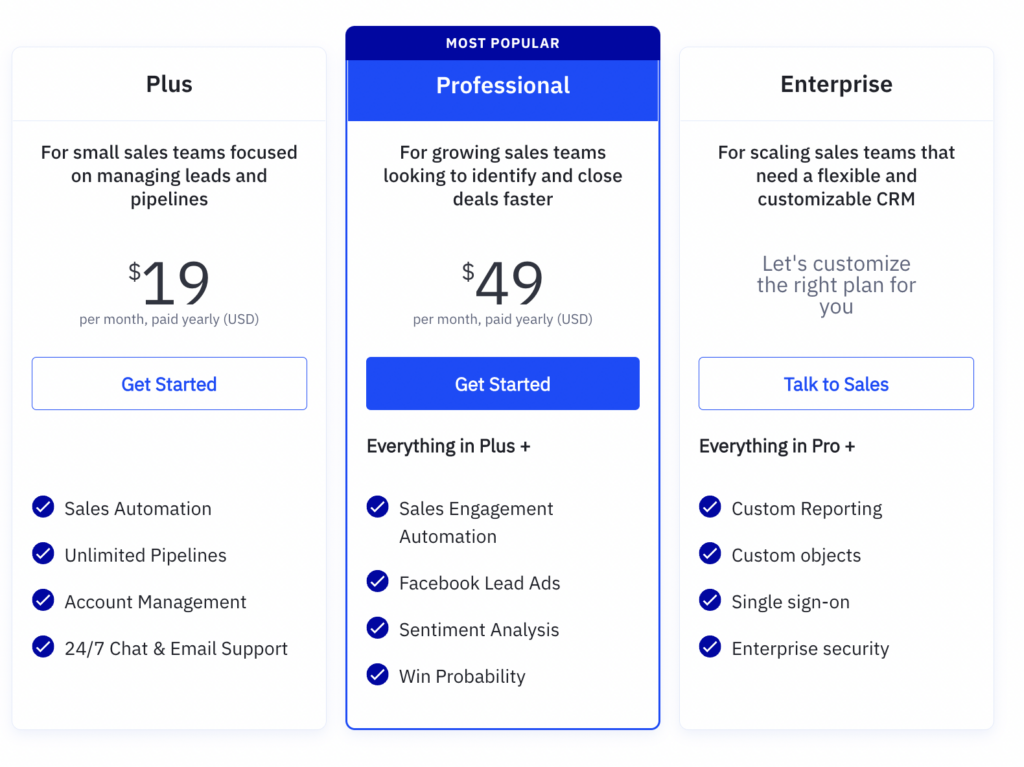 ActiveCampaign also offers a bundle that combines both packages. These plans start at $93 per month for up to 1,000 contacts. All plans come with a free 14-day trial.
Mailchimp
Mailchimp offers four plans: Free, Essentials, Standard, and Premium.
If you have a tight budget, then you can't go wrong with the free plan — you can create email campaigns and send up to 2,500 email sends per month.
However, you'll need to upgrade to a higher plan if you want to access advanced features like marketing automation, email personalization, and advanced segmentation.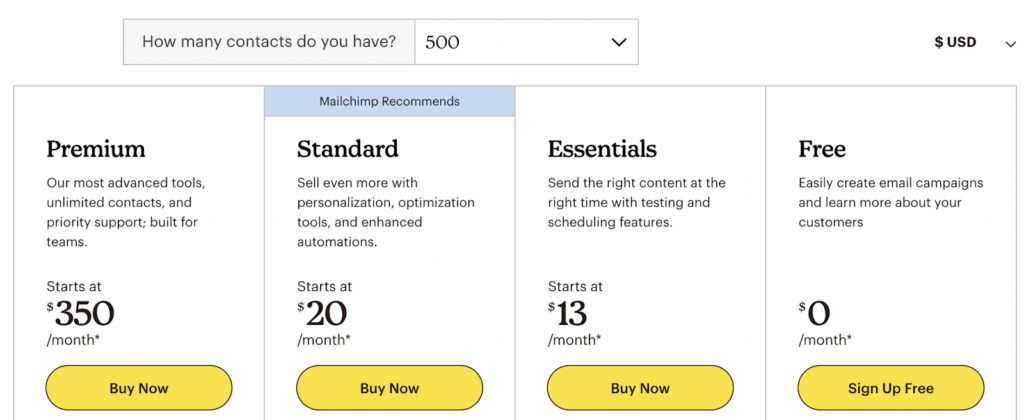 One important caveat with Mailchimp is that lists are mutually exclusive — contacts on multiple lists are counted multiple times. This can become costly as you add more contacts and create more lists.
Verdict: ActiveCampaign wins again. While Mailchimp offers a free plan, you'll quickly outgrow it as you start to scale. For businesses that want more advanced marketing automation and CRM functionalities, ActiveCampaign is the way to go.
ActiveCampaign vs Mailchimp: Which marketing platform is right for you?
Ultimately, the final call is up to you.
If you're interested in a platform with features that go beyond email, like marketing automation, pipeline management, and SMS messaging, then choose ActiveCampaign.
If you're working with a limited budget or you're just getting started with email marketing, then Mailchimp is a great choice.
But don't just take our word for it.
ActiveCampaign offers a free 14-day trial, while Mailchimp offers a free plan. Test drive both platforms to get a feel for what each offers to help with your decision.