Herbie Hancock's MasterClass review synopsis
What you'll learn: Jazz piano fundamentals
How long does the Herbie Hancock MasterClass take? 4 hours 23 minutes
Similar courses: Tom Morello, deadmau5, Timbaland, Christina Aguilera, Alicia Keys
Do I recommend Herbie Hancock MasterClass?
Absolutely yes. If you're into jazz, you can't go wrong with this course. This is a one-of-a-kind MasterClass where Herbie Hancock discloses his iconic techniques and approach to jazz piano.
If you're bored of playing the same classical pieces over and over again, it doesn't mean that you have to abandon your piano or keyboard and let it collect dust for months. Exploring new genres and techniques can help you get unstuck and awaken your creativity.
Consider diving into the jazz piano world — it's a fantastic way to broaden your musical horizons and become a more versatile musician. From mellow and laid-back to chaotic and funky, jazz has countless facets to explore.
In this review, we'll take a close look at Herbie Hancock's MasterClass on jazz piano and answer all your questions. Who's this course for? What does it include? How skilled should you be to participate? Let's get started, so you can get playing.
Disclosure: In the interest of full transparency, Codeless uses affiliate links in our MasterClass reviews to cover our site's costs.
Our Verdict
With this piano MasterClass, you can enjoy a cost-effective course in the comfort of your own home. Sign up now and enjoy this and other courses taught by experts and celebrities at a fair monthly price!
MasterClass Review
Learn from the Best
PROS
Affordable pricing
User-friendly platform
Features celebrity instructors
Easily refundable
High quality content
Bonus materials
CONS
No free trials
No reviews within the platform
Heavily geared towards creatives
In this MasterClass review, you'll learn:
A few frequently-asked questions…
Do I need a subscription to access this course?
Yes, you need to purchase a single MasterClass subscription to get access to any of the courses on the platform.
Does MasterClass have a cancellation policy?
You can get your money back within 30 days if you aren't satisfied with the courses.
Is the Herbie Hancock MasterClass worth it?
The piano masterclass is only about $15.75 a month, billed annually, which is a deal compared to in-person lessons. Consider also that the instructor is an elite piano master with decades of experience in the art and science of harmony.
What's included in Herbie Hancock's Masterclass?
Runtime: 4 hours 23 minutes
Course Value: 5 out of 5
Lessons: 25 lessons
Supplementary materials: downloadable workbook with sheet music
About Herbie Hancock
When people talk about jazz, they often mention Miles Davis, Chick Corea, John Coltrane — and Herbie Hancock. He's a living jazz piano legend who helped redefine the role of a jazz rhythm section and pursued experimental genres while staying true to his musical voice.
Herbie Hancock was born on April 12, 1940, in Chicago, Illinois. He started playing the piano at an early age and is considered a musical prodigy — he performed with the Chicago Symphony Orchestra at age 11. After studying music and electrical engineering at Grinnell College in Iowa, Hancock moved to New York where he quickly became a sought-after musician, performing with jazz legends such as Miles Davis, Freddie Hubbard, and Donald Byrd. He played on several of Davis's most influential albums in the 1960s, including "Miles Smiles," "Sorcerer," and "Nefertiti." Hancock's work with Davis helped to shape the iconic sound of jazz in the 1960s and 1970s.
Throughout his career, Hancock has explored various musical avenues, including jazz, funk, and electronic music. He released over 40 albums as a bandleader and has won 14 Grammys, including Album of the Year for "River: The Joni Letters" in 2008.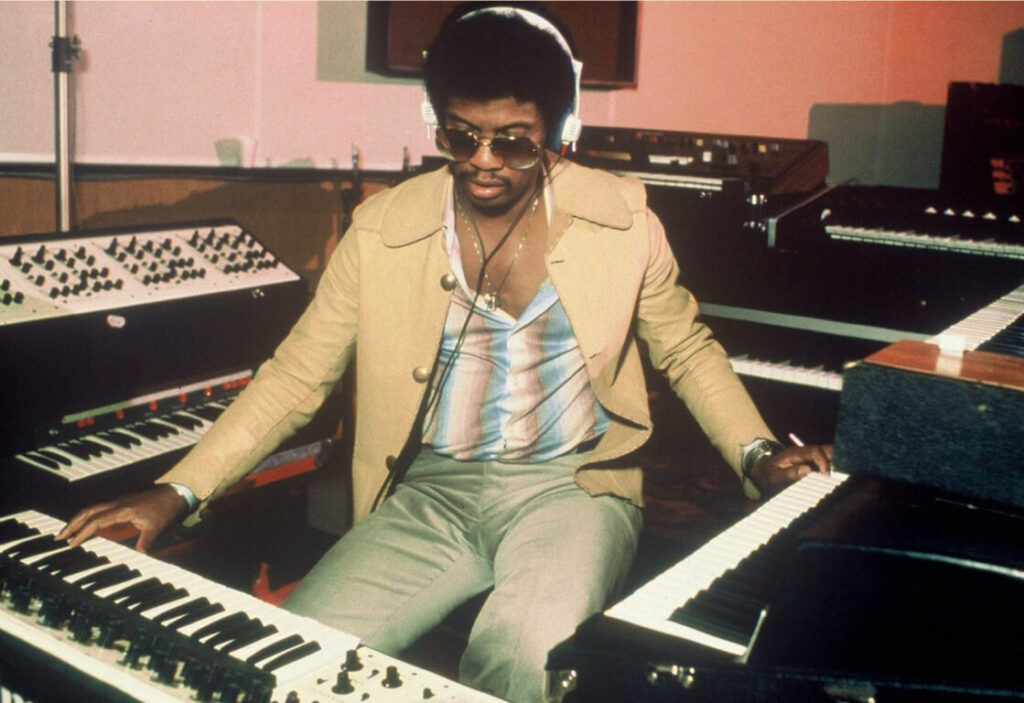 Hancock is considered influential for several reasons. He is a pioneer of jazz fusion, which combines elements of jazz, funk, and rock music. His 1973 album "Head Hunters" is a seminal work of jazz-funk and remains one of the best-selling jazz albums of all time.
His influence can also be found in electronic jazz, R&B, and other genres. Thanks to his electrical engineering background, he incorporated electronic instruments into his music early on, experimenting with the first commercially available synthesizers and other electronic devices in the 1970s.
In addition, Herbie Hancock is a big advocate for education and innovation in music. He has worked with UNESCO and the Thelonious Monk Institute of Jazz to promote equal education around the world.
As a teacher, Herbie Hancock is charismatic and personable but also meticulous and highly professional. When sharing his personal stories, he makes them an organic part of his narrative. His memories and experiences help create a lasting impression of his course and make it more engaging.
A complete breakdown of the Herbie Hancock MasterClass curriculum
The lessons in the piano MasterClass by Herbie Hancock do more than teach you how to read notes and translate them using piano keys. Rather, this class equips students with the ability to become independent music explorers and creators — to learn from the world around them and build new sounds.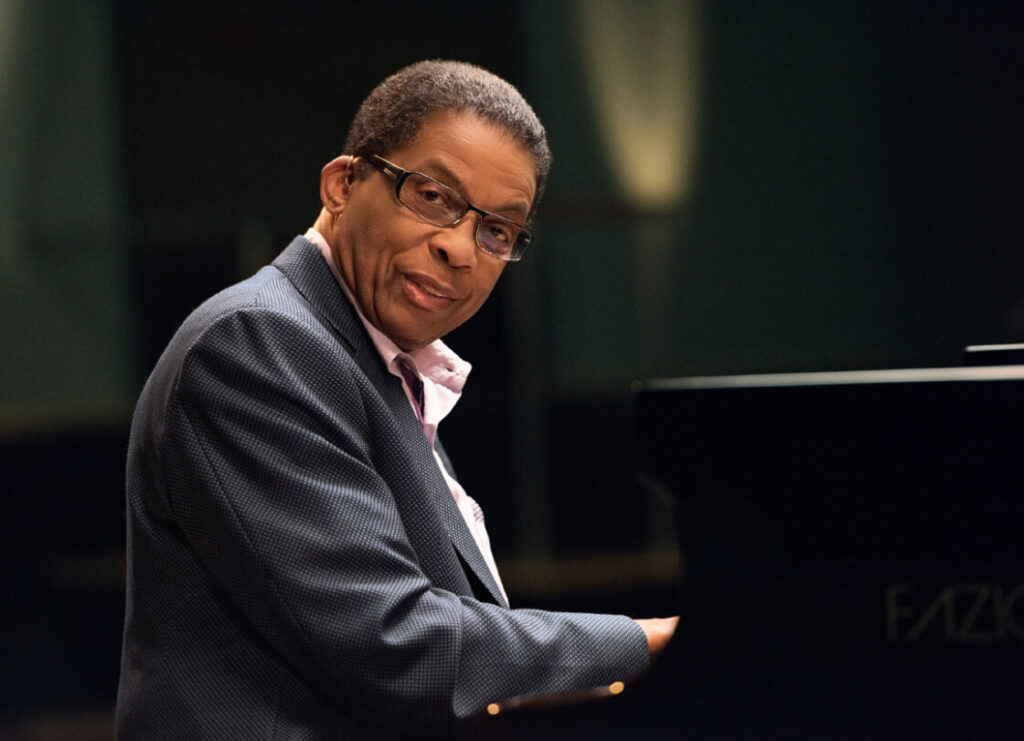 Here's what your learning journey will look like:
You'll start by discovering Hancock's approach to music. At the beginning of the course, he focuses on how to unlock your heart and mind so as to play professionally yet passionately. He also provides a historical context for jazz music, discussing the origins of the genre and its evolution over time.
Hancock took his first steps in music on his own by playing along to his favorite records in his bedroom. Because of this, improvisation and accompanying are among the very first things you'll learn in this course. With his guidance, you'll practice playing the music you already know and love, but in a new, more conscious way.
After that, Hancock covers the basics of jazz piano, including chord voicings, scales, and improvisation techniques. He also touches upon two main harmonic patterns in jazz and gives you tips on how to improvise alone without feeling like you're repeating yourself.
As you progress through the course, Herbie gives you a deeper glimpse into a composer's life and reveals how to approach recomposing, rearranging, and reinventing. It'll help you understand how to turn your memories, stories, and emotions into complex musical pieces with a life of their own.
You'll also learn to appreciate and truly enjoy jazz as a collaborative art form. Hancock shares insights into how to play with other musicians and how to improvise in a group setting.
Hancock then emphasizes the importance of rhythm and timing in jazz and provides exercises and techniques for improving your sense of timing and groove.
In his MasterClass, Hancock discusses some of his most famous compositions and turns them into elegant illustrations depicting how chords are used in jazz. You'll get to know his favorite ways to study harmony and explore new possibilities in existing pieces.
Throughout the course, Hancock encourages students to be creative and experimental in their playing and provides tips for developing a consistent practice routine. One of the core themes of this MasterClass is developing your own unique voice as a musician, and Hancock provides tips and exercises to help you find your own style.
Lesson example 1: Jam session
To give you a better idea of Herbie's teaching style, we'll break down one of his lessons, "Jam Session: Improvising Together."
In this lesson, Hancock brings his synthesizer and some guests into the studio to show you what a professional jam session usually looks like. The lesson begins with Hancock talking about how playing together teaches you to develop trust and openness to other musicians and their playing styles.
Together with a saxophonist and a vibraphone player, Herbie Hancock demonstrates how to approach abstract improvisation sessions where there's no specific theme or goal. You'll see how three instruments support and extend each other without getting in each other's way.
As the session progresses, more complex and unexpected patterns emerge, and Herbie introduces voice samples into the mix. At that moment, Hancock playfully challenges his fellow players and encourages them to push the boundaries even further.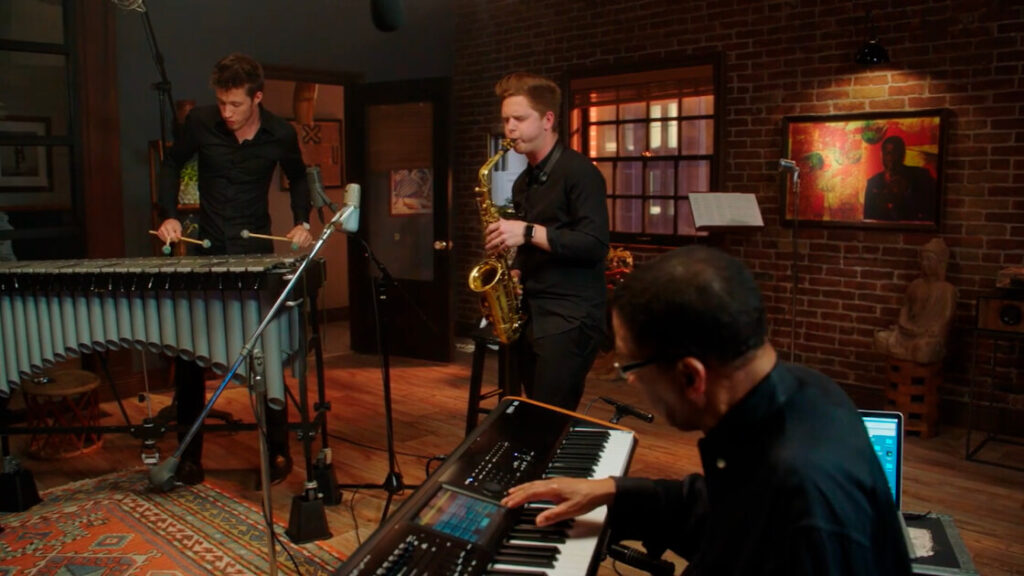 This jam session perfectly demonstrates how unconventional, organic, surprising, and fun jam sessions can be and how much of a collaborative effort they require. Anything can happen during improvisation, and your goal as a participant is to be attentive to the mood of the session.
This lesson proves that being patient, responsive, and flexible pays off improvising in a group. You'll see how Herbie Hancock makes some random musical choices creating certain confinements for other musicians, and how they respond to them by creating new, contrasting sounds to add another layer to their non-verbal communication.
Finally, Hancock emphasizes why it's important to take short breaks when you feel like you have nothing to add to the session.
Course summary
Jazz piano is a whole universe that's impossible to cover in one rapid course. That's why you might have more questions than answers at the end of this MasterClass. It's intended to keep you curious and give you seeds of inspiration that you yourself have to plant and nurture.
The course is neither purely theoretical nor is it strictly practical — it includes a healthy bit of both, and it encourages you to get out there, meet other musicians, and explore new musical pathways together. It doesn't focus on narrow styles or highly specific techniques. Instead, it invites you to learn the basics so you can experiment and play more versatile and challenging music.
What is included in Herbie Hancock's jazz piano MasterClass?
After signing up for MasterClass, you'll get exclusive access to every lesson in each class until you cancel. When you enroll in Herbie Hancock's MasterClass, you'll also get access to a printable PDF workbook filled with assignments, sheet music, and prompts to spark your inspiration.
MasterClass also manages private student groups where learners can exchange ideas and get their work reviewed by peers. From time to time, MasterClass also allows students to submit work to instructors for critique. When those assignments come around, you will be informed via email.
Herbie Hancock's MasterClass pros and cons
So, now that we've reviewed the whole course — let's sum up our impressions.
The pros of Herbie Hancock's MasterClass
You get to learn jazz piano fundamentals from the absolute icon of the genre.
The course is nicely paced and has bits of theory mixed with challenging exercises and personal anecdotes.
You get to see the behind-the-scenes of how complex, mind-bending musical pieces are created and how professional musicians improvise and practice.
The MasterClass has an intimate, inviting atmosphere and is genuinely enjoyable and fun to watch.
The cons of Herbie Hancock's MasterClass
If your skills are too advanced, this course may not be that interesting for you — it mostly covers the basics of jazz piano.
The course isn't suitable for complete beginners, either. You need to be able to play in various styles somewhat confidently and read sheet music.
This MasterClass is very much focused on classical jazz piano — don't expect anything crazy and experimental.
Do I recommend the piano MasterClass
This is the best introduction to jazz piano imaginable, especially if you don't have access to big-name musical schools or renowned private teachers. With this piano MasterClass, you can enjoy a cost-effective course in the comfort of your own home. Sign up now and enjoy this and other music courses taught by experts and celebrities at a fair monthly price!