Longer pieces of content always perform better.
They're packed with more information than a 500-word blog post. They have higher chances of being shared and read by a larger number of audiences.
Therefore, it's a good idea to always incorporate long content in your content marketing strategy.
But longer articles are difficult to create. Of course, to create a long post, you don't just cramp senseless words and paragraphs into it. Longer content entails time-consuming research, writing, and editing.
So to aid anyone who's going to create long-form content, here is a list of non-negotiable tools to fasten the process.
Some of these are visual makers; some help in research; and some are the best tool for editing the draft and making it readable.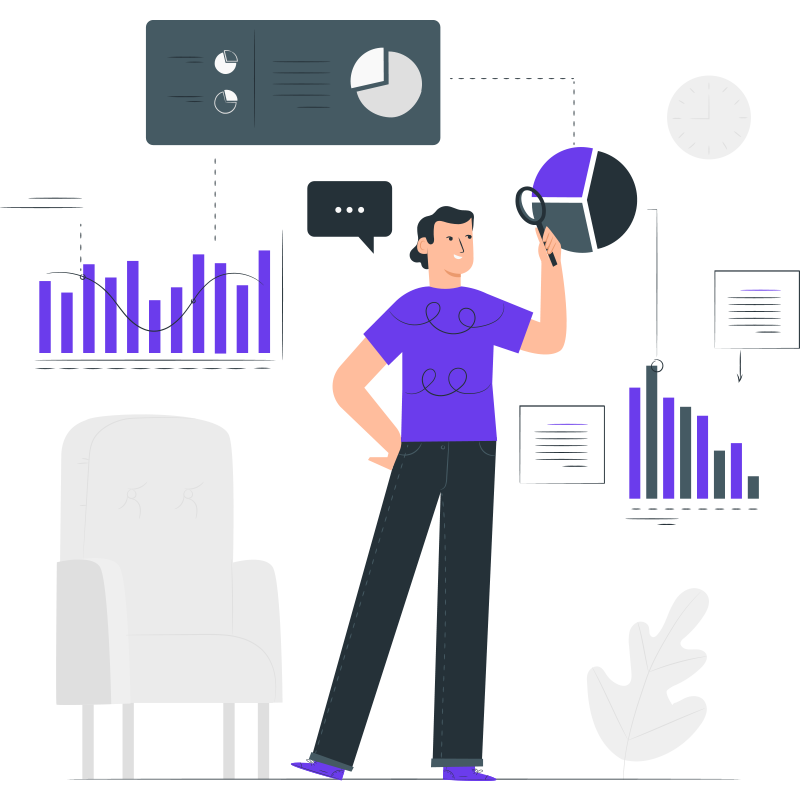 Get long-term ROI.
We help you grow through expertise, strategy, and the best content on the web.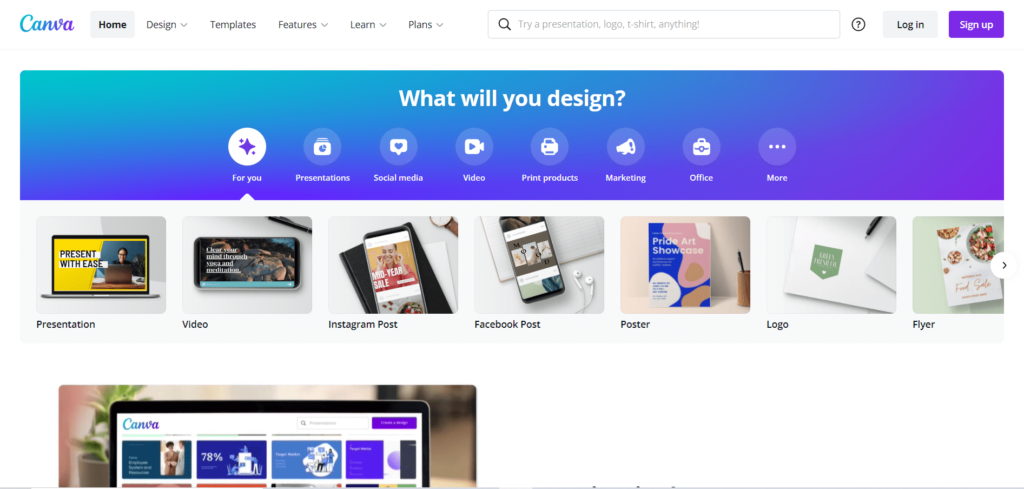 Canva is a DIY image editor. It's very easy to use and for the most part, free. It has millions of design templates you can customize to suit your visual and branding needs.
Just hop on to its website. Create an account and voila, you will have access to its resourceful and free professionally designed templates. The good news is that compared with another design program, this one is beginner-friendly. Every element of the graphics can easily be dragged, deleted, or replaced. And they also provide better options of shapes, font styles, colors, icons, etc.
Long-form content needs visuals to work better. But designing that visual doesn't have to take so much time and money. With Canva, the visual elements on your long-form content are ready in minutes.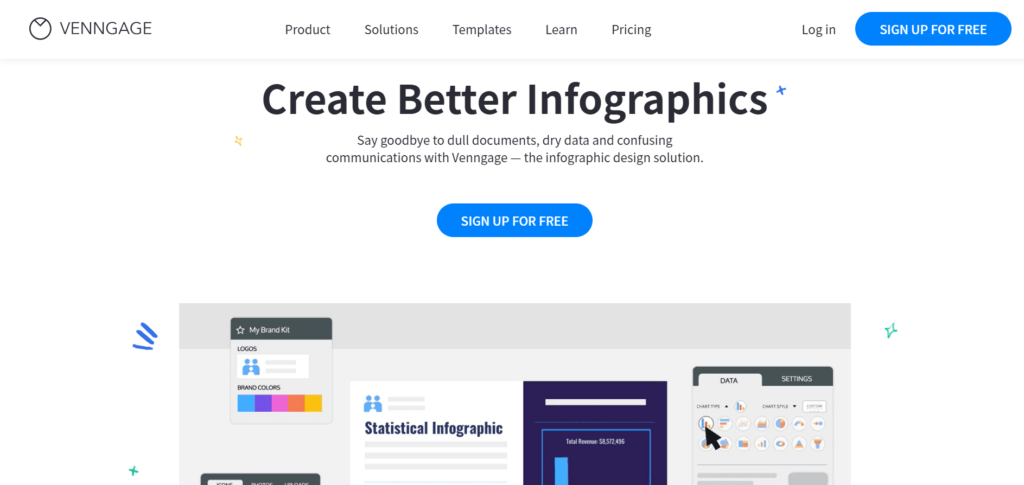 Venngage is famous for its infographics tool. It has thousands of infographic templates that are perfect for customization.
Venngage offers a paid and a free version. The free version lets you design up to five templates. For some, that's enough.
So here's how you design a template on Venngage. First, you need to create an account. Then pick whether you want infographics, reports, posters, promotional, or social media graphics.
Let's say you want an infographic, you'll be asked what kind of infographic. Is it statistical, informational, comparison, timeline, etc? Then upon choosing one, you'll be presented with hundreds of templates. From there, you can customize your chosen template and download the final product right away.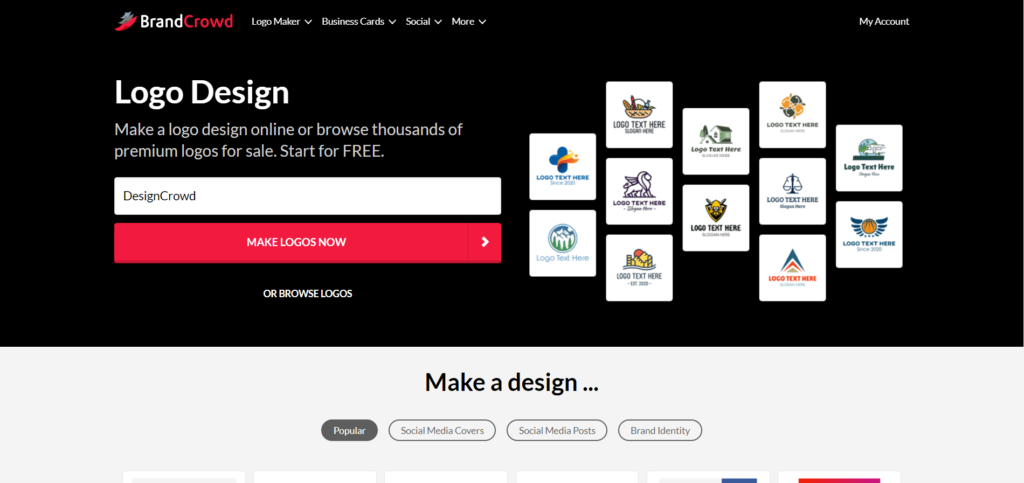 Long-form content needs pictures and graphics to communicate its points better than words. Pictures break the monotony that words and paragraphs bring. You can find these many visual elements on BrandCrowd's website.
BrandCrowd is a DIY design tool. Even better is that these designs are customizable. Beginners can easily tweak the shapes, size, colors, and placements of the design elements on its DIY tools. No design experience? No problem. Its DIY tools are beginner-friendly with a drag-and-drop interface. Not only can you find long-form content-friendly visual templates, you can also find the best-looking logo templates if you're just starting to brand your business. There are Facebook and Instagram logos, car and company logos, apart from high-quality animated visuals.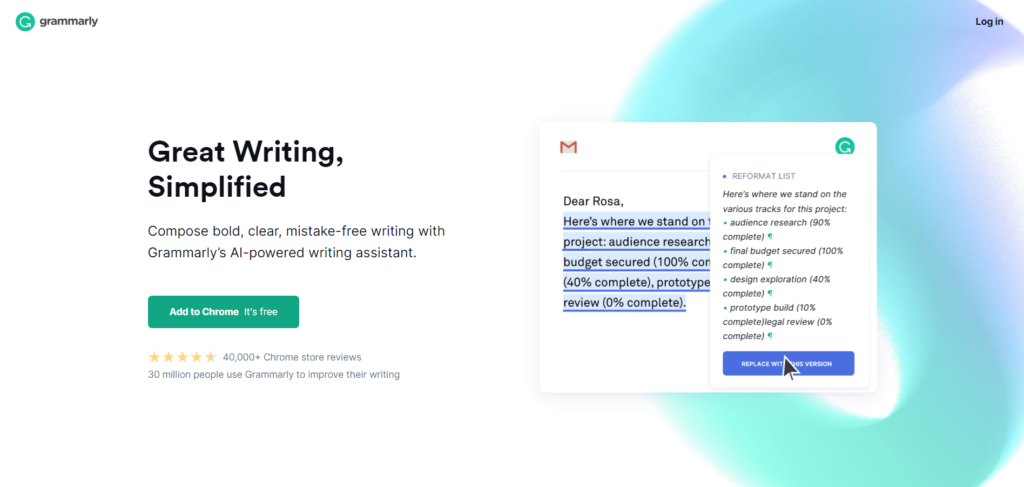 Long-form content should be free from grammatical errors. Otherwise, readers will mistrust the content and will view it as something not credible or inaccurate. Although it doesn't have to be grammatically perfect, it should be free from typical errors such as subject-verb agreement and awkward sentence structure.
To help you produce grammatically correct content, you can use Grammarly. It has a free and premium version. But for the most basic proofreading, the free version does the job.
You can either write on Grammarly directly or you can install Grammarly on your computer and some email clients. This way it can run through your content whether you're writing on Google Docs, email, or Word documents.
Read Codeless' full review on Grammarly here.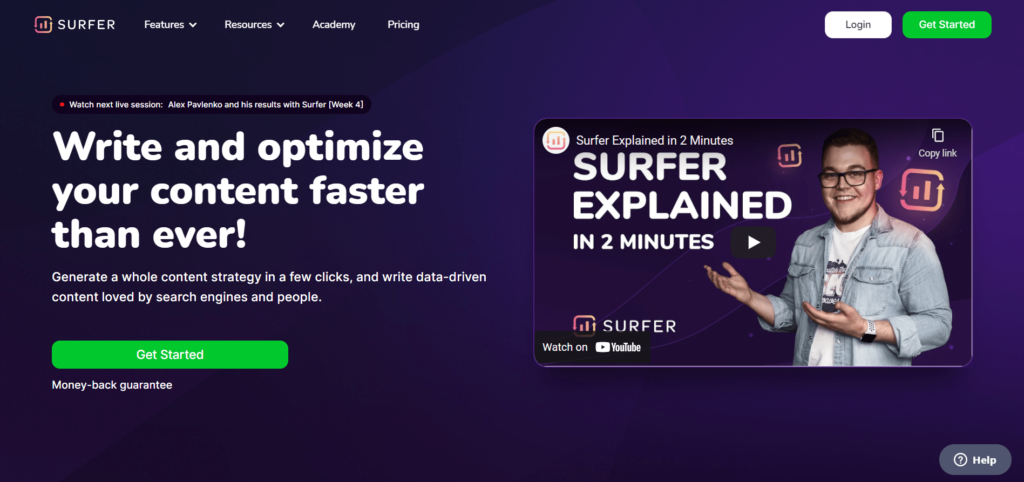 Surfer is your one-stop-shop for better-performing content. It's a content management system that lets you brainstorm content, create content, and even analyze content.
Surfer is not free. It offers three payment options. The cheapest is worth 49 dollars a month. But it gives you so many features such as content planning, content editing, and content auditing.
For content planning, it allows you to search for the best keywords and topics to use. Then, once you have a set of keywords and topics for the whole month, the content editor lets you create the content while looking at the readability, and SEO effectiveness of your draft. Lastly, with content auditing, you can see how your content is performing once it's published. You can also use content auditing on other existing content and blog pages.
Read Codeless' full review on Surfer here.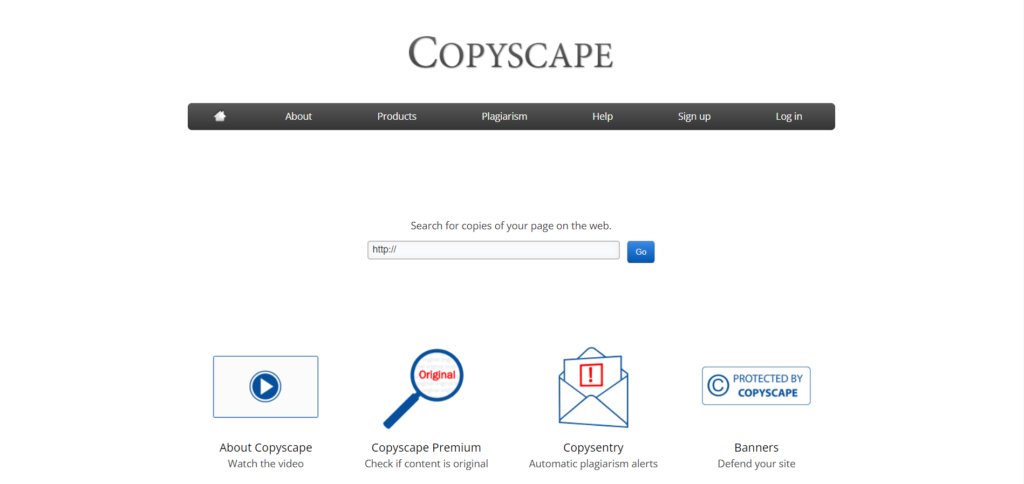 Copyscape is your best tool when it comes to detecting plagiarism in your content. Plagiarism is one of the most important things you should look for in your content because it damages your credibility and reputation. Not to mention, the original writers might ask you to take your content down, even if it's a small percentage of the content that's been plagiarized.
So in short, you should be careful when it comes to copying someone's thoughts on the internet. And make sure that you formulate your own words. Copyscape lets you see what sentences and paragraphs from your content appear on other websites. The free version allows three searches and three reports of content not more than 500 words.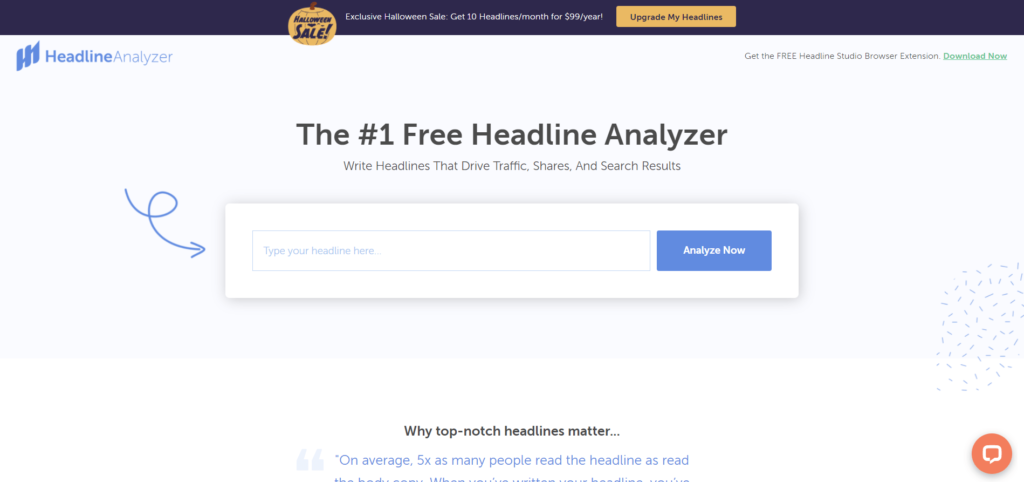 Long-form content needs a proper headline to perform better in search engines. Headlines that contain the keywords with enough power words and length can outdo those generic headlines with simple words and short constructions.
With Coschedule Headline Analyzer, you not only learn all this and more about proper headlines, you can also measure how good your headline is and how it can be improved. It will suggest adding or subtracting words. It can determine if it's the proper length. It can also tell you how it will perform in search engine results. You can see exactly how your headline will appear on search results.
It can also measure the overall emotion dominant on the headline. Is it more on the positive side or the negative side? Does it evoke a sense of happiness, gloom, desperation, or excitement? This will guide you to construct your headline better than usual.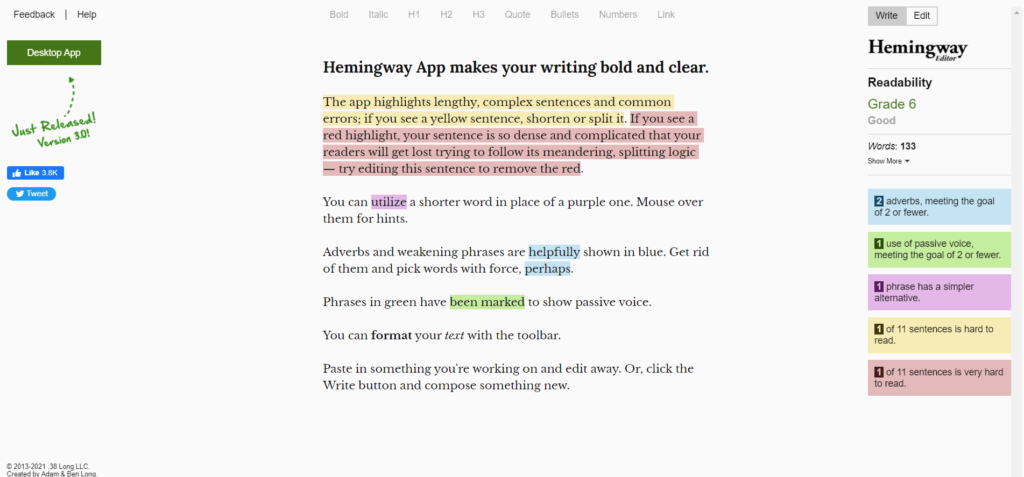 Hemingway Editor is a non-negotiable tool in the world of content marketing. Why? Because it promotes readability. In content marketing, those content that is easy to understand, with simpler words and shorter paragraphs, performs better in search engines. And Hemingway Editor lets you see exactly how readable your content is.
It provides information on the following: number of short sentences, number of difficult sentences to read, number of adverbs, and number of sentences with passive voice construction. These are the factors that simply differentiate readable articles from those that are skipped away from the vast pile of content.
Hemingway Editor is free. You don't even have to create an account. Just go to their website and paste your content. On the left side, it shows the information that you need such as the length and strength of your sentences. The sentences have been highlighted for you to easily spot and revise them.
Read how Hemingway compares to Grammarly here.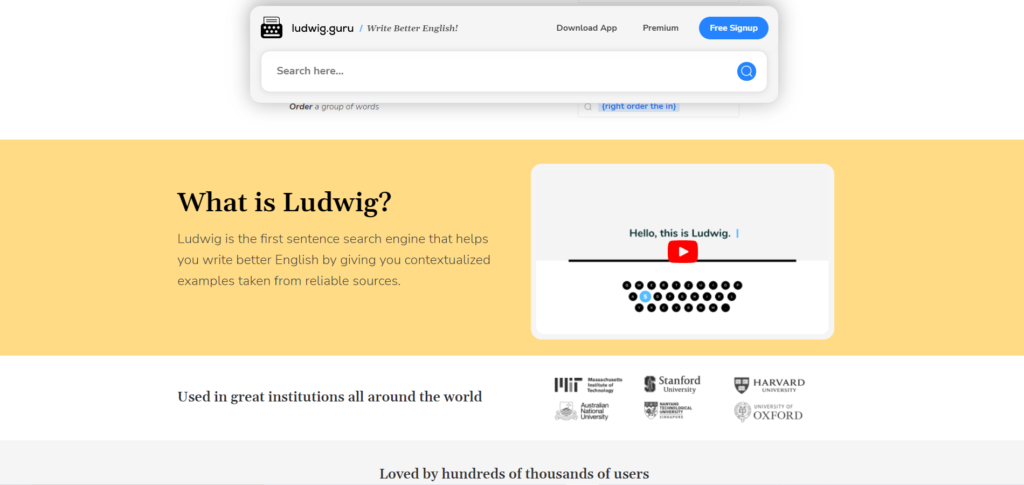 There are times when you don't know the exact words or phrase you want to say. So you will search for credible content that contains such words or phrases. But this process takes time.
Ludwig eases this process by letting you search its database. It will present a list of sentences that have the same construction, words, and phrases you're looking for. And they are all from credible websites and sources. For example, sentences containing "gets teary-eyed" from the New York Times, Washington Post, and Harvard Business Review.
This is the best tool for those who love to use idiomatic expressions and metaphors but are not quite sure about the word-for-word construction. You also might want to copy some of the sentence patterns if you are bored of your usual sentences. Because they come from credible sources, they're a good addition to your content.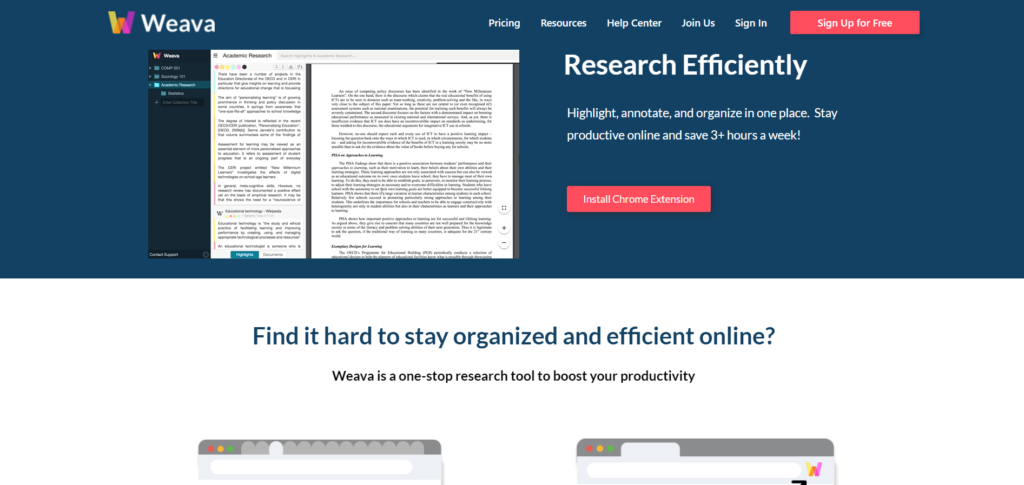 Researching is one of the most difficult parts of the content writing process. Because in this step, you will have to acquire the knowledge necessary first before you can communicate information through your content.
Research takes time because you will have to jump from website to website, consuming content here and there, and copy-pasting vital details. This can get a bit messy and overwhelming if you do it manually. So it's important that you use Weava. It's a research tool that allows you to organize the information you extracted from the content and even save the content itself in proper tabs and color arrangements.
Weava is free to use. The premium version, however, lets you invite people to collaborate with your account. But if you're planning on using the tool on your own, then the free version is enough. Weava is also available as a Chrome extension. So you can use its tools wherever websites you are.
This way, browsing through hundreds of information and keeping vital details from this ocean of content will not be difficult anymore. With Weave, the research process will be a whole lot easier, and therefore you'll produce a lot more content.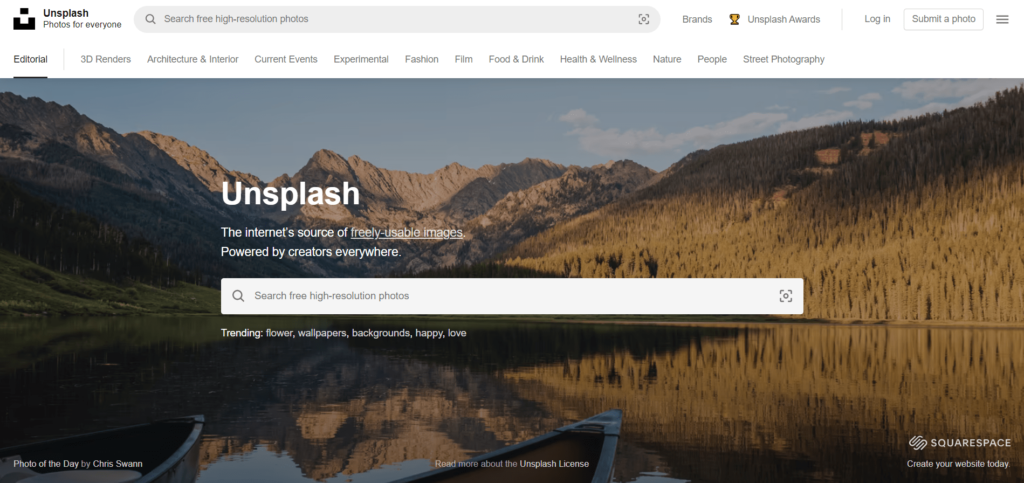 Long-form content is boring without images. If it's full of words and blocks of paragraphs, then it will bore the average reader. So to entice consumers to keep consuming your content, you will need to provide engaging visuals. This will also separate paragraphs and will allow the readers to rest while also being engaged in your content.
But high-quality pictures are hard to find. If not expensive, they have corresponding watermarks, hence they don't qualify to get posted on a blog. So where to find one? Unsplash is a stock image website that lets you search and download images for free.
They have high-quality images for all sorts of purposes. Photographers around the world, 265,000 in particular, upload their photos on the website. It has over 3.2 million photos.
Downloading is a breeze. Just click on the picture. And on the upper right side is where you'll see the "Download Free" button. Because it's a royalty-free site, you can use the watermarked-free images anywhere.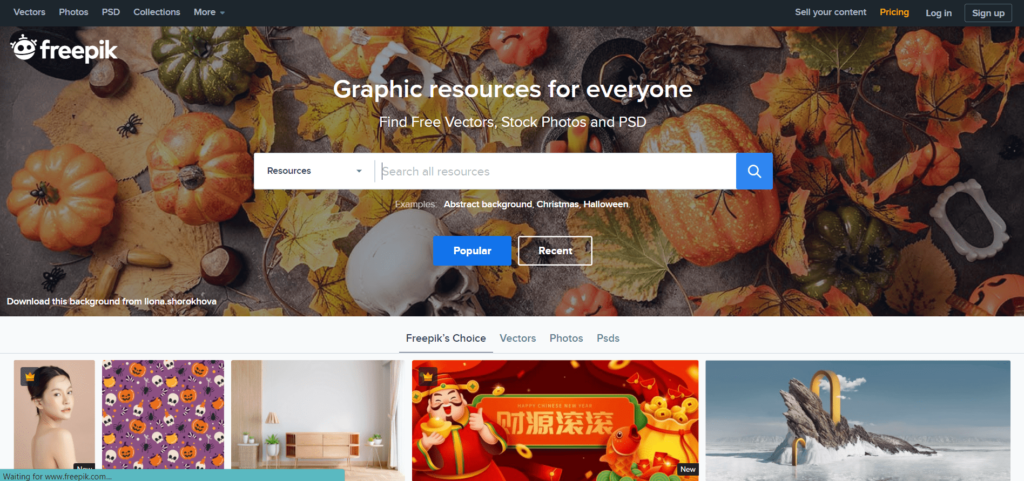 Freepik is another stock image website where you can source and download royalty-free and high-quality images. It has all types of photos such as vector and raster graphics. It has different icons and shapes suitable for your template designs.
Freepik is also free to use and download. You just have to create an account and from there, you can now download images for free. The website only asks you to include the source of the image on your website. This way, you shine the light on the photographer and his or her craft.

Creating stunning visuals for your long-form content has never been easier with Colorcinch! You don't have to be a pro to achieve amazing results.Colorcinch comes with a straightforward user interface that allows you to craft stunning designs with just a few clicks.
You'll get to enjoy the beauty of AI-powered photo effects and editing tools. You can transform any photo into personalized artwork. It comes with hundreds of specialty effects that are adjustable.You can fine-tune your images and make their colors pop as you adjust their clarity, exposure, color, etc. and play around with its incredible collection of graphics & icons, masks, overlays, and frames. It also comes with a text editor, drawing tools, and blend modes to further customize your photos.
Colorcinch is free -no sign-up is needed. Just upload your photo or choose from its library of stock images to start designing!
BeFunky is a free photo editor that gives users access to hundreds of effects they can't find anywhere else. From turning your photo into a cartoon to replacing colors in your images, you can do just about anything with the BeFunky editing tool.
High-quality photos can enrich the reader's experience because they trigger emotions, motivate learners, and improve comprehension. Plus, well-edited images can break up huge blocks of text, which make your long-form content easier to read. However, it can be hard to find stock images that suit your brand without a bit of editing. That's where BeFunky comes in.
Whether you want to do something easy, like crop photos, or something more complicated, like removing backgrounds from your pictures, BeFunky lets you do it with one click. You can even remove objects with their clone feature or retouch portraits with their portrait enhancer.
If you prefer to take original pictures with your iPhone or Android, download their app to gain access to the same tools. Their sophisticated editor works spectacularly, even on the go.
Final thoughts
If it doesn't help your long-form content perform better, I don't know what will. These tools are surefire ways to help you improve the process of content creation — from the planning to the analyzing of the published materials.
Every business aims to project a better brand identity. One of the ways you can build an effective online presence is by creating effective and valuable content, one that satisfies the reader's queries and curiosities. So use these tools. Tap on their technological game and insights and make your content marketing campaign delightfully easy.