The phrase "We eat with our eyes first" doesn't just apply to photos when it comes to restaurant marketing. Just as a powerful image will make customers' mouths drool, so will powerful content.
From your menu to your website and everywhere in between, focus on quality content writing for restaurants to attract new customers, turn them into regulars, and motivate them to recommend your restaurant to friends and family.
The article below looks at the basics of content writing for restaurants, including the what, where, why, and how. Let's get started!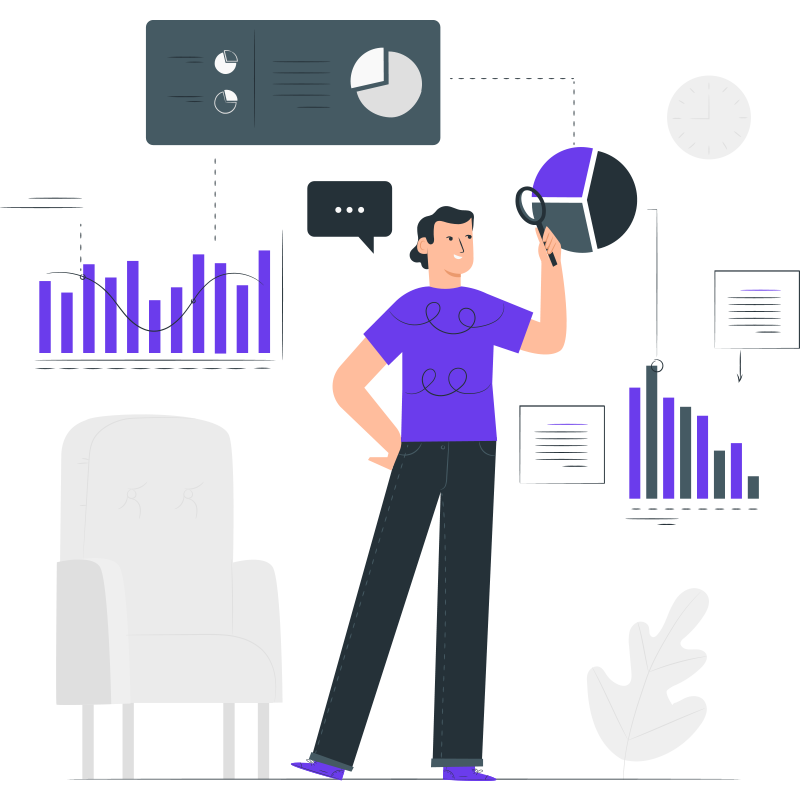 Get long-term ROI.
We help you grow through expertise, strategy, and the best content on the web.
3 main types of content writing for restaurants
As a restaurant owner, you can approach content writing from multiple directions. While the content you create must align with your brand voice, how you write depends on your target platform.
Here are three main platforms where you should focus on content writing for restaurants:
1. Menu writing
Your menu is what will convert visitors to customers. And a big part of that is the menu descriptions. The description should be more than a place where you list your ingredients. It should capture the customer's attention, incite hunger, and convince them to order.
Menu descriptions trigger 45% of the buying decision for specific dishes.
Use adjectives that focus on taste, smell, and texture when writing menu descriptions. Emphasize the dish's flavor and appearance. Together with a mouth-watering image, that menu item will convert.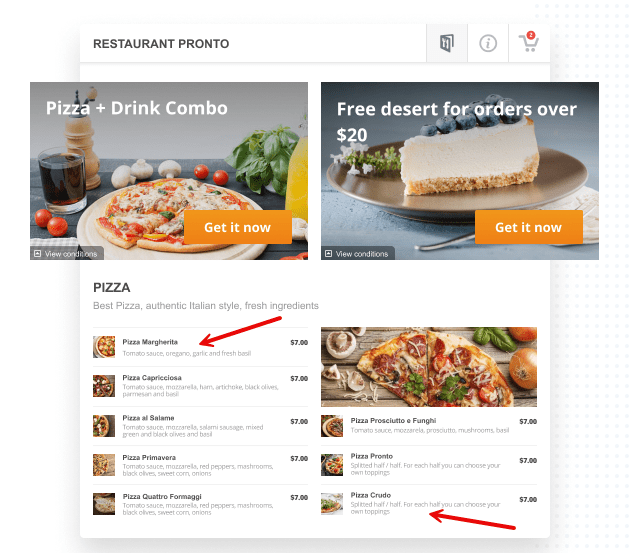 You can also use locations in your descriptions to suggest authenticity and quality or highlight the fact that this is a family recipe passed down from generation to generation.
Depending on your brand voice, you can also use humor and food puns in the names and descriptions of your dishes. Descriptions that stand out will position you in front of the competition while attracting new and returning customers.
2. Website content
Your restaurant website content will make the difference between a visitor who leaves the site in a few seconds and one who stays and becomes a loyal customer.
Start by including essential information that customers typically look for, and don't skip this step if you don't want customers to skip your website:
Address
Opening hours
Contact information (phone number, email)
Menu
Order button
Table reservation button
Delivery areas and fees
This information should be available at the customers' fingertips without them having to spend minutes looking for it. To create a website that converts, put the focus on the "Order" and "Table Reservation" buttons. Add them to the homepage header above the fold.
Once you've included this essential information, you can use content writing for restaurants to tell a story about your brand. Add an About Us section to the homepage where you say some words about your food, goals, and mission.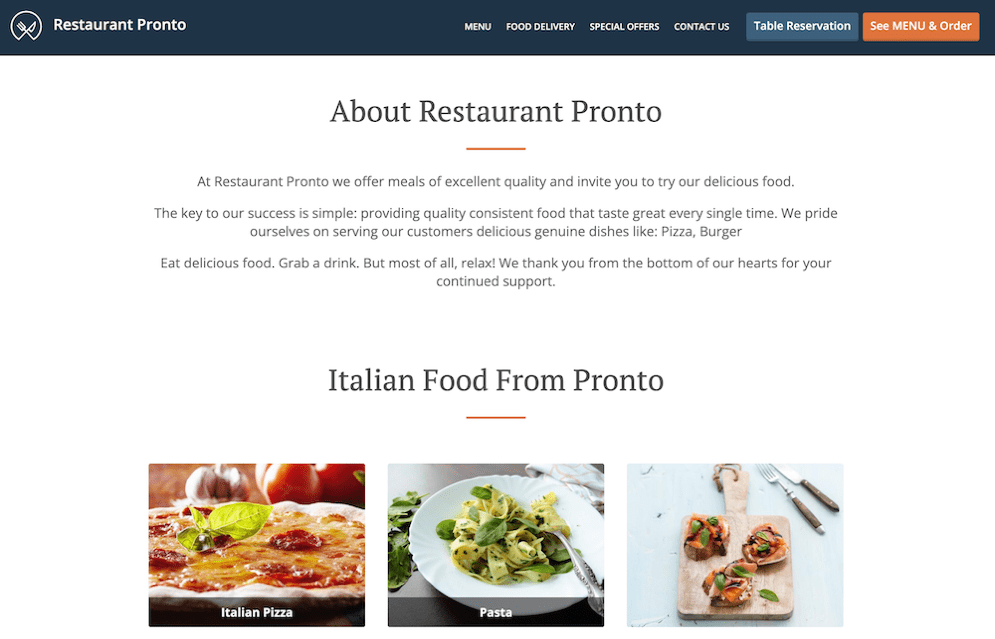 3. Blog
Finally, content writing for restaurants can also include opening a food blog where you can share your knowledge and expertise with customers who want to learn more about your dishes and cooking style.
While having a blog as a restaurant owner isn't mandatory to succeed, it can boost your website's rankings if you target low-difficulty keywords that are easy to rank for and write quality content.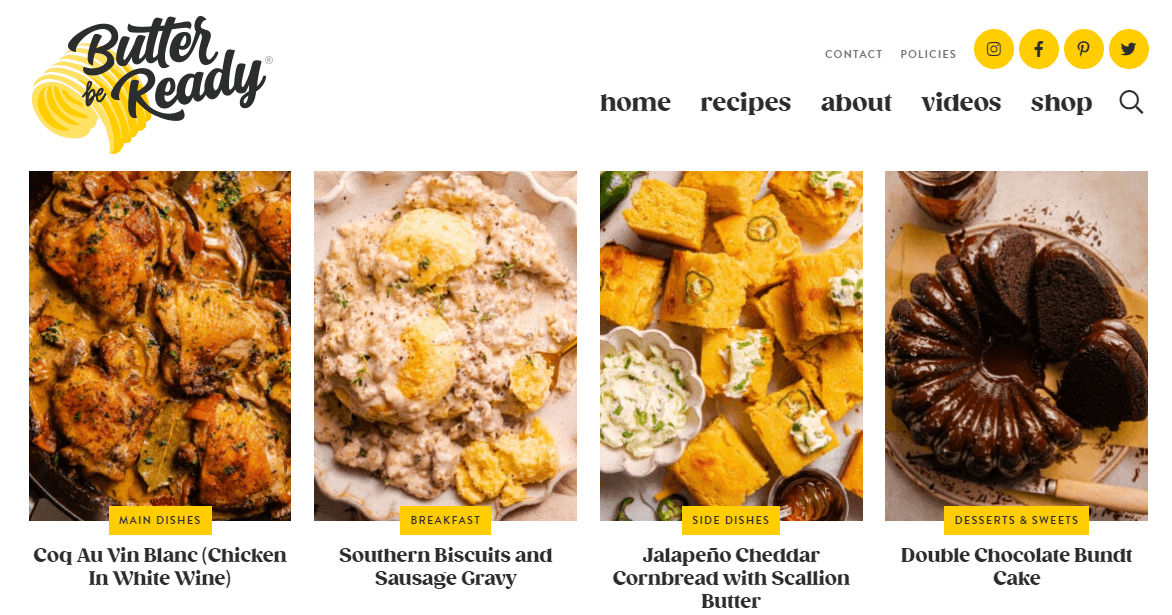 (Image Source: Butter Be Ready)
You can also use your blog to share your staple recipes, cooking tips from your chef, or cocktail-making tutorials from your bartender. A blog is also an excellent place to connect with your customers, announce new menu releases, and keep them posted on your plans.
5 benefits of content writing for restaurants
Now that you know how to prioritize ‌your content, let's look at some benefits you'll enjoy once you optimize your restaurant content.
1. Increases visibility in search engines
As a restaurant owner in the digital age, one of your main goals is to improve your restaurant's online visibility. That's a job for search engine optimization (SEO). Optimizing your content for search engines will boost your website's rankings, increasing clicks and conversions.
It's not enough to have a restaurant's website. You have to optimize its content for local searches if you want more people in your area to discover your business. Here's the secret recipe for restaurant keywords: cuisine + location.
For example, suppose you own an Ethiopian restaurant in Brooklyn, New York. In that case, you want to rank high for the following searches:
Ethiopian food Brooklyn, New York
Ethiopian restaurant Brooklyn, New York
Ethiopian food delivery Brooklyn, NY
Ethiopian takeaway Brooklyn, NY
If you optimize your website content to integrate these keywords and more, you increase the chances of showing up first in search engine results when customers Google this. This will signal search engines that you're a relevant result and increase your authority.
2. Builds brand authority and trustworthiness
Building upon the previous point, raising brand awareness and authority is a wonderful benefit of content writing for restaurants.
Having a well-designed website full of useful content and a menu drafted to convert will show customers you are a serious business that invests time and resources into gaining the customers' trust.
You'll also stand out from the competition, which is an especially useful advantage considering how competitive the restaurant industry is. Not every owner understands the importance of content writing for restaurants. If you do, you're already a step ahead.
Chef Stephanie Izard of Girl & the Goat, Chicago and Los Angeles, does a masterful job of updating content on her websites – each of which mirrors the unique feel of its hometown. In fact, TouchBistro.com named it one of the best restaurant websites of 2023 due to its streamlined menu.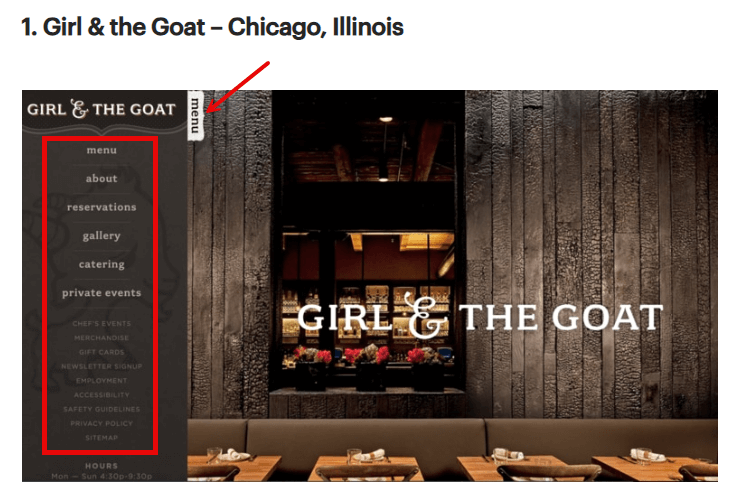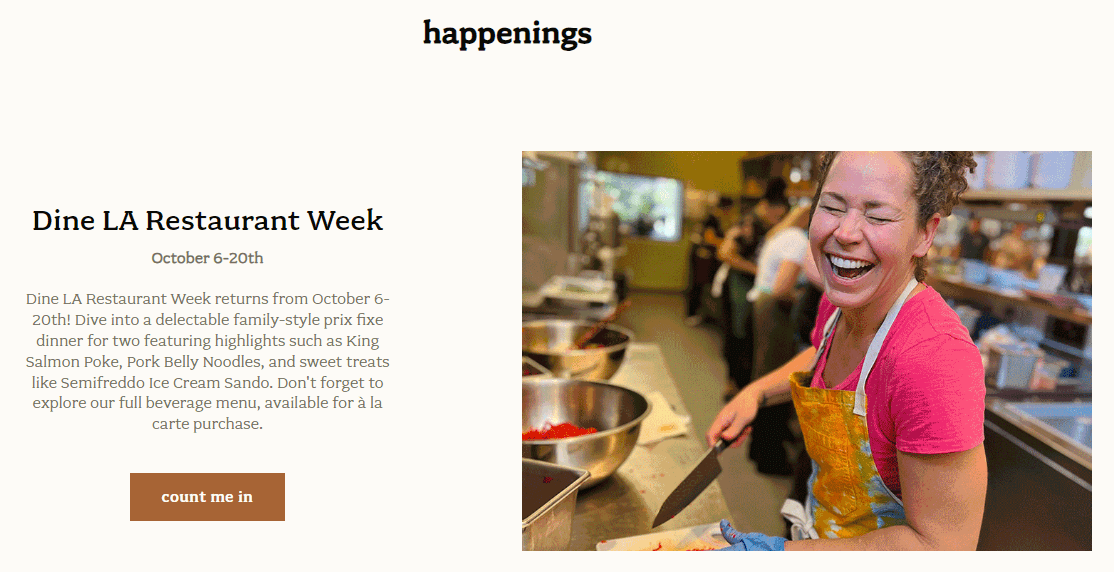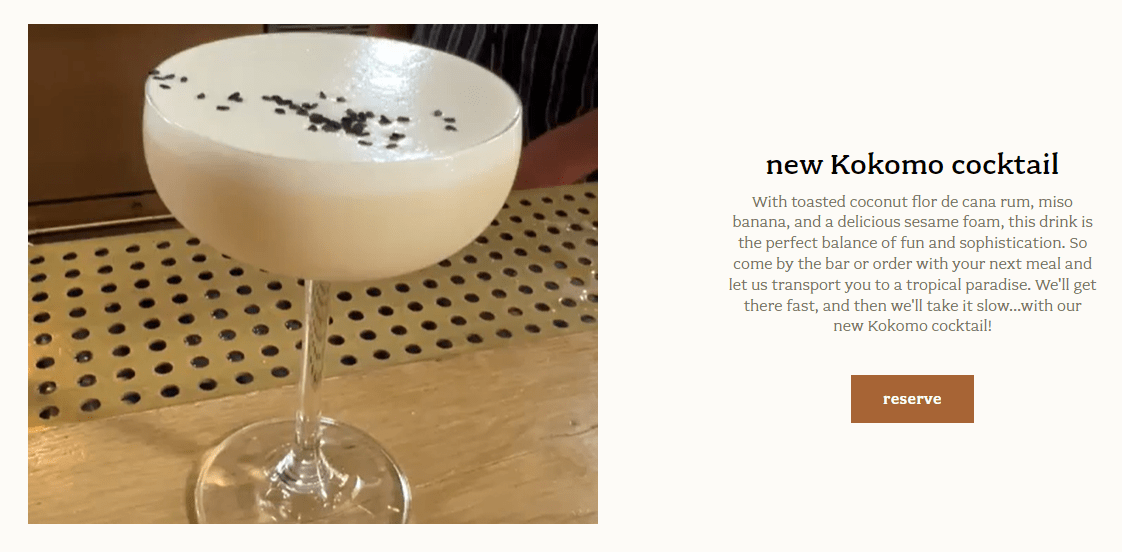 (Image Source: Girl & The Goat)
Constantly churning content on various platforms exposes your brand to a wider audience. Be present not only on your website but also on social media and review platforms. Girl & the Goat also does this exceptionally well, with over 38,000 followers.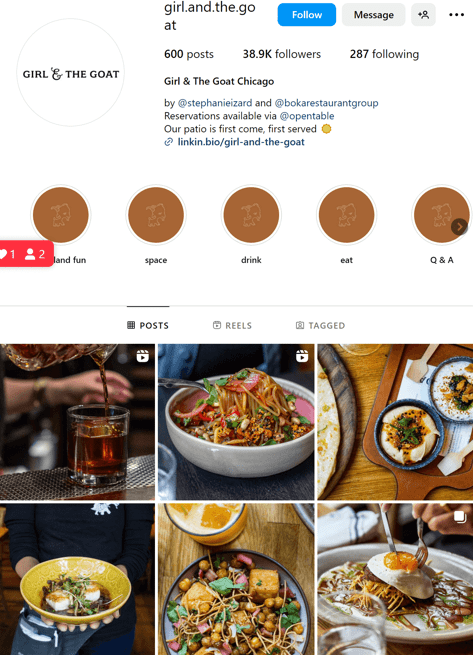 This will show potential customers that there's an actual person behind the brand. Not only that, but a person who engages with them, replies to their reviews, and tries to solve any complaints that may arise.
3. Helps you connect and engage with your audience
It's easy to feel disconnected from everyone in this technology-saturated age, especially from brands. But despite that, customers still want to feel close to brands they care about. So, use technology to your advantage to connect with them.
Keep your audience engaged by not just talking at them but talking to them. Communication is a two-way street. Ask questions, create polls, and encourage them to post about your restaurant and tag you on social media.
Are you thinking of releasing a new menu item? Why not ask their input on what they'd like to see on the menu? Better yet, allow them to choose the name of the new dish. The name with the most votes wins a free meal at your restaurant.
Interactive content can help you become more than a brand. Customers will engage with your posts, share them with their friends, and keep your restaurant on top of their minds whenever they decide where to eat.
Use content writing for restaurants to help your customers know you better. Share about the new green initiatives you've taken to reduce waste at your restaurant or the food bank run you've organized.
Customers want to support and root for brands that care about other people. Become an integral part of the community and share your successes on all platforms.
4. Enables you to share your knowledge
Your customers chose you for a reason. Whether that's just the good food or a combination of the food and customer service, you clearly have something to teach and give back to the community.
Use content writing to share what you know about making good food, mixing drinks, creating an appealing dining atmosphere, etc. This type of content is perfect for restaurant blogs.
You can also experiment with other types of content, such as video content. You can create a YouTube channel where you post a short video tutorial every week, sharing a must-know cooking tip.
Video content is all the rage right now. Just think of social media platforms like Instagram and TikTok. Ensure your restaurant has a presence there and post often. This will attract attention and increase the chances of others sharing your content.

(Image Source: Content Marketing Institute)
The benefit of platforms like TikTok is that people look for informative content in an easy-to-digest format that they can consume in seconds. This means you won't spend a lot of time creating content, especially since this is a platform where people appreciate authenticity. Just open your phone's camera, shoot, and post.
5. Increases conversions
Well-written content that addresses customers' pain points and answers their questions will convert mere visitors into customers and even repeat customers if you play your cards right.
Let's take a simple example: a restaurant promotion. How can you write content that'll make customers click on that promotion?
First, tell them precisely what they'll get. Otherwise, they won't give it a second look. Second, create urgency. Highlight that this is a limited-time promotion they should take advantage of before it disappears. Third, include a powerful call to action.
Here's an example: 15% off the entire menu only on Mother's Day. Order now to enjoy this limited offer!
To ensure as many people as possible see and take advantage of this promotion, add it to your restaurant's website and at the top of your menu so they can't miss it.
Now, let's say this promotion brought in five new customers. How are you going to convince them to place a second order? Using content writing for restaurants, of course.
Send them a second promotion that touches upon the same points: benefit, urgency, and call to action. Here's an example: Enjoy a 5% discount on your second order. Redeem it by September 30 to enjoy your favorite dishes again.
How to ace content writing for restaurants: 3 actionable tips
Before we go, we wanted to leave you with some tips and tricks on creating restaurant content that'll attract customers, increase engagement, and boost conversions.
1. Use sensory language
Sensory language refers to words that evoke the five senses: sight, taste, smell, sound, and touch. Naturally, when writing restaurant content, you want to focus on taste but also sight and smell.
Let's look at some adjectives you can use to help users experience these senses:
Taste: smoky, sour, creamy, savory, zesty, spicy, scrumptious, aromatic, fresh, fruity, nutty, tangy.
Sight: fluffy, gooey, smooth, succulent, caramelized, glazed, roasted.
Smell: citrusy, minty, peppery, rich.
Include these adjectives in the content writing on your website, menu, blog, or social media. They'll make customers crave your food, which is what you ultimately want.
2. Create irresistible calls to action
Focus your creative energy on calls to action, and you'll notice increased conversions. When writing a compelling call to action, keep it short, use the imperative, and generate urgency with a deadline.
From simple calls to action like "See MENU & Order" for your order button to banners on your website, CTAs are an integral part of restaurant marketing.
Use calls to action when launching a new menu item, advertising a limited promotion, or encouraging people to book tables online. Add a CTA in your social media bios inviting people to visit your website and include them in newsletters to increase the click-through rate.
3. Use storytelling to create authenticity
Storytelling is an excellent tool to make people feel closer to your brand. Don't be afraid to share your restaurant's story on your website and social media.
Are you an Italian living in New York who just opened a restaurant because they wanted to share their family's traditional Sicilian recipes with the world? People appreciate a good story, and they'll give your restaurant a vote of confidence if you show them you know good food.
You can bring that story to your menu with authentic dish names like "Nonna Giovanna's Traditional Pizza."
Conclusion
Content writing for restaurants can help you increase visibility, build authority, connect with the audience, share your knowledge, and increase conversions. Implement the tips above, and the results won't be far behind.