Building a lasting, collaborative relationship with your clients can be difficult. It is because they may not always have time to watch your work. They could be focusing on operational challenges and want to outsource the work. By showing that you know the industry well and have experience and using appropriate product surveys to understand your strengths, you'll show them why they should hire you.
Building a successful relationship is a two-way street. Both parties should add value and complement each other's strengths. These shouldn't always be strategic but more of a partnership that works for both.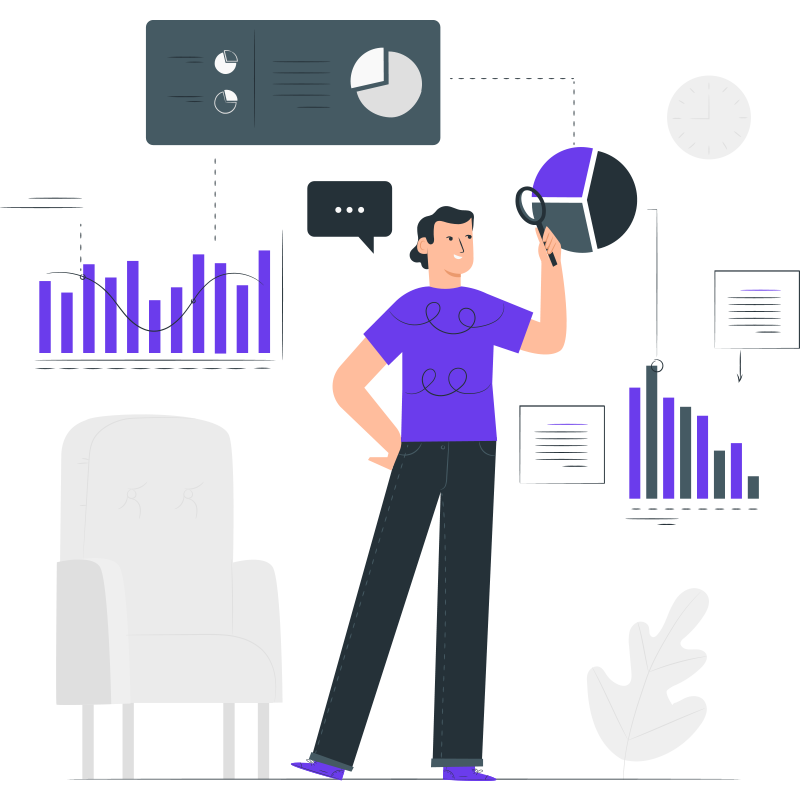 Get long-term ROI.
We help you grow through expertise, strategy, and the best content on the web.
Marketing Agency and Client Relationship — An Overview
The client and agency can grow with a strong relationship. This relationship involves internal and external stakeholders. So, there can be varying needs and expectations.
The relationship is a two-way street:
Agencies deliver results to the client
Clients provide quality work for agencies.
Net Promoter Score (NPS) is a powerful tool for improving relationships. How does this work?
Customers give a score from one to ten. These scores measure customer loyalty and help identify areas for improvement. You can locate low scorers to address issues before they become a problem.
Use NPS survey data to connect with promoters and passive audiences alike. They can share their thoughts about what went well in their experience. Further, they can share what they want to improve during your interactions.
The results will help guide future iterations of your business model. This can improve your customer service and satisfaction. If you want to keep your client happy and satisfied, ensure a feedback loop is in place. You will know their thoughts about your services and how they feel about working with you.
10 Ways to Strengthen the Relationship Between Marketing Agency and Client
A marketing agency and client relationship is an equal partnership. And as with any relationship, it requires work to maintain and strengthen.
Let us look at the ten best ways to improve your agency-client relationship without further ado.
Understand the Client's Business Objectives and Strategy
Help clients achieve their goals by understanding essential details. The most important ones are their objectives and strategies. You can create a strategic plan to achieve the goals with that information.
Doing this exercise will help you communicate with your clients better. You can use a standard document that outlines the primary objectives of each party. This way, all parties can keep track of progress.
This could include:
What do you want your customers, partners, and prospects to think about your brand? What do you want them to do?
Try recognizing their critical financial goals. Understand their sales targets and profit goals.
How will you pay back investors or cover overhead expenses?
Understanding their operational goals. How can you help improve organizational changes? What processes need to be changed?
Embrace Automation
Check projects and communicate with clients in real-time by automating processes. It also enables streamlining your workflow and reducing the need for manual intervention. You can use it for reporting, feedback, account management, and tracking progress.
The marketing reporting tools show the new campaigns' progress and ongoing campaigns' performance. It reflects how all the efforts will impact the business goal. It's good to rely on an automated reporting tool to ensure real-time progress updating. Automation will also help drop human error.
But tracking billing and finances can be tricky. An overdue payment can affect the client-agency relationship. Implementing an accounts receivable solution can help you automate tedious tasks. Clients and agencies both won't miss the bill and payment dates.
Define Communication Standards and Expectations.
To improve your relationship with your agency, you must listen to your clients actively. They will feel heard and understood. Ensure that you deliver on your promises.
For example, a client may expect an email response when you are traveling. It would be best to inform them in advance. By doing so, you forge a transparent relationship with them. This may make them feel secure about doing business with you.
It is essential to understand the communication style in any business relationship. You can define this by type, frequency, and medium.
For example: Communicating by phone is excellent for one-off messages or quick answers. But it often also allows for a deeper conversation or feedback loop. Communication via phone is more personal and allows for a more nuanced discussion.
Communicating through email is more professional but might take some time. A solution here is to schedule a call with stakeholders so you can iron out all the issues at once.
Schedule a Kickoff Meeting With the Client.
Keeping a pulse of what's happening in your client's world is essential. A kickoff meeting should be scheduled with new clients once they sign up for your services. This will get you closer to staying updated with your client.
This meeting should include everyone from both sides. It should be more than just the client's shareholders or account managers from the agency. Clients should involve everyone that contributes and knows the project well. Agency managers and executives should also be present. It can help them understand the client's business and its pain points.
Agencies spend approximately 20 hours/per week on marketing plans for every client. So the agency should take the time to learn about its client's business and culture. You will ensure a relationship of trust, respect, and mutual benefit from the start of the project.
Keep and Invest in Talent
Employee churn is a massive problem in the agency world. Employees leave an agency because of unrealistic expectations. They might also leave because of a poor employee onboarding process. Other reasons include a need for team engagement, training, mentoring, and growth opportunities. Losing performing employees can weaken the relationship with the client.
Finding talented employees takes a lot of work. So, keeping them is the best way to get impactful results for your clients.
To increase the employee retention rate, take feedback and act on it. To overcome the challenges of employees, agencies should invest in career advancement opportunities. Send them to industry events, provide employee training, and create workplace mentoring programs. Build leaders among your team for growth and crises. Experienced employees are more likely to serve clients in challenging situations better. Happy employees will deliver better results and strengthen client-agency relationships.
In addition, agencies can utilize a tool like Beamible to implement flexible working. By offering flexible schedules and remote work options, employees can achieve better work-life balance and feel more engaged in their roles. This, in turn, enhances their job satisfaction, productivity, and overall loyalty to the agency. Happy employees, supported by tools like Beamible, will deliver better results and strengthen client-agency relationships
Rely on Data and Not Gut Feelings
You may get carried away by emotions and instincts, but marketing is a numbers game. Focus on metrics that are crucial for the success of the marketing campaign. Avoid vanity metrics that don't add value to the business's growth.
Rely on data instead of gut feelings to strengthen your relationship with the client. When you use data, you can spot trends and areas of opportunity that may need to be clear to your client. Data allows you to be more confident and understand what is working and what isn't. Use the right tools to collect customer and business growth data. Mobile CRM systems, for example, can help you track customer interactions, manage leads, and analyze data on the go, providing valuable insights for strengthening client relationships and optimizing marketing campaigns.
Take action based on metrics such as
Cost per acquisition
Website conversion rate
Increase/drop in leads on money pages
Performing ad campaigns
Lead-to-customer conversion,
Multi-channel attribution
Build an Aligned Vision for the Future of the Company
You and your client should develop a shared vision for the future of their business. Also, discuss how they want to grow. Ensure the vision is clear to everyone involved in the decision-making process. This should also be clear to employees at every level of the organization.
This includes leaders and employees at all levels of seniority within the company. This understanding can help you develop strategies aligned with your client's goals. You can create content planning based on shared vision and business value. The content distribution plan should reflect the business value. Working towards the same goal will strengthen the relationship between you and your client.
Communicate Consistently
Consistent communication with clients is vital for a successful client-agency relationship. Getting distracted is easy, but you must focus on your clients and keep them informed of your work.
Maintain a system to keep everyone up-to-date. You may do this via email newsletters, blog posts, or social media announcements.
For example, always inform your clients about upcoming changes if you plan a new strategy. This will ensure they feel confident about the initiative. Here are some more ways to maintain an efficient communication path:
Use a CRM software to collect your clients' interactions in one place and optimize your workflow.
Use free project management software to keep track of your work for them Ensure that you're only working on something on their radar.
Use apps like Shift to avoid digital clutter and streamline email communication.
Send out weekly reports and client newsletters. It will help you stay updated with any recent developments. Also, keep your clients informed about what's going on with their projects.
Every stakeholder would need different information. As an agency, you need to make sure to provide information accordingly. Choosing the right person for the right information will reduce turnaround time.
Ask For Feedback From the Client
Marketing agencies should also execute client orders. They should be partners in a client's growth. Your clients need you to have their best interests at heart. This way, you can do everything possible to ensure their success.
If your client is not giving you active feedback, how can you enhance their experience?
You can ask your client to share any input necessary. This will show your dedication and that you're prepared to hear what they say, even if it's not positive.
Feedback can be taken in many ways. After submitting insights and reports, milestones are achieved on monthly or quarterly calls. Learning and growing with the client should be an ongoing loop to serve them better.
Look for Opportunities to Increase Value
You can always be generous with your time and expertise in your client relationship. You can look for new ways to add value to your client's business. Marketing agencies also provide strategic expertise to clients to improve their businesses.
Create interactive reporting templates for generating performance analysis of the project at hand. Please send these to the clients, keeping them aware of the progress. For instance, the average open rate for client reports is 54%. This is a noticeable increase in clients wanting to know about the campaigns.
Benefits of a Strong Agency Client Relationship
Helps with industry expertise
When an agency and a client come together, the client gets expert advice from the agency. Hiring agencies to help with marketing is beneficial to clients. It's because agencies have the right team of experts. Their technical know-how helps clients solve marketing problems and achieve their goals. This relationship also allows the agency to get recognition for its work. It also benefits them in growing their business through client word of mouth.
Brings in objectivity
Hiring an agency means you have an outside perspective on your marketing strategy. Businesses can leverage the agency's views since they know what works. As a marketing partner, an agency can offer objectivity in different areas. This includes marketing advice, strategic planning, and help with brand management decisions.
Helps scale marketing efforts
A company's budgets and lack of resources often limit them. Hiring an agency can allow companies to give more time to their core business. They can even focus on other aspects of the business, like product updates.
Also, agencies specialize in a specific area of marketing. They have in-depth knowledge of the subject. Their experience helps their clients achieve their marketing goals. This allows for a more well-rounded approach to online marketing. Clients can quickly reach more people and more of the right people.
Access to resources without hiring:
Onboarding an agency can save hiring costs. Businesses can also reduce training, development time, and retention expenses. An agency is a perfect partner for bringing in qualified professionals for a project. This way, you can provide high-quality work that aligns with your marketing plans. An agency is a perfect partner for bringing in qualified professionals for a project, allowing for efficient resource allocation.
Wrapping Up
As marketing professionals, you are improving business relationships with clients is always essential. It's challenging to foster a strong connection between your firm and your client. But developing strategies to achieve that goal will make you a better marketer. It will also give you the tools to ensure your agency shines.
Developing a strong and meaningful client-agency relationship can take time and effort. That's why it is crucial to be transparent with your client. Email updates and progress reports can help keep your client up to date on the project's progress. This will help build trust between you and your client. With communication and thorough dedication, you can create a mutually profitable relationship.