AI writing tools have taken the world by storm, and it's only a matter of time before they take over classrooms, too. Although we don't encourage cheating, we do believe that essay-writing apps can be extremely useful when you need to deliver a high-quality essay fast.
Writing assistants are fantastic for speedy research, ideation, writing, and grammar correction. They can help you turn your opinion into a convincing article in minutes by giving you relevant suggestions and a solid draft to build upon.
Let's take a closer look at six popular apps that write essays for you, or, at least, promise that.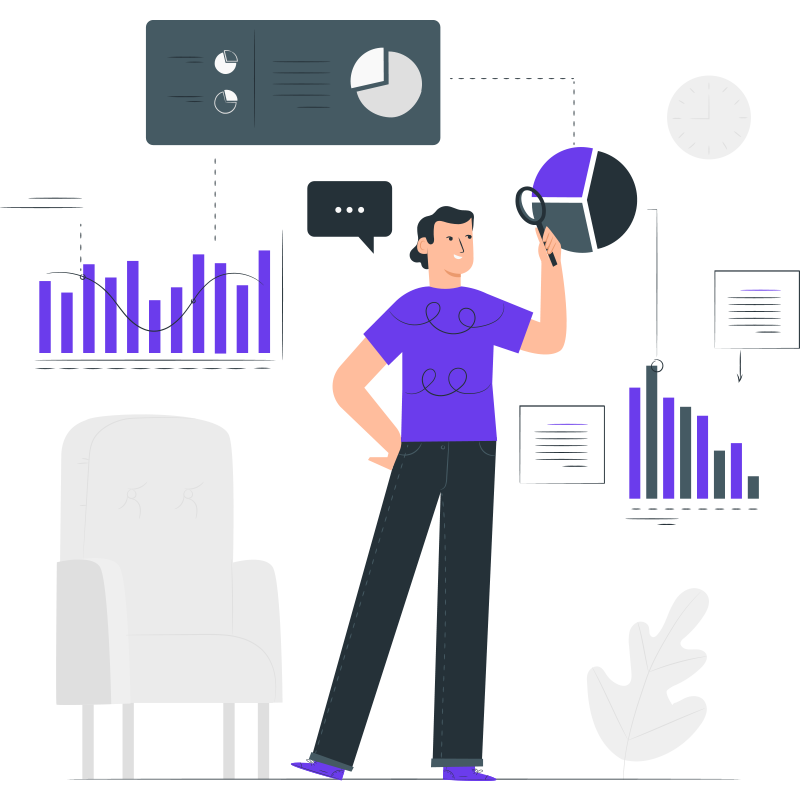 Get long-term ROI.
We help you grow through expertise, strategy, and the best content on the web.
TABLE OF CONTENTS
Publish Google Docs to your blog in 1-click
✅ Export in seconds (not hours) 
✅ Less VAs, interns, employees
✅ Save 6-100+ hours/week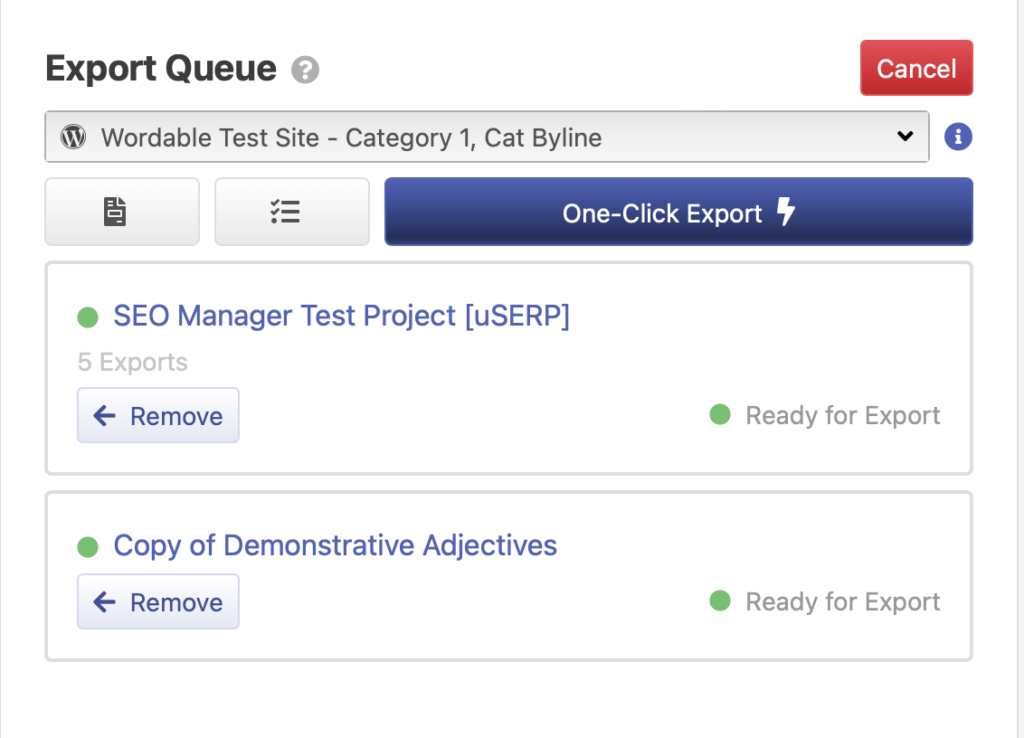 1. ChatGPT
You must have heard about ChatGPT by now — it's a conversational language model, which generates paragraphs of text in response to a user's prompts or questions. You can think of it as an AI-powered chat.
ChatGPT has been learning from the whole vastness of the internet, and it can tackle pretty much any essay topic. It remembers previous conversations and can give more precise answers as you feed it more facts. You can ask follow-up questions and rephrase your requests.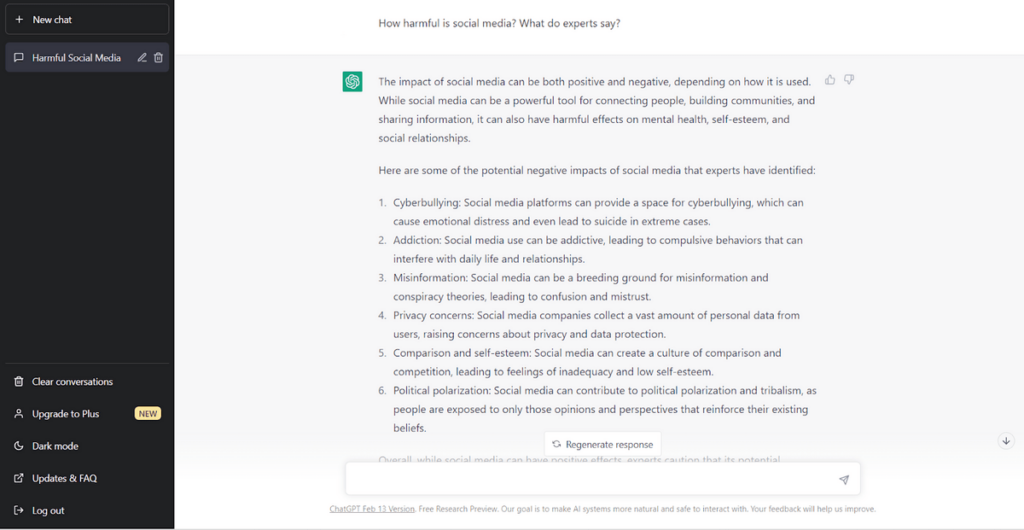 There are a few things to know:
ChatGPT has limited knowledge of the world and events after 2021. If you're writing an essay about an event that took place in 2022, this solution might be useless for you.
It does make occasional factual mistakes. ChatGPT is also pretty bad with names — for example, it can mistake one scientist for another just because they have the same last name.
ChatGPT reflects our accumulated knowledge as well as our collective biases and prejudices. As such, it can occasionally spit out harmful or even offensive content since the model is still learning.
The way ChatGPT writes can often be characterized as monotonous. Chances are, you'll still need to proofread and edit the whole text before submitting it.
ChatGPT doesn't allow you to control the outcome other than through your prompt. If you phrase your request too vaguely, the AI won't understand you or will provide you with a response too generic to be considered an essay.
ChatGPT has a free plan. However, AI output requires more computing power than a regular Google search, and, as a result, it's more costly. Also, ChatGPT often experiences outages due to high demand. To gain priority access and faster response times, you'll need to purchase ChatGPT Plus for $20 a month.
2. Jasper AI
Jasper AI is AI copywriting software created for marketers and businesses, but it can also be useful for personal writing purposes — think blog posts, scripts, and essays. The beauty of this tool is that it gives you various prompts and templates to speed up your writing.
With Jasper, you fully control the tone of voice and angle of your entire essay as well as its length and structure. You can also make Jasper use specific keywords in a natural way. Another incredible thing about this AI copywriter is that it knows over 29 languages and can generate visuals, too. The more specific you are with your content brief, the better the outcome will be.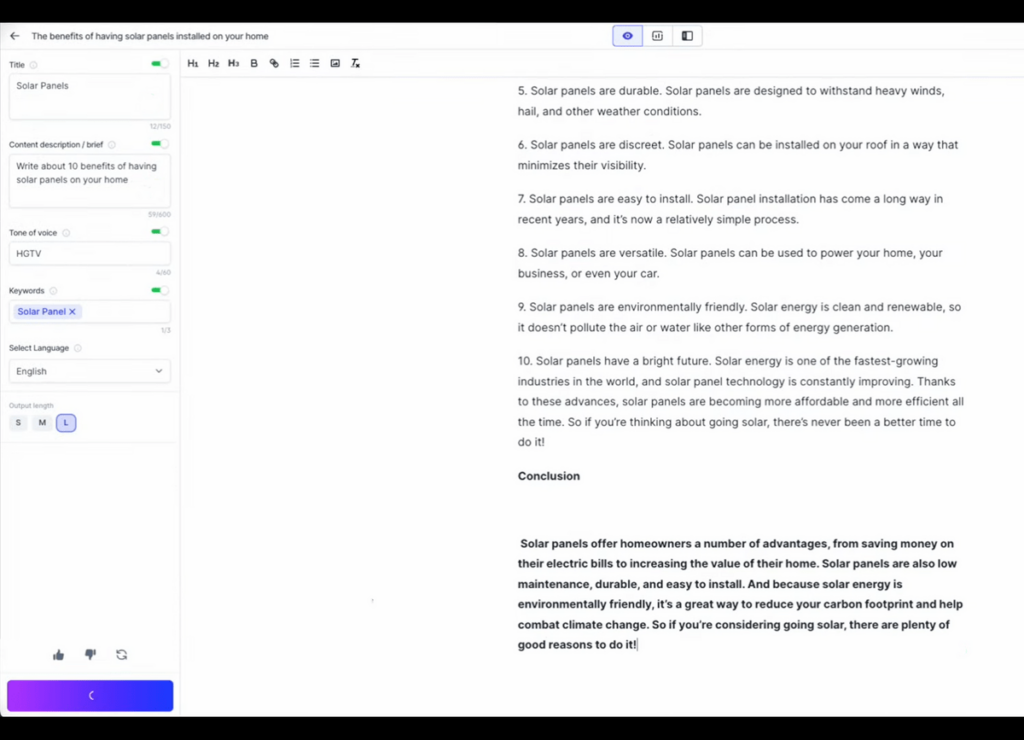 There are multiple ways in which Jasper AI can help you write better essays:
Jasper Chrome extension enables you to swiftly create witty captions and other short-form content, which can be extremely handy when you feel stuck and need to write a compelling opening or end your essay on a high note.
Jasper Chat is a conversational AI that can help you generate new ideas and expand upon existing ones.
Jasper Boss mode is a more advanced plan that allows you to generate old-form essays and other types of content in minutes. It offers a completely hands-off approach, but, as always, you'll need to evaluate results to make sure the final text isn't repetitive or filled with inaccuracies.
In general, this app is better suited for writing essays since it has a user-friendly interface and various levers allowing you to be in the driver's seat and give the AI writer clear commands.
On the flip side, Jasper AI isn't as knowledgeable as ChatGPT, although it uses the same technology. It also makes mistakes, so fact-checking is a must. ChatGPT takes a broader and more general approach, while Jasper is clearly geared toward content generation, which can be a plus in certain situations. However, Jasper won't fix your code or help you solve an equation.
Jasper AI offers a 5-day free trial, during which you can generate up to 10K words for free. Pricing plans start at $59 a month (billed monthly) for 50,000 words.
3. Speedwrite
Speedwrite is another AI-powered app that can write essays for students, marketers, creatives, and SEO experts at scale. This is more of a rewriting tool — you need to feed it a short example of what you want to write about, and it'll "predict" an original text based on that prompt. Most of the time, the output will be more voluminous than the input, but not always.
Every time you click "Predict" when using Speedwrite, it creates a unique, brand-new, university-level paragraph. The same can't be said about other AI writers — some of them can occasionally produce similar results or even reuse copy from other websites.
With Speedwrite, you're on the safe side when it comes to plagiarism checkers. However, even this tool isn't fully error-proof.

Here are other Speedwrite advantages:
It requires original thought. You can write a quick draft, paste it into Speedwrite, and let the AI do the legwork while also preserving the authenticity of your essay. Other AI writing apps work with shorter, less informative, and original prompts, which makes the quality suffer.
It's always up-to-date. Unlike ChatGPT, Speedwrite doesn't have timeline limitations. Therefore, it can write about yesterday's events and the newest gadgets, which can be very helpful for students.
It can fix grammar and punctuation mistakes as well as awkward wording. When you add your input to Speedwrite, the app rewrites and enriches it, turning your raw ideas and choppy sentences into a smooth, fluent, professional-looking text.
It's unique. The Speedwrite team claims that they use original technology that can intelligently interpret your input and create a meaningful, easy-to-read essay out of it.
That said, Speedwrite pales in comparison to Jasper AI because it writes only in English. However, it's much cheaper, so actual students can afford it. The tool costs $19.99 a month if you choose monthly billing. A long-term subscription can help you save up to 58%.
4. Essay
Essay is a powerful writing and editing tool that can help you dramatically improve the quality of your submissions without outsourcing all the work to AI completely. The software allows you to turn messy drafts into complete, logically structured essays and more.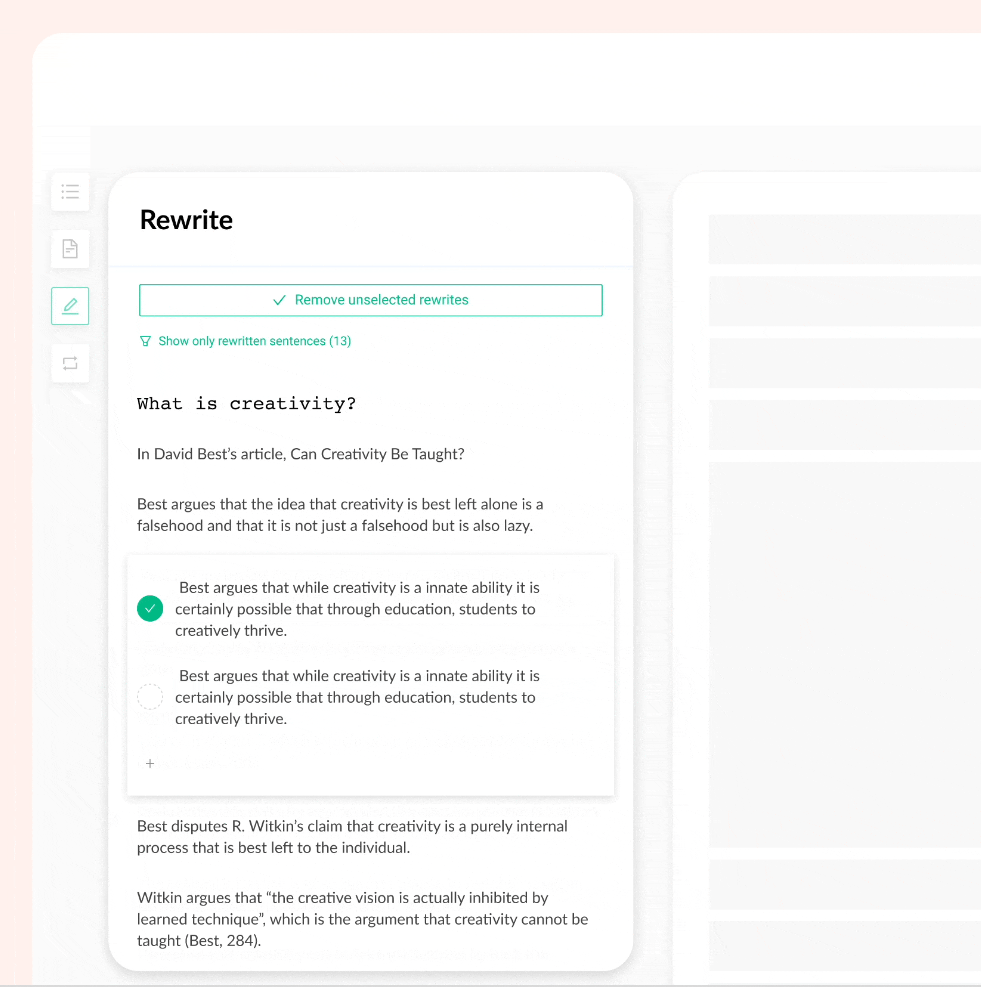 With Essay, you get to write and edit in a more visual way by moving paragraphs around. Here's how it works:
Build the blueprint of your essay in an intuitive text editor.
Start brainstorming. Make sure to capture your ideas without evaluating them.
Move on to editing. Play around with different sentence and headline versions to see which elements work better.
Drag and drop sentences or paragraphs of your essay to adjust or reinforce its structure.
Go through your essay section by section to identify gaps or weak points.
What's so unique about Essay is that, unlike AI tools, it doesn't hinder your creativity. Instead, it empowers you to become a more powerful communicator. It can be used for writing reports, memoirs, reviews, novels, short stories, and scientific journal articles.
Essay is a strong alternative to Grammarly, and it's well worth its money. You can use Essay for 14 days for free. Then, you can pick either a monthly subscription ($6 a month) or a yearly plan ($48 a year). You can also buy lifetime access to the tool for $249.
5. Smodin
Smodin is an AI tool created specifically with students and writers in mind, so it's less SEO-oriented than, say, Jasper AI. Smodin is an all-in-one tool — it's an AI writer, plagiarism and grammar checker, rewriter, multilingual translator, summarizer, and citation generator.
Firstly, let's take a look at what AI writing capabilities Smodin offers:
AI Essay Writer: Generates elegant, structured essays on any topic.
Research Paper Writer: Creates quality source-based articles, reviews, and technical blog posts with inline citations.
Article Writer: Produces diverse SEO-optimized pieces.
AI Grader: Provides feedback on your essay.
Author Mode: Writes context-based free-form pieces.
Deep Paraphrase: Refreshes and rearranges existing texts to make them more unique.
Naturally, you shouldn't use an AI-generated essay as is. Smodin may make factual mistakes, and its tone of voice may sound generic, but there's nothing a quick editing session can't fix.
Smodin also includes Omniscient, a built-in AI chat that can provide you with valuable and relevant information along with links to useful and trustworthy resources.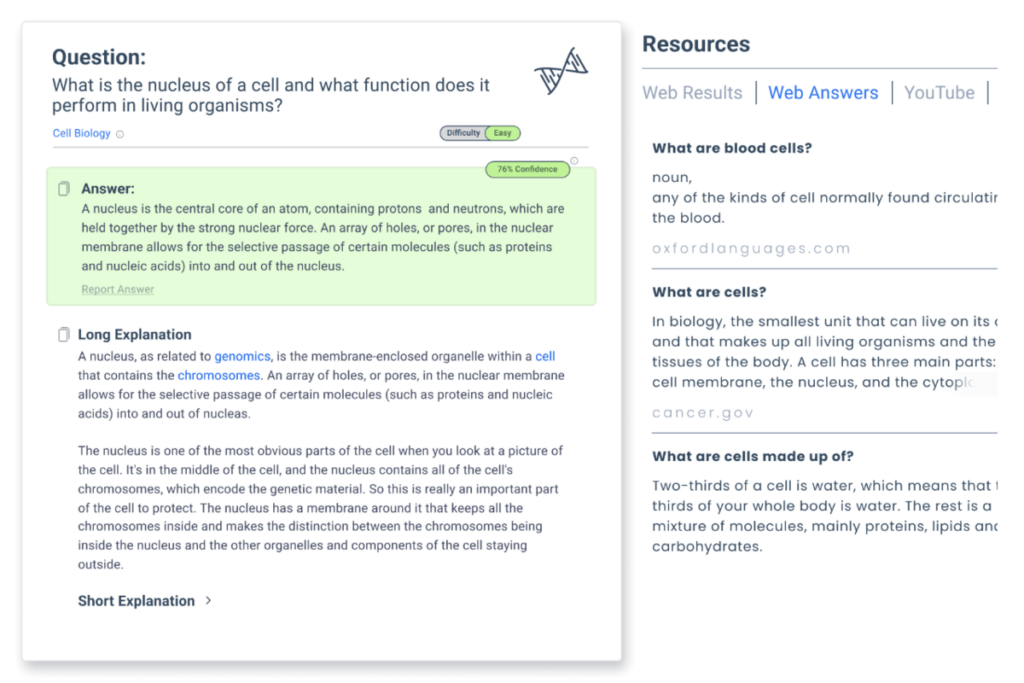 Smodin Omni is perfect for when you need to get your homework questions answered quickly. If you're learning on your own and there's no one to check your assignments, this feature can be life-saving. Smodin Omni supports Spanish, Portuguese, Italian, Russian, Arabic, German, French, Norwegian, and many other languages.
The software has a limited free plan. However, the Smodin team notes that the paid version is more accurate, so you shouldn't judge the quality of the tool too harshly if you're using the free version.
The Essentials plan costs $10 a month and includes 100 writing credits. The Productive plan costs $29 a month and includes 500 writing credits, access to long-form AI writing, and more. Paying annually gets you a 20% discount.
6. Copy.ai
We can't ignore Copy.ai. This is a potent content-creation tool that can also be useful for essayists, experts, and bloggers. The briefs, outlines, and drafts Copy.ai generates can be turned into valuable long-form pieces in minutes.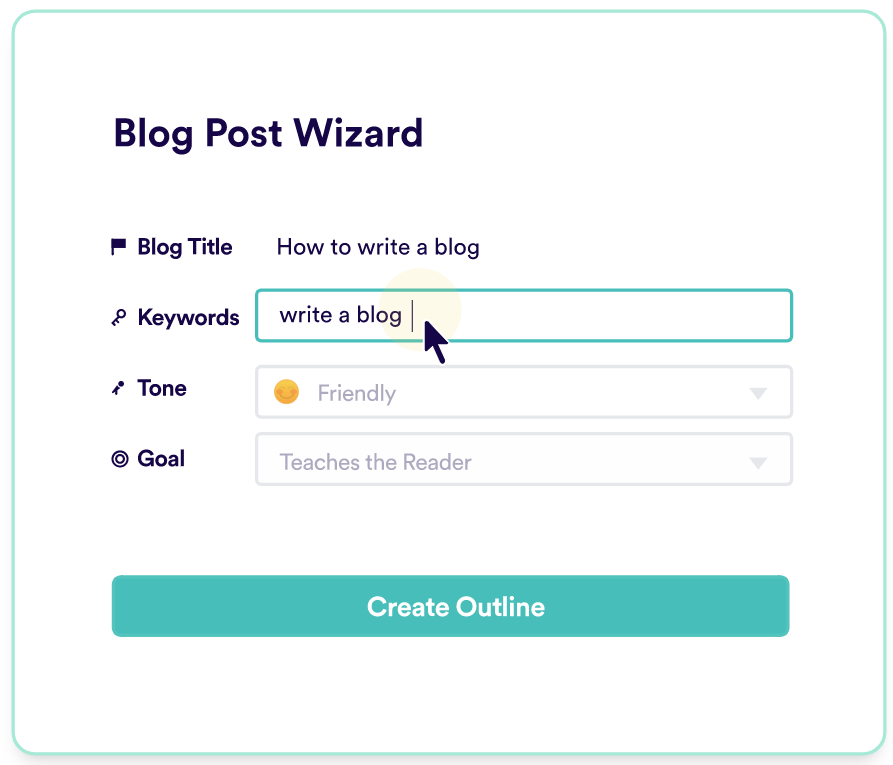 Here's how to approach the tool:
Name your essay or post and describe its tone and goals.
Specify your main talking points to fine-tune the AI-generated results.
Kick back and relax while AI is at work.
Edit, polish, and publish the finished piece.
Copy.ai can also be utilized for email communication and social media management, saving you hours of writing repetitive messages and witty captions. The service has a limited free plan. The second most affordable plan costs $36 a month (billed yearly).
Which essay writer app is the best?
The final verdict depends on your use case.
Are you blogging regularly and trying to monetize your expertise? Then, try Jasper or Copy.ai — both are perfect for creating engaging and SEO-friendly long-form pieces.
Are you writing academic essays? Essay.app may be your safest bet because it enables impeccable and speedy writing while preserving your individual style. For general research and brainstorming, you can rely on ChatGPT.
With that in mind, our personal favorite app-writing essay is Smodin — it's surprisingly feature-rich yet reasonably priced, which is a win-win for busy students.
If you're publishing your essays online, check out Wordable, an intuitive solution for getting publish-ready content in less than one day. Wordable instantly exports your Google Doc files to a WordPress, HubSpot, or Medium post or page. Marketers, publishers, writers, SaaS teams, and agencies use it to publish more and quicker — and so can you!