Without effective SEO and content optimization, businesses stand little to no chance of ranking in the SERPs.
An estimated 32.8% of SEO professionals rate "on-page elements" as the top ranking factor for content, while 24.6% say "depth and accuracy of content" is most important.
Without content optimization tools like Clearscope, businesses have no way of telling whether their content incorporates these factors and is good enough to rank.
While Clearscope is an excellent tool to help marketers increase organic traffic, it's far from the only player in the game.
Sure, it's a great tool with excellent features. But it's a bit on the pricey side, with the basic plan starting at $170 per month. This is expensive for most smaller businesses that don't produce much content.
In this article, we'll give you a list of five cheaper Clearscope alternatives you can consider to help improve your content — without breaking the bank.
Our Verdict
All of the below-mentioned SEO tools are great alternatives with many of the same features as Clearscope — but at lower costs.
Still on the fence? Read our full Surfer SEO and Frase reviews.
TABLE OF CONTENTS
1. Dashword
Dashword is great for content planning and briefs, offering many of the same features as Clearscope, including ease of use, great topic and content research, and more.
Ease of use
Dashword has a similar interface to Clearscope — clean and straightforward. After inserting your chosen keyword, you'll get a blank document with a content grade, readability level, and suggested keywords.
Your content and readability scores change as you start writing your content and include the suggested keywords. The goal is to get the scores as close to Dashword's recommended level as possible.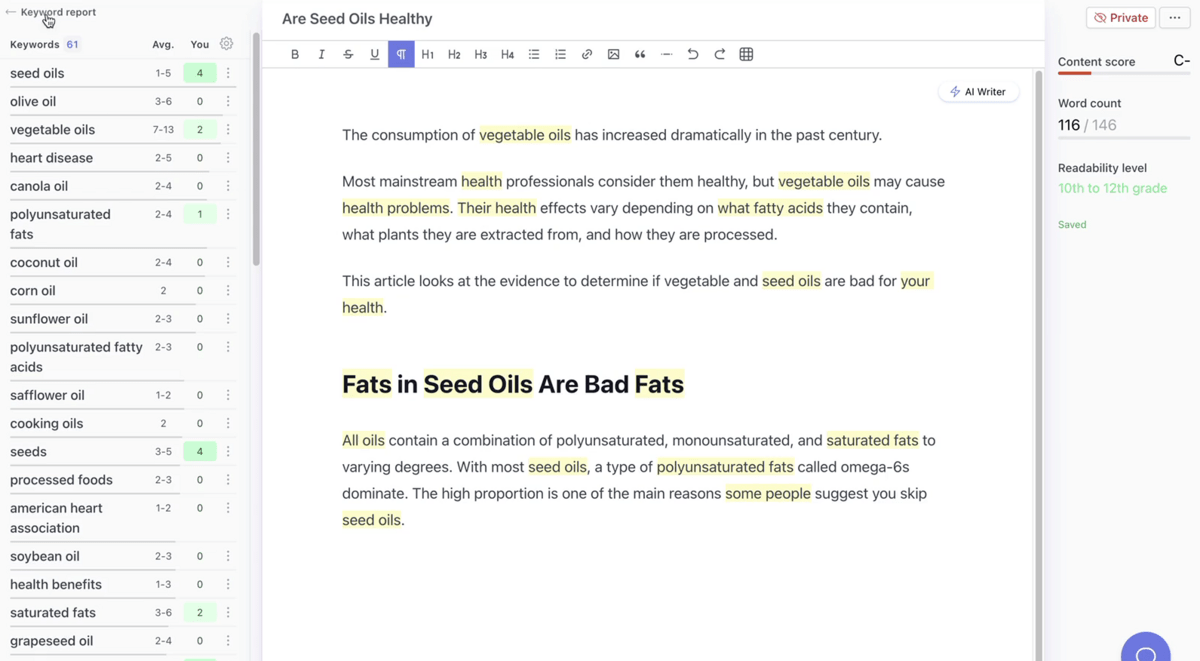 This simple-to-use interface makes it extremely easy to optimize your content for the best ranking potential.
Fast content research
With Dashword's content brief builder, you can create in-depth content briefs in half the time. Much like Clearscope, based on your chosen keyword, Dashword finds the top-ranking articles and puts them together for you in one place.
It also compiles a list of your topic's most frequently asked questions. This makes it easy to take content ideas from competitors and FAQs and include them in your outline so your writer has a clear idea of what the content piece needs to cover.
Price: Pricing starts at $99 per month for the Startup package, which includes 20 monthly content reports.
There's also a free trial available you can get without entering your credit card information.
2. Content Harmony
Content Harmony is an SEO platform that helps you create robust content briefs and optimize your content with its AI-driven topic model.
What's unique about Content Harmony is that it originally started as a content marketing and SEO agency. Rest assured, the people who built this tool know their way around SEO.
Here are some of the features it offers.
Keyword reports
The reporting feature fetches hundreds of data points to give you in-depth SERP analysis, so you know what content to create. In addition to giving top-ranking competitor articles and FAQs, the tool also provides information about search intent.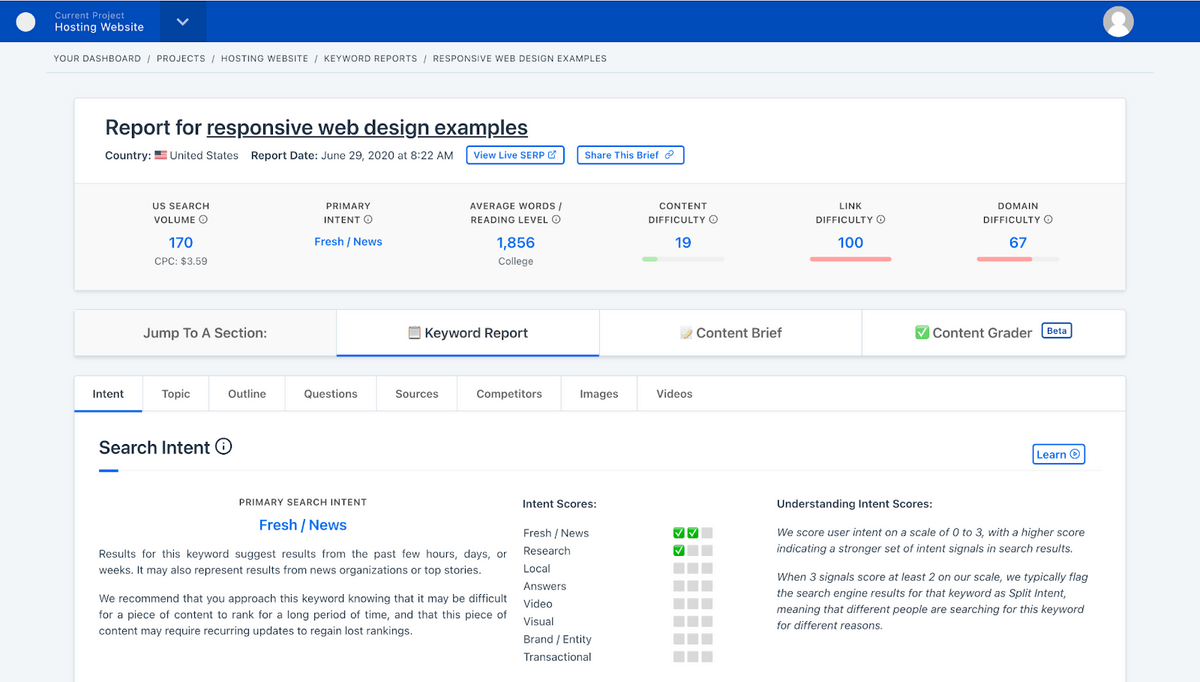 This way, you'll know why users search for a particular phrase so you can adjust your content to suit their needs. As a result, your content will be ultra-relevant to them and could inspire them to take action immediately.
Content workflow
Content Harmony also offers great collaboration opportunities since its content reports are discussion-based.
Subject-matter experts and SEO strategists can leave comments for your writers to follow. Briefs can be shared with clients, writers, and content team members to provide feedback.
Price: Content Harmony starts at $99 per month for the Standard package, which includes 12 content briefs and 50 search intent reports. Signing up on an annual basis earns you a 10% discount. You can get your first 10 briefs for $10 if you sign up for their free trial.
3. Surfer SEO
Surfer SEO is another excellent alternative considered to be even better than Clearcope regarding specific key features, such as its content score component, different language capabilities, and more.  
Content editor
Speaking of the tool's content score component, this feature is highly demanding — which may be annoying to your writer — but will certainly help your content rank better.
It provides numerous relevant terms to include in your articles, making them more likely to rank for several keywords. The editor also works in different languages, meaning it works well for local content pieces.

Plagiarism checker
Surfer SEO comes with a built-in plagiarism checker.
Whether you're producing AI-generated content or writing it yourself, this feature will ensure that your content is unique and avoids potential penalties. If plagiarism is detected, the tool will show you the sources so you can see which parts you need to edit.
Keyword research
Aside from providing you with great keyword suggestions, including organic search volume and keyword difficulty, the keyword research feature also allows you to discover relevant topic clusters.
This is a great way to shave off research time and fill your content calendar with valuable topics for months.
Price: Surfer SEO starts at $49 per month for the Basic plan, which includes 10 articles a month. You can also get the Pro plan for $119 per month, which includes 30 articles. If you pay annually instead of monthly, you'll receive a 17% discount.
Surfer doesn't offer a free trial. But you can get a full refund within seven days if the tool isn't for you.
4. Frase
Frase is great for optimizing on-page SEO and analyzing your content for the best results.
In addition to its paid features, Frase also offers various free tools you can use. For example, it offers a free AI generator tool to help generate short articles, a title generator tool to generate several title ideas for your articles, and much more.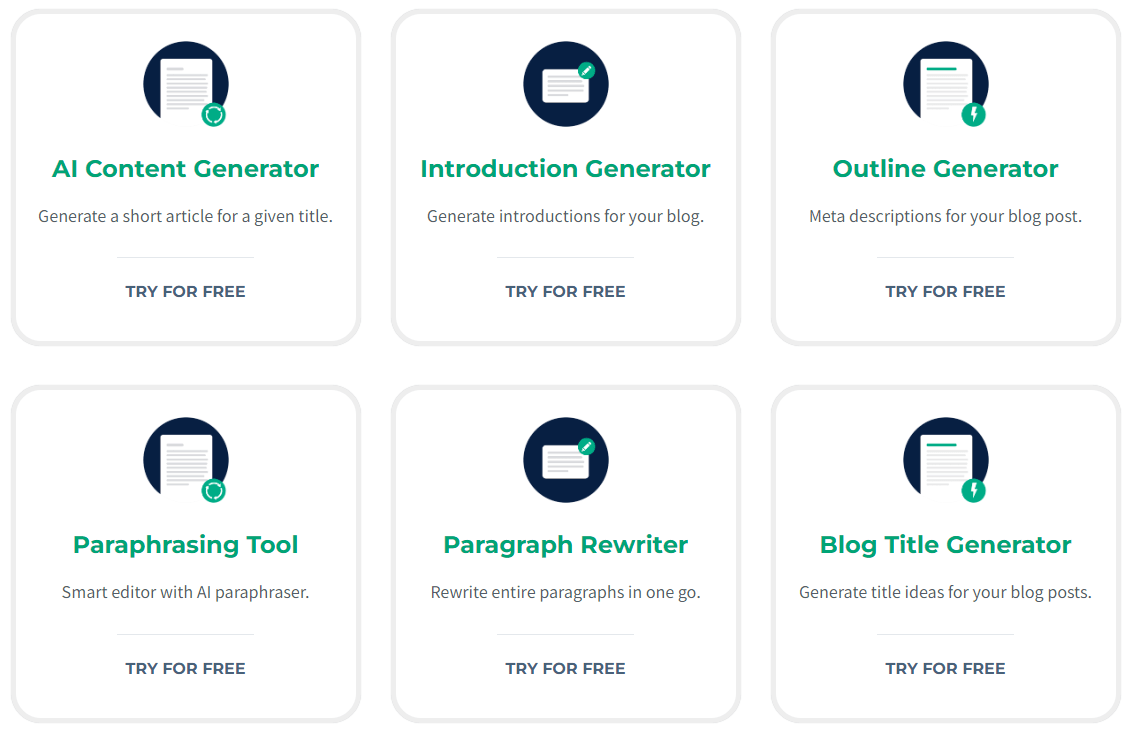 Some of its most notable paid features include:
Content optimization
Much like Clearscope, Frase also has a simple and clean interface that makes optimizing your content easy. Upon entering your target keyword, the tool gives you a SERP overview including competitor articles, H2s and H3s, and more.
The tool also gives you a list of long-tail keywords. Once you start adding them to your content, the score increases. The higher the score, the more likely the piece of content is to rank.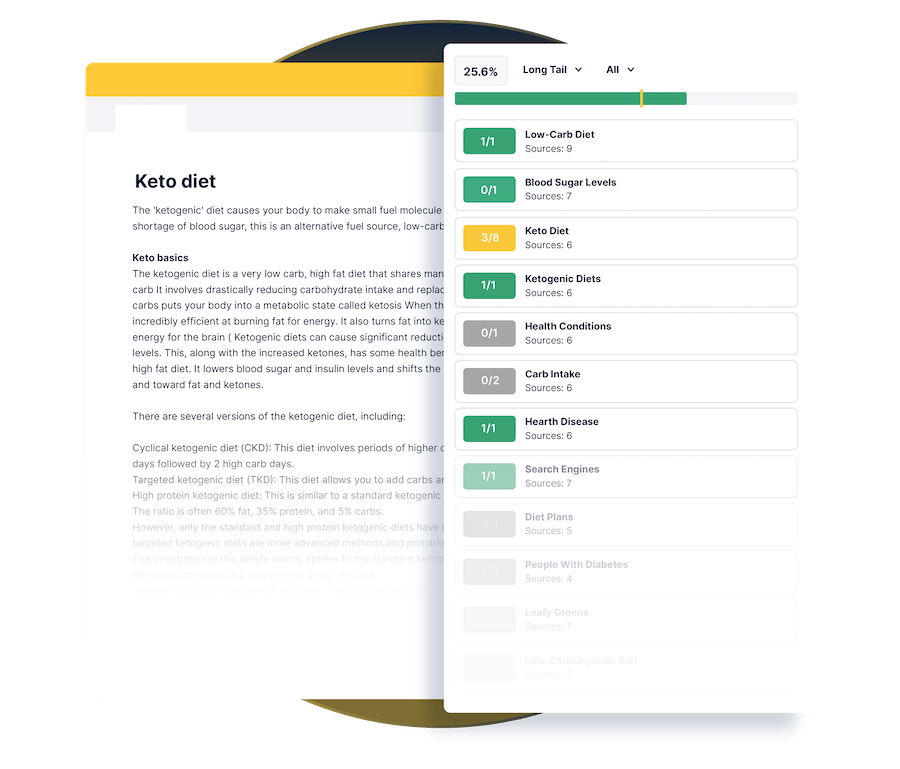 Content analytics
One stand out feature with Frase is its content analytics feature, which enables you to measure your content and identify pages needing a refresh.
This way, you can update content no longer ranking to ensure you're getting the best ROI from all your content.
Price: Frase starts at $14.99 per month for the Solo plan for four articles and $44.99 per month for the Basic plan for 30 articles. Team, their most expensive plan, costs $114.99 per month and offers unlimited articles. It's still considerably cheaper than Clearscope. Frase also offers a discounted price if you opt to pay annually.
5. GrowthBar
GrowthBar offers a full suite of tools — ranging from keyword research, AI writing, content grader, and much more.
Keyword research
GrowthBar's keyword research tool helps you plan your content roadmap with billions of keywords, including their difficulty scores and estimated revenue metrics. With this feature, you can also see your competitors' keywords, backlinks, and Google Ads.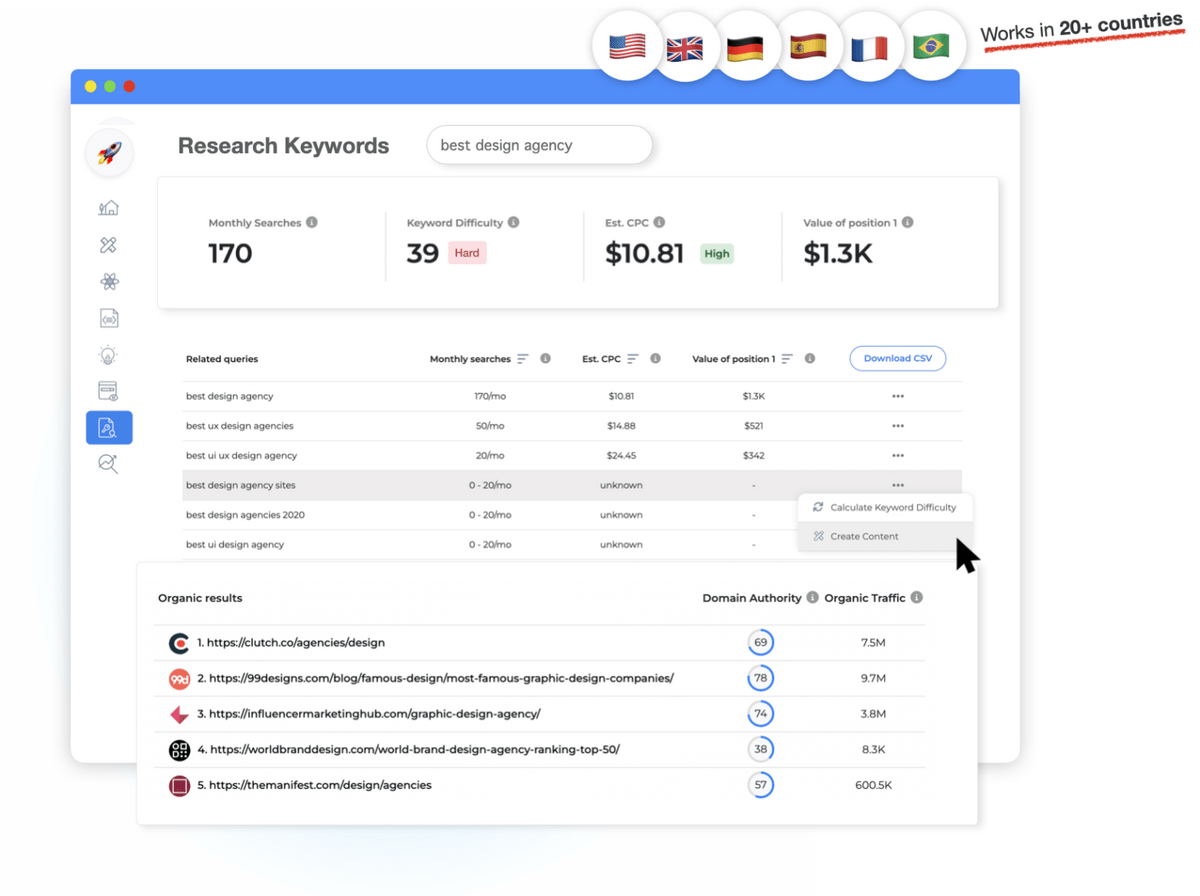 The Research Tool helps you find content gaps to direct your content strategy with what's already working on the web — for both paid and organic traffic.
On-page SEO audit
The on-page SEO audit tool will help you earn higher rankings by providing you with detailed information about top-ranking articles. This includes information such as optimal post length and image count, internal and external link counts, and much more. GrowthBar's AI even suggests internal links as you write.
Price: Starts at $48 per month when paid monthly. However, you can save more by switching to a yearly plan. There are also Pro and Agency packages available that are great for companies producing a lot of content for themselves or their clients.
Need help deciding on a Clearscope alternative?
All of the above-mentioned SEO tools are great alternatives with many of the same features as Clearscope — but at lower costs.
We've just scratched the surface of what these tools can do. Here's a quick recap:
Dashboard primarily focuses on content planning and briefs. It's simple to use and gives you solid SEO intelligence to differentiate your content.
Content Harmony's AI-driven topic model helps you build comprehensive content briefs and optimize your content for rankings.
Frase is a robust SEO tool offering features outside of the standard SEO suite. Its content analytics tool helps you measure the success of your posts.
Surfer SEO is excellent for breaking you out of writer's block and helping you create rank-worthy content with its content score tool.
GrowthBar is a feature-rich content suite with several tools to help you produce excellent copy and content outlines.
Still on the fence? Read our full Surfer SEO and Frase reviews.