As anyone who has ever tried to write a novel can tell you, it's not easy.
As a writer, you're not just concerned with writing. You have to deal with a wealth of related and even unrelated matters, too. In addition to taking notes and preparing outlines, you need reliable tools.
In these modern times, our pen and paper days are over, and you'll need to upgrade to match this new era.
One of these important tools is book writing and editing software. With decent software, you can create a smooth plot outline, take notes, collaborate on edits, write distraction-free, manage sections, store and backup, format, and so much more.
So, without further ado, let's check out some of 2022's best book editing software.
To head straight to the software that interests you most, click the links below:
Disclosure: These reviews are reader-supported. We might earn a small commission if you purchase something through our site. Learn more
Grammarly
Best All-Around
$11.66
/mo – before discount
PROS
86% out of 86% accuracy
16+ billion database
150k+ word limit
5 devlice limit
Includes plagiarism
1 hour response
CONS
Only supports English
More expensive ($11.66/mo)
Grammarly Premium Walkthrough Video
TABLE OF CONTENTS
Different types of book editing software
Five types of proofreading tools are available to professional authors, most of which can be useful. There are five of them, but they're used for different purposes. They check for spelling errors, grammar errors, and style errors.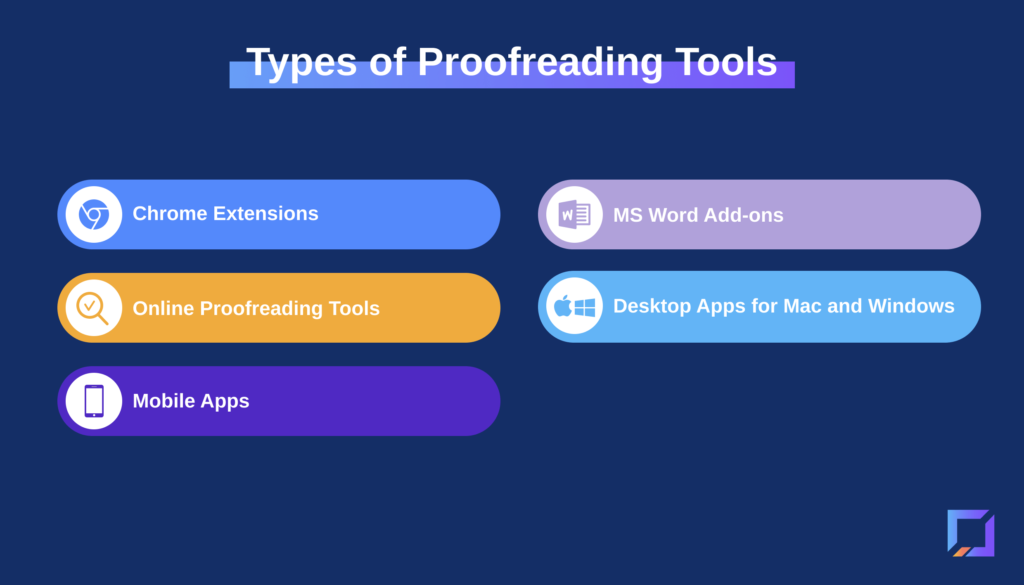 Chrome Extensions — These can be installed like any other browser extension, and they add grammar, spelling, and style checking tools directly to your browser.
Online Proofreading Tools — Free online proofreading tools let you paste a section of text into a simple input box and check it for grammar, spelling, and style.
Mobile Apps — These are keyboard extensions for smartphones and tablets that automatically check everything you send on your mobile device.
MS Word Add-ons — Writers who use MS Word can use proofreading add-ons to provide grammar and writing tips with their documents as they type.
Desktop Apps for Mac and Windows — Desktop proofreading software usually comes with a built-in word processing application designed for proofreading.
A good program for editing books will make sure there are no inconsistencies in tone and style, dialog tags, repetitions, and overused words. If you are like most new authors, you probably wrote your book in Microsoft Word. That's fine, but to really make your book shine, you need to focus on improving your writing through proper editing.
Before you send your manuscript to an editor, you're likely to save money if you improve your manuscript to the point where it's ready for submission.
So what choices do you have regarding good book editing software?
The best book editing software (8 tools reviewed)
As soon as writers have finished writing their books, they must fix what they consider to be perfect. This part is typically left to professional editors, but writers still have to go through the first draft several times before submitting it.
Throughout this guide, there are several different tools for book editing, including tips for grammar, spelling, readability, background information, and repetitiveness. Testing these apps and realizing that post-writing isn't as scary as you thought doesn't take very long at all.
But in order to save you some time and take the guesswork out of it, here are eight book editing software.
Grammarly
Grammarly is a top editing tool used by writers and authors in many genres.
Using this program will help you identify grammatical mistakes, typos, and accidental instances of plagiarism in your writing. A book can be pasted directly into Grammarly or alternatively, just use the Google Docs or Chrome plugin.

A new business version of Grammarly was recently launched with collaboration features, as well as a dedicated style guide. People who write non-fiction will particularly appreciate this update, as you can collaborate with others to write an ebook.
With Grammarly, you can use it with practically anything using plugins, add-ons, or dedicated apps for Android, iOS, Apple Mac, and Windows. Grammarly's main con is that it wasn't specifically designed for novelists, so you'll need to check each chapter separately if you use the desktop app. Even so, it still deserves your consideration.
ProWritingAid
ProWritingAid is a popular alternative to Grammarly for authors.
Like Grammarly, you can use this tool to examine your writing for typographical errors and grammatical mistakes. However, this software is more geared toward authors. Writers can also add custom words and character names to ProWritingAid's dictionary.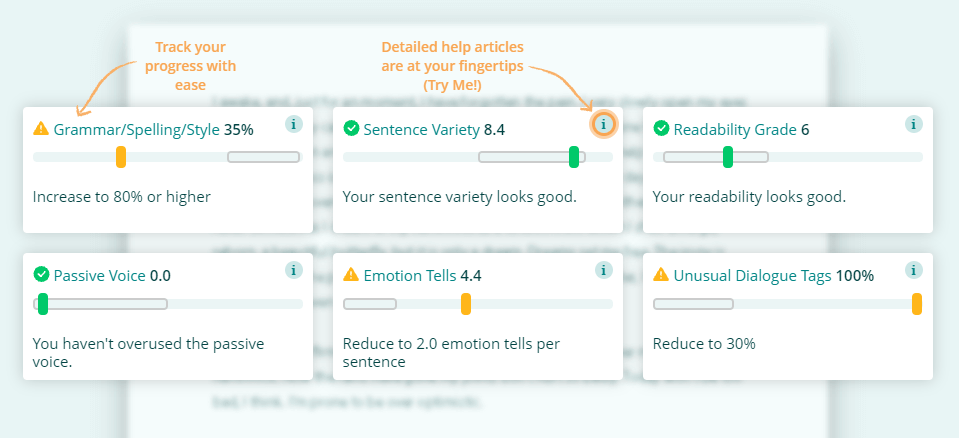 With ProWritingAid, you can improve the readability of your writing and help with sentence structure. With the free version, you can analyze up to 3,000 words. If you need more than that, you can always upgrade to the Premium account.
Writers who work in businesses can use ProWritingAid to create a style guide and share it with others to help keep the tone consistent within the business. It doesn't matter if you're a novelist or business writer, ProWritingAid can work for everyone.
Scrivener
If you write fiction or write for a business, Scrivener is another great tool to help with the editing process. Basically, you can use the app to check and edit all of your manuscripts.
Scrivener is a good choice for editing your book before hiring an editor. Individual chapters can be assigned a target word count and custom status, such as the first draft, read for a final edit, etc.

Also included is drag-and-drop functionality so you can move sections of your book around with ease. This makes it easier to identify at a glance whether individual parts of your manuscript are ready to be sent to editors.
For times when you want to work on a chapter without getting distracted, Scrivener includes a distraction-free mode. Essentially, it shows your manuscript and hides the desktop and notifications.
Scrivener has the advantage of being able to integrate with other editing tools, such as ProWritingAid and Grammarly. You'll have all the bases covered for writing and editing your book.
AutoCrit
With AutoCrit, you can improve readability without the help of a professional editor or proofreader.
Rather than being used for non-fiction, memoirs, or business writing, AutoCrit is more geared towards fiction writers specifically. And by comparing your manuscript to best-selling novels in your genre, it gives you suggestions about how to improve dialogue, word choice, repetition, etc.
Your results can be tailored based on the genre of the book, choosing from seven distinct categories, such as young adult, romance, and fantasy. Using its algorithms, AutoCrit analyzes your copy to provide you with relevant feedback.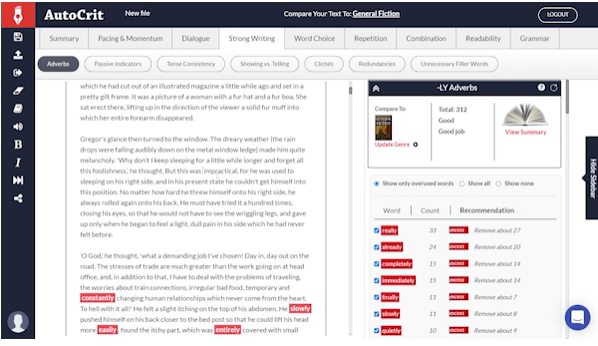 When you run reports on your writings, these writing software reports can also be run again. AutoCrit's feedback provides step-by-step suggestions for improving your writing and resolving errors across multiple topics, going beyond just editing.
To make the writing process easier, you can also use the thesaurus tool in the menu bar of the document to see alternative options and automatically replace one word with another.
Regardless of the genre of your manuscript, AutoCrit also provides writing coaches to help you polish your manuscript's flow and quality.
Hemingway Editor
Many writers love the Hemingway Editor because it's a free application with many features. When you're a struggling writer, you'll take any free assistance you can get.
Although it's not really a grammar checker, it does a good job as a style checker. First, you'll need to visit Hemingway's website in order to see its free online version.
Shortly thereafter, you'll be treated to Hemingway's simple and minimalist user interface. Once you have the app open, you can either enter type or paste text from another source into it.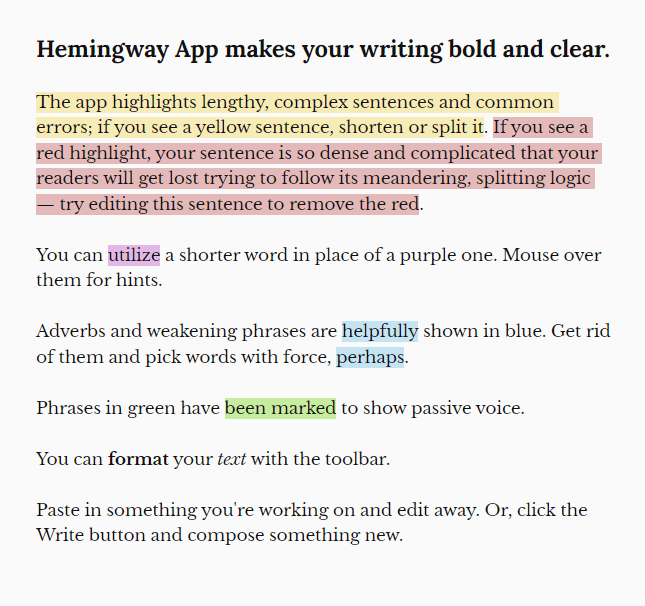 Once you've finished, the Hemingway Editor marks sections in a variety of colors to indicate areas that need improvement. Each color represents a specific suggestion or error.
However, one downside is that the app doesn't guarantee that its insights will always be accurate. In making final decisions, rely on your writer's intuition while taking the editor's advice into account.
The plus side is that you can improve your writing by finding weaknesses through a free program that does a fairly decent job.
Vellum
Using Vellum, authors can turn their manuscripts into Apple, Kobo, and Kindle ebooks as well as print books.
The interface of Vellum is relatively straightforward compared to other more complicated software that requires a great deal of knowledge and skill to use. The program can format entire books in an hour or two just by dragging and dropping chapters.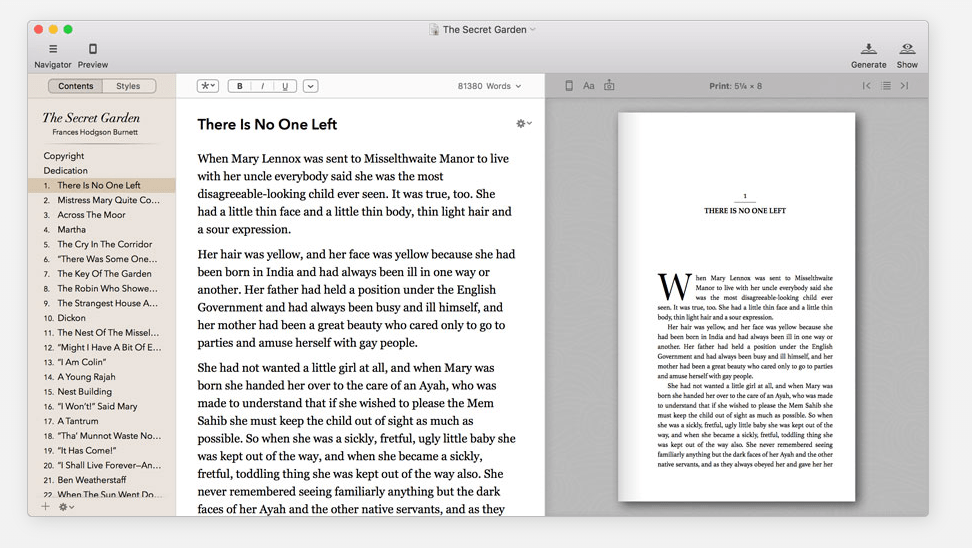 With this software, you can prepare a series of books, print advance copies, and add links to your website and social media. Access to ready-made professional book styles, whether in printed or digital format, is among Vellum's key benefits.
By offering a variety of formatting styles, Vellum allows you to easily search, select and apply the right style for your book without having to customize everything. Thus, you can select a style that's appropriate for the tone and content of your book. As soon as you choose a style, Vellum changes certain aspects of the appearance of your book to make it unique.
The biggest downside to Vellum is that it can only be used on Macs right now. That means you're out of luck unless you already own a Mac, or you're willing to invest in one.
SmartEdit
There's another free software program called SmartEdit for writers of novels and short stories. The Microsoft Word add-on is now a standalone Windows app you can use to write, edit, and polish your book.
SmartEdit's drag-and-drop editing allows you to easily move novel scenes around. The app also allows you to attach images, links, and notes to scenes, as well as keep track of your daily word count.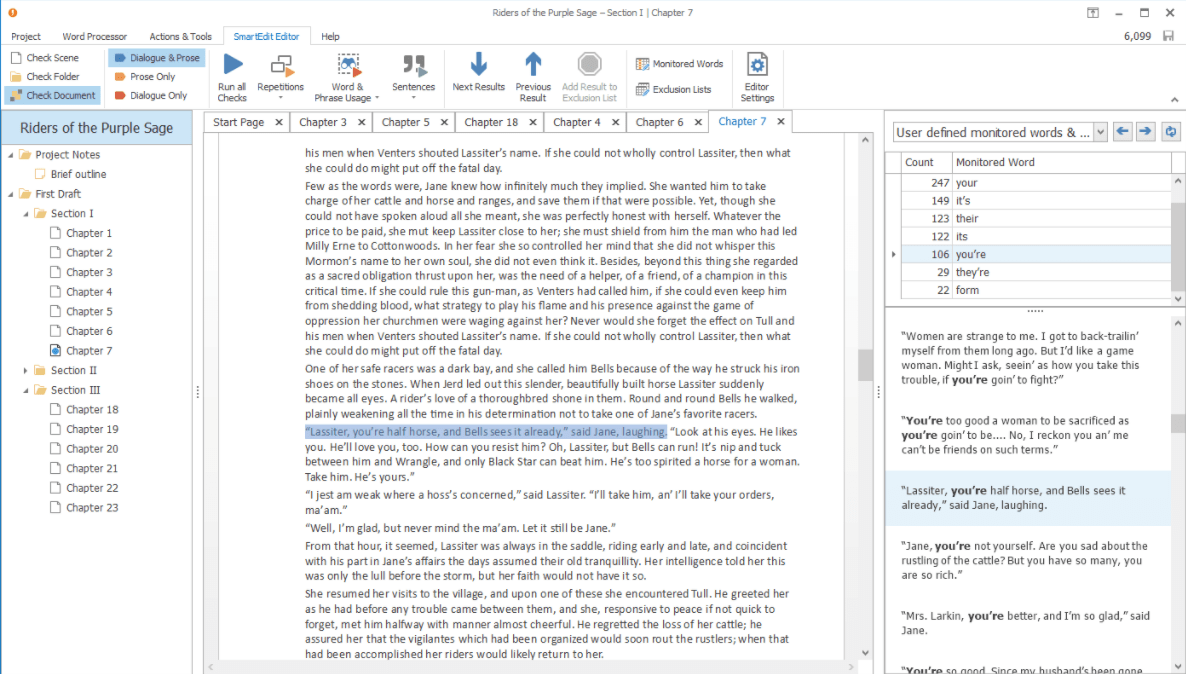 Those who write regularly can polish their writing with Microsoft Word plugins, and with the Pro version, writers can use the web browser on any platform with Windows.
SmartEdit has no word limit. However, a major con is that there are no suggested words, sentence structures, or auto-correct.
The application is compatible with PCs, phones, and tablets, both with and without Microsoft Word.
Slick Write
Slick Write is another free online proofreading tool that enables you to check your writing for grammar errors and spelling errors, as well as stylistic issues through its Associator tool.
It's easy to customize the grammar checker to a variety of writing genres and styles with Slick Write, including fiction, essays, resumes, the basics, and more.
With its web-based interface, Slick Write integrates online with tools like WordPress, OpenOffice, and LibreOffice. This free software can be used online without downloading.
Use the free online proofreading tool to edit your content directly on Slick Write or copy-paste it in. You can start searching for grammar errors by clicking the "Check" icon at the top and in the side menu.
Within the structure tab, you can see the sentence structure of the document. If you hover your mouse over a sentence, you can find out how many words are in it and what type of sentence it is. Simply clicking on the sentence gives you more information about that sentence type.
The four categories Slick Write uses to analyze a text are features, sentence structure, quotes, and vocabulary. In addition to critiquing your writing, it also provides statistics and tips for improving your skills. You have to take criticism and data into account and edit and improve your writing based on it. As you go through the errors, you become aware of your standard errors.
Which in turn helps you improve your writing in the future.
Conclusion
The number of online grammar checkers is growing rapidly, but very few of them allow you to edit books.
Self-publishing authors can't always afford to hire a real human editor, so these software options are always a great alternative. Your goal as a publisher is to provide your book buyers with your best work.
Although some editing software isn't always free, it can be quite affordable when compared to the cost of hiring a professional editor. Even if you decide on hiring an editor, your new and improved draft will greatly reduce the cost of your editor's services.
Regardless of how you publish, there's no doubt that you can only benefit from editing your own material.