You know that embarrassing spelling mistake you keep making on Facebook? Or that work email that sounds totally wrong, but you can't figure out why? Or those school essays that keep coming back drenched in red ink?
We've got a fix for that.
It's called Grammarly.
Have you heard of it? Yes, no, maybe so?
The good news is, no matter how you answer the question, we've got just the article for you.
In this article, we'll let you in on the awesomeness that is Grammarly. We'll also show you how to turn a pricey membership into a low-cost one.
And, surprise! We've got a Grammarly discount for you, too. If you're just looking for that, you can head straight there by clicking here. Otherwise, read on to learn more about Grammarly and how it works!
Disclosure: These reviews are reader-supported. We might earn a small commission if you purchase something through our site. Learn more
Grammarly
Best All-Around
$11.66
/mo – before discount
PROS
86% out of 86% accuracy
16+ billion database
150k+ word limit
5 devlice limit
Includes plagiarism
1-hour response
CONS
Only supports English
Expensive without our link
Grammarly Premium Walkthrough Video
Grammarly for business, school, and personal use
Writing continues to take over every aspect of our lives. From writing posts on social media to responding to work emails to writing school essays, we're constantly flexing our writing skills.
But what about those of us who aren't as skilled at writing? Or what about those of us who write well but still struggle to get grammar right?
The thing is, without a tool to see us through, we risk sounding like we don't know what we're doing. Or, possibly worse, we convey the wrong message at the wrong time. And, by the way, we're all susceptible to both.
But with Grammarly, you'll get flagged when your text sounds off or when you make punctuation errors. You'll understand how readable your text is, if you're using the right tone and if you're making spelling mistakes.
In other words, with Grammarly, you can go from sounding like a third-grade writer to sounding like an academic writer. You can go from sounding choppy and indifferent to having a warm, consistent tone. And possibly the best part? You can turn a head-scratching reader into an engaged reader.
Anyway, you get the idea.
With this in mind, let's take a closer look at the benefits of using Grammarly for business, school, and personal use.
How to use Grammarly for business purposes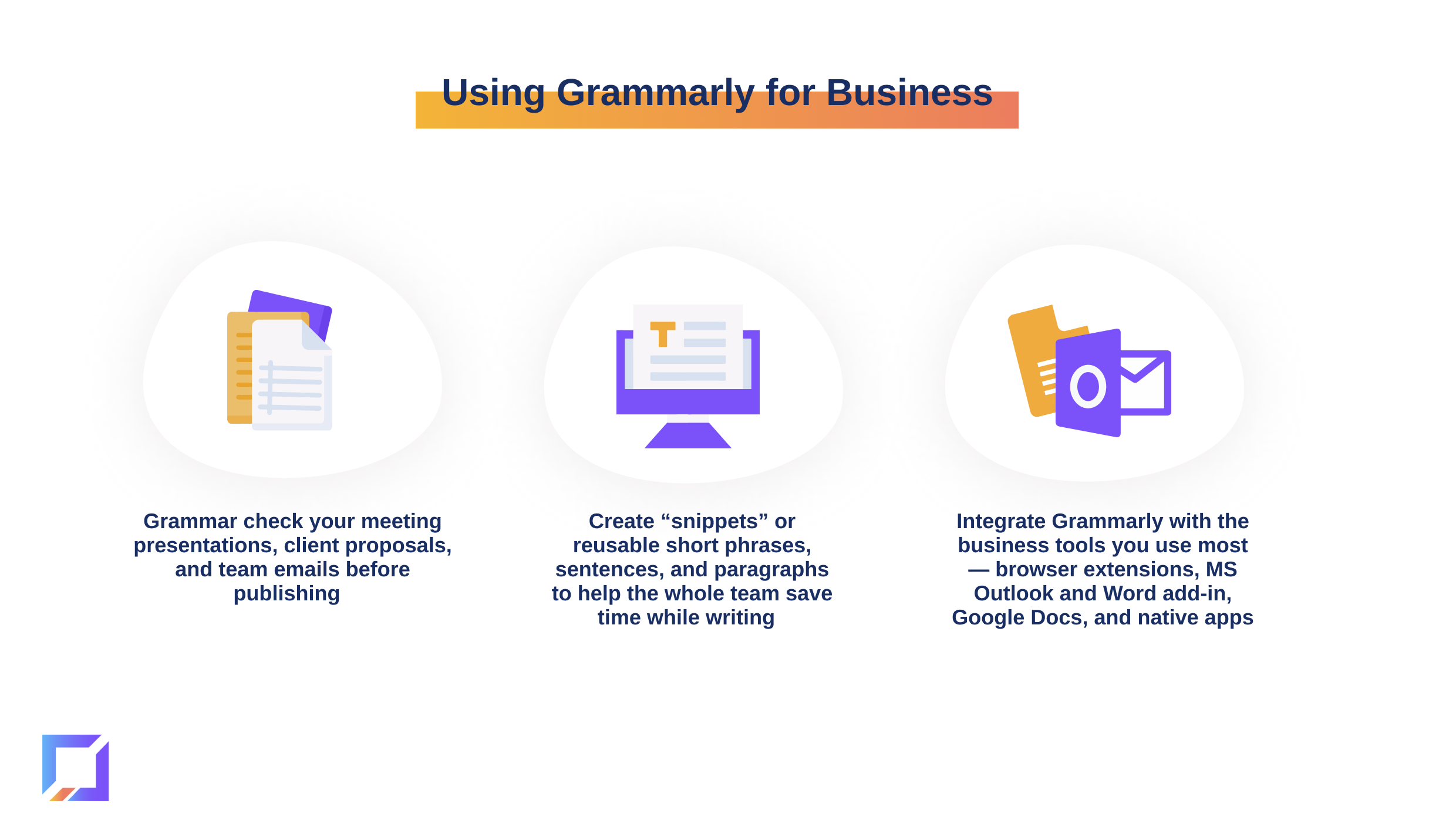 Grammarly for business feels a lot like having a 24/7 virtual writing assistant on your shoulder.
Can't keep up with your brand's style guide? Grammarly business can help you stay on brand every time. Need your team to write in a consistent brand voice when they communicate with clients and stakeholders? Create a tone profile that guides team members on which tones to use and avoid.
Need a high-level overview of your team's common writing mistakes and successes? Stay on top of team writing trends with the analytics dashboard.
Here are some other ways you can use Grammarly for business:
Grammar check your meeting presentations, client proposals, and team emails before publishing
Create 'snippets' or reusable short phrases, sentences, and paragraphs to help the whole team save time while writing
Integrate Grammarly with the business tools you use most — use their browser extensions, MS Outlook and Word add-in, Google Docs support option, or take advantage of their native apps
Ways to use Grammarly for School and studies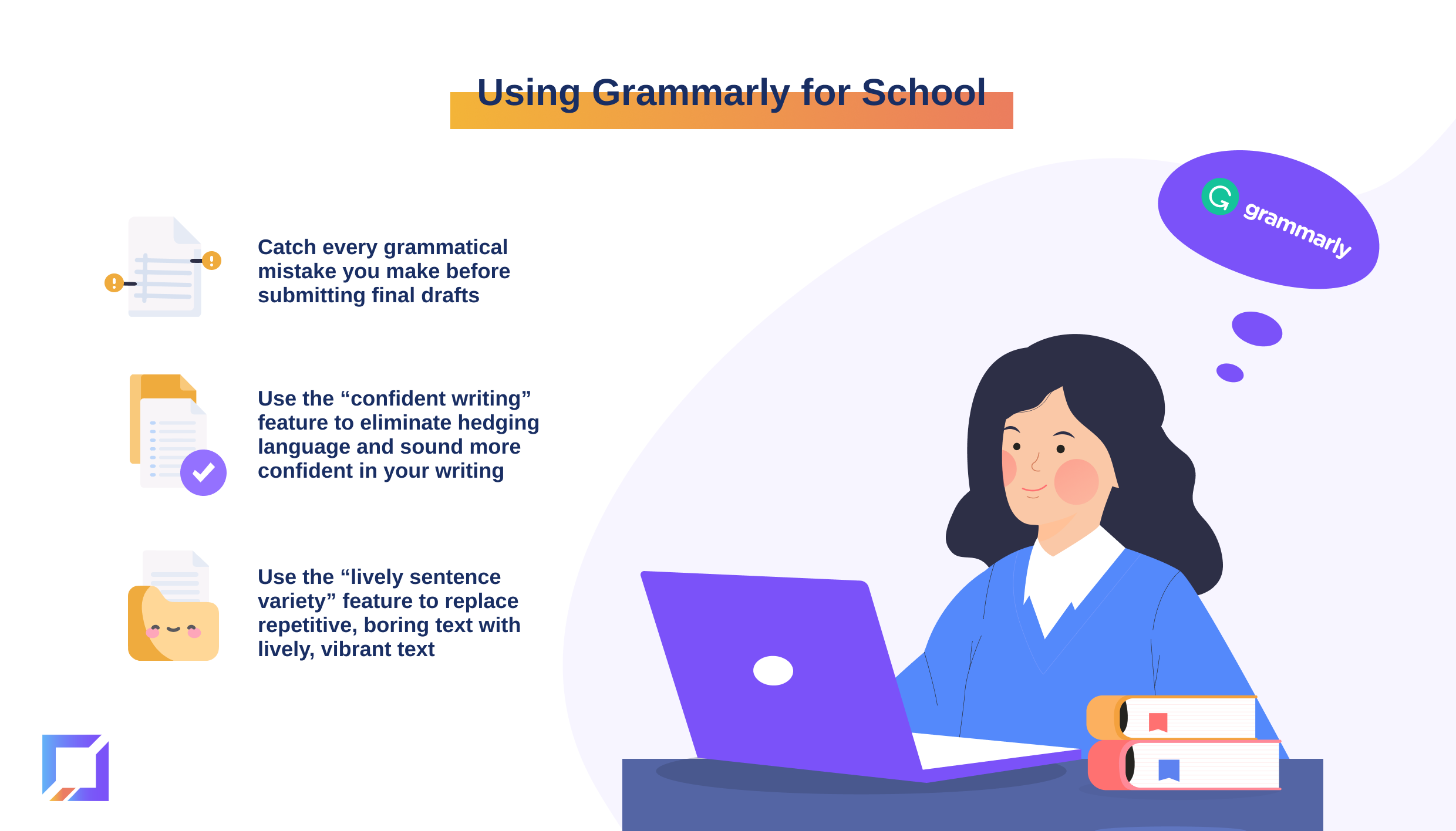 Ever wished for a grammar genie or a writing tutor who can help you with schoolwork whenever you need it? Ta-da! Your wish has come true.
Tired of using the same vocabulary words you've known since kindergarten? Breathe life into your writing with Grammarly's compelling vocabulary word suggestions.
Struggle with organizing your text in an easy-to-skim way? Grammarly's formatting features can help you convert long text into reader-friendly sections, lists, and bullet points.
Keep getting dinged for using non-inclusive language in your essays? Grammarly's inclusive language detector will help you spot words that are exclusive, disrespectful, or out-of-date.
Here are some other ways you can use Grammarly for school:
Catch every grammatical mistake you make before submitting final drafts
Use the 'confident writing' feature to eliminate hedging language and sound more confident in your writing
Use the 'lively sentence variety' feature to replace repetitive, boring text with lively, vibrant text
Grammarly for your own personal use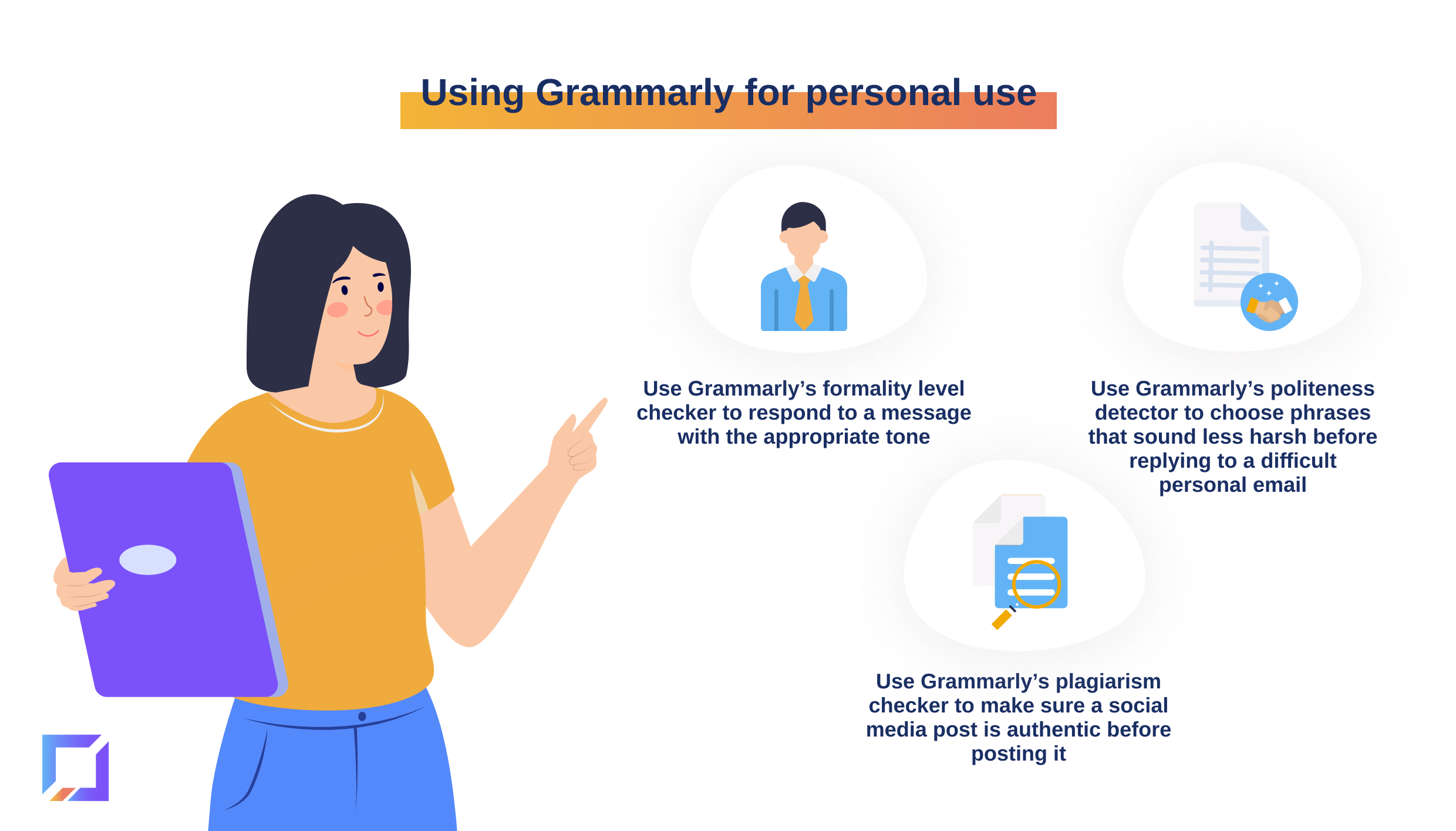 There's nothing like posting your latest vacation on Instagram … and then getting that one comment pointing out a big fat grammar mistake. Or sending a friend an email only to get a snarky reply about a common spelling mistake you make.
Thanks, Karen.
Luckily, you can keep the Karens of the world at bay with Grammarly.
With Grammarly, you can stay on top of spelling, grammatical, and punctuation errors in any day-to-day writing situation. And with the premium plan, you can use their advanced feedback feature as a learning tool to prevent future mistakes.
You can also use Grammarly to enhance the clarity of your writing, so friends don't have to decode hard-to-read sentences. So on those mornings when you need to respond to a quick message but you haven't had your coffee yet, Grammarly's got you.
Here are some other ways you can use Grammarly for personal use:
Use Grammarly's politeness detector to choose phrases that sound less harsh before replying to a difficult personal email
Use Grammarly's plagiarism checker to make sure a social media post is authentic before posting it
Use Grammarly's formality level checker to respond to a message with the appropriate tone
How much does it cost to use Grammarly?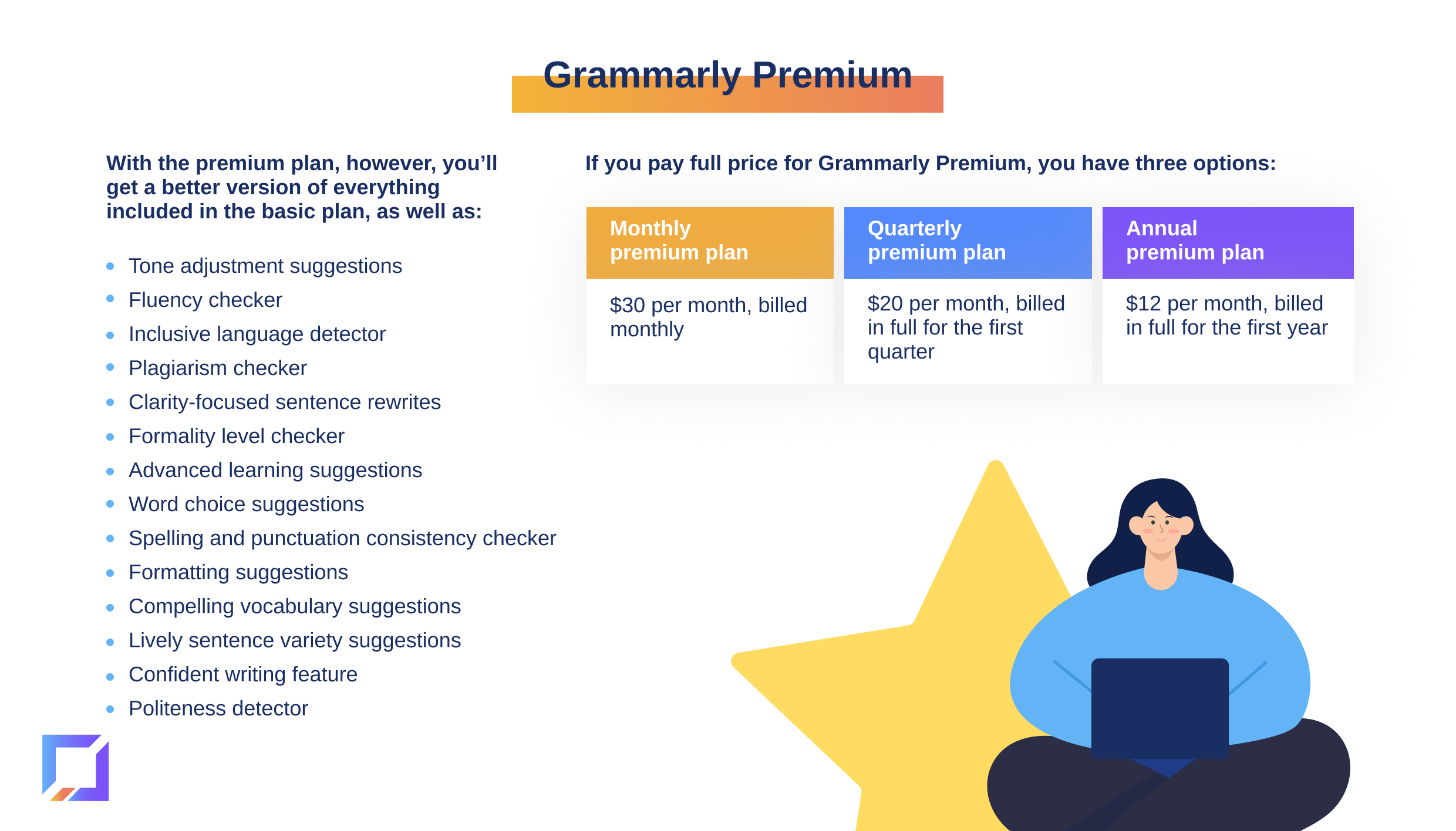 Grammarly is an effective writing assistant, but the basic plan is … well, basic.
With the basic plan, you'll get low-level spelling, grammar, punctuation, clarity, and tone recommendations. It's a free version, but you're not getting much.
With the premium plan, however, you'll get a better version of everything included in the basic plan, as well as:
Tone adjustment suggestions
Fluency checker
Inclusive language detector
Plagiarism checker
Clarity-focused sentence rewrites
Formality level checker
Advanced learning suggestions
Word choice suggestions
Spelling and punctuation consistency checker
Formatting suggestions
Compelling vocabulary suggestions
Lively sentence variety suggestions
Confident writing feature
Politeness detector
In other words, you're getting all those rad features we talked about in the previous section.
The premium plan is our favorite plan for personal and school use. It's also a great tool for business use if you don't need extra features like the style guide feature, or if you're a solopreneur. More on the business plan in a bit.
If you pay full price for Grammarly Premium, you have three options:
You can choose the monthly premium plan, which costs $30 per month, billed monthly
You can choose the quarterly premium plan, which costs $20 per month, billed in full for the first quarter
Or, you can choose the annual premium plan, which costs $12 per month, billed in full for the first year
We told ya, it's a bit pricey. But every premium feature is worth it. Especially with our discount options.
Before diving into our Grammarly coupon options, let's also take a look at the Grammarly Business plan option, too.
With Grammarly Business, you'll get everything included in Grammarly Premium, as well as:
The style guide feature
Account roles and permissions
Brand tones
Snippets
Priority email support
Analytics dashboard
Single sign-on feature (if you have more than 50 users)
Licenses for three or more users
Since Grammarly Business is even pricier, and it may have features you won't need, we recommend starting with Grammarly Premium, first. This way, you can test drive the tool before investing in a business package. Start with a monthly membership first. You can always switch to an annual or quarterly plan later to save money.
If you have employees and you choose the premium subscription option, just make sure each employee signs up with their own membership account. You won't be able to manage account roles and permissions. Instead, each employee will manage their own account.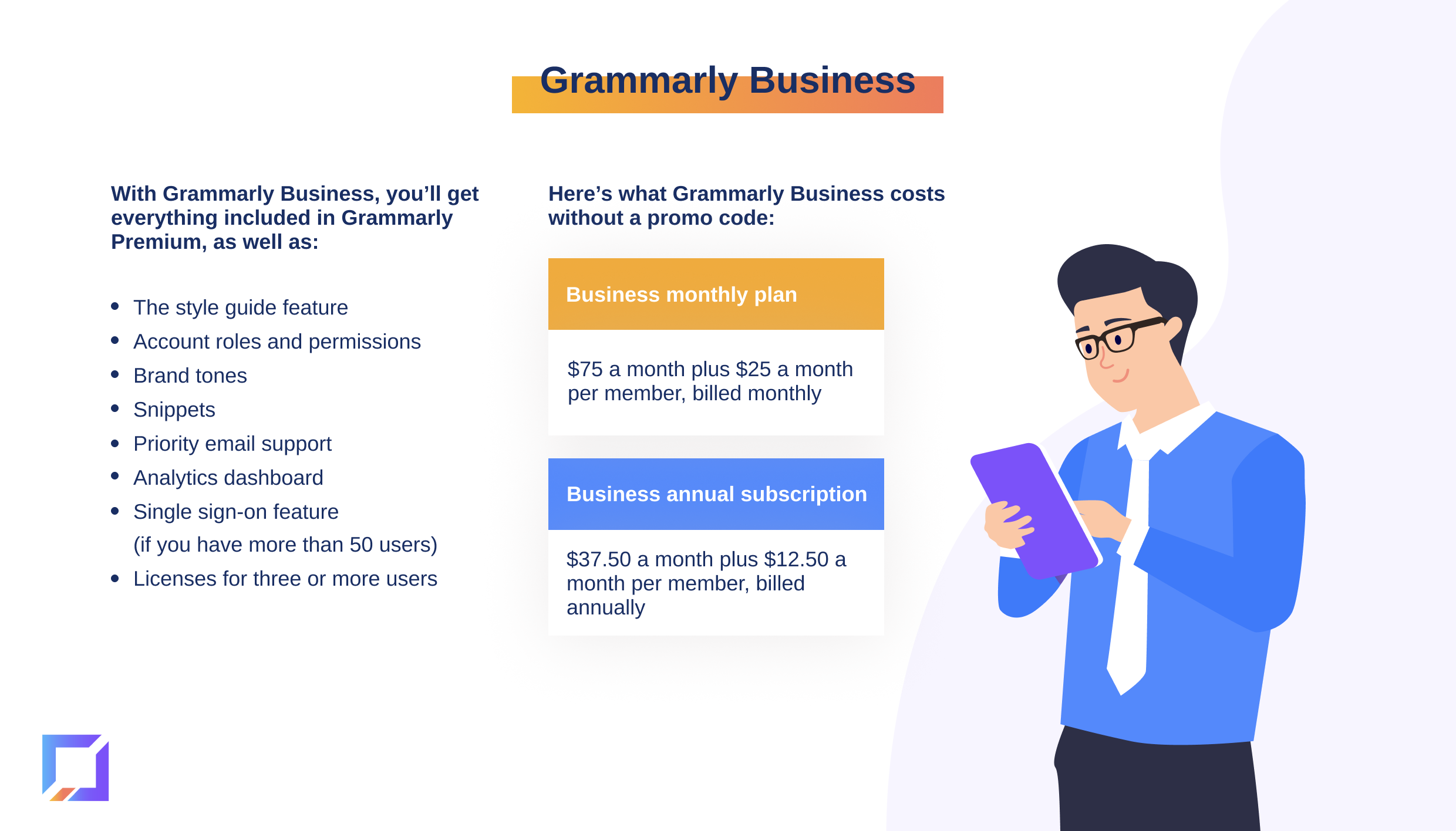 If you decide you do need Grammarly Business, here's what you're looking at paying, sans promo code:
You can choose the business monthly plan at $75 a month plus $25 a month per member, billed monthly
Or you can choose the business annual subscription at $37.50 a month plus $12.50 a month per member, billed annually
For more on this, check out our complete (and aptly named) article, "How Much Does Grammarly Cost?"
But it doesn't have to! Let's get to those discounts!
How do you get Grammarly discounts?
At last! The section you've been waiting for.
When it comes to getting a Grammarly promo code, we've got you covered.
Let's take a look at how to score a Grammarly coupon for personal, business, or academic use.
Get a discount from Grammarly for personal use
Get started with Grammarly right away with these top discounts for personal use:
1. Take advantage of Codeless' Grammarly discount
Comin' in hot we've got our favorite Grammarly discount offer, which gives you 20% off all individual plans.
When you use this discount, you get a free month, a free quarter, or a free year with Grammarly — depending on the plan you choose. To truly make this offer last, we recommend signing up for the annual plan so you can get 20% off for an entire year.
2. Try the Grammarly Premium free trial
This is a bit of a work-around — and it's not exactly a Grammarly coupon code — but here it goes: When you sign up with a free plan, Grammarly lets you test drive their premium version for the first 30 days. So if you think about it, you get to enjoy Grammarly Premium for a full month without paying a dime.
However, they do change how you can get a free trial from time to time.
You may need to click on a free trial pop-up that appears when you're using the free version to claim the premium trial. Or, they may send you a 'Try Grammarly Premium free for 30 days' link in your email. So be sure to keep an eye out for both.
Take advantage of the Grammarly discount for business purposes
3. Try Grammarly Business' free trial
Here's another workaround for you. Once again, it's not a coupon code, but it'll save you money for a few days…
You can opt to sign up for a 7-day Grammarly Business free trial without your card getting charged upfront. They may still ask you for payment details (so they can bill you after a week) but you can still cancel before the payment's due.
You can also contact Grammarly's online support team to request a longer trial before paying. They could say no, but what's the harm in asking?
Make the most of a Grammarly discount for academic use
4. Get a student discount
Finally, if you're attending high school, college, graduate school, or online classes, you may qualify for a student discount.
How do you know if you qualify? If you're in high school, ask your English teacher or school counselor. If they bought Grammarly for the school, they should be able to give you a discount code. Or if you qualify for a free account, they'll give you the login credentials you'll need to use your account.
If you're in college, graduate school, or taking online classes, contact your admissions counselor about a discount or free account. Easy-peasy.
Conclusion
Say goodbye to the Grammar Karens on social media, please your boss, and write school essays that don't suck. You can do all of this and more, with Grammarly.
Sounds pretty good, eh? We think so, too.
Here's our favorite discount code, again for good measure.
Here's to writing things that don't suck! And not paying an arm and a leg for it in return!