The right marketing software can make a huge difference in the success of your business. That's why organizations must think carefully when choosing the right one for them.
But the lines between CRMs, email platforms, and marketing automation tools are blurrier than ever. Through acquisitions, expansions, and new features, software providers now offer a dizzying mix of features.
Two major players in this space that both have CRM email, and marketing automation functionality are HubSpot and ActiveCampaign.
In this article, we'll take an in-depth look at HubSpot and ActiveCampaign and compare their features. Then, we'll explain what types of businesses they each serve best.
Disclosure: These reviews are reader-supported. We might earn a small commission if you purchase something through our site. Learn more
Our Verdict
The right marketing automation tool or CRM depends on your business's needs, but understanding the strengths and weaknesses of each will make the choice easier.
HubSpot has a free, easy-to-use CRM to which you can add marketing and sales tools. At its core, ActiveCampaign is a marketing automation platform that comes with a CRM (for most plans) and marketing tools for each stage of the customer journey.
TABLE OF CONTENTS
HubSpot overview
Founded in 2006, HubSpot is a marketing automation solution that began with a focus on inbound marketing for small businesses. Over the years, HubSpot has added a wide breadth of features, including a customer relationship management (CRM) system, content management software, and customer service software.
HubSpot has a well-known blog that covers inbound marketing, sales, and business and technology. They also host INBOUND, their annual marketing conference in Boston.
ActiveCampaign overview
Back in 2003, ActiveCampaign began by offering marketing consultant services. They soon transitioned into a Software-as-a-Service (SaaS) platform and have steadily expanded their functionality. It's best known as a marketing automation platform, but it also has a built-in CRM and offers customer service and sales automation.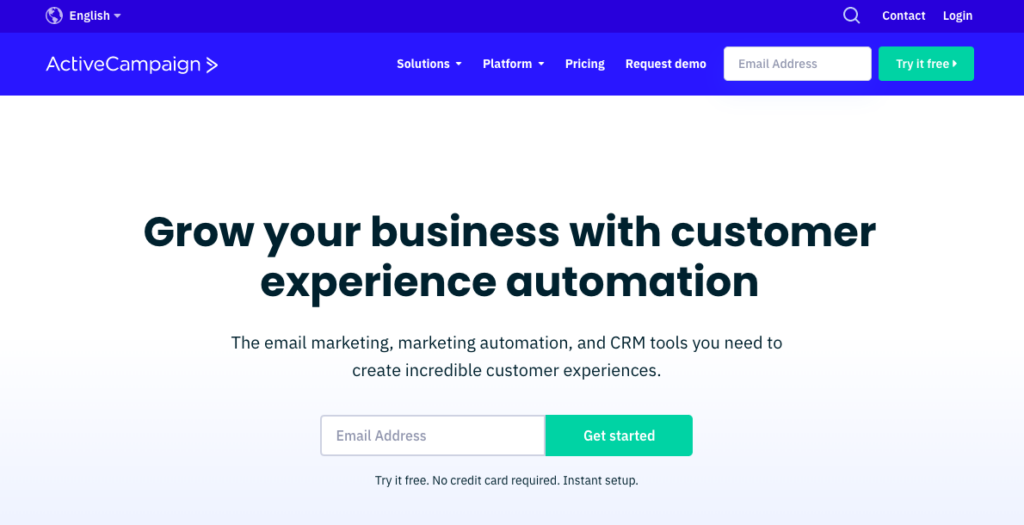 Today, more than 150,000 customers — from one-person shops all the way up to enterprise businesses — use ActiveCampaign.
An analysis of HubSpot features
HubSpot primarily bills itself as a CRM — the database where your team stores account and contact records. They've added features over the years and now organize their additional functionalities into "Hubs." There's a Marketing Hub, a Sales Hub, a Customer Service Hub, and an Operations Hub.
CRM
The HubSpot CRM includes forms and landing pages to collect new contacts and a database that supports up to 1 million records. The Gmail and Outlook integrations allow you to send emails while working in the CRM and keep detailed contact records with each sales activity. The CRM also includes deal tracking, prospect tracking, live chat, and reporting.
Email
HubSpot users can use HubSpot's templates or create their own emails using the drag-and-drop builder. The free CRM includes email scheduling and tracking, as well as real-time reporting. However, you'll need to purchase the Marketing Hub to automate your email campaigns.
Automation
To access automation for marketing, sales, and customer service, HubSpot customers need to purchase each of those Hubs. Within the Marketing Hub, you can build automated and personalized campaigns with email, ads, and chat.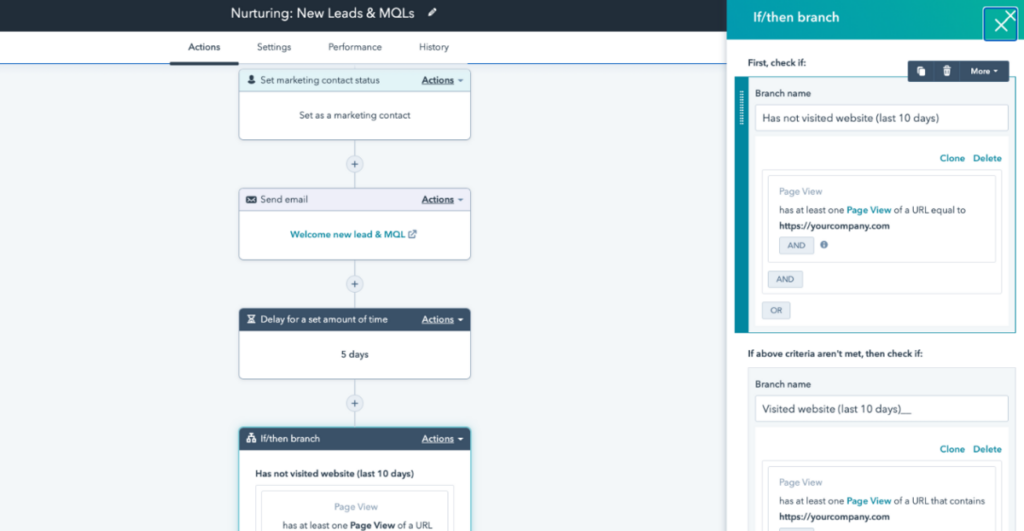 With the Sales Hub, you can automate lead rotation, task creation, and sales email sequences. The Customer Service Hub allows you to automate ticket routing and feedback surveys.
Integrations
With its various Hubs, HubSpot tries to be an all-in-one suite, but it also has more than 1,200 integrations. In the HubSpot App Marketplace, you can connect to platforms like WordPress, Zapier, Zoom, Mailchimp, and Calendly.
Customer support
HubSpot's free plan only includes access to the HubSpot Community platform, where users can connect with other users and ask questions. All paid plans provide email and chat support, and the Professional and Enterprise plans include phone support.
Along with their blog and library of guides and ebooks, HubSpot's help center has how-to articles, video training, and developer documentation.
An analysis of ActiveCampaign features
ActiveCampaign is a comprehensive marketing solution with email automation, customer service features, and a CRM. Because it unites your contact records with diverse engagement channels, it enables you to build multichannel and omnichannel customer experiences and dynamic marketing campaigns.
CRM
ActiveCampaign may be known for automation, but it also offers a robust CRM designed to serve marketing, sales, and customer success teams. This means all these departments work with the same information and can therefore coordinate their efforts.
ActiveCampaign's CRM holds detailed account records that are enhanced by web, email, and behavior tracking. This kind of information is what enables more advanced automation and personalization in your marketing and sales outreach.
Email
Modern marketing requires many different types of emails, and ActiveCampaign does them all: monthly newsletters, promotional emails, autoresponders, confirmations, receipts, and payment reminders. You can build automated email campaigns for all stages of the sales process, from lead acquisition to reengagement.
ActiveCampaign users have access to more than 250 email templates, but the drag-and-drop email designer also makes it easy to arrange text, images, videos, CTAs, and more. With all the data stored in the CRM, you can personalize emails with whatever contact information you have. For advanced personalization, you can add conditional content to appeal to each recipient's interests.
Automation
ActiveCampaign excels in marketing and sales automation. Marketers can automate all kinds of email campaigns, reengagement processes, and lead nurturing actions. Because ActiveCampaign integrates with common email providers, social media, and eCommerce platforms, you can set up multi-channel automation campaigns.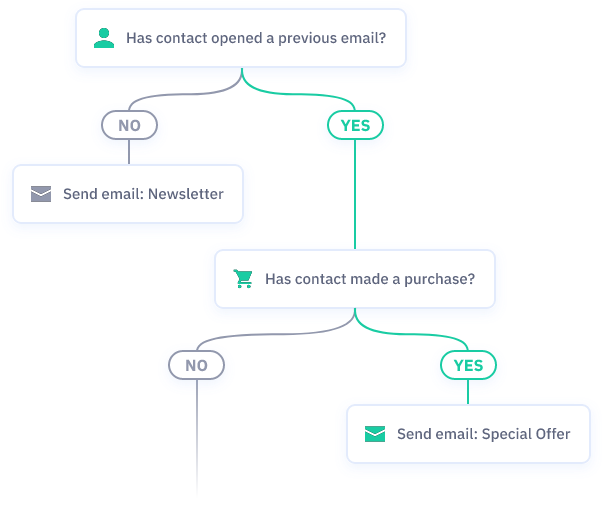 Sales teams can automate contact management, task creation, lead routing, lead scoring, and lead nurturing.
Users can create automation workflows with ActiveCampaign's intuitive drag-and-drop interface.
ActiveCampaign also has hundreds of pre-built workflow "recipes" for common marketing and sales actions. With a few clicks, you can set up cart abandonment emails or send a welcome coupon or SMS reminder.
Integrations
ActiveCampaign offers more than 870 integrations for tools like WordPress, Squarespace, Unbounce, Zapier, Asana, and QuickBooks. Integrations with Gmail, Facebook, Linkedin, and Google Ads help businesses reach potential customers across channels.
One reason ActiveCampaign works so well for eCommerce businesses is that it has pre-built integrations for Shopify, WooCommerce, Big Cartel, BigCommerce, eBay, and ShipStation.
Customer support
Each ActiveCampaign plan includes access to live chat and email support, and all plans (except the Lite plan) offer free custom email design services. ActiveCampaign also provides data migration services for all customers, which can make onboarding much easier.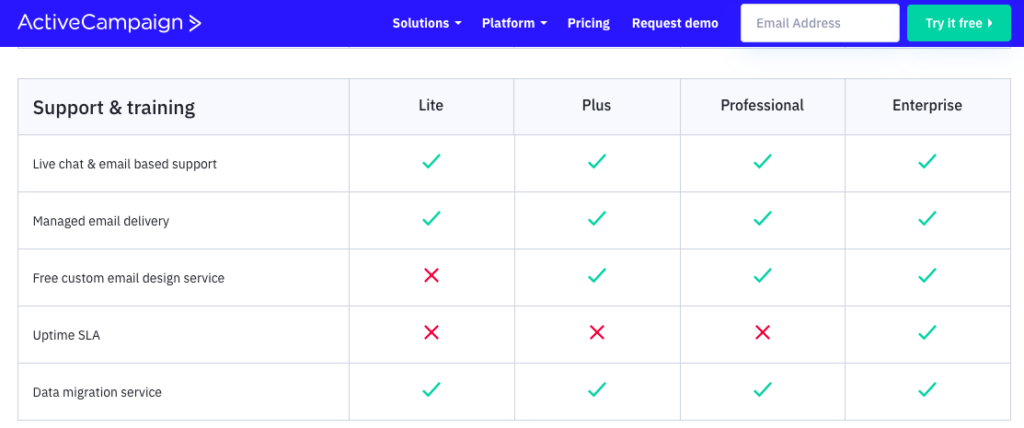 Along with professional support, users can access training content, developer resources, and community forums.
What's the difference between HubSpot and ActiveCampaign?
HubSpot is first and foremost a CRM with a range of marketing, sales, customer service, and operations tools attached. By developing an "all-in-one" suite, they have a wide range of tools, but individual capabilities aren't as advanced. That being said, they offer a valuable CRM and basic lead acquisition tools for free.
ActiveCampaign, on the other hand, focuses on giving you more power and control to enhance the customer experience. The depth of multi-channel automation means you don't need a huge marketing team to create cohesive campaigns to nurture and upsell customers. ActiveCampaign functions as one centralized, powerful tool, as opposed to HubSpot's approach of tagging a basic array of tools on a CRM.
HubSpot pricing
As HubSpot has acquired competitors and added features, they've created a complex catalog of products. They offer several free products as well as five different Hubs: Marketing, Sales, Customer Service, CMS, and Operations. Each of these Hubs are available at 3 different levels: Starter, Professional, and Enterprise.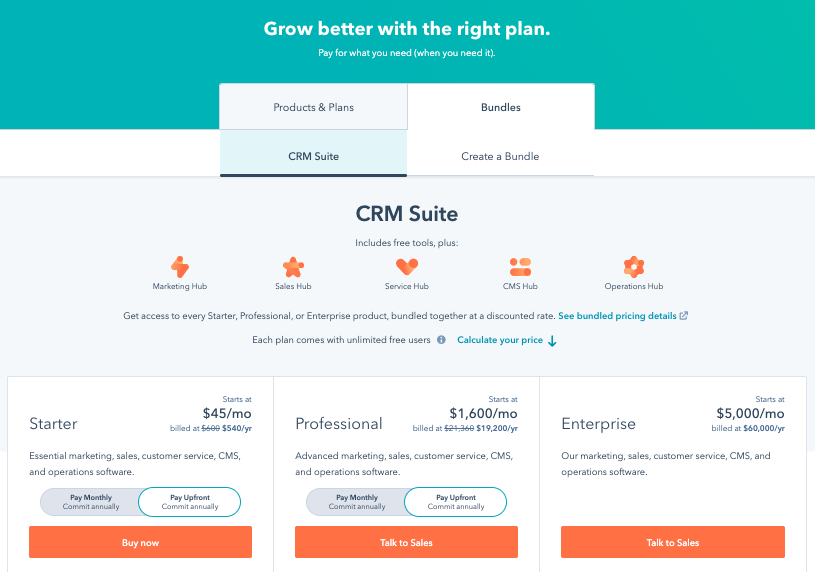 You can create bundles of multiple Hubs or purchase all five Hubs with their CRM Suite bundle. The CRM Suite is also available in three plans, each of which has a base monthly price that may increase based on your number of contacts and number of users.
Here's a look at what each CRM Suite plan offers:
Starter: Starting at $45 per month (billed annually), this plan gives you the Starter version of all five Hubs. It includes two users and 1,000 contacts.
Professional: For $1,600 per month, this plan includes the Professional version of each Hub. It comes with five users and 2,000 contacts, although you can pay for more.
Enterprise: The Enterprise plan starts at $5,000 per month and includes the most advanced versions of all five Hubs. It comes with 10 users and 10,000 contacts.
ActiveCampaign pricing
With four different plans, ActiveCampaign has solutions for businesses of all sizes. Each plan has a baseline monthly price that includes a certain number of contacts. Monthly costs increase as you add more contacts.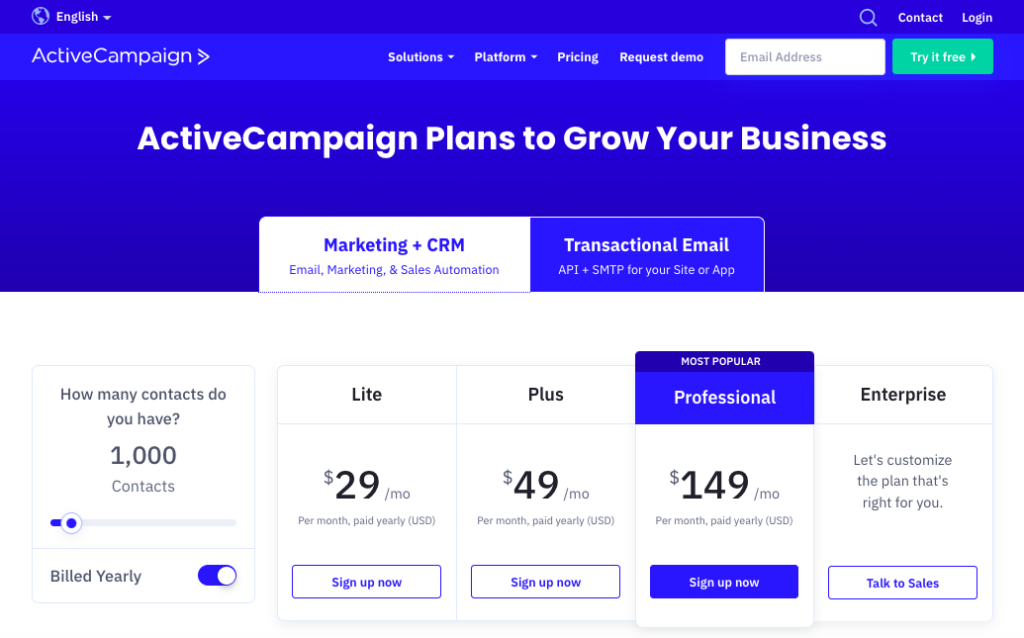 Here's a closer look at what each ActiveCampaign pricing plan offers:
Lite: When you pay annually, the Lite plan starts at $9 per month, or you can choose the monthly plan for $15 per month to include one user and your first 500 contacts. With the Lite plan, brands get unlimited email sends, opt-in forms, list segmentation, marketing automation, site and event tracking, and email and automation reporting. The Lite plan also includes hundreds of integrations and automation recipes.
Plus: The Plus plan allows you to create an even more holistic customer experience because it includes a CRM and sales automation. It starts at $49 per month for up to 1,000 contacts. On top of everything in the Lite plan, Plus includes landing pages, SMS marketing, and up to 3 users with custom user permissions.
Professional: The Professional plan is ActiveCampaign's most popular and starts at $149 per month for up to 2,500 contacts and 5 users. It includes everything in the Plus plan but with more advanced personalization and reporting. Predictive content, predictive sending, sales engagement automation, and integrations with Salesforce are some of those advanced features.
Enterprise: Designed for large businesses, the Enterprise plan includes up to 10 users. Enterprise plan users have access to advanced customization, enrichment, and free design services. Reach out to ActiveCampaign to talk about custom pricing for the Enterprise plan.
HubSpot vs ActiveCampaign reviews
Real customer reviews offer deeper insights into products like HubSpot and ActiveCampaign. While users favor HubSpot when it comes to landing pages and ease of use, ActiveCampaign wins on most marketing features, including segmentation, campaign optimization, and building and personalizing emails.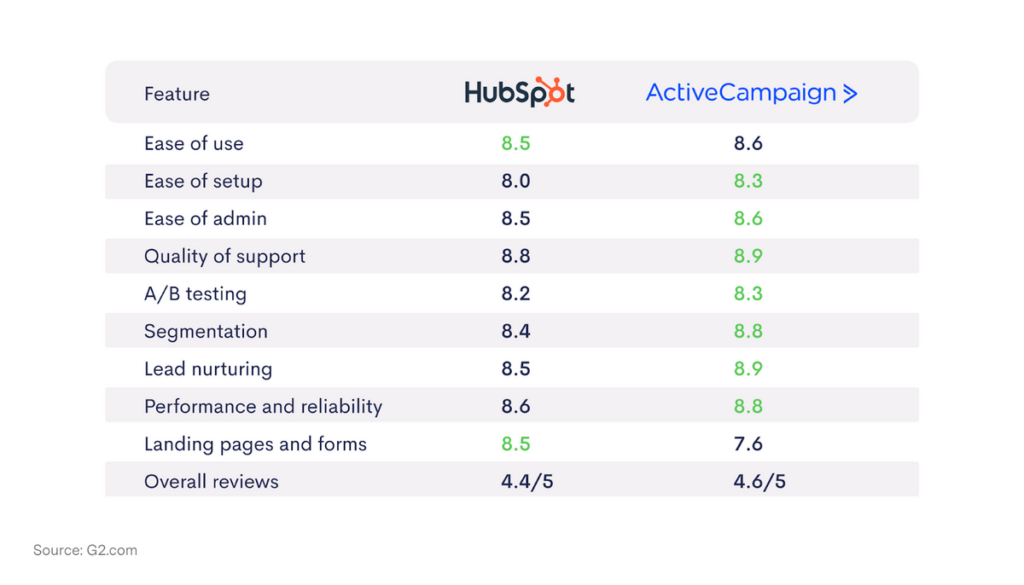 ActiveCampaign (4.6/5) beats HubSpot (4.4/5) in overall customer ratings. HubSpot users like how easy it is to get started, but several found it difficult to work with the tool's email templates. ActiveCampaign customers love how the automations amplify their work and laud the customer service, though some faced a learning curve as they built their first workflows.
Who is HubSpot best for?
HubSpot is a great option for businesses whose biggest need is a low-cost CRM. The free CRM lets you track sales activities and monitor individual performance. You can also access a free landing page builder and basic email marketing tools. However, the pricier plans with marketing and sales automation only make sense for larger businesses.
Who is ActiveCampaign best for?
ActiveCampaign is best for eCommerce businesses and others that really want to amplify their marketing efforts. Each plan includes marketing automation, enabling even small teams to scale their communications. Beginning with the Plus plan, customers also get a CRM, which makes even the more expensive plans a great deal for small and mid-sized businesses.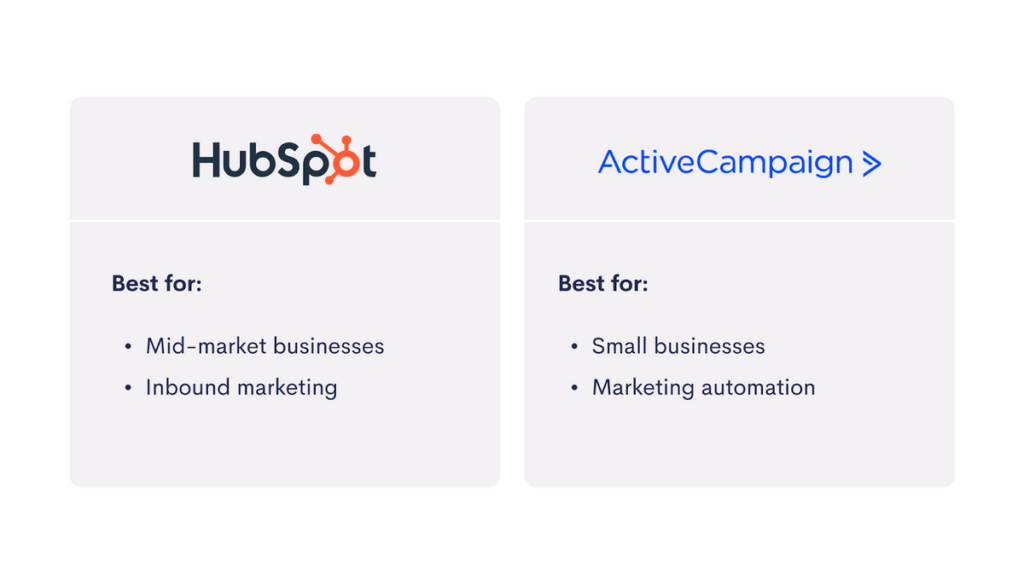 How to choose between HubSpot and ActiveCampaign
The right marketing automation tool or CRM depends on your business's needs, but understanding the strengths and weaknesses of each will make the choice easier.
HubSpot has a free, easy-to-use CRM to which you can add marketing and sales tools. At its core, ActiveCampaign is a marketing automation platform that comes with a CRM (for most plans) and marketing tools for each stage of the customer journey.
HubSpot is a great choice if all you need is a CRM. However, if you want to deliver more engaging customer experiences and drive better results from your marketing campaigns, ActiveCampaign can do more at a lower price point.
Ready to find out what ActiveCampaign can do for your business? Start a 14-day free trial today.